25 Best Nike Air Max 90s of All Time
The Nike Air Max 90 is a poster child for one of the most famous lines in footwear history. In fact, it might be the most critical instrument in the success of Nike Air Max. The sneaker has transcended streetwear culture for the better part of three decades, moving from a tech-infused running shoe into one of the most recognisable shoes ever.
RELATED: Our guide on the best sneakers for men will help you find your favourite style.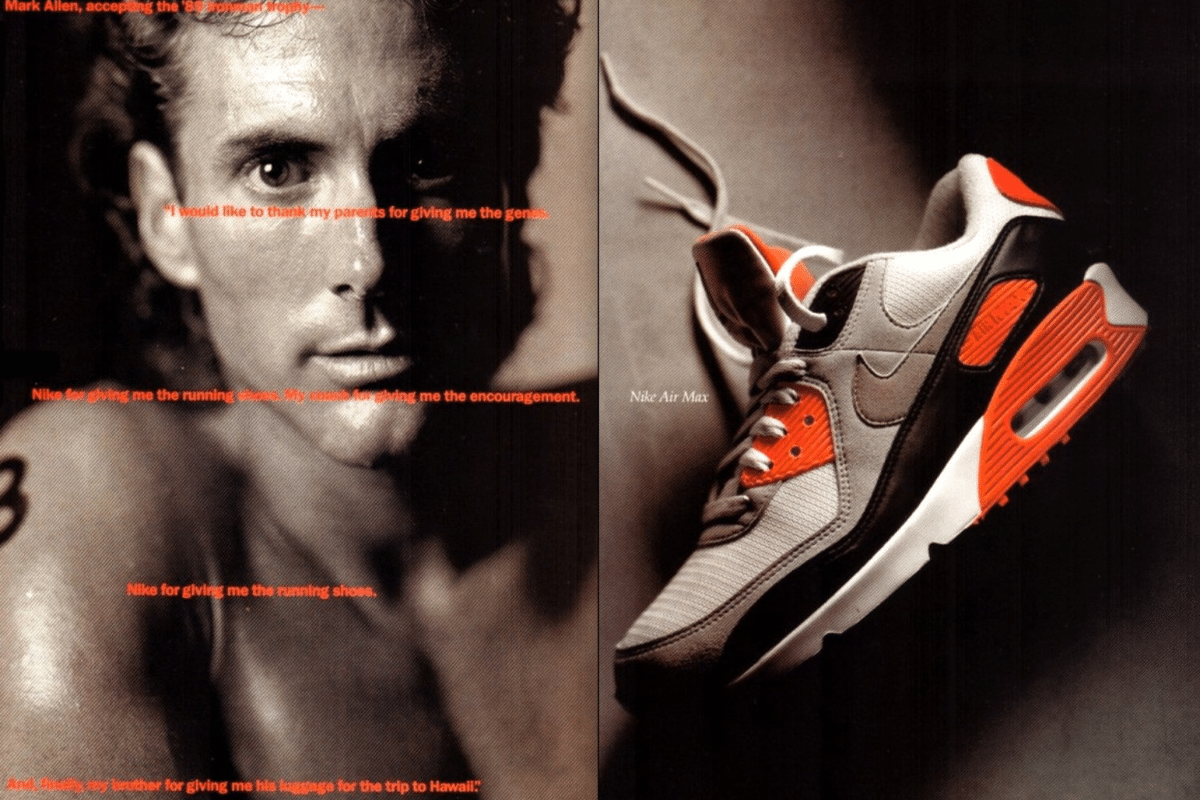 A Brief History of the Air Max 90
Designed by legend Tinker Hatfield, the sneaker was a follow up to the widely successful Air Max 1 – a shoe that cemented the Air Max line as both a performance-orientated line and a stylish cultural icon thanks to its iconic air bubble. In much the same way as the Jordan III is to the Jordan I, the AM 90 was a celebration of the success of its less gaudy predecessor. Showcasing audacious detailing that did everything it could to highlight the legendary air bubble on the heel of the shoe.
The sneaker changed the way many perceived running shoes. With a bigger air bubble, aggressive styling, 'Nike Air' branded plate on the heel and stand-out debut colourway. This is a sneaker that is still sought after long after its first release, selling more units today than it did 30 years ago.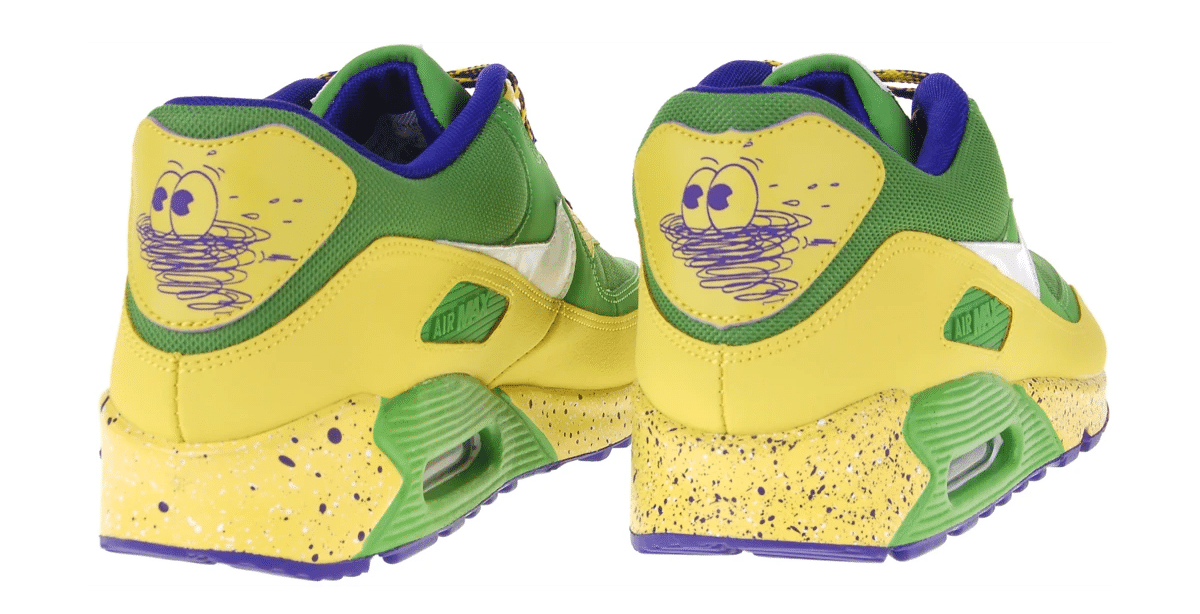 The Air Max 90s Influence Down Under
Outside of the USA, UK, and Japan, the Air Max 90 made waves down under thanks to Australia's love for anything Nike Air. We spoke to Riyadh Alfata & Jerry Su from Underground, Australia's leading Facebook marketplace for high-end clothing and footwear to explore the influence 'Maxies' played in the Aussie sneaker scene.
"My first experience with the AM90 was in high school back in '08 where I spent a lot of time on NikeTalk. The Underground of its time, it was a place for everything hot in the sneakers" said, Jerry.
The pair have a "soft spot for anything made by Australian designers". When the infamous 'Running Man' AM90 released in collaboration with Misha from Perks And Mini in Feb 2008, it brought Aussie designers to the forefront of the international sneaker scene.
"The first colourway that really caught my eye was the 'Running Man'. I loved how insane but funny the little cyclone running guy looked on the heel and the colourway is so obnoxiously Australian. It's massive when Aussie labels collaborate with bigger brands. It's much harder for us down under to make a big impact with international brands." he said.

---

Featured Video from Man of Many

---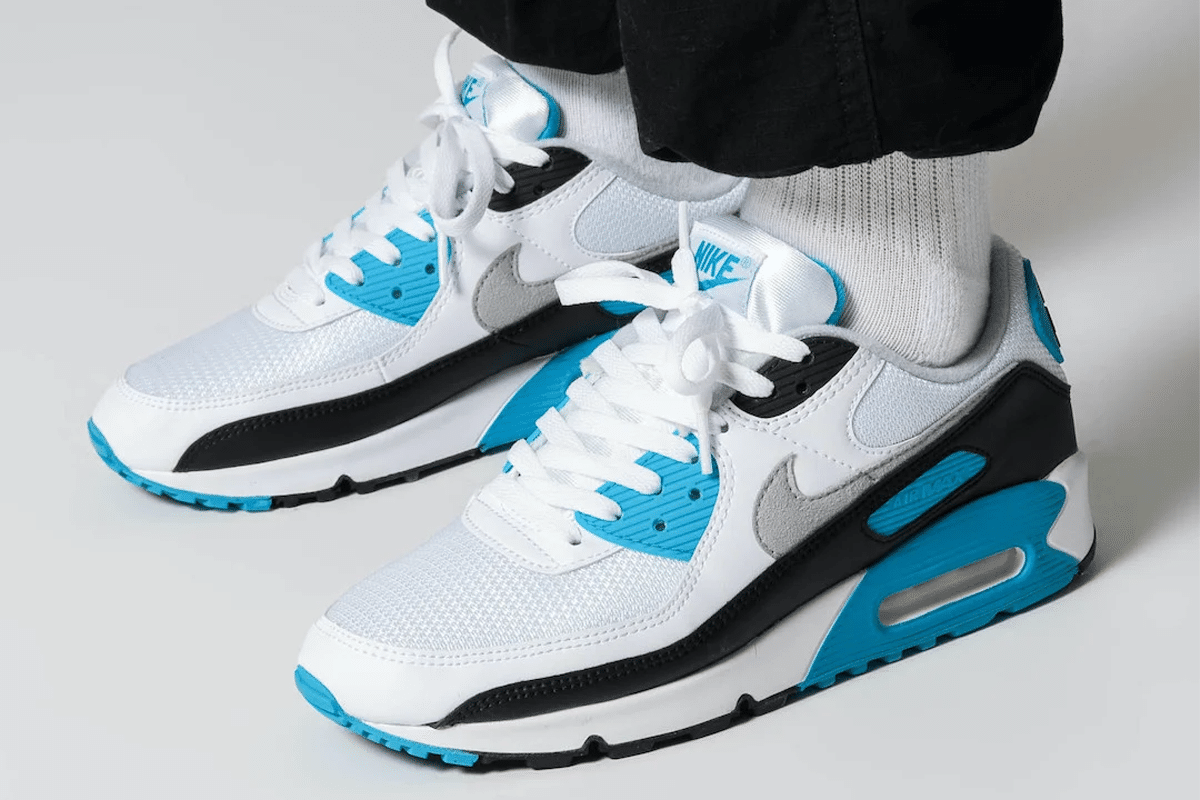 Nike Air Max 90s Today
The perception of the Air Max 90 has changed over the years. What was once a bonafide 'do it all' sports shoe with casual appeal, is now seen as a retro throwback steeped in nostalgia. But the sneaker still epitomises an era where Tinker Hatfield changed the game forever. So for many sneakerheads, a true collector should never be without at least a few AM90s.
"To the older generation of sneakerheads, it was Tinker Hatfield's design and influence that set the tone for the years to come. Today, it's more about the hype ripple effect continuing, especially when you look at Virgil Abloh's 'OFF WHITE' iterations of the shoe. Despite this many of the newer sneaker collectors really understand the culture and history behind it" said Jerry.
Mostly due to its obnoxiously large air bubble, shape and vibrant colourways, the shoe continues to be a very successful and popular silhouette. Sneakerheads around the world wait eagerly for limited collaborations such as the 'Bacon' DQM Colourway we see re-releasing this year. As the boys from Underground explain;
"In Australia, we feel there's a certain charisma surrounding the shoe. When you're rocking a pair, the feeling and look is almost unbeatable. In a brotherly way to the TN, they can be worn with almost anything and beaten to the core. Then you can suddenly bring them back to life with its virtually unbreakable air unit," they said.
25 Best Nike Air Max 90s of All Time
When putting together a list of the Best Air Max 90s of All Time, you realise the importance Nike placed over the model. Sometimes a silhouette gets tired after a brand runs it into the ground with collaboration after collaboration. But not with the AM90. Everyone wanted to collaborate with the silhouette but only a select few were chosen. What we are left with is a time capsule that represents some of the biggest moments in sneaker history. Check out our list of the 25 Best Nike Air Max 90s of All Time.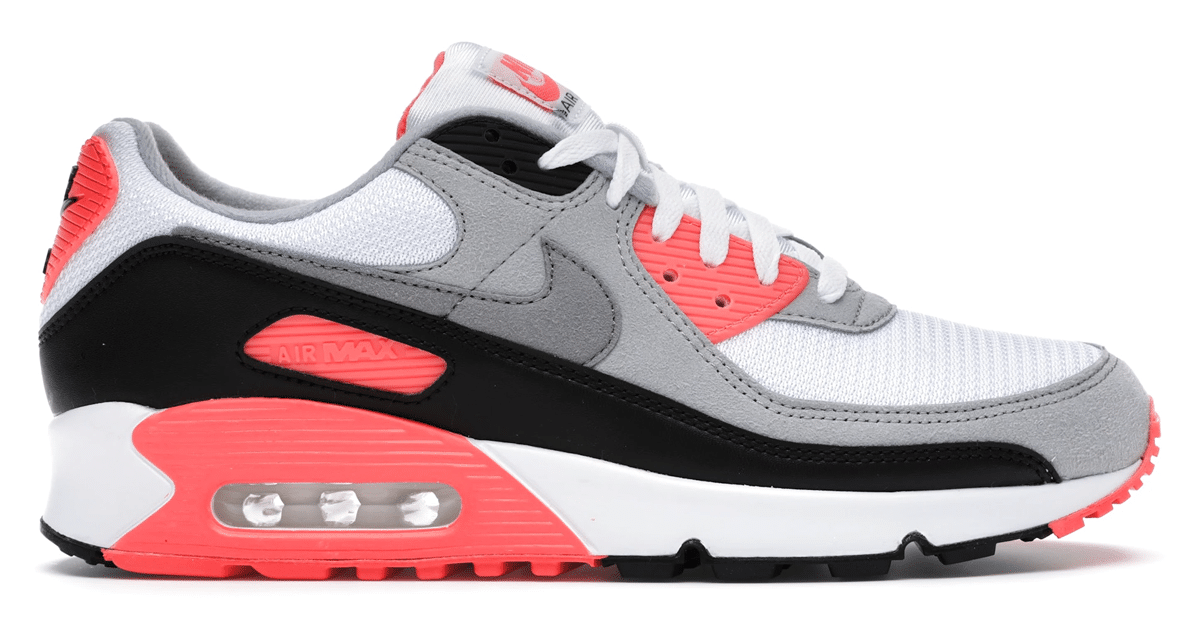 1. Infrared Air Max 90
As the Black/ Red 'Bred' colourway is to Jordan, the 'Infrared' Air Max 90 might be the most important in Nike's history. When released the Air Max 90 in 1987, Tinker added another classic to his resume and secured the long-term success of the Air Max line. When he increased the size of the air bubble he utilised the reddish-pink neon colour to immediately draw the eye to the new Air unit. There have been a number of amazing colourways since, but none have matched the original.
SKU: CT1685-100
Colourway: White/Light Smoke Grey/ Infrared
Retail Price: $140
Release Date: 11/09/2020
thisisneverthat x Crocs Clasic Clog Will Make Your Feet Disappear, Florida Style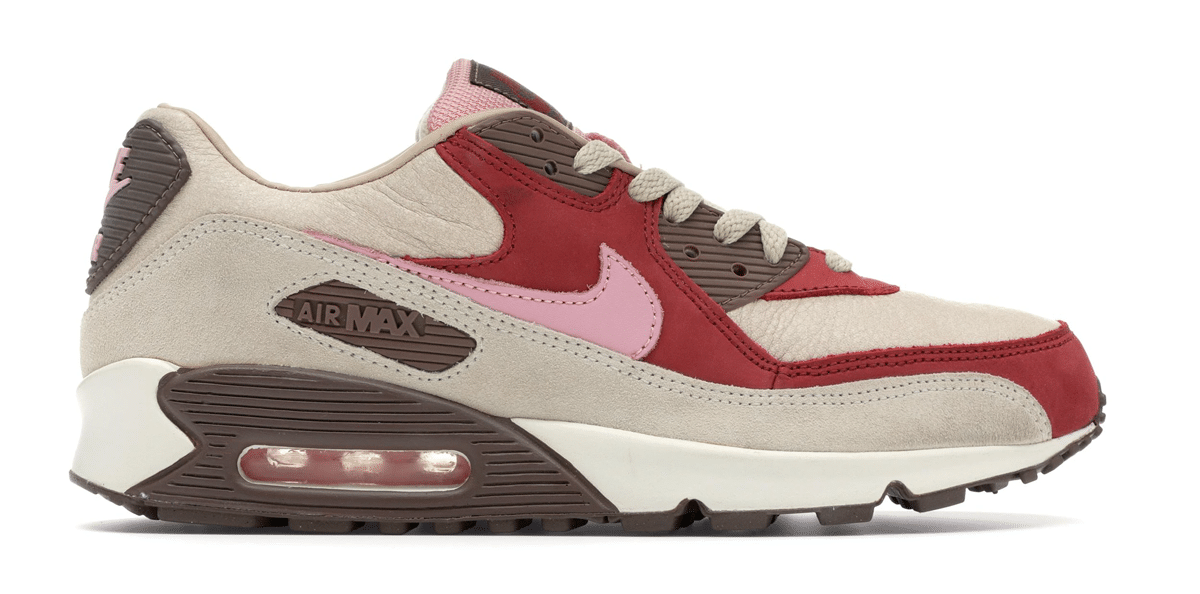 2. Dave's Quality Meats 'Bacon'
Sometimes colourways and the stories behind them fuse to create a perfect shoe. A collaboration with what many conceptually believe to be the first sneaker store in the world. Dave's Quality Meats (DQM) owner David Ortiz tells the story of how a short time-frame from Nike meant he had a couple of days to send the concept back. Struck for time, he walked into the supermarket, saw bacon sitting there, and boom we have one of the greatest AM90's of all time.
SKU: 310766-161
Colourway: Sail/ Sheen Straw/ Medium Brown
Release Date: 01/01/2004
Buy it here (2004) Buy it here (2021)

3. Nike x Atmos 'Duck Hunter Camo'
Put simply, Atmos has never missed on a Nike collaboration. When they got handed the keys to the famous silhouette, we were gifted the "most urban celebration of the Infrared colourway we'd ever seen" as Karim Wazani says. The shoe symbolised Tokyo street culture, yet combines elements seen around the world. A blend of the popular camo scheme, popularised by BAPE in Japan, blends with the traditional US-style OG Infrared hits in the normal locations.
SKU: 333888-025
Colourway: Black/ Black Chlorophyll Infrared
Retail Price: $170
Release Date: 10/05/2013

4. Dizzee Rascal 'Tongue N Cheek'
As we said in the beginning, only a select few have ever had the chance to collaborate on this silhouette. Reserved for pioneers of the culture, it goes without saying that one of them had to be legendary Londoner and Grime pioneer Dizzie Rascal. One of the cleanest executions of an AM90 we've ever seen, the sneaker resembled human qualities with its pink 'tongue' and chalk upper. This was a super limited shoe, only 200 units were ever made and they were sold through extremely select retailers. If you can even find a pair, expect to pay upwards of $3000.
SKU: 346115-191
Colourway: White/ Clear Metallic/ Silver Chalk
Release Date: 09/19/2009

5. Warhawk Air Max 90
One of the most unique 'maxies' ever made, the Warhawk is inspired by a Curtiss P-40 Warhawk. The fighter aircraft used by the US Air Force across multiple fighting fields in the Second World War.
SKU: 315728-381
Colourway: Dark Army/ Orange Blaze/ Cinder Tweed
Retail Price: $110
Release Date: 05/26/2007

6. Kaws White Volt
Kaws has a resume that features some of the most valuable kicks in history. Also appearing in black with a free inspired sole, both models feature contrasting pops of Volt that appear on the laces and signature 'XX' mark adorning the lateral forefoot, tongue tag and lace jewels.
SKU: 346115-111
Colourway: White/ White Volt

7. Nike x Patta 'Homegrown Grass'
Dutch streetwear retailer Patta and Nike have a long history together. This Air Max 90 features some of the best colourway names ever featured on a shoe. Enter the Grass colourway featuring an upper of premium suede and leaf-textured leather that gives a nod to Amsterdam's famous cannabis culture. Orange Blaze hits creep through on the lining and inside the Air unit.
SKU: 315728-331
Colourway: Grass/ Grass Orange/ Blaze
Retail Price: $290
Release Date: 12/01/2006

8. Silver Surfer Air Max 90
2003 was one of the strongest years for the Air Max 90s. Notable releases include the Escape 2 which was arguably better than the original, and the 'Silver Surfer' with neutral whites, greys, and leather that allowed for the cascade-red and midnight-blue hits to pop.
SKU: 304948 161
Colourway: White/ Deep Red-Cascade/ Blue-Midnight Navy
Release Date: 2003

9. Hufquake by HUF
As you can see, our list of the best Air Max 90s of all time is littered with famous collaborations. The 'Hufquake' launched in 2006 as part of a sneaker pack developed in collaboration with San Francisco store HUF. The collaboration recognises the 100th anniversary of the 1906 San Francisco earthquake, as you can see from the sneakers grey crackle-print overlays.
SKU: 312334-011
Colourway: Neutral Grey/ White/ Military Blue
Retail Price: $120
Release Date: 01/01/2007

10. Off-White 'The Ten'
Carrying on the legacy is Virgil Ablohs Off-White iteration. An Ice white upper combines leather, blue foam and signature orange tag to complete one of the most valuable sneakers of the collection. Released in September 2017, this was a member of the initial five-pair "REVEALING" group of the collection.
SKU: AA7293-100
Colourway: Sail/ White Muslin
Retail Price: $160
Release Date: 09/09/2017
Buy it here (White) Buy it here (Black) Buy it here (Desert Ore)

11. Clerks Pack by Size?
Another infamous AM90 collaboration with UK's size? The sneaker dropped back in 2006 as a nod to Brighton Beach. Becoming one of the most sought after models of the era thanks to the shoe's premium construction and sought after Bone/Teal/Baroque Brown colourway with pink hits.
SKU: 312334-231
Colourway: Bone/ Teal/ Baroque Brown
Release Date: 04/2006


12. King of the Mountain 'Mowabb'
Featuring the unmistakable 'Mowabb' colourway that harks back to the original silhouette of '91. The sneaker features black snakeskin mudguards, pink premium accents, and orange and blue hits throughout.
SKU: 315728-611
Colourway: Champagne/ Cream/ Sport Royal
Release Date: 06/12/2008


13. Lunar90 SP Moon Landing
One of the most recognisable sneakers of all time, many sneakerheads are instantly reminded where they were when the 'Moon Landing' first released. That includes Undergrounds, Jerry Su;
When it comes to memorable releases this AM90 stands out, "The moon landing AM90, it was a really cool concept representing and celebrating a piece of history that everyone can enjoy and appreciate for many more years to come. Maybe Elon can collab with Nike next for a Mars landing AM90," he said
SKU: 700098-007
Colourway: Reflective Silver/ Silver Metallic GL
Retail Price: $145
Release Date: 07/20/2014

14. Mixtape B-Side
One of the most underrated Air Max 90s of the last decade, the B-Side explores the sneakers long-standing connection to music. Hitting the scene in June 2019, the shoe incorporates nine elements extracted from past versions of the AM90. This includes the mesh toe box, 'Untold Truth' stitching on the heel and laces that mimic cartridge tape. A track list of some of the details is revealed through the translucent outsole. Details people, details!
SKU: CI6394-001
Colourway: Black/ Sunblush
Retail Price: $170
Release Date: 06/22/2019

15. Crepe Air Max 90
Widely referred to as the 'Crepe' this AM90 really had nothing Frech about it. Correctly referred to as the mushroom and birch colour this shoe featured a premium hemp-construction capped off by hits of blue that popped on the rather plain overlay.
SKU: 308855 221
Colourway: Mushroom/ Birch/ Medium Brown
Release Date: 2004
Honourable Mentions
16. Red Velvet – Check it out
17. Black Infrared – Check it out
18. NIC – Check it out
19. New York Strawberry Cheesecake – Check it out
20. London Underground "Roundel" – Check it out
21. Campfire Pack – Check it out
22. Desert Ochre – Check it out
23. Hyperfuse Independence – Check it out
24. Chutney – Check it out
25. Cork – Check it out
Big thanks to Riyadh Alfata & Jerry Su from Underground for providing their commentary. Streetwear and High-fashion fans should be on the lookout for Underground's long-awaited physical store location opening soon. In the meantime, you can be a part of Australia's biggest and best community for all things sneakers, streetwear and culture via the links below.
Underground @underground.istc Feature Image
Interested in more sneakers stories? Here are a few stories to get you started:
Alternatives to the Best Nike Air Max 90s
Best Sneaker Styles for Men
Best Sneaker Stores in Australia
Best Boots, Shoes, and Sandals for Men
You'll also like:
General FAQs
Are Air Max 90s cool?
The Air Max 90 is a fashion icon that still has some serious comfort thanks to its large air bubble. It works as an everyday sneaker and if you can find an original colourway or collaboration pair you can flex your sneaker knowledge.
What is the most expensive Air Max 90?
According to StockX, the most expensive Air Max 90 is the Eminem Charity Series from 2006. The lowest ask on the sneaker is sitting at $32,800 AUD.
What is the best shoe for eshays?
The best shoes for eshays and lads are the Nike Tuned 1, most often referred to as the Nike TN. A close second would be the Nike Air Max 90 or ASICS Gel-Quantum 180.
---
Featured Video from Man of Many