Sneakers are more than a lifestyle. They've become a culture—one of consumption that is currently defining our generation. Whether it's stumbling into a pair of custom Jordans on our Instagram feed or watching current fashion icons sporting the latest Supreme x Nike collaboration, we've developed such an infatuation with sporty footwear to the point that it's become part of our social news cycle. Enter the sneaker blog.
These online pubs are serving as the go-to platforms for avid sneakerheads, funnelling everything sneaker-related that's being shared across cyberspace. Drop dates, exclusive releases, leaked images, official announcements, price markdowns—it's all being accounted for. But only a select few are doing the culture right thanks to dope articles, great social engagement, and most importantly, prompt reporting. Lace-up as we put you onto the best sneaker blogs right now.
You'll also like: 
16 Best Sneaker Stores in Sydney
10 Best Australian Shoe Brands
Blacked Out – Best Triple Black Sneakers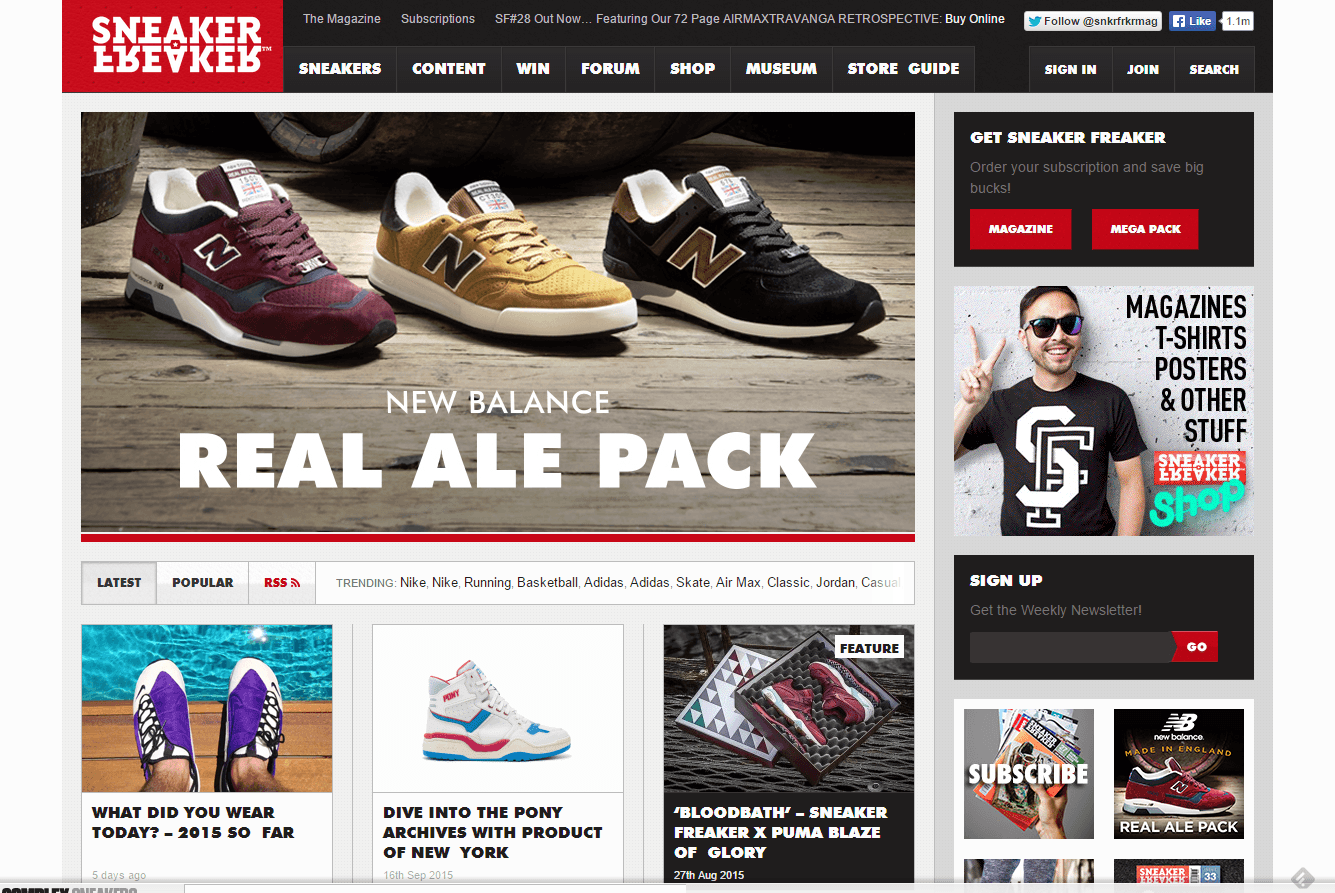 1. Sneaker Freaker
The Australian independent magazine has become a staple for sneaker news predating back to its 2002 print launch. Adapting with the times, the publication's done an incredible job converting magazine content to the web backed by phenomenal in-house photography and a wide range of features. Sneakerheads know the site best for its exclusivity, as it's been known to be the first to release images of Ronnie Fieg sneakers while putting out its own collaborations with major brands such as New Balance. The credibility of sneaker cultivist and Editor-in-chief Simon Wood (aka Woody) only adds to its officialness and title as one of the best sneaker blogs.
Founder: Simon Wood
Launch: 2002
Location: Melbourne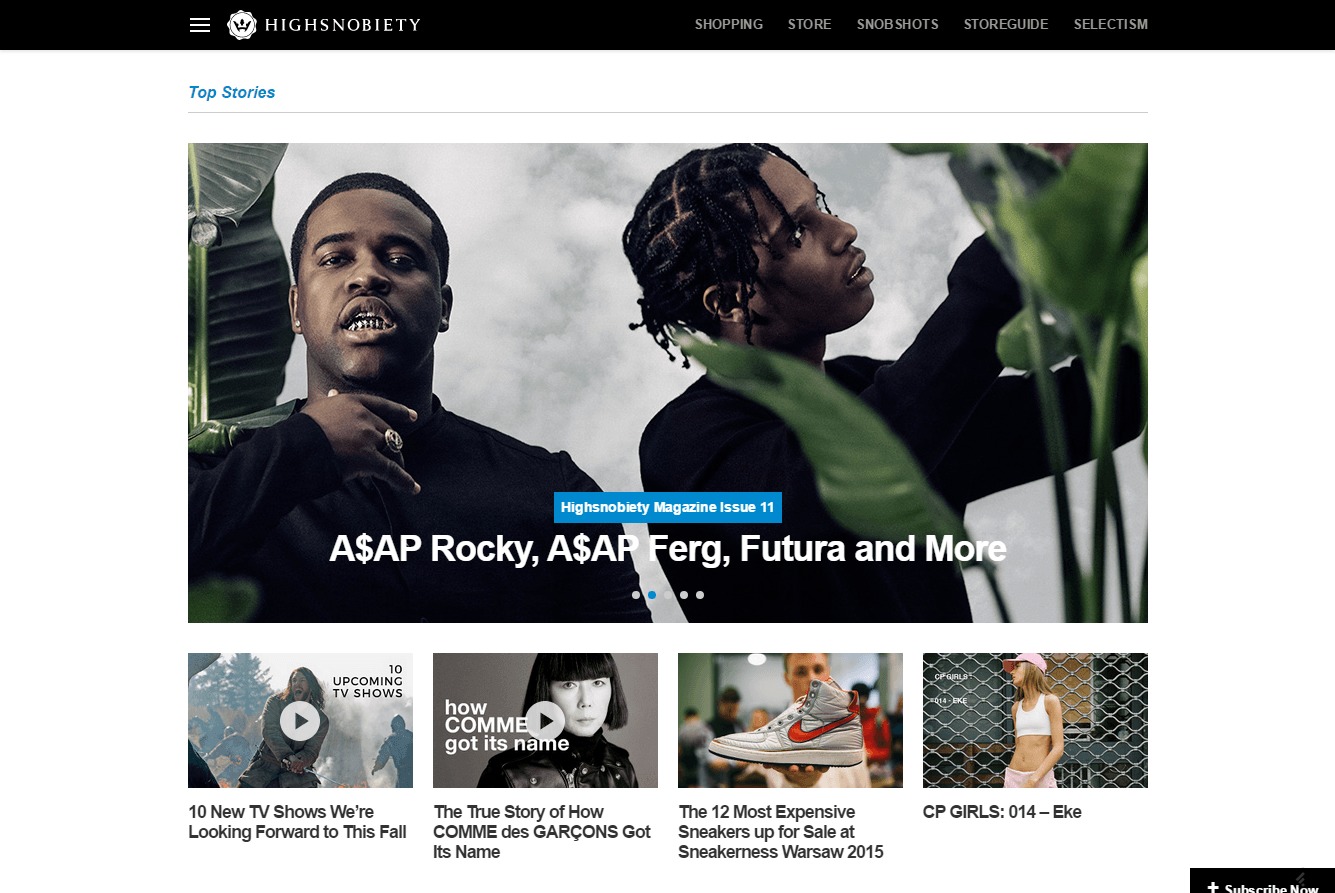 2. Highsnobiety
When it comes to elite footwear sites, there's no denying the impact Highsnobiety's had on PC fashion. The lifestyle domain balances men's style with sneakers better than every upscale print publication. They manage to accomplish this with coveted news stories based around athletic and designer shoes, as well as in-depth features. Doesn't hurt that the site's design layout is sexy as hell either.
Founder: David Fischer
Launch: 2005
Location: Berlin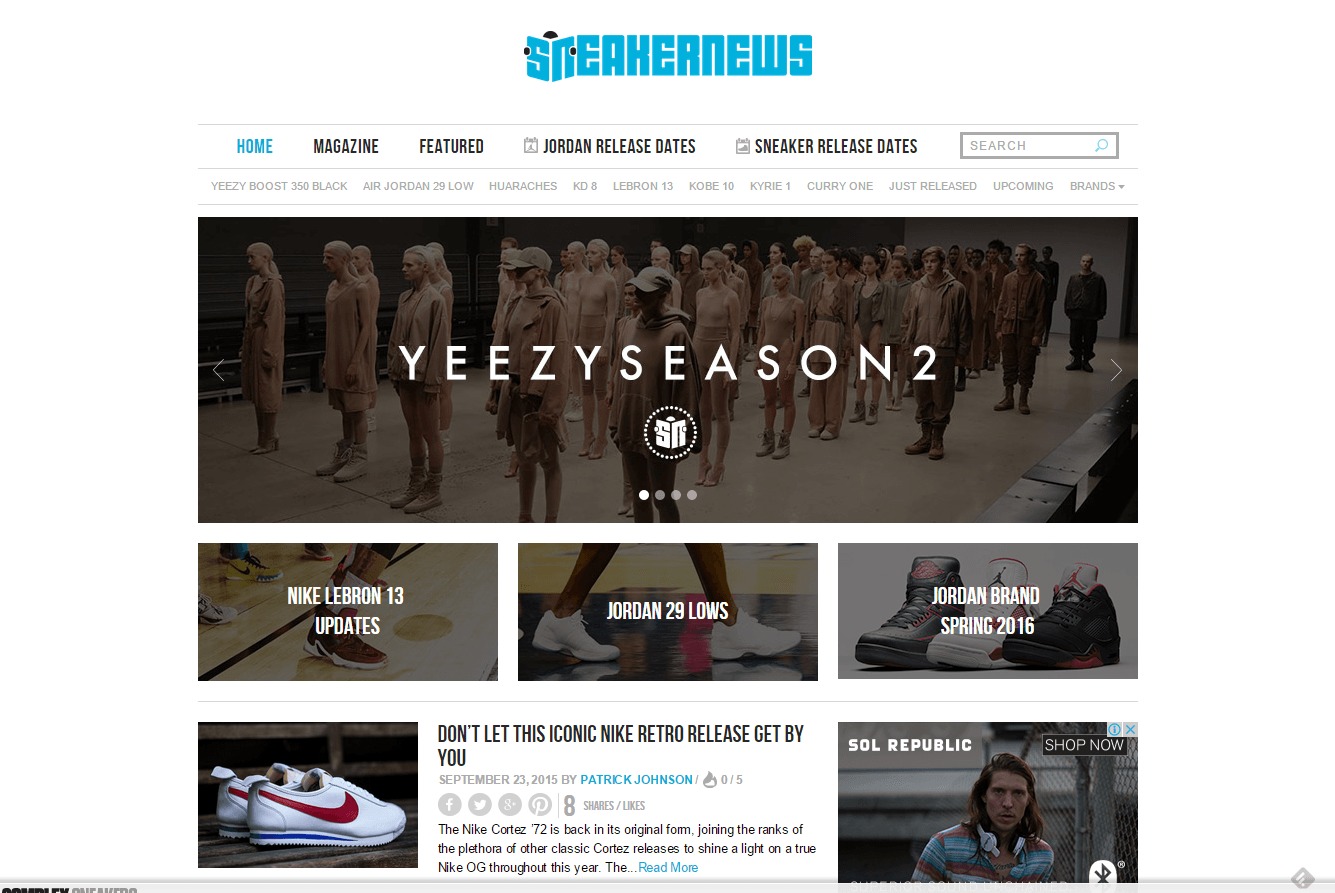 3. Sneaker News
The name alone alludes to what it specializes in. Just so happens that it's the best news source for sneakerheads at the moment. Founding editor Yu-Ming Wu (Freshess Mag) continues to expand his sneaker publishing empire by utilizing his current platforms, industry pull, and newly formed social media company to push dope content. From exclusive photoshoots to innovative pieces, Sneaker News remains one of the most consistent and original sneaker sites out. Peep its official Instagram if you think differently.
Founder: Yu-Ming Wu
Launch: 2007
Location: New York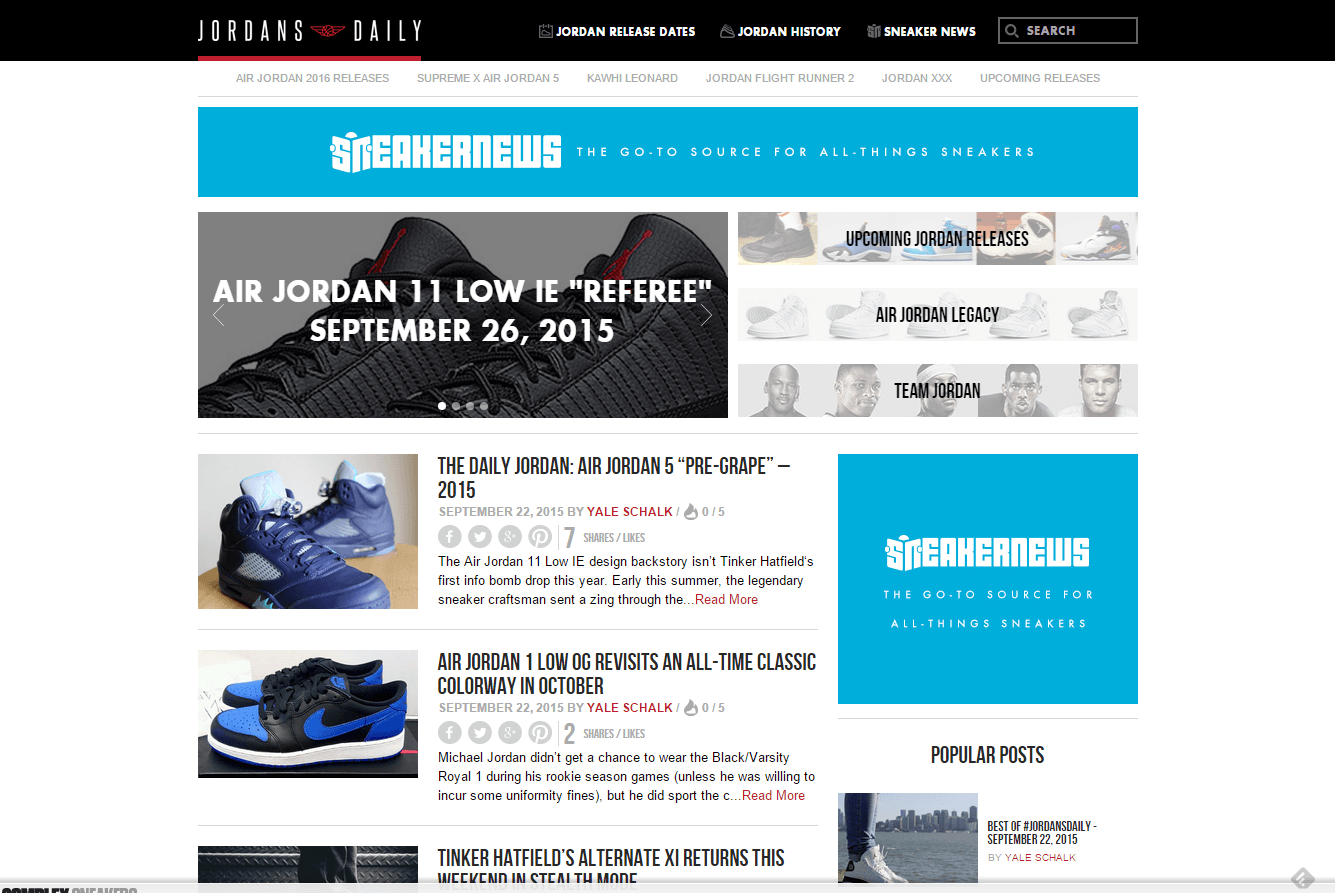 4. Jordans Daily
An aggregated haven for everything Jordan Brand, you get exactly what you should from a site bearing such a moniker. By that, we mean current news, release dates, and an extensive history of Michael Jordan's signature sneaker line. Though there's more substance to be found the further you explore, as the site works hard to encompass the brand's lifestyle by dishing on exclusive events and special appearances by Team Jordan ambassadors such as Blake Griffin, Carmelo Anthony, and Russell Westbrook just to name a few.
Founder: Yu-Ming Wu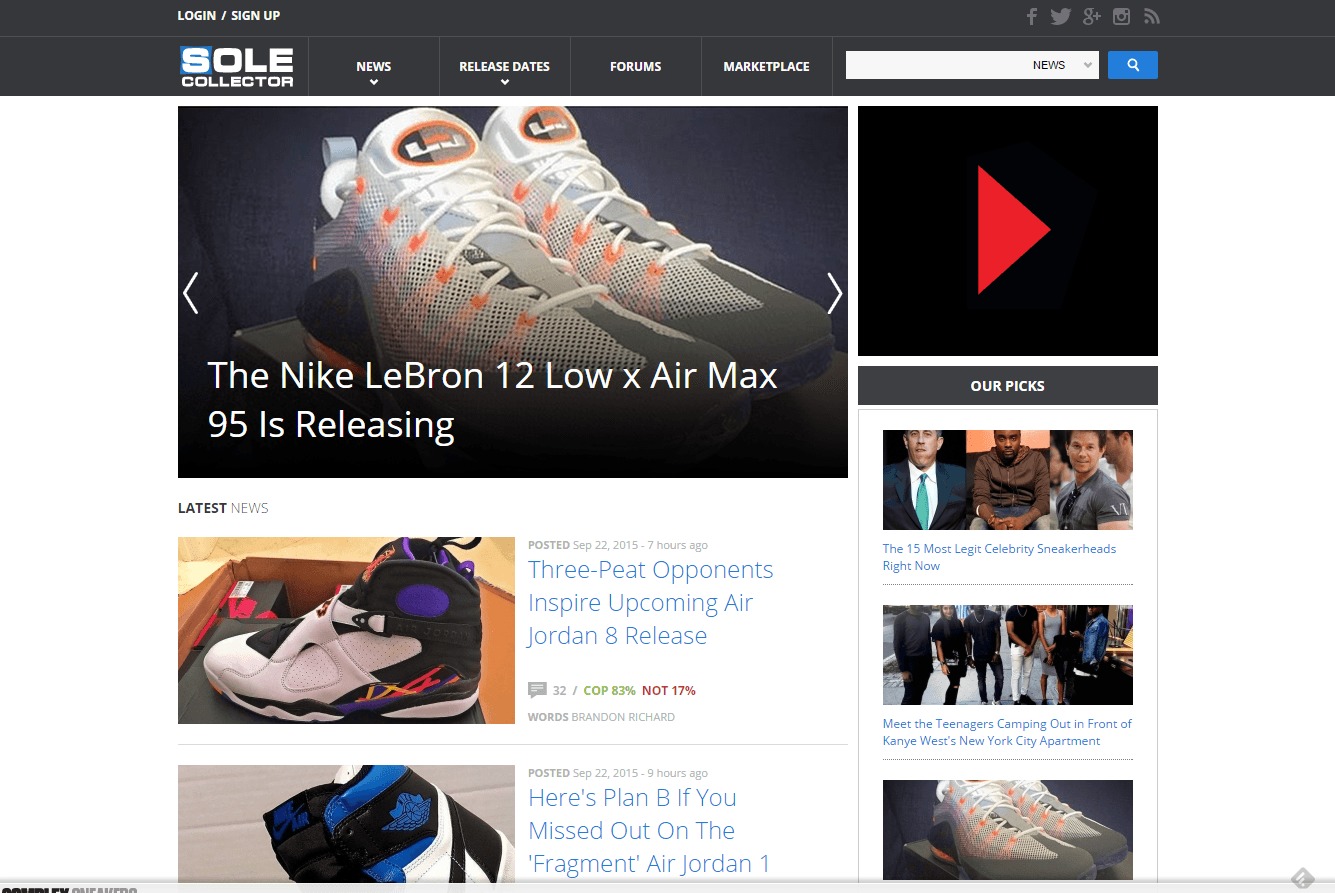 5. Sole Collector
Part of Complex's media network, the come-up sneaker site has garnered a huge following over the few years thanks impart to its sleek UI design and up-to-date news. You'll discover a huge library of sneaker blurbs that are easily categorized underneath the News tab, alongside a Marketplace where visitors can purchase rare sneakers from site members. Sole Collector's forum community proves to be one of the most active of any on the Internet and provides sweet intel on upcoming releases depending on the source.
Founder: Steve Mulholland, Alex Wang, Nicole Fesette
Launch: 2003
Location: New York City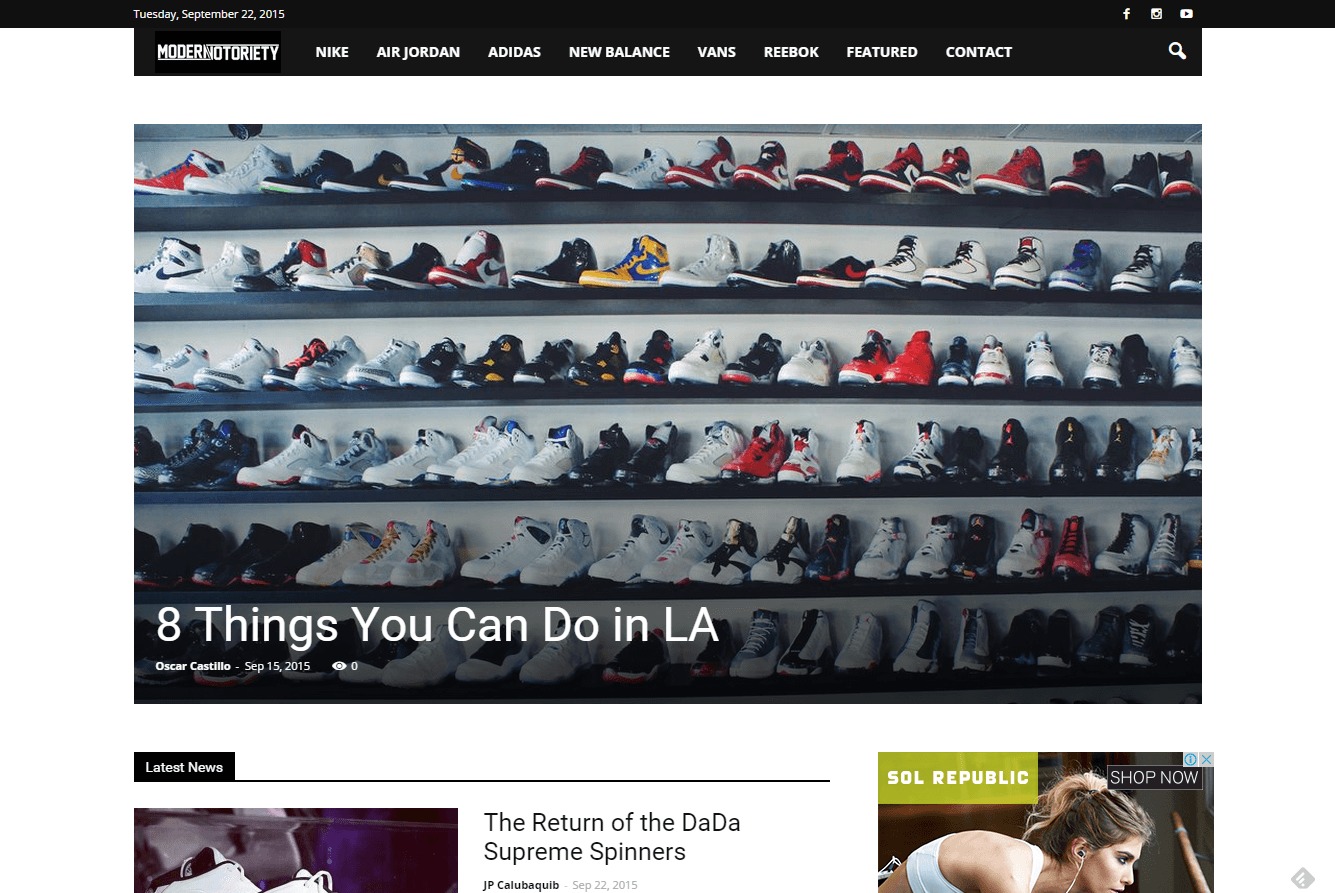 6. Modern Notoriety
Any sneaker influencer will tell you that a good sneaker blog is one that doesn't convolute everything. This is where Modern Notoriety excels, as the site simplifies things by focusing solely on trend-worthy posts. Not to mention they host a huge list of every Jordan Brand release and scour eBay for rare gems to purchase via PayPal. Shining light on every major sneaker brand, can't ask for anything more.
Founder: Oscar Castillo
Launch: 2010
Location: Chicago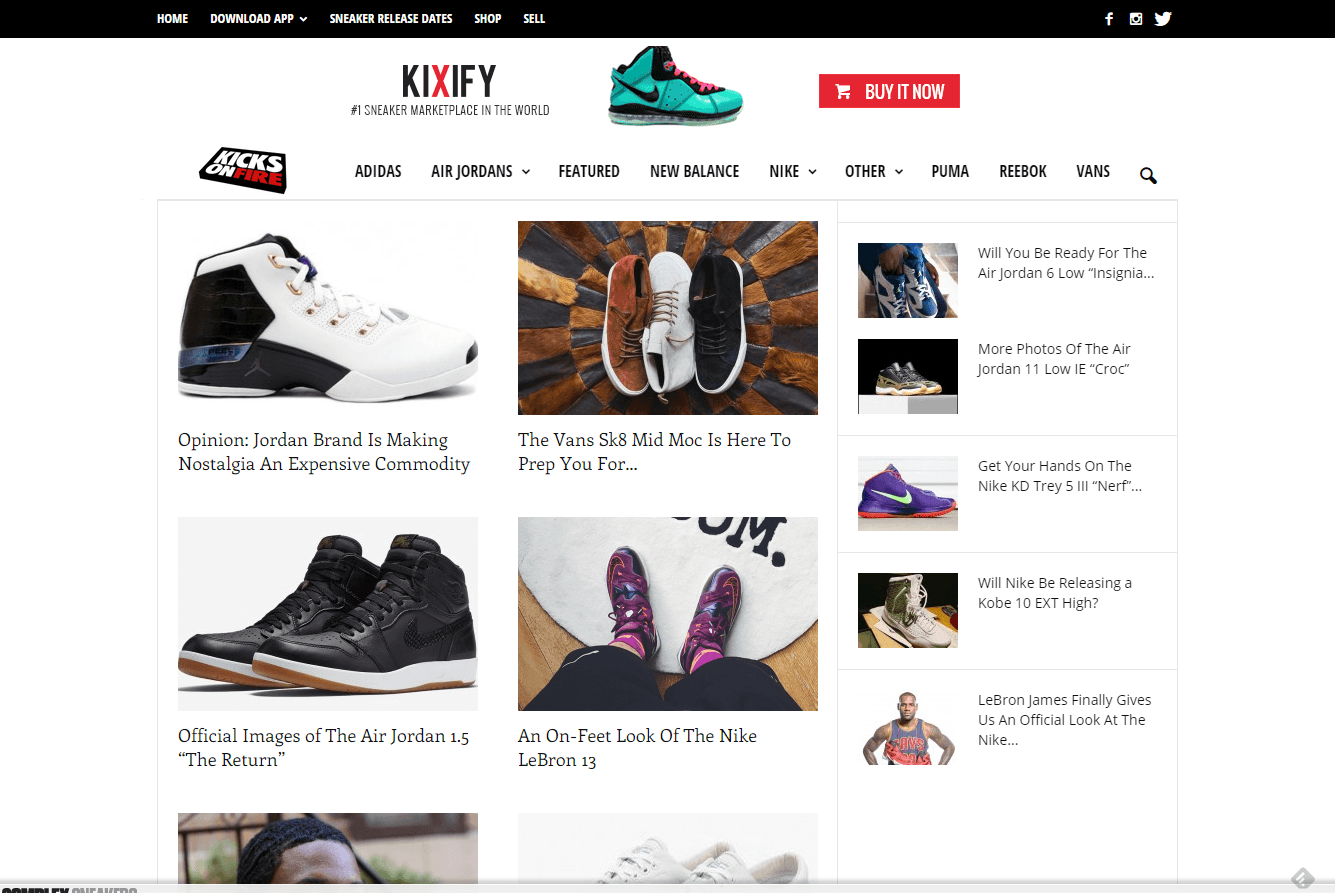 7. Kicks on Fire
Most known for its massive Twitter following, Kicks on Fire feeds entirely off its social media presence. That's not to say it doesn't hold weight in terms of content. It offers a clean interface that makes user navigation seamless while promoting standard sneaker news along the lines of available colourways, price updates, and release dates. However, KOF's community is what keeps the site engaging with the ability for users to create wish lists and earn virtual currency to win free kicks that can be used on Kixify as well.
Founder: Khan Furqan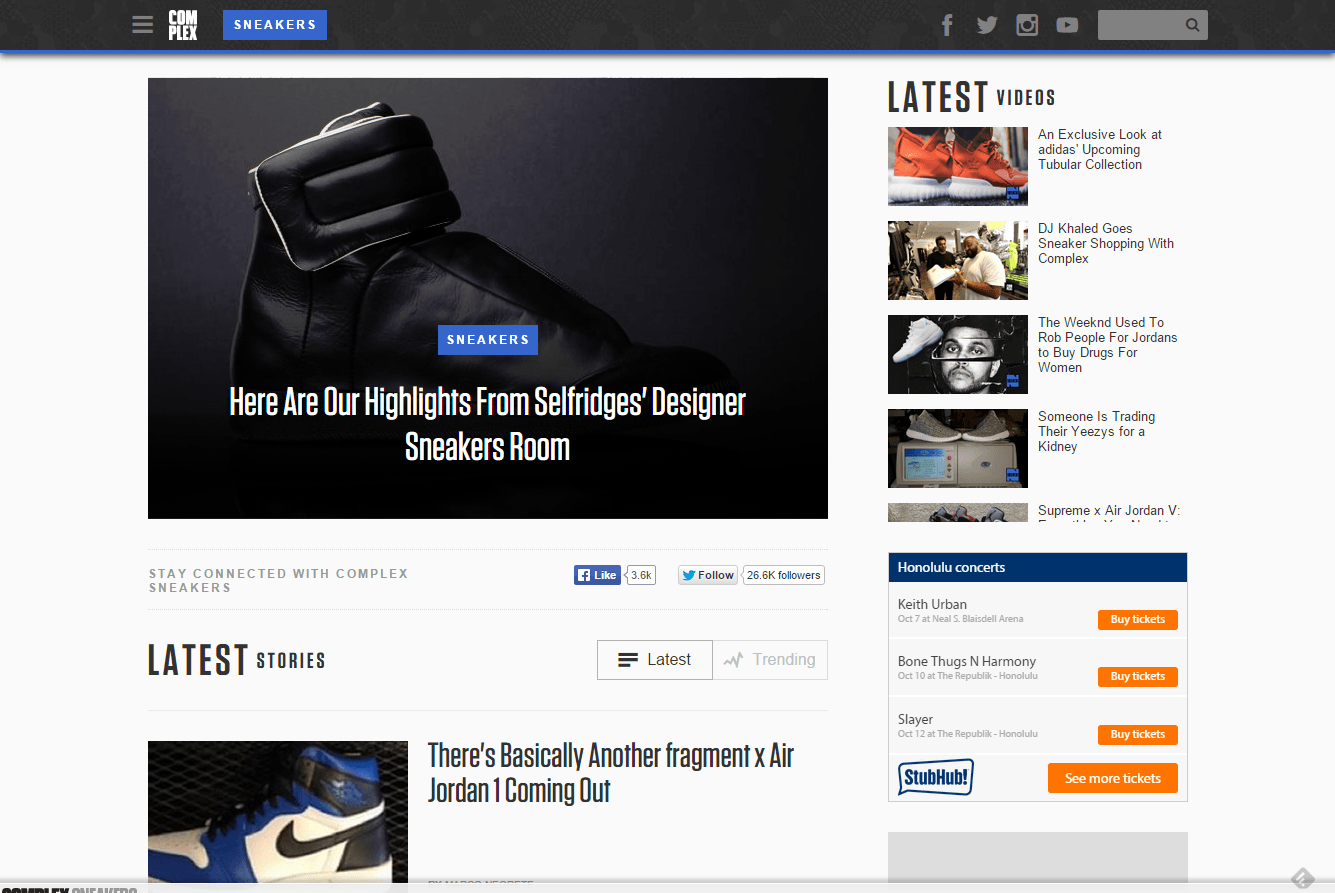 8. Complex Sneakers
One of the most acclaimed lifestyle sites of the past few years, Complex embodies its mantra of "Making Culture Pop." This couldn't be more evident than in the publication's sneaker coverage, which is run by footwear experts and influencers Joe La Puma and Russ Bengston. Their famed lists and round-the-clock new posts continue to pull in heavy traffic. The creation of original series like Quickstrike delivers great analysis on the current sneaker landscape. And Complex's endless social media reports keep sneakerheads up on every development in the biz.
Founder: Marc Ecko
Launch: 2002
Location: New York City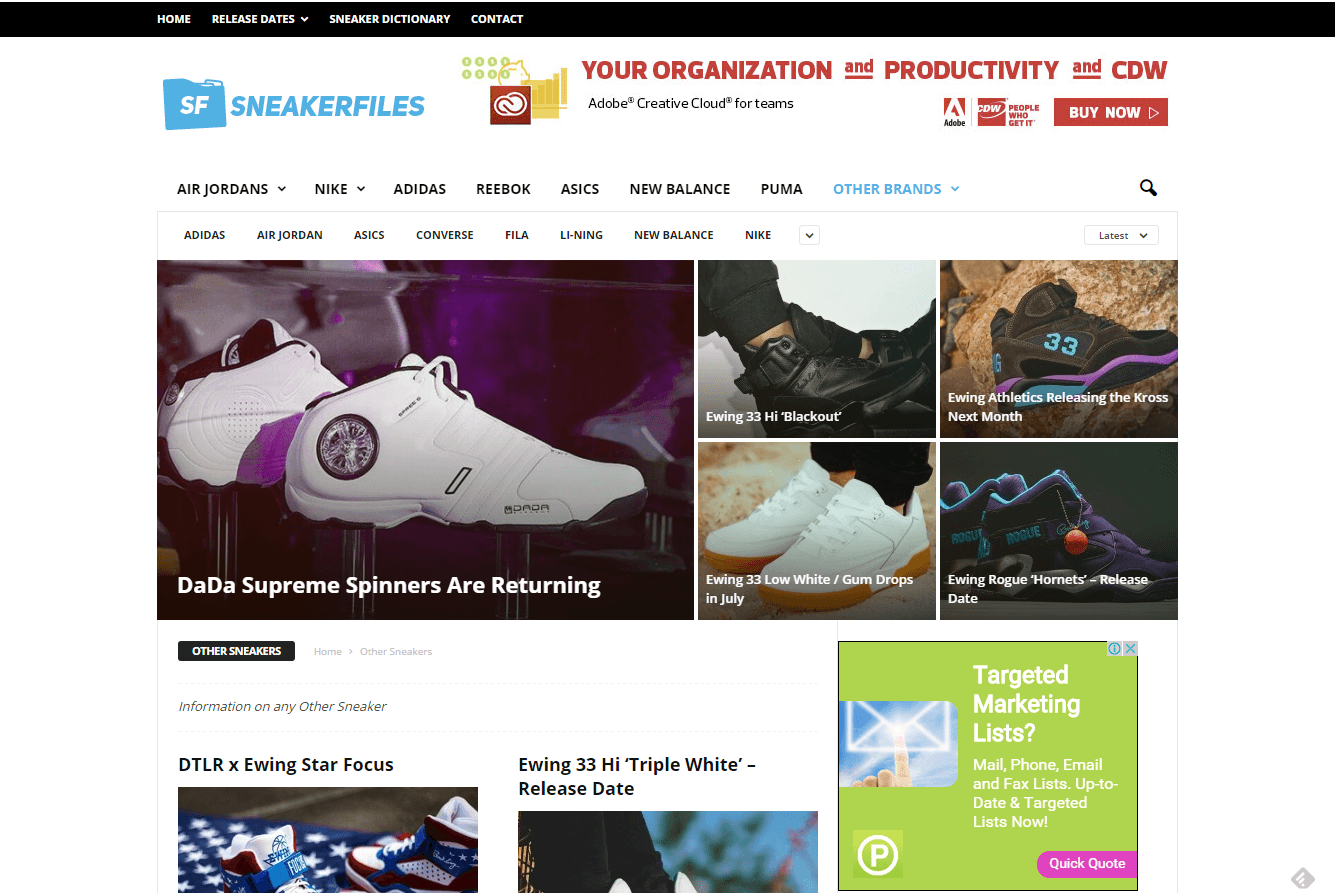 9. Sneaker Files
Sneaker Files may not win you over with its simplistic design. But its well-selected sneaker blurbs are sure to keep fans glued to the front page. Covering everything from one-off Nikes to retroactive footwear from the '90s (DaDa, Ewing Athletics, Fila, etc.), the site is a modern throwback for the sneakerhead looking to refresh their closets with present kicks and re-releases.
Launch: 2006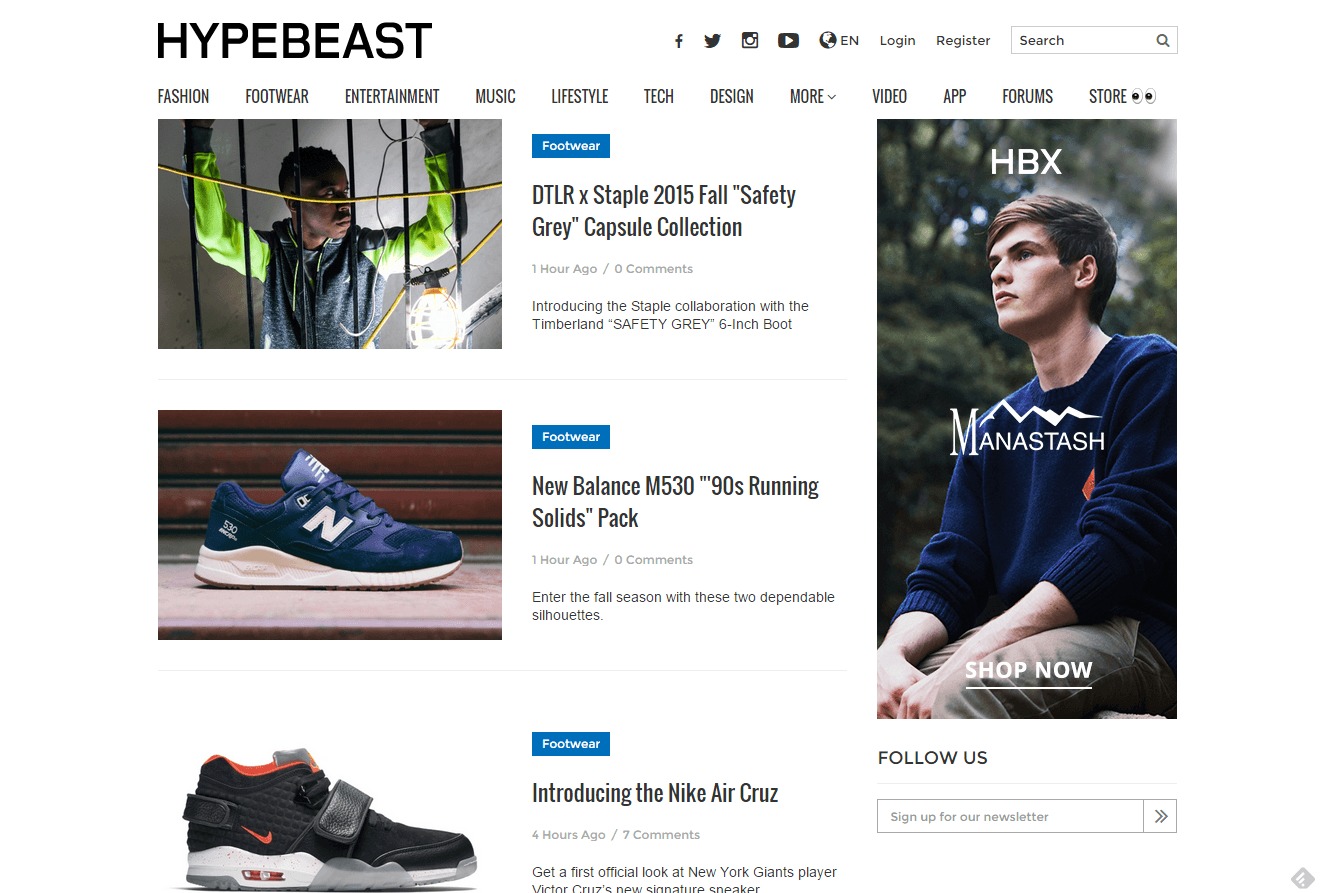 10. Hypebeast
Another footwear-meets-fashion domain, Hypebeast's transformed itself from a streetwear bible into a cultural elitist since its inception. The platform publishes close to 20 features daily across several categories and continues to expand on its sneakerhead roots with exciting editorials. You can even catch so-called hypebeasts like Kanye West leaving comments on the site from time to time. How's that for a co-sign? Current visits will most likely warrant you Air Jordan, limited edition New Balance, and international Asics model updates.
Founder: Kevin Ma
Launch: 2005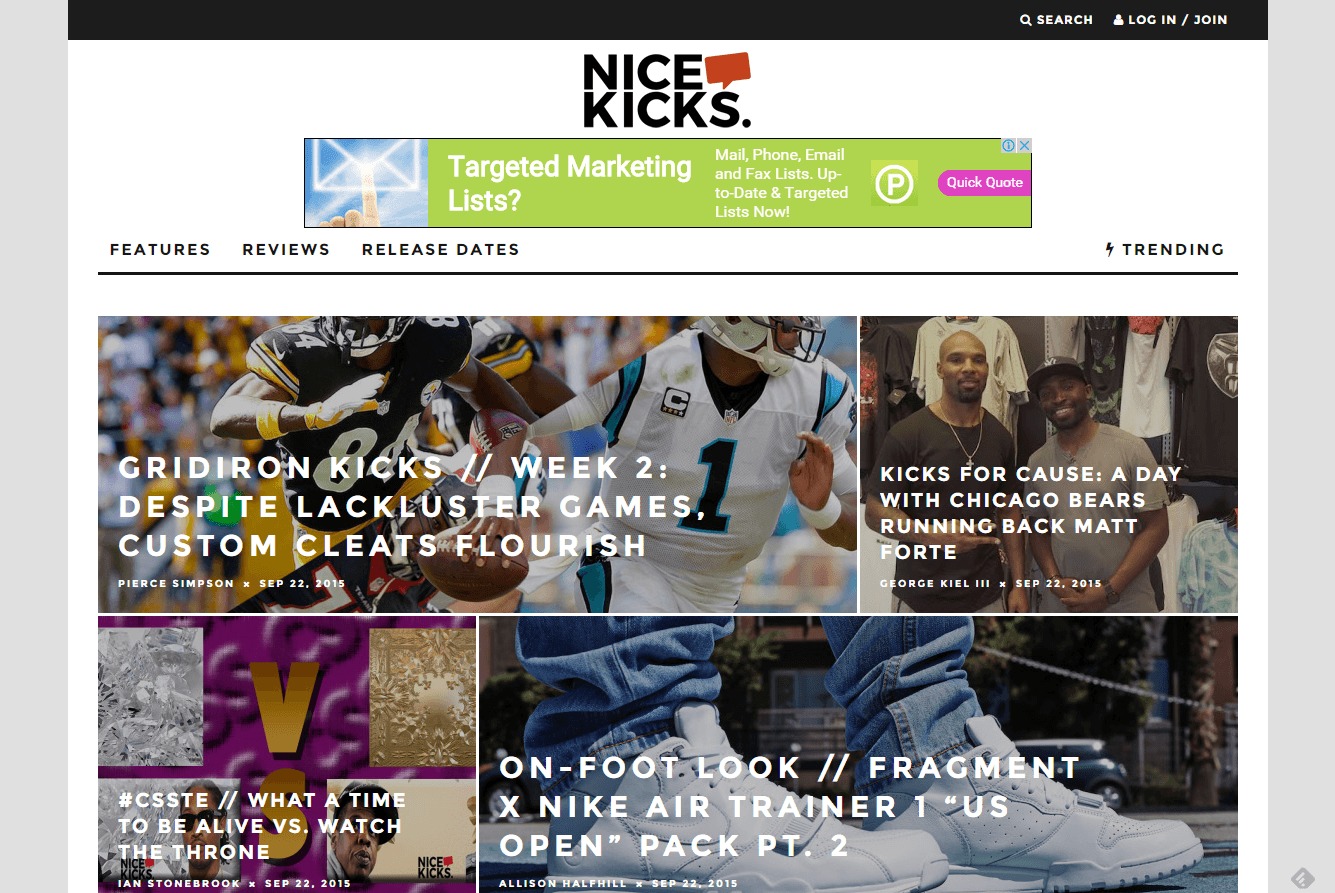 11. Nice Kicks
The online store/sneaker blog appeals primarily to basketball connoisseurs—gaining access to NBA athletes and celebrities heavy on b-ball kicks. Not sure what Lebrons the King walked out with during the All-Star game? How about the exclusive Jordan colourway Nick Young is rocking during warm-ups? This site tends to get the skinny before the competition. It's even stepping up with some cool designer features, the most recent spotlighting retro classics like the Zoom Flight '95.
Founder: Matt Halfhill
Launch: 2006
Location: California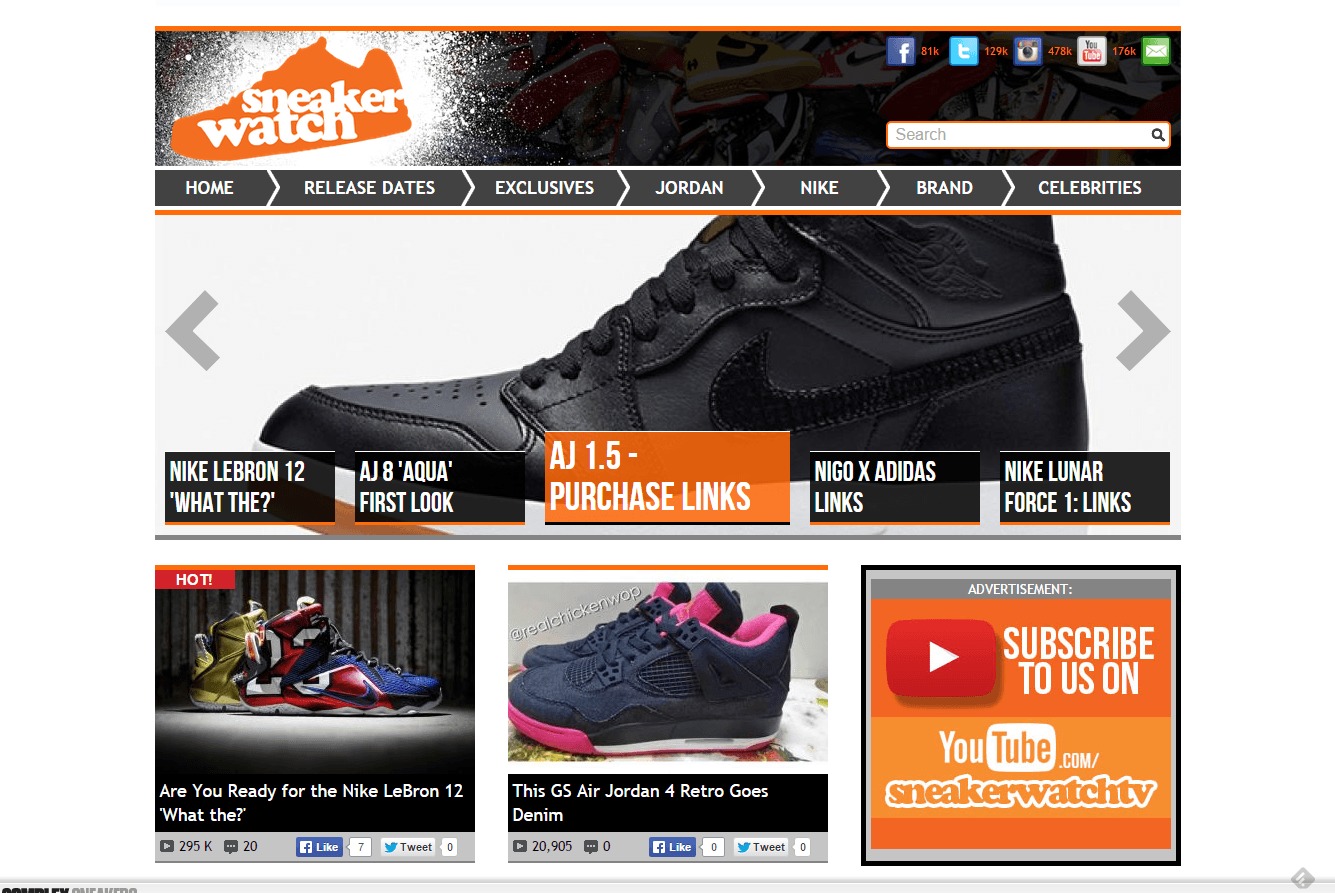 12. Sneaker Watch
A sister site under the VladTV umbrella, Sneaker Watch benefits mostly from its miscellaneous star interviews. Granted it holds up as standard sneaker site with daily news updates, the video clips showcasing unlikely celeb sneakerheads are where the real entertainment value is. The irony is that they actually provide great social commentary on the latest releases. To call it entertaining, yet still insightful would be an understatement.
Launch: 2007
You'll also like: 
16 Best Sneaker Stores in Sydney
10 Best Australian Shoe Brands
Blacked Out – Best Triple Black Sneakers
General FAQ
What is the best sneaker blog?
A few of the best sneaker blogs are Sneaker Freaker, Highsnobiety, Sneaker News, and Jordans Daily.
How often is Sneaker Freaker released?
Sneaker Freaker is released bi-annually. The magazine started in 2002 and was founded by Simon Wood.