Jack Riviera Loafers are the Definition of Indulgence
Comfortable, regal and refined, Australian footwear label Jack Riviera has launched its first collection of handcrafted velvet loafers perfect for bold dressers. Taking a classic footwear staple and giving it a cheeky twist, the debut collection is an edit of five ready-to-wear styles each with its own playful persona.
Strongly influenced by the sights, smells and colours of luxury European getaways, Jack Riviera loafers are designed to celebrate individuality like no other footwear. Transform a pair of chinos and button-down with a pair of Jack Riviera loafers, and you're almost guaranteed to have the room talking.
Sailors and boat lovers will appreciate the Ahoy Jack and Squadron Jack styles available in multiple colours and complete with sailing insignia embroidery. Fans of a good drink and a particular franchise whose hero has his drinks shaken not stirred might opt for the Tipsy Jack loafers. They're the ones adorned with martini glasses.
For the man who doesn't believe in modesty, Tassel Jack loafers are exactly what they sound like: they have tassels. King of Jacks, the fifth and most-popular design features crowned lion embroidery and is available in a black or claret red colourway.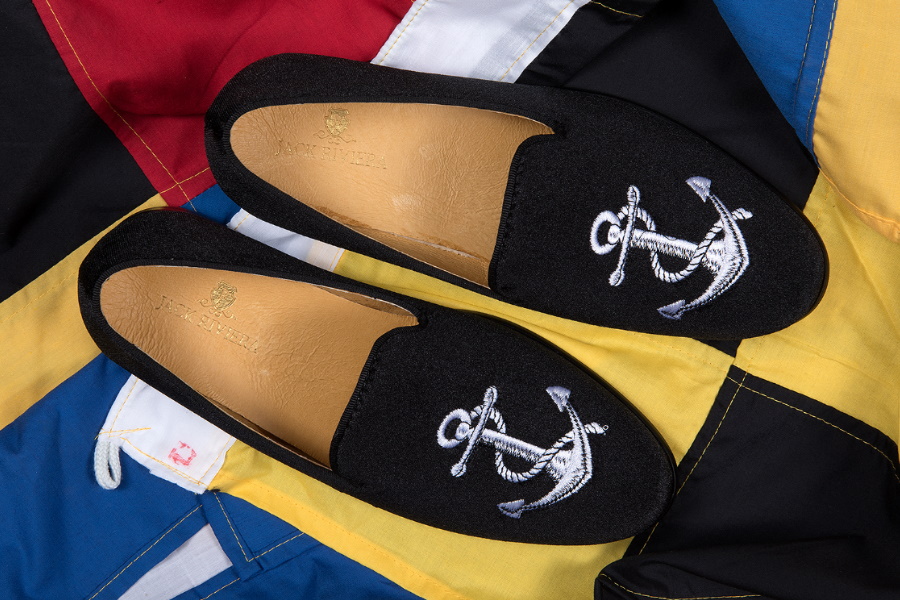 Little says indulgence like a pair of velvet smoking slippers unless you pair it with a cigar and pricey single malt which is undoubtedly the definition of indulgence.
Jack Riviera loafers are available exclusively online which you can find by following the link below where they are priced at a cool $185 a pair.