Wardrobe Colour Matching Guide
Working with colours can make or break a look. Too little and you can blend in with the pavement and too much can make you look like a walking Jackson Pollock painting. In other words, finding the perfect balance is key. Follow the guide and find friends for your favourite colours and make every outfit a masterpiece: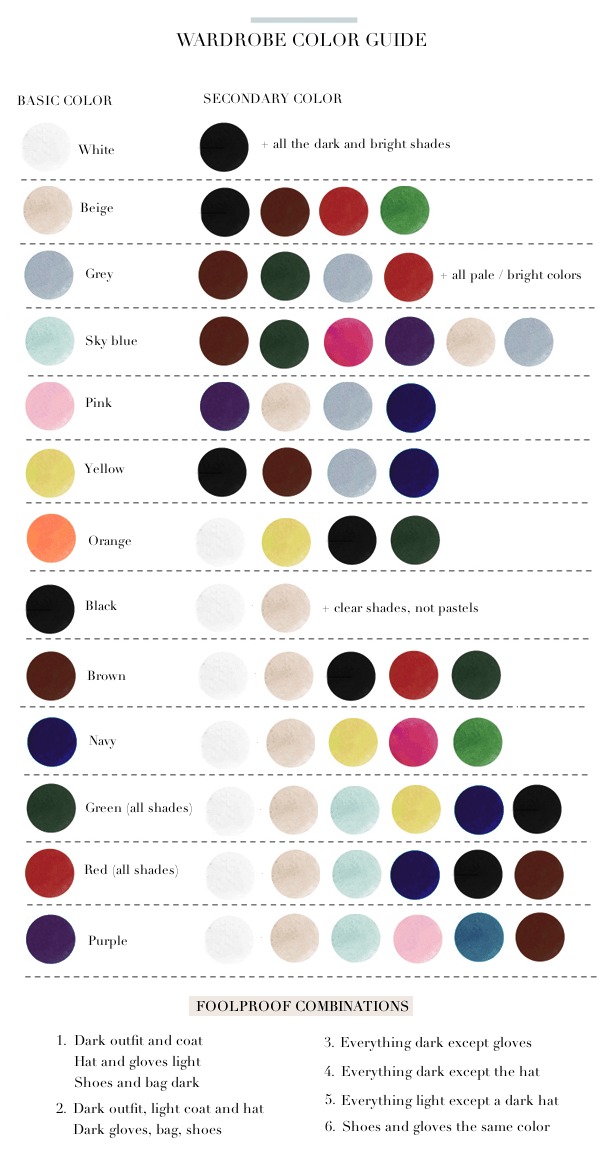 Of course, colour matching is really as much about you and your personality as it as about commonly accepted schematics. That means you should be using the above chart as a foundation upon which to explore colour matching and then implementing it to suit your identity. If you're new to fashion, start modestly by sticking with the "safe" colours that blend with essentially everything. You know what we're talking about: namely white, black and dark blue (though as the chart above indicates black and dark blue don't always go with everything). Also be sure to scope the "foolproof combinations" at the bottom of the chart because those will virtually never steer you wrong.
The key takeaway when it comes to colour matching is that you go one step at a time toward finding a colour scheme that represents who you are. That's because, in addition to things like material or design, colour is one of the easiest ways to let your clothing tell others a little about yourself. If you're the kind of guy who rolls to the party and plays the corner, not wanting to be approached, then stick with neutral colours like white and black. If you're someone who chugs a few drinks and is then ready to engage, maybe step it up a notch and go with grey or a dark red, something cool but not outspoken that allows you some social flexibility but won't send others hurling in your direction.
Naturally, if you're a bold individual who's unafraid of taking centre stage no matter what the occasion or circumstance, by all means, jump headfirst into the full spectrum of colour matching. Yellows, oranges, sky blues, purples–they're all on the table. But don't let your fearless sense of exploration veer you away from the fundamental notion that your colours must still actually match. That again is where the above guide becomes your saviour.
Let's review. If you're new to fashion and not ready to make big statements, stick with safe, neutral colours. If, however, you're the guy who wants to make heads turn, employ the use of bold, eye-catching colours and use the above guide to ensure they all match.