In the tireless pursuit of innovation and inspiration, Longines has time and again found its way back to the ocean. Now, a new collaboration with celebrated Australian Indigenous artist Otis Hope Carey has seen the iconic Swiss watchmaker experiment with its aesthetic in entirely new ways, while simultaneously marking the intrinsic connection to the water shared by both brand and artist. 
Carey, a proud Gumbaynggirr/Bundjalung Man, is known for his unique approach to reshaping traditional Indigenous art and symbols in the realisation of something new. His partnership with Longines has seen him create bespoke artwork for a series of special-edition NATO watch straps that reflect his deep spiritual link to the ocean, resulting in the Longines x Otis Hope Carey NATO watch strap collaboration. According to Carey, each of the new straps is itself a work of art, consisting of a pair of layers that work together and hold genuine significance either for his people or for him personally.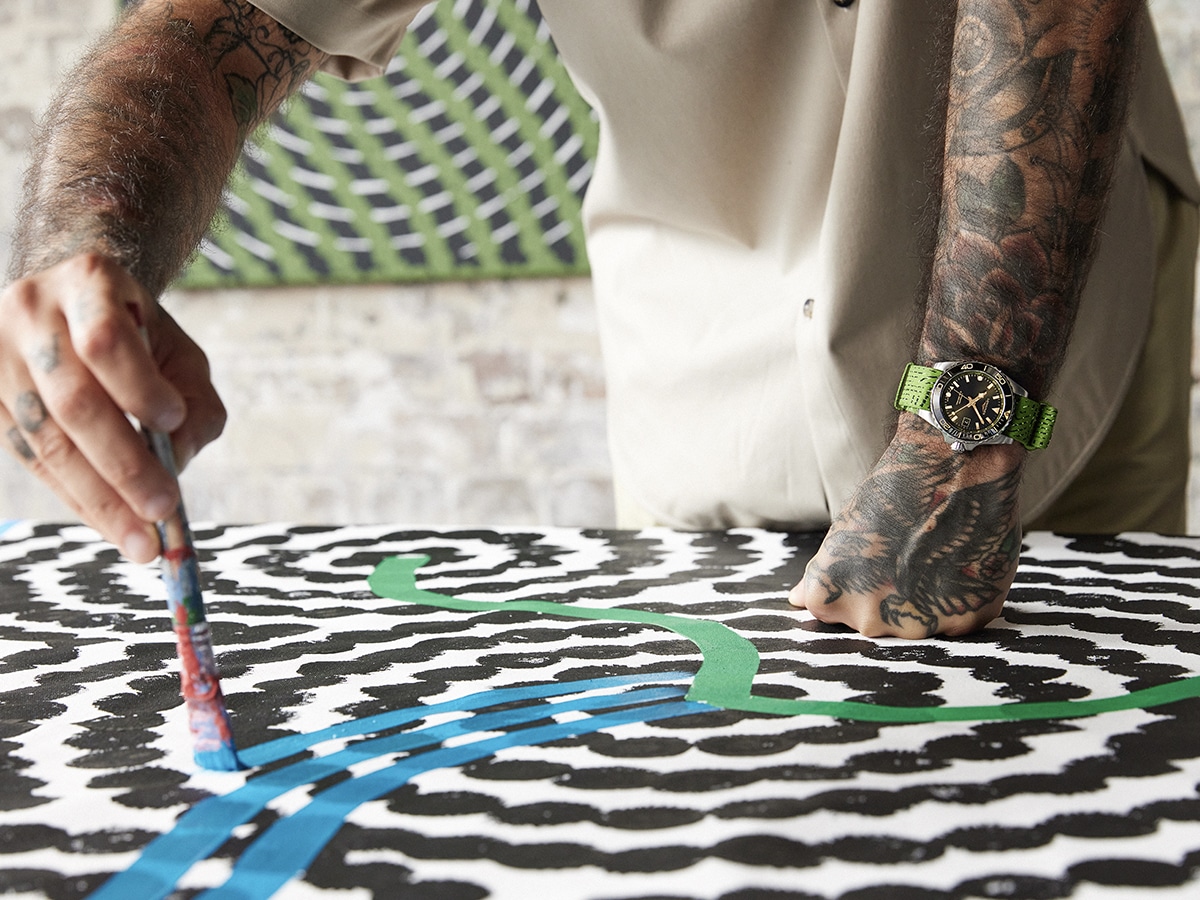 "Longines is always reinventing old things in a modern light, and that lies at the crux of what I do. So our collaboration fits and flows so well together," Carey explains. "The body of work we used for the designs has been directly influenced by the ocean and consists of two layers that reflect that. The bottom layer is an old symbol representing a traditional dance that gives thanks to the ocean, while the patterned top layer is my interpretation of the tides overlapping and the entwined spiritual connection that I have with them."
At Home in the Ocean
Available in bold shades of green, orange, blue, and black, each of the Carey-designed NATO straps have been paired with a watch from the newly redesigned HydroConquest collection, featuring an exclusive Longines GMT movement. The straps embody a modern, elegant aesthetic that's been a consistent thread throughout Carey's work and acts as a perfect complement to the stunning sunray dials of the HydroConquest watches. Combining Longines' technical excellence and historic expertise in developing watches with multiple time zones, while taking inspiration from the ocean and those who live for it, the Longines x Otis Hope Carey NATO watch strap collaboration timepieces refine the idea of a watch made for life in the water.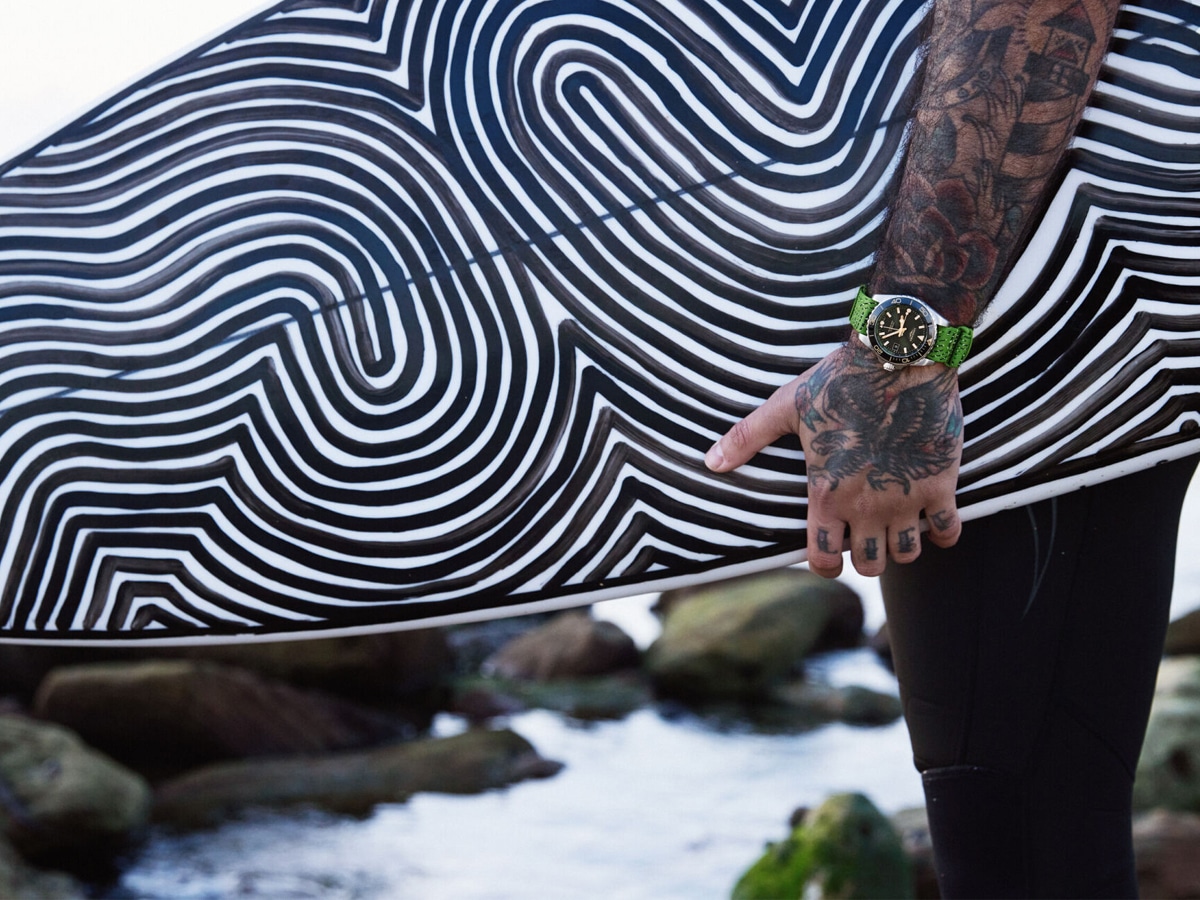 Taking into account the sheer passion he has for the project, it may come as little surprise that before making his mark in the world of art, Carey was known as a professional surfer, an experience that further cemented his love for the ocean and his commitment to its protection. Aligned with this outlook is the approach of stitching his designs onto straps constructed from recycled materials, which simultaneously provided a contemporary take on a traditional look, which—as Carey points out—is highly representative of his approach to art.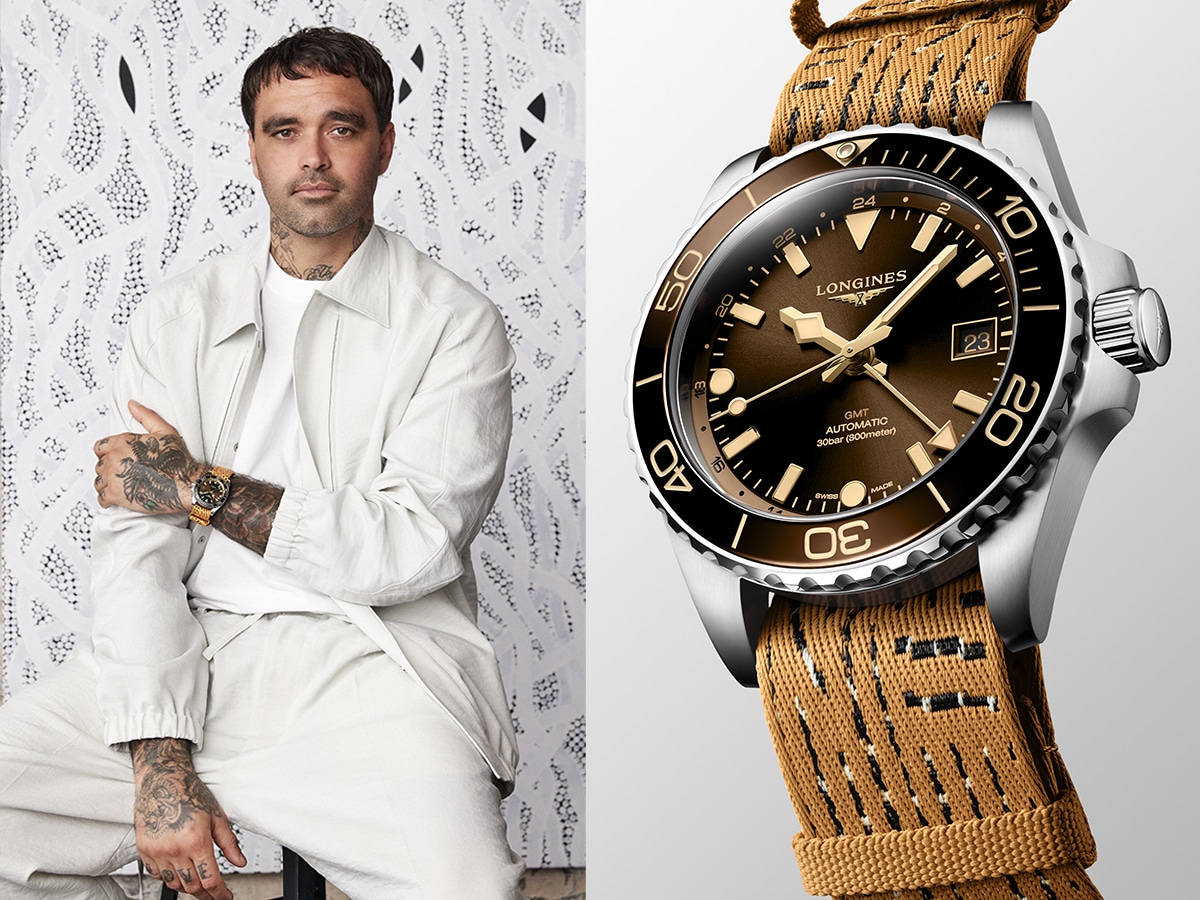 "I'd describe my work as a very contemporary-based indigenous art. I take old symbols and I exaggerate them out in a form that's modern," he says. "I was given a lot of freedom to create the design for the straps, so I had a lot of fun using the creative process to further explore my relationship with the ocean. And like that creative process, I find the ocean washes back the layers of yourself. Spend enough time in the waves and you really get down to the centre of your heart."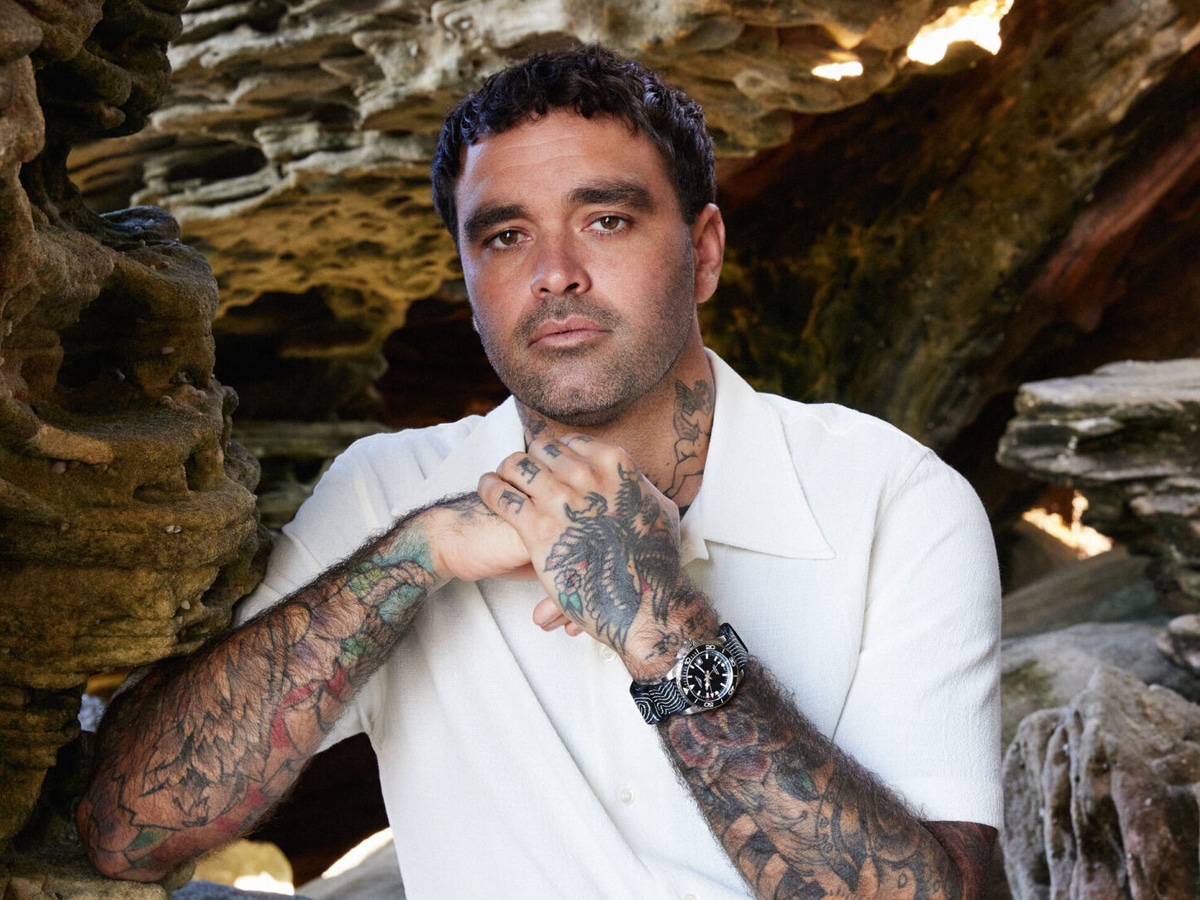 The Art of Elegance
Sharing more than just an affinity for the ocean, Carey and Longines both exude an understanding of and appreciation for elegance, which Carey says is something he strives to incorporate into his work: "Elegance can mean a number of things, but to me, it's a self-respect and respect for others, really. Elegance is a part of everything that I apply my creative process to. I think without elegance, your work's quite dull. So when you want to be elegant with the things that you create, you really dig deep into yourself and create the best thing that you can. I think elegance is important to have at the forefront of what you're doing and who you are as a person."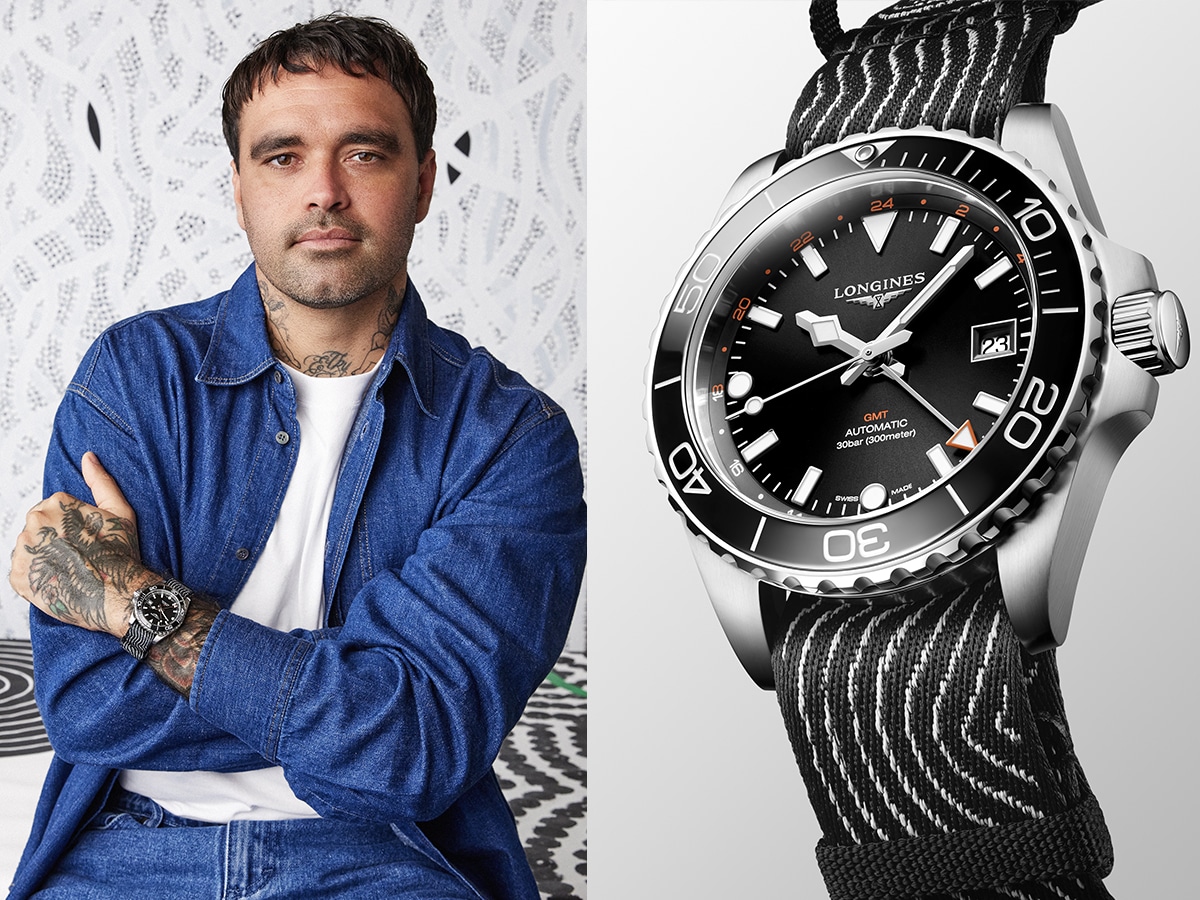 Further, Carey is quick to point out how Longines helps him tap into that sense of elegance on a daily basis: "Longines, it's very timeless. It's a beautiful, elegant company. All the watches are just timeless and beautiful and I actually see my work in the same light. As such, I think the Longines watch that I put on in the morning kind of dictates my outfit for the day. Yeah, it kind of sets the tone."
Undoubtedly there are many ocean-lovers out there who'll feel precisely the same once they secure a new Longines x Otis Hope Carey NATO watch strap collaboration of their very own. Discover the full collection via the link below.