T-REX Bronze Clock is Unlike Anything We've Seen Before
MB&F founder and owner Maximilian Busser, William Massena from Massena LAB, and Swiss clockmaker L'Epee 1839 have teamed up to create a clock that's straight out of the Jurassic, but with a thoroughly modern flair. The T-REX Bronze Clock is a desk decoration that is completely unparalleled. And that was entirely intentional. "This collaboration is truly a collector's piece that you will not be able to find with any other brand," promises Watches of Switzerland executive vice president, David Hurley. Watches of Switzerland will be carrying the limited edition clock. "Independent brands are the driving force behind the creativity and innovation in our industry," added Hurley.
You'll also like:
The Wind Up – Watch News #181
The Brightest Stars of OMEGA's Constellation Gent's Collection
The Wind Up – Watch News #150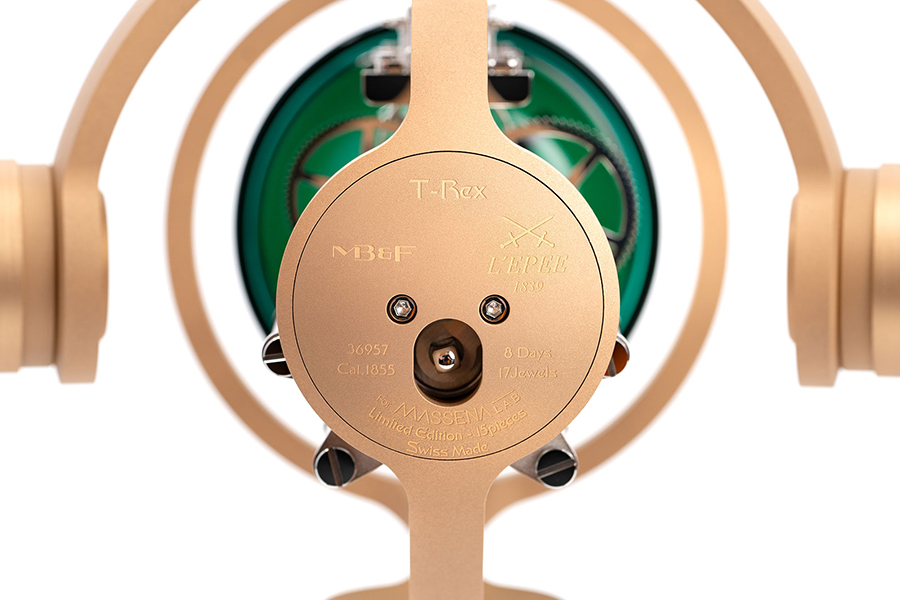 "I wanted this collaboration to capture the fun and child-like inspiration of the original, but with a material and finishing which invoke a more organic and rugged aesthetic, with a keen sense of history," says Massena. The T-REX Bronze definitely struck the mark on child-like wonder. A new take on a previous clock, the T-REX uses Murano glass and bronze for the clock face. To get the right proportions and look, and to tie in history, Maximilian Maertens, the case designer, used 3D scans of dinosaur fossils and then modelled the clock after an actual Tyrannosaurus Rex skeleton. The glass clock face is suspended between two legs, complete with joints, that stand atop feet that are armed with deadly talons. Hand-applied oxidation and patina mean that no two of the limited edition clocks will be the same.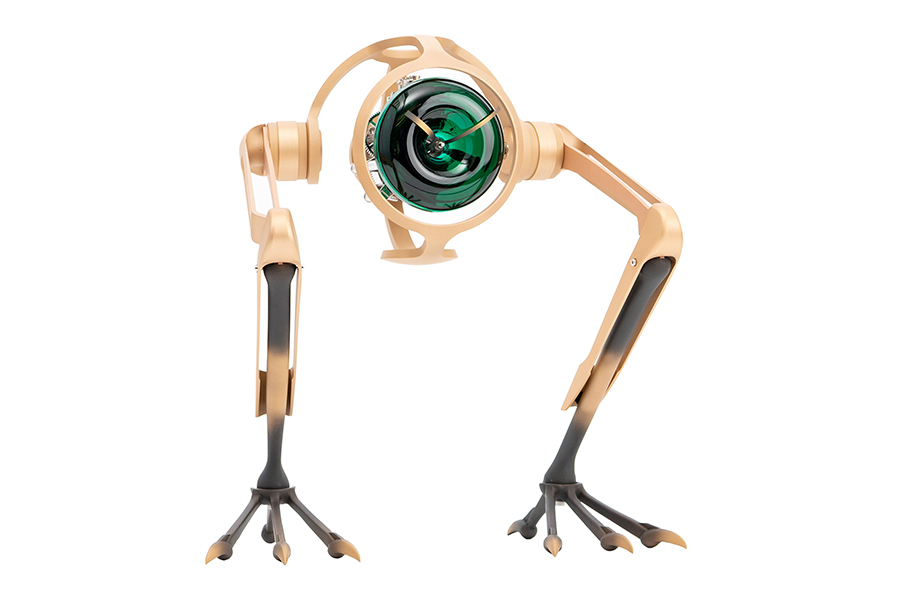 The case measures 258mm in diameter and is comprised of 63 different components. Two hands protrude out of the green-coloured, hand-blown, T-rex-inspired "eyeball," which was inspired by the scene in Jurassic Park when the T-rex peers into the Jeep. The hands are powered by a 138-component movement that beats at 2.5 Hz and boasts 17 jewels. Only 15 models of the collaborative effort from MB&F, L'Epee, and Massena Lab—the T-REX Bronze—will be made, with each being priced at USD$27,000.
You'll also like:
The Tudor Black Bay Bronze Bucherer Blue Coming to US
William Wood Watches Pairs Timeless Designs with Unique Fire Hose Straps
The Wind Up – Watch News #27