38 Best Minimalist Watches for Men
Minimalist watches have become a growing trend for some time now. Featuring simplistic designs and straightforward time-telling mechanisms, their purpose is to tell you the time in without all the bells and whistles we come to expect from luxury watches. One of the benefits of minimalist watches is that, despite being some of the most functional and best-looking watches out there, they're also some of the most reasonably priced timepieces around. With this in mind, we compiled a list of the best minimalist watches for men.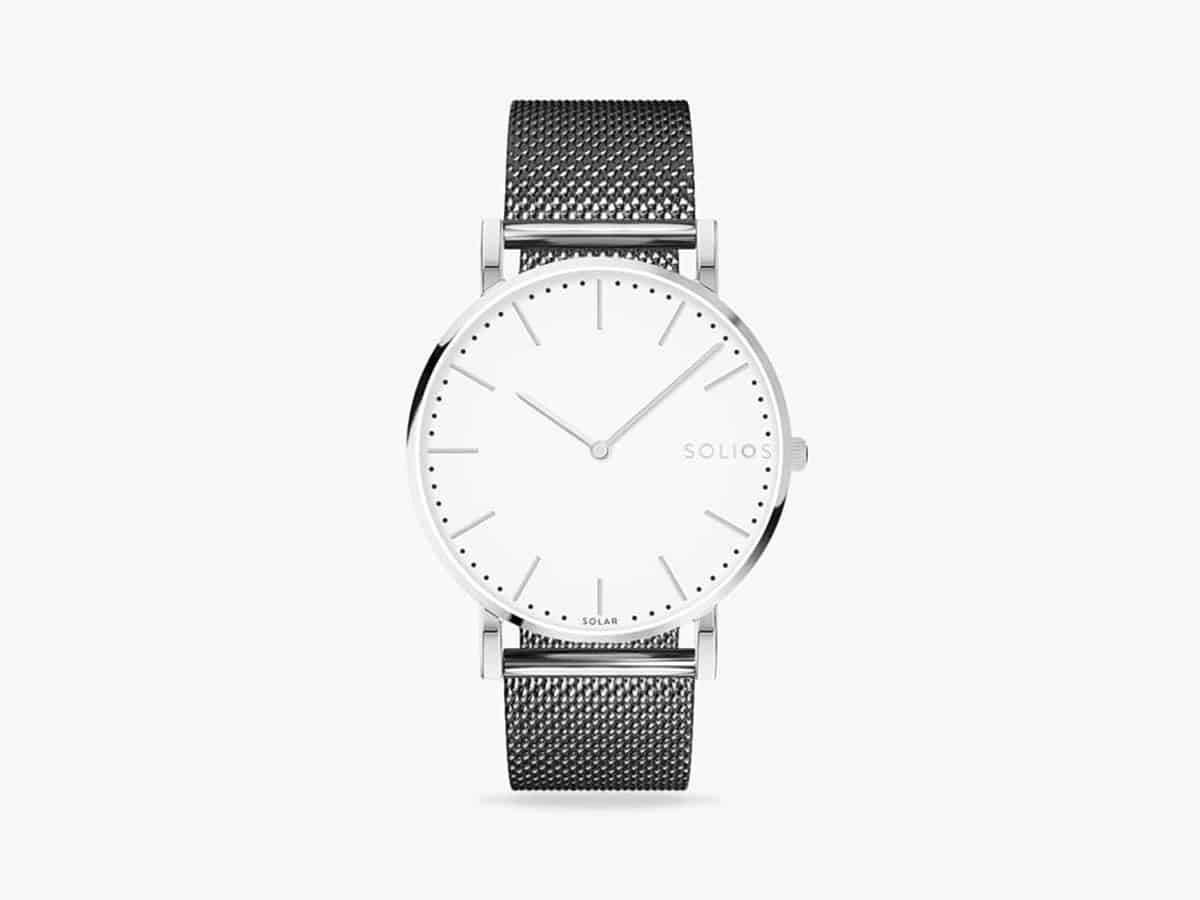 1. Solios – White Solar Watch
Solios' objective was to create the most elegant and minimalist solar watch – and they achieved it. The brand's sustainable watches perfectly combine technology, aesthetic, and durable materials together. The case is 7.5mm thin which is impressive for a solar watch that offers 6 months of power reserve. The solar technology allows for the watch to recharge by itself forever, meaning you'll never have to change your battery. The Canadian watch brand makes its timepieces as sustainable as possible, allowing them to become the first watch company to apply for a B-Corp certification. On top of that, Solios is committed to protecting one acre of rainforest for each watch sold. Solios has not only created the finest solar watch, but it has also created a small accessory that comes with a big impact.
Price: $280 USD
Model: White Solar Watch
Movement: Solar Powered
Case Diameter: 40mm / 36mm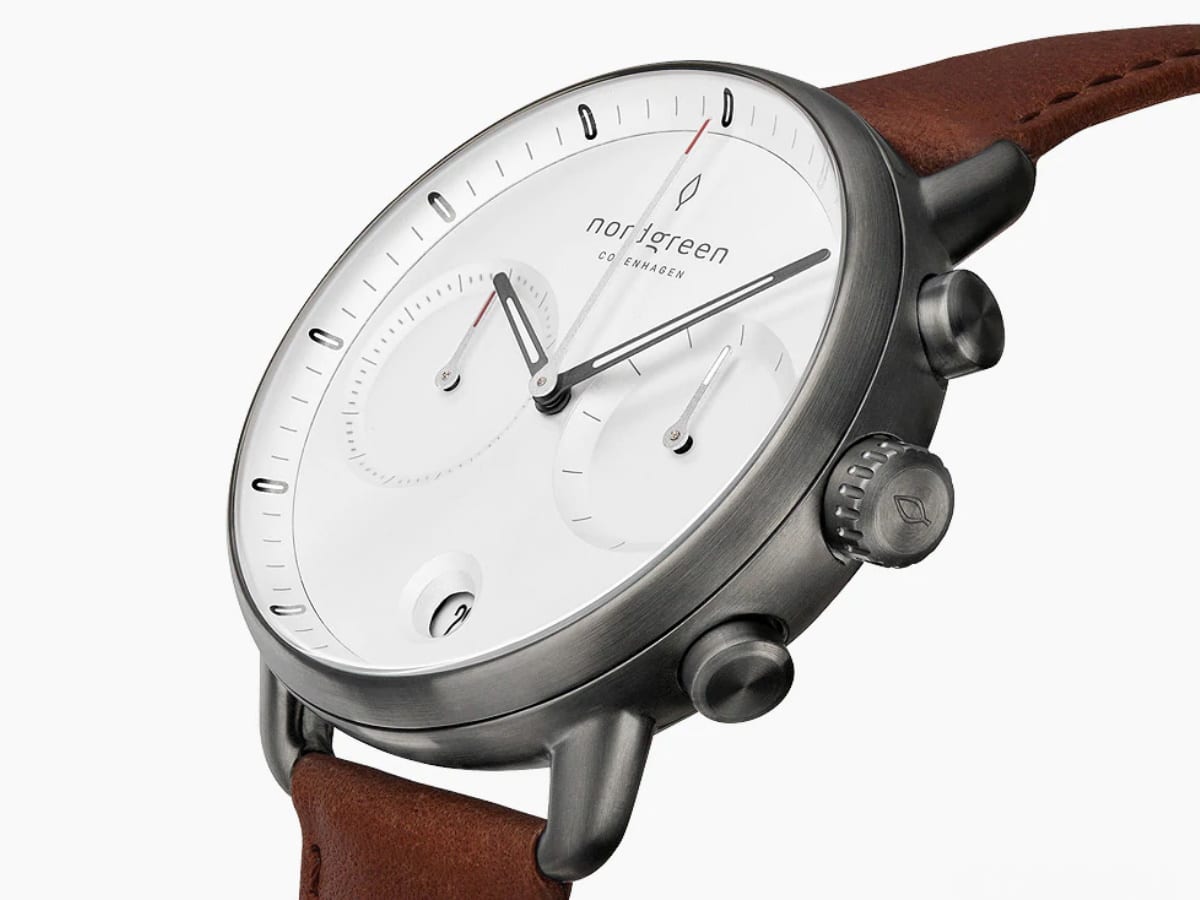 2. Nordgreen – Pioneer
Nascent watch brand Nordgreen hails from Copenhagen, Denmark, where minimalism is basically a way of life. These simple watches are the result of a collaboration between the brand and world-famous designer Jakob Wagner, who has designed products for companies like Bang & Olufsen, Muuto, Alessi, and numerous others. Representing the apex of Nordgreen's aesthetic is the Pioneer, a sophisticated stunner of impeccable restraint. It's one of the brand best selling models and with good reason, it utilises subtle creative flourishes to render big impressions. This is the perfect affordable white dial watch for men.
Price: $404 AUD
Model: Nordgreen Pioneer
Movement: Japanese Quartz
Water resistance: 5 ATM
Case width: 42mm
Related: Looking for the latest watches news, reviews, and more? Check it all out in one place.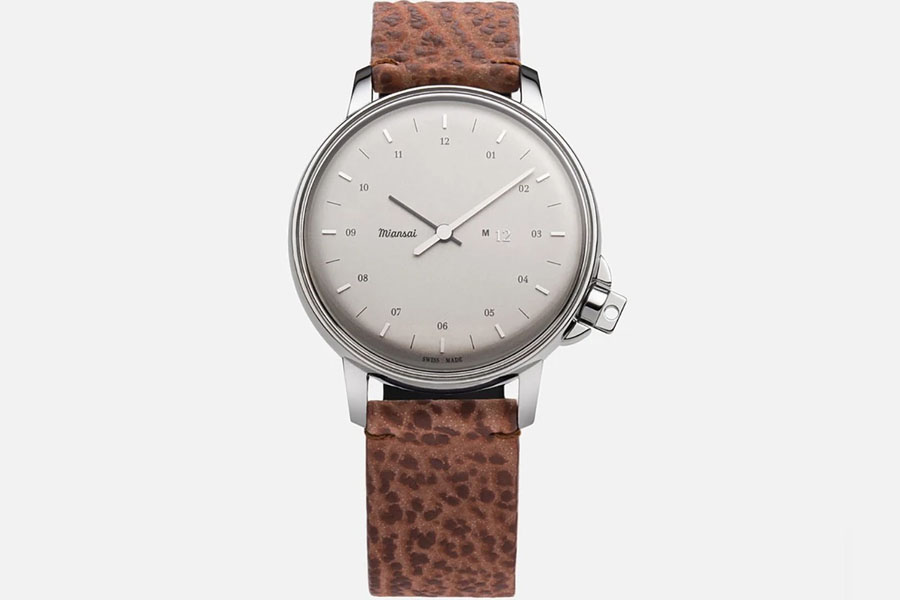 3. Miansai – M12 Shark
With the crown at the unconventional 4 o'clock position, and a case that is only 6mm thick, the M12 is sure to catch anyone's attention. We love the balanced dial layout and the subtle grey facade. If we're honest, it's near perfect. Extremely modern looking and very clean. The hands are nicely designed, and the overall case architecture ensures comfort and wearability. A brown leather strap ties it together, whilst accentuating it with sutble leopard spots. Wear this with everyday work attire or a fun summer outfit. A very beautiful minimalist watch from Miansai.
Price: AU$885
Model: M12 Swiss Silver Brown Shark
Movement: Quartz
Water Resistance: 3 ATM
Case Diameter: 39mm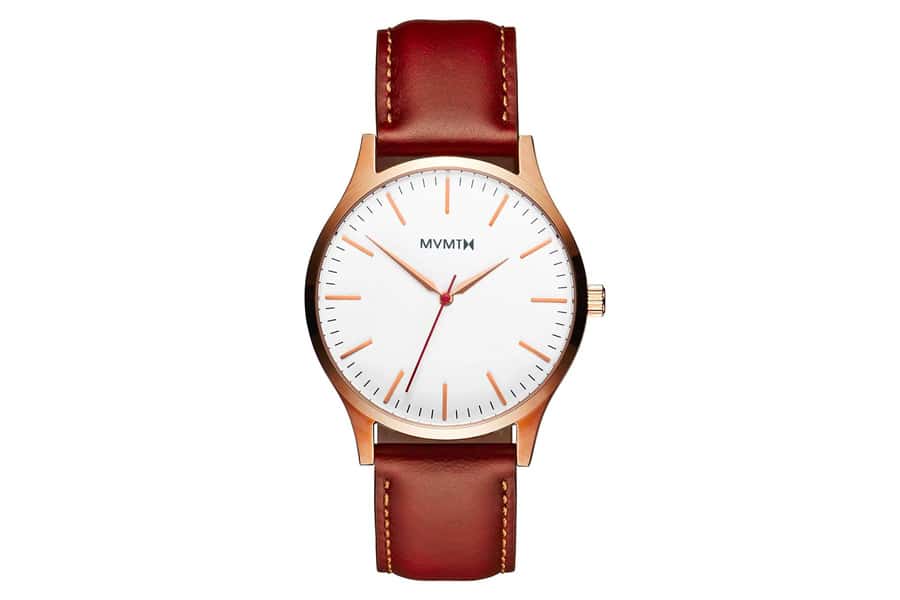 4. MVMT Watches – The 40
As a brand, MVMT watches have grown from strength to strength. There isn't a day that goes by that I'm not exposed to their presence on social media. This overexposure typically renders a brand desperate and of low quality, but MVMT watches have created for themselves their own market. Their watches are typical of contemporary design combined with quality watch construction that makes a watch both versatile and super sleek. Throw an automatic movement in there and call it a day! These plain watches are solid for the price point and don't disappoint.
Price: US$195
Model: Rose Gold with Natural Tan
Movement: Quartz
Water Resistance: 3 ATM
Case Diameter: 45mm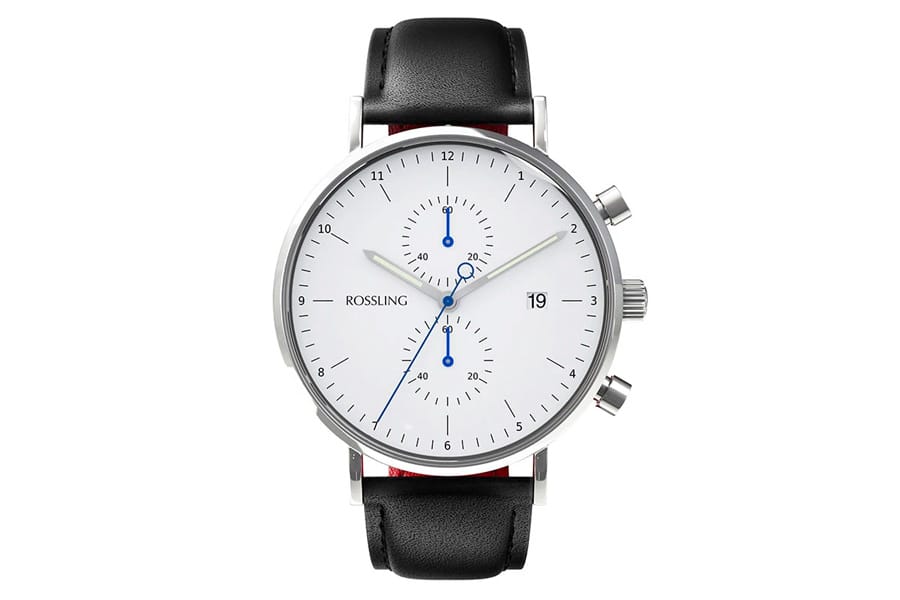 5. Rossling & Co – Regatta
The Regatta with Ink Black from Rossling & Co is a fine timepiece with a Japan automatic movement and a beautiful minimal white watch dial that features their signature blue hands in a silver case. Another special feature is the date window visible at 3 o'clock. Pictured here is the sophisticated ink black strap, but other strap options are also available. This is a minimalist offering from a renowned brand name.
Price: US$229
Model: Regatta Ink Black
Movement: Bi-Compax Chronograph
Water Resistance: 5 ATM
Case Diameter: 40mm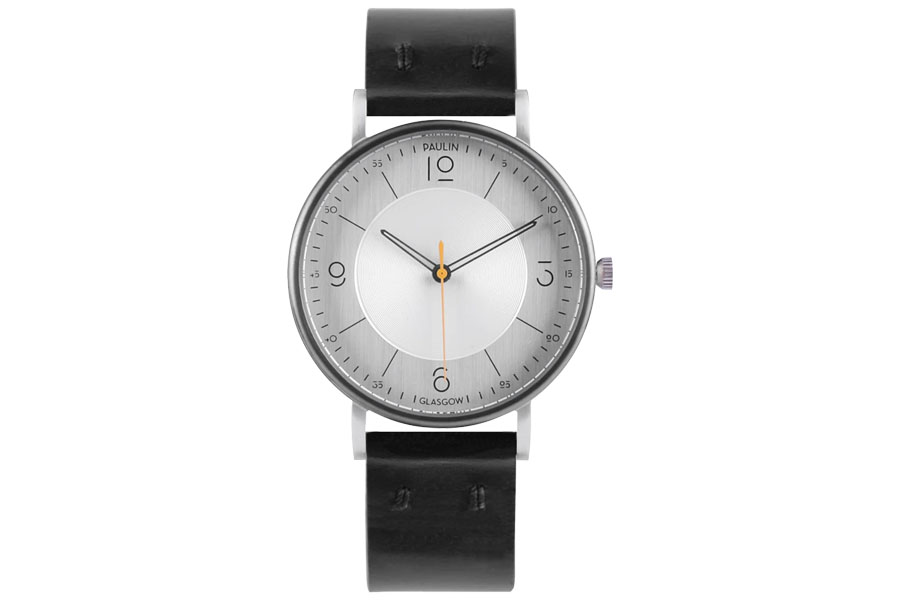 6. Paulin – Commuter Automatic
The Commuter Automatic is Paulin's first mechanical watch. The minimalistic design, extraordinary craftsmanship and the unique numerals on their bespoke Geo typeface inspired by Art Deco is the reason our list of best minimalist watches would not be complete without the Paulin Commuter Automatic. The silver dial alone is a display of art worth sporting.
Price: £395
Model: Commuter Automatic
Movement: Japanese Miyota 9015 (Automatic)
Water Resistance: 5 ATM
Case Diameter: 37mm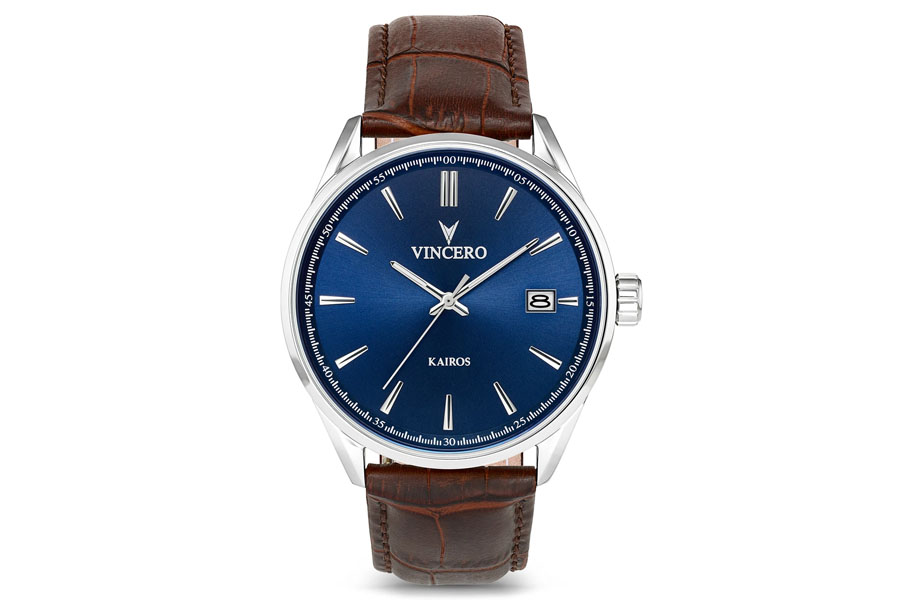 7. Vincero Collective – The Kairos Automatic
The Kairos Automatic in blue/black is Vincero Collective's very first automatic movement. It's a limited-edition design and each timepiece is individually numbered. It's a minimal, simplistic watch that's far from boring. As said by Vincero Collective themselves, it's a modern watch that runs like a classic.
Price: AU$299
Model: Kairos Automatic in blue/black
Movement: Citizen Miyota Automatic
Water Resistance: 10ATM
Case Diameter: 42mm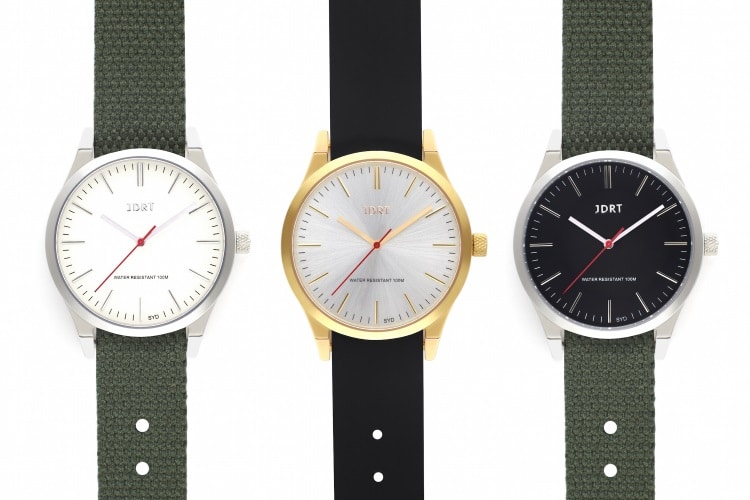 8. JDRT Sterling Canvas Strap Watch
With a wide selection of interchangeable bright and bold canvas straps, JDRT's watches can be dressed up or down. The watches pair high-quality craftsmanship with a minimal aesthetic and come with a stainless steel casing with a sapphire crystal and scratch-resistant face. This an understated statement that's worthy of anyone's wrist.
Price: AU$179
Model: JDRT Signature
Movement: Japanese Quartz
Water Resistance: 100m
Case Diameter: 40mm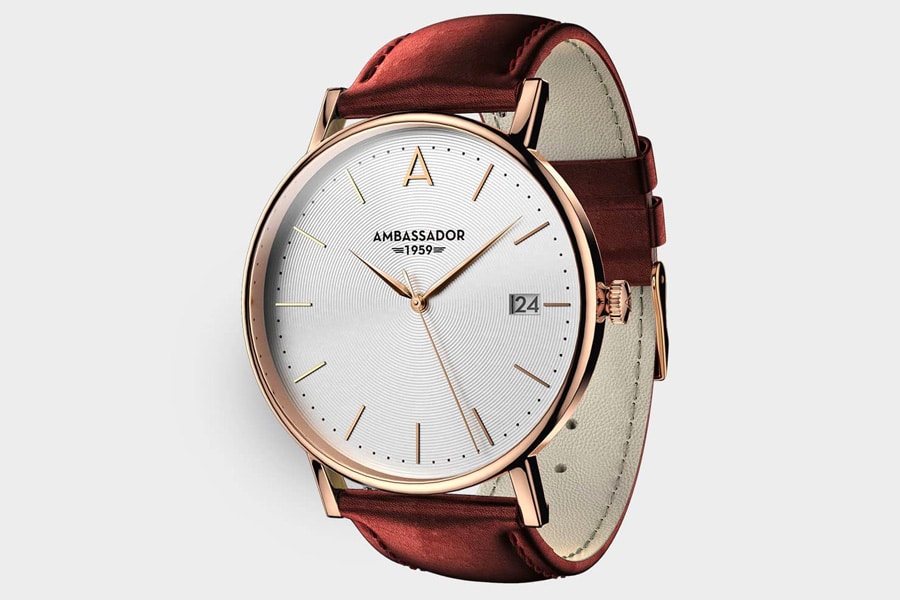 9. Ambassador Watches – Heritage 1959
Every watch in the Heritage collection is named after the year that inspired its design and creation. This contemporary watch is a tiny 9mm thick with a diameter of 40mm. The concentric circular pattern is protected by sapphire glass. Inside you'll find a Miyota quartz movement.
Price: AU$199
Model: Heritage 1959
Movement: Japanese Miyota Quartz
Water Resistance: n/a
Case Diameter: 40mm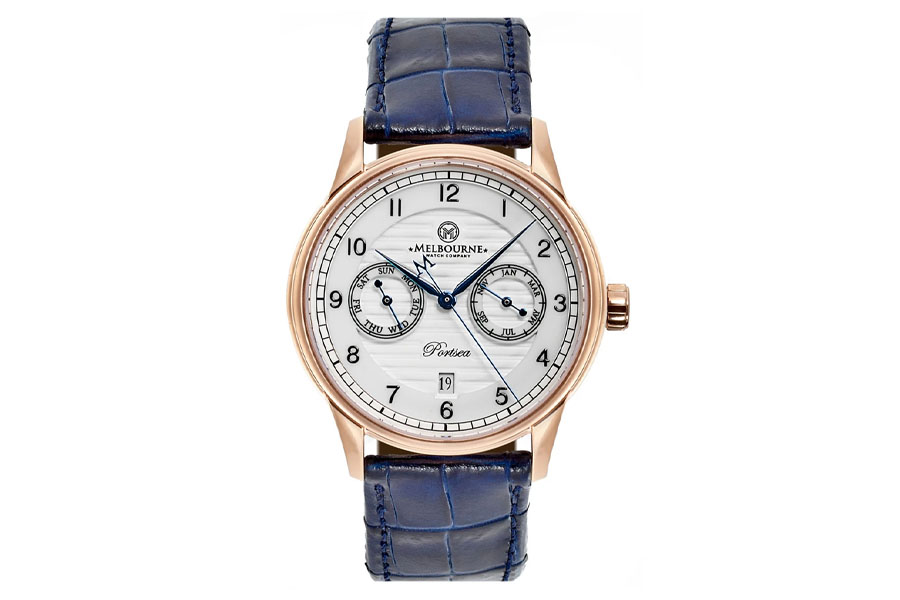 10. Melbourne Watch Co. Portsea Heritage
The Portsea combines original minimalist design with functional capacity. It has a textured inner dial with blue steel hands and a wonderfully polished case. Overall this modern style watch is superb with a Seiko NH35 automatic movement and leather strap finish. Beautifully minimal and at great value.
Price: AU$579
Model: PS.40.A.3HD.01
Movement: Seiko Cal. NH35 Automatic
Water Resistance: 100m/10ATM
Case Diameter: 40mm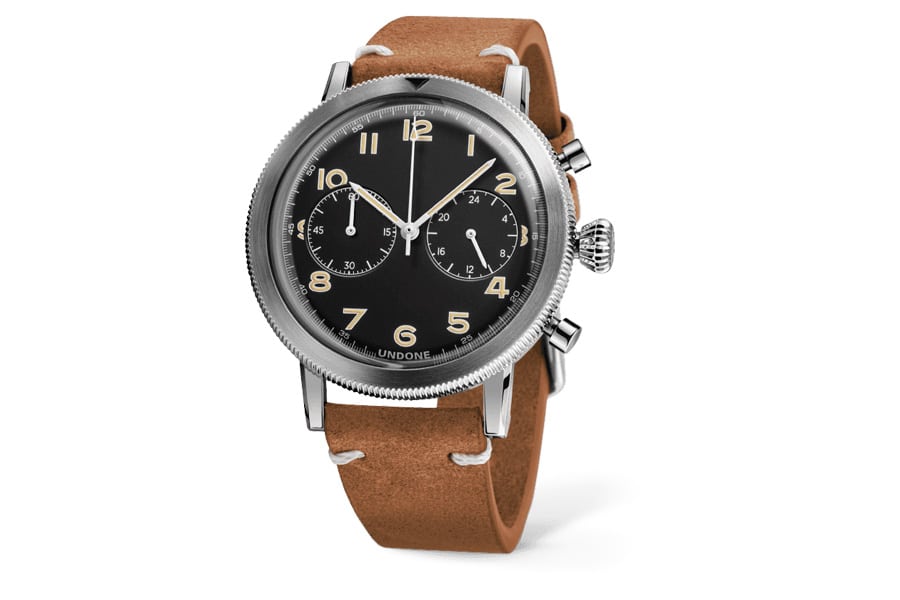 11. Undone – Type 20 Classic
Founded by a team of dedicated watch industry veterans, craftsmen, designers and programmers, MR PORTER Launches Watches & Wonders Campaign has seamlessly become one of the world's leading custom watch labels. Their designs are meticulous and well thought through which is clearly visible in their Vintage collection. The minimalist dials are available in Modern Black, Modern White, Modern Green, Modern Blue and Modern Orange and practically every piece can be customized, including the dial, case, dome cover, the movement and the strap. Go on, get creative with these stylish men's style watches.
Price: US$289
Model: Type 20 Classic
Movement: VK61A MechaQuartz "Hybrid" movement
Water Resistance: 3 ATM
Case Diameter: 41.5mm
Bell & Ross Launches a Trio of Watches Built for Land, Air and Sea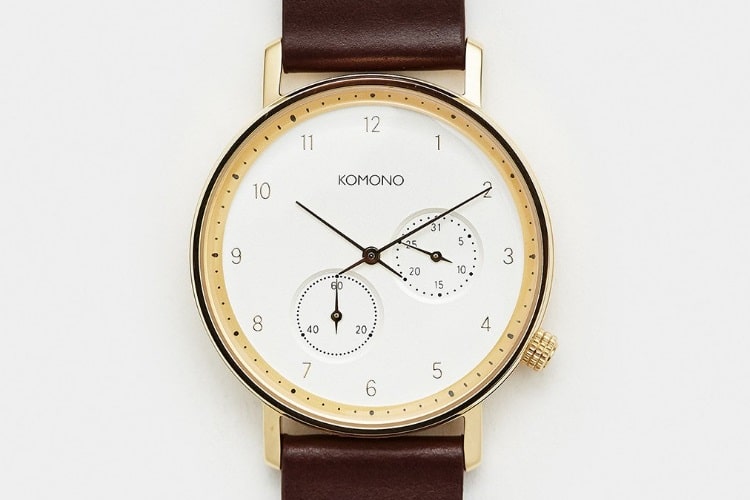 12. Komono – The Walther Tobacco
A minimal watch definitely does not have to be boring. With The Walther, Komono has kept a clean white face with subtle elements to give the watch some nice depth and dimension. The luxury gold case and unique features give this watch a more premium feel to others.
Price: AU$179.95
Model: The Walther Tobacco
Movement: Japanese Quartz Movement
Water Resistance: 10ATM
Case Diameter: 40mm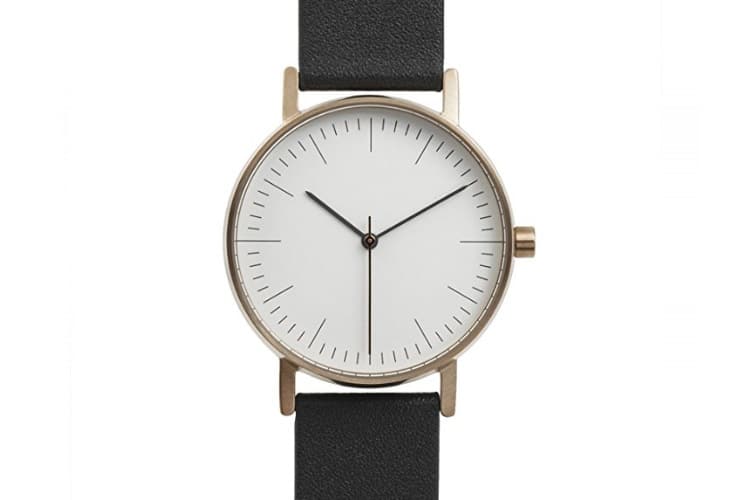 13. BIJOUONE – B001 Series
The BIJOUONE Brand has a minimal aesthetic yet bold designs. At just 7.6mm thick the B001 Series features a rose-gold plated brushed 316L stainless steel finish case and a Ronda 763 Swiss Quartz movement. The glass is hardened mineral crystal. All of this is complemented by the premium navy blue leather with a band that's 18mm wide. Simplicity at it's finest.
Price: AU$49
Model: B001-RN
Movement: Ronda 763 Quartz
Water Resistance: 3ATM
Case Diameter: 36mm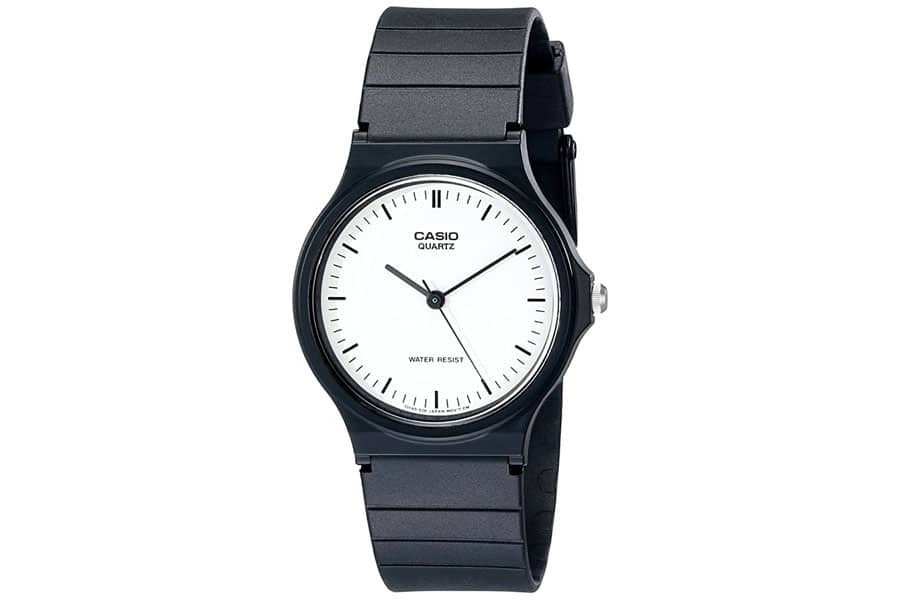 14. Casio – MQ24-7E Casual
The Casio MQ24-7E Casual watch speaks waves about its wearer. Simple, subtle and super cheap. The Casio has been a classic on the wrists of school kids for decades. Now, it's making its way back as a bit of a fashion statement. Functional to the end, it's a no-frills way to tell the time and, at the end of the day, if its not broke don't fix it. Keep on keeping on Casio.
Price: AU$35
Model: MQ24-7E
Movement: Quartz
Water Resistance: 3 ATM
Case Diameter: 35mm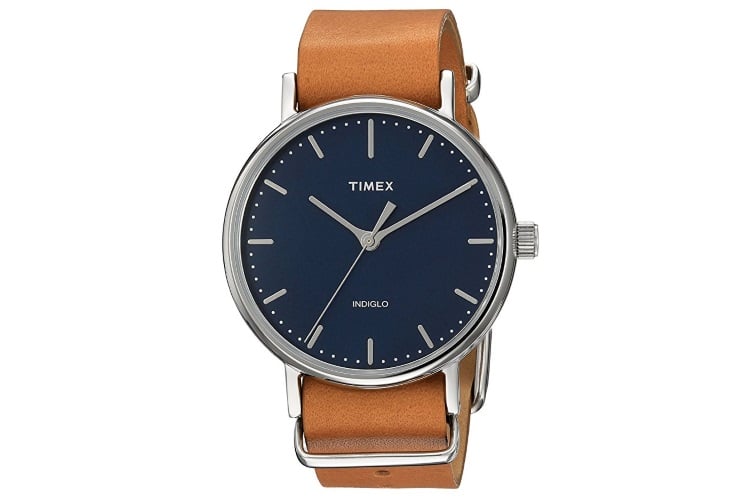 15. Timex – Unisex Weekender
A bold navy blue that contrasts with the tan strap, the Timex Weekender Fairfield offers an iconic and versatile design. The polished 37mm round-silver-tone case remains eye-catching. IT also comes with an in-built Indiglo light for easy reading in the dark. The perfect match of form over function and minimalism. Another great addition to the minimalist watches under 200 category, Timex comes through once again.
Price: US$53
Model: TW2P983009J
Movement: Quartz
Water Resistance: 100 Feet
Case Diameter: 37mm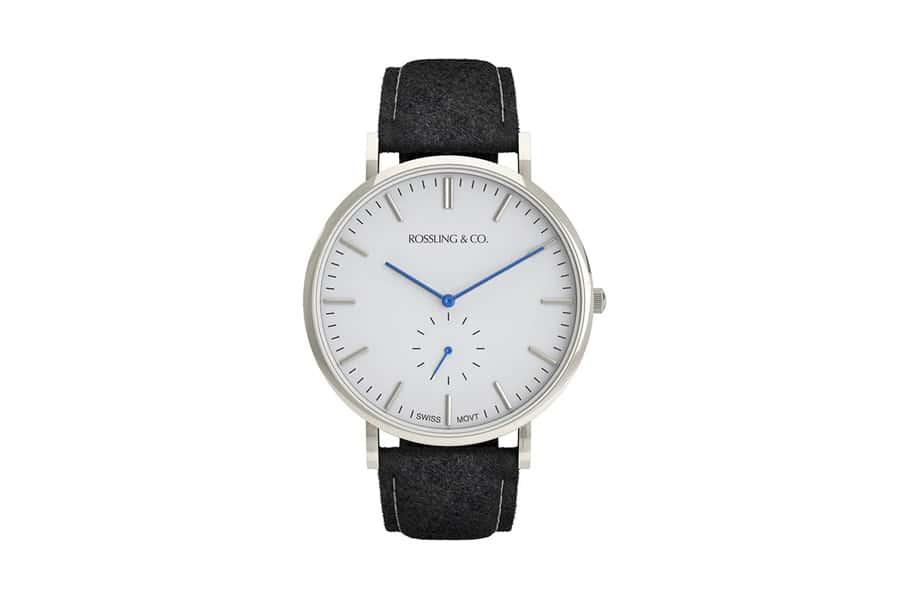 16. Rossling & Co. – Continental 40
The Continental 40 is what we call a "Calatrava" type watch. It has a small sub-dial showing the seconds at 6 o'clock which is a beautiful feature in watches that are far more expensive. The Continental reflects what minimalism should represent in the modern era of watch-making: classic simplicity. Indeed, this is a modern style watch that could pretty much fit into any era.
Price: US$179
Model: Continental 40mm
Movement: Quartz
Water Resistance: 3 ATM
Case Diameter: 40mm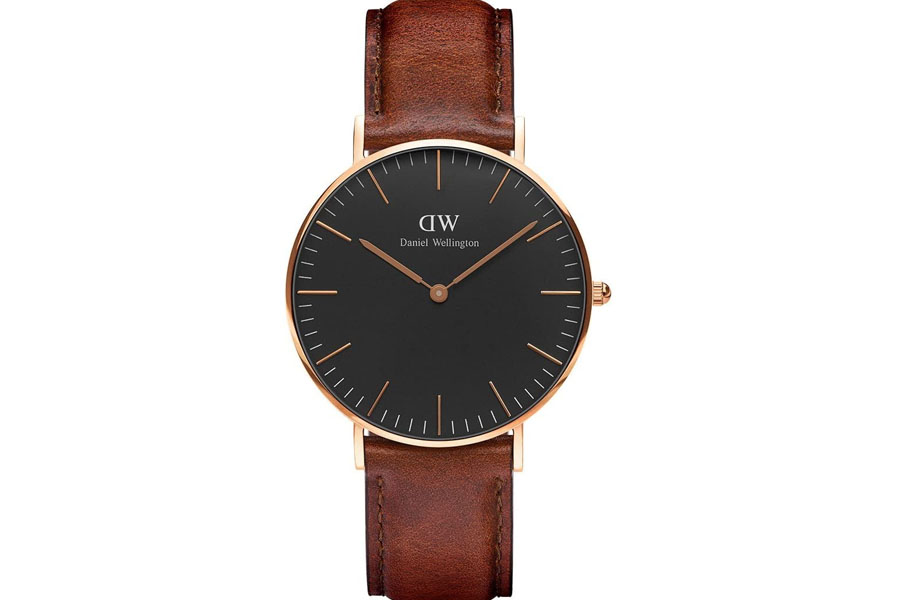 17. Daniel Wellington – St. Mawes Stainless Steel
Some say that Daniel Wellington single-handedly kick-started the classic-minimal chic look that is popular and in such abundance these days. Their pieces reiterate classic simplicity with minimal styling cues. An off-white dial with gold hands and indices, and in a case of the same colour really reflects its purpose: classic minimalism. From a brand that has stuck with the same design since its inception, and for some reason really very unpopular with the "horological-purists" crowd, you honestly can't go wrong with a good DW!
Price: AUD$118
Model: St. Mawes
Movement: Quartz
Water Resistance: 3 ATM
Case Diameter: 40mm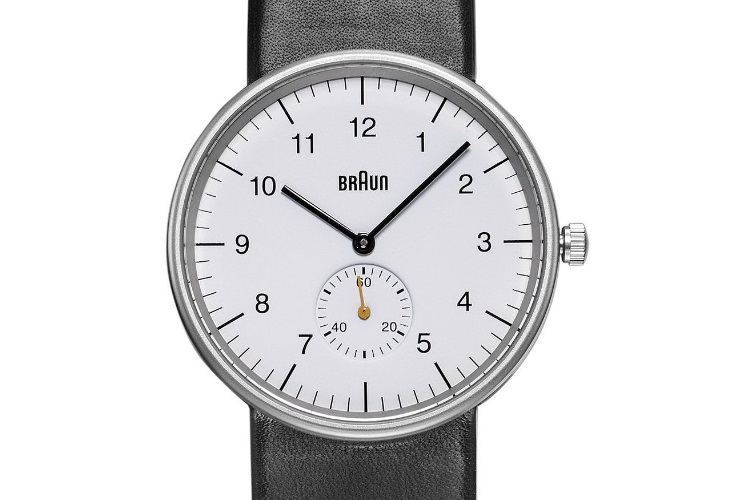 18. Braun Men's – Classic Analog
Sleek, refined and eye-catching, Braun's minimalist watch, the Classic Analog, combines it all. A great colour combination between the dial, hands and indices, as well as the yellow seconds hand all held together in a modern-looking case. A basic design that makes for a great EDC watch. Not something you'd see every day, that's for sure, but as good as minimalist watches are going to get.
Price: US$94
Model: Classic Analog
Movement: Quartz
Water Resistance: 5 ATM
Case Diameter: 38mm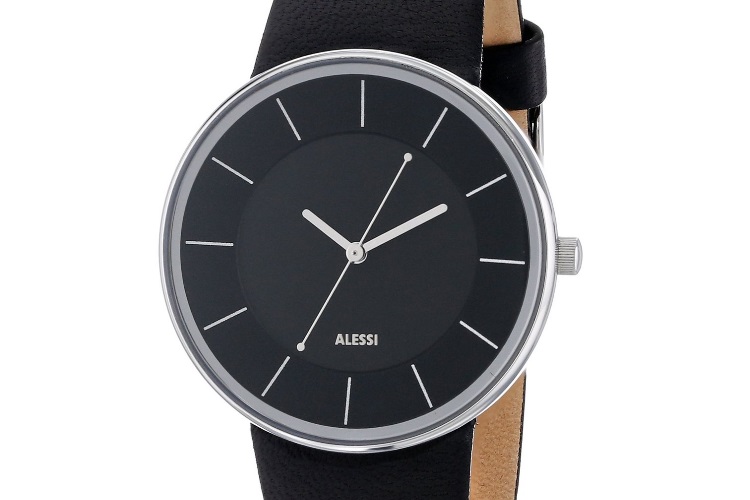 19. Alessi Men's – Stainless Steel Automatic
Modern minimalism at its most basic. Alessi's silver and black, a tried and test colour combination, is the overriding theme here. The minimalist dial has a step-down to the inner dial that creates an off-balance colour differentiation, creating more interest in the dial's expansive real estate. Not the most exciting of minimalistic watches, but it does have an automatic movement.
Price: US$135
Model: AL8004
Movement: Automatic
Water Resistance: None
Case Diameter: 36mm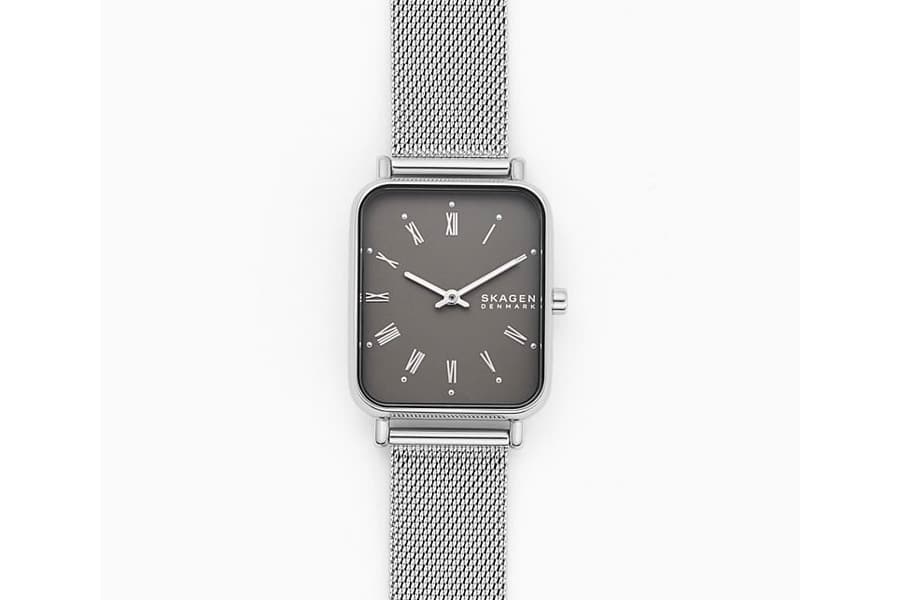 20. Skagen – Ryle Two-Hand Silver-Tone
Skagen, as a brand, are a reflection of stylish minimalism. The Ryle Two-Hand Silver-Tone in Steel Mesh combines timekeeping innovation and simplistic design that is both bold and subtle. The square dial layout is very unique it's a big statement that not everyone can pull off.
Price: US$175
Model: Anchor Mono Steel Mesh
Movement: Quartz
Water Resistance: 5 ATM
Case Diameter: 40mm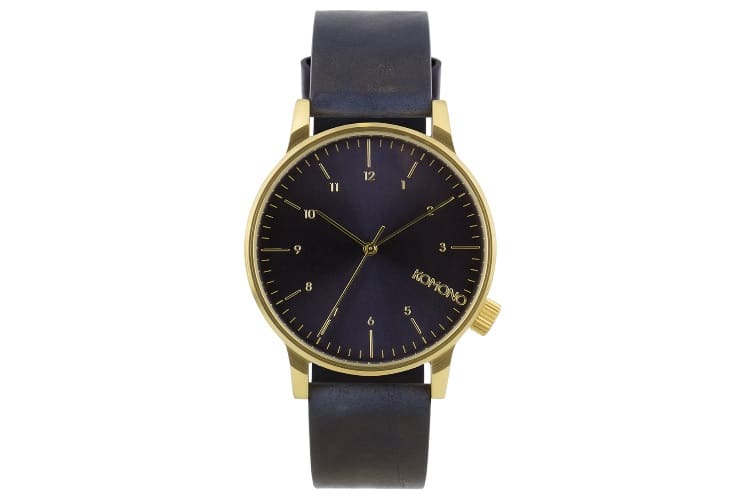 21. KOMONO – Winston Regal
The Komono Winston Regal. It's simple. It's fun. You can dress it up or down, and by God is it affordable. Another entry into our favourite minimalist watches for under $200. The KOMONO logo and crown placement is a nifty little touch too. A nice little daily beater that you can take out with you for after-work drinks. Very fun, simplistic looking EDC watch.
Price: US$50
Model: KOM-W2251
Movement: Quartz
Water Resistance: 1 ATM
Case Diameter: 41 mm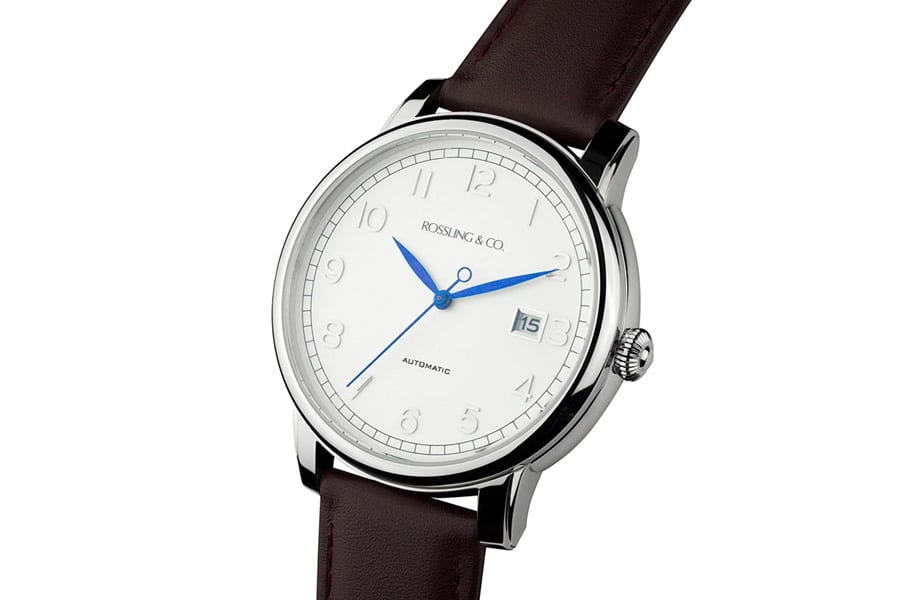 22. Rossling & Co. – Opera Automatic
Another classic minimalist watch from Rossling & Co that features an ultra-thin case, white blue dial and it's finished off with a beautiful brown leather strap. The meticulously hand-applied numerals, square date window at 3 o'clock and counterweighed seconds hand make the Opera watch a celebration of classical European watchmaking.
Price: US$419
Model: Opera Automatic
Movement: Miyota Caliber 821A
Water Resistance: 5 ATM
Case Diameter: 40mm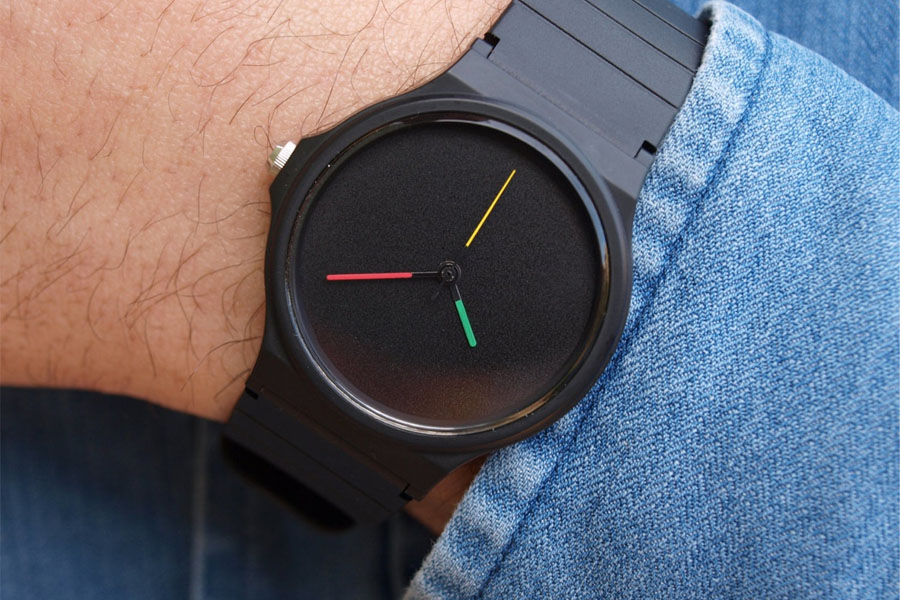 23. Custom – Casio Happy Colors
Casio is typical of making usable and cheap watches and with a little look around on the interwebs, you can find some pretty cool little custom Casio's. Take The Weeknd Gloats $200,000 Limited-Edition Audemars Piguet Black Panther Watch line that can be found on Etsy. Everything you'd expect from a great watch, but simpler. Here, the colours do the talking/time-telling. For less than a pineapple, you really can't go wrong with a Casio.
Price: AU$45
Model: Happy Colours
Movement: Quartz
Water Resistance: 3 ATM
Case Diameter: 35mm
Breitling Launches Insanely Affordable Luxury Watch Subscription 'BreitlingSelect'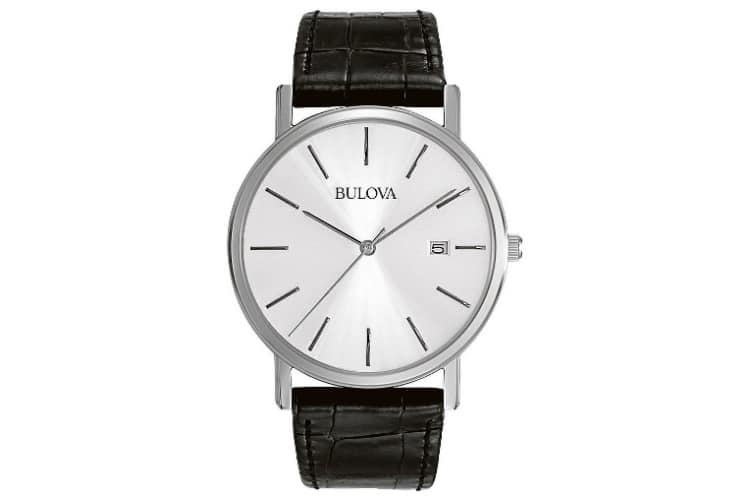 24. Bulova Men's – Stainless Steel
Bulova's minimalist piece is one that is stylish and classic. Its a watch that can be worn in the professional world or on the weekend dining at your favourite cafe. The sunburst silver dial, stainless steel hour markers and hands, and small date window enhance its class, while the case's clean design ensures its versatility.
Price: US$91
Model: 96B104
Movement: Quartz
Water Resistance: 3 ATM
Case Diameter: 37mm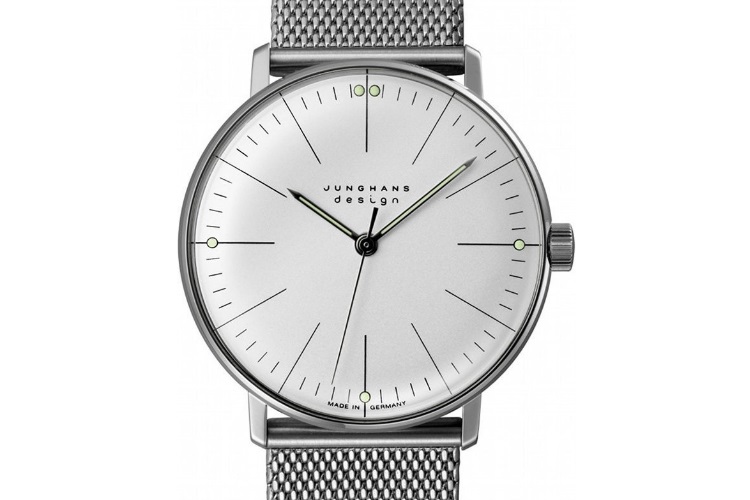 25. MAX Bill – Manual Lines
A simple, modern style design coming out of Germany, the MAX Bill Manual Lines watch is contemporary minimalism at its best. Elegant minute hands with luminescent details, a slender second hand and more luminescent spots marking the hours allow for time reading in any conditions. You'll notice the ultra-thin bezel that accentuates the dial and makes for a less cluttered face. The case design is simplistic in nature, yet is undeniably affable. Made in Germany, you can rest assured the MAX Bill Manual Lines is full of quality engineering under its pretty face.
Price: US$750
Model: MAX Bill Manual Lines
Movement: Quartz
Water Resistance: 3 ATM
Case Diameter: 34mm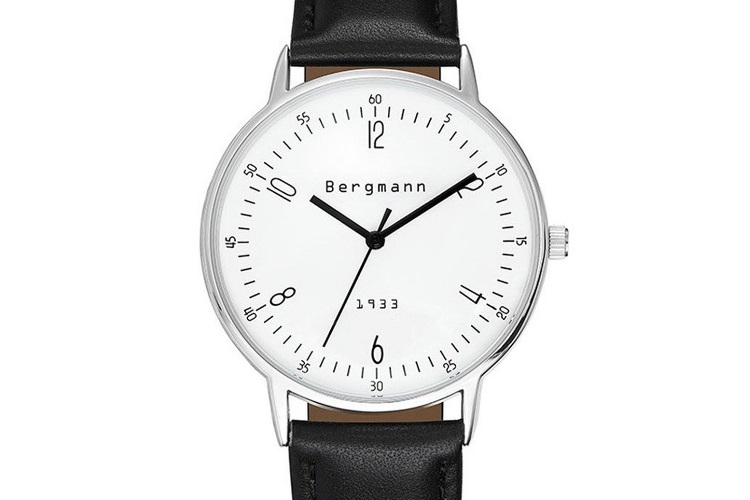 26. Bergmann – Classic Watch
Art deco numerals, a missing dial ring and sleek hands. The Bergmann Classic is modernistic simplicity at its best. You'll love the nice thick case, and the lugs are long and pronounced. Its nothing if not timeless and 1933 detailing is a hark back to a simpler time. Wear it with a black leather strap and subtle timepiece will look truly vintage. Hope you love it as much as we do.
Price: US$45
Model: Classic
Movement: Quartz
Water Resistance: 1 ATM
Case Diameter: 36mm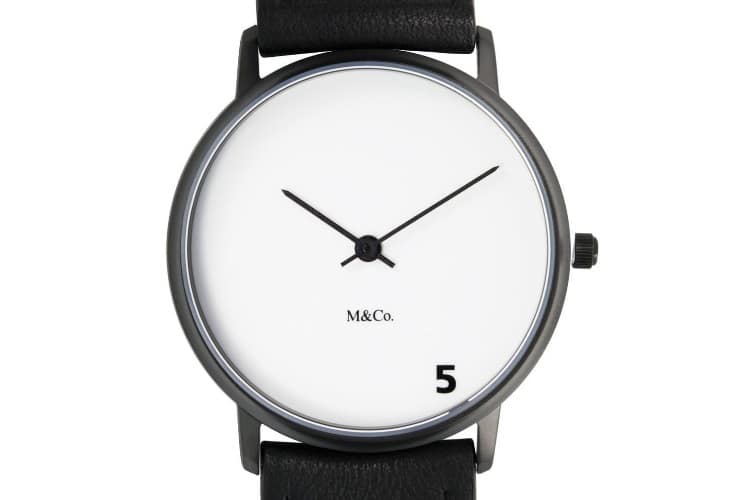 27. Projects – 5 O'Clock
Strikingly minimalist, the Projects 5 O'Clock watch is an absolute head turner. For less than $150, this statement piece can augment any watch collection. Boasting a modest quartz movement within a 38mm case, it's suitable for yourself or a great gift for someone special. Projects are renowned for their unique faces and the 5 O'Clock edition is no different. We highly recommend.
Price: US$145
Model: 7404
Movement: Quartz
Water Resistance: 3 ATM
Case Diameter: 38mm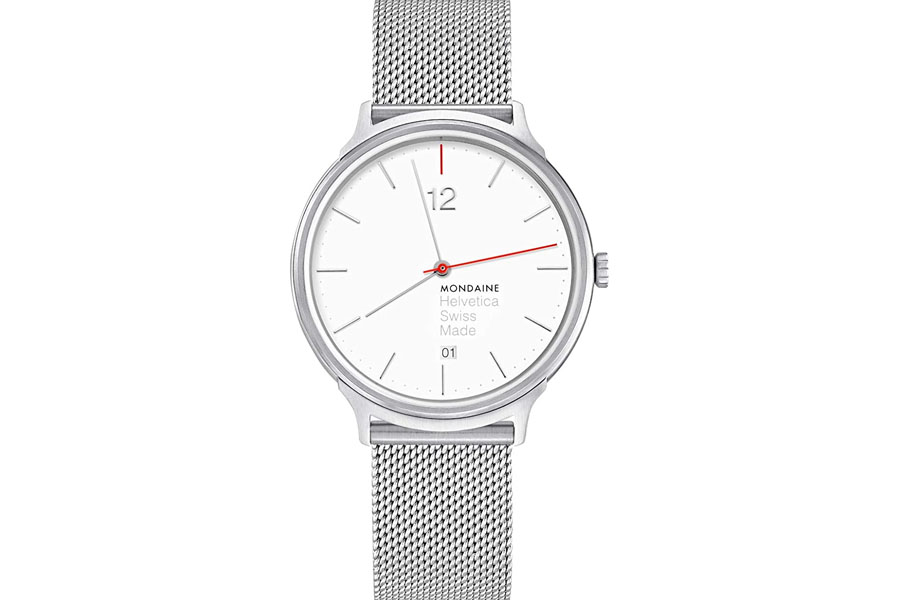 28. Mondaine Helvetica No1 Light
Mondaine are renowned for making absurdly simple watches that function well and look great. The Helvetic No1 Light is another example of why that brand does so well. Wonderful proportions, ample dial real estate, an uncluttered layout and integrated lugs that blend really well into the case. A great piece for all you minimalists out there.
Price: £255
Model: No1 Light
Movement: Quartz
Water Resistance: 3 ATM
Case Diameter: 38mm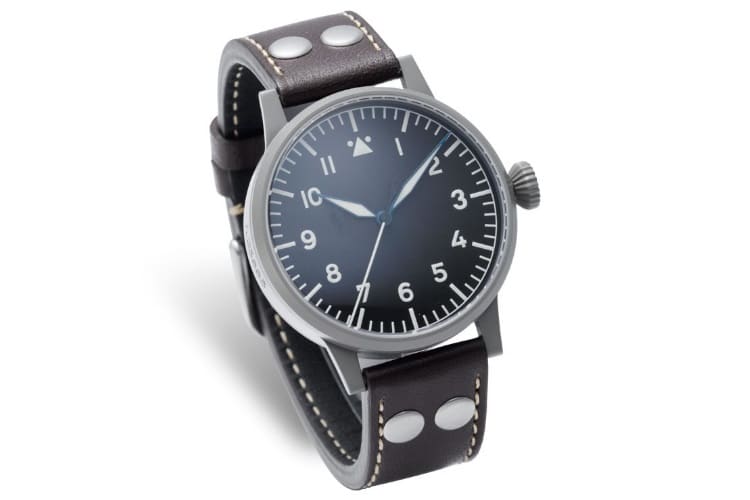 29. Laco Munster – Type A Pilot
For the first time on the list is the illustrious Pilot Watch. The Laco Munster Type A is similarly styled like the legendary IWC Pilot pieces. Featuring an enlarged case, simplistic dial and stylistic crown, it's a timeless design. You'll love the deep brown strap with contrasting stictching. It's the kind of watch that's suitable in any setting. If you don't buy one, we will.
Price: US$1066
Model: Type A Automatic Pilot
Movement: Swiss Automatic
Water Resistance: 2 ATM
Case Diameter: 42mm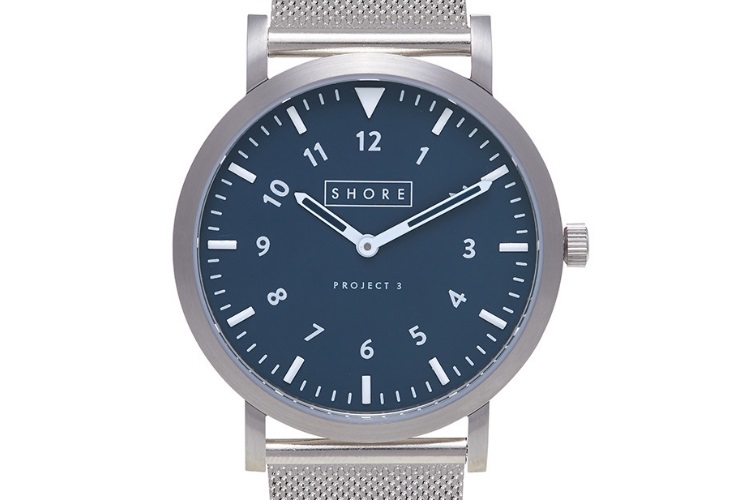 30. Shore Projects – Newquay
The Newquay brings back memories of boating through Sydney Harbour during a hot Summer's day. The blue dial is reminiscent of glistening harbour waters, and the silver hues of the case design, hands and hour markers is reflective of the Emerald Cities gorgeous skyline. One of the most blanaced minimalist watches, it's perfect for any occasion and with a variety of straps.
Price: £135
Model: Newquay
Movement: Quartz
Water Resistance: 3 ATM
Case Diameter: 39mm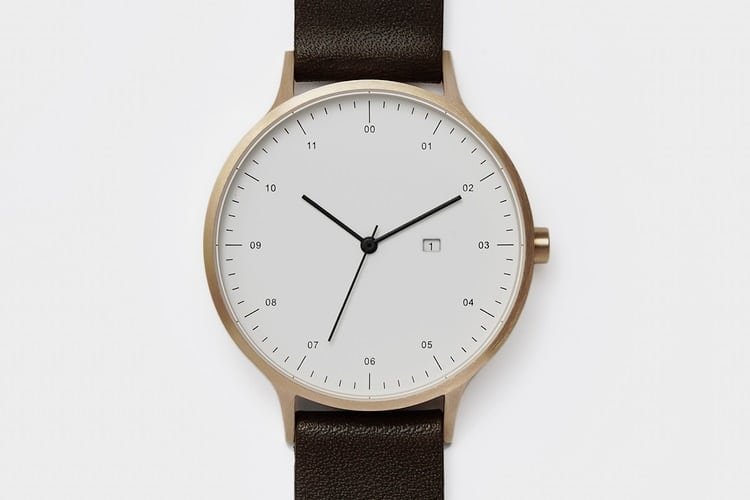 31. INSTRMNT – Everyday
Beautiful proportions, a gorgeous dial, the Everyday 40mm watch from INSTRMNT is supremely elegent. You'll love the super thin case and understated crown. On arrival, notice the packaging that is reminiscent of a watch that would cost 10-times as much. As you can guess from the name, the Everyday 40mm is the kind of watch you buy that you can wear day in day out.
Price: 180.00 GBP
Model: 01-B
Movement: Swiss Ronda 585 3H movement
Water Resistance: 5 ATM
Case Diameter: 40mm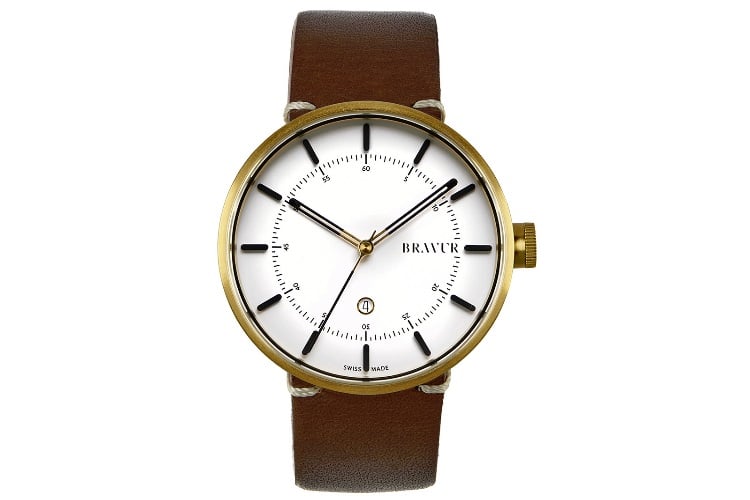 32. Bravur – BW002
The gold plated casing of the Bravur BW002 is undeniably classy. Note the inner rimmed dial depicting the minutes, while the corresponding hours are shown by emphasised black indexes. The small date window close to the centre of the dial is a nice touch, and while the crown could be a bit smaller, overall it is a fairly pleasing combination. All the action in the dial area makes this feel more like a high-end luxury watch, even though it still fits into the minimalist category.
Price: US$630
Model: BW002 Gold – Silver and White
Movement: Quartz
Water Resistance: 5 ATM
Case Diameter: 38mm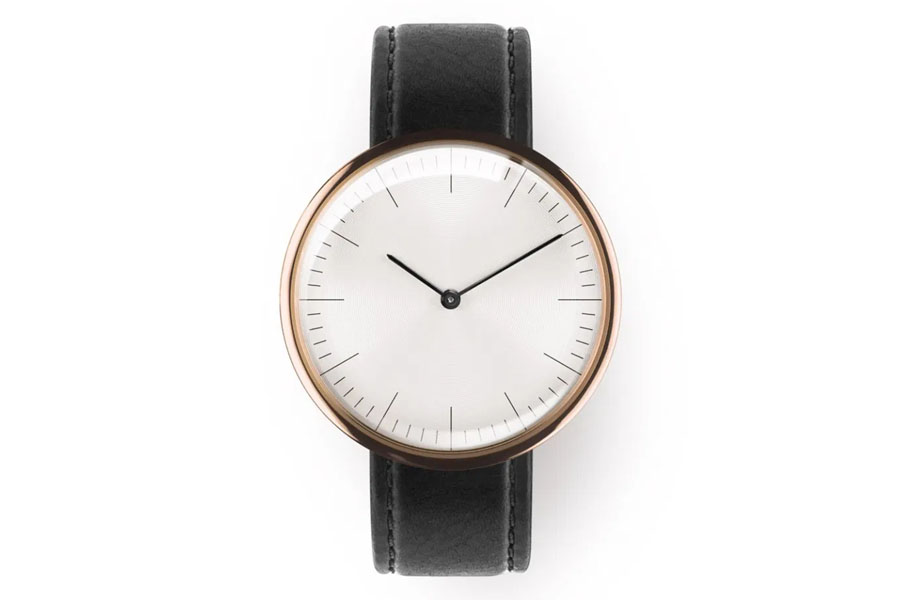 33. Circles – Club Black
Back-to-basics styling is what the Club black is all about from Circles. It shows you the base essentials and leaves the rest up to you. This design is akin to the aesthetic of a high-end watch but is unmistakably minimalist. It is obviously more show and less go, but peer closer to the off-white dial and you'll see an intricate pattern form that is both interesting and value-adding. The case seems like it has a layered design which is super cool. All in all, a very nice watch the reiterates alternative simplicity and classical styling.
Price: US$279
Model: Club Black
Movement: Quartz
Water Resistance: 3 ATM
Case Diameter: 38mm
34. Brathwait – Classic Slim
A simple watch facade and elegant stylings combine for modernistic minimalism in the Brathwait Classic. The sword-hands are both classic and contemporary, and the addition of a red seconds hand adds a subtle yet unique signature element. You'll love the simplicity of the case and lug design. Paired with a brown leather strap, the Brathwait Classic is at home anywhere, anytime.
Price: US$185
Model: Classic Slim Wrist Watch
Movement: Quartz
Water Resistance: 3 ATM
Case Diameter: 40 mm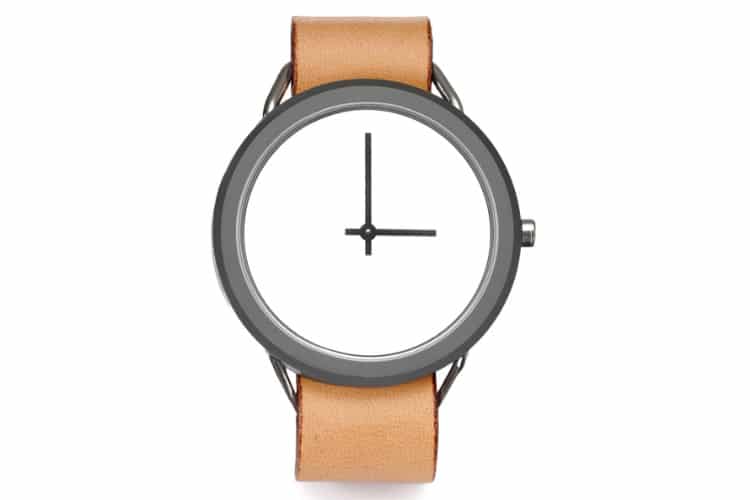 35. Classic Engineering – VARIO
The VARIO's simple watch design is classic enough to be appreciated by the purists, yet modern enough to be worn by newer generations of watch lovers. An enlarged bezel surrounds the clean dial, and the lugs add another dimension to its aesthetic. The ceramic treated case only acts to further reflect its modern simplistic design. A very modern watch that pays homage to minimalism and simplicity.
Price: US$249
Model: black Vario + Natural Nato Strap
Movement: Quartz
Water Resistance: 3 ATM
Case Diameter: 40mm
NOMOS Glashütte Brings a New Platinum Gray Tangente Into the Family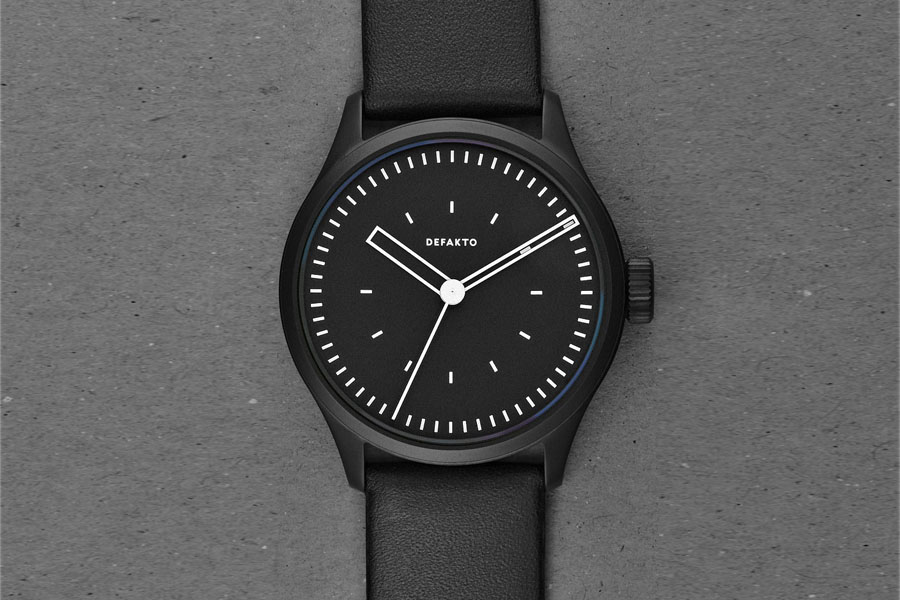 36. Defakto – Kinetic Standard
The Kinetik is the kind of watch you buy when you know what you want. It combines an immense amount of technique, from the grainy finish of the dial to the brushed metal look of the case and the skeleton hands, its a watch that means business. It has an integrated minimalist design that incorporates a respectable automatic movement from ETA. A solid watch for the minimalist in all of us.
Price: €800
Model: Kinetic Standard
Movement: ETA 2824-2 Automatic
Water Resistance: 5 ATM
Case Diameter: 39mm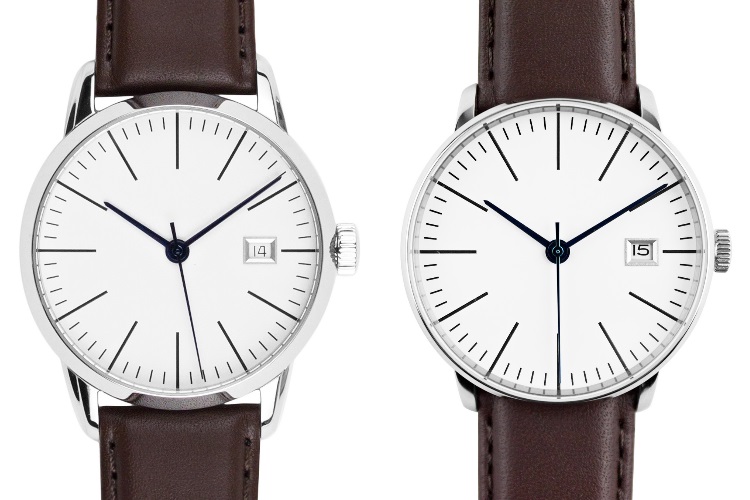 37. Kent Wang – Bauhaus v4
Bauhaus styling seems to be the next in-thing in the world of watch-making, and for good reason. It's a fresh take of time-telling that combines clean dials and to-the-point designs. Blue hands on a white dial with black hour and minute-second markers work so well for this piece. The case is well designed with an automatic movement and a subtle brown strap.
Price: US$395
Model: Bauhaus Watch v4 White
Movement: Miyota 9015 Automatic
Water Resistance: 3 ATM
Case Diameter: 38mm
38. The Horse – The Classic
A newbie to the market of minimalism-focused watches, The Horse carries with it a similar modern style design ethos as Daniel Wellington, but with a more casual streak to it. The Classic has a clean white dial, stainless steel indices and hands, and an accompanying small-seconds dial at 6 o'clock. The case is also stainless steel and nicely polished. A great little watch you can wear in virtually any setting.
Price: AU$99
Model: The Classic
Movement: Quartz
Water Resistance: 3 ATM
Case Diameter: 36mm
General FAQ
What are minimalist watches?
Taking cues from 19th-century pocket watches and other predecessors, modern minimalist watches eschew superfluous details without sacrificing style, creativity, or elegance. As a result, the pure functionality of telling time takes on aesthetic dimensions.
What are the best minimalist watches?
Some of the best minimalist watches for men are the VERK ETT 03, Nordgreen Philosopher, Rossling & Co Classic Automatic, The Ora Lattea, MVMT Watches, and others.
What are some affordable minimalist watch brands?
If you're looking for an affordable minimalist watch, you definitely have your options. Check out brands like Nordgreen, Komono, Casio, Tsovet, Rossling & Co, MVMT, and Vincero, just to name a few.
You might also like:
50 Best Watches Under $500
100 Best Watches Under $1,000
21 Best Watch Blogs