49 Best Minimalist Watches for Men
The 49 best minimalist watches for men. Time-telling mechanisms that are simplistic in nature and design (quite similar to minimalist wallets we might add). Their purpose is to tell you the time in the most simplest of ways and try to look good while doing so. Easier said than done. But their rise from obscurity to renowned has been quick and direct, thanks to the many social media outlets that we as consumers are exposed to on a daily basis. And that's a good thing. We have in front of us an abundance of places in the watch-making world where we can park our hard-earned dosh and call it a day without lying to our better halves about how much it really cost.
A minimalist, modern style watch is the contemporary equivalent of a pocket-watch from the 1800's. It has one duty: tell you the time. But it looks damn good and didn't take months of work to put together. The quality of some modern watch brands may subside, but not before you move on to your next one. Take the time to look through the article we've put together, showcasing the best simple watches for men all with one theme: minimalism. So here they are in no particular order.
You might also like:
50 Best Watches Under $500
100 Best Watches Under $1,000
21 Best Watch Blogs
1. VERK ETT 03
Designed by the aesthetically driven Swedish and built by the ever mechanically precise Germans, the ETT 03 ticks all the boxes. Made using thoughtfully sourced and high-grade contemporary watch components and finished with an Italian tan leather strap, this minimalist timepiece is more than just a pretty face. By dispensing with unnecessary features, VERK has created a high-quality, plain watch that will serve its purpose day in day out and not cost you the earth. The reasonable price tag makes this a no-brainer for minimalist lovers the world over.
Price: €225
Model: ETT 03
Movement: Swiss Rhonda 502 Movement
Water Resistance: 3 ATM
Case Diameter: 40mm and 36mm
2. The Horse The Classic Watch
A relatively newcomer to the market of minimalism-focused watches, The Horse carries with it a similar modern style design ethos as Daniel Wellington, but with a more casual streak to it. The Classic has a clean white dial, stainless steel indices and hands, and an accompanying small-seconds dial at 6 o'clock, which I love. The case is also stainless steel and nicely polished. A great little watch you can wear in virtually any setting.
Price: AU$189
Model: The Classic
Movement: Quartz
Water Resistance: 3 ATM
Case Diameter: 36mm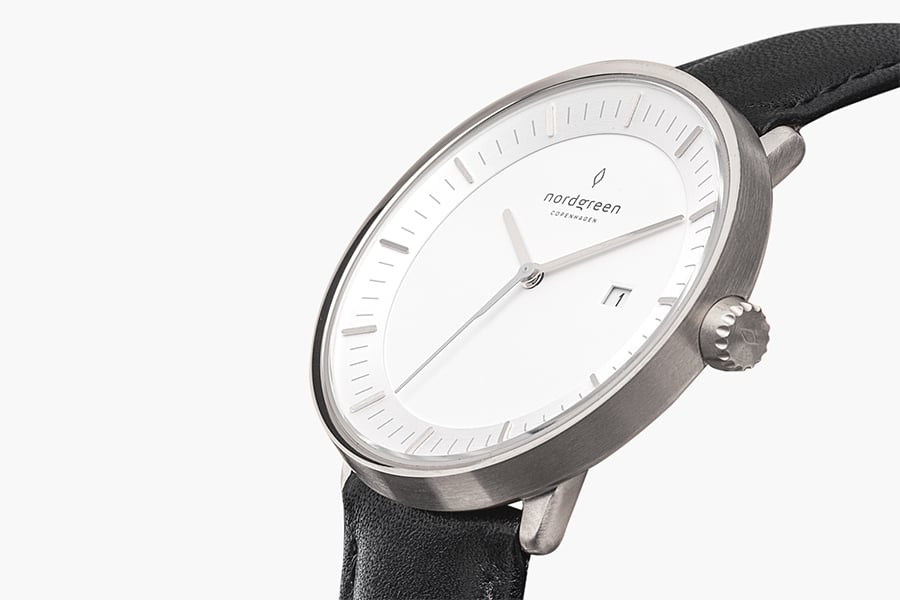 3. Nordgreen Philosopher
Nascent watch brand Nordgreen hails from Copenhagen, Denmark, where minimalism is basically a way of life. These simple contemporary watches are the result of a collaboration between the brand and world-famous designer Jakob Wagner, who has designed products for companies like Bang & Olufsen, Muuto, Alessi, and numerous others. Representing the apex of Nordgreen's aesthetic is the Philosopher, a sophisticated stunner of impeccable restraint. It's the brand's most iconic model and with good reason, in that, it utilises subtle creative flourishes to render big impressions. You can choose between two different sizes, a variety of interchangeable straps (of either Italian leather, mesh, or nylon), and a range of colour combinations. It all comes in at $220 USD, a price that's simply too good to refuse.
Price: US$220
Model: Nordgreen Philospher
Movement: Japanese Quartz
Water Resistance: 3 ATM
Case Diameter: 36mm/40mm
4. Marloe Watch Company Derwent Classic
Born out of love for traditional British watches from the 1950's and 1960's, the Derwent Classic has a sunken dial with a subtle domed glass front. What really makes this plain watch stand out however is the angled ridges on the hands making them look like swords. Towing the line between luxury and minimalism, these watches will do the trick for just about any watch lover.
Price: £329
Model: Derwent Classic
Movement: Japanese Miyota 6T33 manual mechanical movement
Water Resistance: 3 ATM
Case Diameter: 38mm
5. MVMT Watches White Face with Tan Leather
As a brand, MVMT watches have grown from strength to strength. There isn't a day that goes by that I'm not exposed to their presence on social media. This overexposure typically renders a brand desperate and of low quality, but MVMT watches have created for themselves their own market. Their watches are typical of contemporary design combined with quality watch construction that makes a watch both versatile and super sleek. Throw an automatic movement in there and call it a day! These plain watches are solid for the price point and don't disappoint.
Price: US$95
Model: White Face with Tan Leather
Movement: Quartz
Water Resistance: 3 ATM
Case Diameter: 45mm
6. Rossling & Co Classic Automatic
The Classic Automatic from Rossling & Co is a fine timepiece with a Japan automatic movement and a beautiful minimal white dial that features their signature blue hands in a silver case. Another special feature is the date window visible at 3 o'clock. Pictured here is the sophisticated silver mesh strap, but other strap options are also available. This is a minimalist offering from a renowned brand name.
Price: US$519
Model: Classic Automatic
Movement: Miyota Calibre 9015
Water Resistance: 5 ATM
Case Diameter: 40mm
7. Paulin – Commuter Automatic
The Commuter Automatic is Paulin's first mechanical watch. The minimalistic design, extraordinary craftsmanship and the unique numerals on their bespoke Geo typeface inspired by Art Deco is the reason our list of best minimalist watches would not be complete without the Paulin Commuter Automatic. The silver dial alone is a display of art worth sporting.
Price:  £395
Model: Commuter Automatic
Movement: Japanese Miyota 9015 (Automatic)
Water Resistance: 5ATM
Case Diameter: 37mm
8. Vincero Collective The Kairos Automatic
The Kairos Automatic in blue/black is Vincero Collective's very first automatic movement. It's a limited-edition design and each timepiece is individually numbered. It's a minimal, simplistic watch that's far from boring. As said by Vincero Collective themselves, it's a modern watch that runs like a classic.
Price:  AU$299
Model: Kairos Automatic in blue/black
Movement: Citizen Miyota Automatic
Water Resistance: 10ATM
Case Diameter: 42mm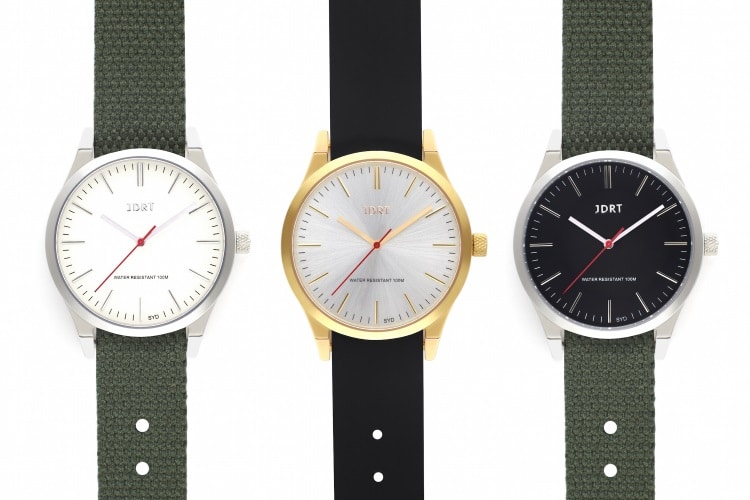 9. JDRT Sterling Canvas Strap Watch
With a wide selection of interchangeable bright and bold canvas straps, JDRT's watches can be dressed up or down. The watches pair high quality craftsmanship with a minimal aesthetic and come with a stainless steel casing with a sapphire crystal and scratch resistant face.
Price: AU$179
Model: JDRT Signature
Movement: Japanese Quartz
Water Resistance: 100m
Case Diameter: 40mm
10. Ambassador Watches Heritage 1959
Every watch in the Heritage collection is named after the year that inspired its design and creation. This contemporary watch is a tiny 9mm thick with a diameter of 40mm. The concentric circular pattern is protected by sapphire glass. Inside you'll find a Miyota quartz movement.
Price: AU$199
Model: Heritage 1959
Movement: Japanese Miyota Quartz
Water Resistance: n/a
Case Diameter: 40mm
11. Melbourne Watch Co. Portsea Heritage
The Portsea combines original minimalist design with functional capacity. It has a textured inner dial with blue steel hands and a wonderfully polished case. Overall this modern style watch is superb with a Seiko NH35 automatic movement and leather strap finish. Beautifully minimal and at great value.
Price: AU$579
Model: PS.40.A.3HD.01
Movement: Seiko Cal. NH35 Automatic
Water Resistance: 100m/10ATM
Case Diameter: 40mm
12. The Ora Lattea
And for the final piece of the article, I present to you the Ora Lattea. No, its not a new type of Italian coffee. Its a watch that is minimalistic in nature but complex in design. If you want an easy way of telling the time, then you should probably steer clear from this piece, but if you want to be fascinated, get it. Two moving dots represent the time. The larger one depicts the hour, while the smaller one tells you the minute. The centre dot doesn't move. Very unusual, very simple, very fun.
Price: US$178
Model: Ora Lattea
Movement: Quartz
Water Resistance: 3 ATM
Case Diameter: 42mm
13. MMT C31s . black strap
Back-to-basics styling is what the C31s is all about from MMT. It shows you the base essentials: hours and minutes, and leaves the rest up to you. This design is akin to the aesthetic of a high-end watch, but is unmistakably minimalist. It is obviously more show and less go, but peer closer to the off-white dial and you'll see an intricate pattern form that is both interesting and value-adding. The case seems like it has a layered design which is super cool. All in all, a very nice watch the reiterates alternative simplicity and classical styling.
Price: US$329
Model: C31s
Movement: Quartz
Water Resistance: 3 ATM
Case Diameter: 38mm
14. Undone Modern Urban Collection
Founded by a team of dedicated watch industry veterans, craftsmen, designers and programmers, Undone has seamlessly become one of the world's leading custom watch labels. Their designs are meticulous and well thought through which is clearly visible in the Modern Urban Collection. The minimalist dials are available in Modern Black, Modern White, Modern Green, Modern Blue and Modern Orange and practically every piece can be customized, including the dial, case, dome cover, the movement and the strap. Go on, get creative with these stylish men's style watches.
Price: US$265
Model: Modern Urban Collection
Movement: VK61A MechaQuartz "Hybrid" movement
Water Resistance: 3 ATM
Case Diameter: 40mm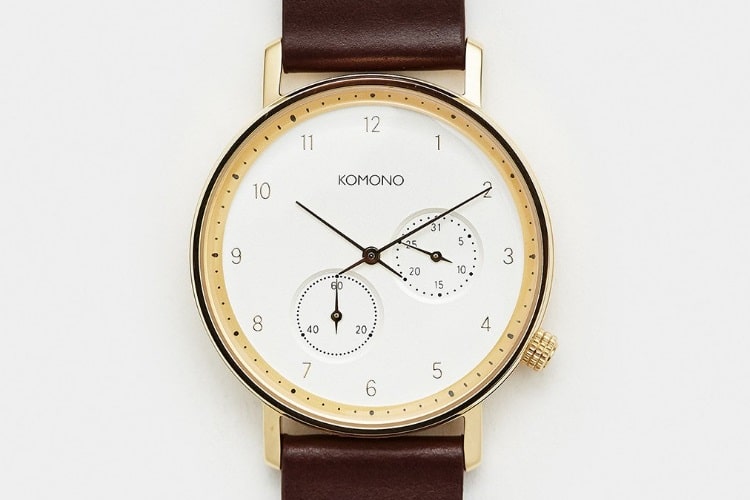 15. Komono – The Walther Tobacco
A minimal watch definitely does not have to be boring. With The Walthre, Komono has kept a clean white face with subtle elements to give the watch some nice depth and dimension. The luxury gold case and unique features give this watch a more premium feel to others.
Price: AU$179.95
Model: The Walther Tobacco
Movement: Japanese Quartz Movement
Water Resistance: 10ATM
Case Diameter: 40mm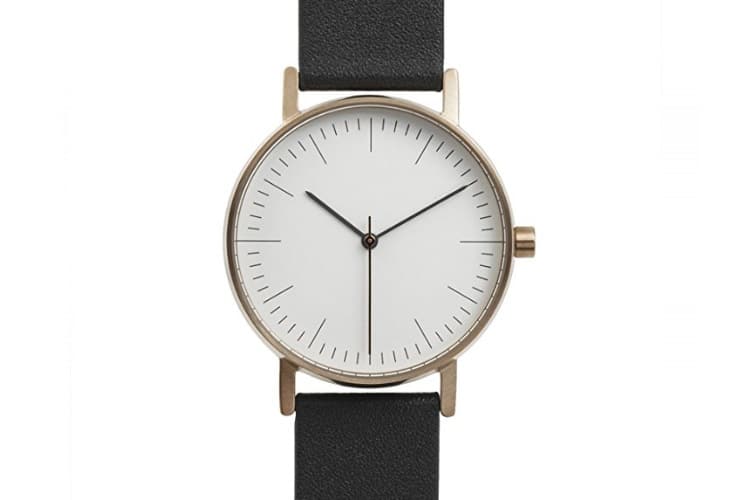 16. BIJOUONE B001 Series Navy Blue Unisex Watch
The BIJOUONE Brand has a minimal aesthetic yet bold designs. At just 7.6mm thick the B001 Series features a rose-gold plated brushed 316L stainless steel finish case and a Ronda 763 Swiss Quartz movement. The glass is hardened mineral crystal. All of this is complemented by the premium navy blue leather with a band that's 18mm wide. Simplicity at it's finest.
Price: AU$49
Model: B001-RN
Movement: Ronda 763 Quartz
Water Resistance: 3ATM
Case Diameter: 36mm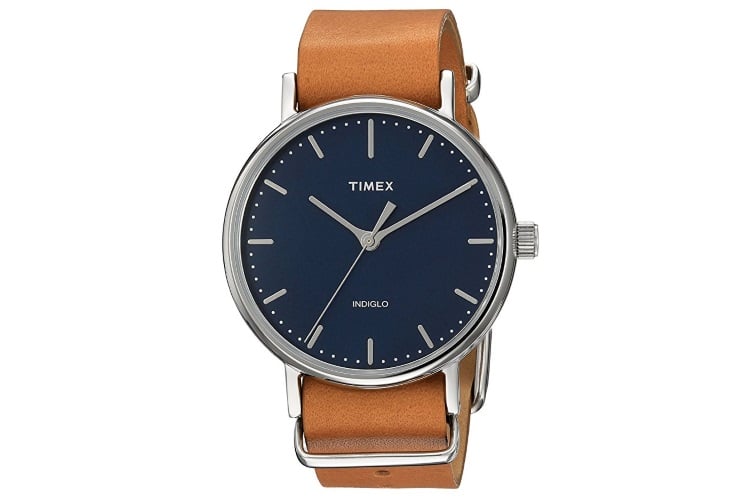 17. Timex Unisex Weekender Fairfield
A bold navy blue that contrasts with the tan strap, the Timex Weekender Fairfield offers an iconic and versatile design. The polished 37mm round-silver-tone case remains eye-catching. IT also comes with an in-built Indiglo light for easy reading in the dark. The perfect match of form over function and minimalism. Another great addition to the minimalist watches under 200 category, Timex comes through once again.
Price: US$53
Model: TW2P983009J
Movement: Quartz
Water Resistance: 100 Feet
Case Diameter: 37mm
18. Rossling & Co. Classic 40mm – Glencoe
The Classic Glencoe is what we call a "Calatrava" type watch. It has a small sub-dial showing the seconds at 6 o'clock which is a beautiful feature in watches that are far more expensive. The Glencoe reflects what minimalism should represent in the modern era of watch-making: classic simplicity. Indeed, this is a modern style watch that could pretty much fit into any era.
Price: US$200
Model: Classic 40mm Glencoe
Movement: Quartz
Water Resistance: 3 ATM
Case Diameter: 40mm
19. Daniel Wellington Men's 0106DW St. Mawes Stainless Steel
In my opinion, Daniel Wellington single-handedly kick-started the classic-minimal chic look that is popular and in such abundance these days. Their pieces reiterate classic simplicity with minimal styling cues. An off-white dial with gold hands and indices, and in a case of the same colour really reflects its purpose: classic minimalism. From a brand that has stuck with the same design since its inception, and for some reason really very unpopular with the "horological-purists" crowd, you honestly can't go wrong with a good DW!
Price: US$97
Model: St. Mawes
Movement: Quartz
Water Resistance: 3 ATM
Case Diameter: 40mm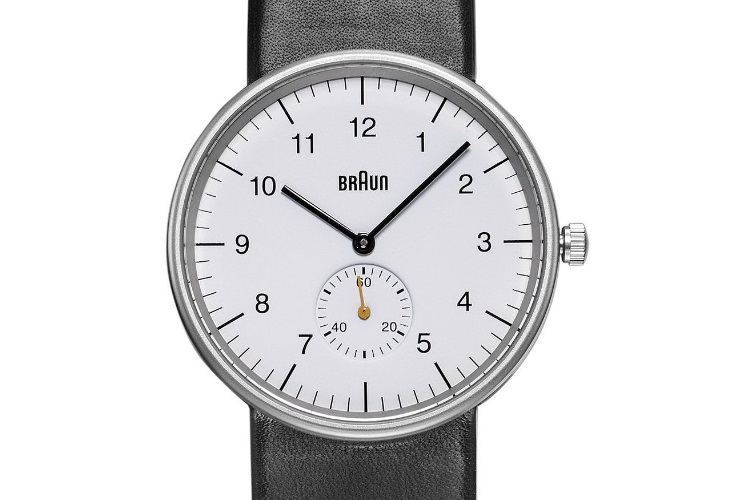 20. Braun Men's BN0024WHBKG Classic Analog
Sleek, refined and eye-catching, Braun's minimalist watch, the Classic Analog, combines it all. A great colour combination between the dial, hands and indices, as well as the yellow seconds hand all held together in a modern-looking case. A basic design that makes for a great EDC watch. Not something you'd see every day, that's for sure, but as good as minimalist watches are going to get.
Price: US$94
Model: Classic Analog
Movement: Quartz
Water Resistance: 5 ATM
Case Diameter: 38mm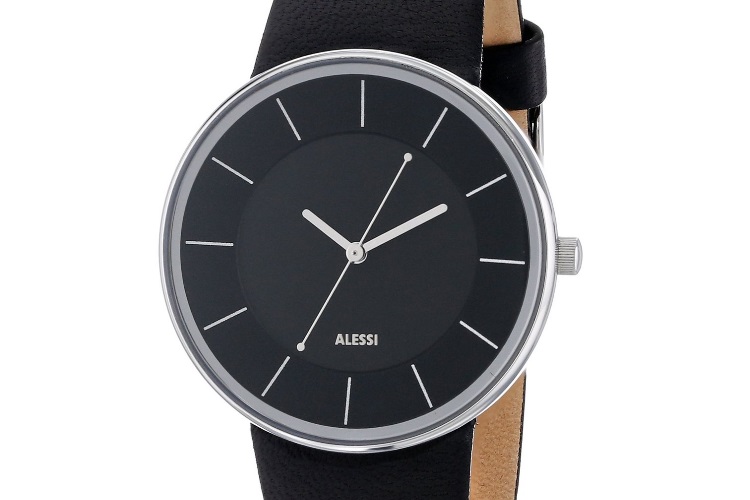 21. Alessi Men's AL8004 Stainless Steel Automatic Watch
Modern minimalism at its most basic. Silver and black, a tried and test colour combination, is the overriding theme here. The minimalist dial has a step-down to the inner dial that creates an off-balance colour differentiation, creating more interest in the dial's expansive real estate. Not the most exciting of minimalistic watches, but it does have an automatic movement.
Price: US$135
Model: AL8004
Movement: Automatic
Water Resistance: None
Case Diameter: 36mm
22. Skagen Ancher Mono Steel Mesh
Skagen, as a brand, are a reflection of stylish minimalism. The Anchor Mono in Steel Mesh combines timekeeping innovation and simplistic design that is both bold and subtle. The silver dial layout is very unique with the single hand making its way around the dial, while the hour changes are seen in the window at 9 o'clock.
Price: US$175
Model: Anchor Mono Steel Mesh
Movement: Quartz
Water Resistance: 5 ATM
Case Diameter: 40mm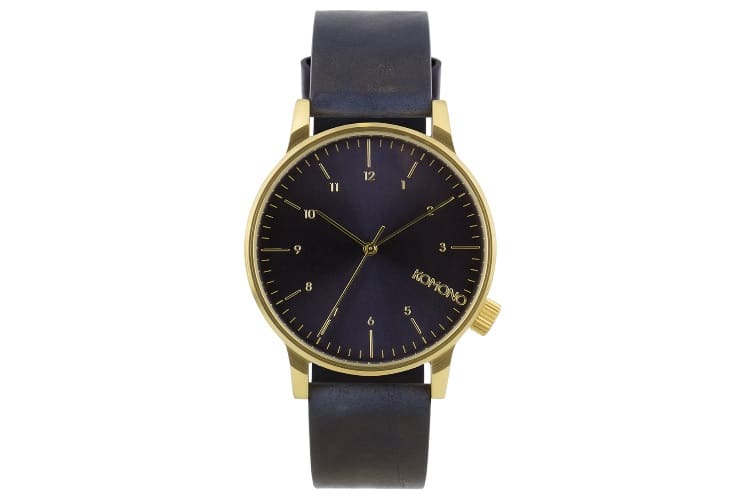 23. KOMONO Unisex KOM-W2251 Winston Regal Series
The Komono. Its simple. Its fun. You can dress it up or down, and by God is it affordable. Another entry into our favorite minimalist watches for under $200. The KOMONO logo and crown placement is a nifty little touch too. A nice little daily beater that you can take out with you for after-work drinks. Very fun, simplistic looking EDC watch.
Price: US$50
Model: KOM-W2251
Movement: Quartz
Water Resistance: 1 ATM
Case Diameter: 42mm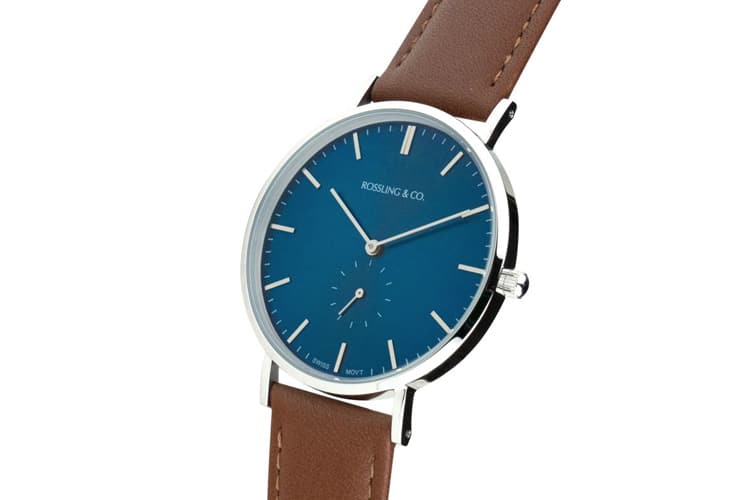 24. Rossling & Co Classic Westhill
Another classic minimalist watch from Rossling & Co that features an ultra-thin case, sunburst blue dial and it's finished off with a beautiful brown leather strap. The Bauhaus style design is timeless that can be worn with just about anything.
Price: US$199
Model: CLASSIC 40MM – WESTHILL
Movement: Quartz
Water Resistance: 3 ATM
Case Diameter: 40mm
25. Custom Casio Happy Colors
Casio is typical of making usable and cheap watches. The Happy Colours line is exactly the same, but simpler. The removal of the hour markers emphasises the minimalistic nature of the piece, while the hand-painted hands keep the watch interesting. A great, modern style entry into Casio's line of affordable watches.
Price: AU$45
Model: Happy Colours
Movement: Quartz
Water Resistance: 3 ATM
Case Diameter: 35mm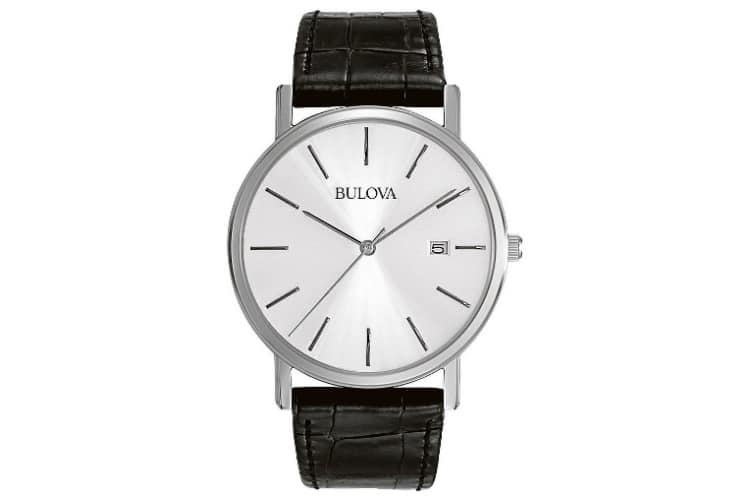 26. Bulova Men's 96B104 Stainless Steel
Bulova's minimalist piece is one that is stylish and classic. Its a watch that can be worn in the professional world or on the weekend dining at your favourite cafe. The sunburst silver dial, stainless steel hour markers and hands, and small date window enhance its class, while the case's clean design ensures its versatility.
Price: US$91
Model: 96B104
Movement: Quartz
Water Resistance: 3 ATM
Case Diameter: 37mm
27. Rider GT&FQ M002 Automatic Bauhaus Style Watch
Sleek, clean, dark and very well put together. A contemporary watch of this stature that is both simple in design but complex in automation needs applause. The darkness of this simple watch is cut supremely by a thin white circular strip on the bezel and the hour indices. The applied logo in white stands out from the dark dial, and the case seems comfortable and easy to wear. Powered by the Sea-Gull Automatic ST1701, its minimalistic nature masks its true complexities. A fantastic entry into the men's modern watches category.
Price: US$185
Model: GT&FQ M002
Movement: Sea-Gull ST1701 Automatic
Water Resistance: 5 ATM
Case Diameter: 39mm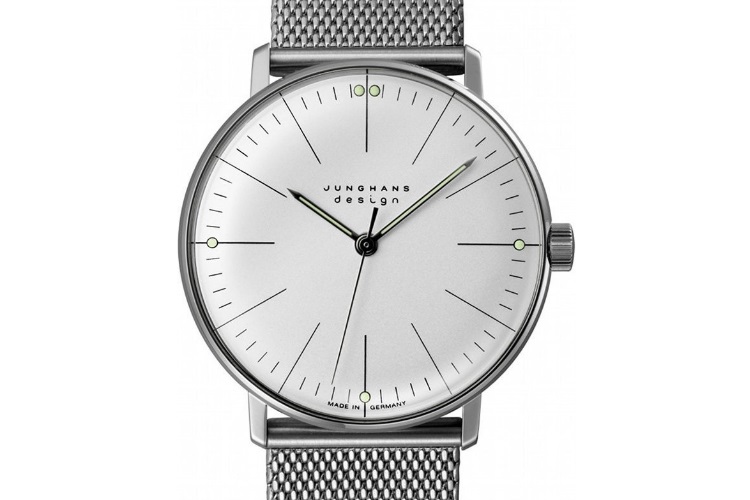 28. MAX Bill Manual Lines Watch
A simple, modern style design coming out of Germany, the MAX Bill Manual Lines watch is contemporary minimalism at its best. Slim-line hands with lume, a slender seconds hand at lume spots marking the hours allows for easier time reading. The absent bezel allows for more dial space and makes for a less cluttered dial rim. Case design is simplistic in nature, yet seems extremely wearable. Pencil thin minute hands and a silver strap connote luxury and style.
Price: US$750
Model: MAX Bill Manual Lines
Movement: Quartz
Water Resistance: 3 ATM
Case Diameter: 34mm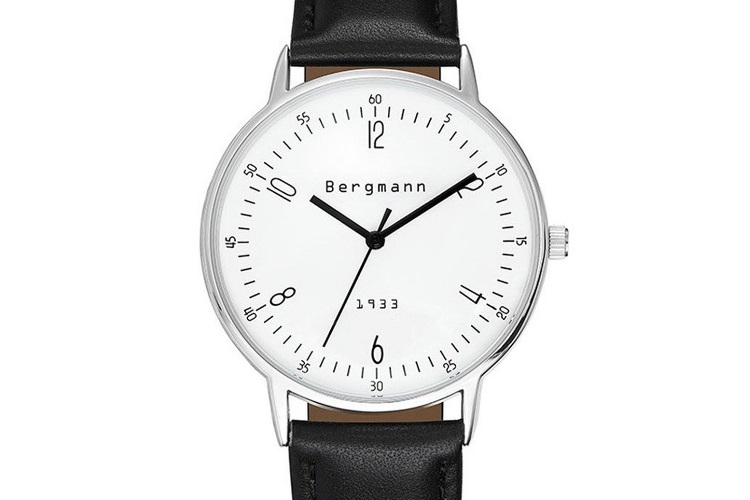 29. Bergmann Classic Watch
Art deco numerals, a missing dial ring and sleek hands all point to the modernistic simplicity that the Bergmann Classic reflects. The case is nice and thick, and the lugs are long and pronounced. The overall modular design of the watch is as minimalistic as can be. A black leather strap and subtle timepiece makes this Bergmann look like a true vintage watch.
Price: US$45
Model: Classic
Movement: Quartz
Water Resistance: 1 ATM
Case Diameter: 36mm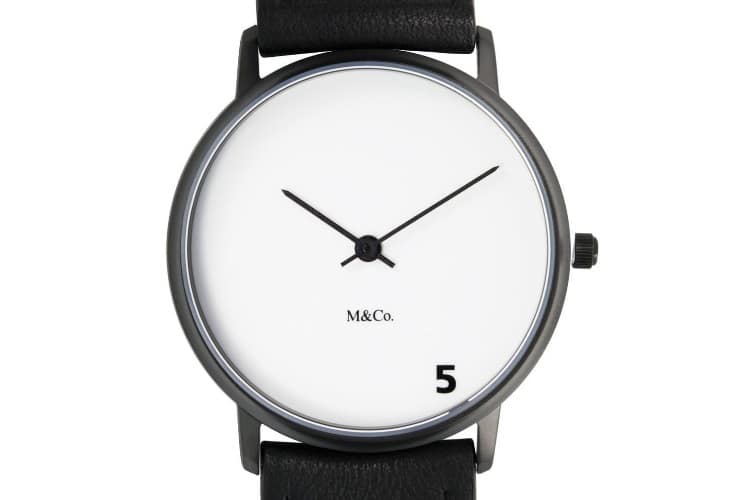 30. Projects 7404 Unisex 5 O'Clock Watch
A ridiculously basic looking piece that really brings home the notion of minimalism. There isn't much going on with this watch, apart from the applied logo and super cool date window at 5 o'clock. The exposed crown breaks up the other monolithic case design and looks pretty cool doing so.
Price: US$140
Model: 7404
Movement: Quartz
Water Resistance: 3 ATM
Case Diameter: 38mm
31. Mondaine Helvetica No1 Light
Mondaine are renowned for making absurdly simple watches that function well and look great. The Helvetic No1 Light is another example of why that brand does so well. Wonderful proportions, ample dial real estate, an uncluttered layout and integrated lugs that blend really well into the case. A great piece for all you minimalists out there.
Price: £255
Model: No1 Light
Movement: Quartz
Water Resistance: 3 ATM
Case Diameter: 38mm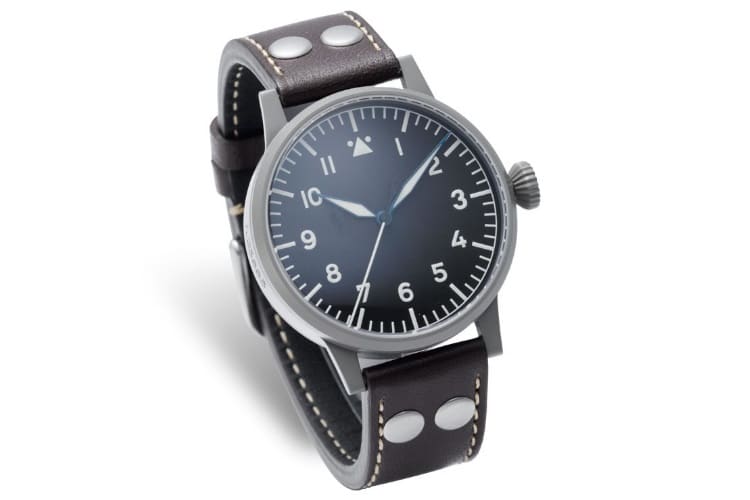 32. Laco Munster Type A Dial Swiss Automatic Pilot Watch
Something I have yet to feature is a pilot's watch, and here it is. The Laco Munster Type A is similarly styled like the infamous IWC Pilot's pieces with the enlarged case, oversimplified dial and massive protruding crown. The strap is a deep brown with contrasting stitching, and looks great with whatever you're wearing.
Price: US$829
Model: Type A Automatic Pilot
Movement: Swiss Automatic
Water Resistance: 2 ATM
Case Diameter: 42mm
33. Tsovet Men's Rose/Champagne Case
Tsovet are well known as makers of affordable watches that look great. The SVT-CN38 incorporates a well-spaced dial, art deco numerals and an exposed crown with elongated hands. The effect: a beautifully simple looking piece that is very wearable. This rose/champagne, simple watch goes especially well with a light colored suit.
Price: US$225
Model: SVT-CN38
Movement: Quartz
Water Resistance: 1 ATM
Case Diameter: 38mm
34. TID No.1 36 White / Pine Twain Wristband
Reminiscent of a vintage military Seiko, the TID piece with the crown on the opposing side is the kind of watch a weekend warrior would have in their collection. Extremely versatile, expansive dial with an uninterrupted view of the time and a case/lug design that is both interesting and comfortable. One of the best minimalist watches for the military watch lover who wants to simplify the art of telling the time. Also a great EDC watch for all you survivalist types.
Price: €200
Model: No. 1 36 White/Pine Twain Wristband
Movement: Quartz
Water Resistance: 5 ATM
Case Diameter: 36mm
35. Sekford Type 1A Stainless Steel And Leather Watch
A step up into the upper echelons of horological minimalism is the Sekford Type 1A. The missing seconds hand does more for the simplicity of the piece than I think the designers thought it would, as it brings home the true essence of minimalism in watch design. The small numerals, and equally small hours/minutes hand does wonders for the simplicity of the piece, but I'm afraid the price tag for a Quartz watch is a bit of a deterrent.
Price: £637
Model: Type 1A
Movement: Quartz
Water Resistance: 1 ATM
Case Diameter: 40mm
36. Nevo Smartwatch
On the surface the Nevo Smartwatch looks just about as simple as can be, with its minimalistic design and modular case. But delve a bit deeper and you'll begin to realise just how much this watch can do. It can track your activity and sleep patterns, it can let you know if you have notifications coming through your phone and it has an alarm. Complex minimalism?
Price: US$350
Model: Smartwatch
Movement: Quartz
Water Resistance: 5 ATM
Case Diameter: 40mm
37. NOMOS Glashütte Lambda Weißgold
This is most probably my favourite watch of the minimalist series, albeit the most expensive. NOMOS are renowned and well recognised as a brand that does things a bit different, but still produce pieces that are well designed movement wise. The Lambda Weißgold takes inspiration from modern art-deco, and combines that with minimalist chic. The result? A luxury watch that has no wearability bounds, and one that can be admired by outsiders of the watch world, and those that considers themselves horological nerds.
Price: CHF14,800
Model: Lambda Weißgold
Movement: Nomos Calibre DUW 1001
Water Resistance: 3 ATM
Case Diameter: 42mm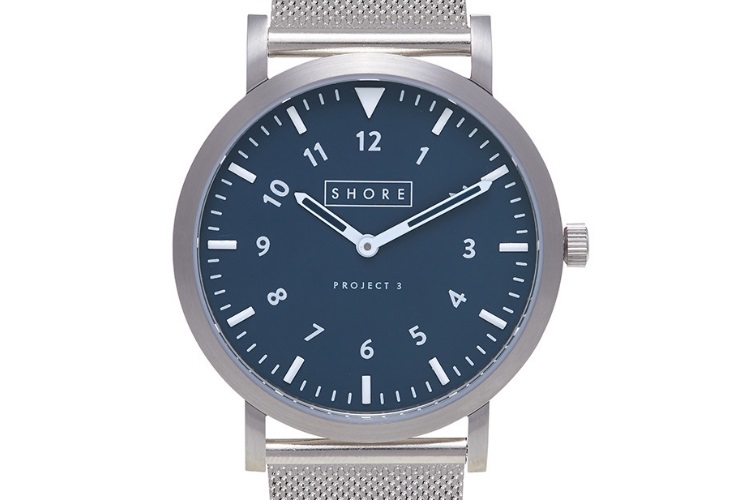 38. Shore Projects Three Newquay
The Newquay brings back memories of boating through Sydney Harbour during a hot Summer's day. The blue dial reminds me of the glistening harbour waters, and the silver hues of the case design, hands and hour markers reminds me of Sydney city's skyscrapers. It one of the most beautiful minimalist watches that can be worn on a variety of straps.
Price: £135
Model: Newquay
Movement: Quartz
Water Resistance: 3 ATM
Case Diameter: 39mm
39. Miansai M12 Swiss Rose Gold / White Watch
With the crown at the unconventional 4 o'clock position, and a case that is only 6mm thick, the M12 is sure to catch anyone's attention. The dial layout is near perfect, extremely modern looking and very clean. The hands are nicely designed, and the overall case architecture ensures comfort and wearability. A brown leather strap ties it together, going nicely with everyday work attire or a fun summer outfit. A very beautiful minimalist watch from Miansai.
Price: AU$705
Model: M12 Swiss Rose Gold/White
Movement: Quartz
Water Resistance: 3 ATM
Case Diameter: 39mm
40. Melbourne Watch Co. Collins
The Collins watch collection was fittingly named after Melbourne's iconic Collins Street. As with most watches from the Melbourne Watch Company, the Collins has a vintage yet modern feel to it and is sized at a sought-after 38mm. The silver dial is classic with no unnecessary features leaving it beautifully minimal.
Price: AU$679
Model: CL.38.A.3HD.01
Movement: Miyota Cal. 9015 Auto
Water Resistance: 50m/5ATM
Case Diameter: 38mm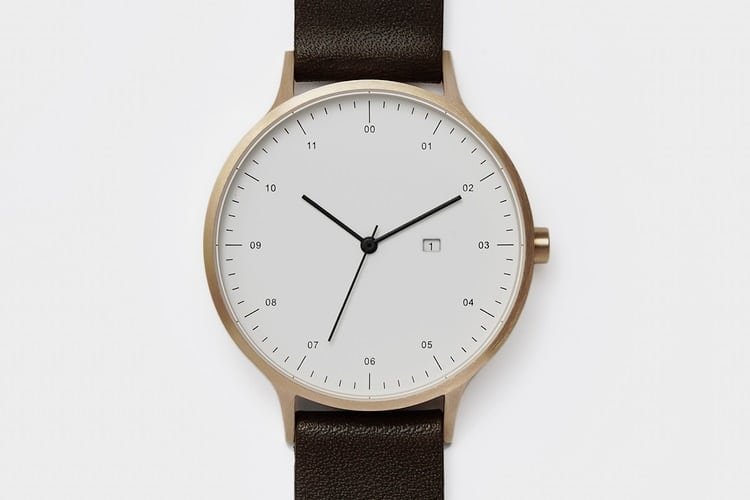 41. INSTRMNT 01-B
I was fairly amazed when I first came across this piece. Beautiful proportions, a gorgeous dial and a case that is wonderfully thin. Packaged like a watch that would cost 10-times as much, the INSTRMNT 01-B is the kind of watch you buy to out simplify your already simple watch collection. The brown leather strap is subtle but goes nicely with the timepiece. This INSTRMNT watch is reminiscent of a simpler MVMT watch.
Price: US$280
Model: 01-B
Movement: Quartz
Water Resistance: 5 ATM
Case Diameter: 40mm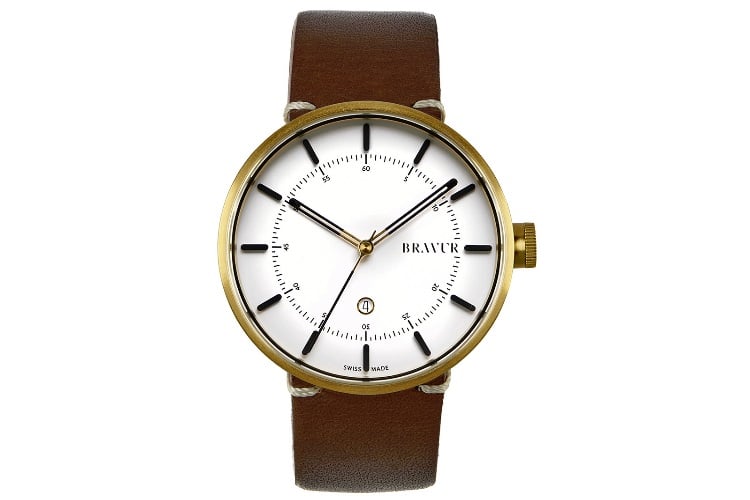 42. Bravur BW002G-W-LBR1 Watch
A more cluttered dial than the watches featured in this article, this piece features an inner rimmed dial depicting the minutes, while the corresponding hours are shown by black indexes. The small date window close to the centre of the dial is a nice touch, and while the crown could be a bit smaller, overall it is a fairly pleasing package. All the action in the dial area makes this feel more like a high-end luxury watch, even though it still fits into the minimalist category.
Price: US$625
Model: BW002G-W-LBR1
Movement: Quartz
Water Resistance: 5 ATM
Case Diameter: 38mm
43. Leonard & Church Thompson Mahogany Black/Black
The Thompsons watch, which features a super cool colour scheme of mahogany on black on black, is one of those watches that really catches the eye. The layered colour scheme is superb, and its one that I believe more manufacturers should utilise in their more basic pieces. The dial is simple and informative, and the piece screams modular utilitarianism.
Price: US$125
Model: Thompson Mahogany/Black/Black
Movement: Quartz
Water Resistance: 2 ATM
Case Diameter: 40mm
44. Huckleberry & Co. Archibald Atticus in Rose Gold
An Australian brand that I have featured prior to this article, and a brand that I am keeping my eye on. Bauhaus design styling in a package that is timeless and simple, the Archibald Atticus should be what every minimalist-watchmaker should strive to replicate. Gorgeous detailing, exception proportions and a mechanical movement. Need I say more?
Price: AU$570
Model: Archibald Atticus
Movement: Miyota 9132 Automatic
Water Resistance: 5 ATM
Case Diameter: 40mm
45. Kitmenkeung LD 1.0 – S
A cool way to keep things simple and interesting is to do things differently. The split dial, with one side showing the hours/minutes and the other showing the seconds is a very nifty way of deconstructing time while keeping the theme of minimalism in check. A super fun piece that won't break the bank. A black leather, minimalist dial combination that's perfect for EDC watch lovers.
Price: US$350
Model: Long Distance Classic Stainless Steel
Movement: Quartz
Water Resistance: 1 ATM
Case Diameter: 39mm
46. Brathwait Classic Slim Wrist Watch
A combination of Daniel Wellington styling ethos with a touch of modern audacity is what the Brathwait Classic reminds me of. The sword-hands are both classic and contemporary, and the addition of a red seconds hand breaks up what otherwise would be a mirror image piece from Daniel Wellington. Love the simplicity of the case and lug design. The brown leather and brown minute hands are easy on the eyes. A bit different to your modern classic-looking minimalist piece.
Price: US$185
Model: Classic Slim Wrist Watch
Movement: Quartz
Water Resistance: 3 ATM
Case Diameter: 40 mm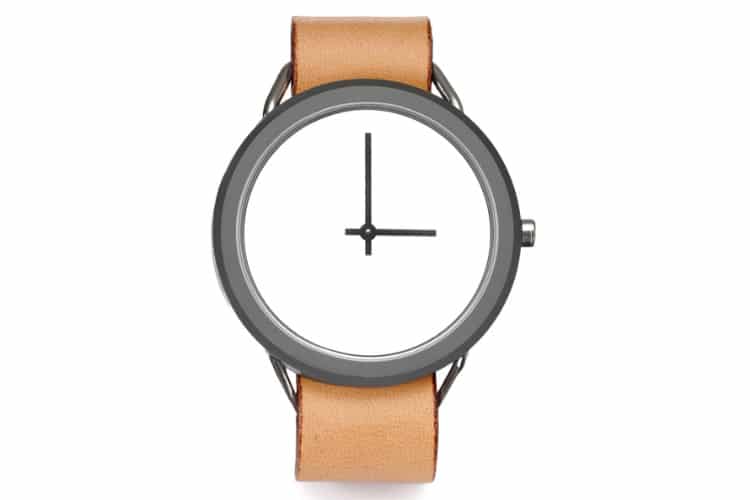 47. Classic Engineering black VARIO + Natural Strap
The VARIO's simple design is classic enough (we love vintage watches) to be appreciated by the purists, yet modern enough to be worn by newer generations of watch lovers. An enlarged bezel surrounds the clean dial, and the lugs add another dimension to its aesthetic. The ceramic treated case only acts to further reflect its modern simplistic design. A very modern watch that pays homage to minimalism and simplicity.
Price: US$249
Model: VARIO
Movement: Quartz
Water Resistance: 3 ATM
Case Diameter: 40mm
48. Defakto Kinetic
The Kinetik is the kind of watch you buy when you know what you want. It combines an immense amount of technique, from the grainy finish of the dial to the brushed metal look of the case and the skeleton hands, its a watch that means business. It has an integrated minimalist design that incorporates a respectable automatic movement from ETA. A solid watch for the minimalist in all of us.
Price: €650
Model: Kinetic
Movement: ETA 2824-2 Automatic
Water Resistance: 5 ATM
Case Diameter: 39mm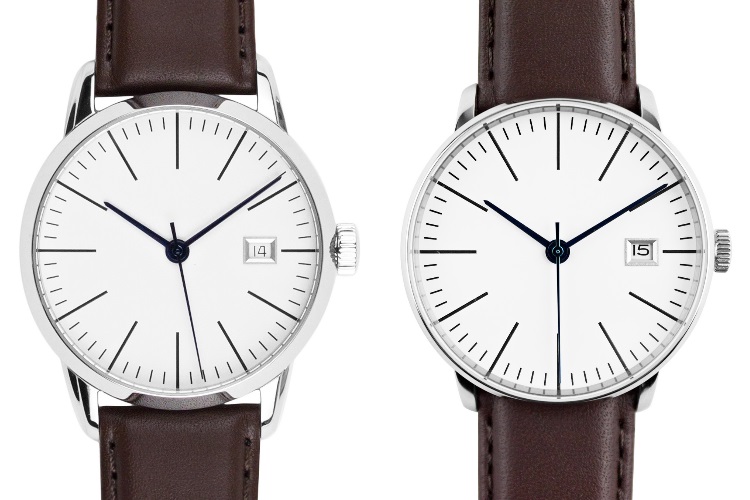 49. Kent Wang Bauhaus Watch v4 White
Bauhaus styling seems to be the next in-thing in the world of watch-making, and for good reason. Its a fresh take of time-telling that combines clean dials and to-the-point designs. Blue hands on a white dial with black hour and minute-second markers work so well for this piece. The case is well designed, it has an automatic movement (Yay!), and the only thing I don't agree on is the brown strap. Otherwise, superb!
Price: US$395
Model: Bauhaus Watch v4 White
Movement: Miyota 9015 Automatic
Water Resistance: 3 ATM
Case Diameter: 38mm
General FAQ
What are minimalist watches?
Taking cues from 19th-century pocket watches and other predecessors, modern minimalist watches eschew superfluous details without sacrificing style, creativity, or elegance. As a result, the pure functionality of telling time takes on aesthetic dimensions.
What are the best minimalist watches?
Some of the best minimalist watches for men are the VERK ETT 03, Nordgreen Philosopher, Rossling & Co Classic Automatic, Melbourne Watch Co. Portsea Heritage, The Ora Lattea, MVMT Watches, and others.
What are some affordable minimalist watch brands?
If you're looking for an affordable minimalist watch, you definitely have your options. Check out brands like Nordgreen, Komono, Casio, Tsovet, Rossling & Co, MVMT, and Vincero, to name just a few.
To stay in the know with all things watch related, stay subscribed to The Wind Up, our regular watch news series. 
You might also like:
50 Best Watches Under $500
100 Best Watches Under $1,000
21 Best Watch Blogs