Interview BOSS HUNTING Co-Founders Jack Slade & Tom Kilmister
A business that started as just an innocent enough Tumblr and Facebook Page, since launching Boss Hunting as a stand-alone site, it has quickly grown to become a powerhouse on the media landscape. Within just 30 days of launch it was one of the 1,000 most visited websites in Australia and at the time of writing Boss Hunting has a whopping 240,000 Facebook Fans, 70,000 Instagram Followers, 4,000 Twitter Followers, and 5,000 Tumblr Followers, and almost 3m blog page views. We sit town with Co-Founders Jack Slade and Tom Kilmister to hear how it all began and what keeps them motivated.
---
You'll also like: 
An Interview With Whisky Loot Founder Seamus Carroll
Pacifico Optical Founder Alain Guglielmino On Beginnings, the Future & that Very Special Collaboration
Lenovo Interviews Man of Many Co-Founders Scott & Frank About Life, Technology & Business
---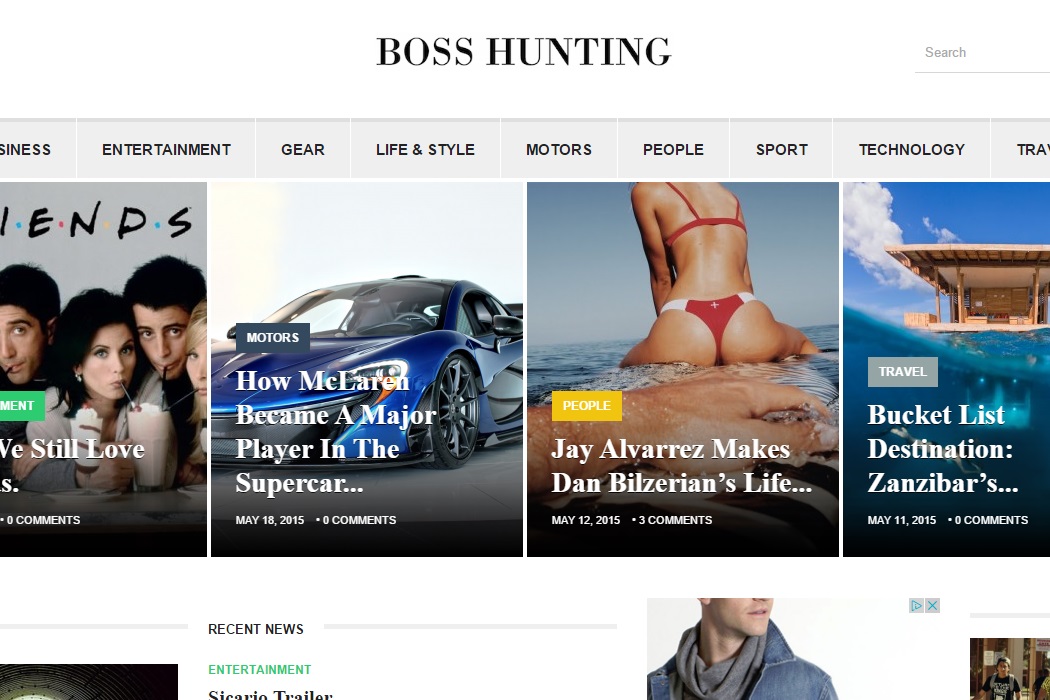 Thanks for joining us. Tell us about a bit about where each of you grew up and how you guys met?
T: Cheers mate, thanks for having us! Basically, we went to high school together and have been mates for years. I spent a bit of time interstate/overseas but have been in Melbourne for the last 15 years, while Jack has been here all his life
Who came up with the idea to start the Boss Hunting Tumblr?
J: I started the Tumblr really as a way to save any cool images I stumbled upon while online, a personal image journal I suppose.
Who came up with the name?
J: I did, and to be honest I have no idea where I came up with it. It's fairly self-explanatory I think, so people really resonate with the name.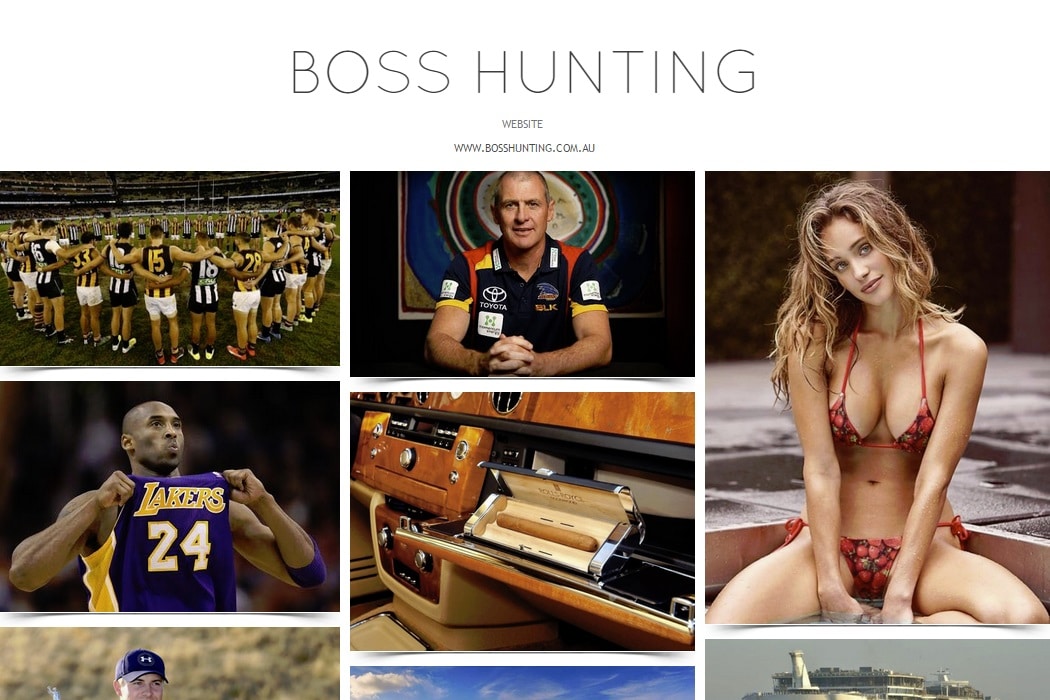 Did you expect it to grow so quickly? Why do you think it was so successful?
T: We had no idea it would grow so quickly. Jack has always had this thing with sending/sharing things he likes online. I remember at school when he'd send me emails collated with all the funny pictures/emails him or his parents had received, I think I actually still have some of them! Because mainstream social media was still in its infancy, email was one of the only medium to share that kind of stuff. Anyway, I see BH as an extension of that, and it just really took off. My belief is that our initial success can be attributed to the strong social networks around Melbourne, Sydney and to a lesser extent other Australian cities
What's the craziest thing you guys have done since launching the brand? Have there been any "we've made it!" moments?
T: We did a very cool drive day with Mercedes-Benz Australia a few months ago which was a lot of fun. Apart from that, probably when people you've never met before mention Boss Hunting in conversation without knowing you're involved with it.  That's pretty cool.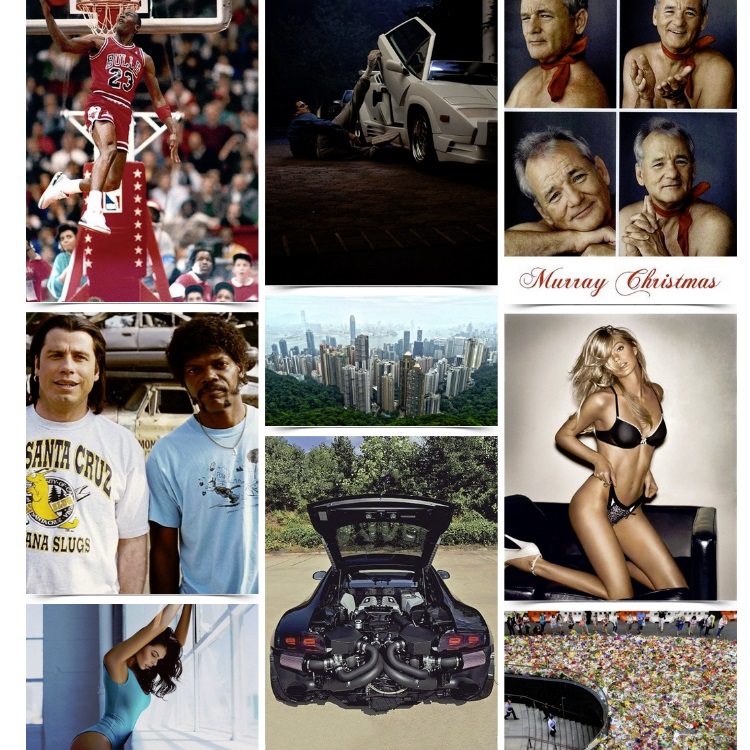 What was the main driver behind wanting to start a content-based site as opposed to sticking with the proven strategy of posting up epic images?
J: We've been posting images for over three years now, and for a while we've been umming and aahing about what the next step was for BH – there were a heap of ideas, from a clothing label to accessories, events, an app – we were approached with ideas on an almost daily basis, which in hindsight probably clouded our judgement as to what the best next step was. I suppose for a while we suffered from a bit of analysis paralysis, but then I went to Web Summit in Dublin late last year and saw a number of digital publishers speak about the future of digital media being Facebook and Social based, and with the social following we already have it was really a no-brainer from there.
How are you aiming to grow the site?
J: At the moment 90+% of our traffic to the site is from Social Media, so it's really important that we start bringing in traffic from different, more traditional channels and don't rely too much on traffic from Facebook.  Of course, increasing our Social presence is pretty vital as well!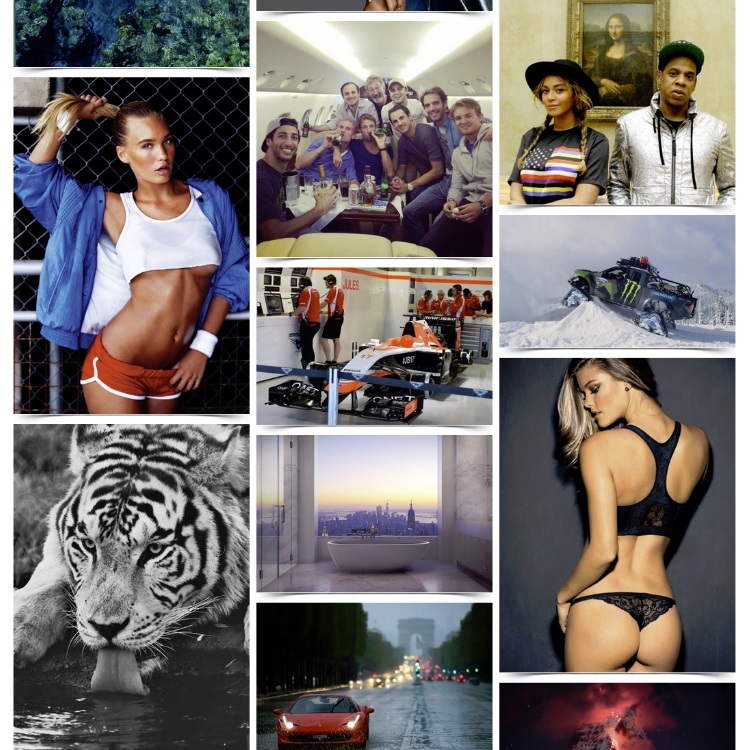 What is your ultimate goal with the site? Where do you guys see yourselves in five years?
Without boring you with the detail, we'd love to be the go-to site for young Australians within five years.  We're still testing a lot of different content types and figuring out exactly what is it that our readers like consuming.  We've also got some merchandise in the works which we think will be a key aspect of the business going forward.
Any other ventures on the horizon? I see you've started a second Instagram account Boss Birds?
T: We are always looking at new ventures; I think that's really important. Boss Birds is our latest, it was Jack's idea of seeing a void in a quality page linking quality accounts daily on Instagram. It's organic growth four months it has been really pleasing, and it's something we have some big plans for down the track.
If you guys could travel anywhere in the world where would you go?
T: For me London to visit Jack as I just don't see him enough. Plus the rest of Europe is on your doorstep. Otherwise, I have plans to do South America at the end of this year, that's always been a big one on the list.
I've been pretty fortunate to have travelled a lot throughout my life (37 countries so far) but have always wanted to go Heli-skiing in Alaska. That is right up there on the bucket list.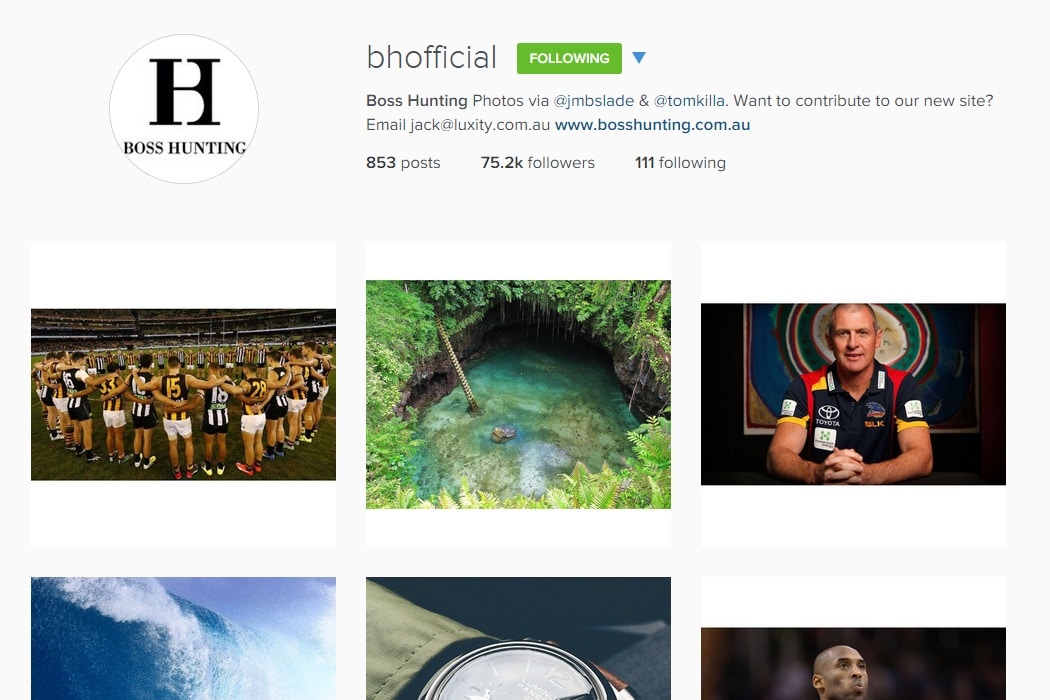 Name 3 things you can't live without and why?
J: (1) MacBook Pro Retina – it's my baby, I spend most of my waking hours on it, and I love it! (2) J. Lindeberg Wolger Melton Overcoat – London gets very cold and this overcoat is the perfect casual coat – I wore it basically every day for 6 months this year. (3) Would be it cliche to say my girlfriend Bec?
T: (1) Also my Pro Retina – essential for business, study and leisure. (2) My iPhone 6 – staying connected and constantly posting on BH and BB. (3) My sneaker collection – I'm a huge Nike fan, especially Prestos and 180's. Hunted down a few grails over the years, namely my Aussie Olympic Prestos. Only given to athletes and VIP's at the Sydney 2000 Games, and less than 200 pairs worldwide. Couldn't live without them.
What advice do you have for those wanting to start their own business?
 T: Perseverance. Like any business, we've had our doubters over the years, but continuing to be positive and believing in yourself makes all the difference.
And finally, if you weren't running Boss Hunting, what would be your ideal profession?
T: Investing in and developing property or running Nike, Mark Parker has the best job in the world.
J: Pro Skier hands down and then a Ski Resort Hotelier after I'd done my knees.
You'll also like: 
An Interview With Whisky Loot Founder Seamus Carroll
Pacifico Optical Founder Alain Guglielmino On Beginnings, the Future & that Very Special Collaboration
Lenovo Interviews Man of Many Co-Founders Scott & Frank About Life, Technology & Business
---