Top 30 UK Men's Fashion Blogs
There's a real thirst for great online fashion blogs and content targeted at men with a passion for fashion. But what about the UK? They've got plenty to offer so we thought we'd share the love by covering some of our favourites in the Top 30 UK Men's Fashion Blogs. Think layering, warm winter jackets and clothes for all climates. So without further adieu here are the UK bloggers making a splash both in their home towns and internationally.
1. The Daily Street
This blog is only called The Daily Street because The Daily news was already taken. Jammed pack with news about fashion, music and modern-day art (no Picasso sorry) with an Instagram of the week. They also feature interviews from sport starts to musicians. There is also a MIXTAPES section where different artists contribute to a playlist that you can listen to while "working".
Founder: Adam Scotland, Alex Powis, Jamie Szulc
Launched: 2009
What it's about: : sneakers, streetwear, clothing, menswear, mens fashion, accessories, luggage, denim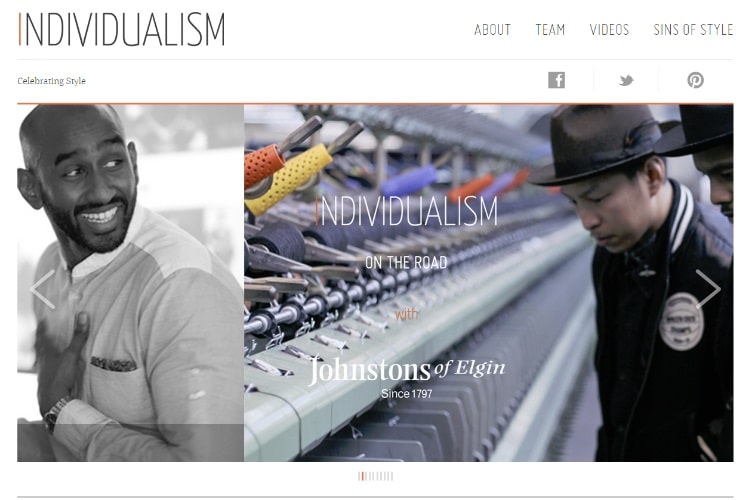 2. Individualism
These guys are out to assist you in developing your own style the Individualism way. They really go out of their way to bring men's style in original and entertaining ways. Fun fact: the founder and editor in chief is none other than the video style editor for Mr Porter.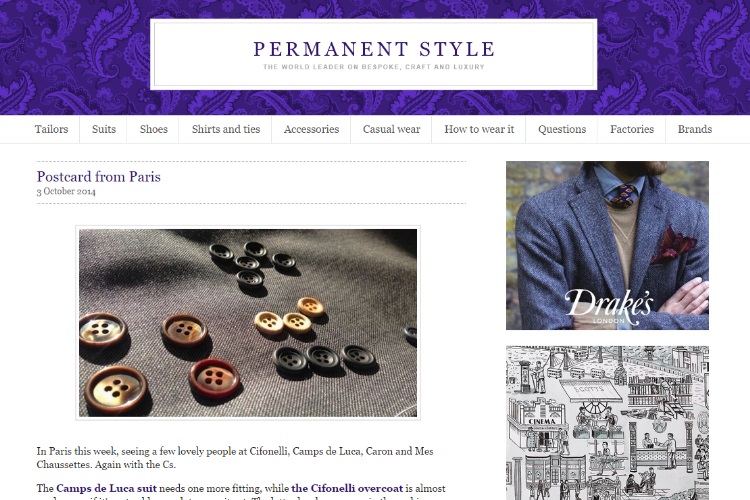 3. Permanent Style
This guy is all about the suits. Classic, elegant and something that will never go out of style. Great tips on anything suit wise from the tailors to the brands to how to wear it. And if you are stuck and can't find it, just ask Permanent Style's Simon and he will share his infinite wisdom with you.
Founder: Simon Crompton
Launched: 2007
What it's about: : classic style and bespoke clothing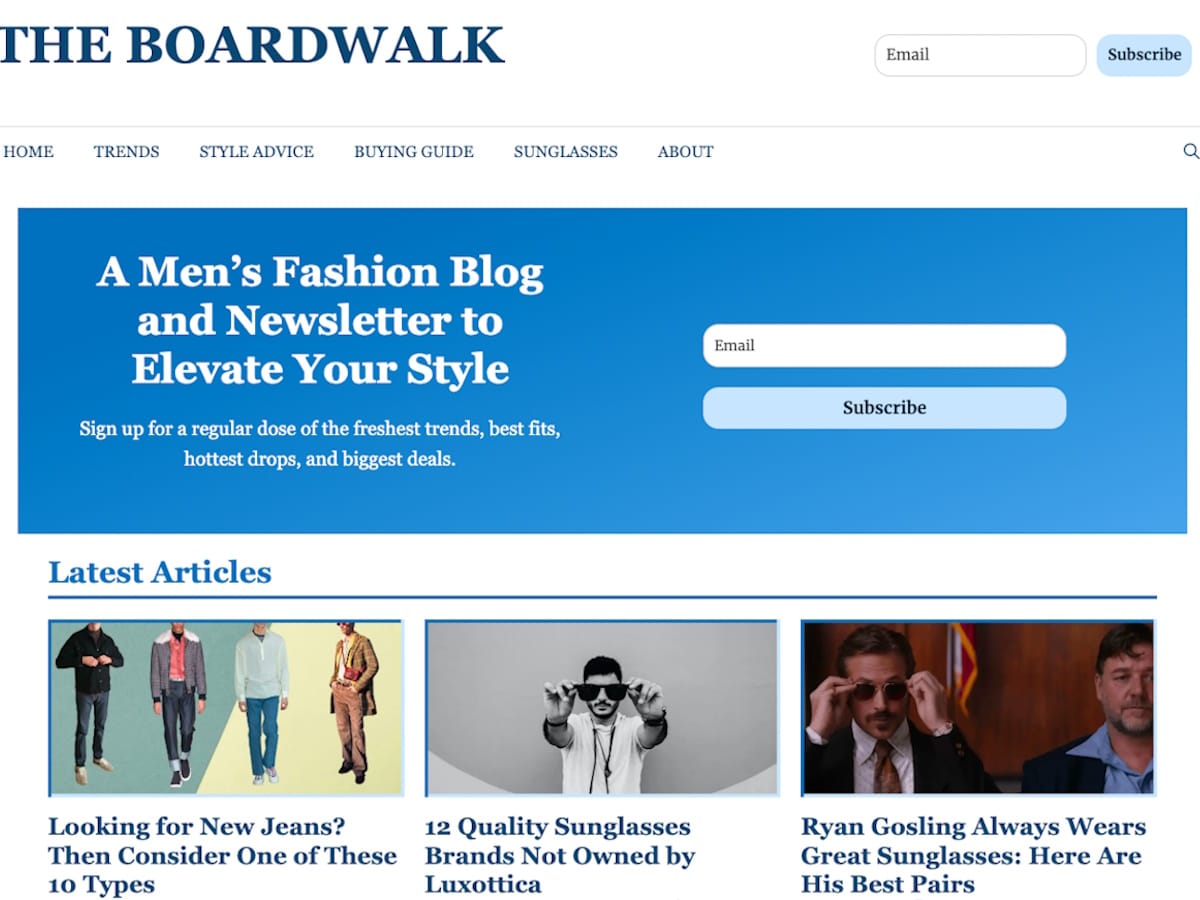 4. The Boardwalk
The Boardwalk is a men's fashion blog that helps men dress better through informative articles and guides. All the content is written in the first person because when it comes to subjective topics like style, The Boardwalk believes it's more interesting to hear personal points of view than prescriptive advice.
Launched: 2019
What it's about: Men's fashion and style trends
---
Featured Video from Man of Many
---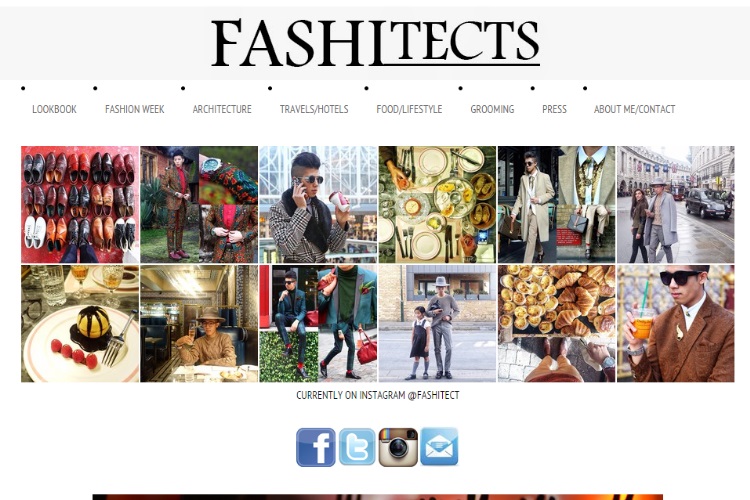 5. Fashitects
Architect student and fashion lover, Toni Tran, is the founder and model for Fashitects. For him, it is vital that all content is original hence his own model work. He has his own 170 Lookbooks and covers the London Fashion week religiously. Other topics covered include travelling, food, lifestyle and grooming. And to prove that he is actually studying architecture, a section is dedicated to his model building skills which are amazing.
Founder: Toni Tran
Launched: 2011
What it's about: : fashion, travel, lifestyle
You'll also like:
Top 10 New Zealand Men's Fashion Blogs
9 Best Australian Men's Fashion Blogs
21 Best Men's Street Style Blogs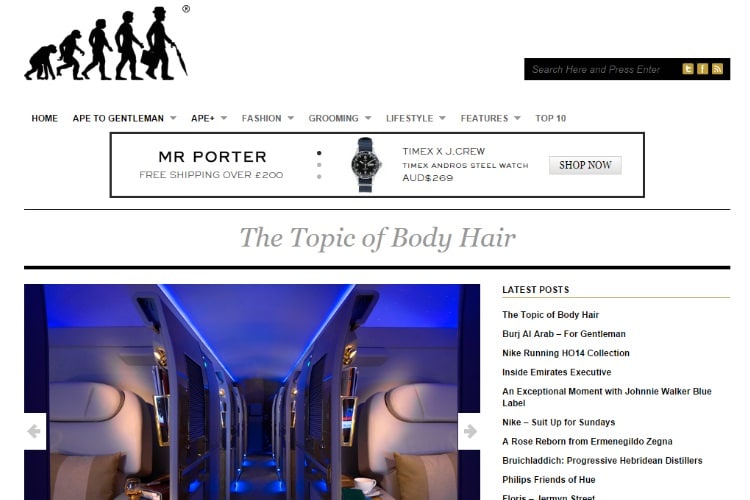 6. Ape To Gentleman
A blog to help you evolve from ape (not to be taken literally) to a well-groomed modern-day gentleman. This is a blog dedicated to men's grooming, fashion and lifestyle including fashion and travel. The Ape To Gentleman idea is to reflect that all men should aspire should aspire to be gents and although being a gentleman encompasses many attributes, one very important attribute is pride in appearance.
Founder: Chris Beastall
Launched: 2009
What it's about: : grooming, fashion, lifestyle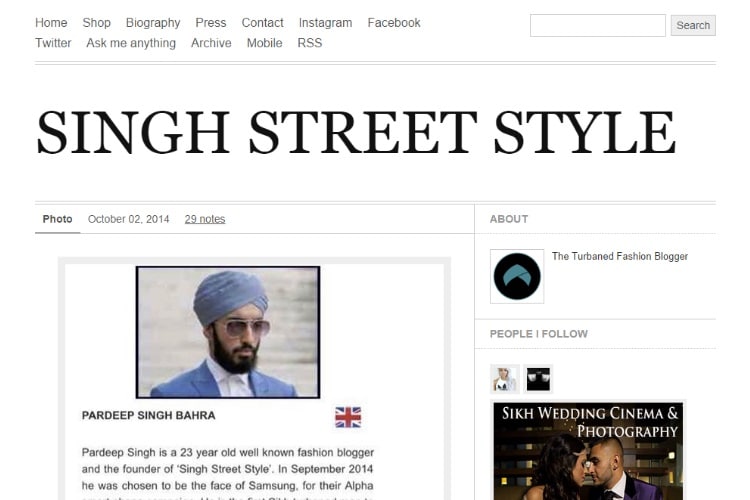 7. Singh Street Style
Pardeep Singh Bahra is the founder of Singh Street Style. He is a blogger, stylist, model, fashion designer, and photographer. He brings his own fashion to the world while retaining his culture turbaned. He is also the first Sikh turbaned man to be the global face for Samsung and was recently named as one of the top 10 fashion bloggers by Esquire magazine.
Founder: Pardeep Singh Bahra
Launched: 2013
What it's about: : Sikh chic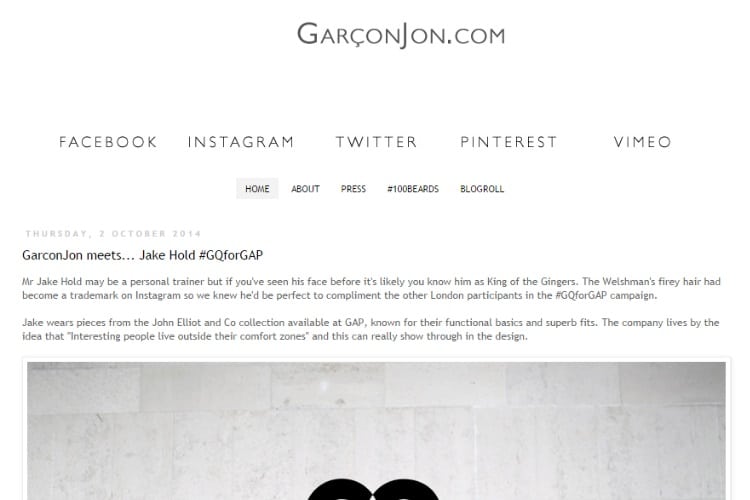 8. GarconJon
Garcon Jon is a blog helmed by renowned photographer Jonathan Daniel Pryce. An award-winning photographer based out of London who has shot for the likes of Esquire and GQ. Garcon Jon conducts interviews with some of the most well-known and stylish men in various respective fields.
What it's about: : Jonathan Daniel Pryce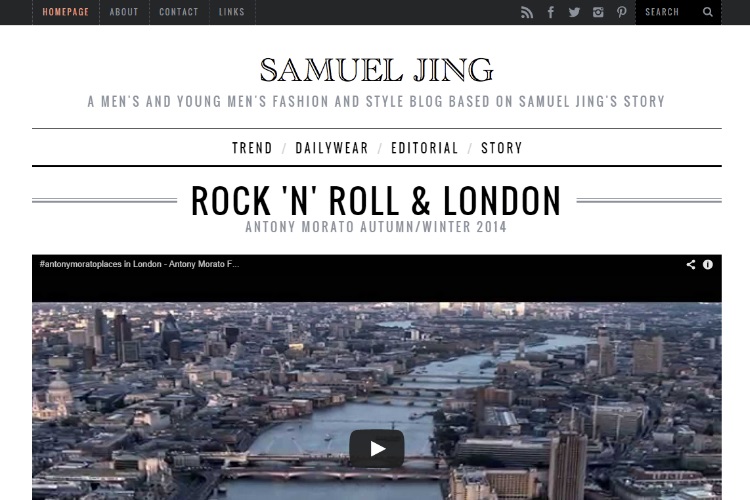 9. Samuel Jing
This is a leading men's and young men's fashion and style blog. It is supported by academic theories in consumer buying behaviour, fashion marketing and branding. Samuel Jing gets around rubbing shoulders with the biggest names out there.
Founder: Samuel Jing
What it's about: : menswear and fashion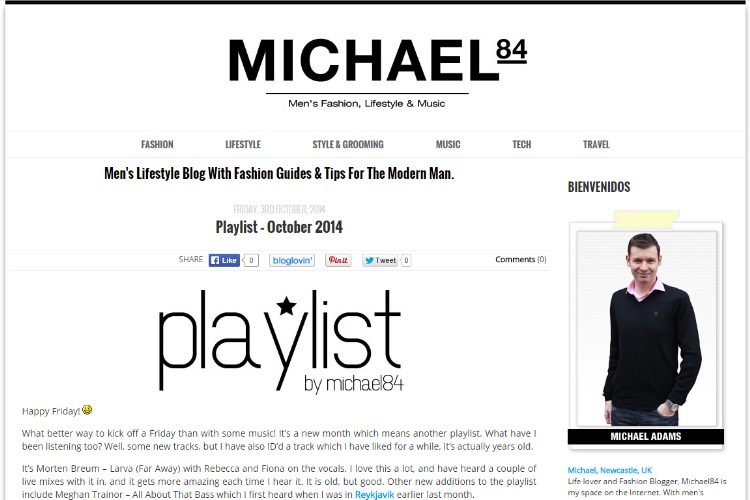 10. Michael84
Michael Adams is a lover of life and fashion blogger. He focuses on fashion advice and style guides, male fragrance reviews and the latest trends. He also adds a playlist every month of what he is currently listening to.
Founder: Michael Adams
Launched: 2008
What it's about: : style, clothing, grooming, travel, tech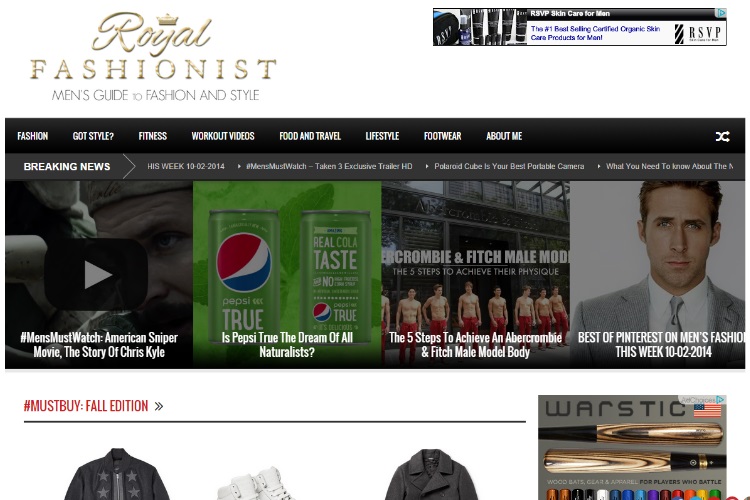 11. The Royal Fashionist
Marcos Paulo Silva has created The Royal Fashionist, a men's guide with his blog focusing on fashion ideas, style inspiration, travel guides and fitness tips to stay in shape. He is big on a healthy fit life. On occasion, he dips into technology reviews.
Founder: Marcos de Andrade
Launched: 2014
What it's about: : latest trends in fashion, healthy living, luxury lifestyle
12. Quyen Mike
Quyen Mike is a photographer and creative director in London. His eye is set on the world of fashion, design, music, and art and his motto is "Being well dressed is a beautiful form of politeness." The blog follows his story and progress of self-taught artist and reflects his work and personal style.
Founder: Quyen Mike
13. The Everyday Man
John Robertson started The Everday Man blog as a platform to share his like with the world and aims to publish the latest in men's fashion, fitness and lifestyle, art, music and events. Fashion includes apparels and not just clothes and the grooming section deals with the finer things on looking good.
Founder: John Robertson
Launched: 2012
What it's about: : fashion, fitness and lifestyle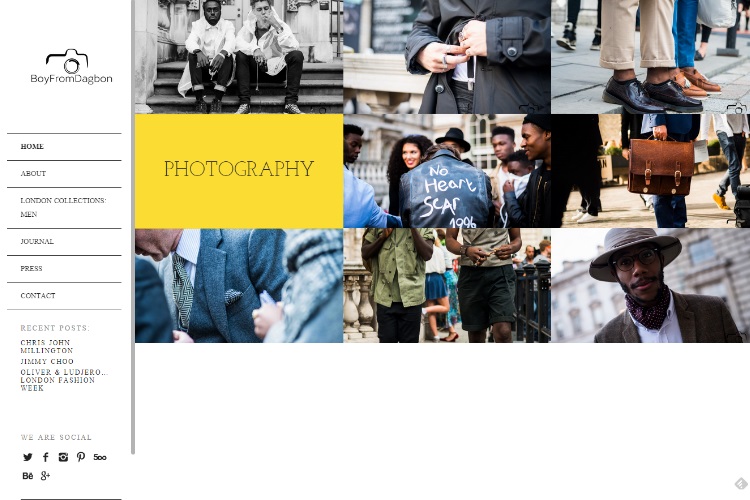 14. BoyFromDagbon
Abdel Abdulai's passion for photography and creativity pushed him towards his love for fashion and style. Each BoyFromDagbon post tells its own story and engaged and inspires the reader to recreate the looks. This blog is an encyclopaedia of style.
Founder: Abdel Abdulai
What it's about: "encyclopaedia of style"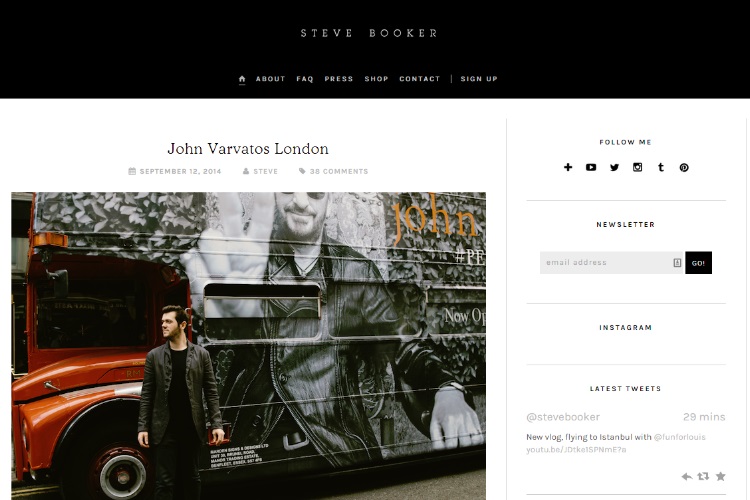 15. Steve Booker
Steve Booker is a lover of fashion, design, photography, technology, people, good food and good coffee! His blog explores all before mentioned and he is open for things that readers want to see or hear about.
Founder: Steve Booker
What it's about: men's fashion, style tips, travel, lifestyle, photography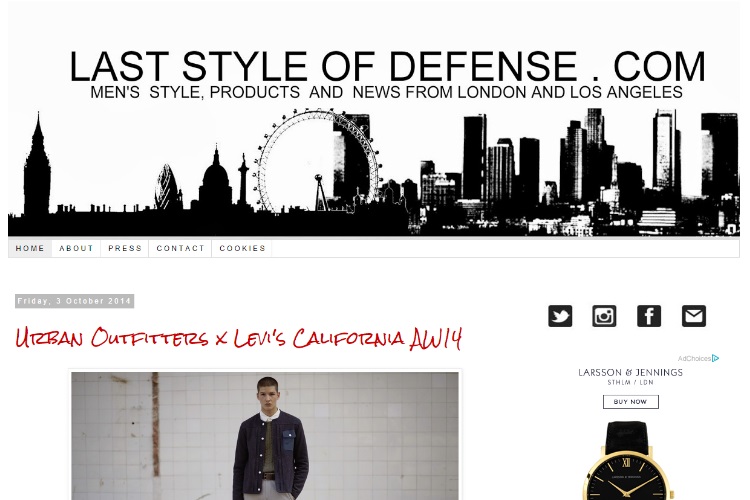 16. Last Style of Defense
Dan Hasby-Oliver is a menswear writer, brand ambassador and global men's trends analyst. Last Style of Defense has had over 2 million readers since its creation and is ranked as one of the most influential menswear blogs in the world. He covers style, products and news mainly from London to Los Angeles.
Founder: Dan Hasby-Oliver
Launched: 2009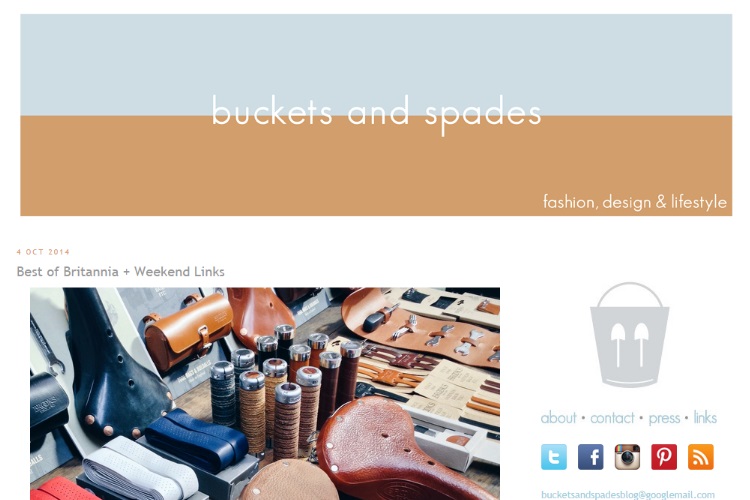 17. Buckets and Spades
Buckets & Spades is run by a guy named Mat. His blog is about fashion, design and lifestyle. He has an eye for the small finer things in life and delivers his honest opinion in reviews.
Founder: Matthew Spade
Launched: 2008
What it's about: fashion, design, lifestyle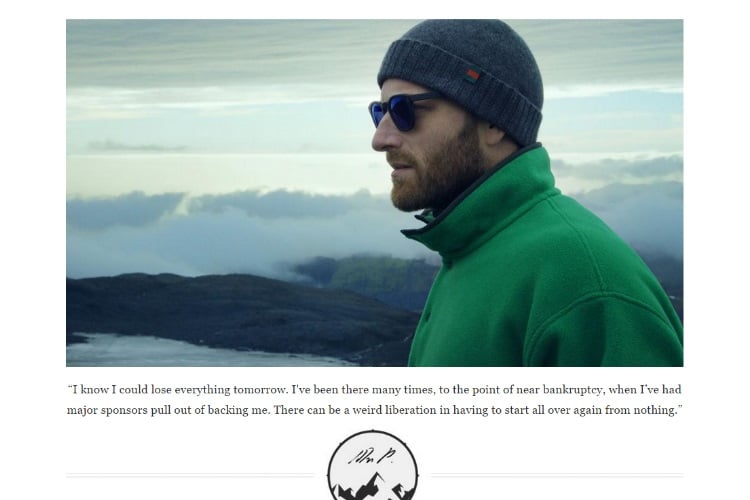 18. What's He Wearing?
If you are really into the fashion parades but don't have time to scour the internet for each one then this one is for you. What's He Wearing? is filled with the latest fashion news from the boardwalk and what celebrities were seen in. Who knew rapper 50 Cent can clean up so nicely?
What it's about: menswear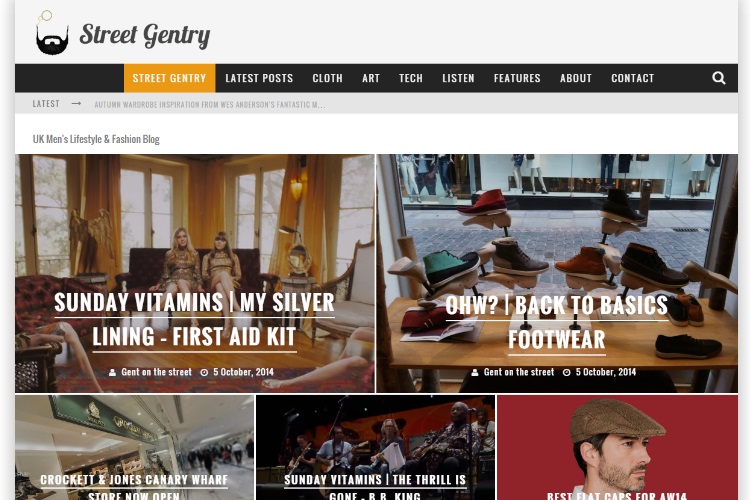 19. Street Gentry
The Street Gentry is run by three gentlemen simply known as the Rural Gent, Gent on the street and the Quintessential Gent. Each delivering their own perspective the blog features clothing trends, music, technology and culture.
Launched: 2013
What it's about: UK men's lifestyle and fashion – best in clothing, music, tech, cars and culture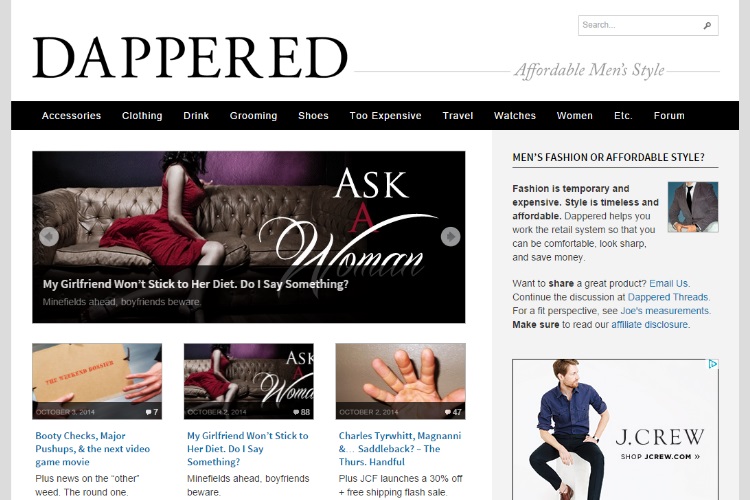 20. Dappered
Dappered is all for the guy on the street. Not all of us are fashion gurus or necessarily agrees with the fashion displayed on the boardwalk. A nice bunch of articles that makes you feel at home. And the kicker, they have a woman named Beth for whom you can ask questions to get the honest opinion and insight of the fairer race.
Launched: 2009
What it's about: resource for the best and affordable clothes, booze an travel options online
21. Men's Flair
Men's Flair is more a magazine than a blog and is ideal for men with a flair for style and interests beyond fleeting looks of the season. The reason why I say the magazine is because they have an editor, two columnists and a bucket load of contributors, all living what they preach. It is all about style that is real, relevant and unpretentious.
What it's about: an online magazine for men with flair for style and interests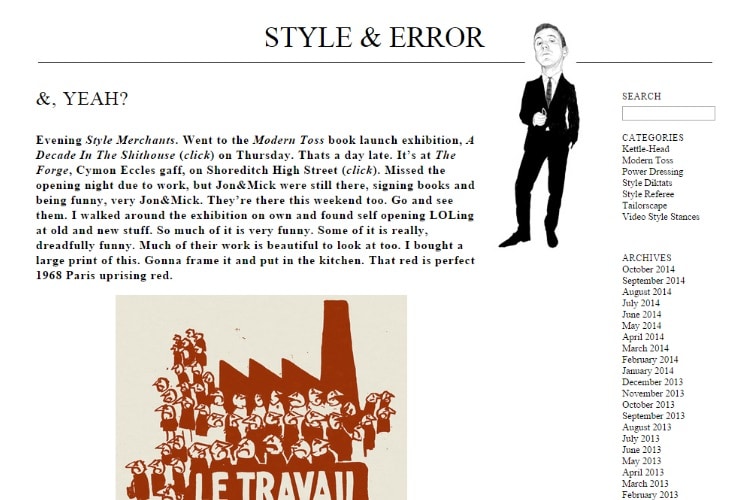 22. Style & Error
As far as I can figure it out the blog is run by a guy named Stubbs. He has a very tongue in cheek writing style and humour that I guess is British as I don't always catch the joke. The world needs more honest people like Stubbs on Style & Error.
Founder: Thomas Stubbs
Launched: 2010
What it's about: menswear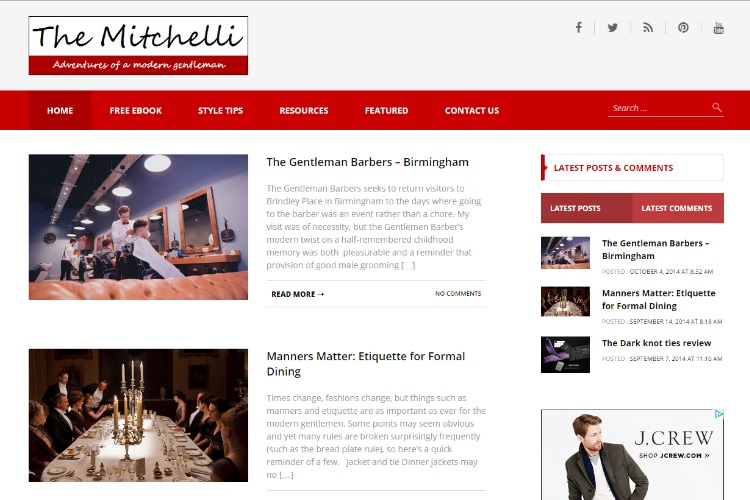 23. The Mitchelli
The Mitchelli is like an encyclopedia of fashion. 101 Style tips as well as more detailed on suits, shirts, shoes, and accessories. The blog also has a directory link to other well-known blogs and a glossary for the terms that you hear but is not always well known.
What it's about: classic style and etiquette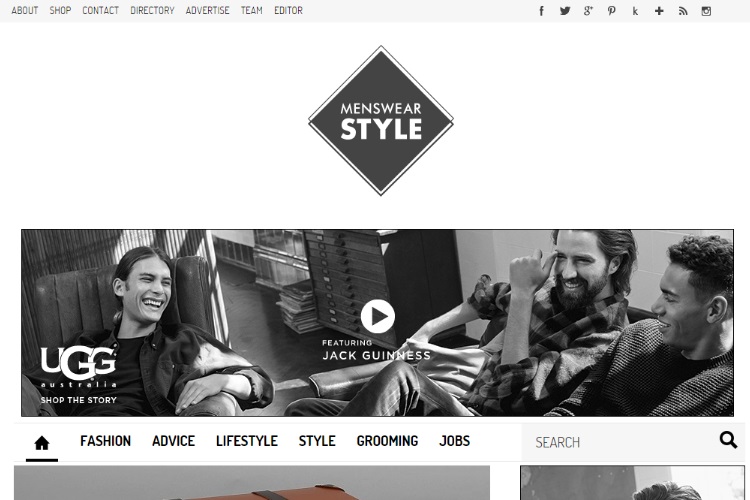 24. Menswear Style
Menswear Style is also another independent daily online magazine for men's fashion, grooming and lifestyle. Editorial and advertising are at the heart creating a clean and easy to used design-led website. They also cover cars to health and fitness and has some exclusive interviews in the bag.
Launched: 2012
What it's about: an online men's fashion, grooming and lifestyle magazine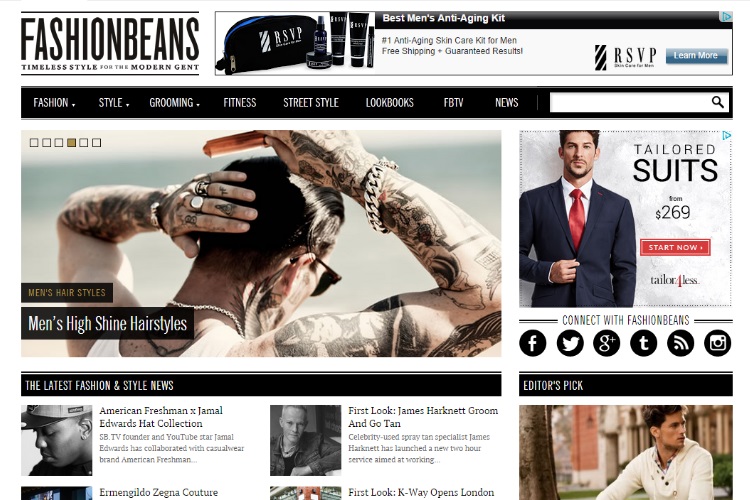 25. Fashion Beans
Fashion Beans was founded by Ben Herbert who is the editor-in-chief and together with a host of gurus, resident writers and industry insiders they bring the most comprehensive fashion blog to you daily. With sites like these, it is no wonder that printed magazines are dying a slow death. They also have a link for popular fashion discount codes that you can use to make purchases online.
Founder: Ben Herbert
Launched: 2007
What it's about: men's fashion, style, grooming, fitness, watches, tech and culture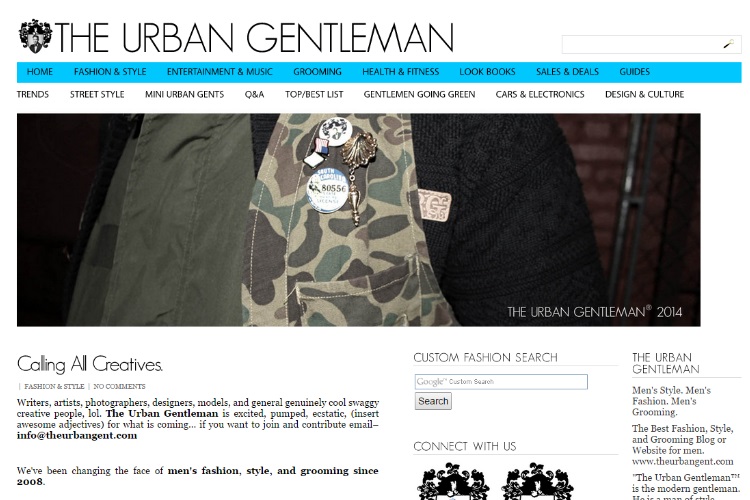 26. The Urban Gentleman
The Urban Gentleman has a mix of everything from high style to streetwear, grooming, health and fitness, cars and electronics as well as sales and deals where you can save some bucks. And if you feel you can write some good columns, they are hiring now.
Launched: 2008
What it's about: fashion styling, advice, writing, personal shopping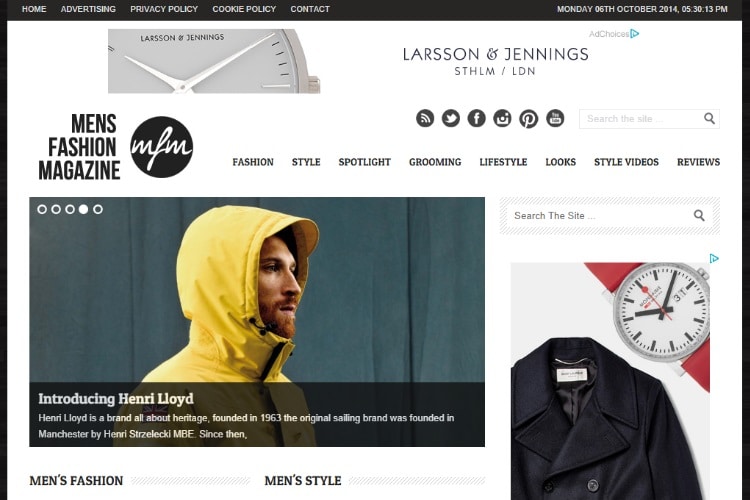 27. Men's Fashion Magazine
Another nail in the coffin for printed magazines. Delivering style tips, industry news, fashion trends and the latest sales offers since 2011. The Men's Fashion Magazine has been labelled as the number one online resource for men's fashion and style.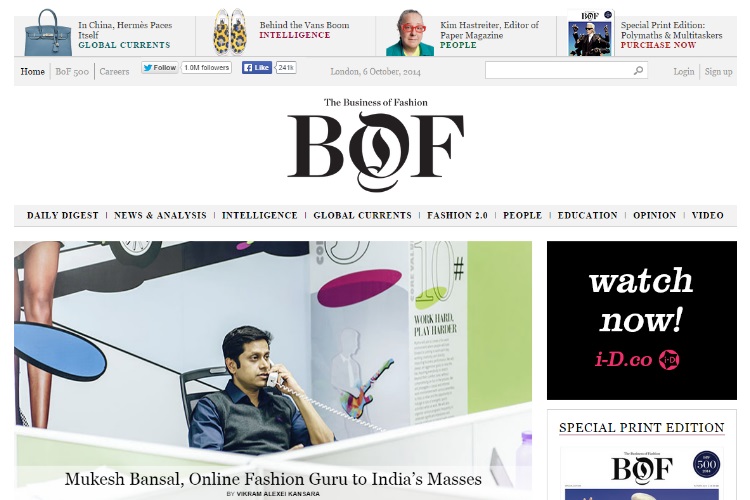 28. Business of Fashion
Business of Fashion was founded in 2007 by Imran Amed who is a fashion business advisor, writer and digital entrepreneur. Today it is a network of savvy writers and fashion insiders delivering a daily resource for fashion creatives, executives and entrepreneurs worldwide.
Founder: Imran Amed
Launched: 2007
What it's about: fashion creatives, executives and entrepreneurs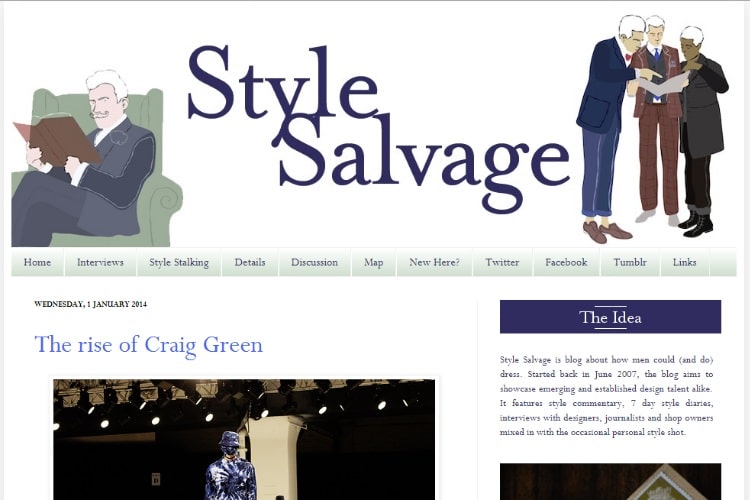 29. Style Salvage
The Style Salvage guys run an on-going series of interviews with fashion insiders and get up close and personal with the designers of Menswear Day. Furthermore, they love learning how collections and products are made.
Launched: 2007
What it's about: men's fashion and style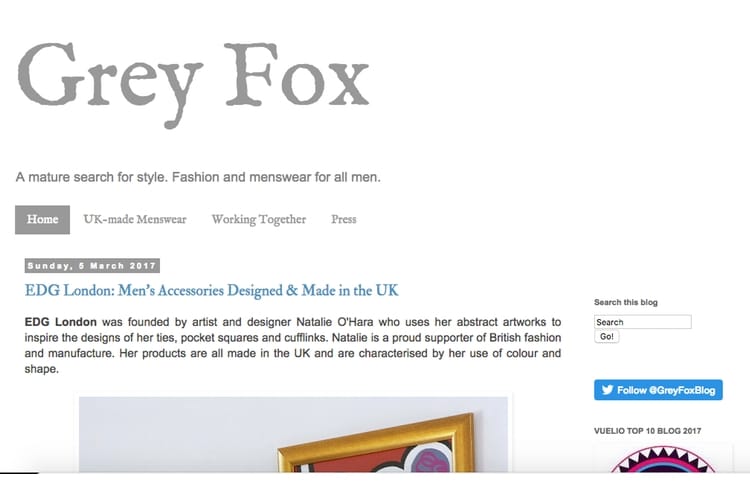 30. Grey Fox
David Evans started the Grey Fox Blog in 2011 aiming at men over 40. As we age it becomes harder to decide what to wear and how to dress and this is David's response to the allure of middle-aged men.
Founder: David Evans
Launched: 2011
What it's about: menswear style, fashion and lifestyle for all men
You'll also like:
Top 10 New Zealand Men's Fashion Blogs
8 Best Australian Men's Fashion & Lifestyle Sites and Blogs
21 Best Men's Street Style Blogs
---
Featured Video from Man of Many