The 13 Best American BBQ Restaurants in Melbourne
Sometimes, less really is more. This tired cliche is perhaps best illustrated when it comes to the relative simplicity of kick-ass barbecue. Smoke, fire, wood, and a whole lotta time are all that's required to transform an ordinary cut of meat into something extraordinary.
The best American Smokehouses in Melbourne infuse techniques from all across the southern US to create that distinctive smoky taste and texture. Whether it's the hickory and spice of the Carolinas, the signature sauces of Kansas City, or the fall-off-the-bone tenderness of Texan BBQ, you'll find it all at these American Barbecue restaurants in Melbourne.
By the way; for all y'all hawk-eyed readers out there, we'll be sticking to the American English spelling of barbecue in homage to our kin in the northern hemisphere. Saddle up, partner; let's go check out 13 of the best American BBQ restaurants in Melbourne. Hope you're hungry.
---
You'll also like:
The 9 Best American BBQ Joints in Sydney
14 Best Wine Bars in Melbourne
26 Best Craft Breweries in Melbourne
---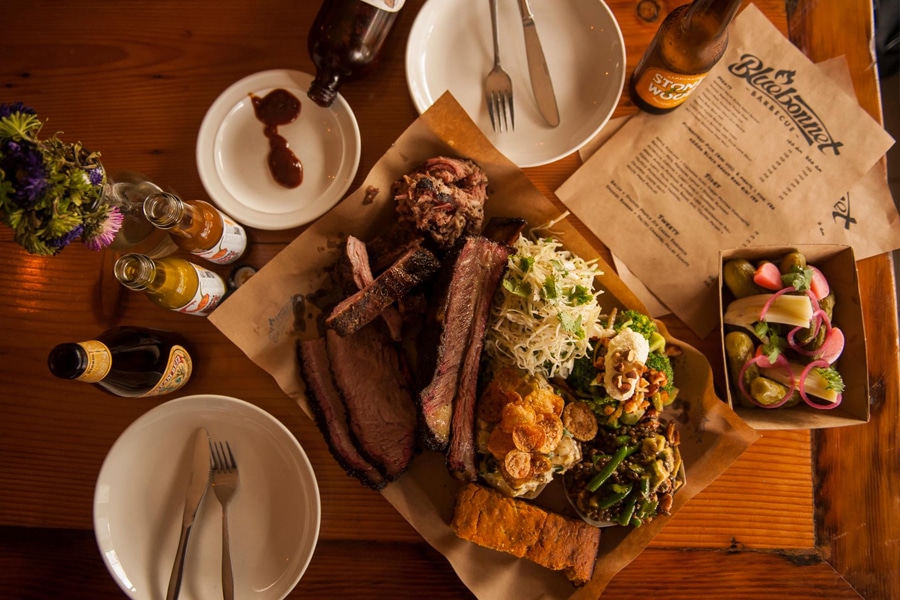 Bluebonnet Barbecue
A Texan barbecue expedition convinced Chris Terlikar, head chef and owner of Bluebonnet Barbecue, that some things are just too good to be left in the Lone Star State. Now, Melburnians flock to this Brunswick East restaurant and gather under the vaulted ceiling and distressed-brick walls of the dining room, or around the bar constructed from reclaimed railroad sleepers for a taste of iconic southern smokehouse staples.
The kitchen's 500-gallon, 280-kilogram beast of a woodfired rotisserie smoker cranks out a relentless stream of black Angus beef, bourbon-glazed pork ribs, and sausage made daily in-house, plus much more.
124-126 Lygon St, Brunswick East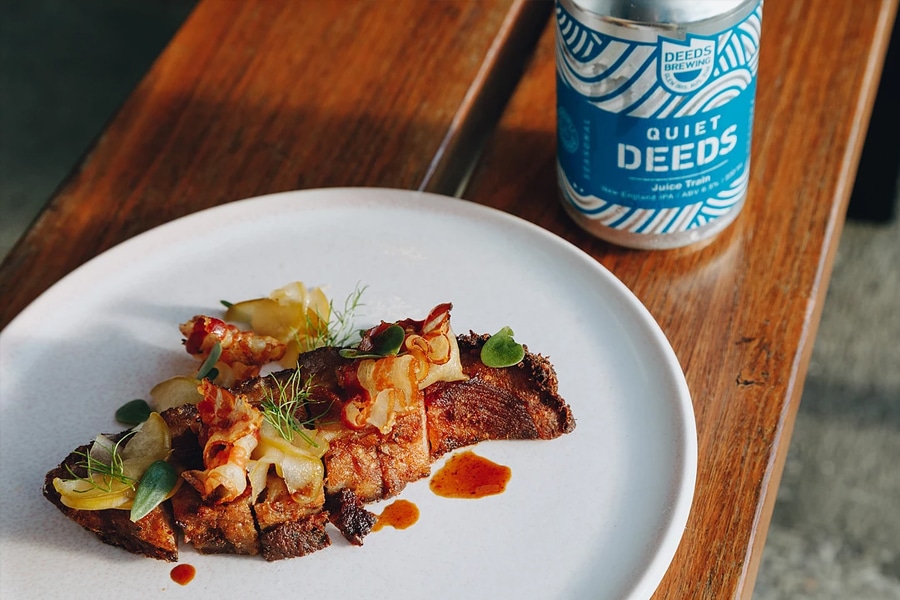 Dexter
Any smokehouse classifying themselves as a 'meat project' with popular dishes including salted caramel short ribs and hot meat doughnuts has my attention. Dexter is a favourite among Melbourne BBQ lovers; they've been featured in Timeout's best cheap eats, praised as one of the city's most exciting and one of the nation's best venues, and their burgers have been listed among the top three in Melbourne.
Can we just come back to hot meat doughnuts for a minute, though? No idea what they are. Yes, you're damn right I want one.
456 High St, Preston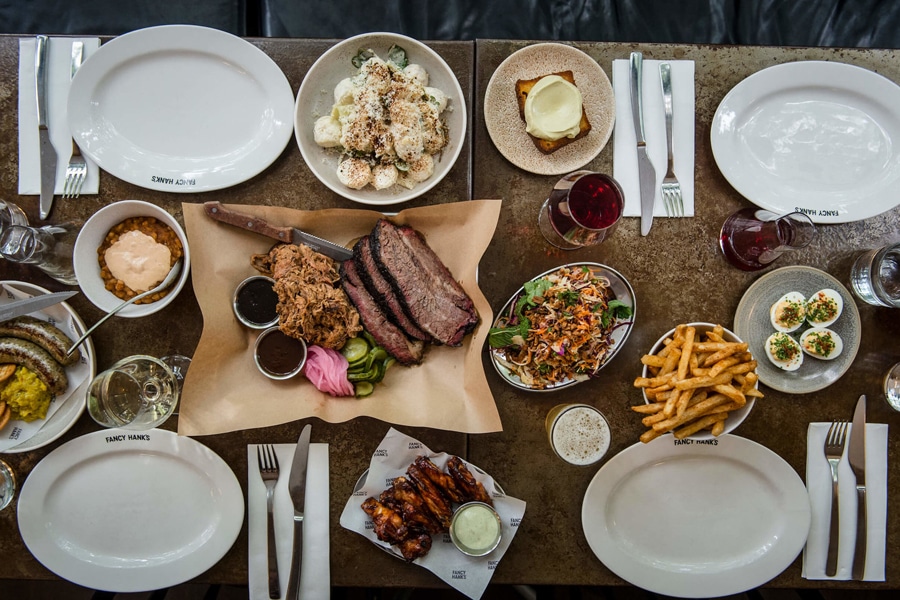 Fancy Hank's
Do you think about what you're going to eat 22 hours before you eat it? Fancy Hank's does. That's how long the folks at this BBQ joint treat their selection of Victorian free-range produce to the low and slow experience in their two-tonne, custom-built smoker. Out in the restaurant, the space is bright, the banter is top-notch, and the bar is stocked with local beer, wine and spirits. What more could you want from one of the best American Smokehouses in Melbourne?
79 Bourke St, Melbourne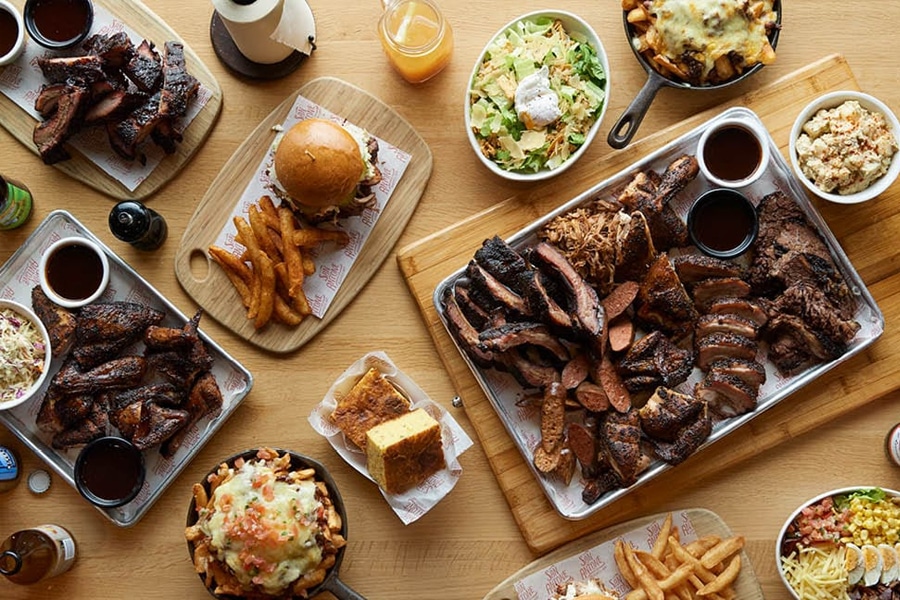 San Antone
Lots of Aussie BBQ chefs cut their teeth with a pilgrimage to the US, seeking the tutelage of top pitmasters on their home turf. Kevin Bludso, owner of Bludso's BBQ, which is widely regarded as the best barbecue joint in America, is the kinda guy they seek out. Only this time, the master himself has come down under and set up shop in Melbourne. San Antone, which resides inside the Crown, is Bludso's Australian outpost, where you can get a taste of some legendary barbecue three generations in the making.
Crown Casino, 50 Whiteman St, Southbank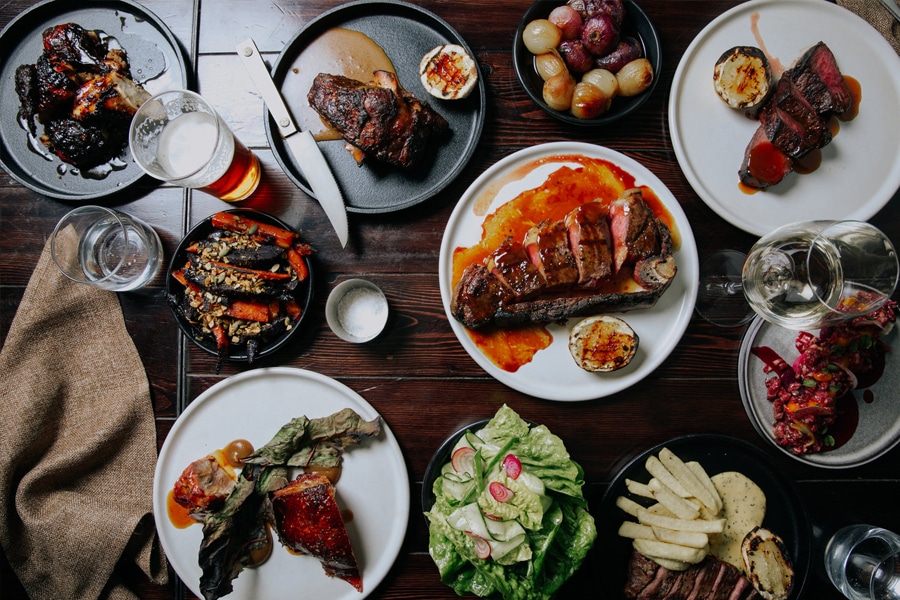 Meatmaiden
When it comes to world-class barbecue, smoke is more than just a means to an end; it's an integral ingredient. That's why the folks at Meatmaiden source their Ironbark woodchips all the way from the Blue Mountains of NSW. Their steaks, Wagyu beef from coastal Tasmania, are dry-aged in a custom cabinet for up to 40 days just to make sure when you sink your teeth into a T-Bone it's the best damn cut of meat you've ever eaten. Not big fans of short cuts, these fellas. But boy, does it show.
195 Little Collins St, Melbourne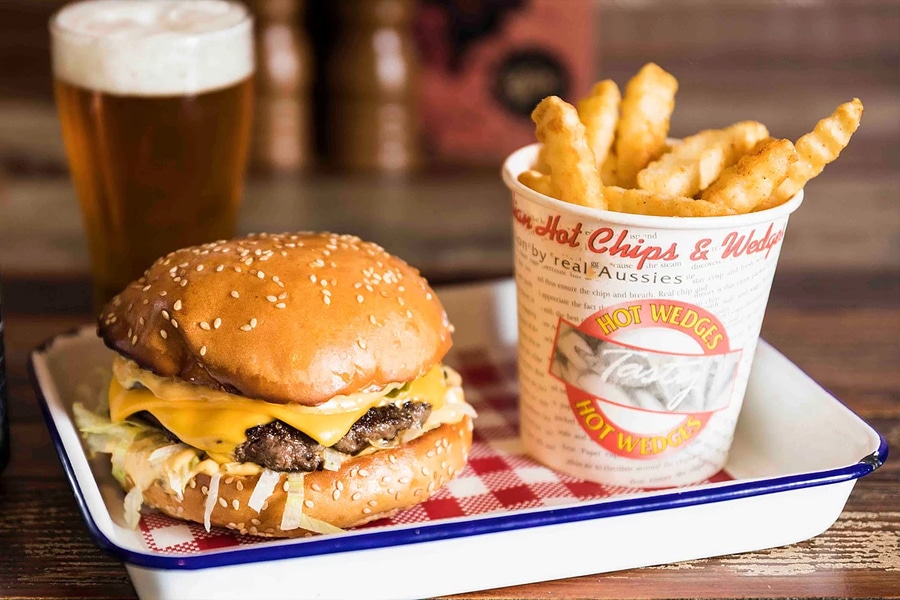 The Gem Bar and Dining
If tall cans of beer, shrines to the King, and barbecue so tender you can pull it apart with your fingers are your thing, head over to Collingwood and pay The Gem a visit. They've been the stalwart for American BBQ in Melbourne since they opened their doors in 2006, serving up all things Americana with remarkable authenticity.
You can't really go wrong with their Texas-style barbecue, so get the crew together grab a table in the dining room and let the Pitmaster curate you a platter of some of the best BBQ in Melbourne.
289 Wellington St, Collingwood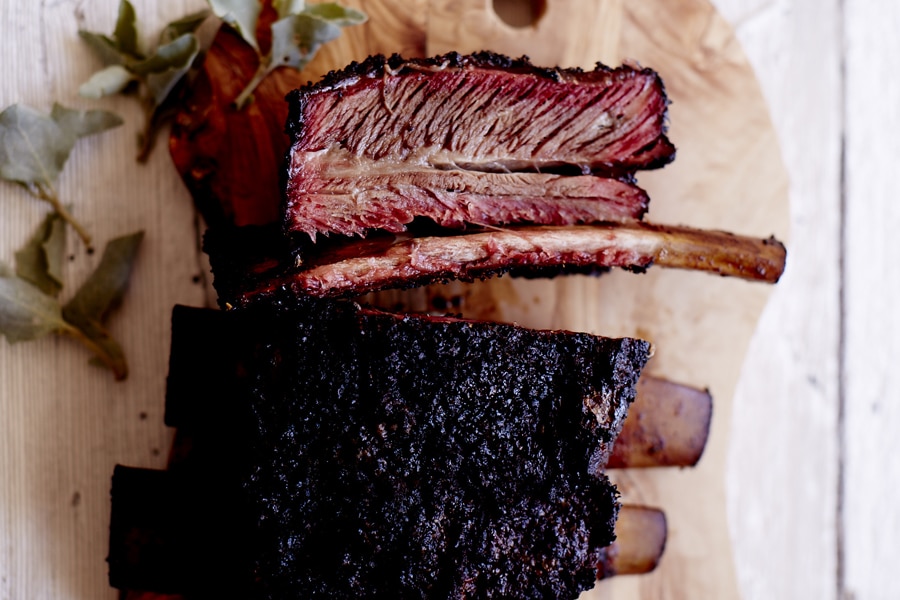 Burn City Test Kitchen
The barbecue at Burn City Test Kitchen draws inspiration from all over the southern US. But if you had to isolate one state which most inspires the flavours and technique at this Melbourne smokehouse, Texas would be it. The brisket burger, with 14-hour smoked beef brisket and pickles dripping with mustard and jammed between a soft milk bun, is as close to the quintessential American smokehouse meal you're gonna get outside of the US.
From weddings to work functions, to dining-in at the South Kingsville restaurant, whenever you tuck into Burn City's barbecue, you're in for the real deal.
31a Vernon St, South Kingsville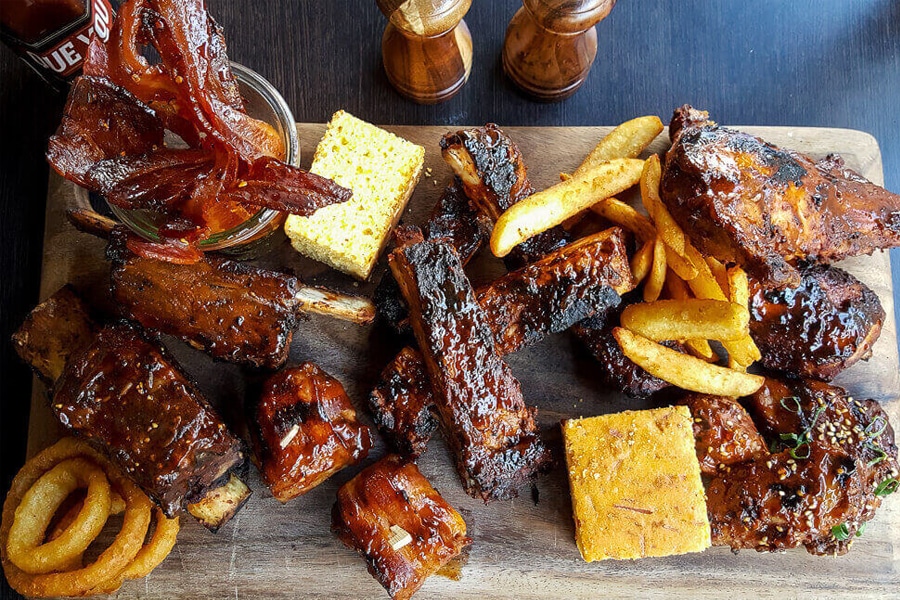 Third Wave Café
If it's a barbecue-for-breakfast kinda day, Third Wave Café is the place to be. Their signature Green Eggs combine scrambled eggs and slow-roasted lamb shoulder and is one heck of a way to kick off your day. They're open all day, every day, but you'll want to stick around for supper to get the full American Barbecue experience. Rumour has it their fall-off-the-bone tender pork ribs, served with two different kinds of BBQ sauce, are the best in town.
189 Rouse Street, Port Melbourne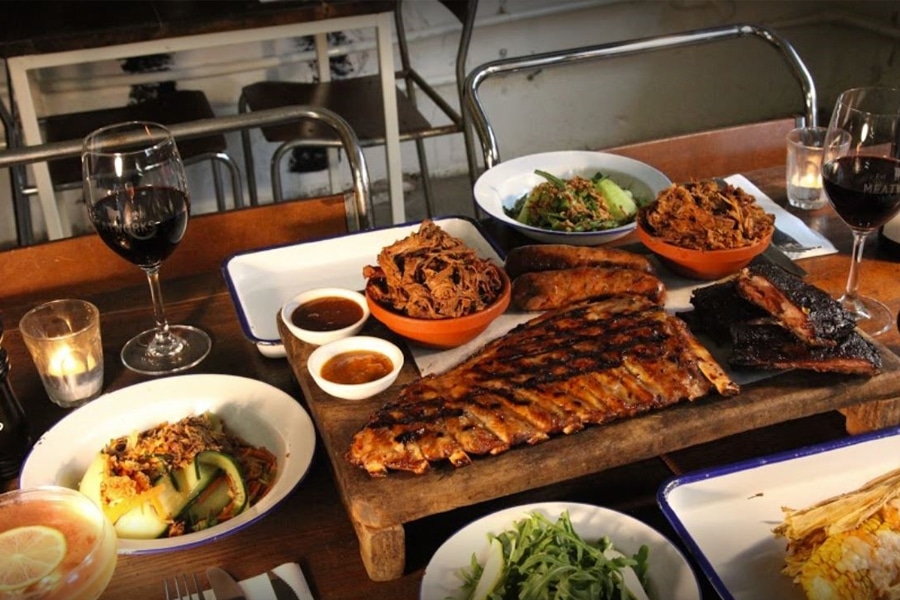 Meatworks Co.
Whether you're peckish for beef brisket, pulled pork, some of the best ribs in the city (heck, you can order the platter and get a little of everything), Meatworks Co. has got you sorted. The space—a converted mechanic's shop with a steampunk/canteen vibe—is bright and filled with the aroma of slowly smoking meat and the various glazes and spices with which they are encrusted. Oh, and just so you know, nothing goes at Meatworks Co. without Betsy's say so. Betsy is the 450kg, jet black, hand-build beast of a smoker responsible for the barbecue delights upon which you are gorging. Be sure to thank her on the way out.
28-30 Ross St, South Melbourne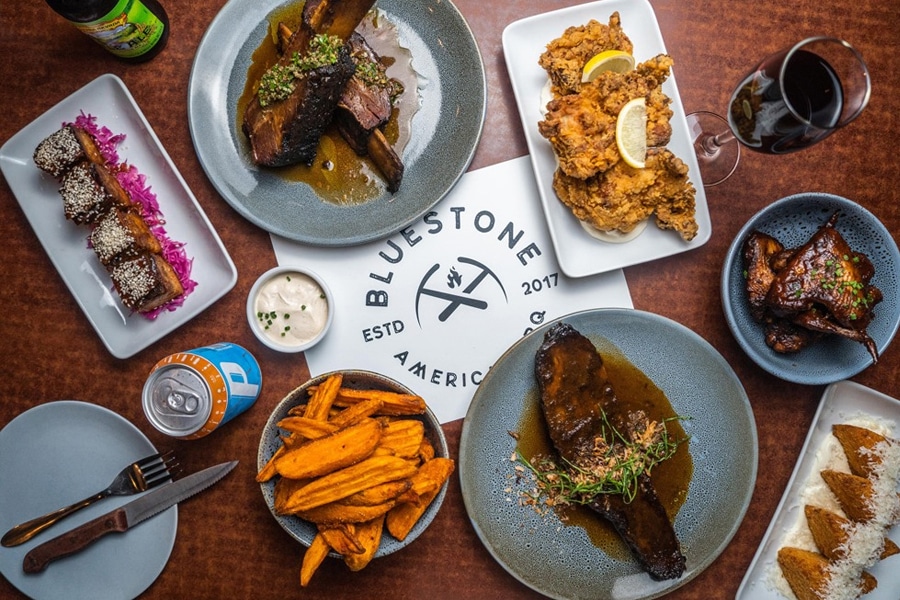 Bluestone American BBQ
Drawing inspiration from both North and South America, Bluestone American BBQ is a truly international culinary experience. Leaning on the traditions of the US barbecue belt, the Uruguayan heritage of the head chef, and the distinct influences of Australia's trendiest city, this Melbourne smokehouse will not disappoint.
Every dish is generously sized and intended to be shared. So whether it's pulled pork with a Cuban twist, chicken chops straight outta the country towns of Alabama, or Texas-style brisket, bring your friends, family, and your appetite along to this one-of-a-kind barbecue restaurant.
470 Sydney Road, Coburg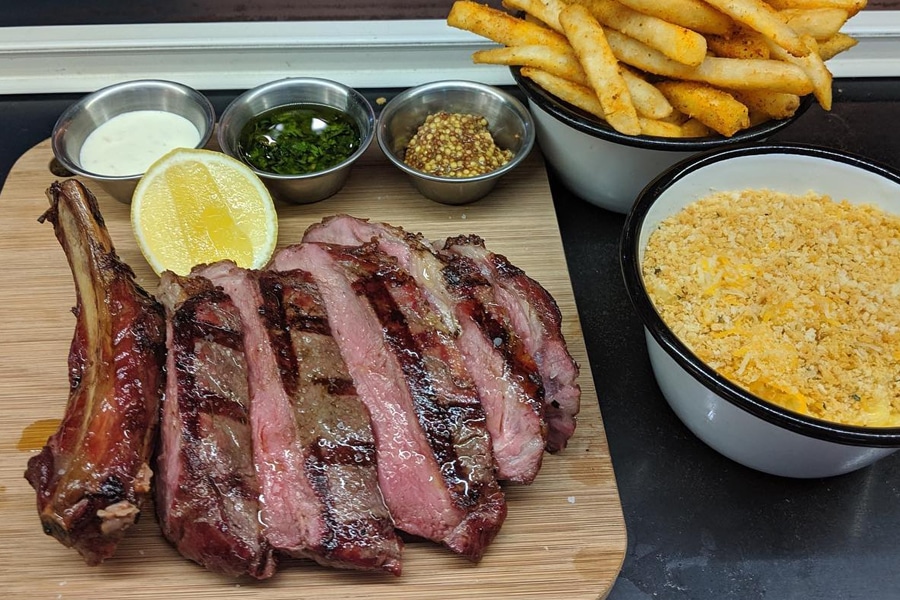 Up in Smoke
And on the sixth day, the meat gods declared "let there be smoke", and barbecue was born. And it was good. Or something like that. The folks at Up In Smoke are devout worshippers at the altar of smoke and fire, producing some of the finest barbecue in Melbourne every day of the week.
Located in a refurbished Footscray garage, this smokehouse features ten rotating taps showcasing unique Australian craft beers, a bar slinging mean cocktails, and their tank of a smoker pumping out some of the best ribs, brisket, and chicken wings you ever did see.
28 Hopkins St, Footscray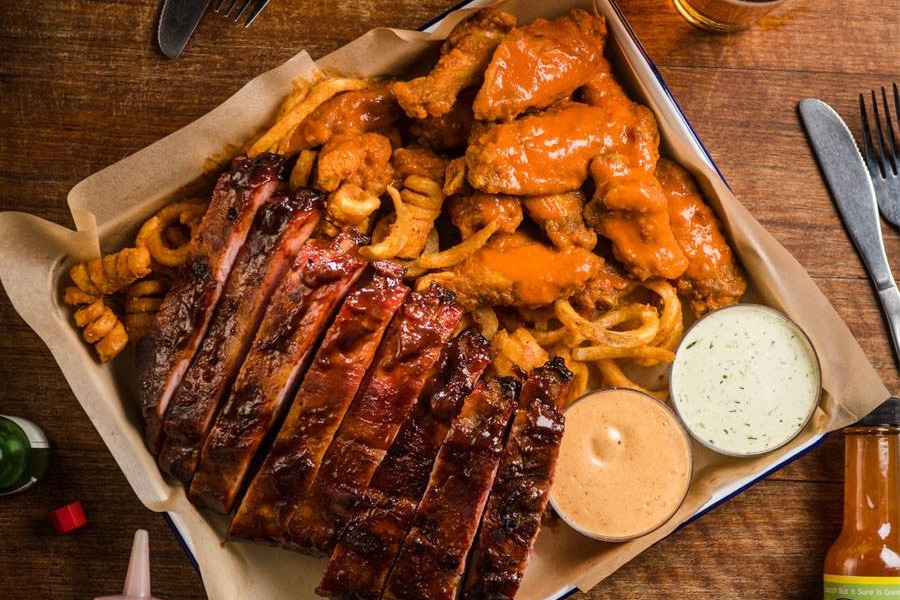 Bad Shepherd Brewing Co.
You may know them as one of Melbourne's most recognisable craft beer brewers, but you'd be remiss to think Bad Shepherd Brewing Co.'s bag of tricks ended there. Their flagship brewpub in Cheltenham offers some of the best BBQ in Melbourne, with the same dedication that goes into their award-winning beer shining through loud and clear in their signature dishes. If being led into temptation ends at a table with a plate piled with barbecue next to an ice-cold IPA, consider me tempted.
386 Reserve Rd, Cheltenham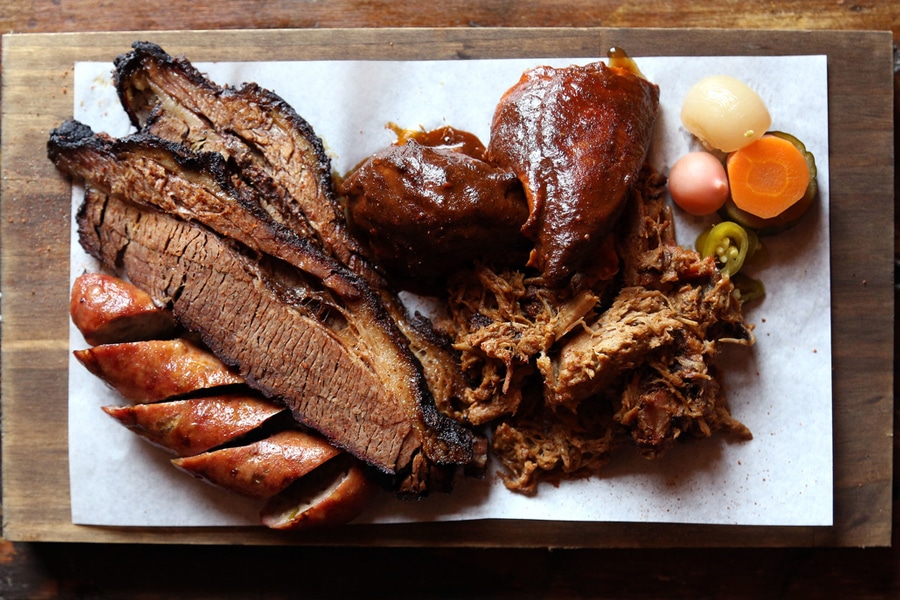 Le Bon Ton
While their menu draws inspiration from all over the American South, the Cajun and Creole flavours native to New Orleans and the Louisiana Gulf Coast define the barbecue experience at Le Bon Ton. Their pit-smoked meats are treated to the low and slow experience for a full twelve hours, and their extensive bar features a range of exotic absinthes. If you're having trouble choosing from the extensive a-la-carte menu, the Southern Pride share plate is sure to satisfy all BBQ lovers.
51 Gipps St, Collingwood
---
You'll also like:
How to Become a Meat Master
The 9 Best American BBQ Joints in Sydney
12 Best Korean BBQ Restaurants in Melbourne
---
Have you subscribed to Man of Many? You can also follow us on Facebook, Twitter, Instagram, and YouTube.