23 Best Japanese Restaurants in Melbourne
If you're searching for the best Japanese restaurants in Melbourne, Tokyo Tina, Yakimono, and Kisume are just a few of the best the city has to offer. Our team of expert foodies and editors have directly sampled and experienced Japanese food in Melbourne, and have compiled an independent list of their favourite Japanese spots, from the best fine-dining Japanese to value-for-money options.
At the end of the day, eating at any of the restaurants below promises indulgence without overindulgence. Unlike American diner food, Japanese cuisine is an exercise in exploration, presentation, harmony and, quite often, restraint – your meal will commonly be parsed out in small bites, giving you room to pace yourself and digest.
RELATED: We can't go past these yum-cha restaurants in Melbourne.
Best Japanese Restaurants in Melbourne at a Glance
Our list of the best Japanese restaurants in Melbourne goes like this.
Now we've had a look at our favourites, let's check out the complete list.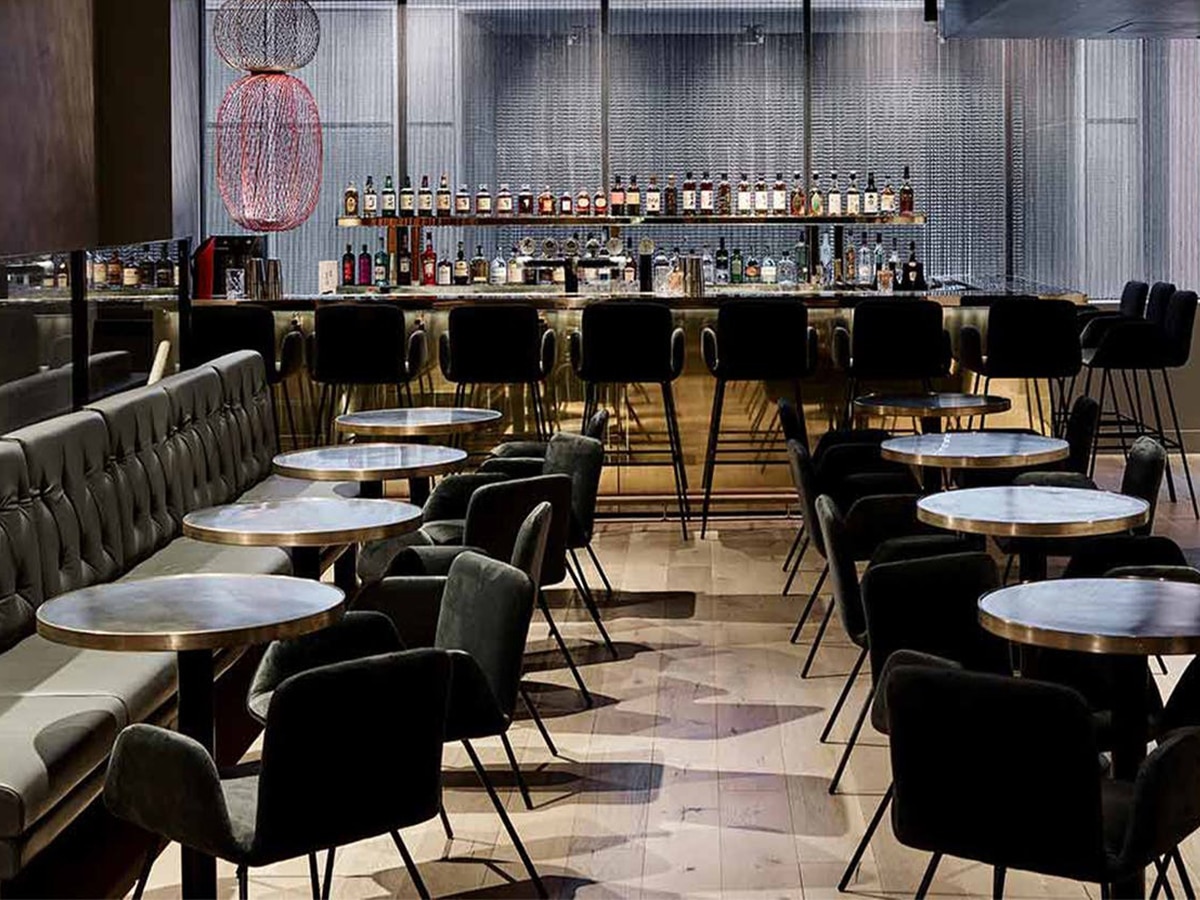 1. Kisume
Chris Lucas and the ambitious Kisume is three stories of gastronomic splendour. Brought to us from the veritable tastemakers behind the Lucas Group, the restaurant eschews the team's normal blitzkrieg antics in favour of streamlined sophistication, copious variety and unforgettable taste. Choose between the street-level sushi bar, the omakase upstairs or the hot kitchen in the windowless basement you'll enjoy a contemporary take on Japanese cuisine right in the heart of Melbourne's Flinders Lane.
Address: 175 Flinders Ln, Melbourne VIC 3000
Hours: Mon 5-10pm, Tue-Sun 12-10pm
Phone: (03) 9671 4444
---
Featured Video from Man of Many
---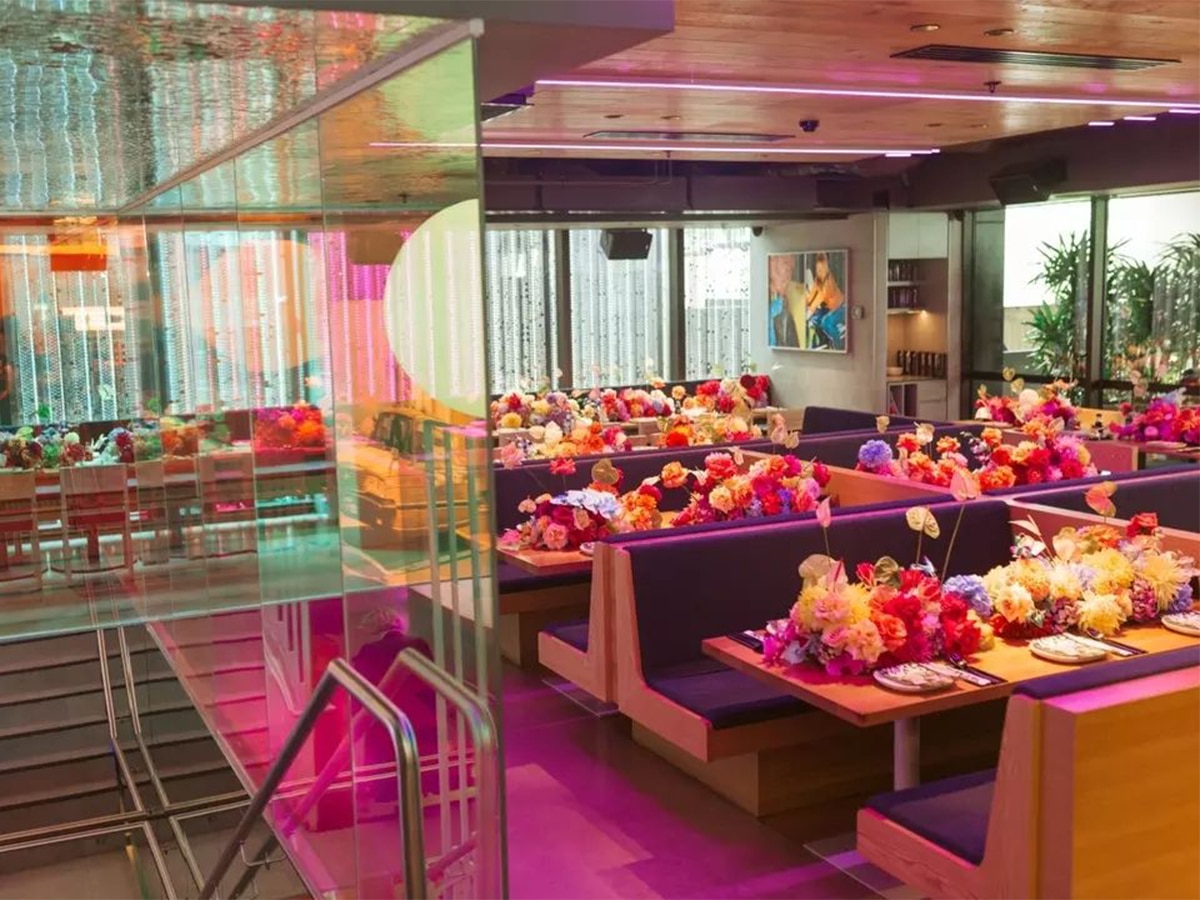 2. Yakimono
Located in the landmark 80 Collins Street in the heart of Melbourne's fashion quarter, Yakimono is one of the most sought-after Japanese restaurants in the city and it's hard to miss, with a signature bright neon sign out front. The neon sets the scene — It's an even spread between Japanese cuisine and a cocktail, sake and music bar. We come for the outlandish Japanese-inspired cocktails, with tipples like alcoholic bubble tea and every sake you could imagine. With a menu focused on fire and flavour, Yakimono will transport you straight to the streets of Japan.
Address: 80 Collins St, Melbourne VIC 3000
Hours: Mon-Sun 12-11:30pm
Phone: (03) 8616 7900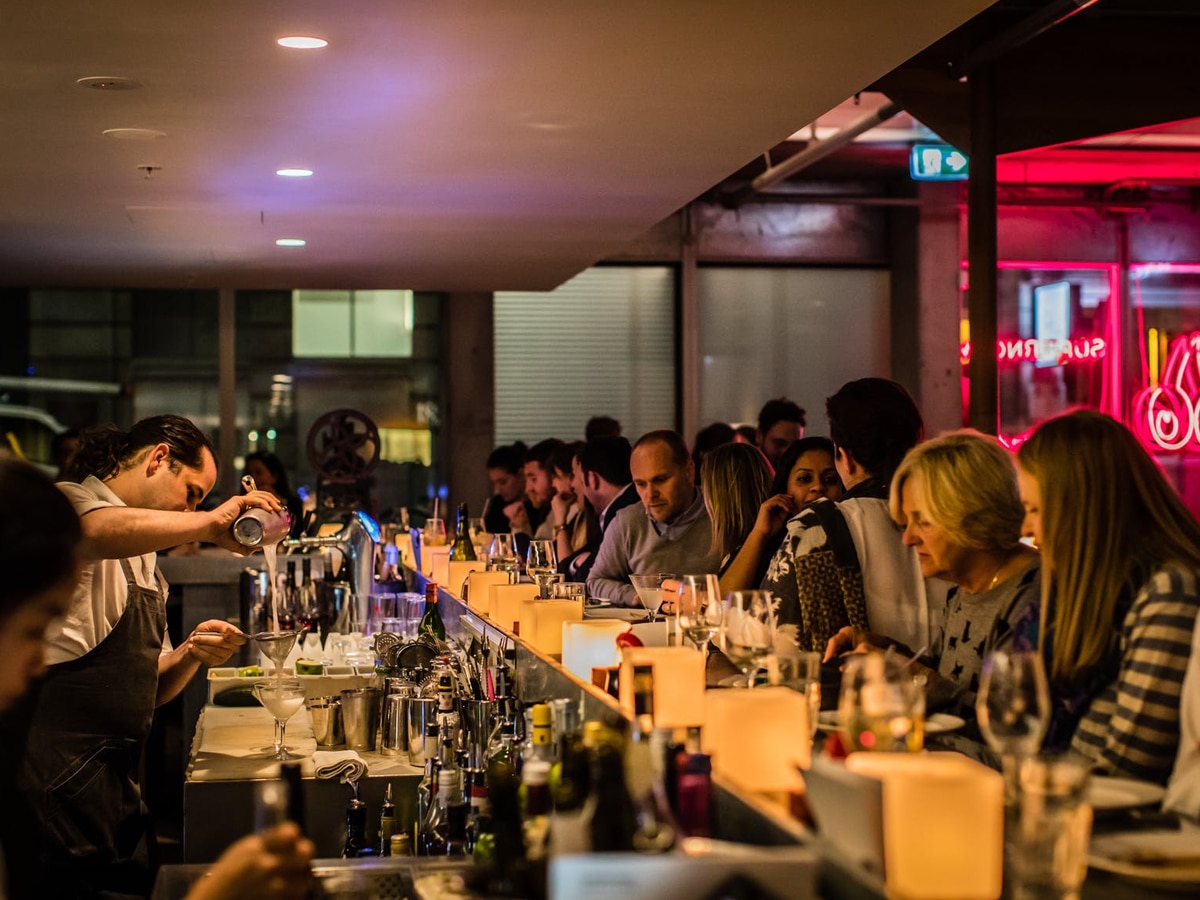 3. Supernormal
Supernormal isn't your average Japanese cuisine. Offering a fusion between Chinese, Japanese and Korean cultures, the Flinders Lane venue is an eclectic mix of atmosphere and indulgence. Here, you'll find Szechuan peppers and lobster rolls tickling the tongue as some decidedly more dulcet Japanese flavours flow through, finish up dinner with some herbal green tea.
Address: 180 Flinders Ln, Melbourne VIC 3000
Hours: Mon-Sun 12-10pm
Phone: (03) 9650 8688
Check out Supernormal Supernormal Menu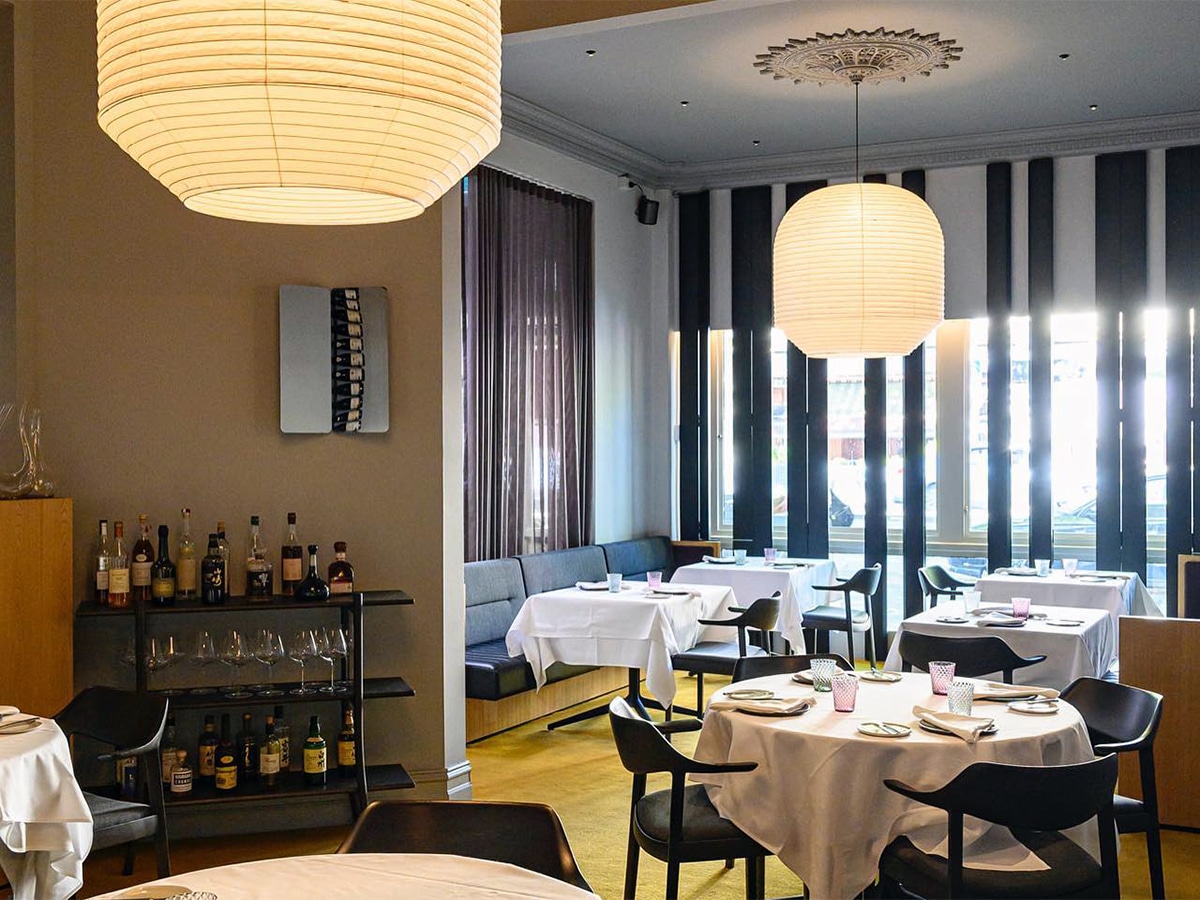 4. Kazuki's Restaurant
Founded by the husband and wife team, Kazuki Tsuya and Saori, Kazuki's is an acclaimed dining destination and some of the best Japanese food in Melbourne. The menu allows you to choose from two, three, five or seven courses inspired by classic French techniques providing curated Euro-Japanese plates. We recommend the seven-course menu, which includes salmon tartare, calamari crackers, and chicken liver, just to name a few.
Address: 121 Lygon St, Carlton VIC 3053
Hours: Mon-Thur 5-10pm, Fri-Sun 12-10pm
Phone: (03) 9529 5999
Check out Kazuki's Restaurant Kazuki's Restaurant Menu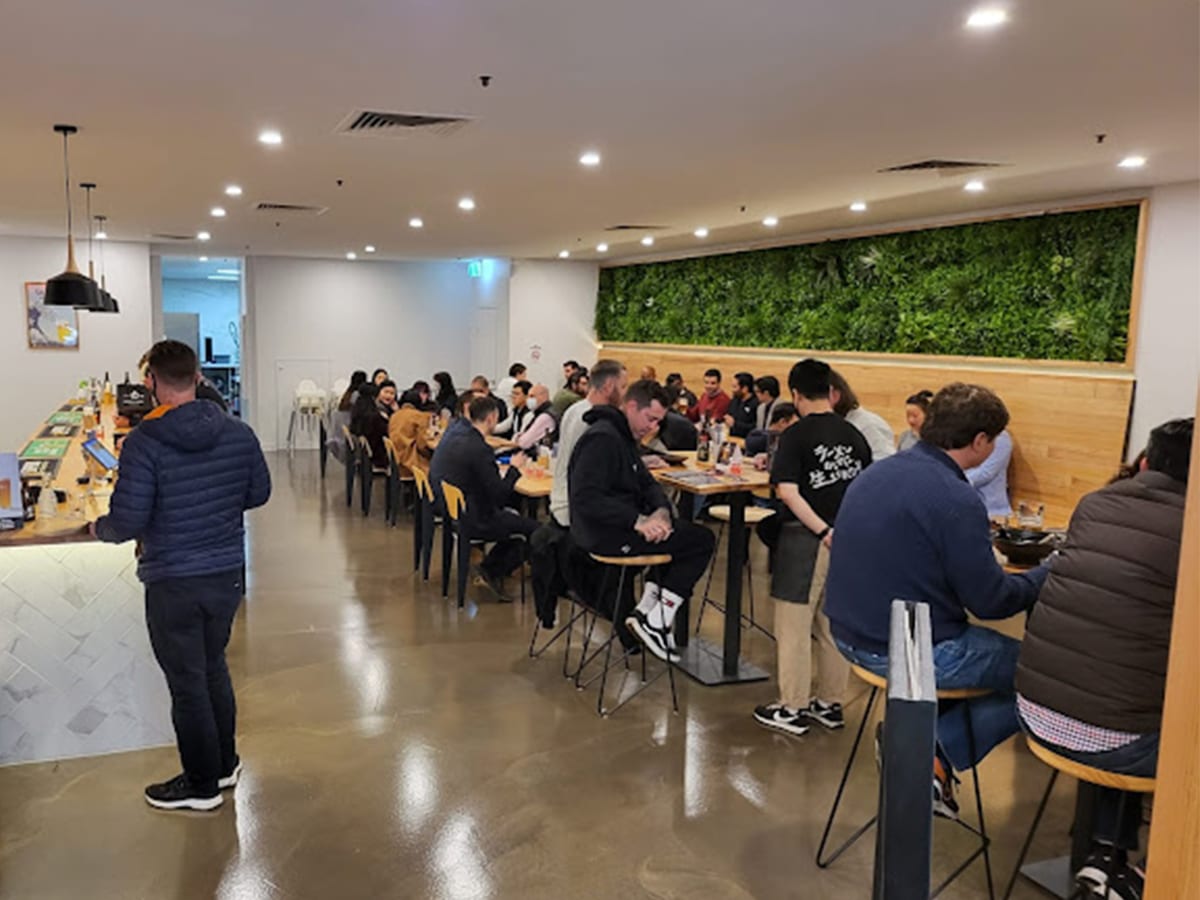 5. Little Ramen Bar
As the latest global food craze, ramen is now so much more than that thing you ate every day in college so you could spend all your money on beer. For proof, look no further than Little Ramen Bar. With great prices, a limited menu featuring miso ramen, vegan ramen and plenty of traditional side dishes, this bustling joint is as straightforward as it is satisfying. Pop in to see what all the fuss is about.
Address: 369 Little Collins St, Melbourne VIC 3000
Hours: Mon-Fri 11:30am-3pm & 5:15-9pm, Sat 12-3pm & 5:15-9pm
Phone: (03) 9670 5558
Check out Little Ramen Bar Little Ramen Bar Menu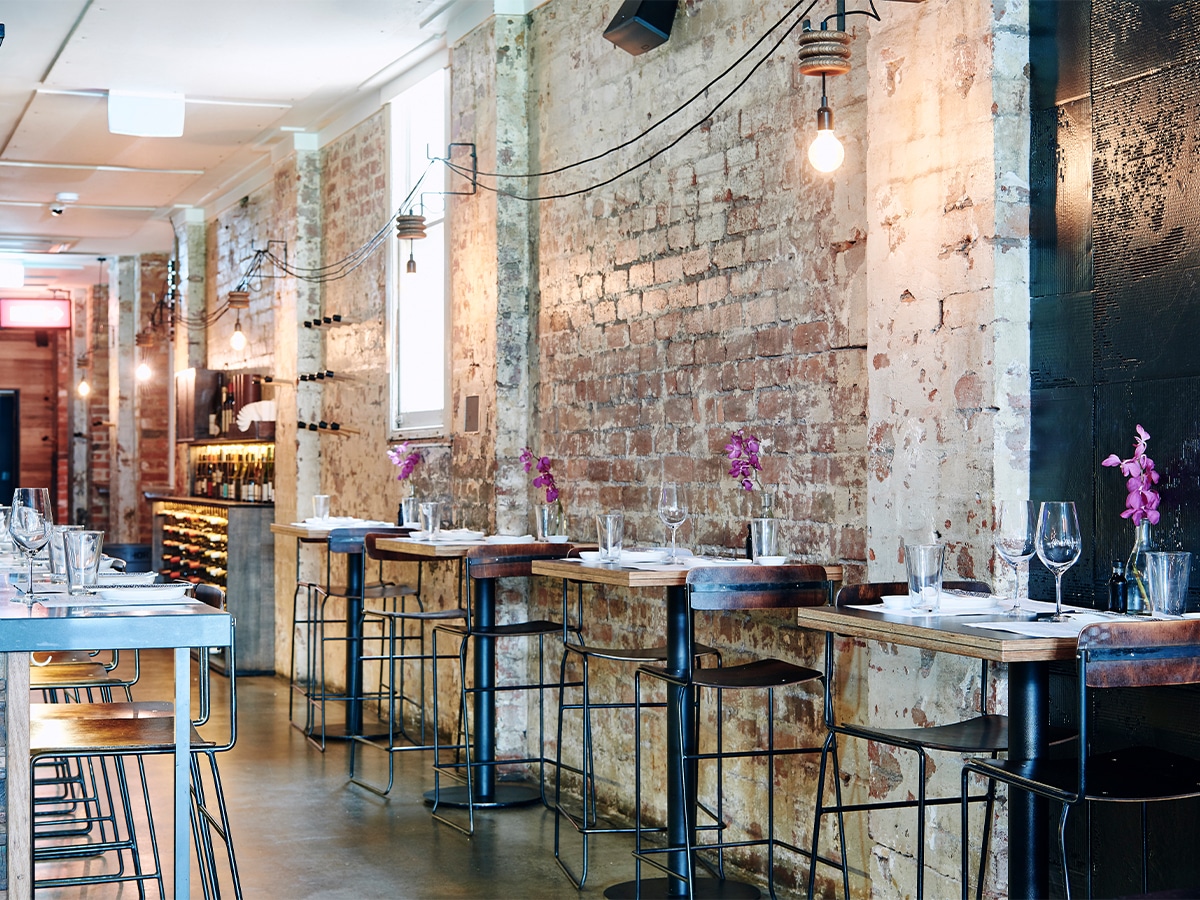 6. Mr. Miyagi
One of the main reasons we love Mr. Miyagi is its fun, playful energy. Known for its exciting spin on Japanese style dishes and flavours, the Windsor institution is our recommendation for where to go when you want a good, and delicious time. Our top picks from the menu include the 'Soba Noodz' with green tea soba noodles, sesame dressing, edamame, and shaved vegetables, and their raw bar has some fresh selections, like oysters and the sashimi of your dreams. No trip here is complete without a cocktail, however, with 12 cocktails to choose from — the 'Hello Kitty Sour' is our choice.
Address: 99 Chapel St, Windsor VIC 3181
Hours: Wed-Thur 6-10pm, Fri 12-2pm & 6-10pm, Sat 6-10pm
Phone: (03) 9349 2223
Check out Mr. Miyagi Mr. Miyagi Menu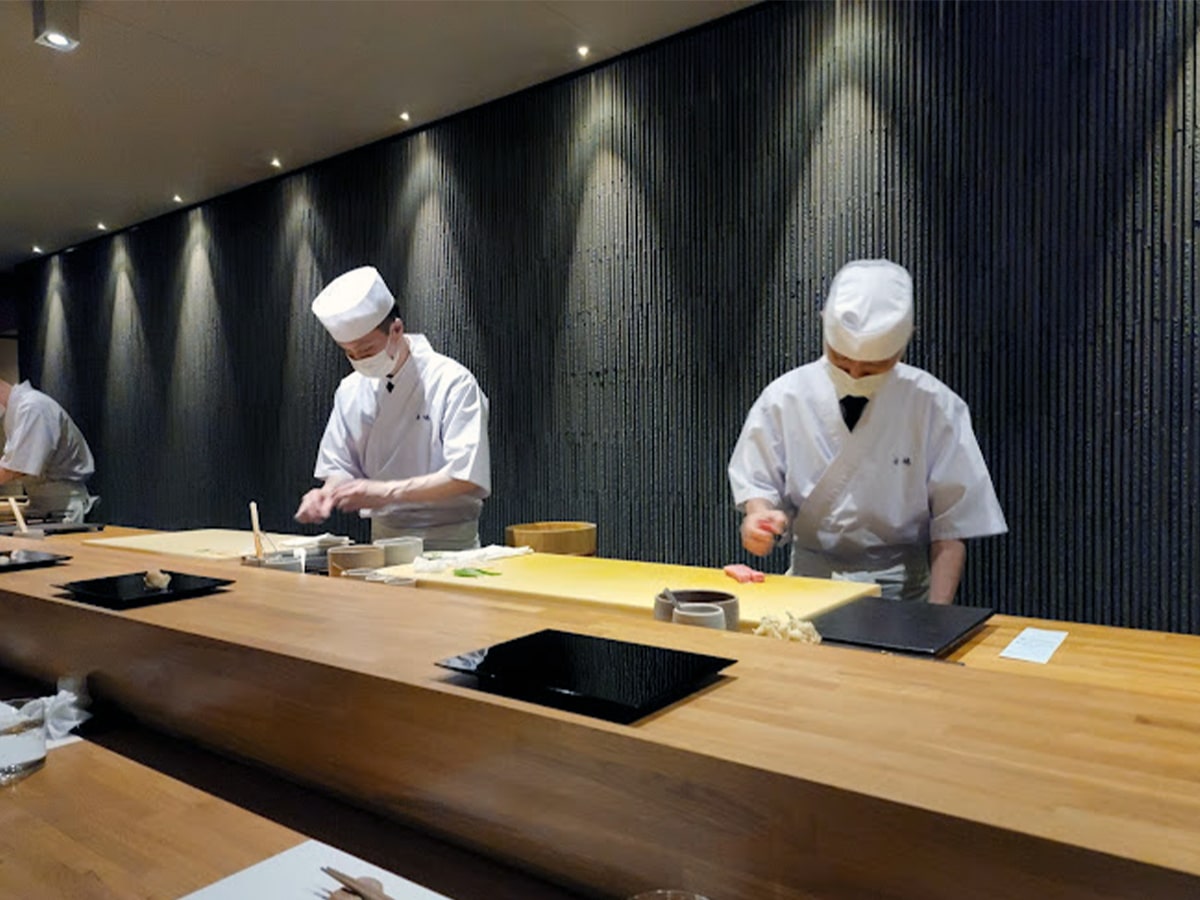 7. Minamishima
Brought to you by the master sushi chef, Koichi Minamishima, for all the black belt sushi enthusiasts of Melbourne, Minamishima is more than a destination—it's a mecca. The discreet, omakase-only restaurant is famous in Melbourne for Chef Koichi Minamishima's Sushi and Shashimi making technique, which makes his Japanese cuisine some of the tastiest you'll find outside of Japan. Prepare to drop serious cash and yet still feel like you walked away with a deal.
Address: 4 Lord St, Richmond VIC 3121
Hours: Tue-Sat 6-10pm
Phone: (03) 9429 5180
Check out Minamishima Minamishima Menu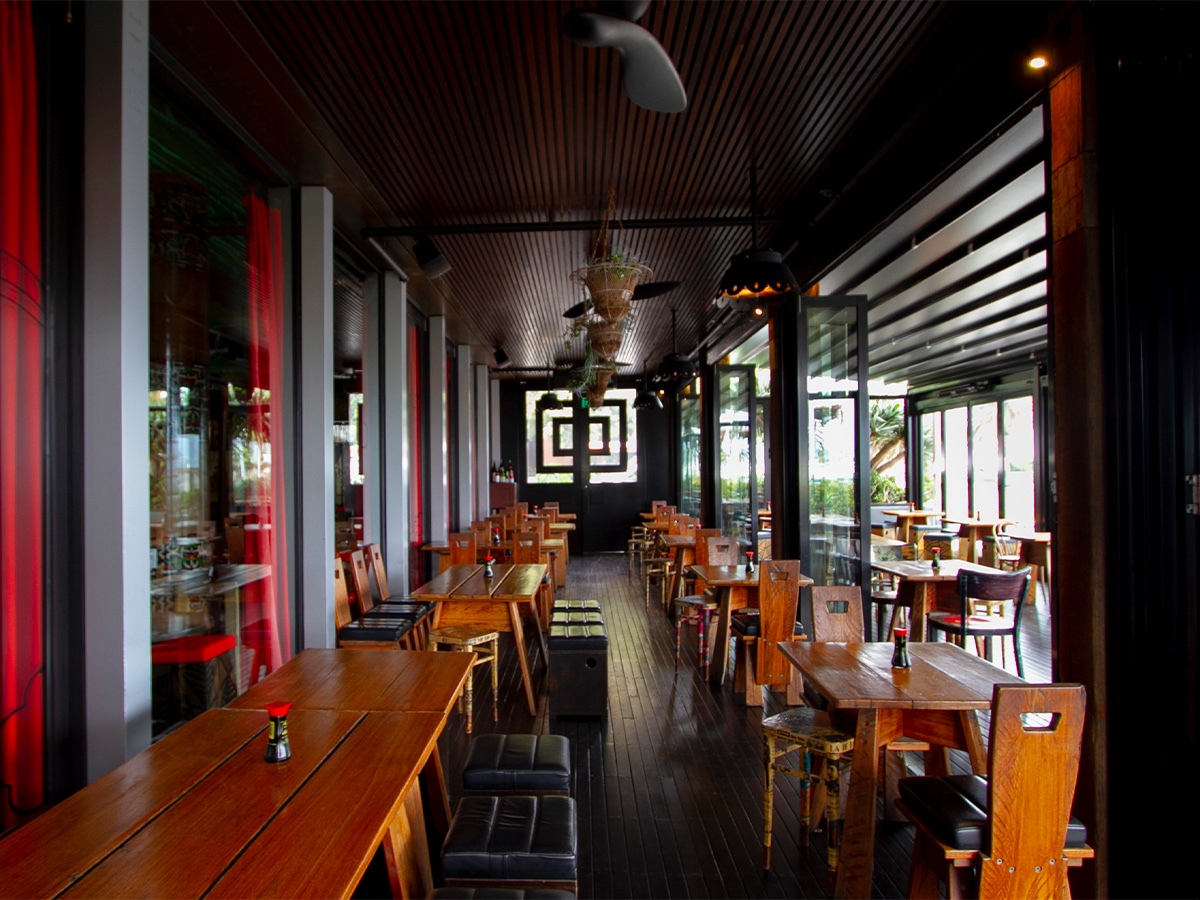 8. Ichi Ni Izakaya
Ichi Ni Izakaya celebrates our two favourite epicurean mainstays–small bites and alcohol–in spectacular fashion. This wildly popular St. Kilda destination covers all the classics while keeping the prices within reason. Order a crisp pint of beer or a glass of cold sake and pair that with some yakitori and resoundingly fresh sashimi.
Address: 127 Brunswick St, Fitzroy VIC 3065
Hours: Mon & Sun 5-10pm, Tues-Sat 5-11pm
Phone: (03) 9417 4127
Check out Ichi Ni Izakaya Ichi Ni Izakaya Menu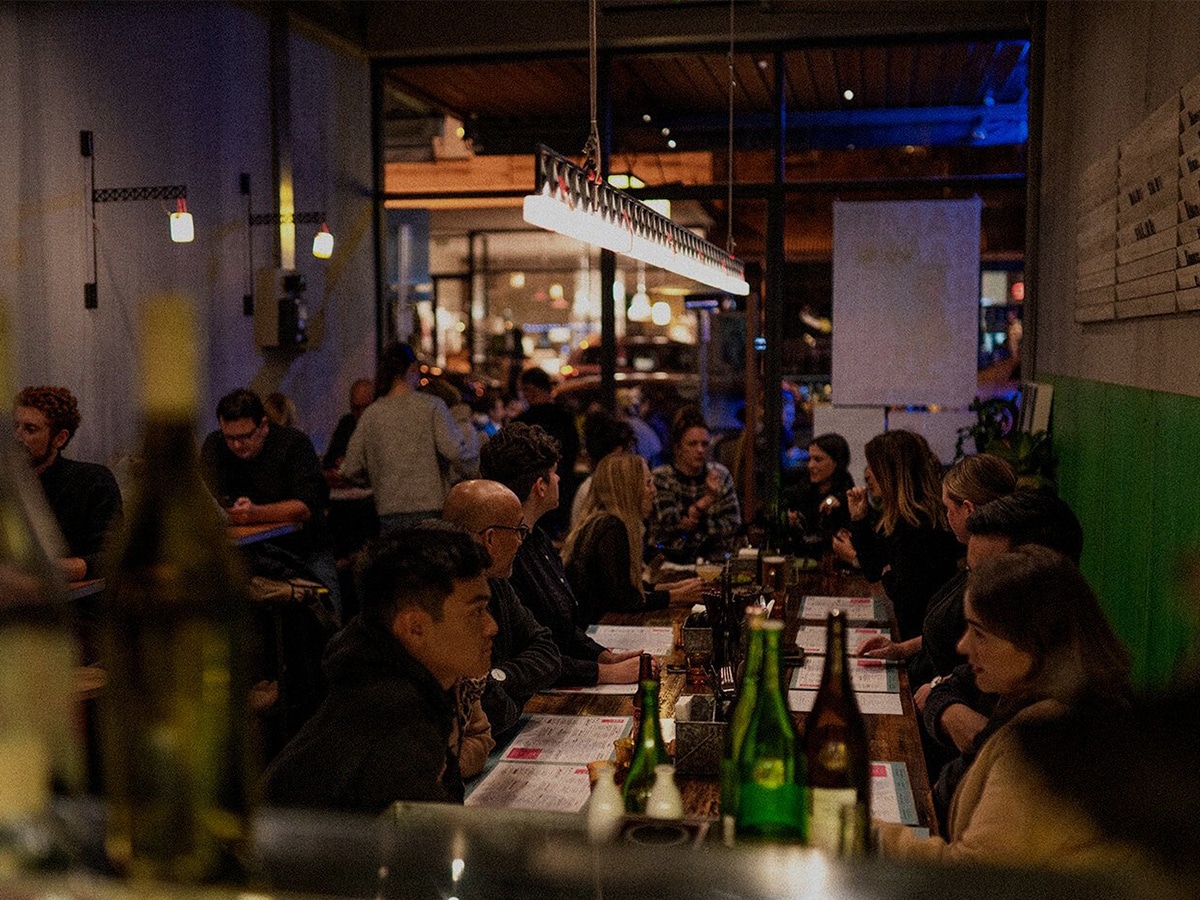 9. Wabi Sabi Salon
Resembling the kind of cosy and unpretentious nook you might find down a back alley in Tokyo, Wabi Sabi Salon in Collingwood uses fresh, local ingredients to deliver massive flavours at affordable prices. A favourite among vegetarians and carnivores alike, bring a group and try it all, or stop by for lunch and order one of their legendary bento boxes.
Address: Level 1/94 Smith St, Collingwood VIC 3066
Hours: Mon-Sat 12-10pm
Phone: (03) 9417 6119
Check out Wabi Sabi Salon Wabi Sabi Salon Menu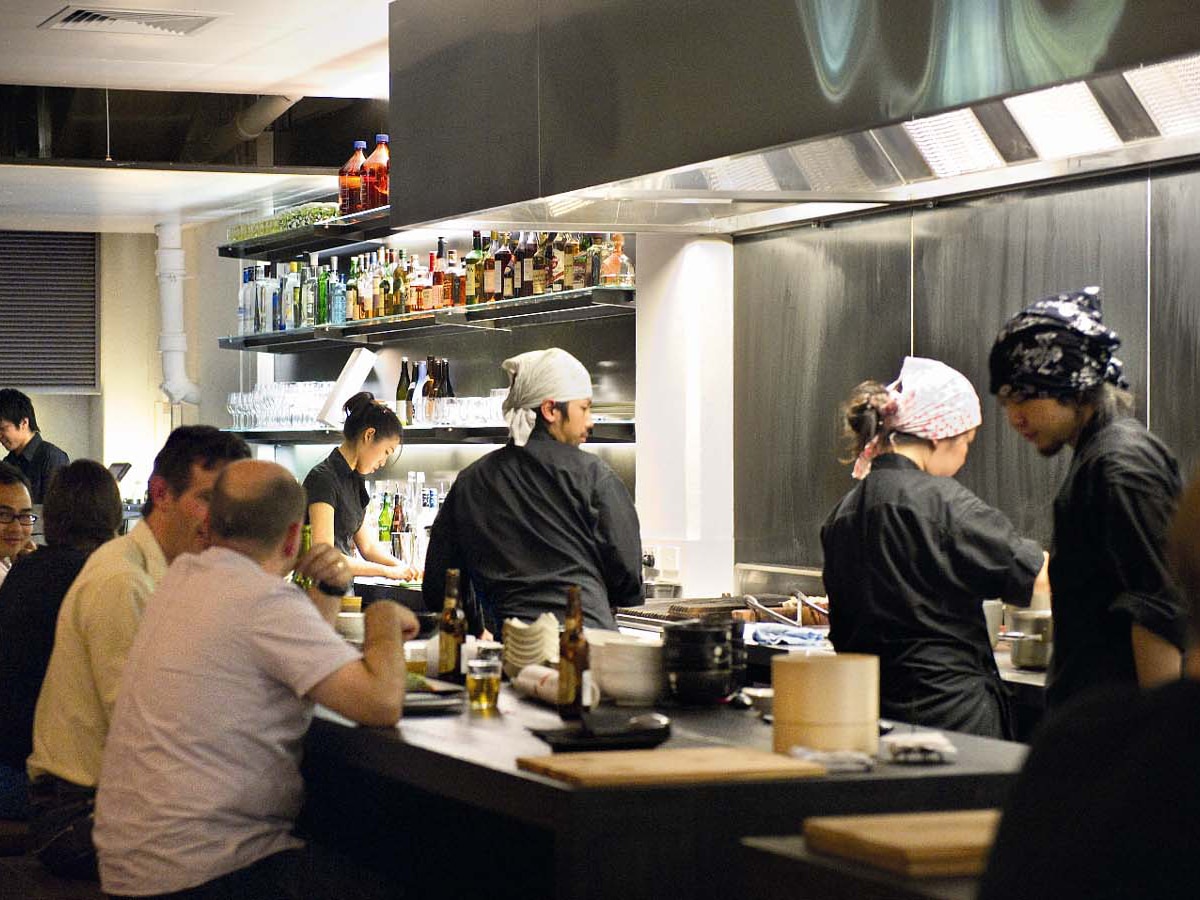 10. Izakaya Den
The name pretty much says it all. Tucked away inside hidden basement digs is Izakaya Den, an absolute haven for good times, great Japanese drinking and food. Once you've actually found the place, you'll want to come back until you've tried everything on the menu — starting off with the Kara-Age chicken wingettes is our best bet. Bring a group of friends to one of the best Japanese restaurants in Melbourne or impress a date with your knowledge of the Melbourne underground.
Address: Basement/118 Russell St, Melbourne VIC 3000
Hours: Tue-Sat 6-10pm
Phone: 0476 208 573
Check out Izakaya Den Izakaya Den Menu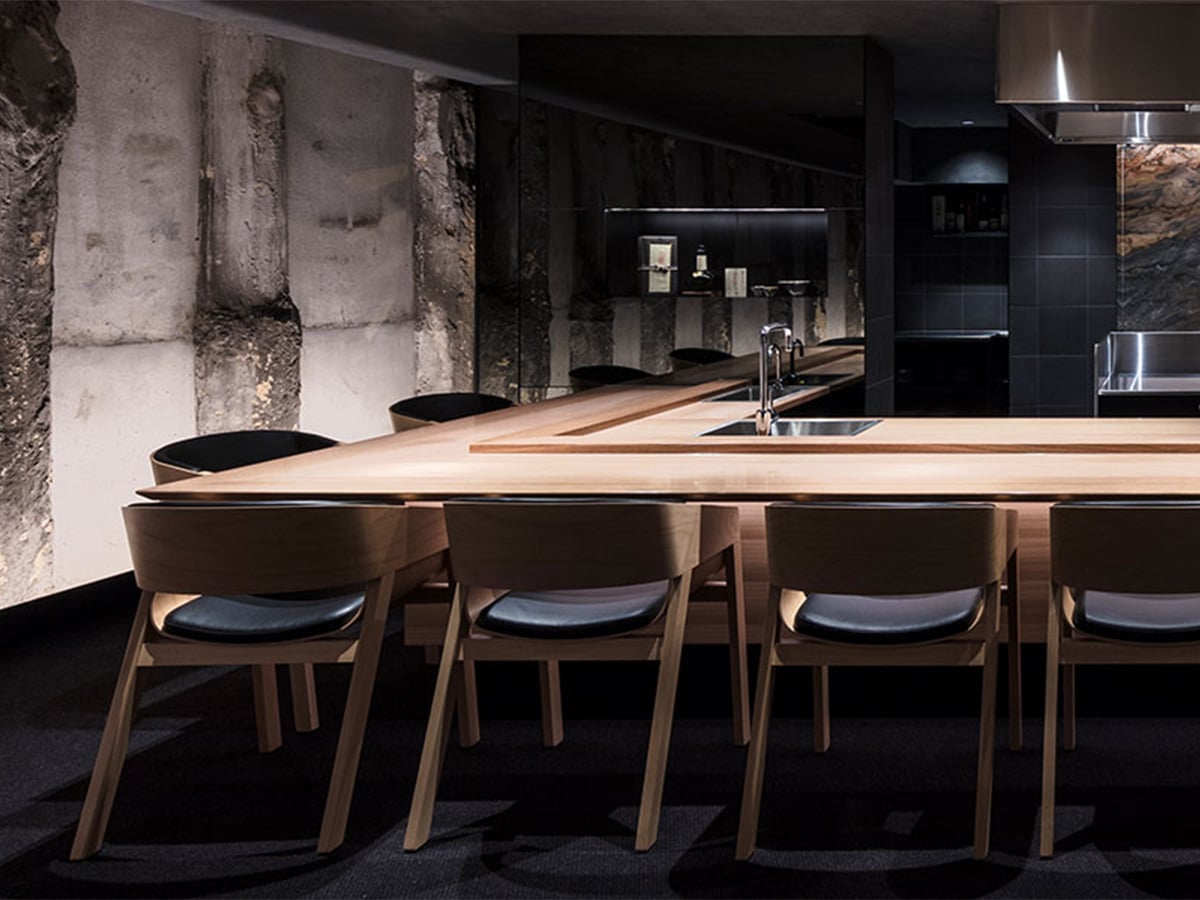 11. Ishizuka
This up-market Japanese restaurant in Melbourne is Haute cuisine at its finest. The restaurant has just 16 seats, all situated around a central counter. Ishizuka is a fine purveyor of Kaiseki, which is a time-honoured culinary tradition, similar to a Japanese degustation menu. The process is seasonal, so the nightly set menu will change regularly. They also offer drink pairings curated by sommelier David Lawler, so you're always in for a treat when paying a visit here.
Address: basement level b01/139 Bourke St, Melbourne VIC 3000
Hours: Mon & Thur-Sun 5:30-10pm
Phone: (03) 8594 0895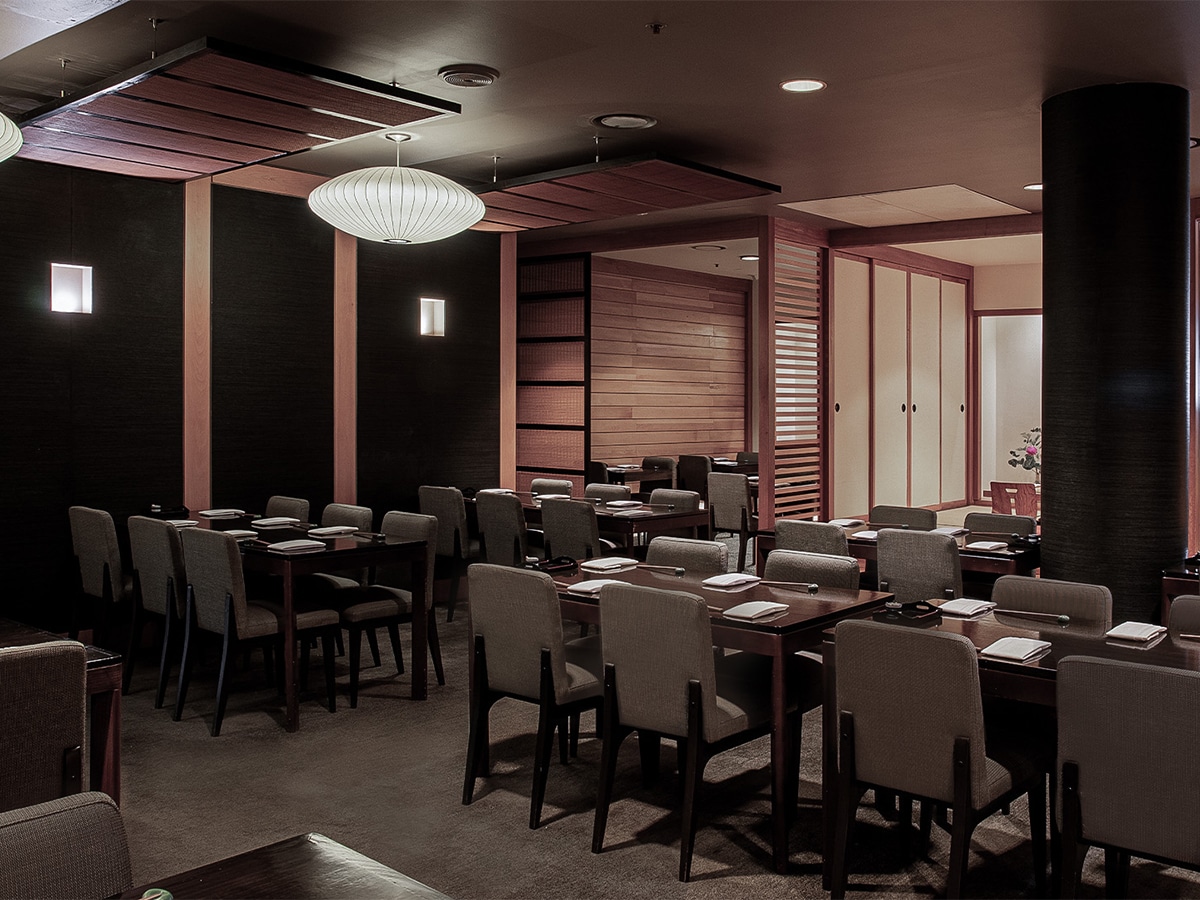 12. Kenzan
Decades before the sushi epidemic took the world by storm, Kenzan was serving up mouthwatering slices of fatty bluefin tuna belly and sweet, tenderly grilled eel. To call this place an institution would be an understatement. Put simply, Kenzan is old-school sushi done right.
Address: Collins Place Lower ground floor, 45 Collins St, Melbourne VIC 3000
Hours: Mon-Fri 12-2:30pm & 6-10pm, Sat 5:30-10pm
Phone: (03) 9654 8933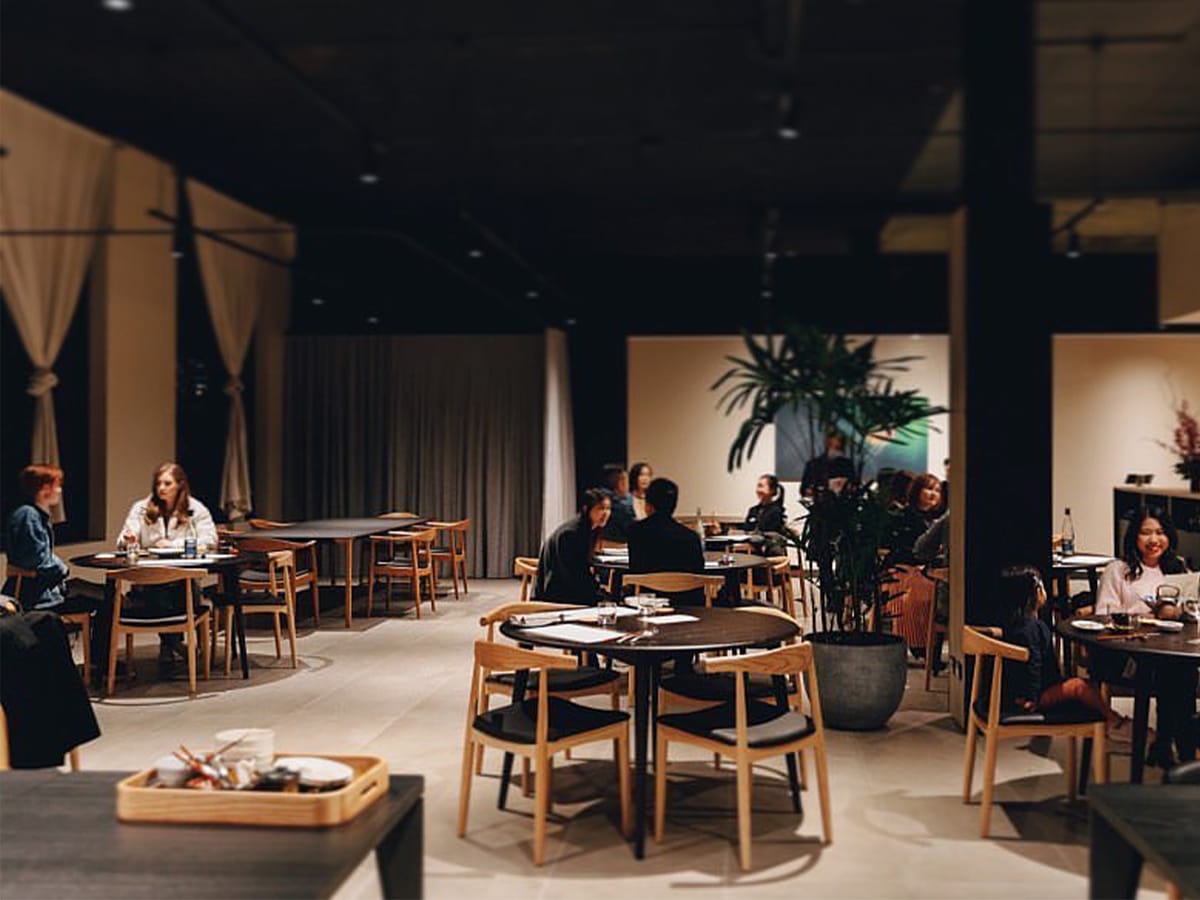 13. KOMEYUI Melbourne
Almost more of an art form than a meal, KOMEYUI re-invents Japanese-style dishes to create a unique, unforgettable sensory experience. With dishes that look so good, you'd be forgiven for feeling like a crime to dig in, but the aromas will tell you otherwise. We recommend trying the chef's tasting menu for the full experience, some standouts include the steamed scampi and josper-grilled miso-marinated duck breast, all paired wine the finest selection of sake, of course.
Address: 181 Ferrars St, Southbank VIC 3006
Hours: Mon-Sun 11:30am-2:30pm & 5:30-10pm
Phone: (03) 9645 5420
Check out KOMEYUI KOMEYUI Menu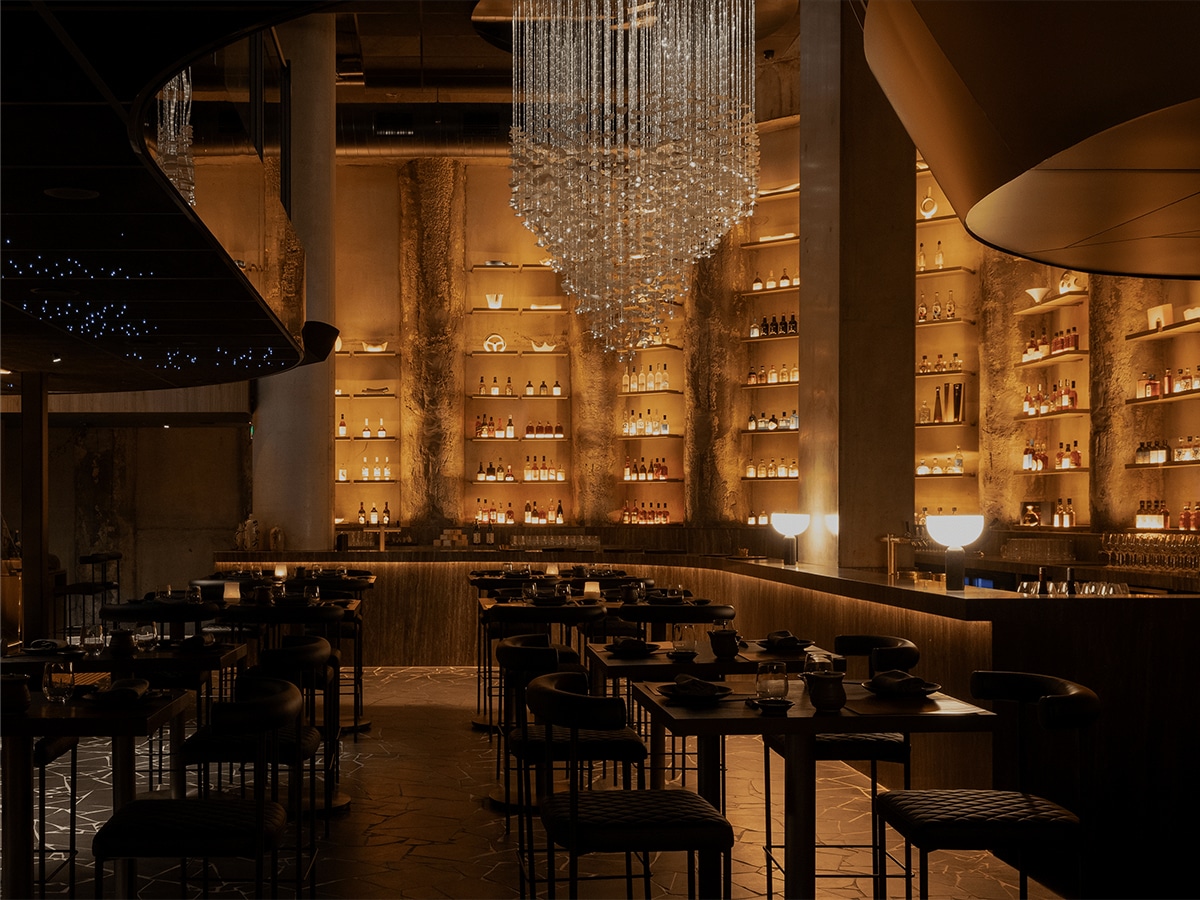 14. Yugen Dining
An underground bar and dining experience in South Yarra like nothing else, Yugen Dining exists on an entirely different playing field. Whether it's the six-seat mezzanine omakase bar, the considered dishes, bold flavours, and the sizzling accent of umami in the lower dining room, or the eight-seat golden orb, the six-metre-high stone walls and industrial interiors of Yugen Dining are where great things happen. The food and drinks don't take a backseat to the ambience, either — menu standouts include the pork, beef and chicken skewers, the special fried rice and the raw king salmon with green apple, salmon roe, puffed rice and sudachi vinaigrette. They even gave a late-night supper menu for those who can't seem to leave (we've been there.)
Address: 605 Chapel St, South Yarra VIC 3141
Hours: Wed-Thur 6-11:30pm, Fri-Sat 6pm-1am, Sun 6-11:30pm
Phone: (03) 7000 3232
Check out Yugen Dining Yugen Dining Menu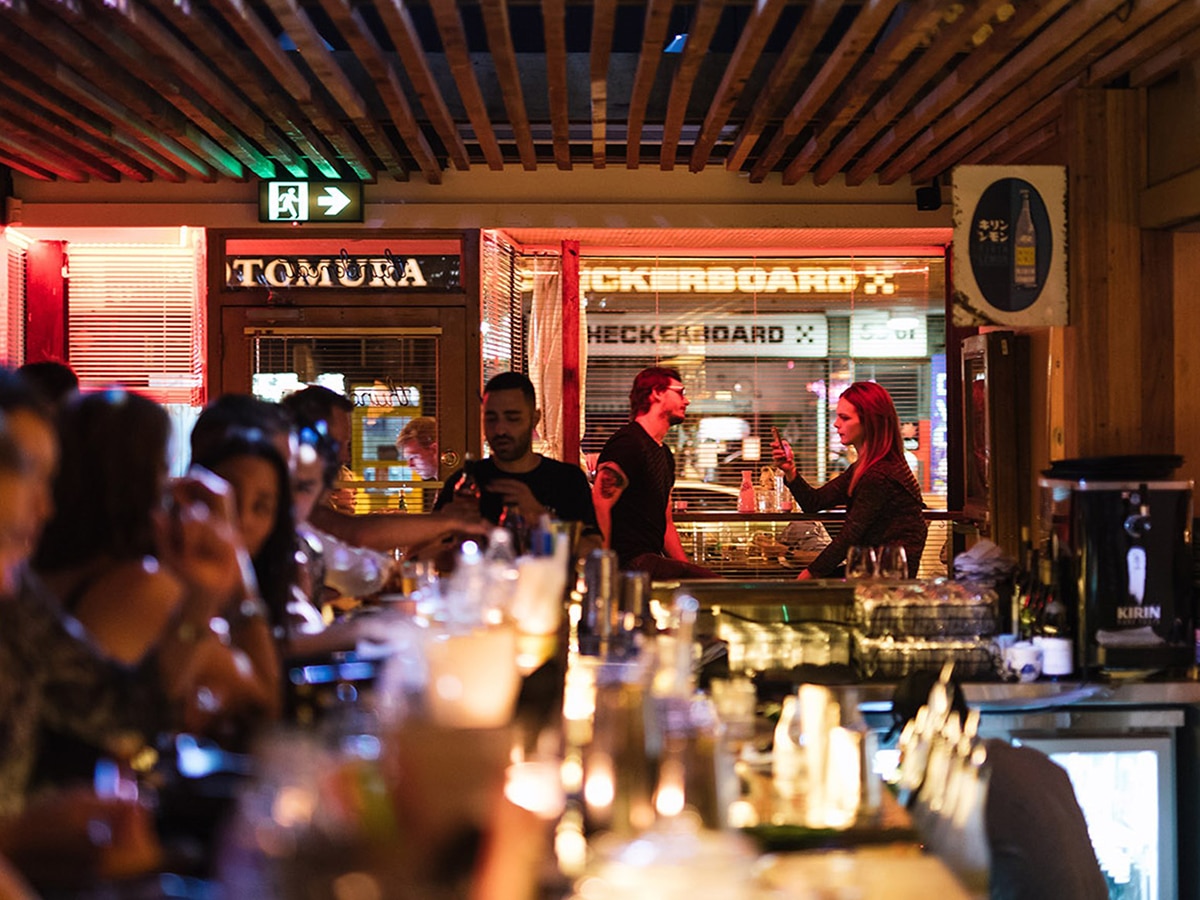 15. Tokyo Tina
In the hyper-serious world of food culture, it's always refreshing to encounter a Japanese restaurant that kicks back and has a little fun while nevertheless serving killer eats. In that regard, Tokyo Tina duly abides. Inspired by the street food and visuals of Japan, this wildly popular Japanese restaurant keeps the atmosphere festive and the bites tasty, saving any overwrought intensity for the kitchen. Try the DIY pork belly bao with pickled daikon, teriyaki, and kewpie.
Address: 66A Chapel St, Windsor VIC 3181
Hours: Mon-Thur 5-10pm, Fri 12-4pm & 5-10pm
Phone: (03) 9525 2774
Check out Tokyo Tina Tokyo Tina Menu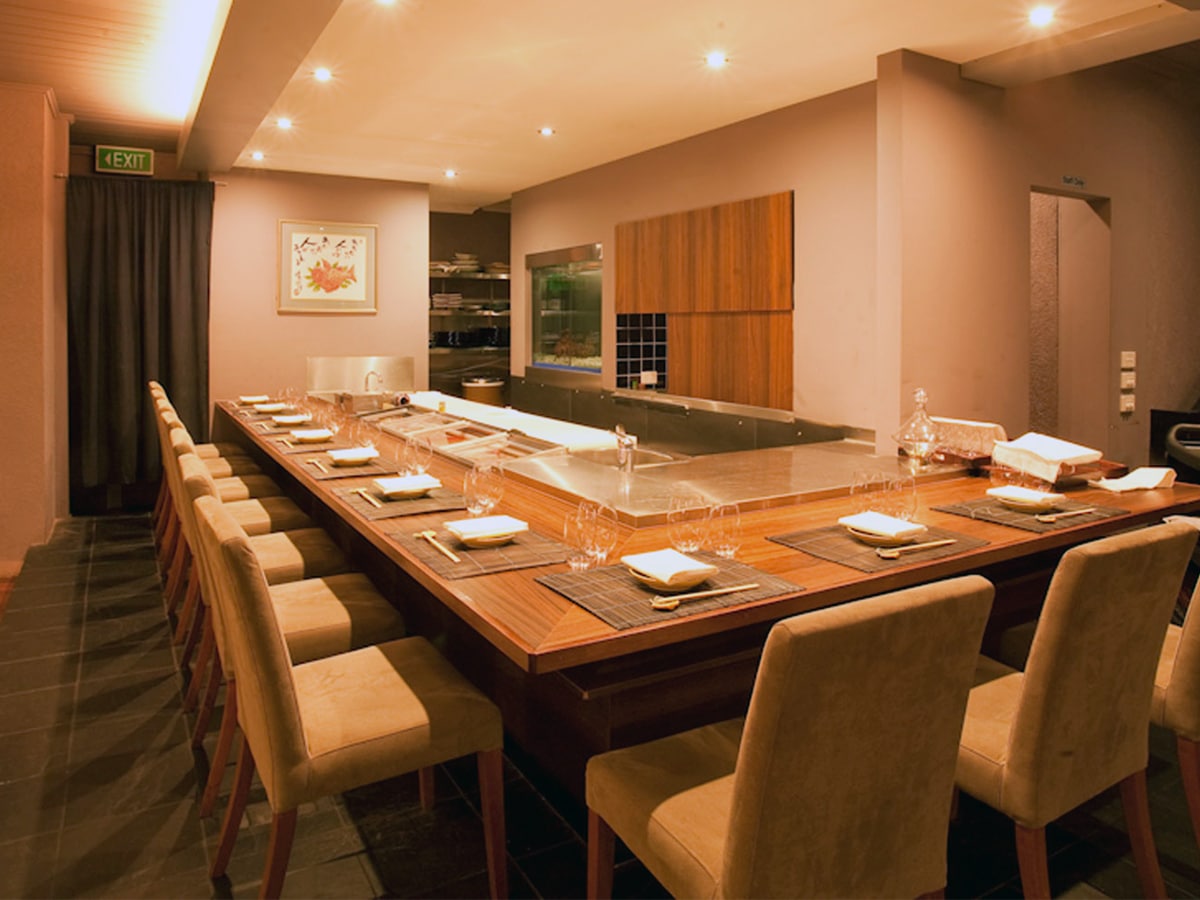 16. Shoya Japanese Restaurant
Between Shoya's whopping six levels, you'll find pretty much everything you can think of, including some the best Japanese Melbourne has to offer. You'll also cop karaoke, fine dining, casual lunches, omakase dinners, full bars, fresh sushi and expertly grilled meats as well. Needless to say, this award-winning palace of degustation begs to be discovered many times over.
Address: 25 Market Ln, Melbourne VIC 3000
Hours: Wed-Fri & Sun 12-2pm & 6-9:30pm, Sat 12-2 & 5:30-9:30pm
Phone: (03) 9650 0848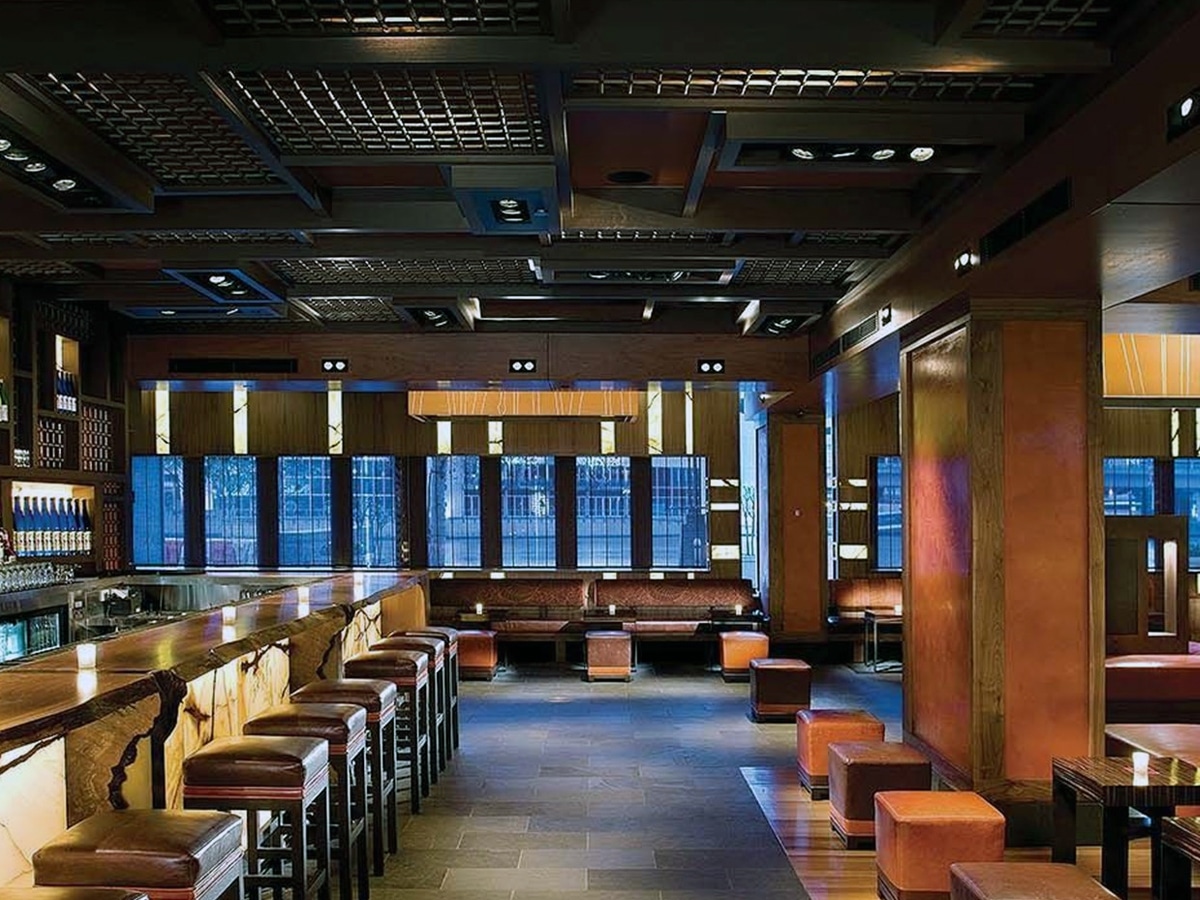 17. Nobu
No restaurant is more synonymous with sexy, upscale Japanese dining than Nobu, and their Melbourne outpost is no exception. Located in the Crown Casino, the renowned hotspot delivers a brilliant ambience, gorgeous people and delectable Japanese-Peruvian fusion cuisine. The result is an epicurean experience that's firing on all cylinders.
Address: Crown Riverwalk, Crown Melbourne, 8 Whiteman St, Southbank VIC 3006
Hours: Mon-Thur 12-3pm & 6-10pm, Fri-Sat 3-11pm, Sun 3-10pm
Phone: (03) 9292 5777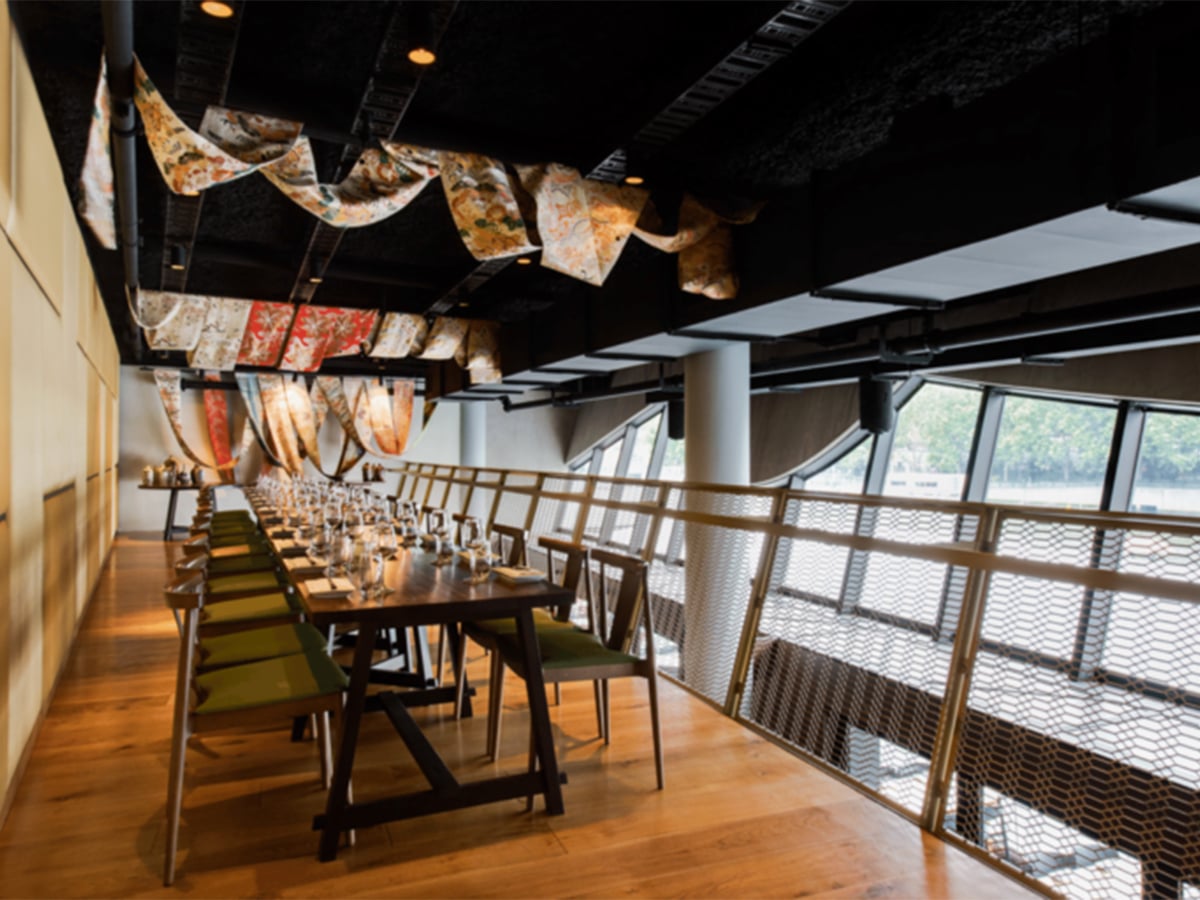 18. Sake Restaurant and Bar
Along with sister locations in cities like Sydney, Melbourne's perennially popular Sake Restaurants have modern dining down to a science. However, don't take that global franchise potential to mean the food here isn't spectacular. Indeed, people flock from near and far to try Sake's array of Japanese fusion dishes while sucking down delicious cocktails. The Hamer Hall location doubles down on indulgence by way of stunning glass walls and riverside views.
Address: 100 St Kilda Rd, Southbank VIC 3004
Hours: Tue-Thur 5:30-9pm, Fri 12-3pm & 5:30-9:30pm, Sat 12-3pm & 5-9:30pm, Sun 12-3pm & 5-8:30pm
Phone: (03) 9119 4799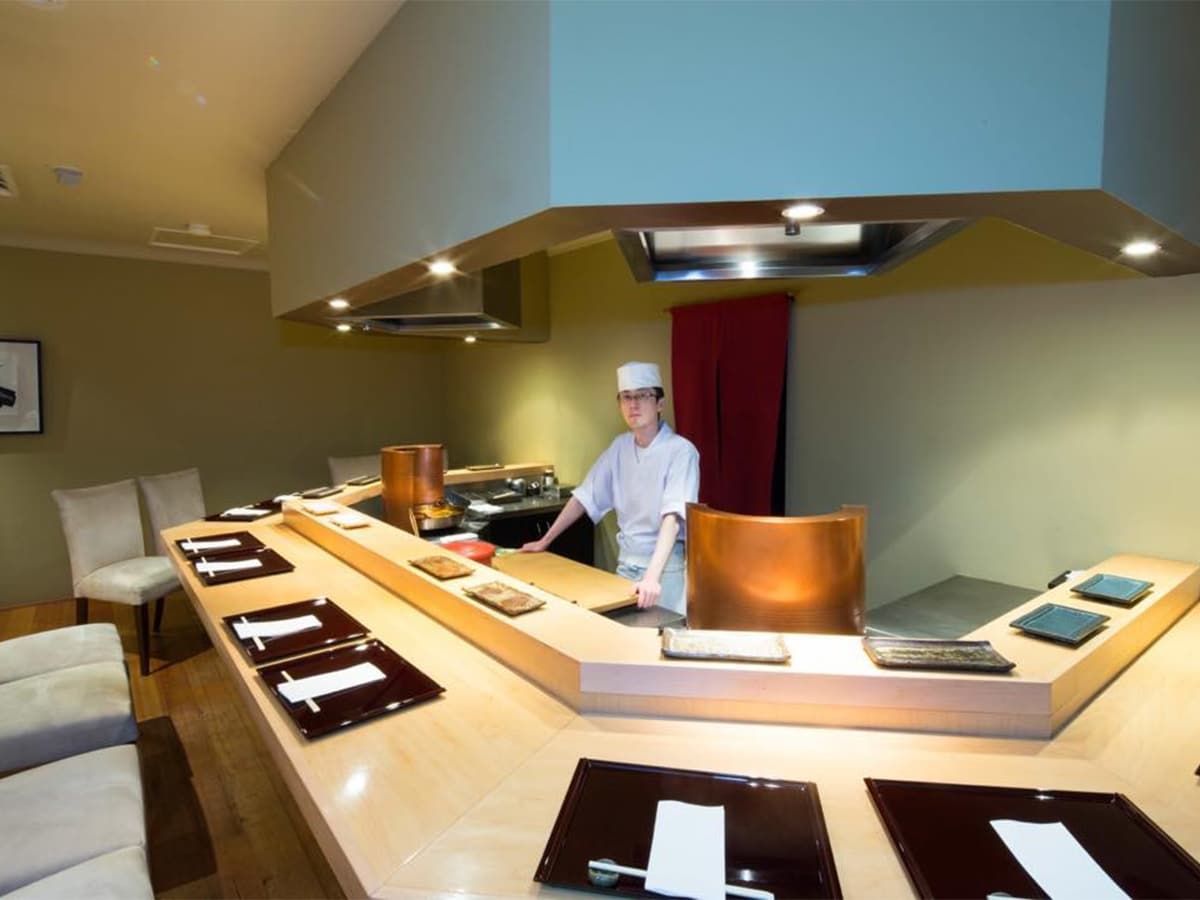 19. Tempura Hajime
Gaining entry to Tempura Hajime is kind of like getting into a secret society, and the experience once inside is no less sacrosanct. Take a seat and let Shigeo Yoshihara seduce your taste buds one dish at a time. We can't go past the Ten-don these guys do, which is a selection of vegetable and seafood tempura on steamed rice with teriyaki sauce on top, served with miso soup and salad. This hidden gem uses traditional Japanese techniques to create an open kitchen vibe perfect for fresh sushi and sashimi finished with a Japanese-style dining experience.
Address: 60 Park St, South Melbourne VIC 3205
Hours: Tue 6-9:30pm, Wed-Thur 12-2pm & 6-9:30pm, Fri 12-2pm & 5:30-10pm, Sat 5:30-10pm
Phone: (03) 9696 0051
Check out Tempura Hajime Tempura Hajime Menu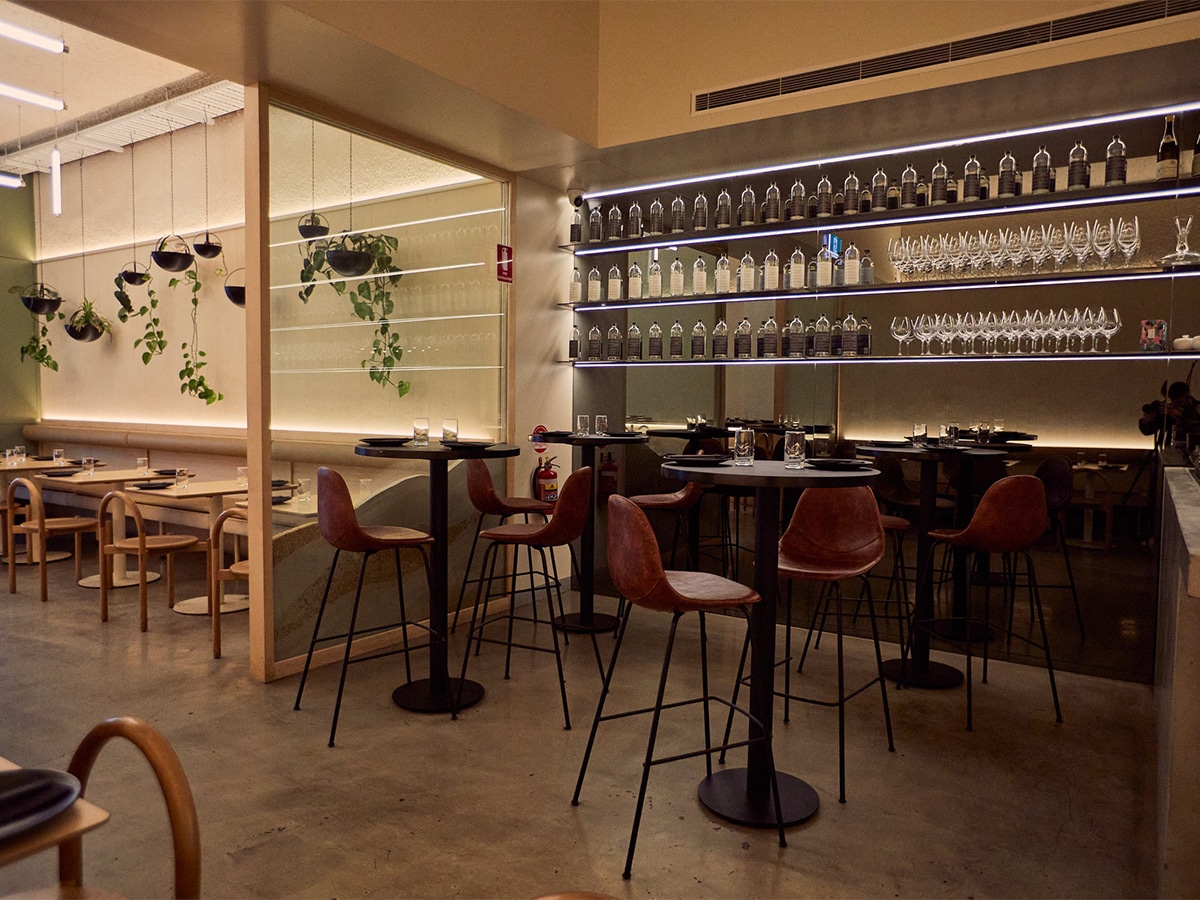 20. Eazy Peazy
Expect a thriving yakitori menu with wings and salty yuzu spice, paired with some charred leek and miso barramundi. Eazy Peazy is one of the coolest places to eat Japanese food in Melbourne. What's more, this eatery also has a pretty great beverage menu, so why not make a whole night out of it, whilst eating traditional Japanese dishes.
Address: 108 Swan St, Richmond VIC 3121
Hours: Mon-Thur 12-3pm & 5-9:30pm, Fri 12-3pm & 5-10pm, Sat 5-10pm, Sun 5-8:30pm
Phone: (03) 9965 1977
Check out Eazy Peazy Eazy Peazy Menu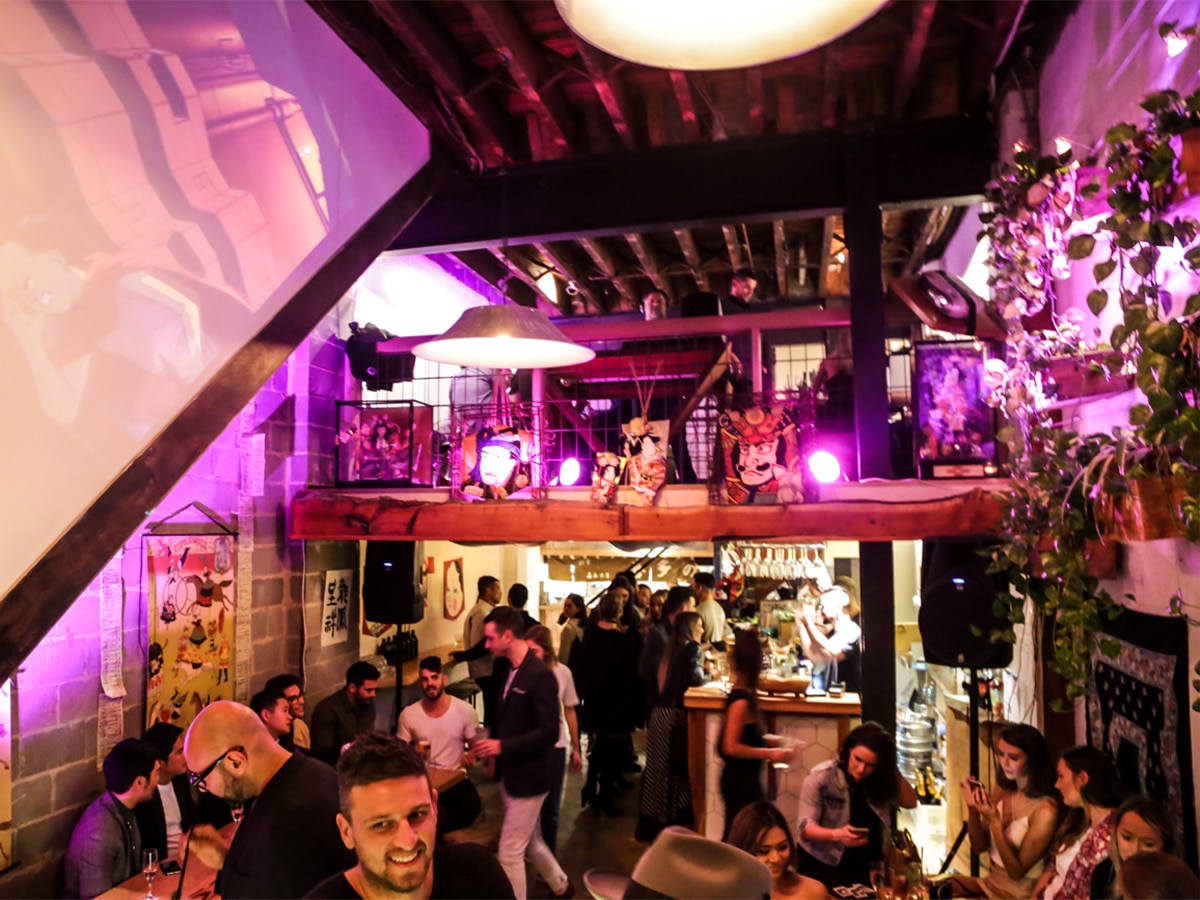 21. Yoku Ono Ramen + Sake
This small, intimate spot reminds us of the traditional ramen bars you would expect to find in Tokyo, which is one of the main reasons we love it, running in a close second to the delicious ramen that's served here. They serve up bento boxes for a quick and easy lunch, but, it is the ramen that's the star of the show here. Choose from chicken breast, pork belly or spicy pork mince, in a slow-cooked chicken broth with noodles. Wash it down with sake, matcha tea or a cocktail — the Nashi paired with nashi pear sake, cinnamon whiskey, lemon, and sugar is our go-to.
Address: 6A Anchor Pl, Prahran VIC 3181
Hours: Wed-Sum 12-3pm & 5:30-10pm
Phone: (03) 9533 2218
Check out Yoku Ono Yoku Ono Menu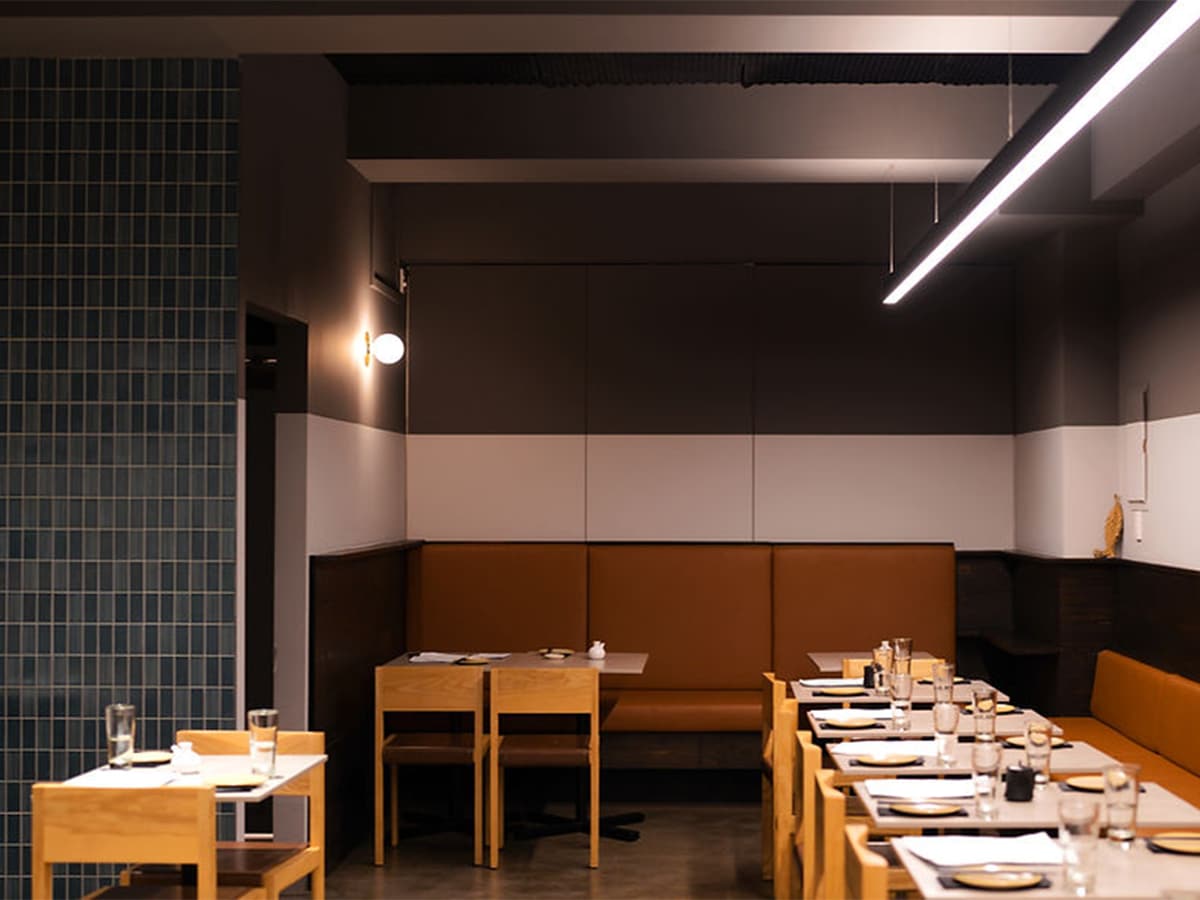 22. Machi
Serving up traditional Japanese food with a creative flare, in a moody, minimalist space, Machi is some of the best Japanese dining in Melbourne. On the menu, you will find a selection of Japanese 'tapas', think age dashi tofu, eggplant chips and gyoza, as well as signature machi tacos (our recommendation) and maki rolls, sashimi, nigiri and a selection of platters to share. They have a decent selection of vegetarian options, without forgetting about the meat-eaters, too.
Address: 14 Inkerman St, St Kilda VIC 3182
Hours: Tue-Thur 5-9pm, Fri-Sun 12-2pm & 5-9pm
Phone: (03) 9534 5000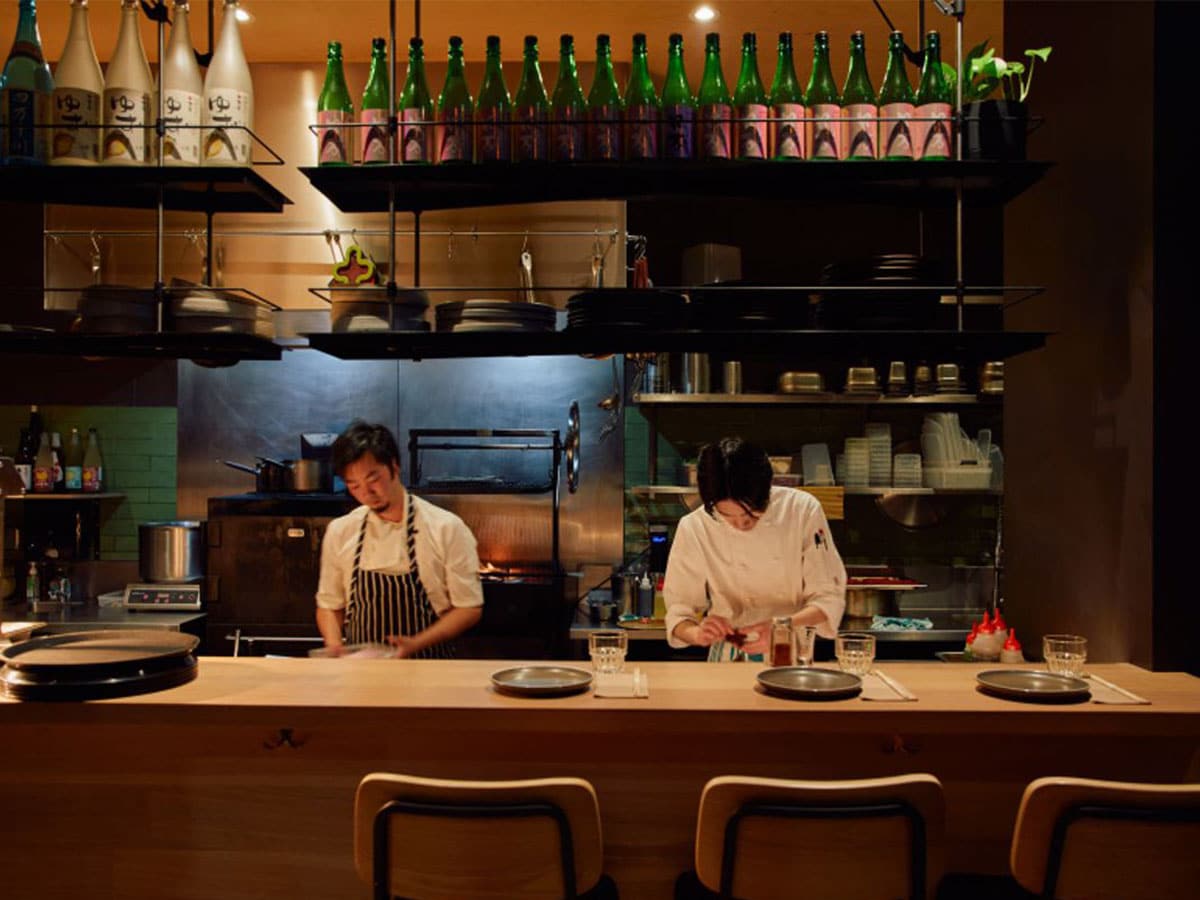 23. Kura
Brought yo you by ex-Kisume and Nobu chef Ken Ibuki, you'll find a Japanese dining experience perfected by years of traditional Japanese techniques tucked away beneath a block of apartments, making this the most unassuming dining experience you'll find in North Melbourne. You'll find a large selection of sake, and Ken Ibuki's ten years of experience as a sushi chef is made iconic by using ingredients that you'll typically find in Japan.
Address: Shop 1/22/30 Lygon St, Brunswick East VIC 3057
Hours: Tue-Sat 5 pm-11:00 pm, Sun 5 pm-10:30 pm
Phone: 03 9972 1629
Key Things to Consider for Melbourne's Best Japanese Restaurants
The important factors to keep in mind when deciding where to go:
Price – how expensive is your food/drinks.
Variation – menu variety and ability to make changes when needed.
Location – whether that be in the center of all the action or somewhere quaint and quiet.
Service – good service makes the experience at a restaurant that much more enjoyable.
How Man of Many Chose The Best Japanese Restaurants In Melbourne
With an editorial team full of foodies, Man Of Many has had the unique opportunity to directly sample and experience Japanese food and drink from the best spots in Melbourne. As expert journalists who guide people between competing products and services, we have provided our independent opinion in formulating Man of Many's selections. Our editors have taken into account location, food and drink and atmosphere while also making a concerted effort to highlight a few spots outside of the CBD. You can review our editorial policy here surrounding how we maintain our independence in our editorial reviews.
Alternatives to Japanese food in Melbourne
If you're looking for other things to do in and around Melbourne, we've got you covered with some of the options listed below. You can also check out our list of Fun Thing To Do in Melbourne. If you're looking for a more specific cuisine, check out our list of Best Mexican Restaurants in Melbourne or the Best Italian Restaurants in Melbourne. If you're full, we can also help you with your search for the best vintage clothes with our list of the Best Op Shops in Melbourne for Vintage Clothes or show you the Best Beaches in Melbourne for Surfing and Swimming.
Japanese Restaurants in Melbourne FAQs
What is the best Japanese restaurant in Melbourne?
While there are a number of great Japanese restaurants in Melbourne, Minamishima is the highest rated on Google.
What suburb is the best for Japanese restaurants?
The Melbourne CBD has the highest concentration of Japanese restaurants, particularly around Flinders Lane.
Where can you get the best ramen in Melbourne?
Fitzroy's Neko Neko is the highest rated ramen bar in Melbourne, but there are many great options, particularly in the Melbourne CBD.
You'll also like:
---
Featured Video from Man of Many