16 Best Doughnuts in Melbourne to Get Your Glaze On
Doughnuts shops in Melbourne are like diamonds – they're a ring-shaped wonder, and everyone's best friend. Regardless of your temperament, we all know a good treat can take the edge off. So, whether you're out for your daily hour of exercise, or craving something sweet before curfew, here's a list of the best doughnuts Melbourne has to offer.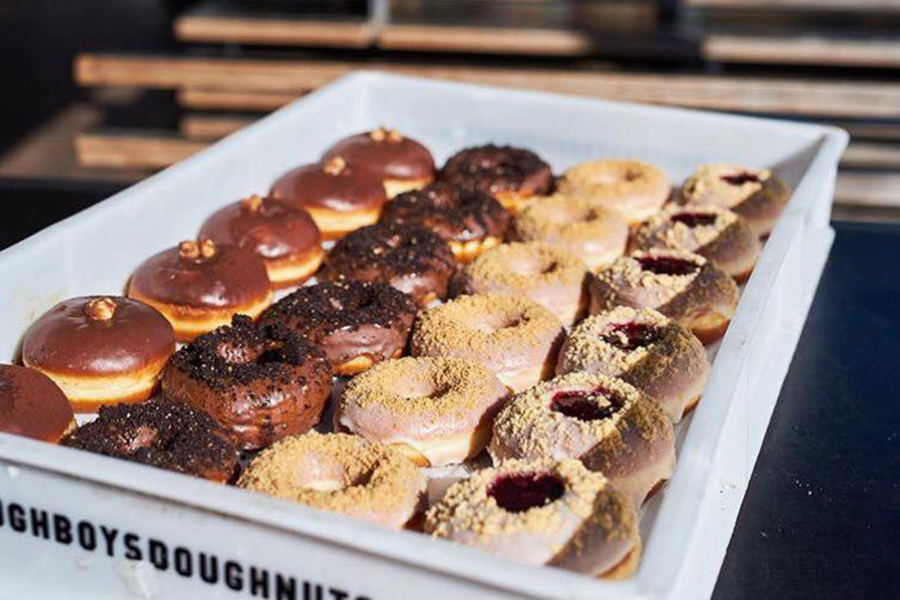 1. Doughboys Doughnuts
While the average doughnut shop tends to go for the classics, Doughboys Doughnuts loves to break tradition. This Melbourne doughnut house specialises in its hand-dipped goodies, with a gourmet twist. However, don't let the 'artisanal' title fool you, because these desserts stay true to the tastiness of their 'traditional' origins.
With the mouth-watering 'Hazelnut Truffle' doughnut, as well as other nibbles and bevvies (homemade hot choccy anyone?), doughboys' doughnuts will bring some sweet back into Melbourne's savoury reality.
Known for: Hazelnut Truffle Doughnut
Address: 535 Bourke St, Melbourne VIC 3000
Trading Hours: Mon-Fri 7.00am – 4.30pm Sat 9.00am – 4.00pm
You'll also like:
49 Best Bars in Melbourne For a Good Night Out
12 Spots for the Best Banh Mi in Melbourne
18 Best Vegetarian Restaurants in Melbourne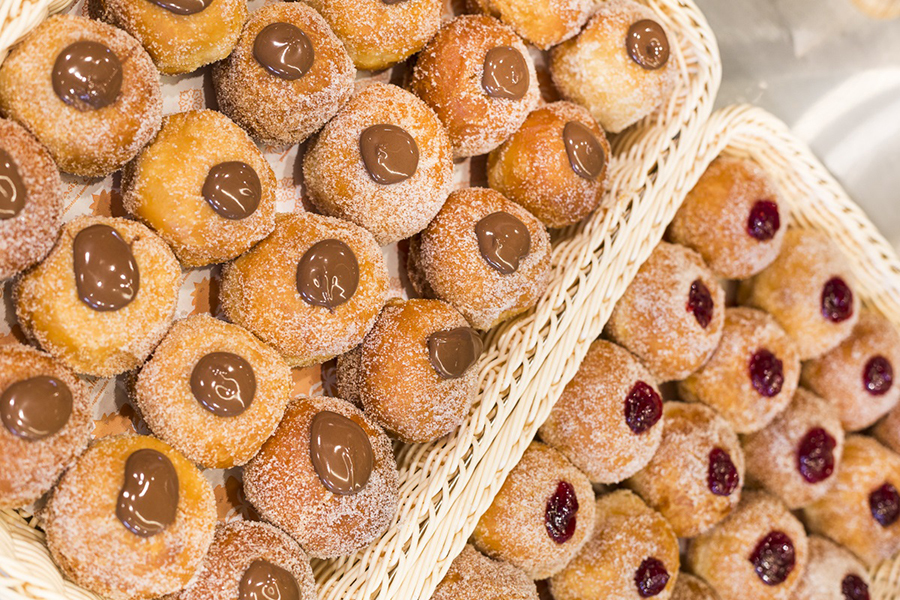 2. Oasis Bakery
Ranked at the top of any true Melbournians favourite Middle-Eastern café's, Oasis mirrors its namesake as a hub for all forms of flavour. While its dinner options are magnificent, it's the desserts that keep mouths watering. More than just your humble all-in-one doughnut shop, Oasis specialises in their Lebanese doughnuts – golden brown, syrup coated with an orange zest that hits the back of your tongue. Needless to say, the trek to Murrumbeena is well worth it!
Known for: Lebanese Doughnuts
Address: 9/993 North Rd, Murrumbeena VIC 3163
Trading Hours: Mon-Thurs 8am-7pm Fri-Sat 8am-7:45pm Sun 8am-7pm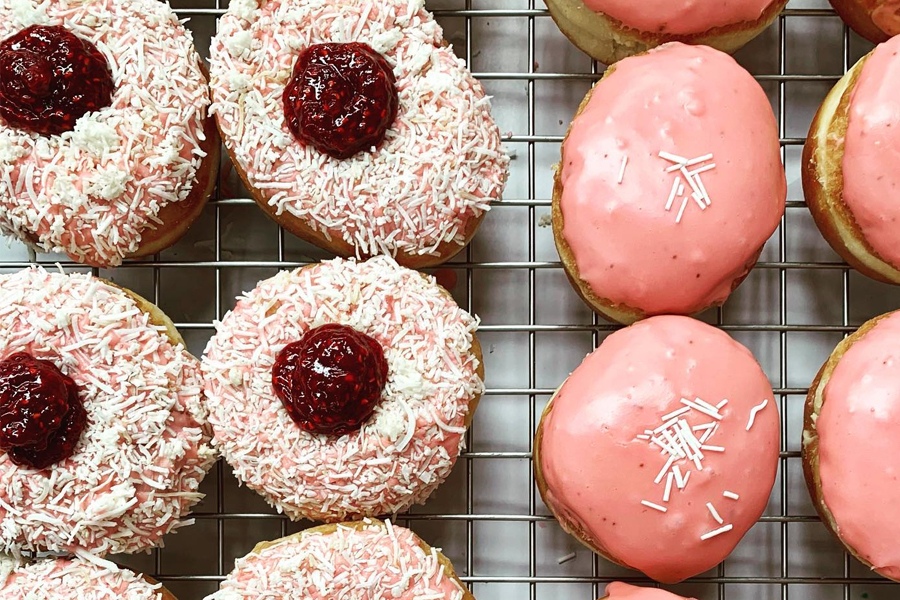 3. All Day Donuts
A doughy love-child of Melbourne's food truck fanatic, Raph Rashid, All Day Donuts is simplicity meets sublime. While we recommend an 'Original Glaze' to get your pallet prepped, there's no doubt that the fruity flavours of 'Strawberry Cheesecake' and 'Yuzu Lime' are some of the best doughnuts Melbourne has to offer. All Day Donuts is currently doing delivery to the inner suburbs during lockdown to keep Melbourne's spirits lifted, and belts unbuckled – but be sure to keep track of their changing selections.
Known for: Strawberry Cheesecake Doughnut and Yuzu Lime Doughnut
Address: 12 Edward St, Brunswick VIC 3056
Trading Hours: Mon-Fri 12pm-9pm Sat-Sun 9am-9pm
Phone: (03) 8060 6664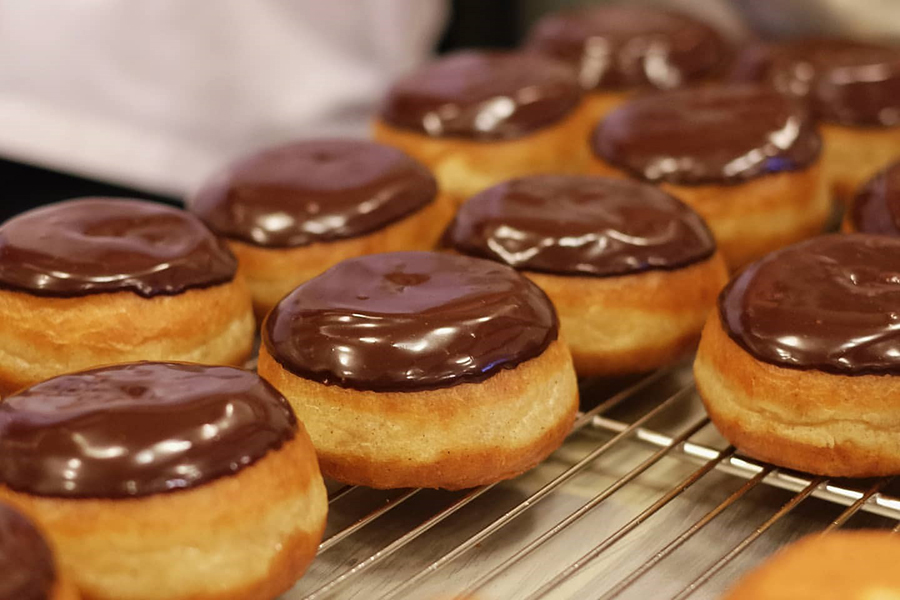 4. Shortstop Coffee & Donuts
Serving some of the best doughnuts the Melbourne CBD has to offer is no easy feat, yet, Shortstop has no problem setting the bar high. Sinye Ooi and Anthony Ivey, the creators of the cosy Shortstop shop, worked on their recipe for over a year through trial, error and sampling from the home of the doughnut, 'Merica.
The proof is in the pudding (or doughnut in this case), as the flavours are near immaculate. The 'Banana and Choc Hazelnut' or the 'Australian honey and sea salt Cruller' are simply to DIE for. Now, if you're wondering what the hell a 'Cruller' is, then look no further.
Known for: Banana and Choc Hazelnut Doughnut
Address: 12 Sutherland Street, Melbourne 3000
Trading Hours: Mon-Fri 8am-5pm Sat-Sun 8am-6pm
Phone: 0499 366 883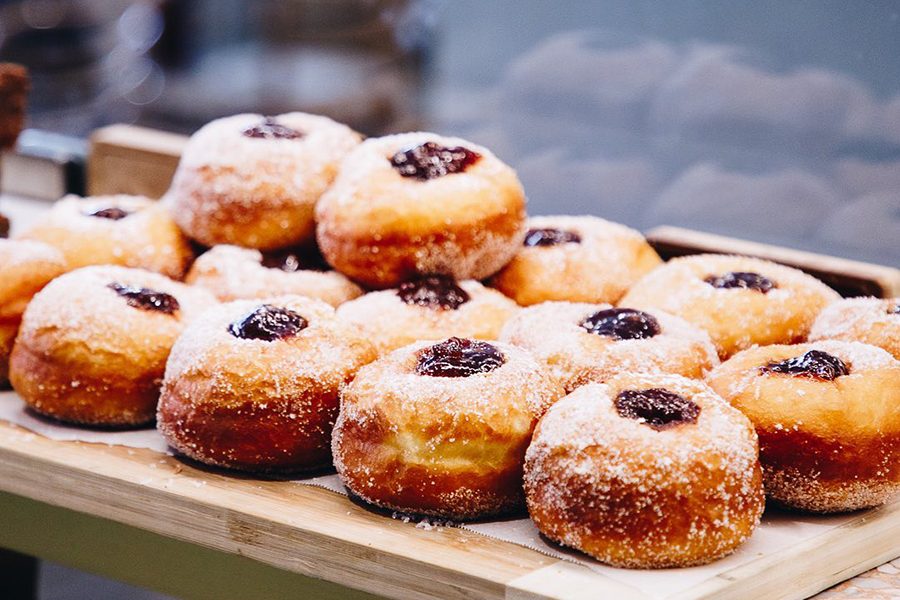 5. Sir Duke Cafe
In the age of DIY musicians, furniture assembly and sandwiches, it only makes sense that the world is ready for the DIY doughnut. Located in Moonee Ponds, Sir Duke prides itself on nailing classics and subverting expectations. Their DIY doughnut, a ball of deep-fried dough, sauce and ingredients for coating, gives the customer the power to make their own delicious work of art. However, if you're too stuck for choice, the Jam Bam (raspberry jam and served with chocolate sauce, toasted coconut and chocolate fairy floss) is one of the more innovative takes on the hot jam doughnut Melbourne locals have come to love.
Known for: Jam Bam Doughnut
Address: 99 Puckle St, Moonee Ponds VIC 3039
Trading Hours: Mon-Sun 8am-9pm.
Phone: (03) 9041 4022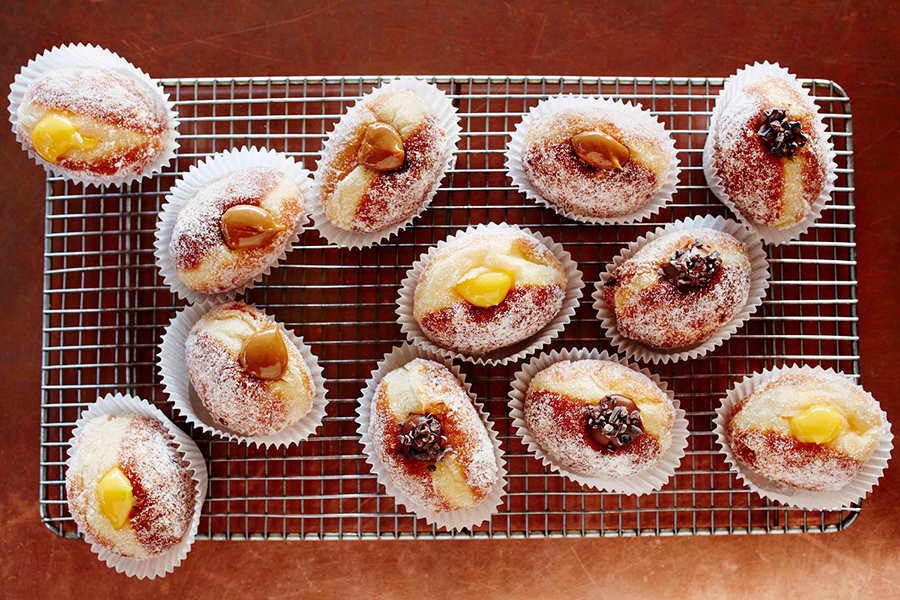 6. Tivoli Road Bakery
Once known as MoVida, the Tivoli Road Bakery has made a name for itself with its fruity doughnuts, and hungry queues. However, there's a good reason this South Yarra staple gets such hectic hype. Its French-Australian fusions are near-perfect, and their delectable Lemon-Curd doughnut is iconic. Let alone its selection of danishes, bread, cookies and all manner of tasty morsels. The best part? The suppliers are local, and the produce is quality, so there's always freshness in every bite.
Known for: Lemon-Curd Doughnut
Address: 3 Tivoli Rd, South Yarra VIC 3141
Trading Hours: Mon-Sun 7:30am-1pm
Phone: (03) 9041 4345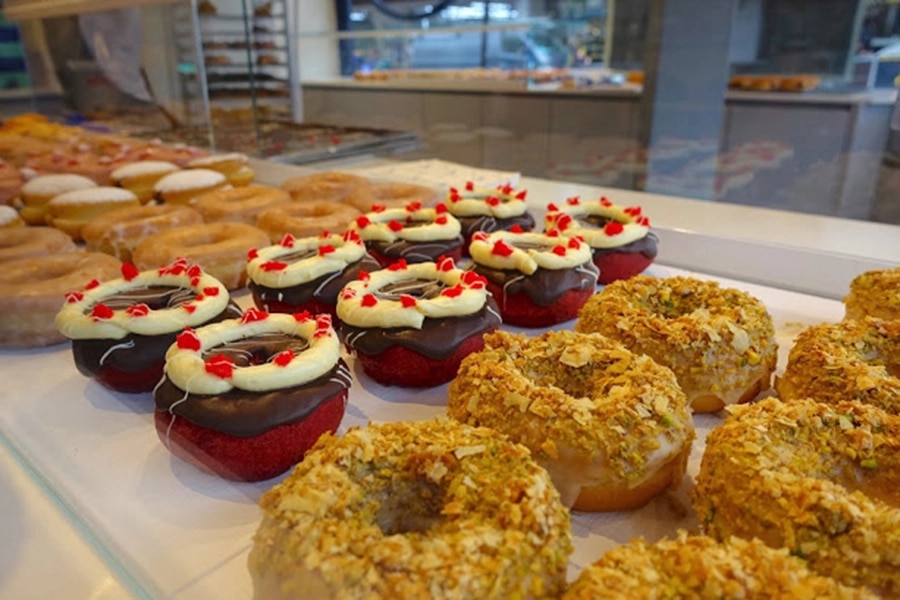 7. The Oakleigh Doughnut Co.
Founded by Oakleigh's local brothers, Yani and Nic, the Oakleigh Doughnut Co. (TODCO) sets itself the objective of serving the freshest yeast-raised or cake-based doughnuts in Melbourne. Frying and decorating their doughnuts in small batches to ensure a perfect product, TODCO's sweet-treats range from the deliciously simplistic to the downright devilish. From the chocolate-dipped and sprinkles covered 'Choc Freckle', to the caramelised biscuit buttercream covered 'Vegan Biscoff Crème', there's a doughnut to make everyone go nuts (pardon the pun).
Known for: Choc Freckle Doughnut
Address: 36 Portman St, Oakleigh VIC 3166
Trading Hours: Mon-Sun 10am-10pm
Phone: (03) 9569 8172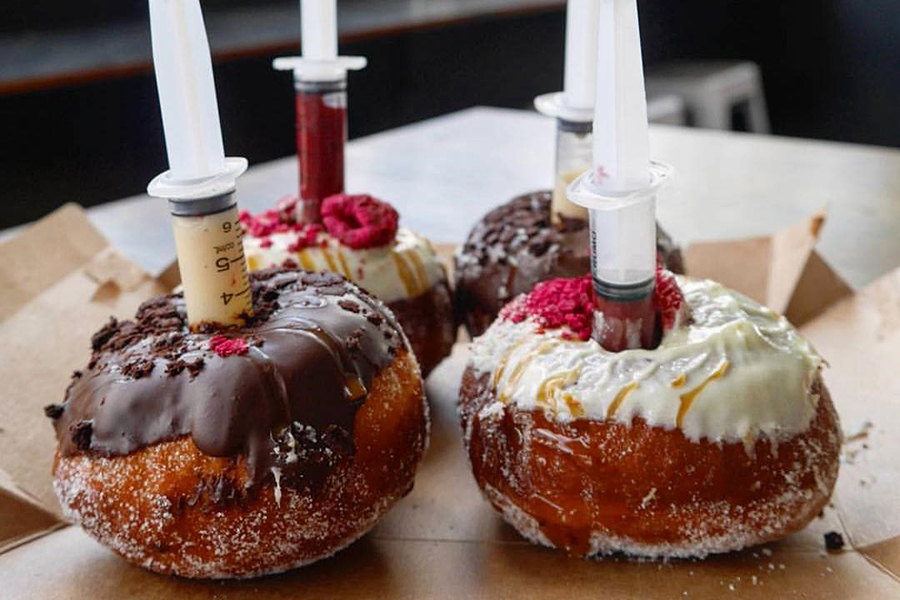 8. Ascot Food Store
The Ascot Food Store holds the title as one of Melbourne's original trend-setting café's. Its legacy? The syringe of sauce that now accompanies all manner of morsels across the country – medical and edible. The goods are simply kaleidoscopes of colour, texture and style – while the sauce-syringes bring the mouth-watering moisture that any good doughnut needs. While we recommend Peanut Parfait, we still think you should try everything on rotation. Alternatively, you can eat doughnut and sauce-syringe separately. We're doughnut connoisseurs, not cops.
Known for: ANYTHING sauce-syringe but… Peanut Parfait!
Address: 320 Ascot Vale Road Moonee Ponds 3039
Trading Hours: Mon-Fri 7am-3:30pm Sat-Sun 7am-4pm
Phone: (03) 9370 2649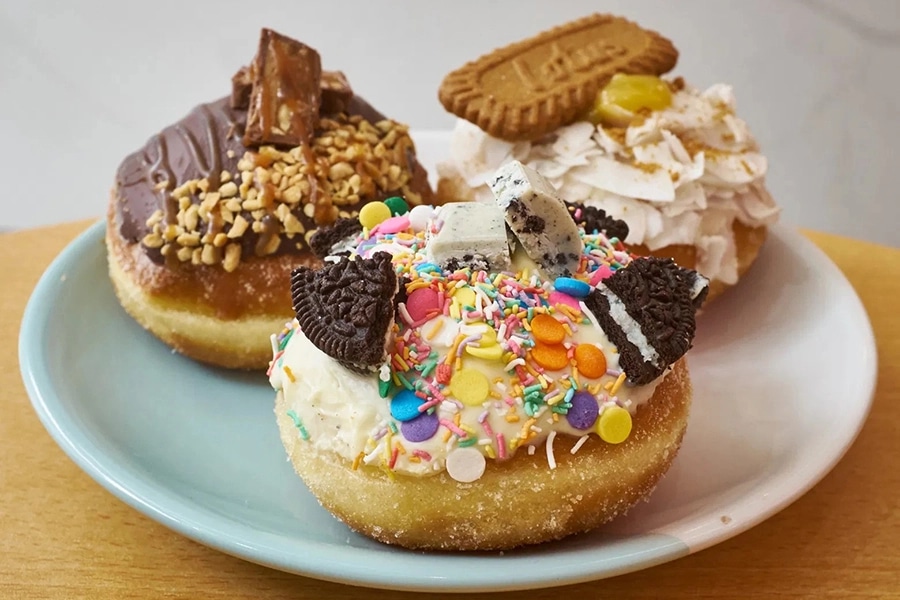 9. Bistro Morgan
If there's one thing 22-year-old Morgan Hipworth knows best, it's doughnuts. Since creating his show-stopping Bistro Morgan bakehouse, Hipworth's brioche doughnuts have taken over Melbourne's culinary scene for their signature flavours and tasty uncanniness. Better yet, they've just opened a second location in Fitzroy. So, if you love Kit Kat Gold (and who the f*ck doesn't?) then we know you'll love the 'Pot Of Gold': a fresh brioche bun, Kit Kat gold custard filling, couverture gold chocolate and gold Kit Kat pieces. Hell, Kit Kat Gold may have genuinely met its delicious match.
Known for: Pot Of Gold Doughnut
Address: 190 High St, Windsor VIC 3181 & 400 Brunswick Street, Fitzroy
VIC 3065
Trading Hours: Mon-Thurs 8am-4pm Fri-Sat 8am-8pm Sun 8am-4pm
Phone: (03) 9190 8933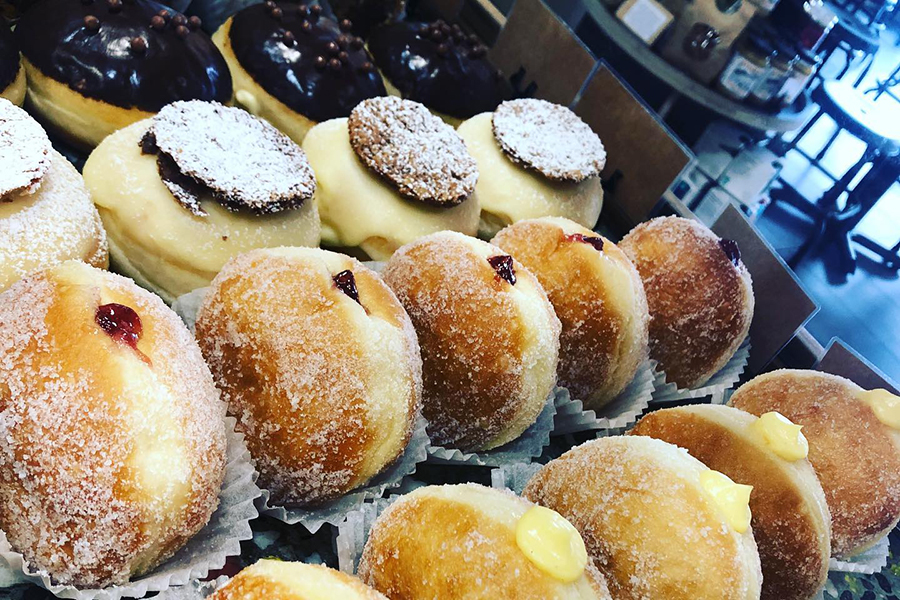 10. Candied Bakery
Candied Bakery's goal is simple, and Husband and Wife Team, Orlando Artavilla and Toula Ploumidis simply "wanna feed you all things bakery!" This Aussie, American and Euro-fusion bakery specialises in many things, cakes, sweet pies, bread, tarts – and of course we suggest you try all of them. However, Candied Bakery is also home to some of the most mouth-watering doughnuts Melbourne has to offer. However, their Vanilla Slice Doughnut takes the cake. Vanilla custard and a biscuit disc sprinkled in icing sugar. Much like its slice-shaped predecessor, this doughnut hits the balance between simple, and absolutely delicious. There's little wonder Candied Bakery has become known as one of the top doughnut shops Melbourne has to offer.
Known for: Vanilla Slice Doughnut
Address: 81A Hudsons Rd, Spotswood VIC 3015
Trading Hours: Tues-Sat 7am-3:30pm Sun 7:30am-3:30pm
Phone: 0497 103 428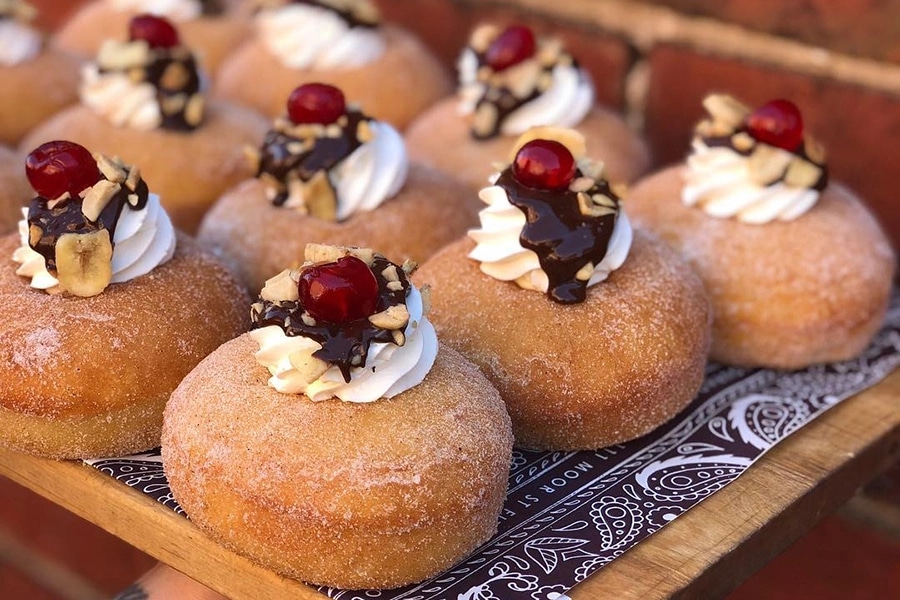 11. Smith & Deli
Smith and Deli, as the name suggests, has garnered attention as one of Melbourne's most vegan-friendly deli's – boasting an entirely vegan New York-style menu. However, while this deli does a mean eggless-egg sandwich and classic vegan-schnitty – it's the doughnuts that continue to wow customers. The cinnamon and cardamom sugar option is nothing short of spectacular, and this deli's rasplum jam doughnuts might be some of the sweetest in this list. While the choice is small, the flavour is fantastic.
Known for: Rasplum Jam doughnuts
Address: 111 Moor St, Fitzroy VIC 3065
Phone: (03) 9042 4117
Trading Hours: Tues 9am-4pm Fri? Sat 9am-4pm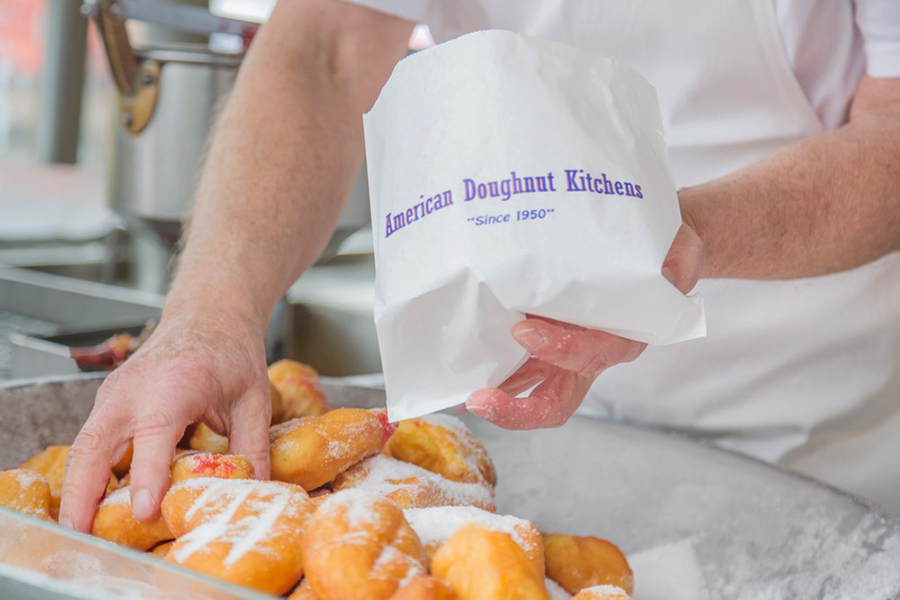 12. American Doughnut Kitchen
This Victorian food-truck staple has been churning out its famous hot jam doughnuts for Melbourne crowds since WWII. Started by US pilots who travelled down under, American Doughnut Kitchen has since taken over the Queen Victoria Markets by storm and doesn't seem to be slowing down anytime soon. While trading hours have been reduced during lockdown, at least there's something sweet to look forward to on the other side. Careful of the projectile jam though… and don't wear white!
Known For: Hot Jam Doughnuts
Address: Queen St, Melbourne VIC 3000
Phone: 0420 521 507
Trading Hours: Thurs-Fri 7am-3pm Sat 6am-3pm Sun 7am-3pm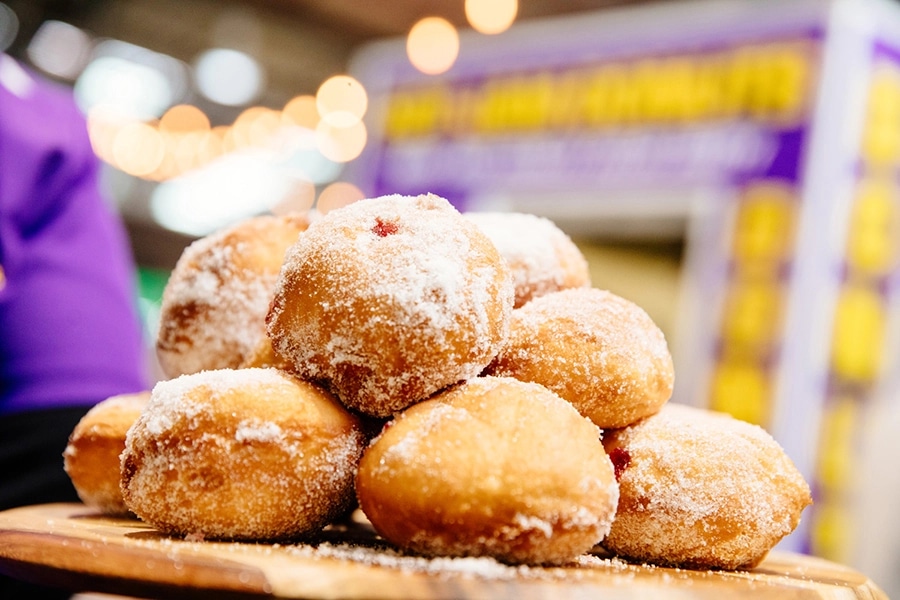 13. Dandee Donuts
Now, not to flog a hot-jam-doughnut horse, but Dandee Donuts is also killing it with their hot n' gooey, jam-filled goodness. Started in the 1960s by alumni of American Doughnut Kitchen, Dick Bell, Dandee Donuts' iconic golden food-vans can be found at any respectable market or footy match In Melbourne's east. Friendly rivalry always creates perfection, and Dandee Donuts provides the proof in its preservative-free jam.
Known For: Hot Jam Doughnuts
Address: 39 Clow St, Dandenong VIC 3175
Phone: 0490 029 696
Trading Hours: Tue 7:45am-3:45pm Fri 7:45am-3:45pm Sat 7:00am-3:45pm Sun 9:00am-3:45pm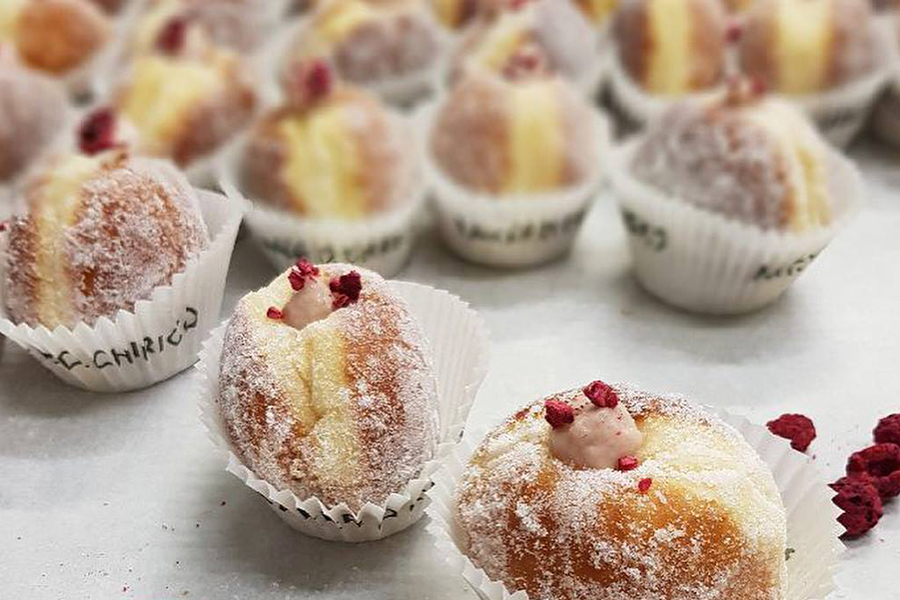 14. Baker D. Chirico
Do you want Melbourne's iconic cottage-core contemporary café? You got it! Baker D. Chirico is home to some of Melbourne's finest baked goods, and their doughnuts are no exception. Travel-sized for your convenience, and bursting with flavour, there's nothing more your Pinterest-wall could ask for. Personally, nothing goes past the custard-filled Bobolone for its delicious simplicity. However, there're plenty more doughnuts to choose from if you're feeling adventurous.
Known For: Bobolone Doughnut
Address: 178 Faraday St, Carlton VIC 3053
Phone: (03) 9349 3445
Trading Hours: Tue-Fri 7am-3pm.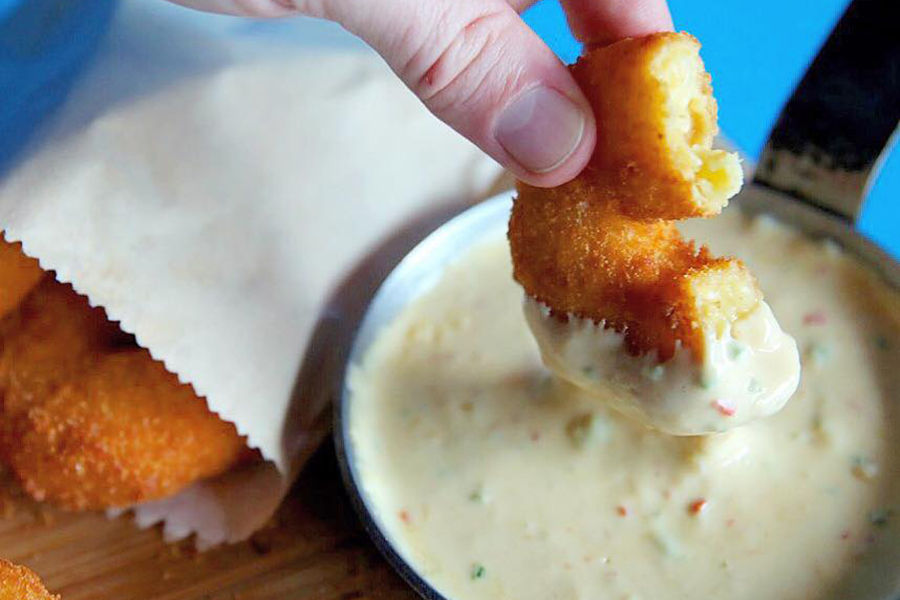 15. Saint Lucia
Now, out of every doughnut shop Melbourne has to offer, you'll rarely find something as provocative as a savoury doughnut. Saint Lucia's Caribbean-motif and tasty morsels keep customers coming back for more, however, what truly sets it apart has got to be its city-famous mac'n'cheese mini doughnuts. These golden ringlets of gooey, cheesy goodness only get better with Lucia's jalapeno-chilli cheese dipping sauce to create a dangerously moreish combo.
Known For: Mac'n'cheese Mini Doughnuts
Address: 78 Chapel Street, Windsor 3181
Phone: (03) 9530 2085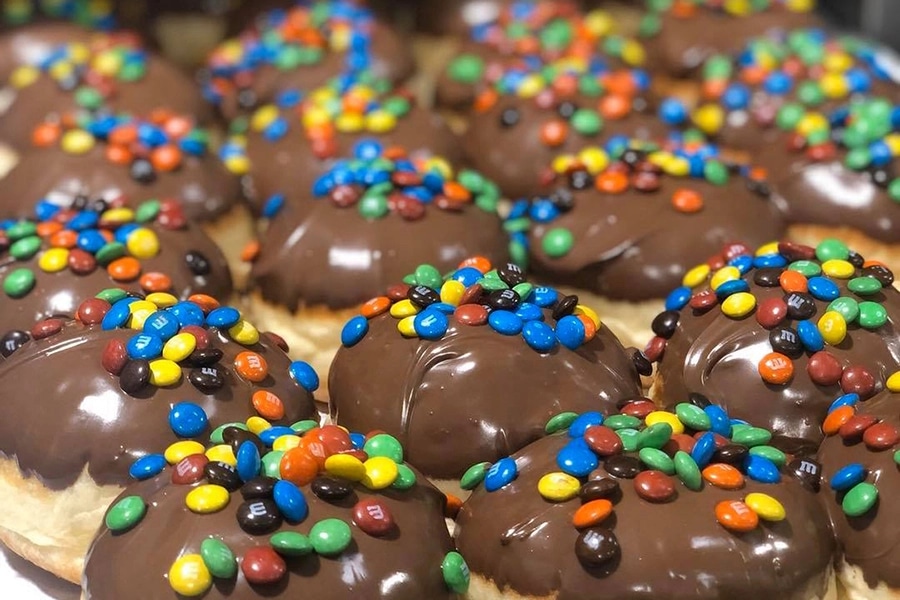 16. Daniel's Donuts
Daniel's Donuts has managed to snag themselves a culinary cult-following, and it's no wonder why. Having broken records years ago for selling over 10,000 Nutella doughnuts in a single day, Daniel's prides itself on doughnuts that deliver. While there're a vast array of flavours to choose from, it goes without saying that classics are crucial. Try the Nutella-filled doughnut first and work your way through the menu to the iconic Snickers Custard. We guarantee you won't be disappointed.
Known For: Nutella Filled Doughnut
Address: 819 Princes Hwy, Springvale VIC 3171
Phone: (03) 9547 5950
Trading Hours: Mon-Sun 6am-10pm
You'll also like:
49 Best Bars in Melbourne For a Good Night Out
12 Spots for the Best Banh Mi in Melbourne
18 Best Vegetarian Restaurants in Melbourne
General FAQs
How much does an average doughnut cost in Melbourne?
According to our research, a simple doughnut can cost between $5-6.50. However, for gourmet doughnuts prices can range from $7-10 depending. However, we suggest buying doughnuts in box-sets if you want more bang for your buck.
Which doughnut is the healthiest?
Well, they are doughnuts, so the range of 'healthiness is going to be somewhat limited. From our experience, the Lemon Curd doughnut may be your healthiest bet. The ingredients are simple, and the doughnut itself is not as packed with as much sugar as some of its creamier, or chocolatier counterparts. Keep in mind though, it's still a doughnut!
Why do they serve jam doughnuts at the MCG?
Aside from being delicious, Melbourne's hot jam-doughnut obsession started with the friendly, yet open rivalry between Melbourne's most iconic doughnuts shops, 'Dandee Donuts' and 'American Doughnut Kitchen'. This rivalry began in the '60s with the inception of the two rival doughnut shops, who have since travelled out to any major event in Melbourne for the past 60 years to spruik their baked goods – and the MCG is no exception. As such, hot-jam-doughnut vans at the MCG on game day now seem as natural as mountains.