49 Best Bars in Melbourne
Melbourne bars have a lot to offer, from world-class cocktails to the industry-leading ambience, so it's little wonder why people are clambering to hit the town. In fact, the mix of inexpensive drinks and food has made the city a global mecca for tourists and locals alike.
So, whether you're looking for a new hangout spot or some cool places to drink, the best bars in Melbourne more than have you covered. Here is a list of the best bars Melbourne has to offer.
You'll also like:
9 Best Steak Restaurants in Melbourne
9 Best Late Night Eats in Melbourne
34 Best Rooftop Bars in Melbourne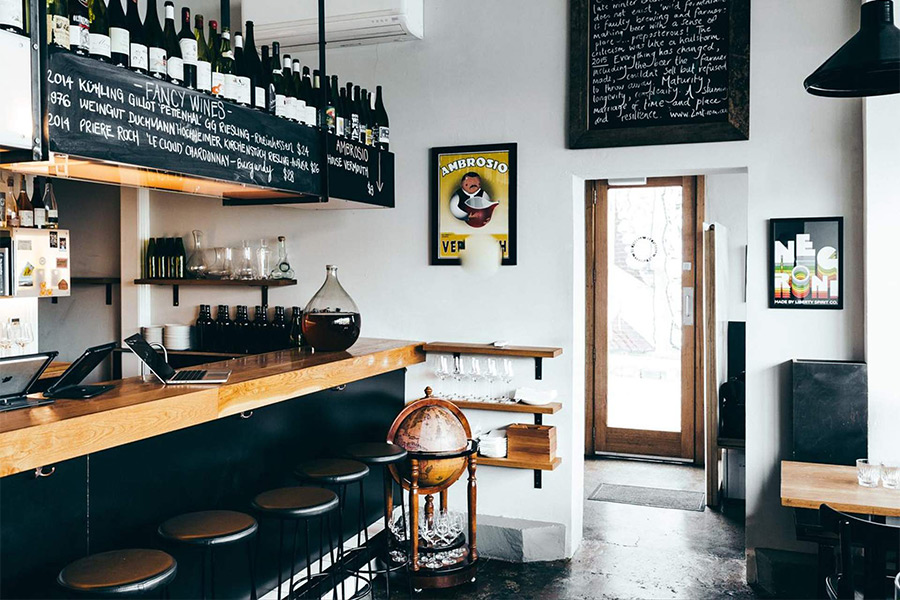 1. Bar Liberty
Bar liberty is known as a triple threat, it's got wine, cocktails and food, which is something you don't see in many cocktail bars in Melbourne. The menu is divided into snacks and bigger sharing plates and changes all the time. The cocktails are bottled for consistency and are not classic ones you'd expect. The "Happy F*cking Valentines", for example, uses Lillet Rose, strawberry, chocolate mint and sparkling wine, while the "Millions of Peaches" is made with bourbon, burnt peach and thyme.
Address: 234 Johnston Street Fitzroy 3065
Phone: (03) 9415 9025
Hours: Mon-Sat 5 pm- 11 pm, Sun 12 pm -9 pm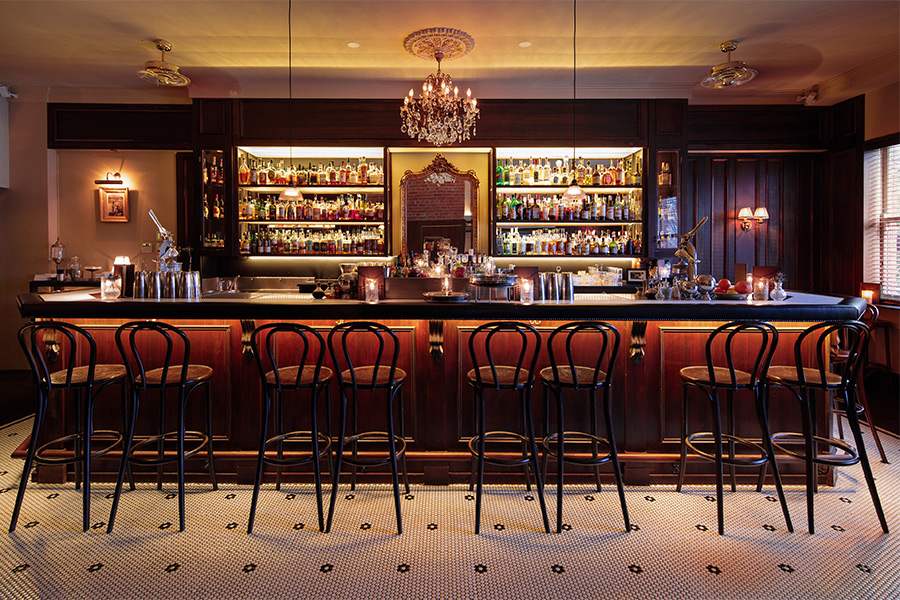 2. The Everleigh
Inspired by the Golden Era of fine drinking, The Everleigh brings an intimate cocktail bar experience to Melbourne. From classic drinks to new combinations, the ever-changing menu at The Everleigh allows us to tailor your drink to your individual tastes and desires. The Everleigh also boasts one of the largest classic cocktail book selections in the world, displayed within our in-house library, allowing us to offer a broad selection of drinks in various styles. Easily one of the best bars Melbourne has to offer.
Address: 150-156 Gertrude Street Fitzroy, VIC, Australia, 3065
Phone: 03 9416 2229
Hours: Mon-Sun 5 pm- 1 am Closed. However, people can order cocktails for delivery or takeaway via the website (within a 6km radius of The Everleigh)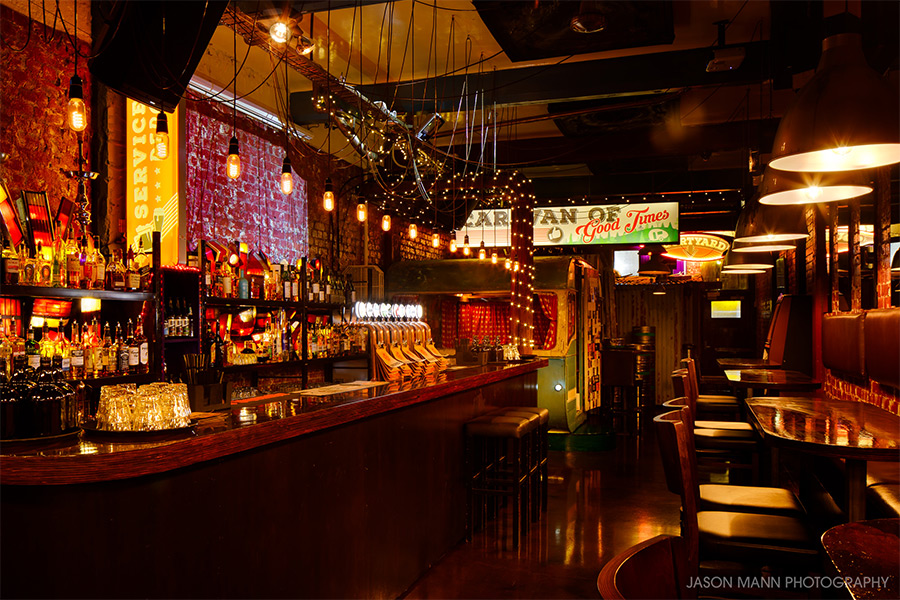 3. The Shady Lady
This self-proclaimed vegan-friendly, dog-friendly, LGBTI-welcome Melbourne dive bar with a glam décor, is a must-visit. Drinks are fun with frozen cocktails all year round and Margaritas come frozen too. There is also a stable of interesting, local craft brews from Colonial, Bodriggy, Stomping Ground and Young Henrys and a well-stocked back bar that means bartenders can mix up any classic you desire. And with a good selection of snacks and foods what not to love.
Address: 36 Johnston Street Fitzroy 3065
Phone: 0431 013 526
Hours: Mon-Sat 4 pm- 1 am, Tue- Wen Closed, Sun 4 pm-11 pm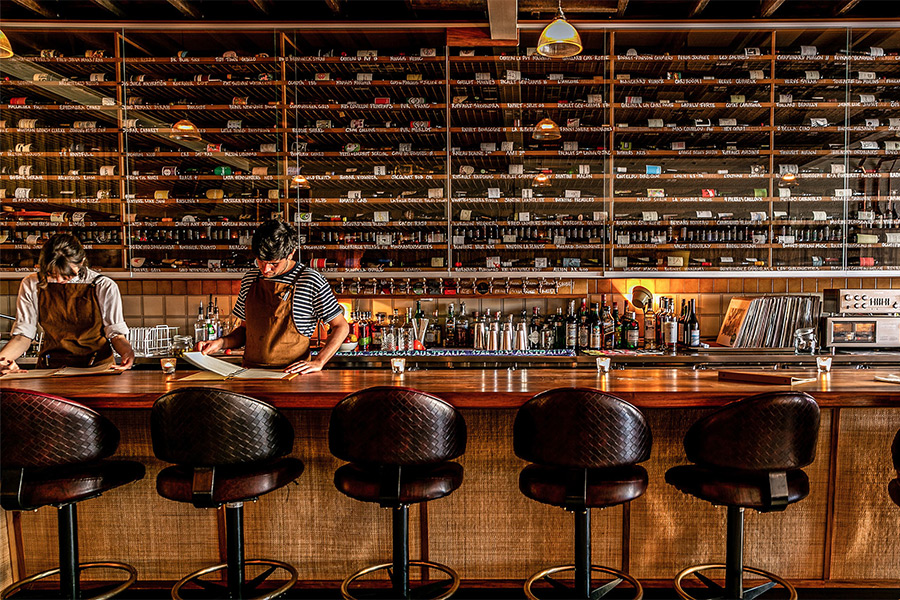 4. Old Palm Liquor
This Melbourne bar has a bit of a '70s vibe from the heavy use of timber and brown-beige hues, making it feel warm and cozy. Old Palm Liquor serves over 300 low-intervention and biodynamic wines alongside 12 tap beers, with a South African inspired menu cooked over coals. Each wine offered here is coded with its farming practices and processes, it even shows which reds are served chilled.
Address: 133b Lygon Street Brunswick East 3057
Phone: (03) 9380 2132
Hours: Tue-Sun 12 pm -12 am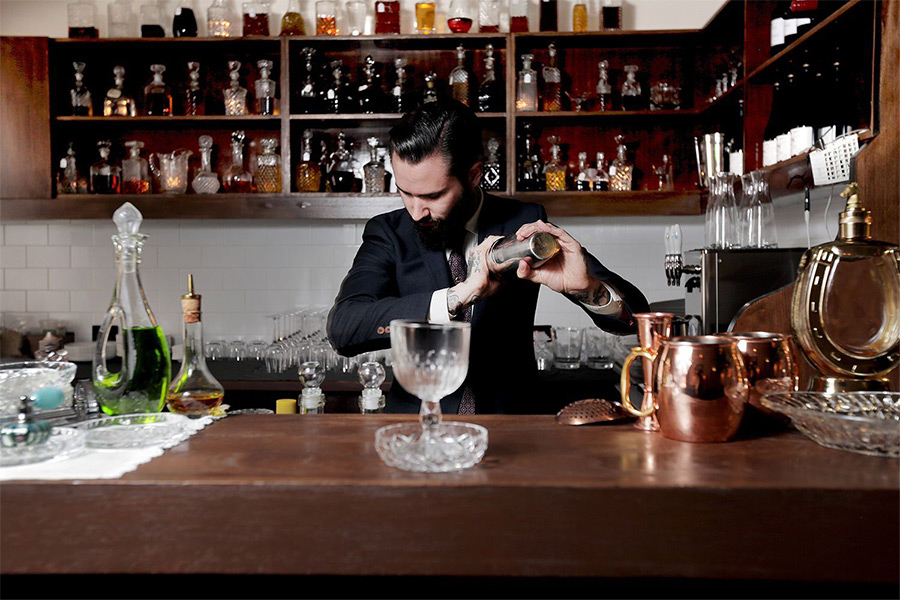 5. Romeo Lane
With a colourful historic past, this old-world style cocktail bar serves a handful of local and European wines. As well as traditional European-style cocktails, with tones of sherry, gin and top-shelf cognac. With a snack list to match the worldly charm, featuring a collection of charcuterie, perhaps saucisson teamed with mustard and parsley. Well-respected cheese is also on offer, often French, that might be accompanied by mandarin or pear. Romeo lane is definitely one Melbourne cocktail bar you should try.
Address: 1A Crossley St, Melbourne VIC 3000
Phone: 0457 673 647
Hours: Mon-Wed 5 pm- 12 am, Thu 5 pm-1 am, Fri-Sat 3 pm-1 am, Sun 5 pm-11 pm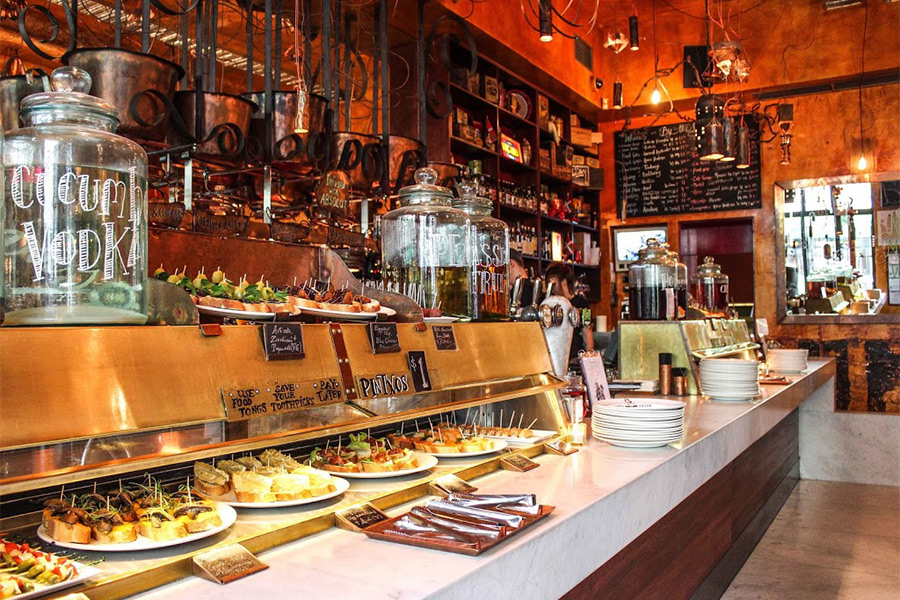 6. Naked for Satan
The Melbourne bar is renowned for its vodka and pintxos offering, as well as having over a dozen beers on tap, a large range of imported and in-house vodka and a variety of Australian and Spanish wines. The Spanish influence also continues in its food, with empanadas and tinned seafood on offer. Oysters for $2.20 a pop, seasoned with lemon, cava jelly, finger lime or a kimchi vinaigrette, what's not to love? For the meat lovers, there are sliders with slow-cooked beef cheek, plus a fried chicken edition and one with mushroom and halloumi.
Address: 285 Brunswick Street Fitzroy
Phone: (03) 9416 2238
Hours: Mon – Thurs: 12pm – 12am, Fri – Sat: 12pm – 1am, Sun: 12pm – 12am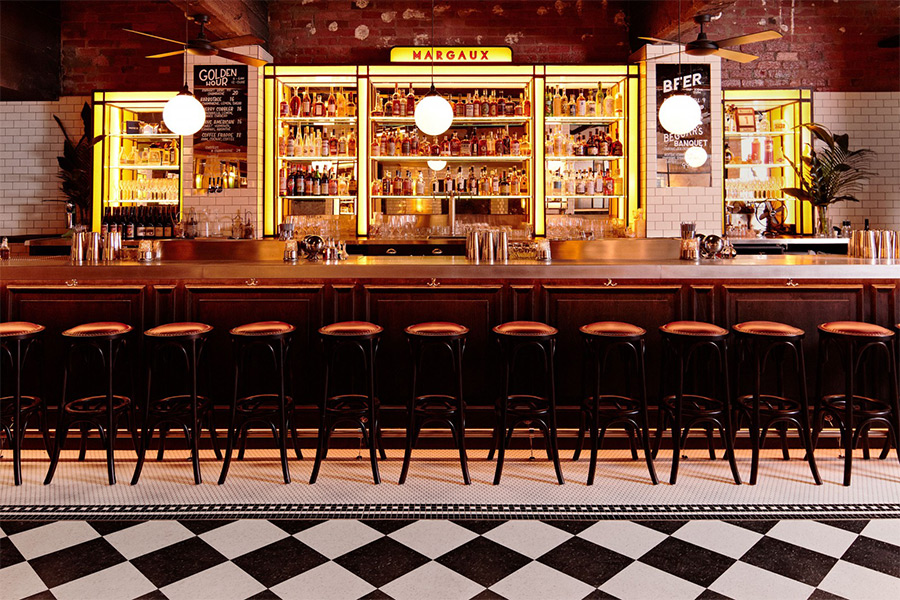 7. Bar Margaux
The menu at this Melbourne bar is a roll call of classics, offering the kind of French bistro dishes such as French onion soup or credible steak frites or such a ridiculously rich lobster croque monsieur. French desserts are also available for those with a sweet tooth. Cocktails are made with the precision, featuring all the classics like Martinis and Manhattans as well as "snack-sized" three-gulp cocktails. With a nice beer and wine list featuring a good mix of French drops and locally made French varietals, there's something for everyone.
Address: Basement 111 Lonsdale Street Melbourne 3000
Phone: 03 9650 0088
Hours: Thu-Sat 5 pm – 11 pm (book on their website)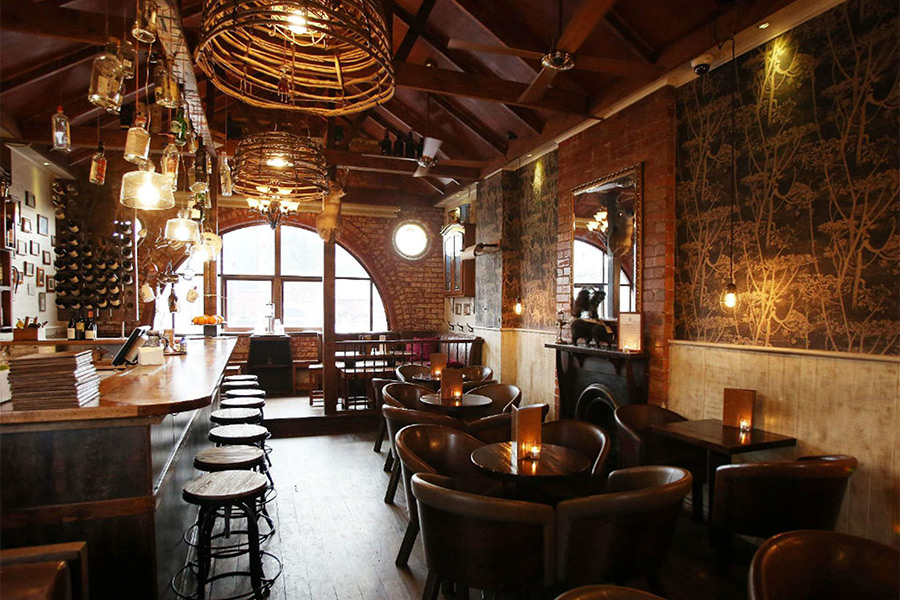 8. Black Pearl
The menu at this Melbourne bar reveals a serious selection of drinks, divided into categories to better help you find the exact tipple to get you on your way. The drinks are in-house creations, using a carefully mapped-out selection of spirits to ensure the back bar isn't overloaded. There are also bar snacks until 10 pm, including sausage rolls.
Address: 304 Brunswick Street Fitzroy 3065
Phone: (03) 9417 0455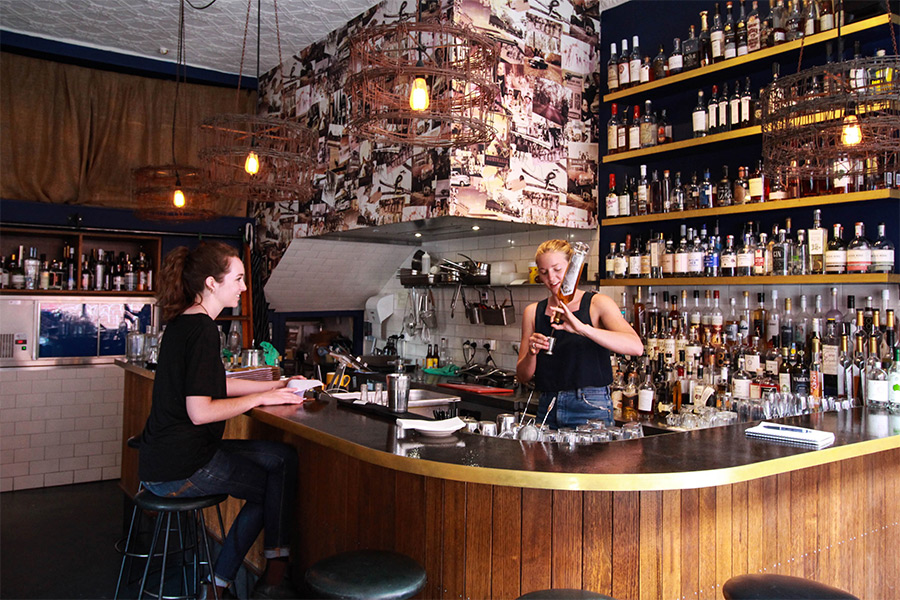 9. Bad Frankie
As one of the best cocktail bars Melbourne has to offer, Bad Frankie should be your go-to for late-night special. This true-blue Aussie bar creates smart spirits utilising native ingredients. This can be seen at play in the Bitters of Oz, a super-Negroni built off Four Pillars Negroni spiced gin, Regal Rogue's Bold Red vermouth and a blend of six different local Amari which produces a rich and complex flavour profile. It also comes garnished with a gum tree leaf to avoid any confusion as to the provenance of these ingredients. The Choc Rye Manhattan; a blend of Archie Rose malted rye whisky stirred down with AHD rosso vermouth and punctuated with cacao and macadamia bitters. Every bottle has a specific purpose, has been chosen for a reason and can be showcased in reinvented classics as well as on their own. Classic Toasties are also available. This is definitely one cocktail bar you should visit.
Address: 141 Greeves St, Fitzroy VIC 3065
Phone: (03) 9078 3866
Hours: Monday Closed, Sun-Wed 5 pm–11 pm, Thu-Sat 5 pm–1 am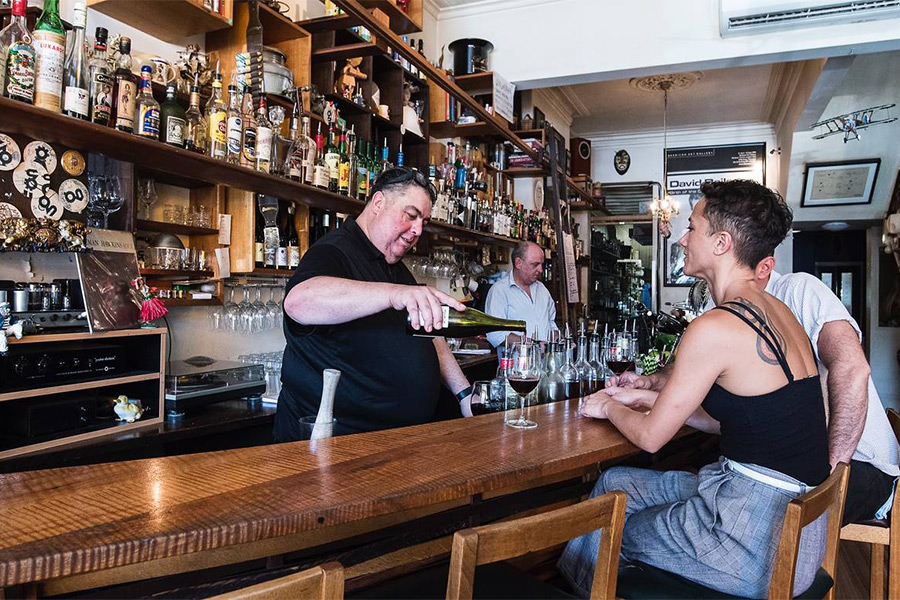 10. Gerald's Bar
The wine list at this Melbourne bar is a massive 200 bottles long, with a few bins ends, but the staff are helpful enough to decipher it for you. There are classic bottles from around the world sitting among the new, crazy, skin-contact wines. Spirits are aplenty and they can mix you up a tonic for what ails you, but don't expect any tricky bartending. Beers are quenchers, so there are no obscure craft brews that require chewing. The kitchen cooks what it feels like with daily changes, meaning one day you could be gnawing on barbecue pork ribs, and the next, cutting into a duck and pistachio terrine. The staples are smallgoods sliced to order, a variety of ever-changing cheeses or piles of white pickled anchovies.
Address: 386 Rathdowne St, Carlton North VIC 3054
Phone: (03) 9349 4748
Hours: Mon-Wed & Sat-Sun 5 pm-11 pm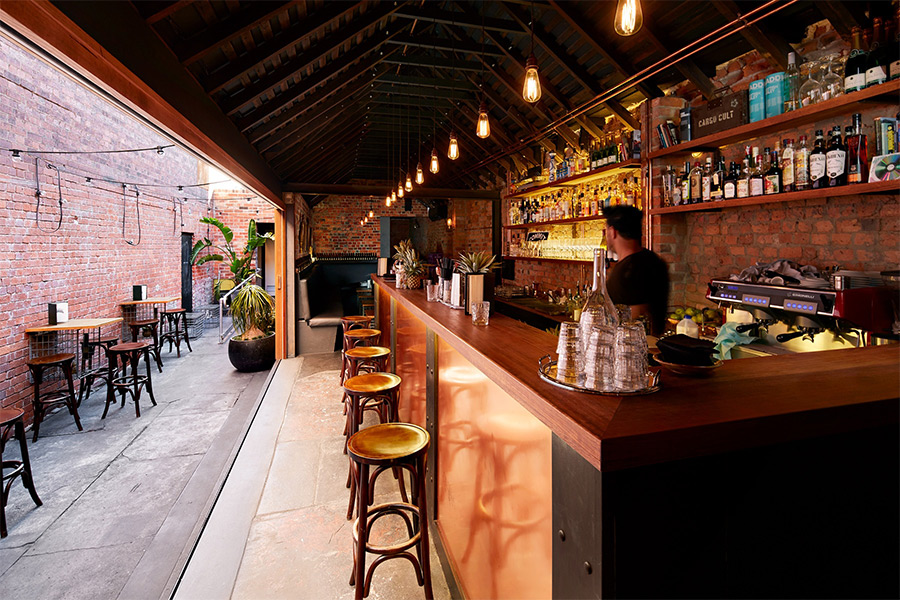 11. Union Electric Bar
The Union Electric Bar uses fresh produce each day pressing, juicing and infusing all manner of fruits, herbs and botanicals into drinks. They give an extra kick to cheeky tiki cocktails and quenching highballs, like the light-and-bright Kum Den Botanica, in which gin, apple, lime, cucumber, elderflower and micro herbs taste plausibly healthy, though on sticky days it's difficult to beat the quench of rum or whisky simply served tall over fresh apple juice. The Melbourne bar is also known for dishing up some pan-Asian food.
Address: 13 Heffernan Ln, Melbourne VIC 3000
Phone: 0450 186 466
Hours: Mon – Fri: 5pm – 11pm, Sat – Sun: 12pm – 11pm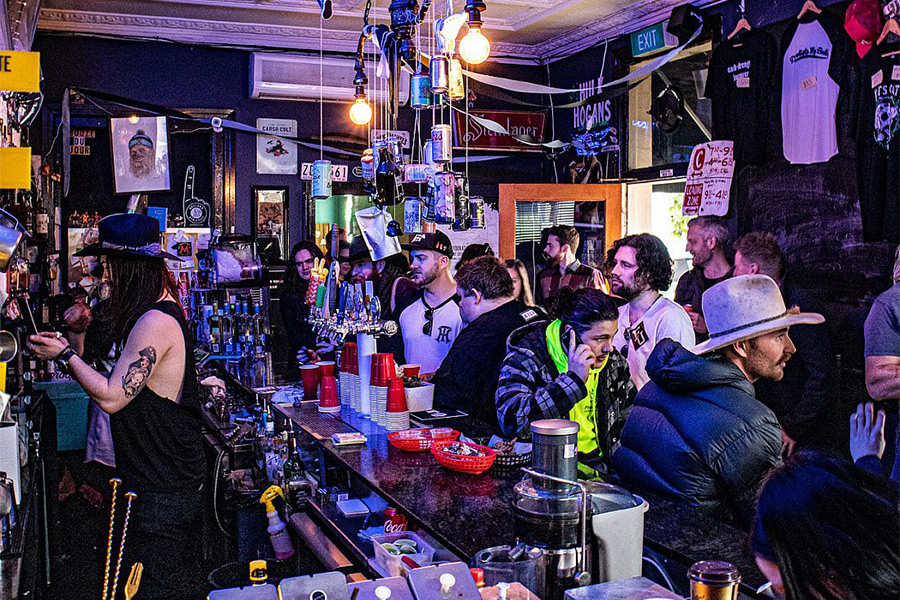 12. Hats and Tatts
The fried chicken is brined for three days in salty buttermilk; the Faux Boy PO boy uses oyster mushrooms instead of oysters, and the Rueben Sandwich has been consolidated into Rueben croquettes. There really is something for everyone. At Hats and Tatts, they also make cocktails on draught, using micro-distilling equipment, a nitro kit and Co2. The carbonating equipment makes a crazy fizzy negroni. There are also Espresso Martinis on tap.
Address: 78 Cecil St, South Melbourne VIC 3205
Hours: Wed-Sat 4 pm – 1 am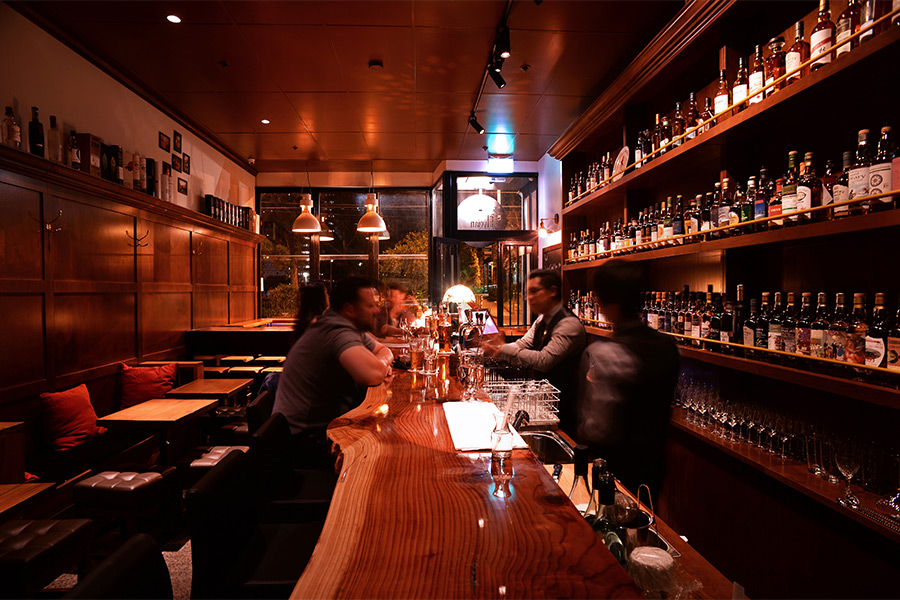 13. The Elysian
This specialty bar in Melbourne is modelled on the whisky bars of Japan. It's known for its eclectic collection of a 350-strong back bar of rare and independently bottled whiskies, each hand-selected and for those who don't like whiskey, cocktails are also available. A highball featuring the green and grassy Suntory Hakushu Distiller's Reserve served over hand-cut ice, a dash of soda and whatever fruits or herbs take the day's fancy. Playful house creations include an espresso, Milo and condensed milk number spiked with Glenlivet Founder's Reserve Single Malt, and the evening-closer Pu-er There Pal, which hits you with big and boozy Rittenhouse Rye before rounding out with sweet, toasty notes from smoked tea syrup and herbal dry vermouth.
Address: 113 Brunswick St, Fitzroy VIC 3065
Phone: (03) 9417 7441
Hours: Tue-Sat: 4.30pm – 1am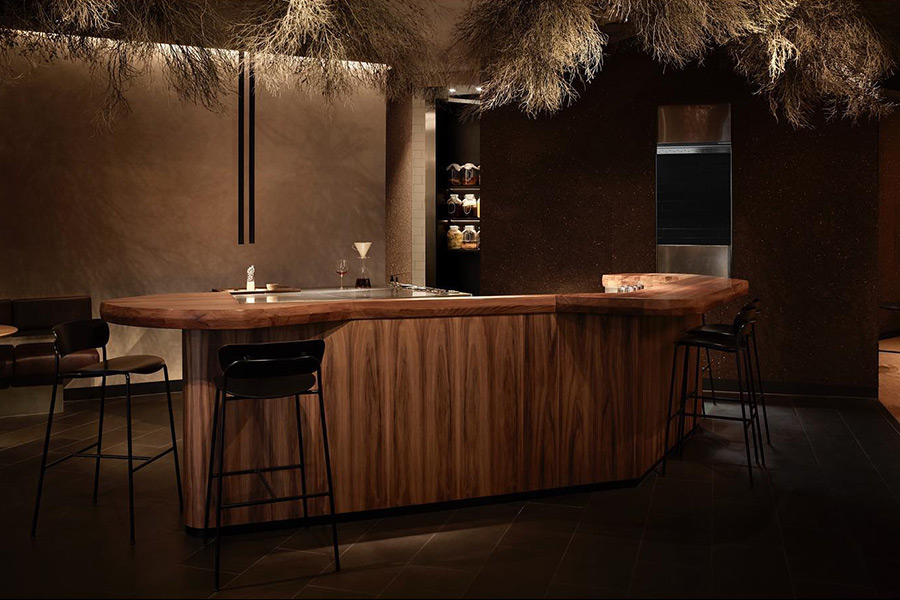 14. Byrdi
Cocktails are made with care and precision, with some components conceived months in advance; That's what you'll find at Byrdi. Made and served by a fleet of staff swaddled in crushed linen, are highly original and highly delicious in equal parts, plus a strong sense of seasonality. The Not Mezcal highball is a mix of fermented, smoked pear from the Yarra Valley topped up with Strangelove pear soda that has a sweet/savoury balance. There are in-house ferments available, made with ingredients like honey, apples, hibiscus and cabbage and a short, sharp page of snacks that are trying to follow the drinks' lead but still have a way to go in terms of execution and balance.
Address: Ella, Melbourne Central Corner Latrobe and Elizabeth Streets Melbourne 3000
Hours: Tues – Sat: 4pm – 1am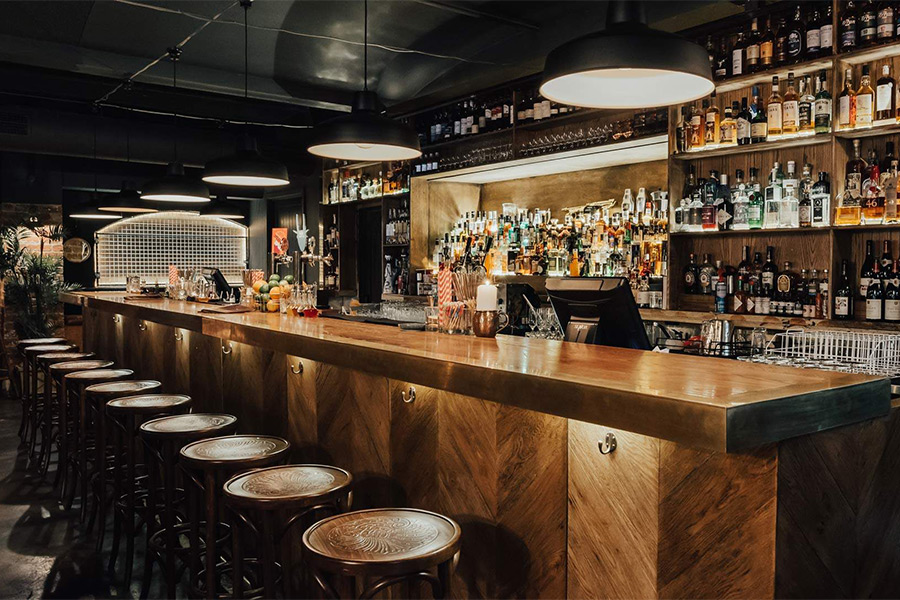 15. Beneath Driver Lane
Beneath Driver Lane is known for its extensive drinks menu, the bar stocks up to 160 whiskies and more than 70 rums plus more. Martinis made with liquid nitrogen, and a signature cocktail called Catalyst Fire made using the smoke of palo santo wood are on the menu at this unique Melbourne bar. And theirs also a private tasting cellar for those who love of top-shelf wine and whisky. The food menu includes oysters, charcuterie and cheese as well as a short-order selection of rich bar snacks such as a dish of smoked octopus, chorizo, black garlic aioli and pickled chilli.
Address: Basement/3 Driver Ln, Melbourne VIC 3000
Hours: Mon – Thurs: 4pm – 3am, Fri: 1pm – 3am, Sat – Sun: 4pm – 3am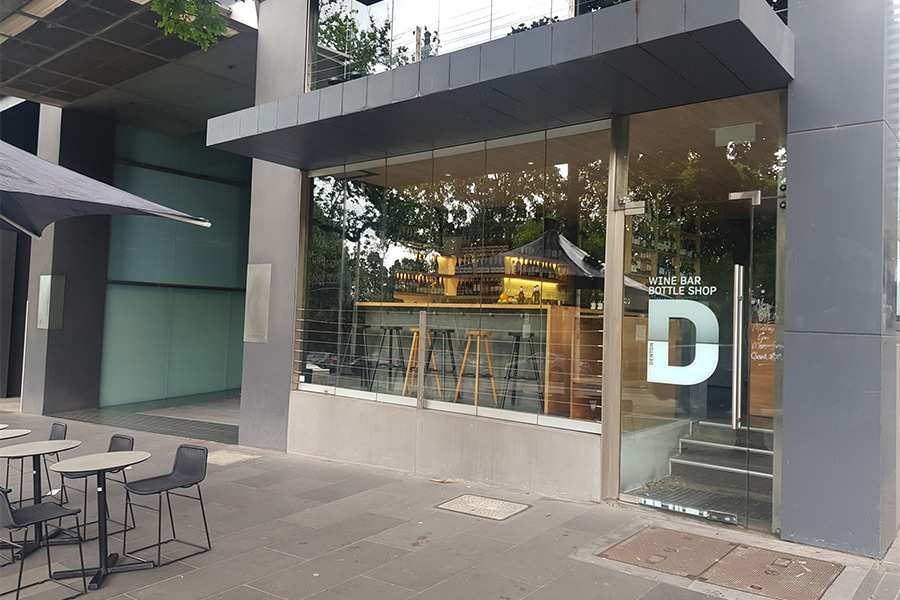 16. Denton Wine Bar
Owner John Denton owns a vineyard in the Yarra Valley, so you know the wine on offer here will be good. Offering his own Denton pinot, a chardonnay or some nebiollo rosè, as well as wine made by his mates – Mac Forbes, Dormilona, Jamsheed, Ravensworth – plus a few more extravagant bottles of Barolo. But wine isn't all that's on offer here. From Cured meat and cheeses, to a plate of Black Russian tomatoes, there's something for everyone.
Address: 1 Flinders Lane Melbourne 3000
Phone: (03) 9639 9500
Hours: Mon-Sat 12 pm – 8 pm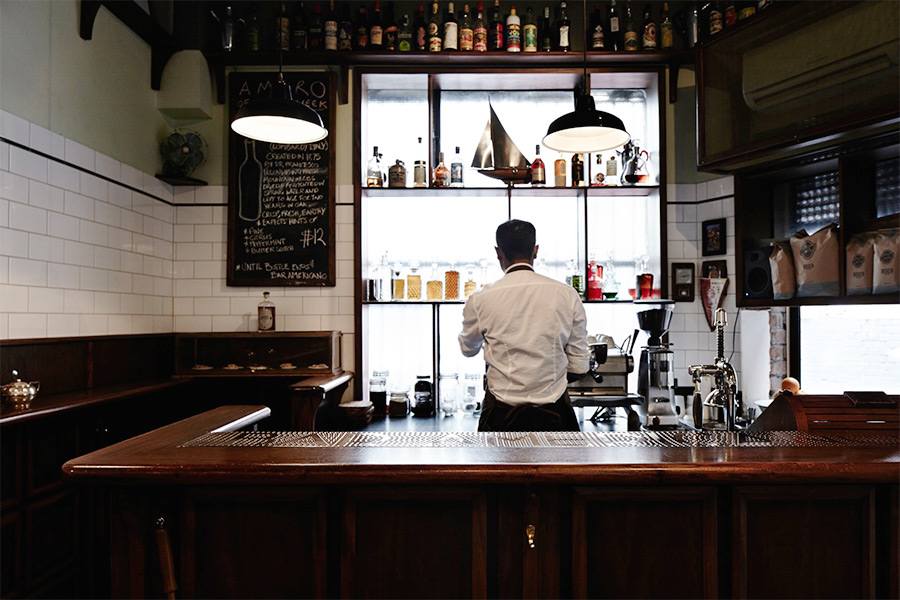 17. Bar Americano
This ten-person Melbourne cocktail bar is modelled after the iconic stand-up Italian cafés. Bar Americano exclusively makes the classics but also changes the cocktail list weekly according to season. An Americano, will always in some way be available, as is an aperitivo of the week. At the moment, it's the Pilloni Old Grifu gin from Sardinia, which has seen some age in a chestnut cask and is best enjoyed with soda so as not to mask the unique characteristics.
Address: 20 Presgrave Place Melbourne 3000
Hours: Tues – Thurs 4pm – 11pm, Fri – Sat: 3pm – 11pm
18. Eau De Vie
Eau De Vie was once a hidden bar, but know it's not so secret now. Serving some serious drinks with a bit of flair, the team chills down drinks with liquid nitrogen. A Rob Roy arrives under a glass dome, trapped with wood smoke that does indeed add another alluring dimension to the already complex combination of whisky, rum and vermouth. Martinis are referred to as Noble Experiments, offering up a range of vodkas, gins, bitters, rinses and garnishes as an adult pick 'n' mix for a truly customisable classic, served with liquid nitrogen to sustain the perfect drinking temperature. And if that not enough, the bar also boasts a copious variety of whiskeys from around the world. What's not to love.
Address: 1 Malthouse Lane Melbourne
Phone: (03) 8393 9367
Hours: Wed – Sat: 5pm – 1am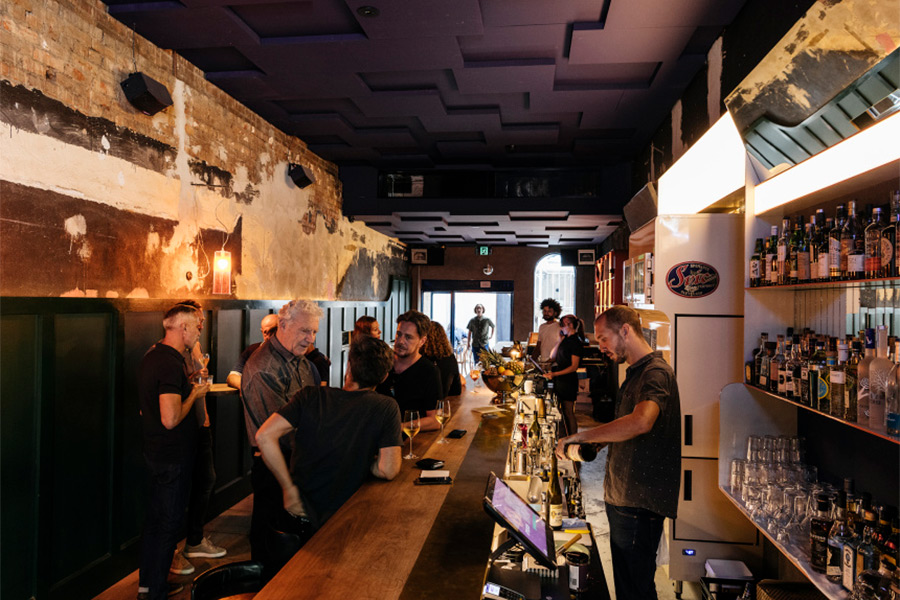 19. Angel Music Bar
It's hard to name what this place is, it's music orientated with live bands playing almost all the time but it also has some amazing drinks on offer. The bar snacks are cooked next door at Butchers Diner, the lasagne, a killer prawn cocktail, and mozzarella arancini are passed through a hatch in the wall. The wine list leans to the Italian side but there's always nice champagne and a local pinot available as well. For cocktails, there's a focus on the classics.
Address: 12 Bourke Street Melbourne 3000
Phone: (03) 9654 6249
Hours: Sun-Tue Closed, Wen 4 pm- 5 am, Thu-Sat 4 pm-5 am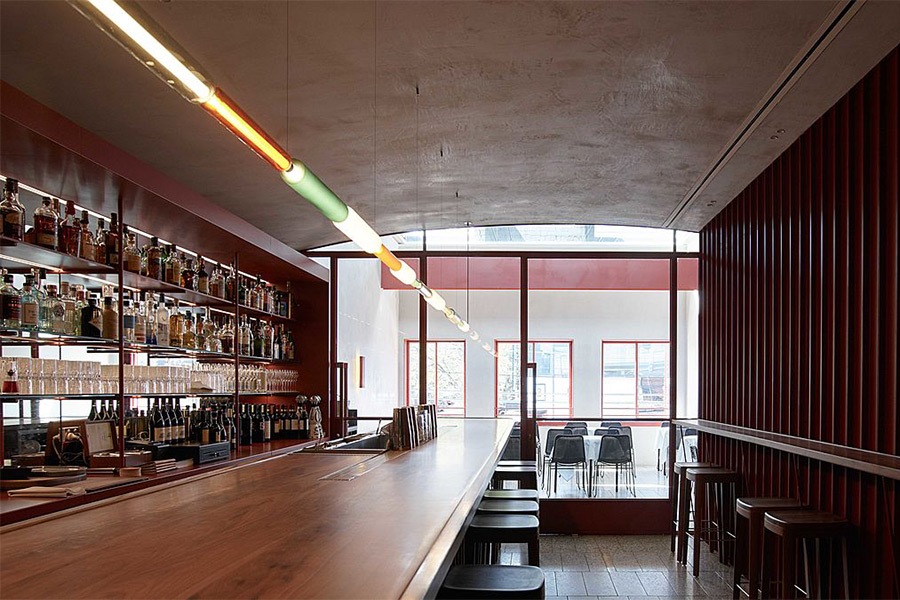 20. Tetto Di Carolina
Tetto Di Carolina is a European style cocktail bar, complete with a six-metre bar is made from walnut and handmade walnut stools with white terrazzo tiles underfoot. The food is traditional Italian with a few unusual riffs. There's even a homage to the KFC Zinger Burger, a brioche bun filled with is buttermilk-brined fried chicken, pickles, fennel coleslaw and a lip-tingling spike of chilli.
Address: 48 Toorak Rd, South Yarra VIC 3141
Phone: (03) 9867 7954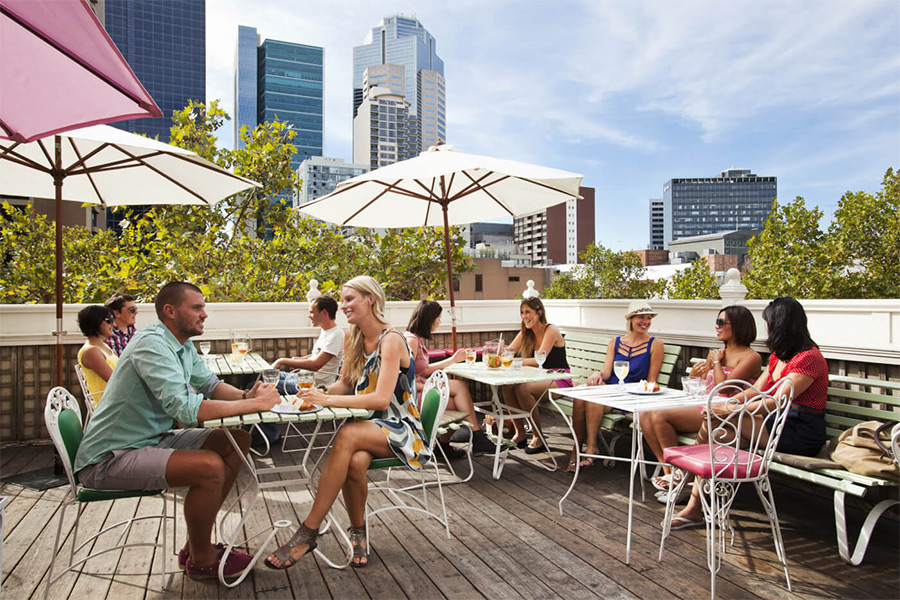 21. Madame Brussels
The tongue-in-cheek drinks list doesn't skimp on the double entendre, with plenty of mention of jugs, balls and oral pleasure. Share a jug of the Madame's Fruity Double D Cups, which switches Maidenii vermouth in place of Pimms for a twist on the classic punch. House specialties of Pimm's, punch, rosé, and creamy cupcakes, sausage rolls, chicken sandwiches and raspberry cupcakes. If that's not enough, Madame's snack menu is complete with her famous poached chicken, chive and mayo toasted sandwiches served with lemon wedges, or the smooth chocolate fondue of French 70 per cent cocoa pearls.
Address: 3/59 Bourke St, Melbourne VIC 3000
Phone: (03) 9662 2775
Hours: Mon – Sun: 12pm – 1am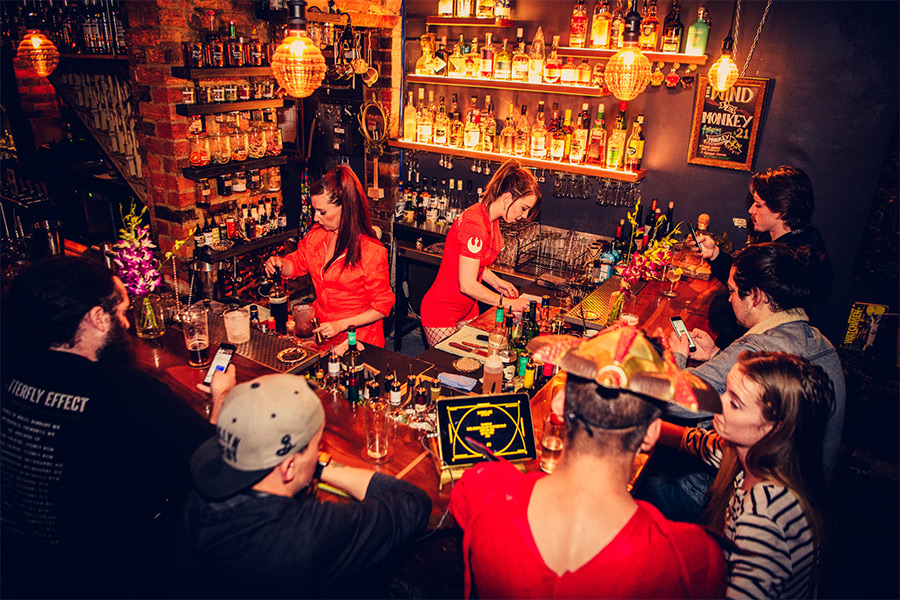 22. Ends and Means
Ends and Means is a low-waste and sustainable cocktail bar, and true to its word, it produces less than one bag of landfill a day. They use rescued materials for the bar, creating plywood coasters, upcycling glass bottles and even rigging its ice machine so the water melted is used on the courtyard plants. But sustainability doesn't stop there, they also update the cocktail list to use seasonal ingredients every week, they only pour beers from tap and they even make all their mixers and syrups in-house as well as stocking sustainable spirits.
Address: 79 Gertrude St, Fitzroy VIC 3065
Phone: (03) 9048 0514
Hours: Thur-Sat 4pm – 1am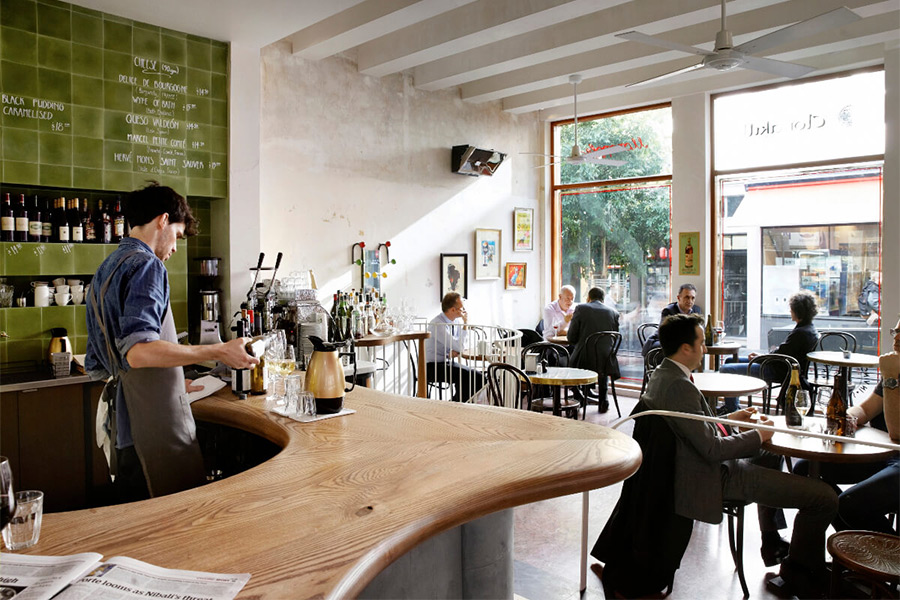 23. Kirk's Wine Bar
Kirk's Wine Bar effortlessly showcases the balance between new-world charm and old-world sophistication in its Melbourne wine bar. The wine list is large and full of character, with the old-world staples like Radikon wines and local innovators like Memento Mori wines.  Kirk's Wine Bar also has an amazing food menu, whether it's for breakfast, post-work drink or even something a little more filling. This place has it all.
Address: 46 Hardware Ln, Melbourne VIC 3000
Phone: (03) 9600 4550
Hours: Tues – Sat: 12pm – 10pm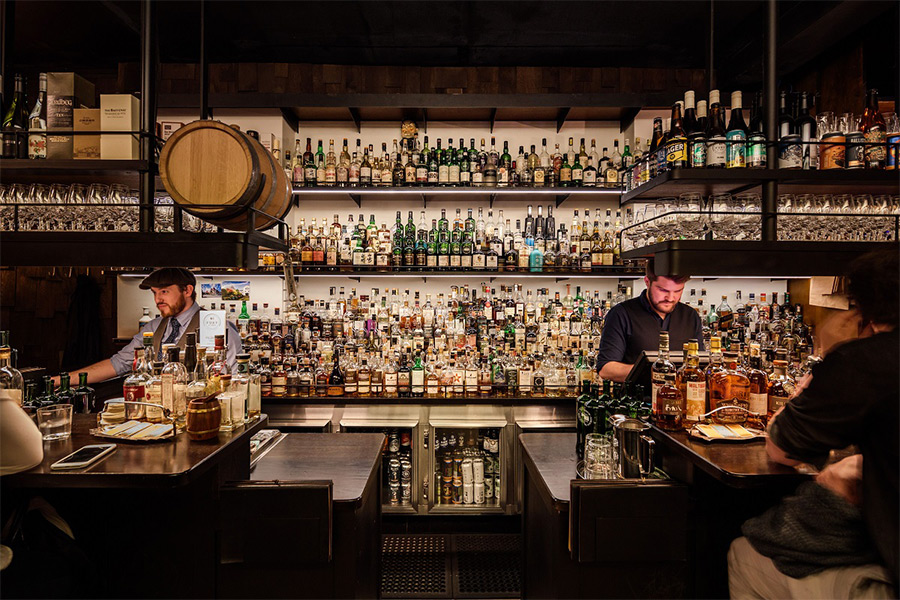 24. Whisky & Alement
Whisky and Alement is a Melbourne whisky bar that offers not only a great whisky list but the knowledge to go with it. The bar has access to a broad range of rare and hard-to-come-by whisky, which also includes a secret batch in their rotating barrel directly from the Scotch Malt Whisky society. They also provide a monthly tasting session that attracts international ambassadors and top distillers. Here you're not only treated to some of the best Whisky from around the globe but it's presented to you a classic atmosphere.
Address: 270 Russell St, Melbourne VIC 3000
Phone: (03) 9654 1284
Hours: Thurs – Sun: 4pm – 11pm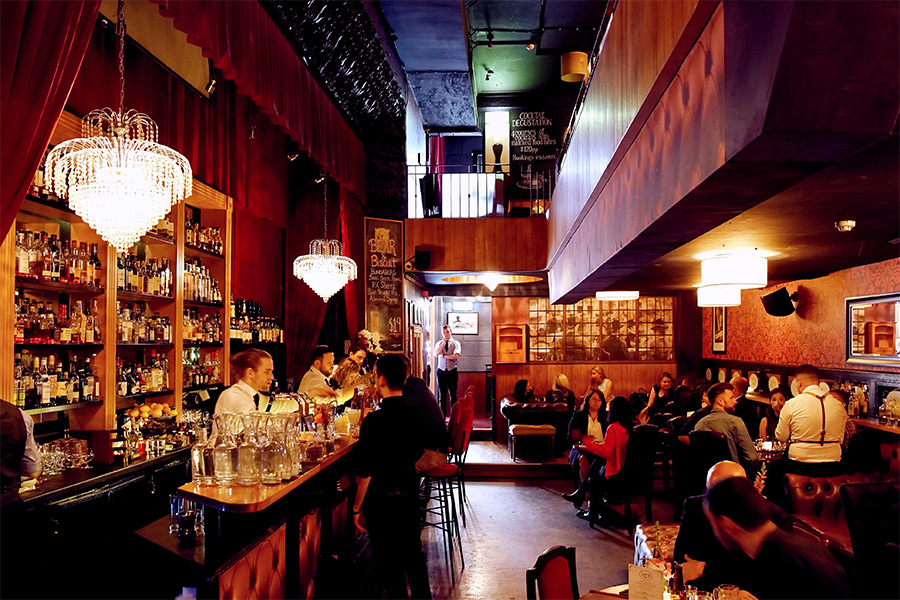 25. 1806
1806 is a swanky cocktail bar in the heart of the Melbourne CBD. The carefully constructed menu begins in the year 1806 when the word "cocktail" was first defined in print, with a classic mix to represent each decade since. Each entry is given context through a detailed history of where the drink comes from, who first mixed it, who first drank it and how it's evolved. It's a fun way to learn history while you drink.
Address: 169 Exhibition St, Melbourne VIC 3000
Phone: (03) 9663 7722
Hours: Thurs – Sat: 5pm – 11:55pm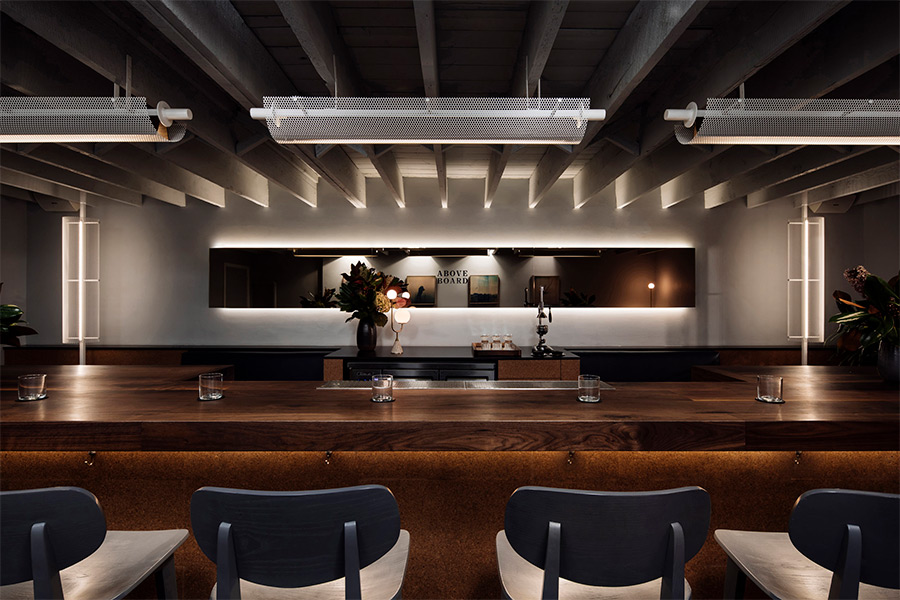 26. Above Board
Different to what you would have at your usual Melbourne cocktail bar, Above Board shakes it up. The only place to sit is at the big 12-seat island bar or the coveted pair of two-seater banquettes behind it. There are 25 or so cocktails on the menu, split into signatures and updated classics. The Big Four are here – Negroni, Old Fashioned, Manhattan and Martini. Owner Lambert decides which labels are best suited to the menu, decants them into elegant crystal bottles and conceals them in giant drawers behind the bar. Most of the time, you won't know which brand you're drinking.
Address: Level 1 306 Smith Street Collingwood 3066
Hours: Mon – Sun: 5pm – 1am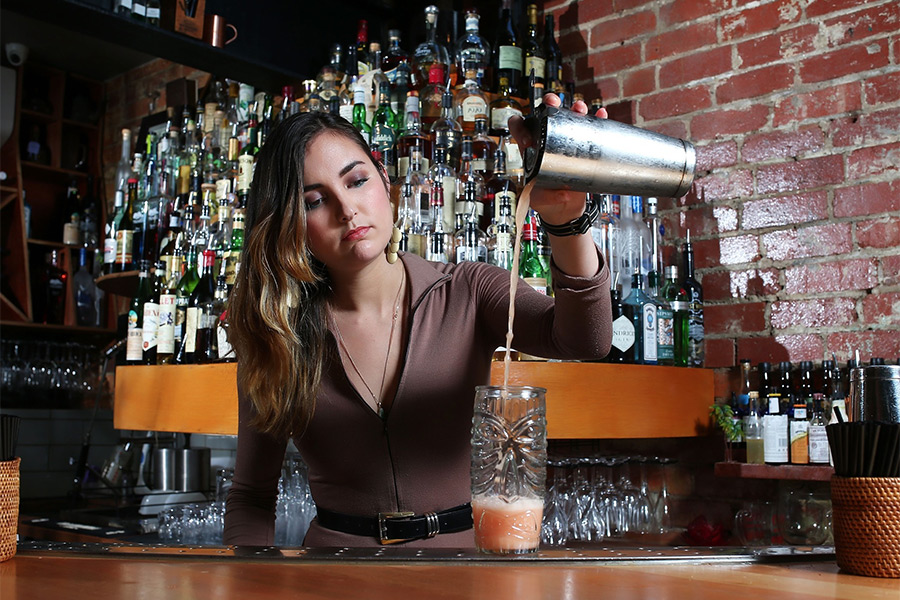 27. Jungle Boy
Behind the coolroom door of Boston Sub, you'll discover a secret entrance into a hidden cocktail bar, Jungle Boy. With its dim lighting, many hanging plants and snarling animal heads on the walls. But that's not all, drinks are served in tiki mugs. Drink a Hemingway Spritz cocktail, this long, cool, love child of grapefruit and maraschino Daiquiri and Italy's beloved afternoon refresher served in a tiki head, or why not go for something brighter and with a bit of a punch, like the B Bizzle Swizzle?
Address: 96 Chapel St, Windsor VIC 3181
Phone: (03) 9943 7653
Hours: Mon-Sun 5 pm – 1 am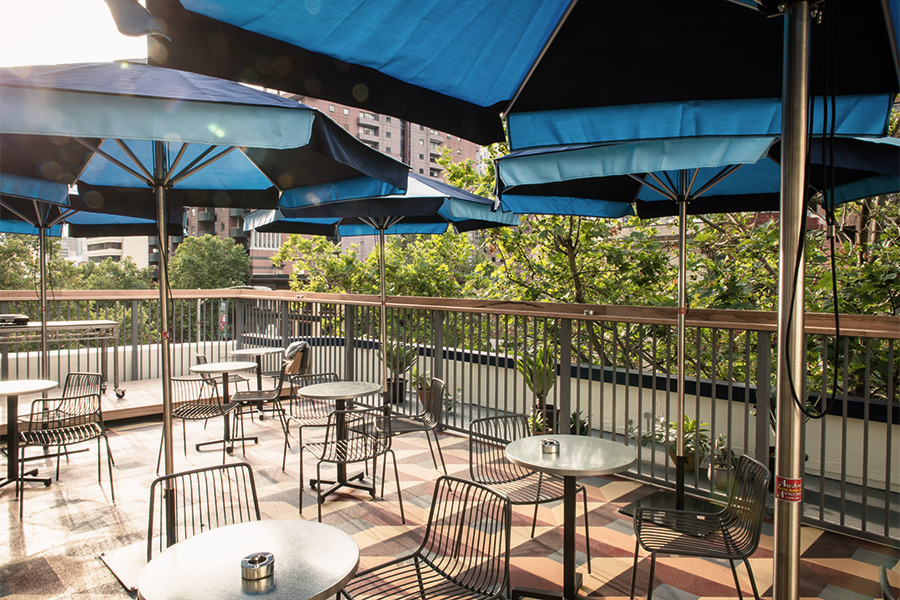 28. Good Heavens
Good Heavens is a Melbourne rooftop bar, where the focus is cocktails. The list is littered with old favourites such as a Harvey Wallbanger, Mai Tai and Pina Colada, but these aren't your normal cocktails they've been given an upgrade: the rum for the Pina Colada has been coconut-fat-washed, for example, and the downstairs smoker is used to smoke syrups. There is also an impressive list of beer by the bottle, with pilsners, sours and more from Australia but also New Zealand, the US and plenty from Europe.
Address: Level 2/79 Bourke St, Melbourne VIC 3000
Phone: 1300 274 753
Hours: Mon – Thurs: 5pm – 11pm, Fri: 5pm – 1am, Satu: 12pm – 1am, Sun: 12pm – 11pm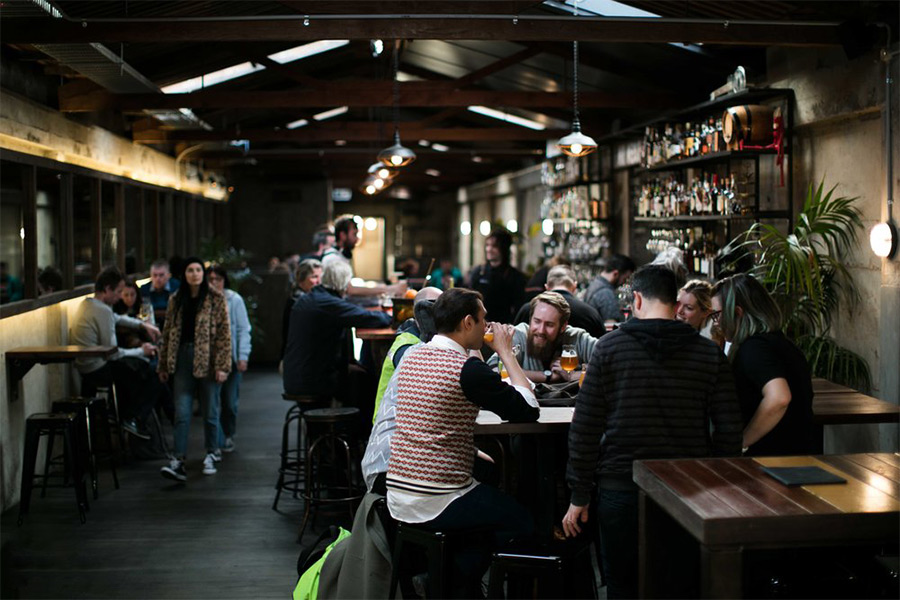 29. Mr West
This Melbourne bar offers 24 taps pouring wine, cocktails and a carefully curated selection of independent craft beer and cider from around the globe. The menu offers both Australian and international wines by the bottle and glass, as well as over 300 speciality spirits from the back bar plus a seasonal cocktail list.
Address: 106 Nicholson St, Footscray VIC 3011
Hours:  Mon – Tues: 12om – 9m, Wed – Thurs: 12pm – 12am, Fri – Sat: 12pm – 1am, Sun: 12pm – 12am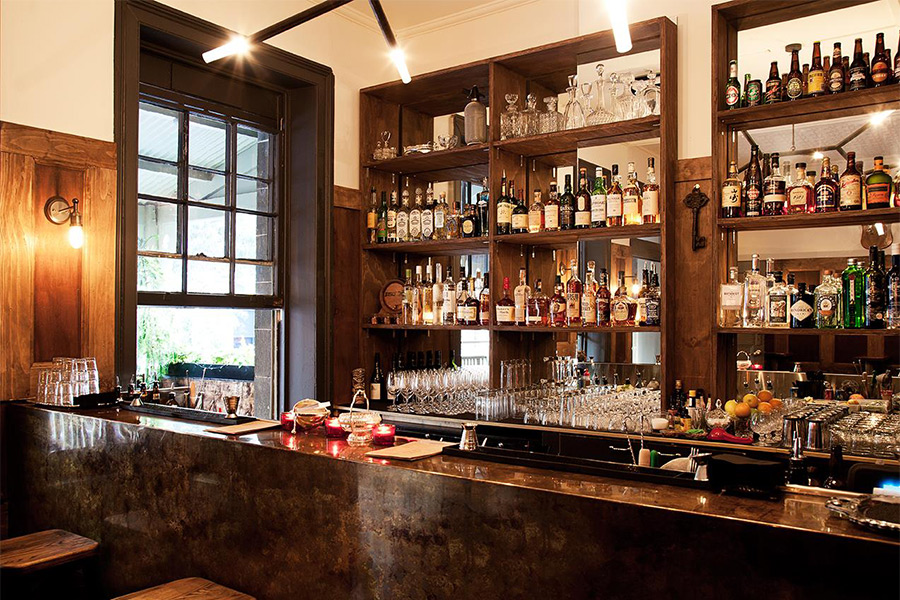 30. Loch and Key
Hidden up a rickety staircase, behind a bookcase in the Captain Melville venue, you'll find one of Melbourne's best bars. Loch and Key comes complete with a blackboard menu loaded with seasonal specials from a citrusy, smoky blend of mezcal to Solerno and blood orange juice. Food offerings are simple and delicious, with the signature pork belly slider brought from downstairs.
Address: 34 Franklin St, Melbourne VIC 3000
Phone: 0408 140 043
Hours: Mon: 5pm – 5am, Tues: 5pm – 7am. Wed – Thurs: 5pm – 5am, Fri: 4pm – 7am. Sat: 5am – 7am. Sun: 5pm – 5am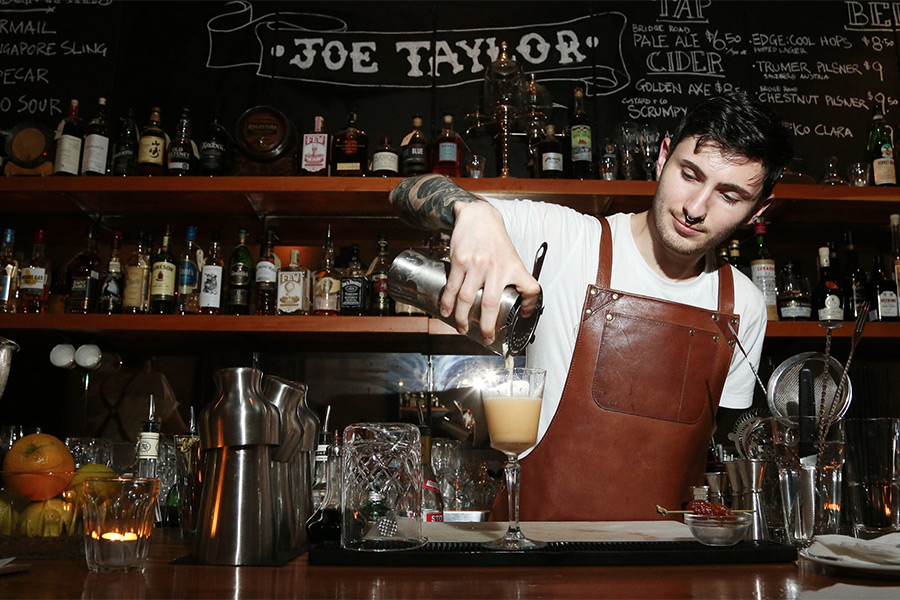 31. Joe Taylor
Joe Taylor is a North Melbourne Cocktail bar with a whole lote of atmosphere. The bar has a leather-bound menu that delivers seasonal, balanced cocktails, such as the strong yet smooth Quiet on the Orchard of applejack, fig bitters and chestnut liqueur, served over a hand-hewn cube of ice. There is also a specials board that changes weekly.
Address: 7 Errol Street North Melbourne, VIC 3051
Phone: (03) 9329 4669
Hours: Mon-Thu 5pm – 1am, Fri, Sat 3pm-1am, Sun 10am-11pm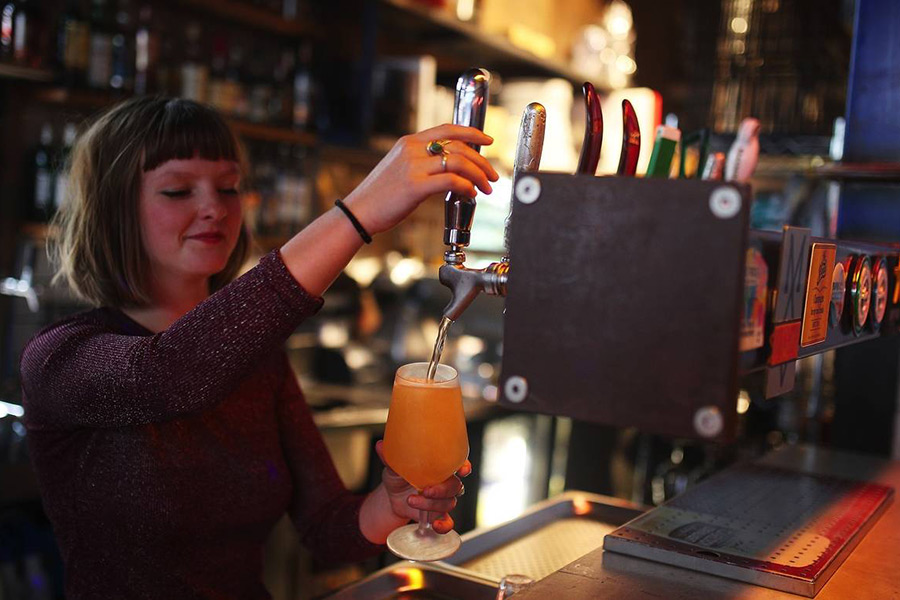 32. Wolf and Swill
The Melbourne bar Wolf and Swill are known for two things, Beer and Pizza. Enjoy a schooner of the craziest ale you can find and pair it with confit garlic, honey, buffalo mozzarella and rosemary pizza. With so much to chose from you'll be crazy not visit.
Address: 901 High St Thornbury Melbourne 3071
Phone: 0429 263 500
Hours: Mon-Thu – 5pm – 9pm, Fri-Sun – 4pm – 9pm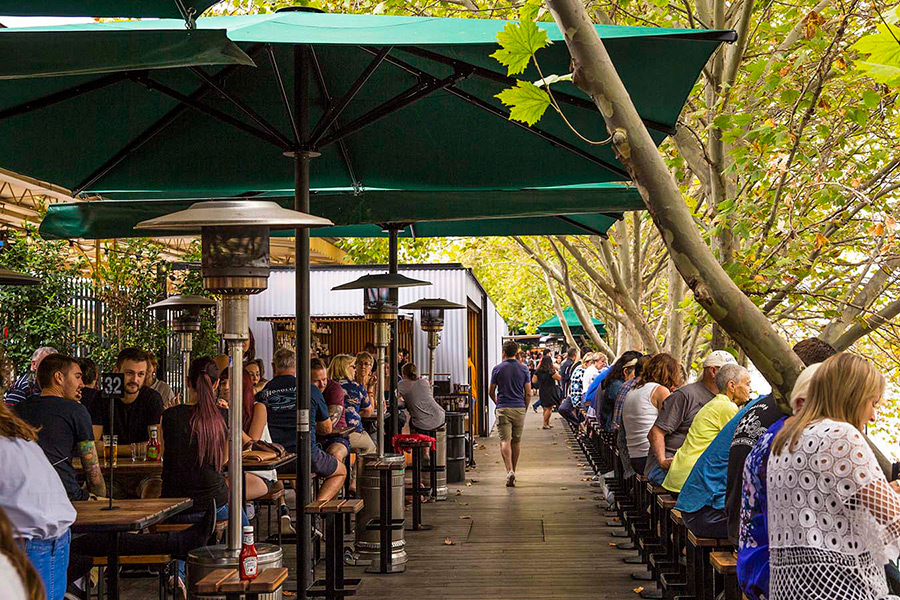 33. Arbory Bar and Eatery
Officially Melbourne's longest bar, the Arbory Bar and Eatery has something for everyone. Offering everything from breakfast until late night drinks, cocktails are a speciality. For those who like to eat breakfast, the menu includes coconut muesli and banana pancakes to corn fritters. They also offer double cheeseburgers, hot dogs and crumbed mushroom burgers.
Address: 1 Flinders Walk, Melbourne VIC 3000
Phone: (03) 9614 0023
Hours: Mon – Sun: 11:30am – 11pm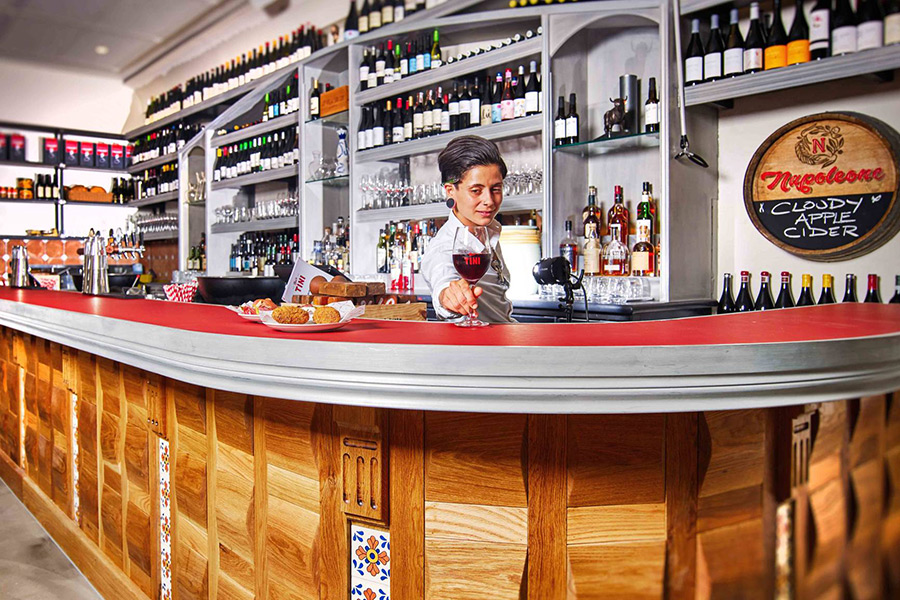 34. Bar Tini
Bar Tini is heavily influenced by Spain, take one look at the wine and food list and you'll notice. This Melbourne bar's menu is a laundry list of imported fine Spanish seafood including mackerel fillets by the gold-standard Royal Spanish Canning Company, white anchovies, cured anchovies, anchovies packed in salt as well as tuna belly, razor clams, baby garfish and mussels in escovitch.
Address: 3-5 Hosier Ln, Melbourne VIC 3000
Phone: (03) 9663 3038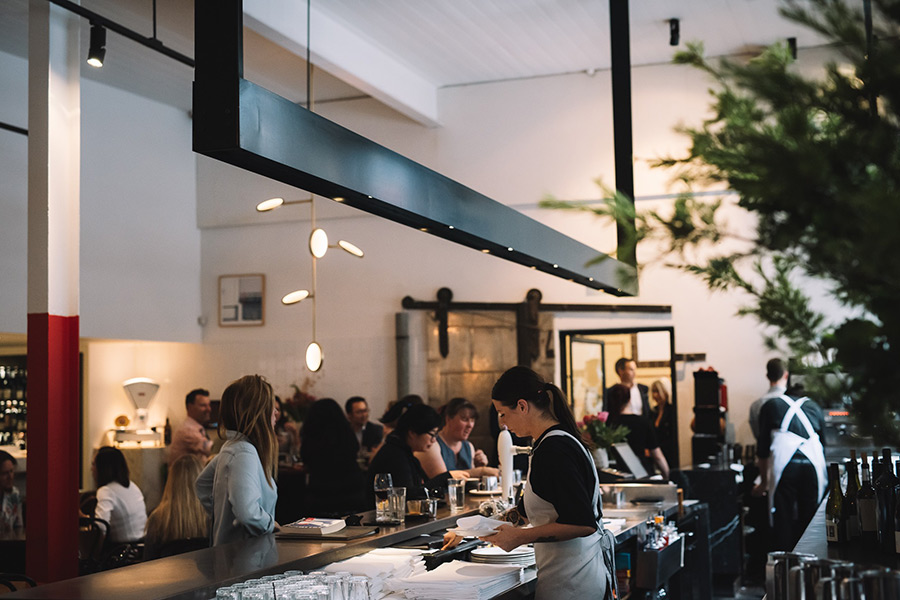 35. Cumulus Up Wine Bar
Cumulus Up is known for its vast wine collection and knowledgable staff, but it's also worth testing out the food. The duck waffle with foie gras is rightly a classic, but it's so rich you might want to split it between two. There's also a well thought out cheese menu, and a chef's selection option, which changes daily.
Address: F1/45 Flinders Ln, Melbourne VIC 3000
Phone: (03) 9654 9545
Hours: Tue-Thu 5 pm – 12 am, Fri-Sat 4 pm – 12 pm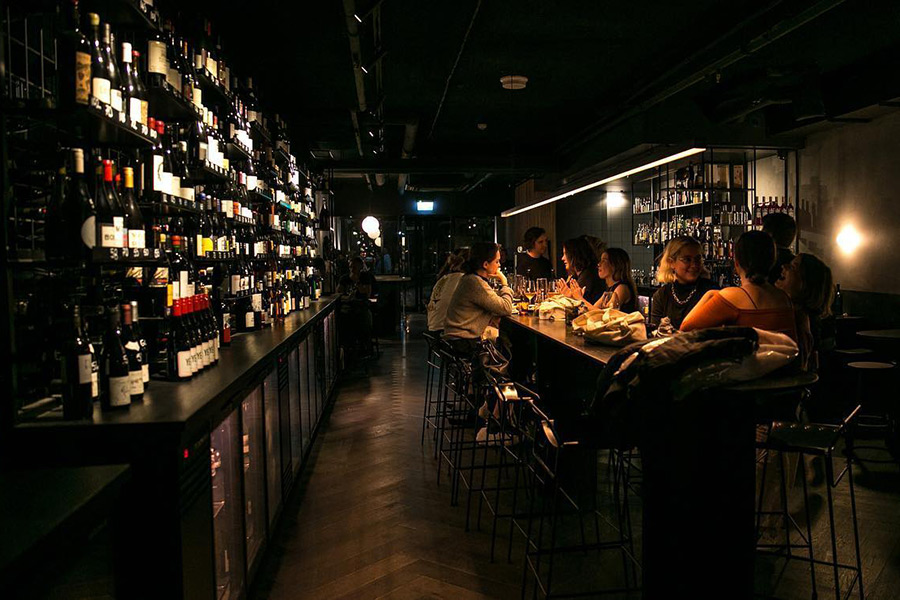 36. The Moon
The Moon is a well-known wine bar in Melbourne. The hotspot boasts around 400 wines to either take away or consume in-store as well as 20 rotating by-the-glass options that are thoughtfully curated. The wine here is selected based on the region and environment rather than the reputation or the winemaker, meaning you can take a quick trip around the globe, by the glass.
Address: 28A Stanley St, Collingwood VIC 3066
Phone: (03) 9089 0239
Hours: Mon – Thurs 3pm – 10pm, Fri – Sat: 1pm – 11pm, Sun: 1pm – 10pm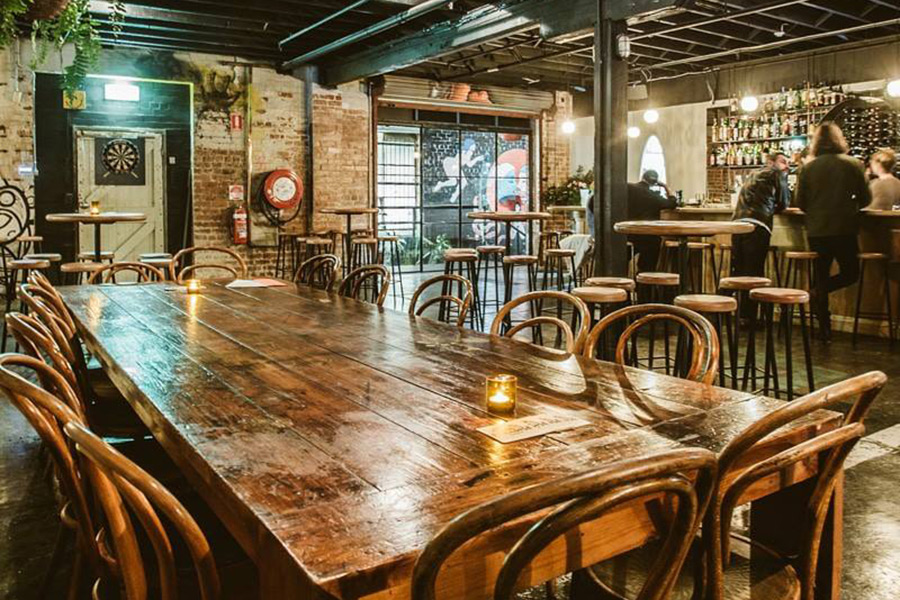 37. Paradise Alley
With nothing over $15 by the glass, Paradise Alley isn't just one of the best bars in Melbourne, it's also one of the most affordable. Enjoy a cocktail special or sit back and sip an ice-cold brew. Your call.
Address: Paradise Alley & Little Latin Lucy 25 Easey Street Collingwood 3066
Phone: (03) 9029 8484
Hours: Wed – Fri – 4pm – 1am, Sat 2pm – 1am, Sun 2pm – 11pm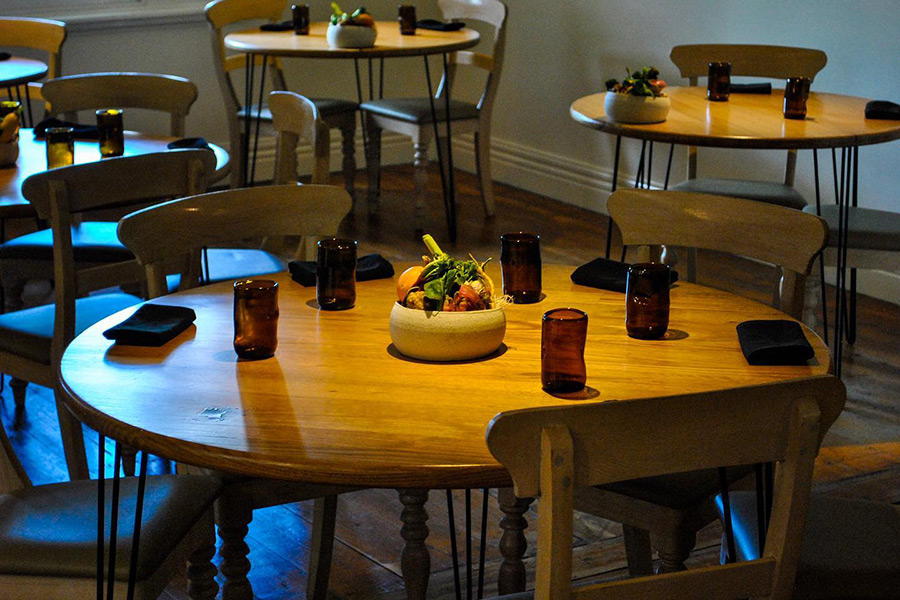 38. O.My Bar
Attached to the O.My restaurant is an intimate wine bar. Fitting only 20 people with communal bench seating, the venue overlooks the old post office. This Melbourne wine bar is fully stocked with everything from local drops from Gippsland and the Yarra Valley, there are also international bottles from a few selected small producers. While you try some amazing wines, why not pair it with some booze-friendly snacks on offer from the O.My restaurant. The resultant is known for its farm to table food as well as zero-waste philosophy.
Address: 19-21 Woods Street, Beaconsfield 3807
Phone: 9769 9000
Hours: Thurs – Fri: 6pm – 11pm, Sat – Sun: 12pm – 11pm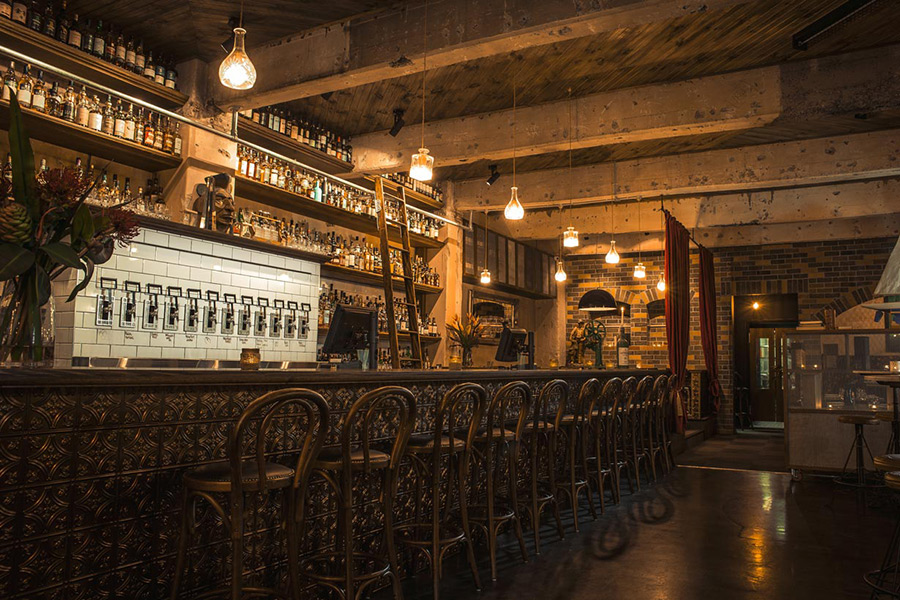 39. Boilermaker House
Boasting a library of 700 whisky offerings, the Boilermaker House is home to one of the largest collections of whisky in the city. Although it is known for Whisky, Boilermaker House also offers various craft beers on an ever-rotating tap list. Food is also important here as they offer a full lunch and dinner menu with food perfectly designed with drinking in mind. with the classics like steaks, burgers and multi-meat and cheese sandwiches.
Address: 209-211 Lonsdale Street Melbourne 3000
Phone: 8393 9367
Hours: Wed – Sat: 5pm – 1am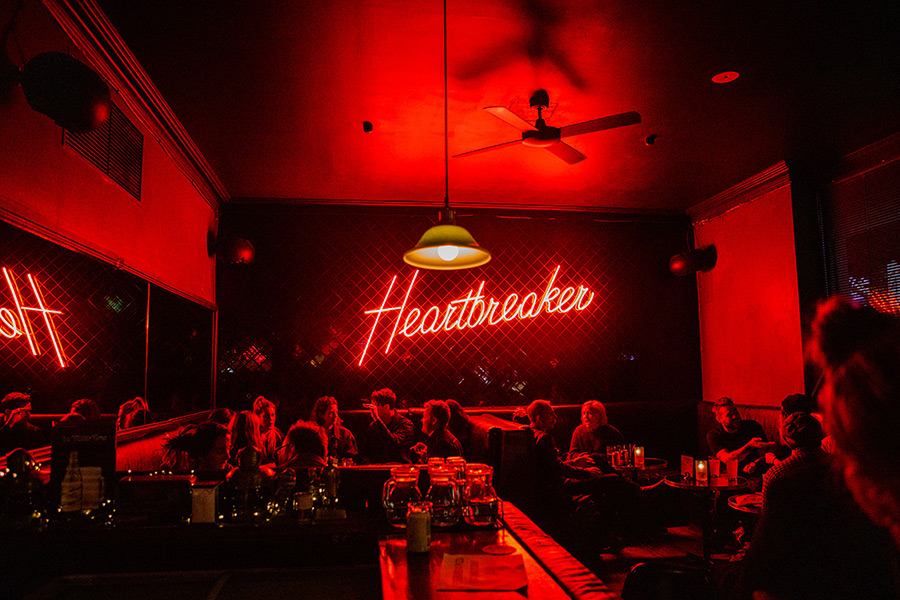 40. Heartbreaker
Heartbreaker is more than your standard Melbourne bar. Hit the beers and saunter over to the jukebox for a bit of Fonzie action. Four pre-batched cocktails are the staples of the bar, these include the Negroni, Martini, Old Fashioned and Manhattan. In addition to these, there are also Everleigh Bottling Co's stable of dry Martinis, smooth Manhattans and rich Old Fashioneds, as well as the Hanky Panky (a variation on a Martini made with gin, sweet vermouth and Fernet-Branca).
Address: 234A Russell St, Melbourne VIC 3000
Phone: 9041 0856
Hours: Thurs – Sat: 4pm – 12am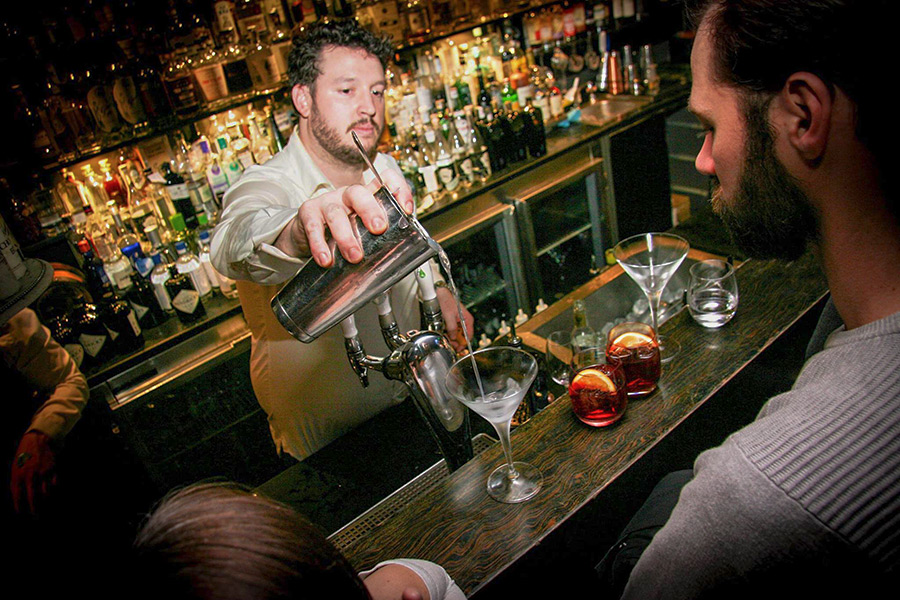 41. Gin Palace
Being named the Gin Palace, gin is naturally at the heart of this Melbourne bar. The bar offers a book-length selection from around the world, from classic London Dry gins to boutique Australian offerings made using native botanicals. The expert crew at Gin Palace can mix you up a bespoke concoction, like a punch-packing Gimlet made with Four Pillars Navy Strength Gin.
Address: 10 Russell Pl, Melbourne VIC 3000
Phone: 9654 0533
Hours: Mon – Sun: 4pm – 3am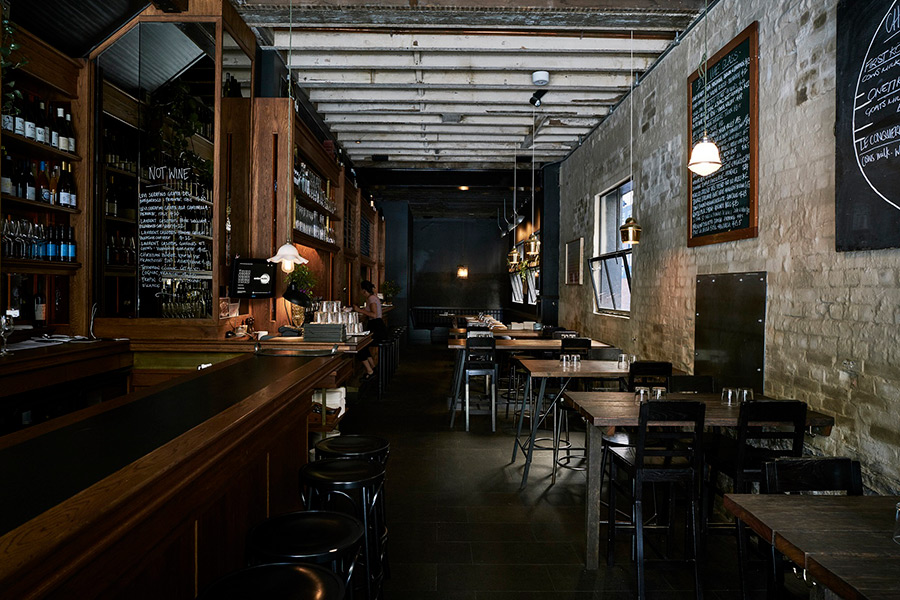 42. Embla
Embla is known for its flavour filled wine list. Featuring a mix of local and international bottles, the Melbourne bar is a true hotspot for fans of pinot. Sit back and enjoy the day with a few glasses over a chat.
Address: 122 Russell Street Melbourne 3000
Phone: 9654 5923
Hours: Mon – Thurs: 5pm – 12am, Fri – Sat: 12pm – 12am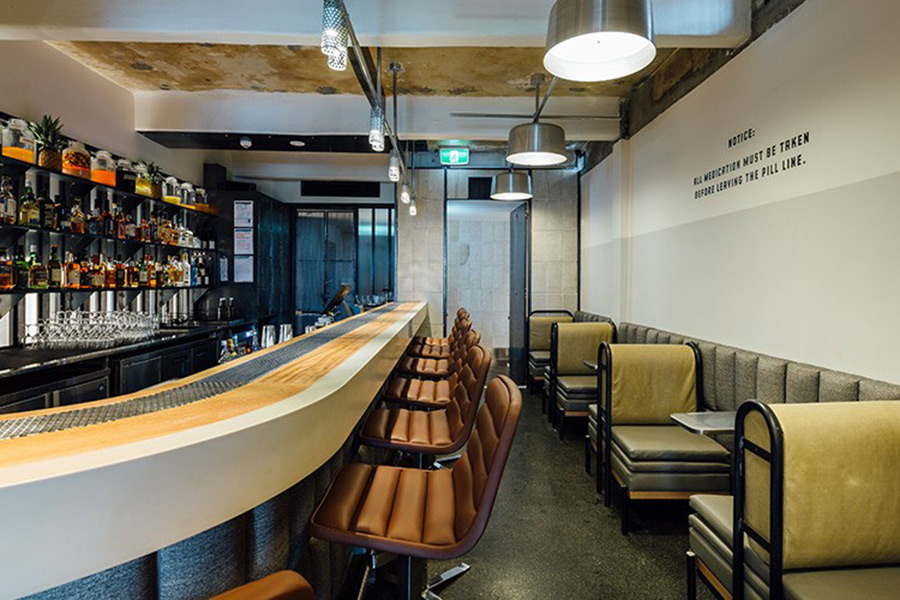 43. House of Correction
House of Correction is not your typical Melbourne cocktail bar, the drinks here are allocated with numbers, not names and are served quickly in frozen glassware and garnished. Food comes from Mr Kwok downstairs in the form of basic Chinese snacks and some of the best dumplings in Melbourne, which are perfect for absorbing booze.
Address: Denyers, Building, Level 4/264 Swanston St, Melbourne VIC 3000
Hours: Thurs – Sat: 5pm – 3am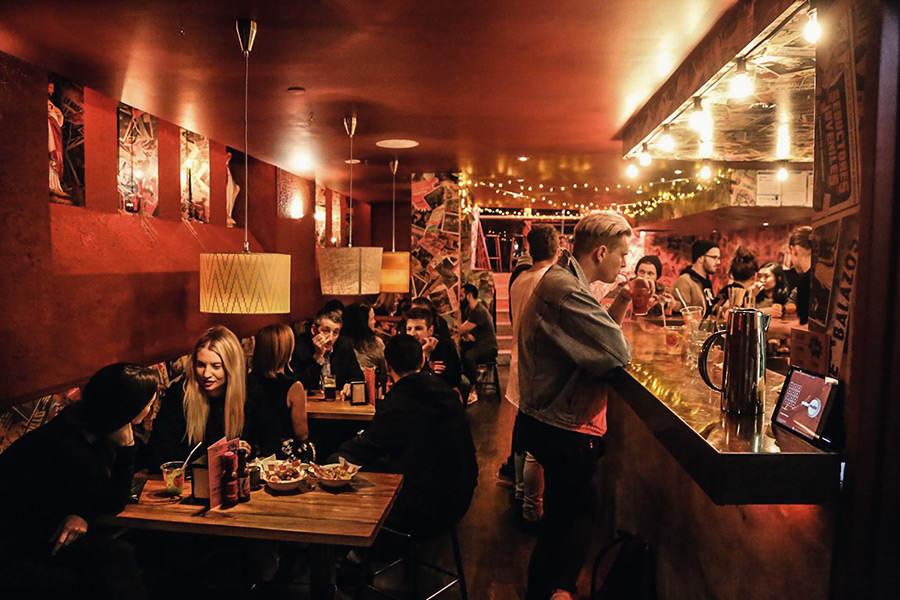 44. Bodega Underground
Bodega Underground is a Mexican themed underground bar in Melbourne, serving seventy-plus bottles alongside 30 tequilas. Enjoy familiar favourites like Tommy's Margarita or a play on the gin-based El Last Word. Naturally, this Mexican themes bar serves tacos, as corn tortillas are filled with battered fish, pork, grilled octopus, fried potato or mushroom. Tacos come at two per serve with house specifications such as chipotle mayo, crema, pepitas, guacamole. Vegetarians and vegans are well catered for. There really is something for everyone here.
Address: 55 Little Bourke St, Melbourne VIC 3000
Phone: 9650 9979
Hours: Mon – Thurs: 5:30pm – 1am, Fri – Sat: 11:30pm – 3am, Sun: 11:30 – 1am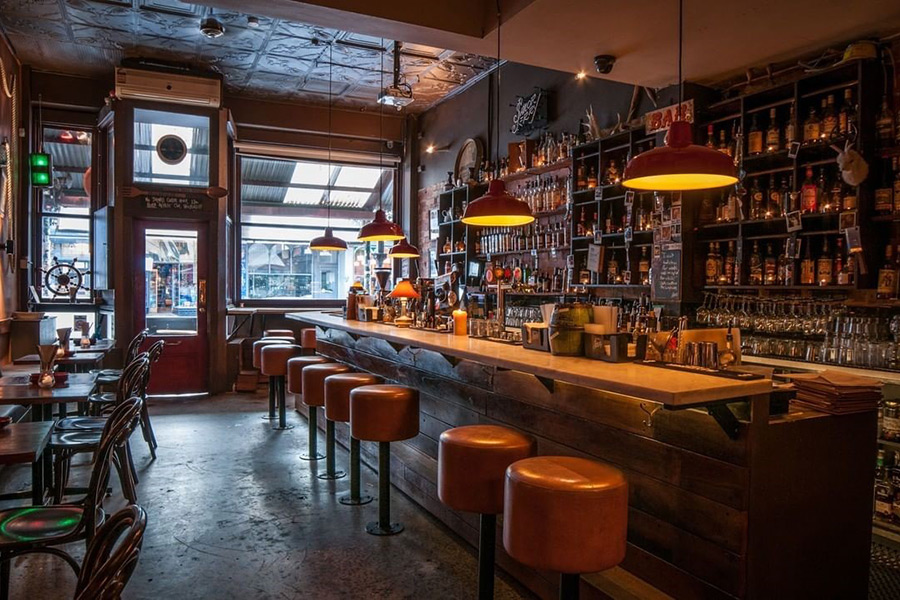 45. The Rum Diary Bar
Unsurprisingly, The Rum Diary Bar is known for its collection of world-class Rums. The leather-bound menu features 170 rum bottles from the Caribbean to South America. With stops in Mauritius and Spain, including everything from white, golden, spiced and raw varieties. If rum is not your thing, there is a wide selection of other spirits, beers, house-made ginger beer and wines as well as cocktails.
Address: 334 Brunswick St, Fitzroy VIC 3065
Phone: 0418 708 369
Hours: Tue-Wed 5 pm – 1 am, Thu-Sun 5 pm – 3 am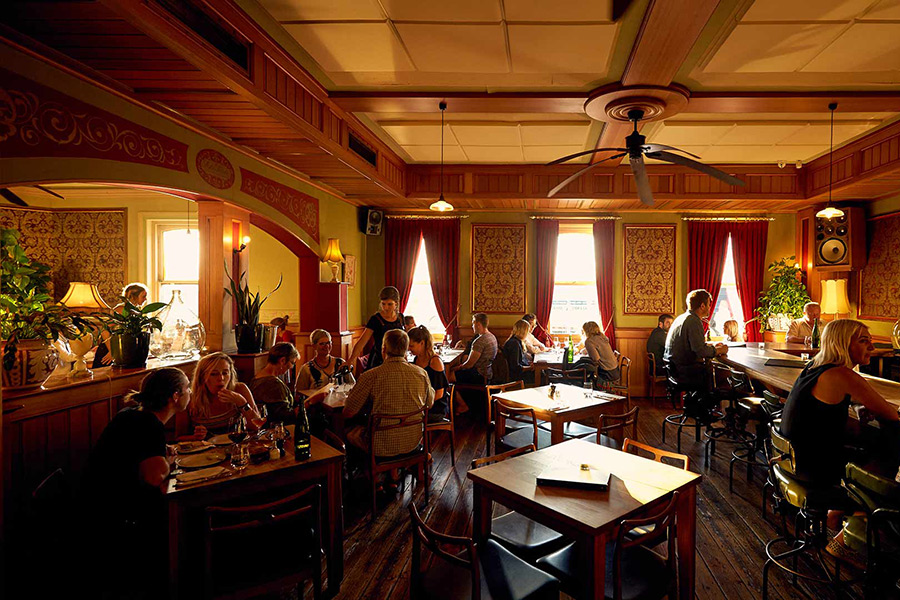 46. Neighbourhood Wine
Neighbourhood Wines boast a 20-page wine list filled with natural beauties, impressive imports and little-known locals from every corner of the globe. Minimal-intervention, biodynamic and organic wines form the backbone of this list, but that's not all they offer, with delicious foods like The Coffin Bay oysters, slow-cooked meat with dishes of roast veggies and fresh salads. You'll be coming back for more than just wine.
Address: 1 Reid St, Fitzroy North VIC 3068
Phone:  9486 8306
Hours: Tues – Sat: 12pm – 12am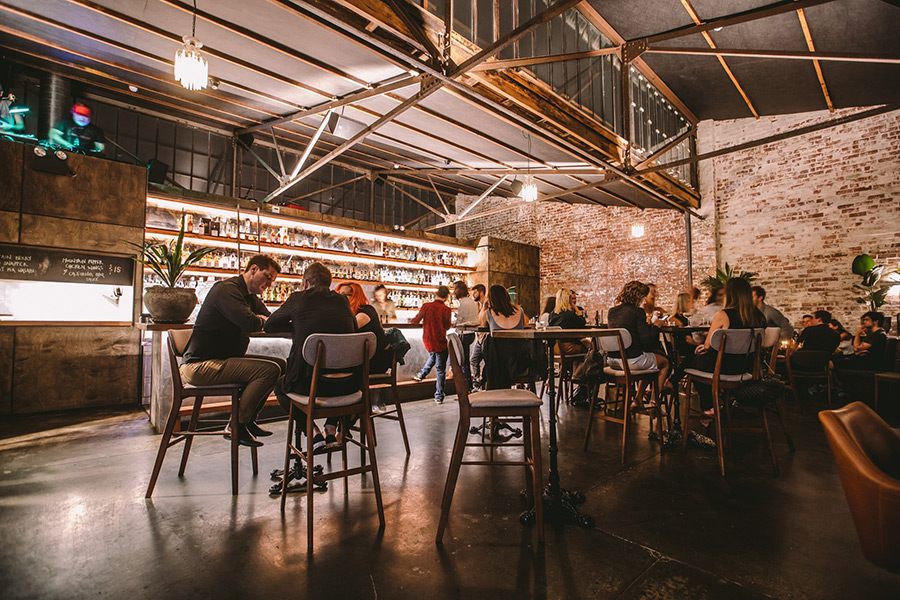 47. Galah
Galah showcases the best of Australia, without the gimmicky Australiana. Displaying Australia with classic cocktails made with an Australian twist such the Bloody Galah or a eucalyptus-oil highball, this is one of the best bars in Melbourne to take a tourist friend.
Address: 216 High St, Windsor VIC 3181
Phone: 9521 5325
Hours: Thurs – Sun: 3pm – 1am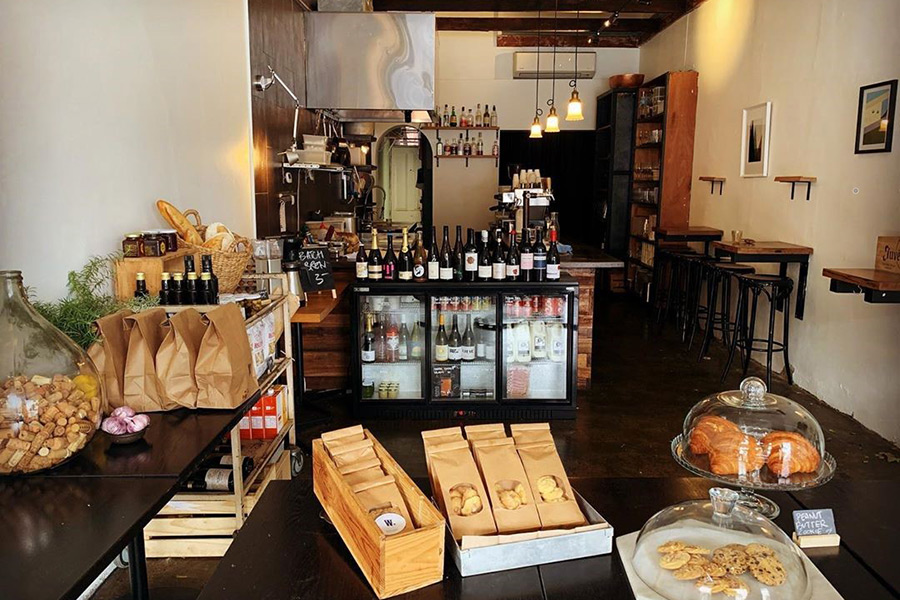 48. Westwood
Westwood is a collection of the best things Melbourne has to offer, coffee and wine. A rotating list of Aussie favourites and small providers gives you a rare chance to dive into the local market in a tasty little setting.
Address: 313 Victoria St, West Melbourne VIC 3003
Phone: 9348 9406
Hours: Wed – Sat: 8:30am – 10pm, Sun: 8:30 – 4pm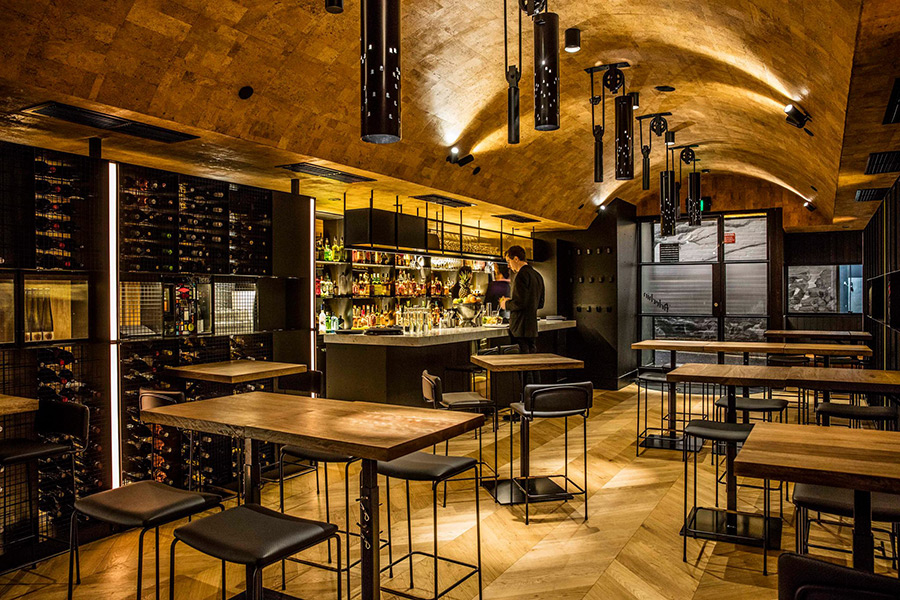 49. Arlechin
Arlechin is a small gem hidden away in one of the many laneways of Melbourne. Once you find it, you'll be in awe of its Aussie-Italian wine list, with plenty you'll recognise and some you might not know about. There's a concise list of bar snacks including bolognese jaffles, duck liver parfait, oysters and the Aglio olio-style Midnight Spaghetti. Desserts include tiramisu ice-cream pops and Tortelli Dolci with lemon and custard.
Address: Mornane Pl, Melbourne VIC 3000
Hours: Tues – Sat: 5pm – 3am
You'll also like:
9 Best Steak Restaurants in Melbourne
9 Best Late Night Eats in Melbourne
34 Best Rooftop Bars in Melbourne
General FAQs
What is the best bar in Melbourne?
According to ot Google Reviews, Bar Liberty is the best bar in Melbourne, as it offers everything from wine to food and everything in between.
Are there any good cocktail bars in Melbourne?
Melbourne is renowned for its nightlife, meaning there are a wealth of great cocktail bars to check out. The top-rated by review is 1806, which is one of the more unique cocktail bars in the city. Definitely worth a try.
Where is good to go out in Melbourne?
For a good night out, you can't go past Bodega Underground. The Mexican themed undergound playground offers food and drinks that everyone will love.