20 Best Valet Trays for Your Favourite EDC
Providing a perfect home base for your EDC, the best valet trays strike a deft balance between simplicity and utility. That said, a number of these trusty catchalls aren't as simple as they seem. Not only do some make for prime examples of modern craftsmanship—using materials like wood or leather or even concrete—but others double as charging stations or contain special compartments just for your phone. The result is a broad range of designs, builds, features, and price points. Who knew that buying a men's valet tray could be so complicated?
Of course, no matter how advanced they get, the best valet trays for men will never stray too far from their roots. In essence, these products are unfettered, organisational tools at heart. Put one atop the nearest nightstand or cabinet and you have an instant platform for your wallet, keys, knives, phone, or whatever else it is you're keeping in your pocket. Okay, so maybe the best valet trays aren't so complicated after all.
From tactical wood valet trays to valet tray charging stations to everything in between, you're guaranteed to find something special on our list of the best men's valet trays. Your life is less organised and less elegant without one. Here we go.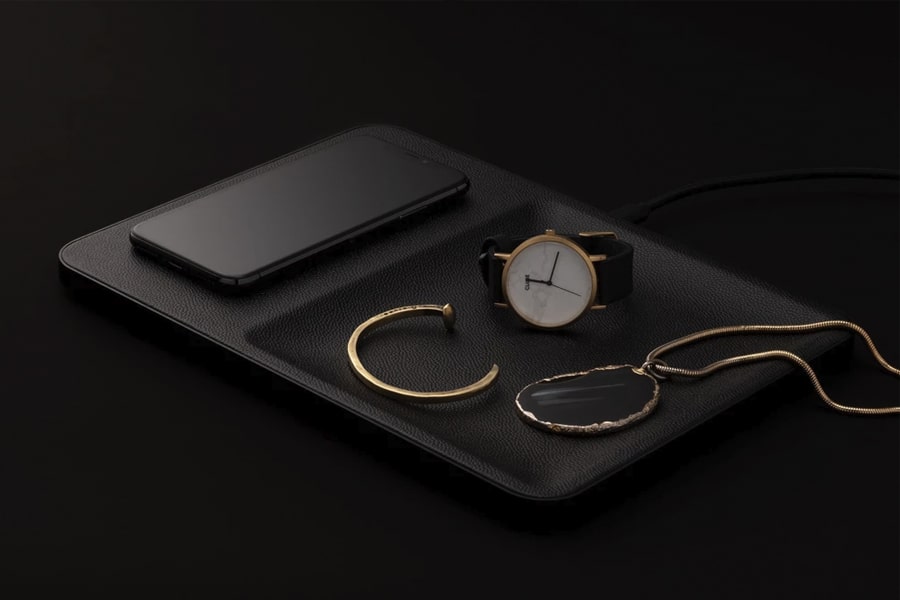 1. Courant Catch:3
For all the sophisticated gentlemen out there, accept nothing less than the Catch:3 from Courant. More than a premium valet tray of pebble-grain Italian leather, it's also a 3-coil Qi-certified fast wireless charging station. As if that weren't enough, it hosts an additional USB-A output. If you don't mind spending US$175 on a valet tray, this one's for you. Plus, who would argue with the extra functionality?
Brand: Courant
Material: premium pebble-grain Italian leather
Colour options: black, ash, bone, dusty rose, Pacific blue
Price: $175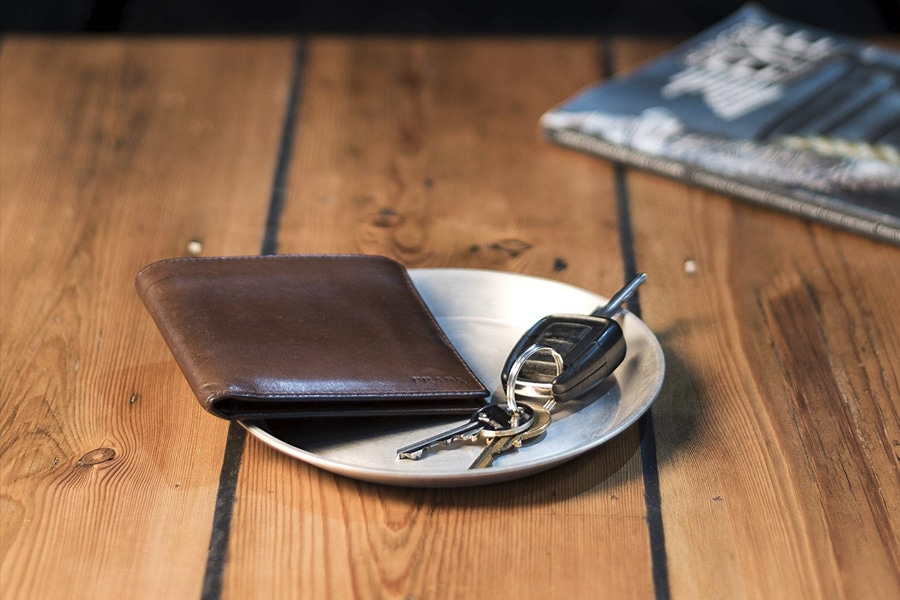 2. Azmaya Bank Valet Tray
This bank valet tray from Japan's Azmaya emanates with the artisanal touch. Each one is hand-crafted in a small Tokyo workshop by a single craftsman, who employs traditional metalworking techniques. Not only does it provide a distinguished platform for your cash and chequebooks, but the brass material develops a patina over time. 
Brand: Azmaya
Material: brass
Price: $80.75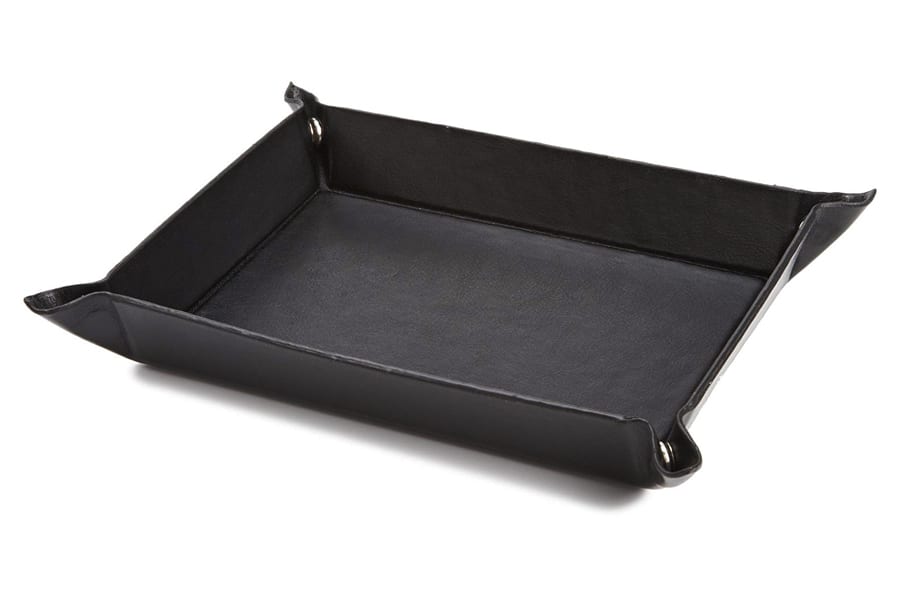 3. Wolf Designs 290002 Heritage Collection Snap Coin Tray
Featuring chrome-finished hardware and ultra-suede lining, this handsome valet tray for men is a literal snap. By that, we mean it hosts snap closure at each respective corner, enabling two different tiers of depth. Throw in a completely affordable price tag and you have yourself an easy purchase.
Brand: Wolf
Material: faux leather, suede lining
Colour options: black
Price: $45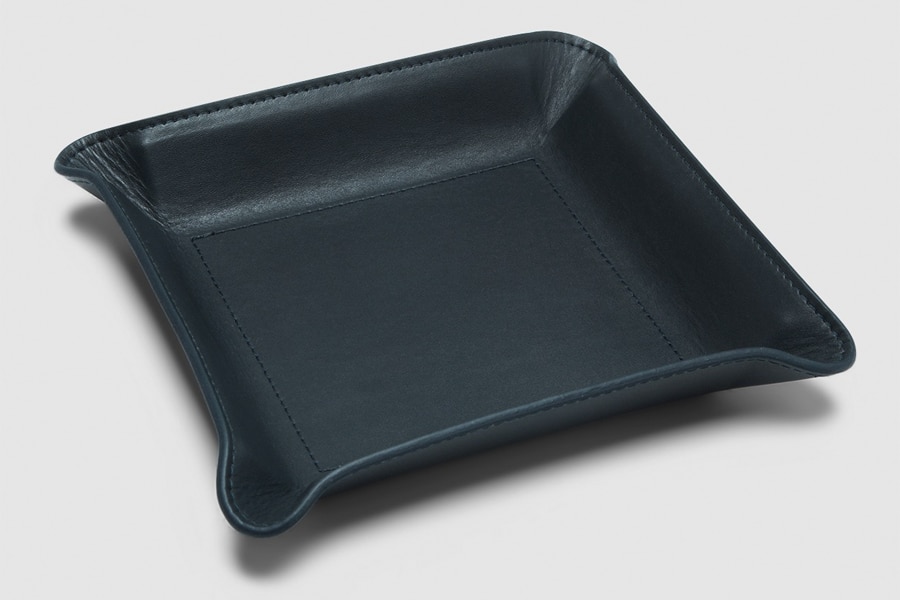 4. Paul Stuart Leather Valet Tray
Available in a modest variety of colours, the Paul Stuart Leather Valet Tray delivers seamless and unfettered elegance. Made of 100% calf leather, it's guaranteed to elevate its surroundings. Choose between tan or navy, put this valet tray on your nightstand, and prepare to fall in love. The proof is in the stitching, gentlemen.
Brand: Paul Stuart
Material: 100% calf leather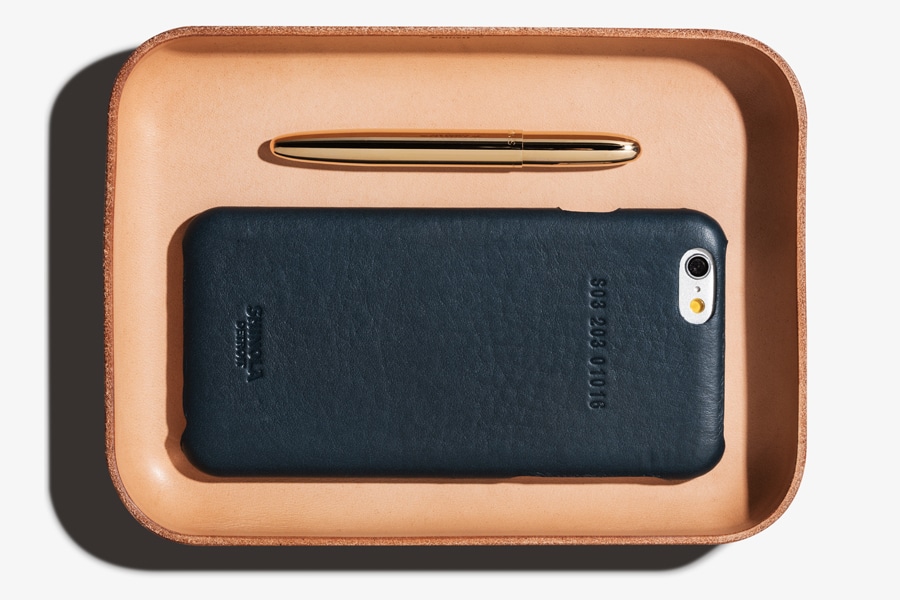 5. Shinola Small Natural Leather Tray
Detroit-based luxury goods brand Shinola has brought an old classic out of retirement. Moulded from a single piece of vegetable tanned cowhide and conditioned with all-natural beeswax, this men's valet tray packs big distinction into the smallest of places. Because of variations in the leather's natural grain, no two of these babies are exactly alike. We love Shinola and you will too, presuming you pull the trigger on this household essential.
Brand: Shinola
Material: natural leather
Price: $85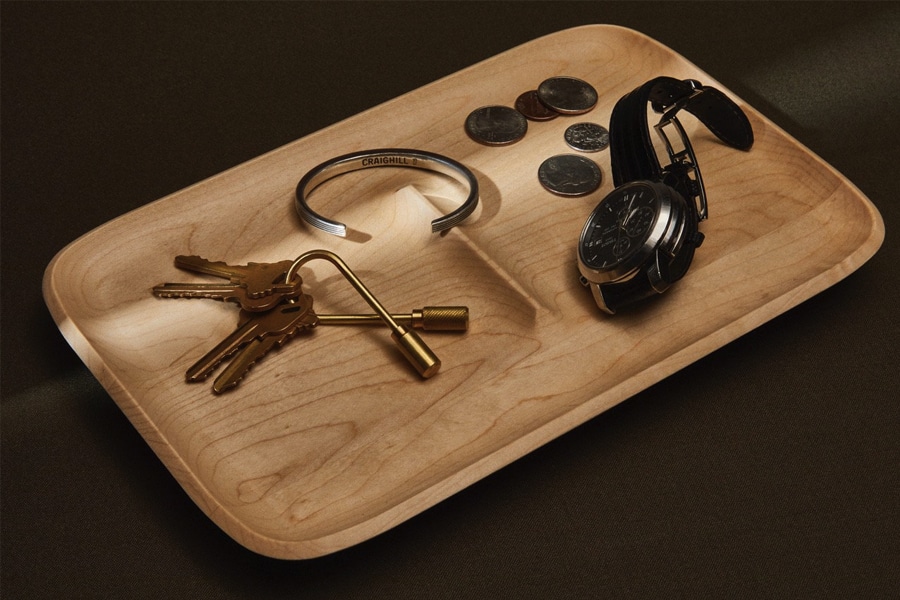 6. Craighill Nocturn Catch
Milled and finished in Michigan, this hardwood valet tray from Craighill consists of American black walnut and a smooth satin finish. There's also a minimal divider in the middle, adding an extra touch of organisational flair. If you respect your wood, this is one easy way to show it.
Brand: Craighill
Material: American hardwood
Colour options: American black walnut
Price: $88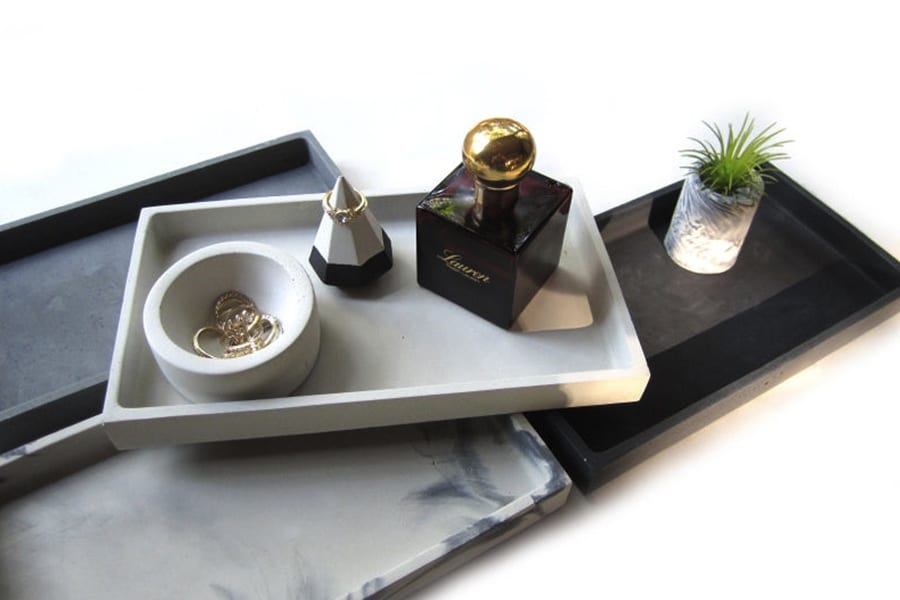 7. Handmade Concrete Catchall
Who needs wood or leather when you can snag yourself a custom valet tray of trusty concrete? Displaying a clean and roomy design, it can hold house plants or office essentials or anything in between. It comes available in four neutral colours, and backed by legions of positive reviews. The nearest surface is naked without one.
Material: concrete
Colour options: charcoal, grey, marbled, white
Price: from $43.35 AUD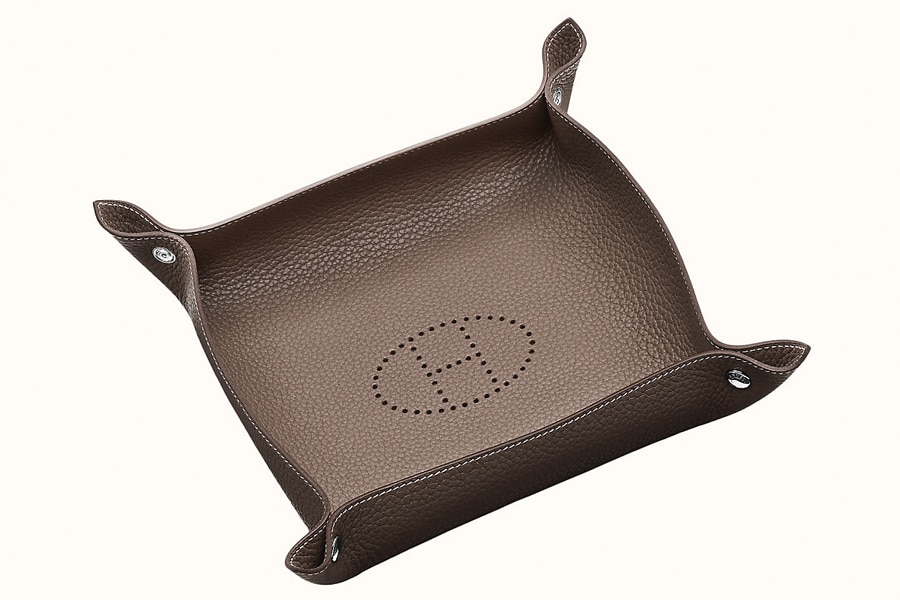 8. Hermes Mises et Relances Change Tray
The name Hermes is your first clue that this premium valet tray won't come cheap. In exchange for US$570 of your hard-earned money, you get taurillon Clemence leather, nickelled buttons, and a perforated Evelyn H signature. The quality is palpable, to say the least.
Brand: Hermes
Material: taurillon Clemence leather
Colour options: Étoupe, Potiron
Price: $590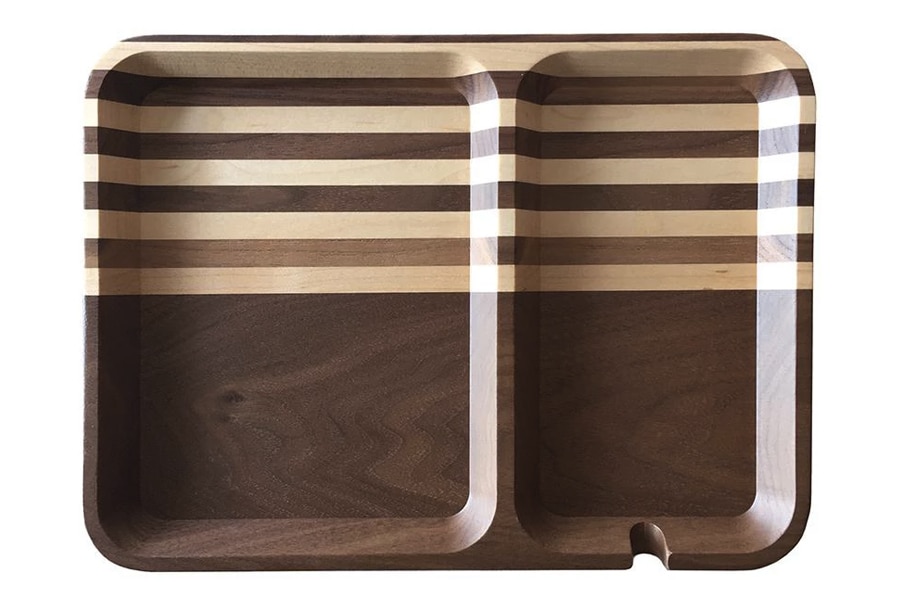 9. Maxx & Unicorn Rectangle Valet Tray
Flaunting the best of all worlds, this Rectangle Valet Tray combines American walnut multi-stripe construction with a low-sheen varnish finish. Oh, and let's not forget the designated smartphone section with adjoining cable slot. Sustainably made, it's easily one of the best valet trays for men that money can buy.
Brand: Maxx & Unicorn
Material: cherry/maple, walnut multi-stripe, walnut
Price: $88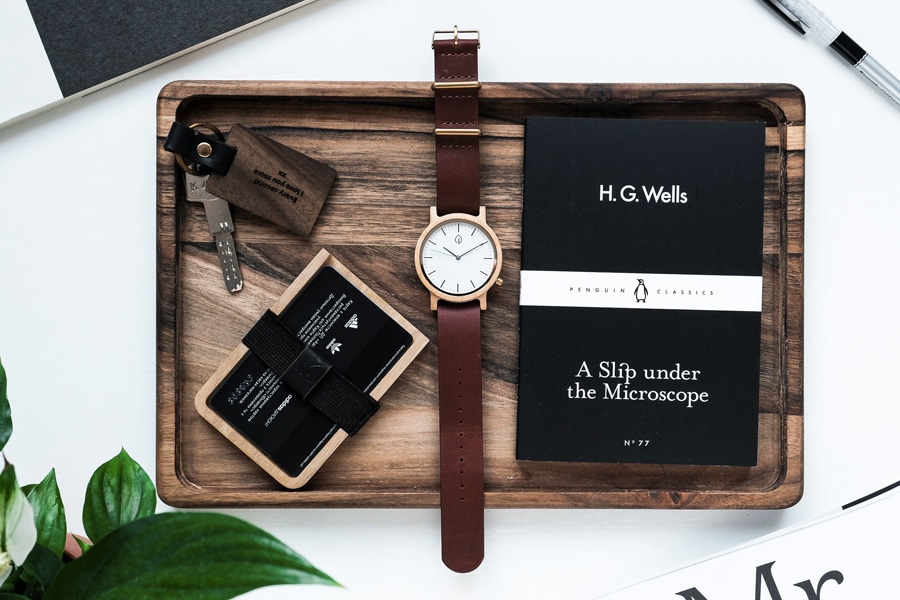 10. Custom Valet Tray
Someone over on Esty went all DIY and the result is this custom valet tray, which wears its handmade origins on its proverbial wooden sleeve. One look at the brilliant grain pattern is all it takes to fall in love with this top valet tray, hence all the five-star reviews. Sealing the deal is a terrific price point. Get one for yourself and one as a business gift.
Material: oak, walnut
Price: from $45.34 AUD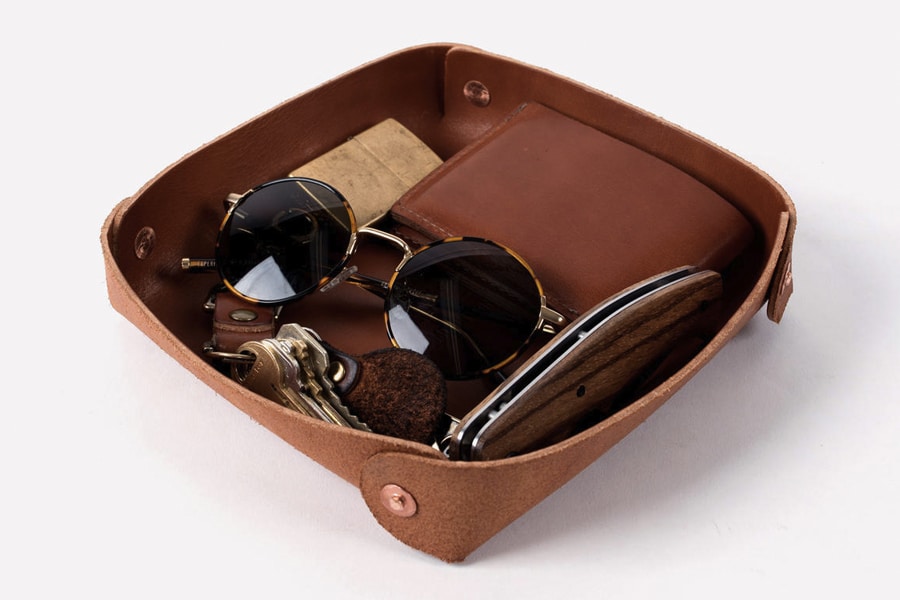 11. Bradley Mountain Valet Tray
Your keys and wallet and other EDC will be begging to come home to this leather valet tray from Bradley Mountain. Featured in each corner are eye-catching copper rivets, driving home the artisanal and slightly rustic vibe. Stamped smack in the middle is the brand name, upon which you can place your keys, wallet, phone, and coins. Quality be thy name.
Brand: Bradley Mountain
Material: leather
Price: $40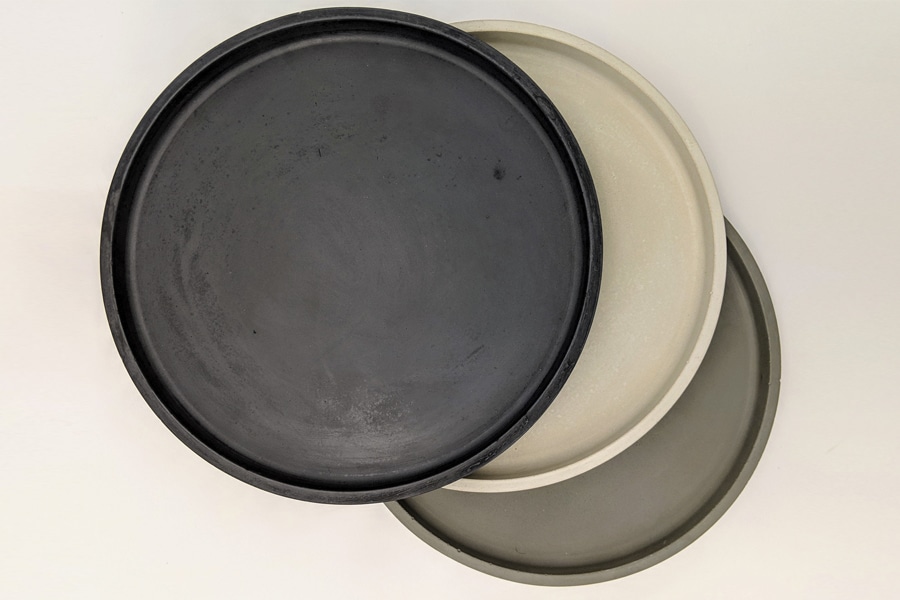 12. Concrete Valet Tray
Here's another concrete valet tray available through one of Etsy's independent craftsmen (or women). Handmade on the North Carolina coastline, it fuses versatility and durability to eye-pleasing effect. With its optimal base of cork pads, this top valet tray won't scratch the surface underneath it. All those five-star reviews can't be wrong.
Material: concrete
Colour options: black, grey, cream
Price:  from $57.51 AUD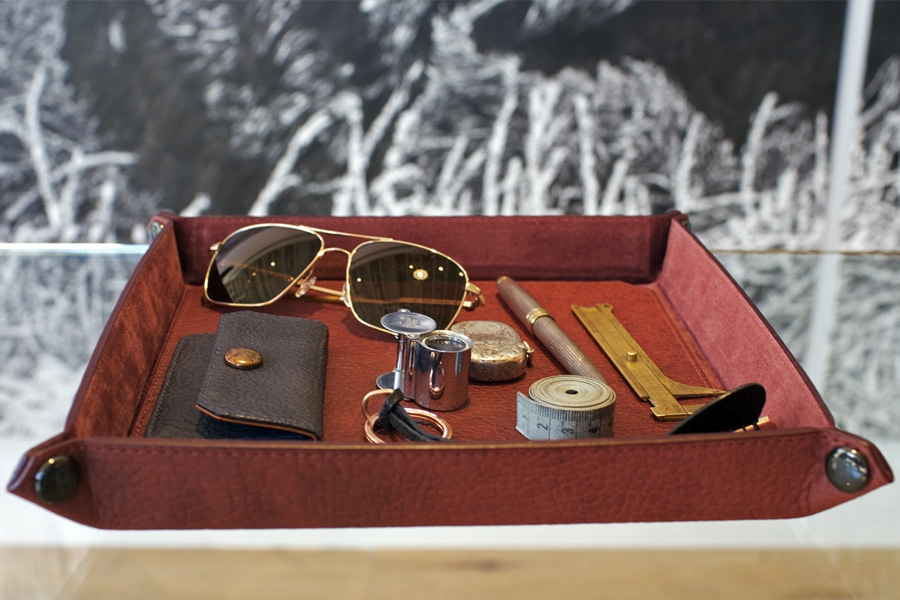 13. Parabellum Valet Tray
Do you like the sound of textured bison leather construction, suede backing, hand-painted edges, ceramic snap corners, a collapsible design, and a removable inner tray? Then you'll love this top valet tray from Parabellum. A custom slim twill dust bag is also part of the package. Your EDC will thank you.
Brand: Parabellum
Material: bison leather
Colour options: black
Price: $175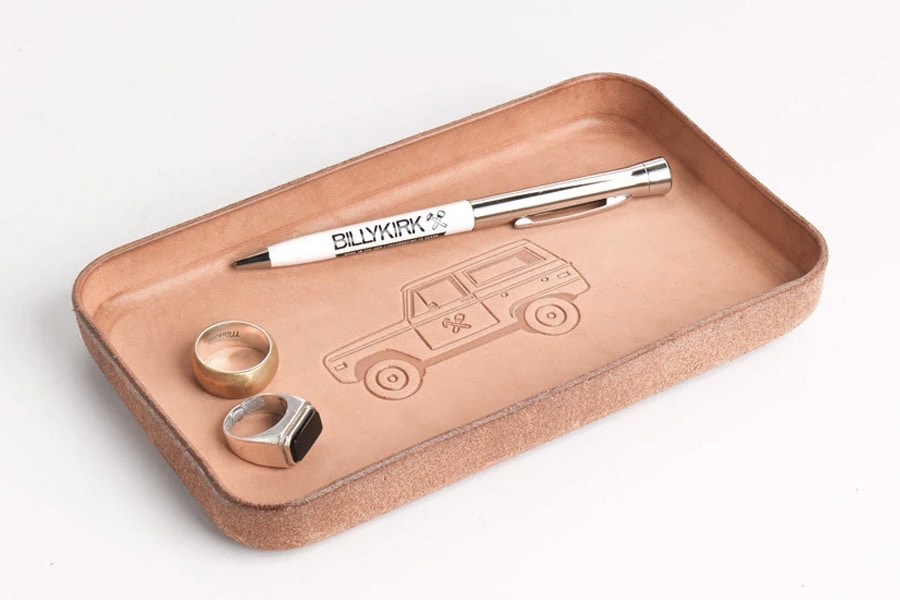 14. Billykirk No. 309 Leather Valet Tray
For a men's valet tray of resounding distinction, consider this one from Billykirk. Thanks to vegetable tanned leather construction, it will develop a unique patina over time. Providing all the more character is a signature embossing of a 1970s Bronco. Pair all that with an affordable price tag and you're ready to roll.
Brand: Billykirk
Material: leather
Price: $40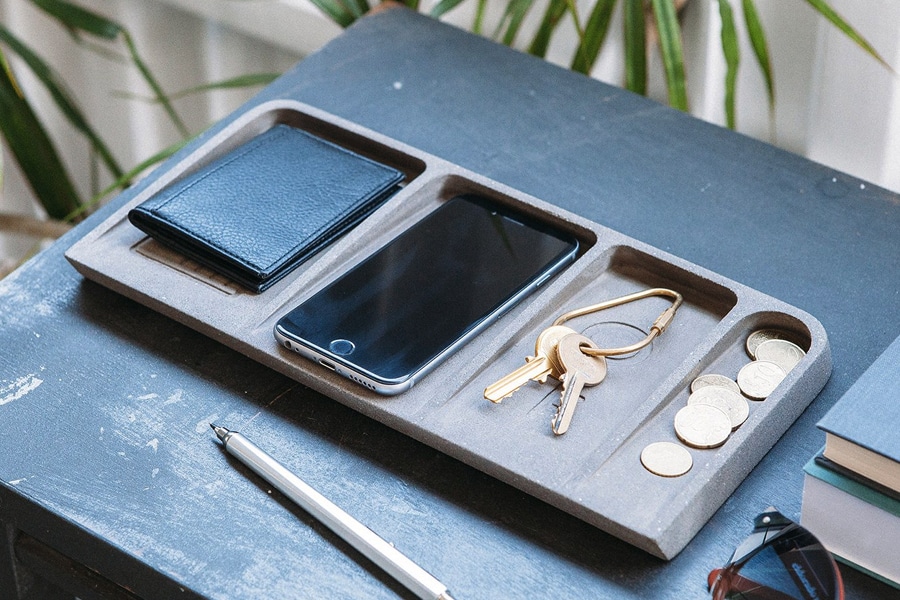 15. DOIY Le Videpoche Tray
Designed exclusively for men, Le Videpoche comes divided into four compartments: wallet, cell phone, keys, and coins. It comes available in either grey concrete or black metal, both of which deliver sleekness and durability in equal measure. For those who prefer the extra touch of organisation, look no further.
Brand: DOIY
Material: black metal, concrete – grey
Colour options: black, grey
Price: $38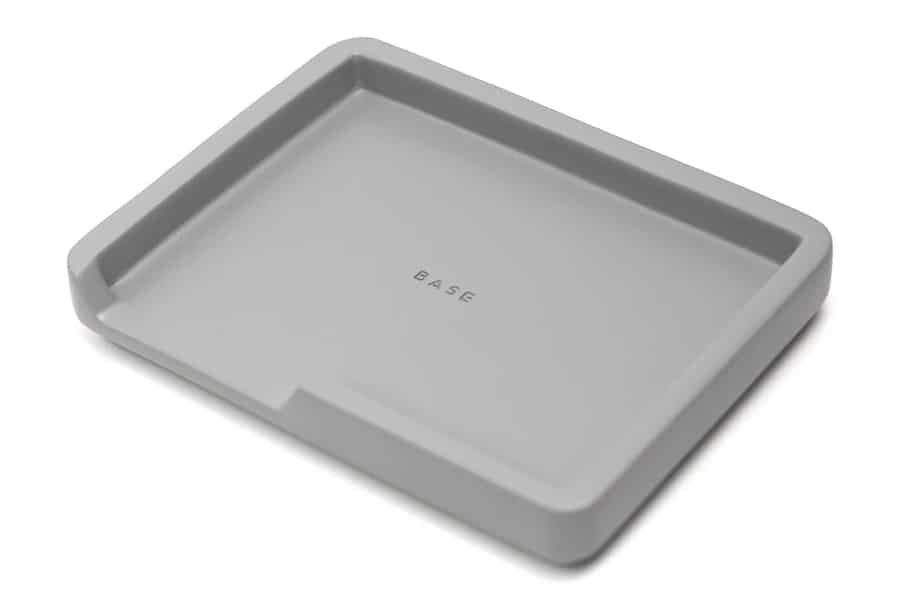 16. BASE Object 004 Valet Tray
One of the best valet trays for men comes from San Francisco's own BASE, where home and office accessories are the name of the game. As such, the Object 004 will fit in with—or elevate— pretty much any modern decor. Oozing with straightforward simplicity, it's made of 100% Polystone and available in a variety of colours, including Spectra Yellow, Matte Black, and International Orange. Get one.
Brand: Base
Colour options: matte black, flat white, medium grey, international orange, spectra yellow
Price: $42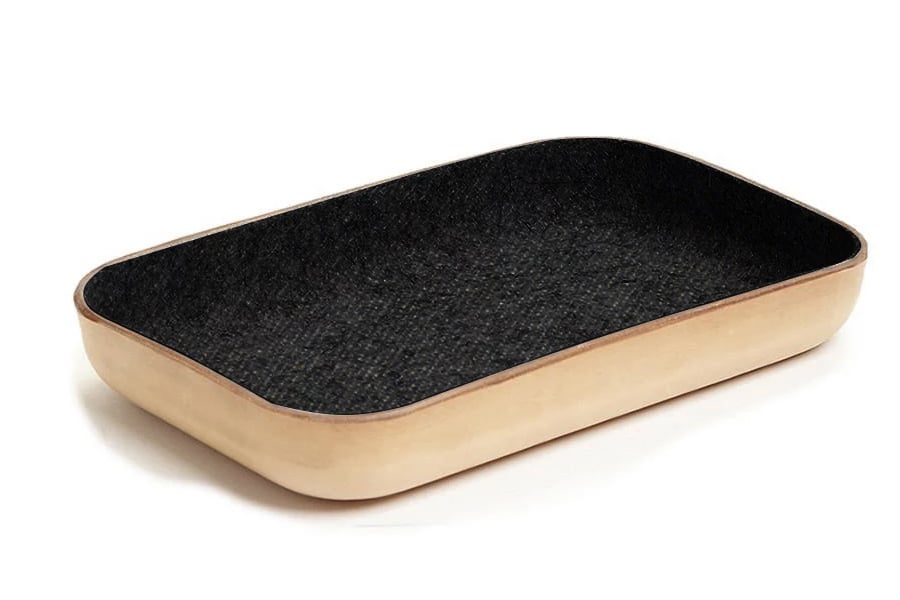 17. Graf & Lantz Kawabon Tray
Blending a vegetable-tanned leather exterior with black cotton denim lining, this stylish valet tray from Graf & Lantz makes for a veritable no-brainer. It will keep your EDC organised and won't scratch up your desk or countertop. What else is there to know?
Brand: Graf & Lantz
Material: tan leather/heather black felt base, tan leather/black denim base, tan leather/granite felt base
Price: $76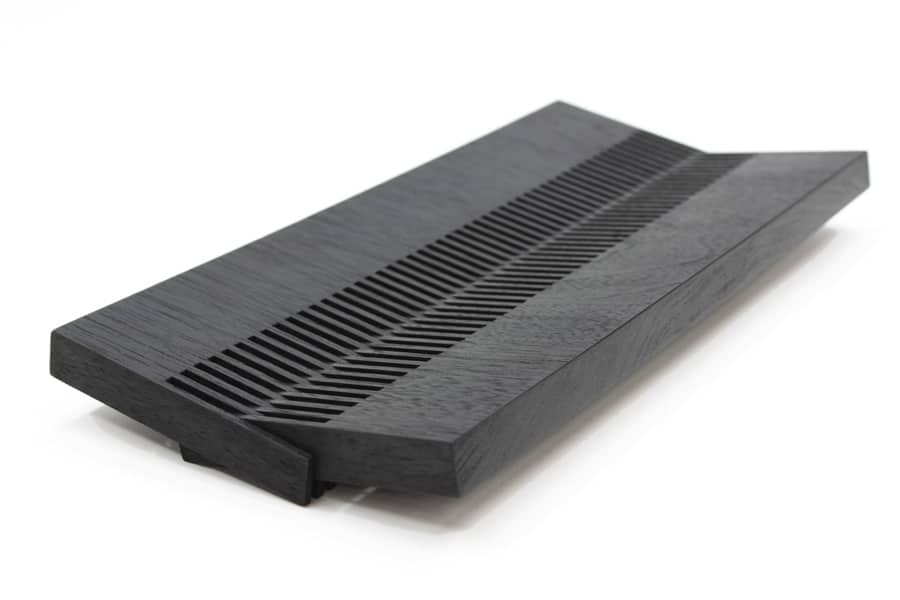 18. May Furniture Co. Riviera Tray
And now for something completely different…also known as the Riviera Tray. Incorporating Danish and Japanese design influences, this solid wood valet tray furthermore bears the aesthetic stamp of its creator, Travis James. True to its name, the premium catchall invokes the sensation of luxury travel. Choose between blackened walnut and whitewashed maple and be prepared to tell others where you got it, as they'll definitely want to know.
Brand: Travis James (designer), MAY Furniture Co. (manufacturer)
Material: solid wood
Colour options: whitewashed maple
Price: $325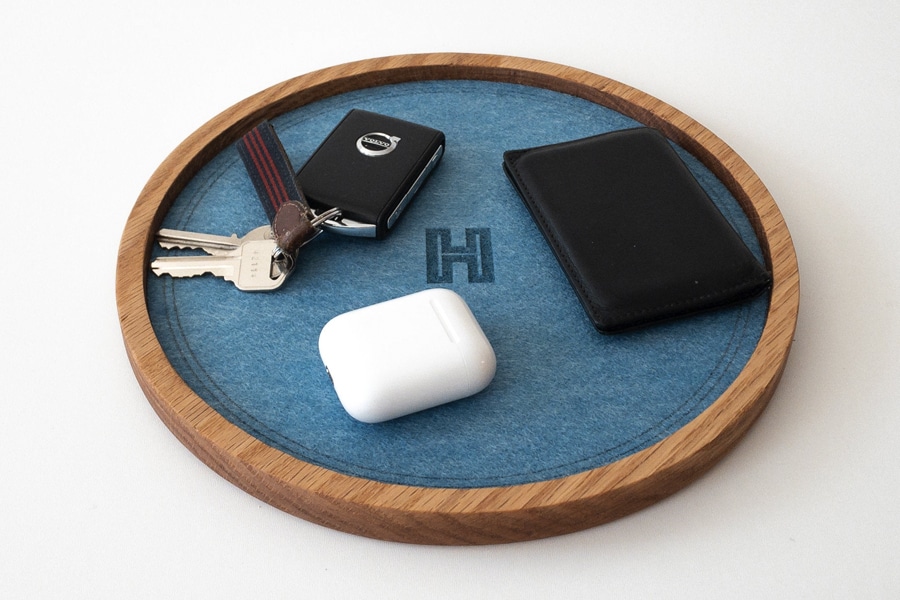 19. Felt & Wood Valet Tray
Another handmade valet tray of the highest calibre, this one packs soft, eco-friendly felt within a perimeter of oak hardwood. It looks great in pretty much any environment and makes for a terrific gift. Get the felt surface in one of six colours and add the individual touch by way of personalised lettering. A wood-only tray is also available from the same seller.
Material: wood, wood/felt
Price: $165 AUD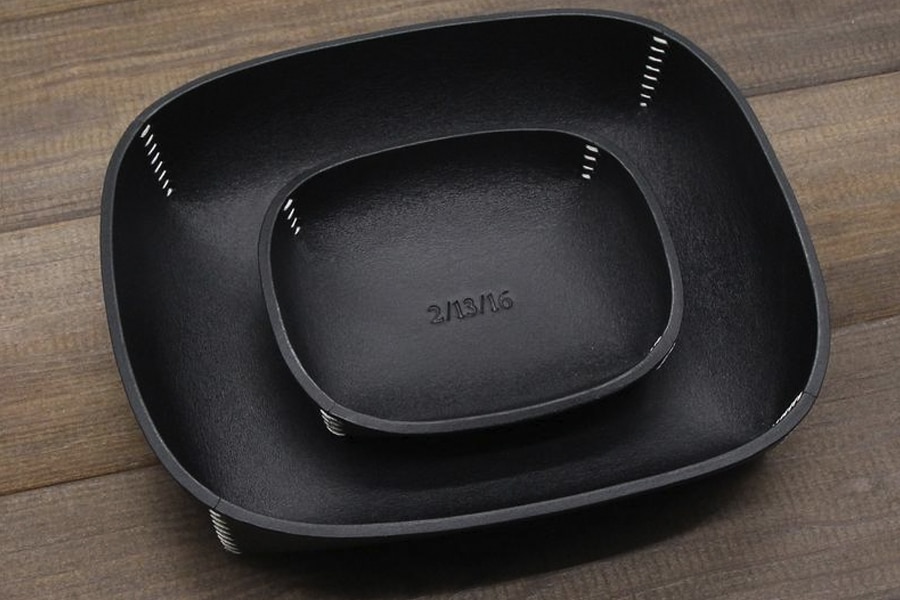 20. Handcrafted Leather Valet Tray
As our list of best valet trays goes to show: no one argues with leather. That's why we're capping it off with this handcrafted men's leather valet tray. It comes in two different sizes, which can be ordered together as a set, providing for all the more surface area. Each one is made from thick 4mm vegetable-tanned leather. With every use, the valet tray develops a tad more texture and character. Eventually, there's no mistaking it for any other.
Material: leather
Colour options: black, brown, natural
Price: $31.71 AUD
You might also like:
40 Best Minimalist Watches for Men
50 Best Minimalist Small Men's Wallets
Top 9 Coolest Keychain Bottle Openers
General FAQ
What is a valet tray?
A valet tray is used to contain and organize all of one's everyday items that they carry. Cell phone, change, keys, and wallet for example.
What is an EDC tray?
An EDC tray is a place to store all your 'everyday carry' items.