Aston Martin Partners with Bowmore for a $66,000 Bond-Inspired Whisky
James Bond might need to change his favourite drink—his car already has. Aston Martin is pairing up with Bowmore Islay Single Malt Scotch Whisky for the new Black Bowmore DB5 1964. The collaboration celebrates 1964—a year both Bowmore and Aston Martin recognise for its historical significance. "1964 represents a significant date in the modern history of the distillery," said David Turner, distillery manager at Bowmore. "Not only a key moment in how we distilled our spirit, but perhaps even more significant as this very spirit went onto create Black Bowmore.
You'll also like:
Aston Martin DB5 Junior is a Fun-Sized Electric Bond Car
1958 Mercedes Benz 300 SL Roadster Goes for $1.2 Million
Aston Martin's 007 Edition Vantage and Superleggera are the Ultimate Bond Cars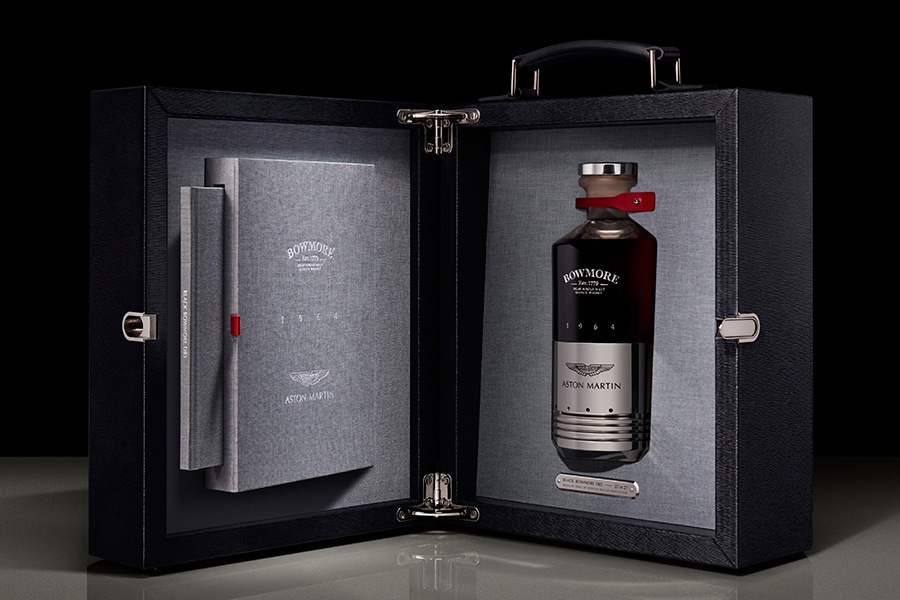 These defining moments are fundamental to the history of Bowmore. This collaboration with Aston Martin has allowed us to once again showcase this iconic single malt in the most incredible way." As for Aston Martin, 1963 saw the launching of the DB5, which went on to become "the most famous car in the world," especially after being featured in 1964's Goldfinger, indelibly connecting the British agent with the marquee. The Executive President and Chief Creative Officer for Aston Martin Lagonda, Marek Reichman, said, "This exciting new association with Bowmore gives us the perfect opportunity to celebrate a vital part of our star-studded history by combining the unrivalled appeal of the iconic DB5 with the cultured flavours of this world-renowned single malt."
The Black Bowmore single malt was first distilled on November 5, 1964. This latest release is only the sixth bottling of the whisky, with only 6,000 bottles being made since 1993. The whisky is bottled at 49.6% ABV and comes in bottle handcrafted by Glassform, a studio located in Scotland. The bottles were made to look like they are half glass and half piston from an Aston Martin DB5. The whisky itself has "intense flavours of mango, passion fruit and acacia honey interwoven with a powerful combination of coffee and tobacco some." Only 27 bottles were done and will be available in the late autumn of 2020. The bottles come in a presentation box inspired by the distillery's hometown, with a deep blue colour and a wave embossing on string-grain calf-skin. The Aston Martin and Bowmore collaboration will sell for USD$66,000.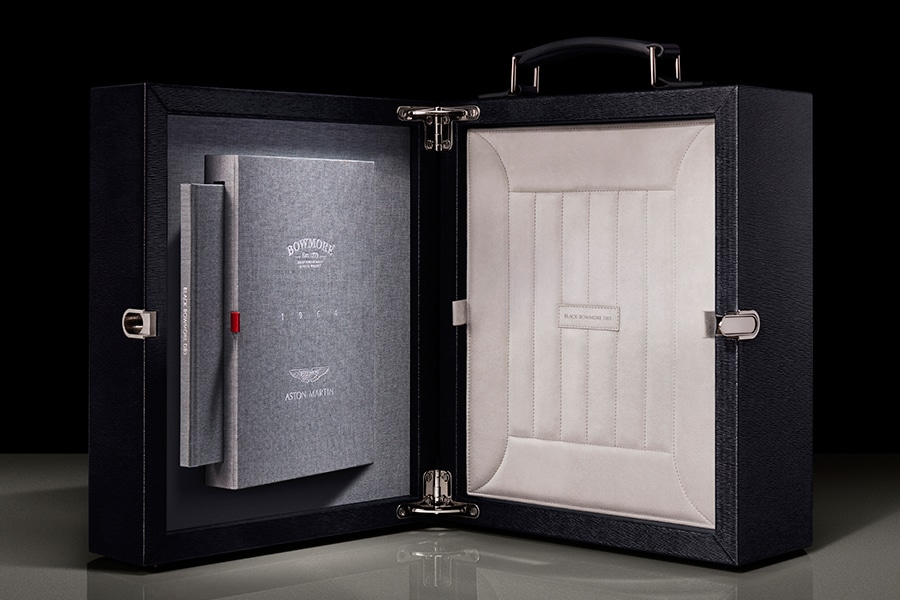 You'll also like:
Aston Martin DB5 Junior is a Fun-Sized Electric Bond Car
1958 Mercedes Benz 300 SL Roadster Goes for $1.2 Million
Aston Martin's 007 Edition Vantage and Superleggera are the Ultimate Bond Cars