Today, we dissect an age-old question that some whiskey newbies are bound to ask: what's the difference between an Old Fashioned and a Manhattan? Should you have a penchant for spirit-forward cocktails with an edge of sweetness, both classic libations will surely suffice. They're also similarly historic, with origins dating back to the 19th century.
Similarities notwithstanding, Old Fashioneds and Manhattans respectively offer their own unique ingredients, recipes, flavours, and rewards, especially when you're using a quality spirit. Speaking of quality, Woodford Reserve bourbon or rye makes for a truly excellent base. It fires on all cylinders and packs even more flavour dimension into these multi-layered cocktails. As a direct result, no two sips are exactly the same.
But back to the topic at hand: Manhattan vs Old Fashioned. We've partnered with Woodford Reserve to take a closer look at both these cocktails and their distinctly delicious variables.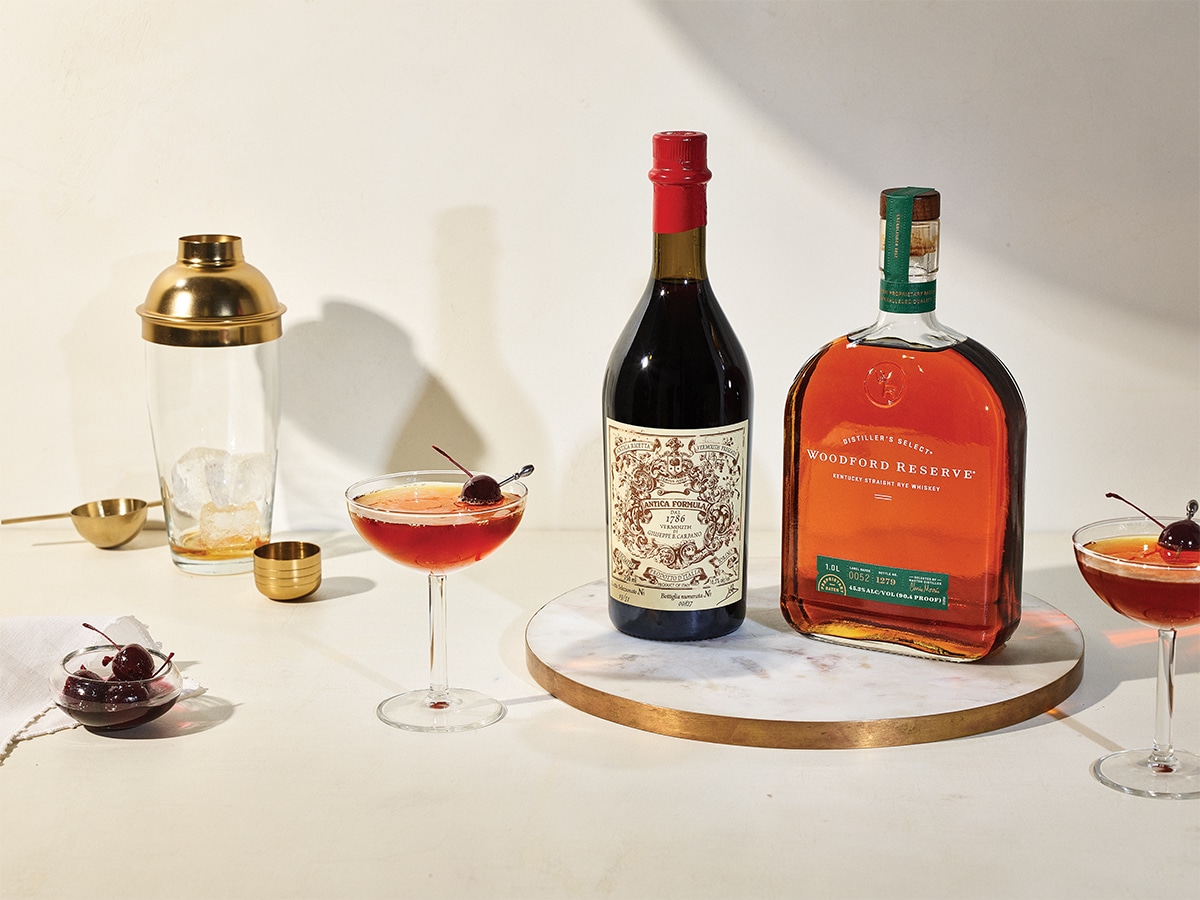 What is a Manhattan Cocktail?
Typically served up in a martini-style glass with a preserved maraschino cherry, the Manhattan drink appears to be the higher-end choice of cocktail between the two. Maybe it's the presentation. Maybe it's the name. Or maybe we're clinging to antiquated notions in a changing landscape, where more and more bartenders have pivoted toward the Old Fashioned as a gateway to both experimentation and personal expression.
Whatever the case, one thing remains true: that a well-executed Manhattan cocktail is strong, slightly sweet, a touch spicy, and freaking delicious. Layering just a few choice ingredients, it delivers the perfect balance between rye whiskey's natural qualities and the complementary flavours of sweet vermouth and bitters. And if your bartender forgets to add a cherry garnish, then it's time to switch bars.
Here's a classic Manhattan recipe:
Manhattan Ingredients
60 ml Woodford Reserve rye whiskey
30 ml sweet vermouth
2 dashes Angostura bitters
preserved maraschino cherry
Manhattan Recipe Instructions
Pour the ingredients into a tall mixing glass with ice.
Stir the rye, vermouth, and bitters using a long mixing spoon.
Strain into a chilled martini-style glass.
Garnish with a preserved maraschino cherry and serve.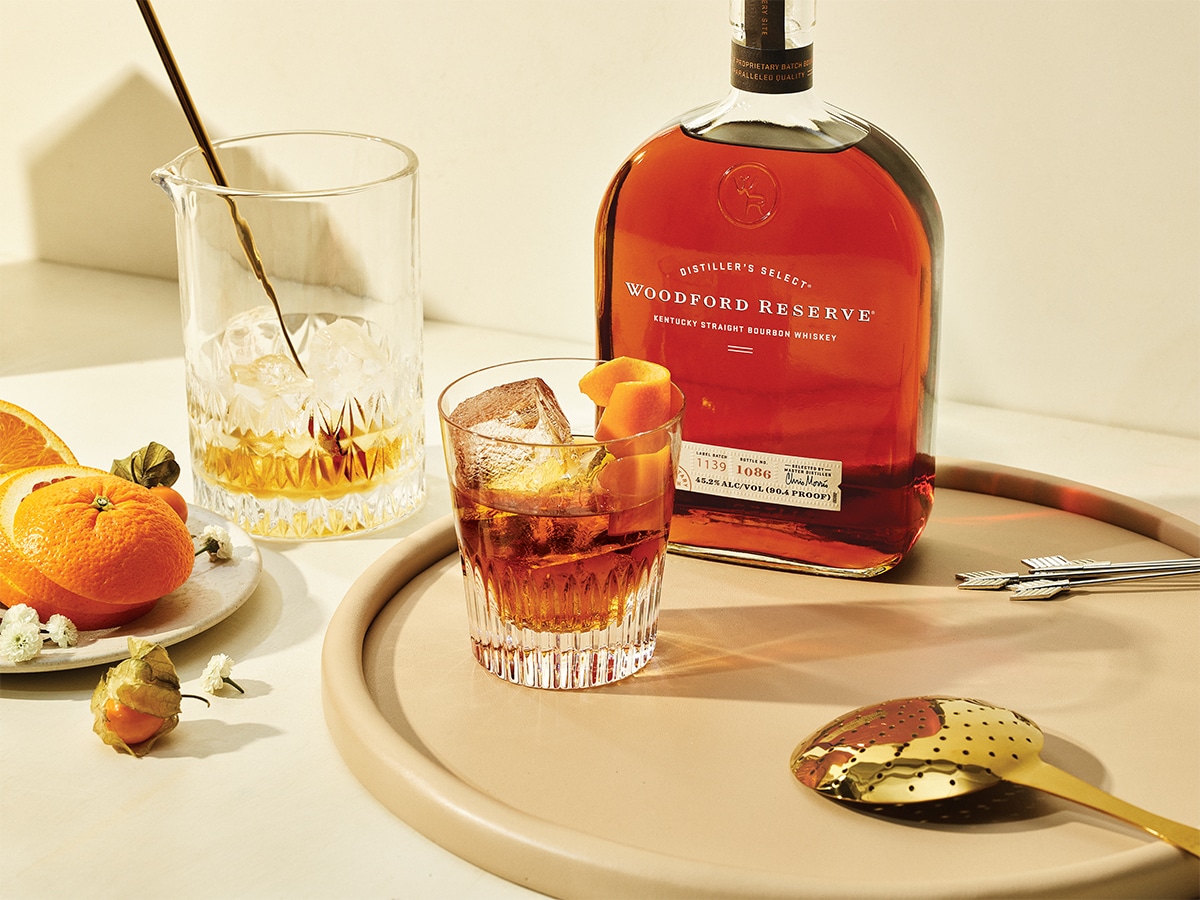 What is an Old Fashioned Cocktail?
A stalwart in bars of all sizes and styles, the Old Fashioned cocktail is having its moment on the world stage. Now more than ever, bartenders and mixologists are exploring the possibilities and permutations of this particular cocktail. That makes it a somewhat elusive libation, whereas different places will offer different takes on the recipe and technique.
Putting variables aside, here's how to make a traditional Old Fashioned:
Old Fashioned Ingredients
60 ml Woodford Reserve bourbon
3 dashes Angostura Bitters
1 sugar cube or 1 tsp sugar
orange peel
Old Fashioned Recipe Instructions
Place the sugar cube (or granular sugar) at the bottom of an Old Fashioned glass.
Apply three dashes of bitters and muddle together with the sugar.
Add a large ice cube and whiskey and stir with a mixing spoon.
Garnish with an orange peel and serve.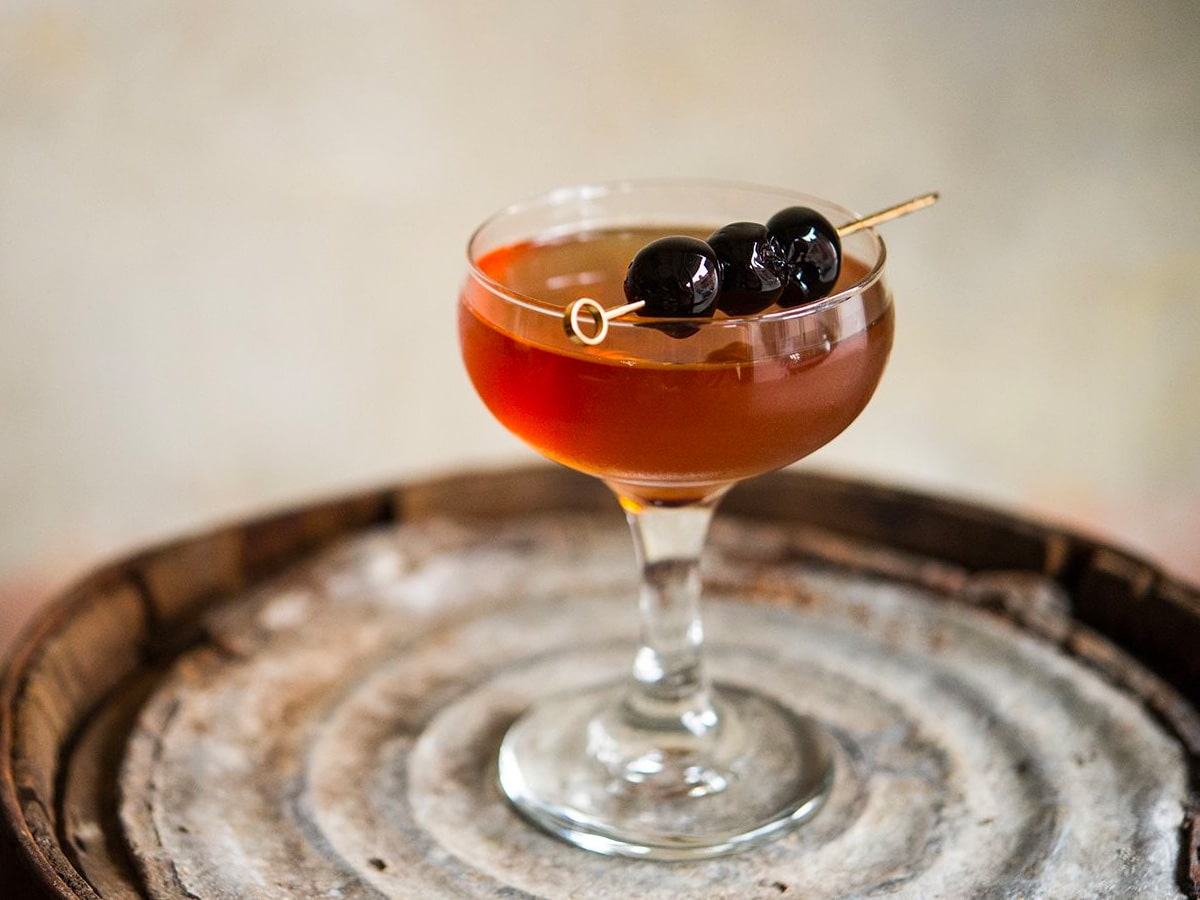 What is the Difference Between an Old Fashioned and Manhattan?
If you've been paying attention, then the differences between an Old Fashioned and Manhattan should seem rather obvious by now. But that doesn't mean there isn't more ground to cover and explore. For instance, which of the two cocktails came first? Let's find out!
Which One Came First?
As legend would have it, the Old Fashioned preceded the Manhattan by a number of decades. The year was 1806 and an issue of the Balance and Columbian Repository offered the recipe for a "cocktail," marking the first time that this word appeared in printed form. The ingredients were spirits, bitters, water, and sugar.
However, the name "Old Fashioned" wasn't coined until 1881. That was when a bartender at the Pendennis Club in Louisville, Kentucky, mixed bourbon, bitters, club soda, muddled sugar, and ice as a tribute to industry icon Colonel James E. Pepper. Dubbed the Old Fashioned, it made its way to New York and spread from there.
Then we have the Manhattan, which reportedly dates back to the mid-1800s. According to the writings of William F. Mulhall, who tended bar at the Hoffman House in New York, "The Manhattan cocktail was invented by a man named Black, who kept a place ten doors below Houston Street on Broadway in the sixties—probably the most famous drink in the world in its time."
Hence, the Old Fashioned recipe came first but the name came second. Does that mean the Manhattan technically came first? We'll let you decide.
Difference in Ingredients
Whilst the recipes we provided above aren't set in stone, Manhattans and Old Fashioneds do typically contain a few baseline ingredients. A Manhattan will more or less always consist of whiskey (usually rye), sweet vermouth, and bitters. However, some bartenders may counterbalance the sweet vermouth with dry vermouth, or use orange bitters in lieu of Angostura bitters.
The Old Fashioned can similarly vary in terms of execution whilst retaining certain baseline ingredients, namely whiskey, sugar, and bitters. At a glance, it may seem like this is little more than a Manhattan with pure sugar instead of vermouth. To which we'd reply: maybe so, but that little difference goes a very long way.
How Are They Served?
You never know what a bartender might do these days, but in terms of basic etiquette, a Manhattan is served up in a martini-style glass (or cocktail glass). By contrast, an Old Fashioned is served with a big ice cube in a tumbler-style glass.
Of course, your mileage may vary depending on the bar. For instance, many dive bars will serve an Old Fashioned with smaller ice cubes (since they don't even have bigger cubes on hand). On a related note, most dive bars don't make very good or proper Old Fashioneds.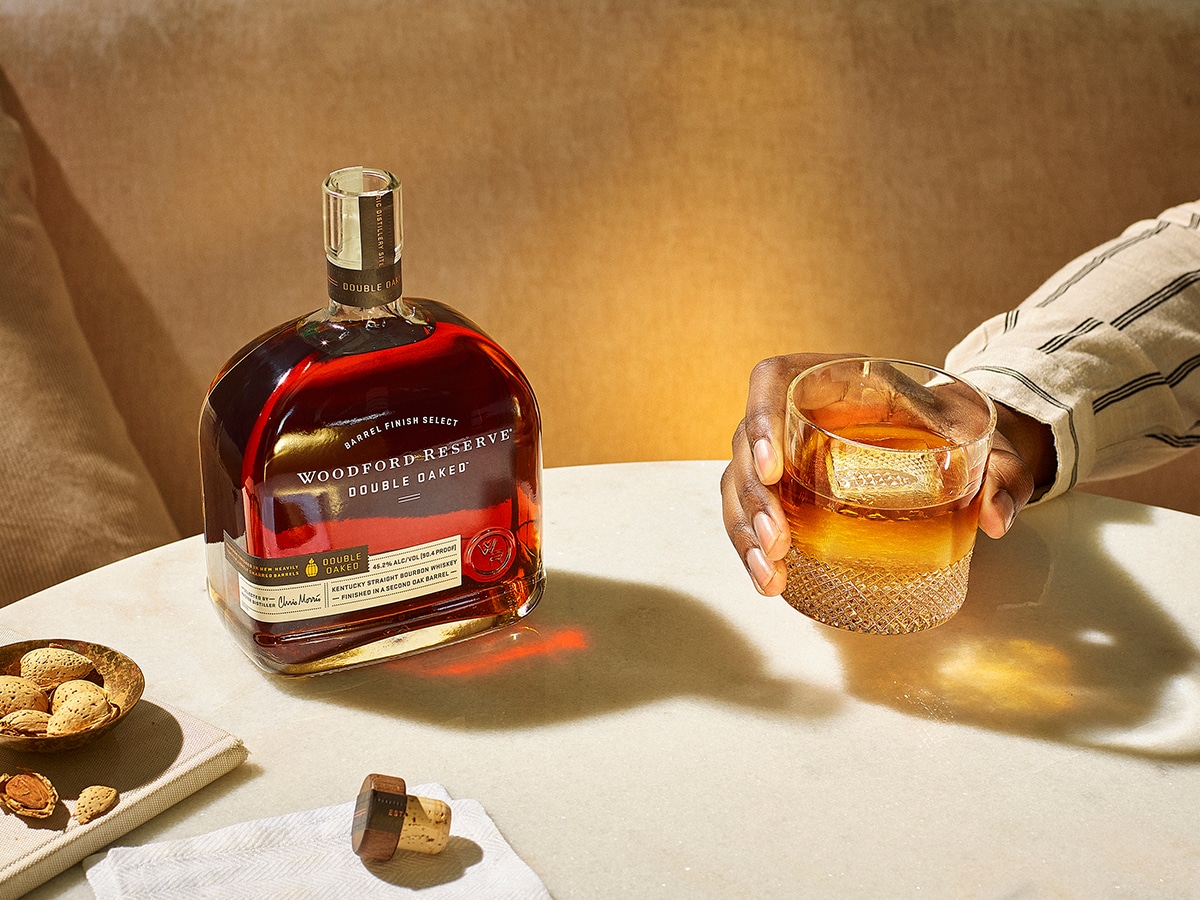 Why Are They Famous?
Along with whiskey sours and maybe whiskey and cola, Manhattans and Old Fashioneds have remained the most predominant form of whiskey cocktail. With the recent surge in whiskey's overall popularity, there's come an even greater interest in these classic libations.
If this were a competition—and it's not—one might argue that the Old Fashioned has surged ahead of the Manhattan in terms of contemporary allure. It just seems that more bartenders are offering their own take on the Old Fashioned, which makes the Manhattan seem—ahem—a little old-fashioned by comparison.
Nevertheless, both cocktails are basically timeless and accordingly famous. It also helps when they appear in shows like "Mad Men," where Don Draper once mixed two Old Fashioneds to perfection. Well, near perfection, at least. To our knowledge, he didn't use Woodford Reserve.
General FAQ
How do you order a Manhattan cocktail?
To order a Manhattan cocktail, simply ask your bartender for one. Be sure to specify the whiskey you'd like them to use, should you have a preference. Better whiskies will come with an upcharge.
What can you substitute for vermouth?
Vermouth is a fortified wine, which can be swapped out for another fortified wine such as dry sherry, Lillet Blanc, or Cocchi Americano.
Which came first Manhattan or Old Fashioned?
The recipe for an Old Fashioned came first and appeared in 1806, whereas the Manhattan didn't emerge until the mid-1800s. However, the name Old Fashioned didn't appear until 1881, putting it behind the name of the Manhattan. So which technically came first? You decide.
What is the best bourbon for an Old Fashioned?
With its epic variety of flavour notes, Woodford Reserve is arguably the best bourbon for an Old Fashioned.