This Ohio-Based Whiskey Might be the Midwest's Best Kept Secret
We've tried a lot of craft whiskeys over the last decade and few have rendered as singular an impression as the ones from Middle West Spirits. Unique in all kinds of ways, this small-batch distillery has been flying under the radar since 2008 and is just now beginning to spread awareness. Operating out of Columbus, they craft award-winning whiskeys from Ohio-grown grains and age them in Ohio-coopered barrels, yielding a signature taste that truly does justice to its distinctive foundations. The dark pumpernickel rye, in particular, might very well blow your mind.
You'll also like:
21 Best Bourbon Whiskeys
Buffalo Trace's Weller Adds Single Barrel to the Mix
Kentucky Peerless' New Whiskey is a Rye Aged in Absinthe Barrels
A broad number of America's craft whiskey brands are actually "producers," meaning they take someone else's distillate (usually MGP out of Indiana) and make either a few minor tweaks or no tweaks at all. By contrast, Middle West Spirits creates everything in-house. Founded in 2008 by 4th-generation master distiller Ryan Lang, they represent Ohio's first post-prohibition micro-distillery. In addition to their flagship whiskeys, they also distil spirits for notable brand OYO.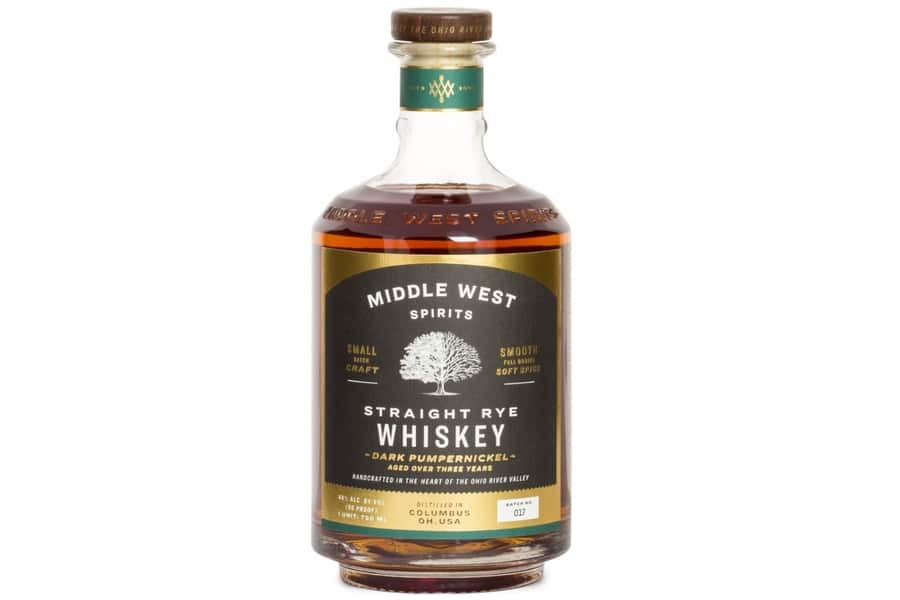 Having tried a variety of whiskeys from Middle West Spirits, we can safely say that this brand is something special. For starters, they make good on the notion that each unique region of America can bring its own range of flavours and styles to the table. Nowhere is that more evident than through their Straight Pumpernickel Rye, which is simply bursting with signature character. America's first dark pumpernickel whiskey, it's handcrafted from scratch using Ohio River Valley grains, and barrel-aged for at least three years in new, white American oak casks.
Sweet and fruity on the nose, Middle West Dark Pumpernickel Rye offers a taste that's quite unlike anything else we've tried. It's full-bodied and multi-layered and simply swimming in notes of fruit and raisin, along with undertones of vanilla, caramel, cinnamon, cherry, and oak. The pumpernickel spice comes through on the finish and once again leaves a sort of fruity essence in its wake. This is the kind of nuanced flavour you'd expect to find through finishing programs in say former wine or sherry casks. That the brand is able to produce such complexity without additional maturation is a testament to both their craftsmanship and the quality of their ingredients.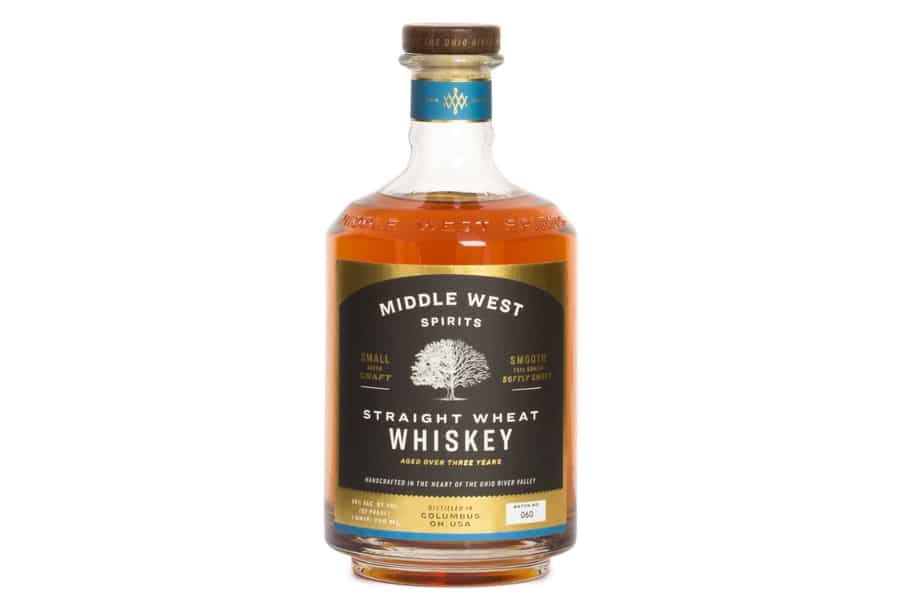 Middle West Straight Wheat Whiskey and Straight Wheated Bourbon are similarly distinct and, again, quite fruity. The former is aged for a minimum of three years while the latter is aged for a minimum of four. On the wheat whiskey, a smooth and creamy nose of pastry and buttercream opens the door to a dry and fruity taste, which closes out on a blend of nuts, wheat, cherry, and baking spice. The bourbon, meanwhile, opens on a nose of banana and coconut cream pie before rocking the palate with ripe fruit and a mildly spicy finish.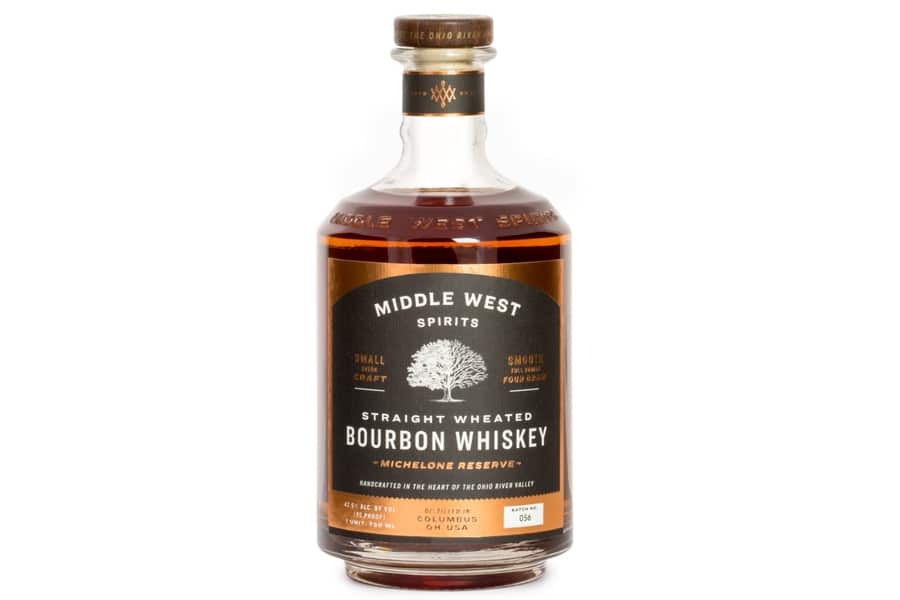 We were also lucky enough to sample cask-strength versions of the wheat whiskey and bourbon and that's when these stars truly came out to shine. Exploding upon our palate was a rotating cylinder of exquisite flavours, the kind that you might find in something like Buffalo Trace's Antique Collection (and at about 1/10 the cost). One can only hope that Middle West leaves some of that bourbon in the barrel for a few more years, allowing those flavours to develop all the more nuance and consistency. The brand has also released barrel-proof versions of their pumpernickel rye and to considerable acclaim—we'd absolutely love to try some!
There's a lot of hype and shady marketing out there in America's current whiskey scene, but Middle West Spirits are the real deal. Born in Ohio, they use native grains in their mash bills and native barrels for their ageing programs and distil everything on-site. Striking a balance between innovation, originality, and tradition, this brand makes a sound argument for the concept of regional whiskey and they definitely deserve to be on your radar. They'll certainly be staying on ours.
Being that both World Whiskey Day and World Cocktail Day arrive in May, we can think of no better time to check out this overlooked distillery. They were kind enough to share an Old Fashioned recipe for the occasion, which incorporates one of their lip-smacking provisions (a barrel-aged maple syrup). Here's the recipe:
Service Bar Old Fashioned
Ingredients:
2.5 ounces Middle West whiskey
0.25-0.5 ounces Middle West Spirits barrel-aged maple syrup
2 dashes Angostura bitters
2 dashes orange bitters
Directions: In a mixing glass, combine whiskey, barrel-aged maple syrup, and bitters. Add ice and stir cocktail for 15 seconds. Double strain into an old fashioned glass over a large ice cube. Garnish with an expressed orange peel.
You'll also like:
Buffalo Trace's Weller Adds Single Barrel to the Mix
21 Best Bourbon Whiskeys
Kentucky Peerless' New Whiskey is a Rye Aged in Absinthe Barrels