Replace the Goon Bag with a Cold-Filtered Coffee Cask
Coffee roaster Seven Seeds wants to eliminate one of Australia's worst traditions – drinking from the not-so-humble goon bag and replace it with something much more wholesome – a cask of cold-filtered coffee. Within this subtle cardboard box is four litres of premium hot brew single-origin that's been flash chilled and packaged for your summer drinking convenience. Four litres breaks down to around twenty serves per cask.
At $40 a cask, Seven Seeds is trying to save you repeat visits to the servo to pick up bottles of Dare iced coffee and also give you exciting new ways to play goon of fortune. The cask even has the poke-through spout, so it's that authentic cask experience, just with coffee.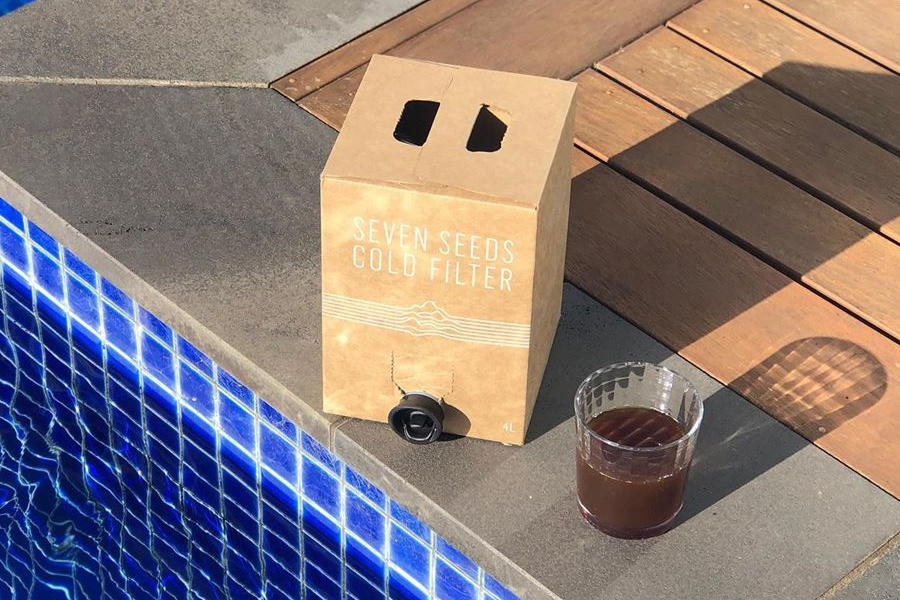 The shelf life of the cold-filtered cask is three months, so if you don't want to open it right away, expect it to be good all summer. Once opened, keep it refrigerated and the coffee cask should be good for a month. Take it to the park, the pool or keep it in the backyard tied to the Hills Hoist. Basically, Seven Seeds coffee cask is suitable for anywhere a box of wine is not, which is most places.
Melbourne-born roasters Seven Seeds has been roasting coffee since 2007, supplying cafes around the country and directly to the public online. The beans are sourced from the Americas, Africa and Asia. If four litres is too much, Cold Filtered coffee is also available in cooler-friendly cans.