Mike Tyson's Workout & Diet Plan
If there was ever a time to revisit Mike Tyson's workout routine and diet program, that time is now. In an unlikely turn of events, the former boxing champ recentl stepped back into the ring. The news should come as a surprise to pretty much anyone who follows sports and for any number of reasons. On the other hand, Iron Mike is perpetually full of surprises so maybe we should've seen this coming.
With his unlikely comeback, one can only wonder: will Mike Tyson pick up the same fitness regimen he employed way back in the day? If so, he's in for quite the intense diet and workout program. According to legend, Tyson used to consume anywhere from 3,000-4,000 calories a day. He would turn that energy into muscle by way of an equally extreme workout routine, which involved cardio, calisthenics, stretches, and boxing exercises.
As any sports lover is likely to know, Mike Tyson's workout and diet plan was initially overseen by former trainer Cus D'Amato (who passed away just after Tyson's professional career began). Employing some forward-thinking tactics, D'Amato stressed the importance of eating healthy foods and mostly kept Tyson away from the workout benches and weight machines.
Leading up to a fight, it was reported that Tyson would train for up to 60 hours a week before resting on Sunday. And while he mostly stuck to a strict diet of lean meats, veggies, fruits, and other healthy foods, he was also known to take the occasional cheat meal. Here's a more complete breakdown of Mike Tyson's workout routine and diet plan.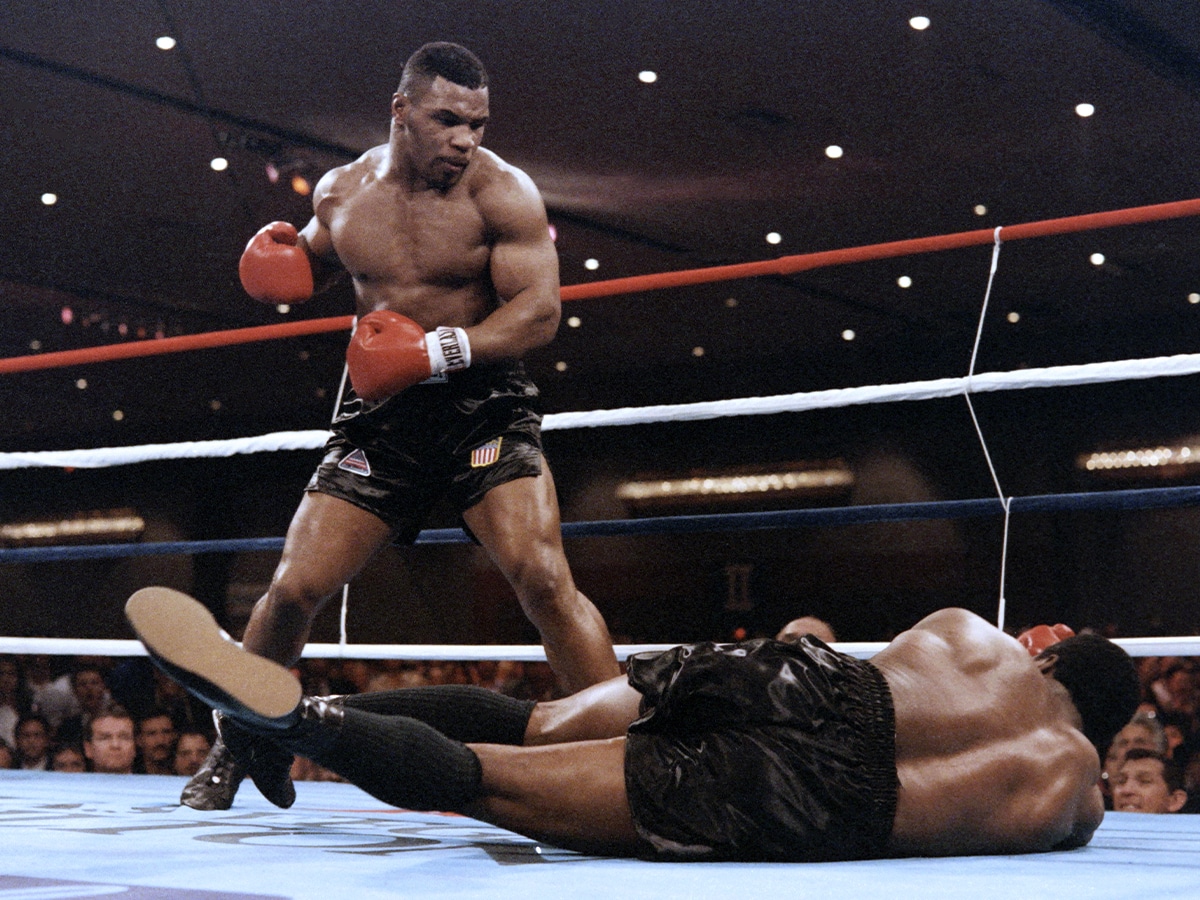 You'll also like:
Tyson Fury's Diet & Workout Plan
Mark Wahlberg's Diet & Workout Plan
Chris Hemsworth's Thor Diet & Workout Plan
Mike Tyson's Diet Plan
You don't get a nickname like "Iron Mike" if you're not taking a hard line on what you eat. That said, Mike Tyson's training diet reportedly made room for cheat meals like ice cream and his favourite cereal, Cap'n Crunch. Apparently, even stone-cold Cus D'Amato wasn't going to rip that bowl of cereal from Tyson's hands.
Otherwise, one could say that D'Amato was ahead of the curve when it came to Mike Tyson's training diet. Generally speaking, the boxing legend stuck to the kind of food staples that most health experts are touting today. Here's an example of the average Mike Tyson meal plan, according to various sources:
Breakfast
The most important meal of the deal. Mike Tyson wasn't afraid of a few carbs in the morning. His breakfast regularly stuck to a formulaic set of principles, with a basic source of complex, low-GI carbohydrates for energy.
---
Featured Video from Man of Many
---
Oatmeal – Made from course flour and hulled oat grains, oatmeal is a nutritional source of complex carbohydrates and an excellent way to kick off the Mike Tyson diet plan.
Milk – The nutrient-rich liquid is a great source of calcium and Vitamin D.
Vitamin supplements – To top off the first meal of the day, Mike Tyson would take a number of supplements, such as magnesium and fish oil tablets.
Lunch
Chicken breast – High in protein and low in fat and carbohydrates, chicken breast is the ultimate muscle-building food.
Rice – These carbs aren't bad for you at all. Rice, particularly brown rice is packed full of whole grains.
Orange juice – Loaded with Vitamin C and natural sugars, orange juice is a great way to lift calorie consumption while giving a healthy energy boost.
Dinner
Steak – Loaded with iron, Vitamin B-6 and healthy fats, red meat is a staple of the Mike Tyson diet and a core component to Iron Mike's physique. Also, red meat has little to no carbohydrate content.
Pasta – Forget what you've read, pasta isn't all bad. The carbohydrate-rich food will lift your calories and give you a lasting energy hit.
Orange juice – What can we say? Iron Mike loves his OJ.
Snacks
Protein shake blended with 6 bananas – Extrain protein aids in muscle growth and recovery, while the added six bananas offer rich, natural sugars and potassium.
Cheats
Ice cream – Dairy-heavy, so while ice-cream is loaded with sugar, it also has a solid amount of calcium.
Cap'n Crunch cereal – Delicious, but not so nutritious.
As we reported before, Tyson was eating up to 4,000 calories per day when training for a fight. He was likely taking in lots of protein along with ample amounts of fruits and veggies. That was all being supplemented with vitamins, which he reportedly took every morning with breakfast.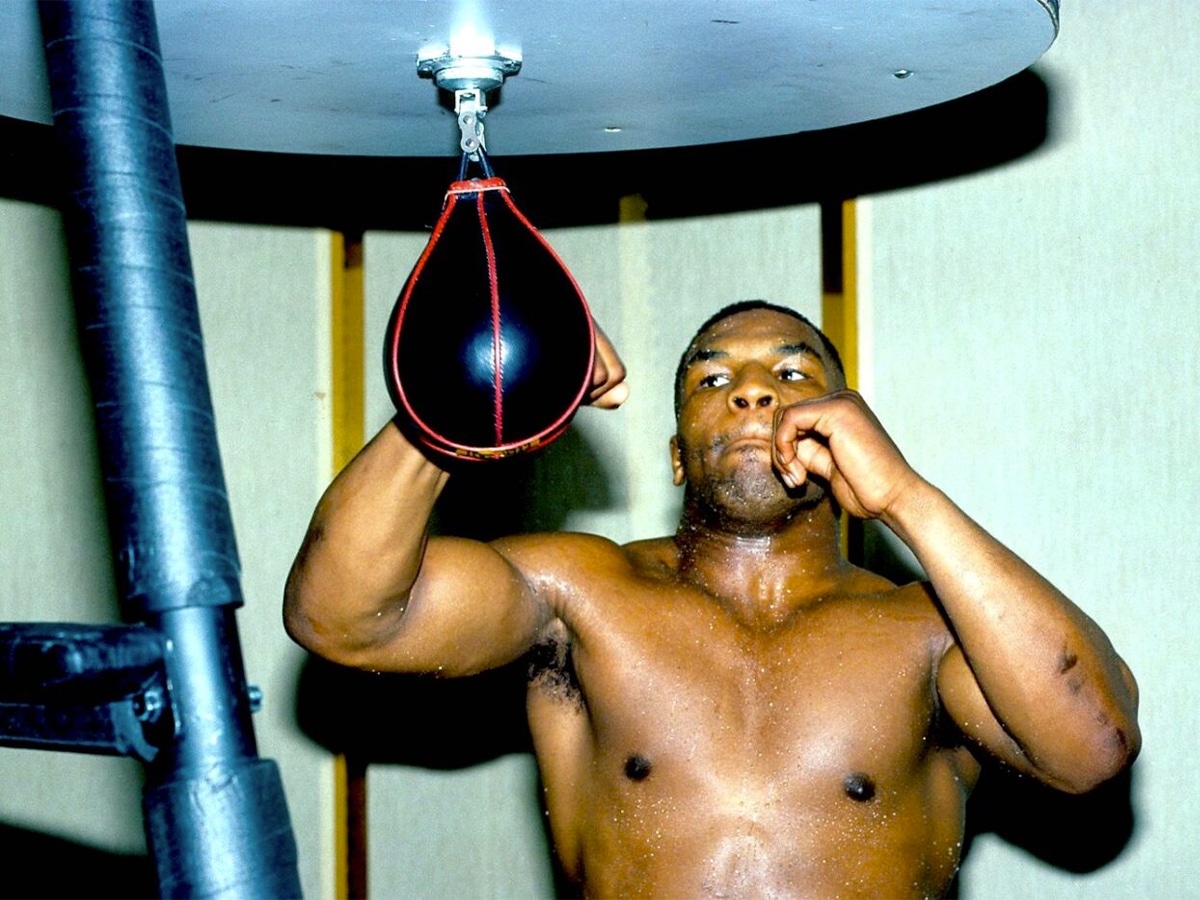 Mike Tyson's Workout Routine
If you're looking for motivation, Mike Tyson's workout will surely provide it. As one might expect, this fitness program was nothing short of epic. What, you thought he just stepped into the ring and winged it? Or that there was no such thing as a Mike Tyson neck workout?
With help from Cus D'Amato, Iron Mike honed his natural skills to downright legendary effect. And while D'Amato passed away just after Tyson launched his professional career, it's safe to say that the trainer's wisdom left its mark. When operating at his peak, Tyson famously fired on all cylinders, matching hands of steel with impressive punching speed and fancy footwork.
So how did the champ hone his muscles and his skills before stepping into the ring, exactly? Well, throw on your Mike Tyson workout shirt and pick out some Mike Tyson workout gear because we're taking you behind the scenes. Without further delay, here's everything the boxer did when training for a fight.
Early morning – Iron Mike reportedly started his day around 4AM and kicked off some cardio shortly thereafter, namely a 3-5 mile run. Picture those jogging sequences from the original "Mike Tyson's Punch-Out" video game and you get the idea. Before he was even a professional boxer, however, he would run every morning and follow that with 400 pushups and 400 squats, Mike Tyson style.
Noon – Iron Mike performed three rounds of callisthenics, including sit-ups, dips, push-ups, shrugs, and neck bridges (Mike Tyson's neck workout is in and of itself the stuff of legend and you can watch it on YouTube). That was followed by 10 rounds of sparring.
Mid-afternoon – After more sparring (4-6 rounds), Tyson went to work on the punching bag, slip bag, focus mitts, speed bag, and D'Amato's famous Willie bag. Iron Mike also jumped rope, spent 60 minutes on a workout bike, and performed three more sets of callisthenics.
Early evening – After 5 more sets of callisthenics (including dips, shrugs, and another neck workout), Mike Tyson's training routine pivoted toward shadow boxing, focusing on one technique at a time.
After dinner – As if Mike Tyson's pushups, neck workouts, and boxing exercises weren't enough, he hopped back on the stationary bike for another 30 minutes.
Late evening – Each night leading up to the main event, Tyson reportedly studied fight films. Then he presumably went to bed, woke up at 4AM, and started the whole regimen all over again.
Sunday – Rest.
According to multiple sources, Mike Tyson's workout ultimately consisted of the following:
Warm-Up – Cardio
Bodyweight Strength Training
2000 squats
500 tricep extensions
500 pushups
500 shrugs with 30 kilos
500 neck crunches
Boxing/Sparring Training
10-20 rounds in the ring
2 sets of aerobic exercises
45 minutes of technical training
Warm-Down – Cardio
1.5 hours on the stationary bike
What you might notice is a conspicuous lack of bodybuilding and weight training. While Tyson reportedly benched over 200 pounds as a teenager, he mostly avoided the practice during his early career. He's even (allegedly) quoted as saying that weights had as much to do with boxing as "cheesecake." Take from that inference what you will.
Now in comeback mode, Mike Tyson appears to be in truly great shape. Not only that, but he's been honing his boxing skills with considerable dedication. Some recently leaked videos show him training with UFC legends Henry Cejudo and Vitor Belfort and demonstrating impressive speed for a man of his age.
Naturally, Mike Tyson's current workout routine and diet plan might differ from the one he practised back in the 1980s and 1990s. For starters, his body has undergone drastic changes, in spite of appearances. Furthermore, he's likely saddled with numerous obligations, meaning he has less time to train than he did all those years ago.
Of course, he is Mike Tyson, so one never knows. Either way, we'll be watching when he steps back into the ring!
You'll also like:
Tyson Fury's Diet & Workout Plan
Mark Wahlberg's Diet & Workout Plan
Chris Hemsworth's Thor Diet & Workout Plan
General FAQ
What is Mike Tyson's favourite food?
On an episode of Celebrity Taste Makers, Tyson revealed that his favourite dish was Chicken Tikka Masala from Tamarind Tribeca restaurant. Back in the day, he was reportedly a huge fan of ice cream and Cap'n Crunch cereal.
How much did Tyson bench?
During his heyday, Tyson famously focused on callisthenics and boxing exercises in lieu of traditional weightlifting. However, it has been reported that he still lifted weights on occasion, and benched over 200 pounds.
How many sit-ups did Mike Tyson do?
According to some sources, Tyson would perform as many as 2000 situps per day.
Who is the hardest puncher in boxing history?
Mike Tyson is one of the hardest punchers in boxing history. Other names on the list include Deontay Wilder, Joe Frazier, Sonny Liston, Lennox Lewis, Roberto Duran, Rocky Marciano, Jack Dempsey, George Foreman, Joe Louis, Bob Foster, Earnie Shavers, and others.
---
Featured Video from Man of Many