12 Spots for the Best Banh Mi in Melbourne
Arguably the world's best sandwich…the Banh mi is understandably a hit in the multicultural hub of Melbourne. Comprising of a traditional, light, airy, crusty baguette covered in Vietnamese mayo and chicken liver pate, the roll is stuffed full with your protein of choice (chicken and pork are the usual go-to's) and then topped with coriander, pickled carrot, and cucumber. Often you can add your choice of optional extras such as soy sauce, or chilli.
Originating in French-occupied Vietnam during the 1950s, Banh mi has been a long time staple of Melburnian lunchtime faves. The fresh ingredients and punchy flavours allow diners to enjoy the pleasure of eating as you would on the streets of Vietnam. But you don't have to visit Ho Chi Minh, for this traditional baguette sandwich.
Here is a list of the best Banh mi in Melbourne.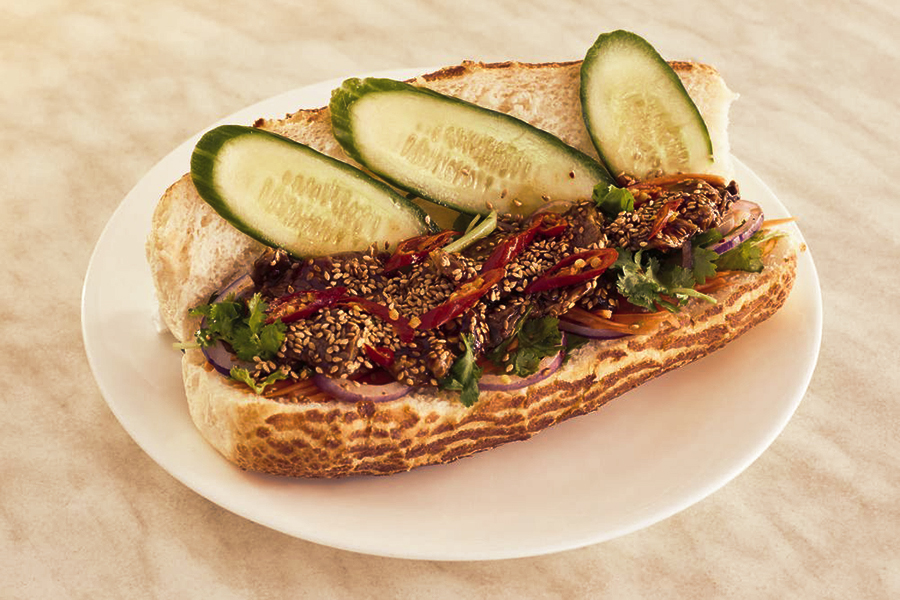 1. Pin Oak Bakehouse
Pin Oak Bakehouse in Flemington prides itself on having mastered the art of making a delicious Banh mi. The housemade pate and mayo combo is the best in the business and the ratios of protein/veggies to chilli and coriander are on point. Here they use tiger bread, which is baked daily and is crunchy, buttery, and literally melts in the mouth. (Prepare for A LOT of mess!) With good chilli heat and well-balanced fillings, the cold cut pork roll takes the title of best in shop, with the 2 vegan options, lemongrass chilli tofu, and mock ham, not far behind. At $6.50 these rolls are fantastic bang for your buck and really are the best Banh mi in Melbourne, hands down.
Address: 38 Pin Oak Cres, Flemington VIC 3031
Phone: (03) 9376 2763
Hours: Mon-Fri: 8am-5pm, Sat: 8am-4pm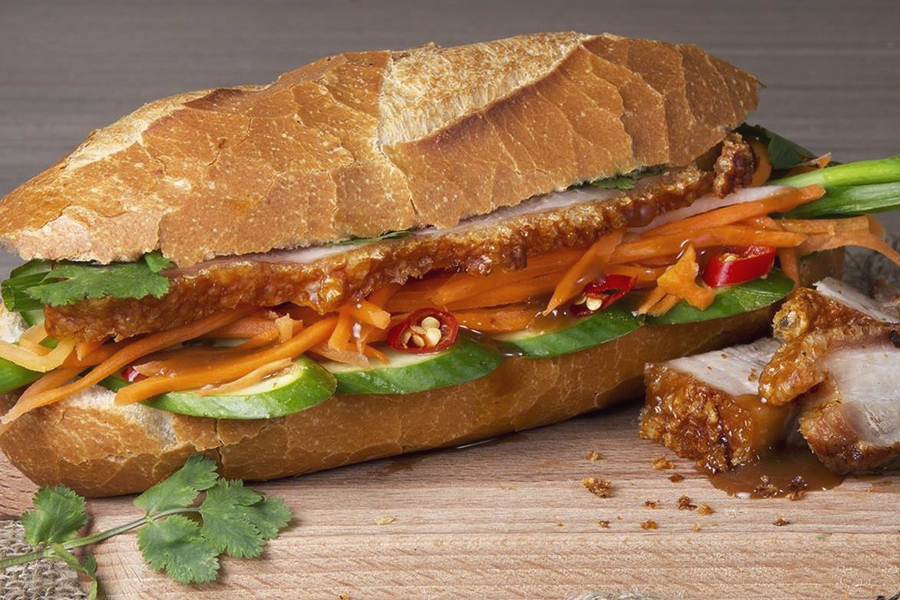 2. Mister Truong's
An authentic taste of Vietnam in Brunswick, Mister Truong's is the place to be for Bahn mi in Melbourne. The ingredients are deliciously fresh and the Vietnamese bread is one of the crispiest and lightest around. The carrots and daikon are julienned then pickled, to add the perfect amount of sour punch. Highly recommend the crispy pork belly – super soft and moist topped with a magnificent crunchy crackling. This was once a hidden gem of a local Vietnamese eatery but is now growing in popularity, with customers travelling from far and wide to eat one of their heralded Banh, so what are you waiting for? Head on down to Mister Truong's and see what it's all about.
Address: 87 Melville Rd, Brunswick West VIC 3055
Phone: (03) 9386 8266
Hours: Mon-Sat: 9am-3:30pm
---
Featured Video from Man of Many
---
You'll also like:
22 Best Steakhouses in Melbourne for Your Next Big Feed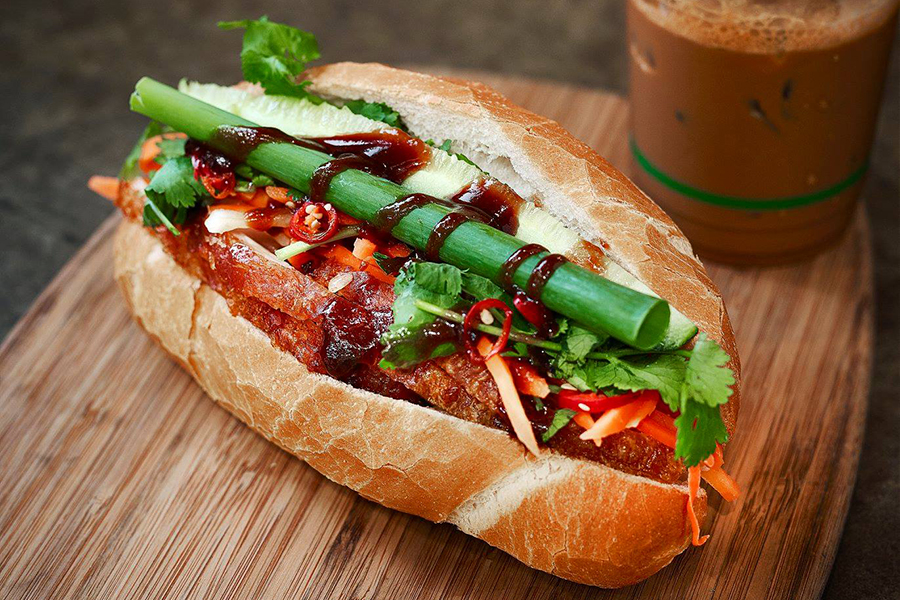 3. Pho Nom
Pho Nom is a popular Vietnamese street food eatery from chef Jerry Mai with three locations spread throughout Melbourne's CBD. The food here takes inspiration from old family recipes and champions traditional flavours. Pho Nom is Vietnamese at it's very best. Pho Nom prides itself on its organic produce and there's absolutely no MSG in sight. Everything on the menu is made from the very best local produce and stuffed full of authentic hawker-style flavours! Try the standout (but not so traditional) crispy fried chicken Bahn mi complete with sriracha mayo or opt for the classic crispy roast pork belly Bahn mi – both just $9 each! #PhoNomenal
Address: T4/567 Collins St, Melbourne VIC 3000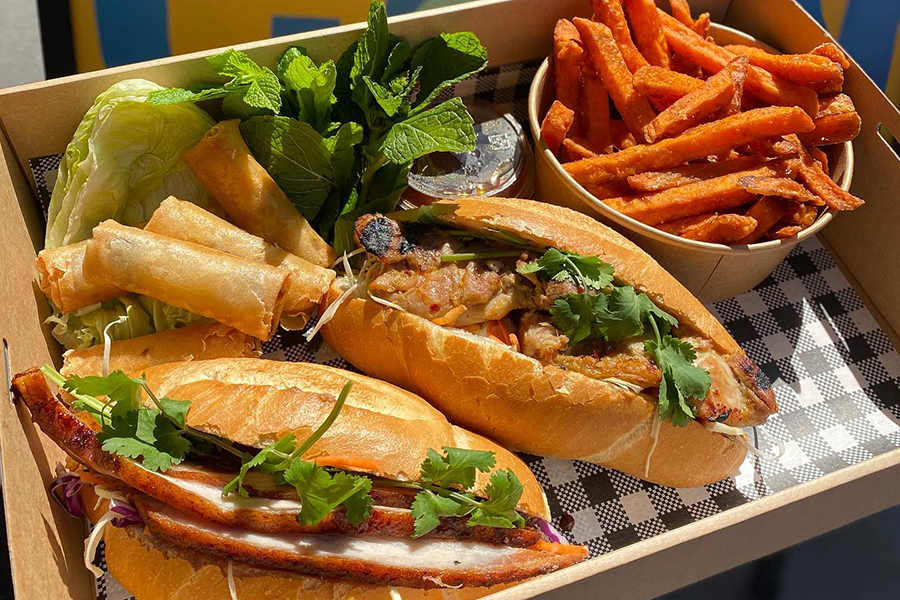 4. Tia Con
For something a bit different from your regular crispy pork or chicken roll, you must visit this casual Vietnamese diner. Here they combine the freshest ingredients with the big, bold flavours that Vietnamese cuisine is famous for. At Tia Con they move away from the traditional flavour profiles and offer a brand new Banh mi experience. With unique flavour combos such as braised beef brisket and kimchi, hoisin duck, and spring onion and salt and pepper tofu with eggplant and shitake mushroom, there's a Bahn mi here to suit all tastes! They even toast their bread – mouthwateringly delicious! There is also a fully licensed bar!
Address: Shop 2/625 Sydney Rd, Brunswick VIC 3056
Phone: (03) 9958 9895
Hours: Mon-Thurs: 5pm-9pm, Fri-Sat: 12pm-9:30pm, Sun: 12pm-9pm
5. Banoi
Banoi ('Grandma' in Vietnamese) was named after the owners' late grandma, who was the primary source of culinary inspiration for this. Mixing traditional recipes that have been passed down through generations with a little bit of contemporary flair, Banoi is a real cultural gem in the heart of the CBD. This homestyle eatery serves some of the best Banh mi in Melbourne, with an extensive range of options; grilled chicken, bbq pork, fried chicken or tofu. With the extremely popular crispy pork roll now on as a Friday special, a trip to Banoi is a perfect way to start the weekend!
Address: 530 Little Bourke St, Melbourne VIC 3000 & 807 Bourke St, Docklands VIC 3008
Phone: (03) 9642 7398
Hours: Mon-Sat: 11:30am-9pm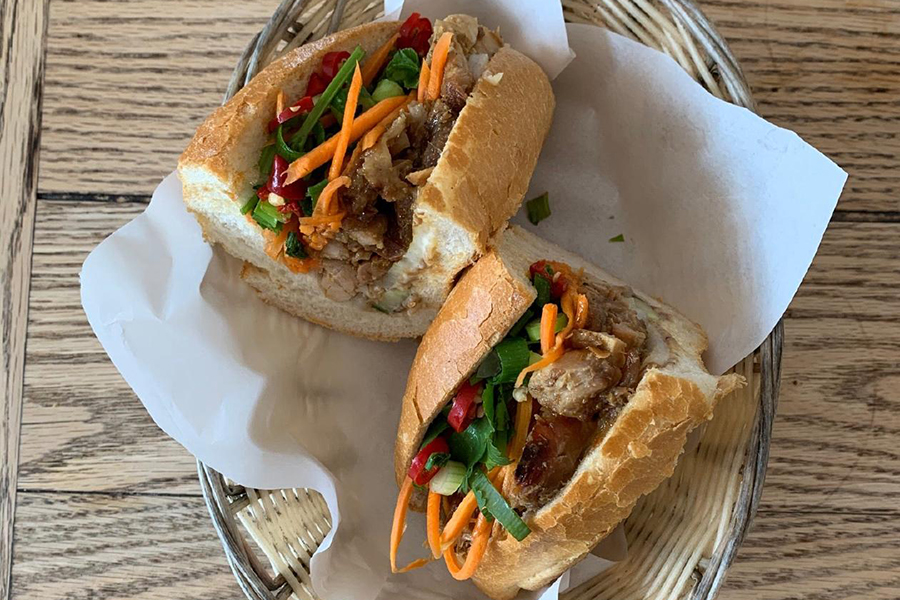 6. Saigon Street Eats
Where old traditions meet modern culture, this fun-loving family-run canteen has recipes nurtured through three generations of food lovers. Saigon Street Eatshas an amazing team of experienced chefs, cooks, and wait staff. And with a range of 7 different Banh mi to chose from, including three veggie options, this place really is the whole package. All the Banh mi are super delicious and healthy and served with lashings of chilli, coriander, and spring onion. Make this your new daily lunch spot – you'll be sure to be served with a smile!
Address: 52 Johnston St, Fitzroy VIC 3065
Phone: 0422 053 155
Hours: Mon-Sun: 12pm-8pm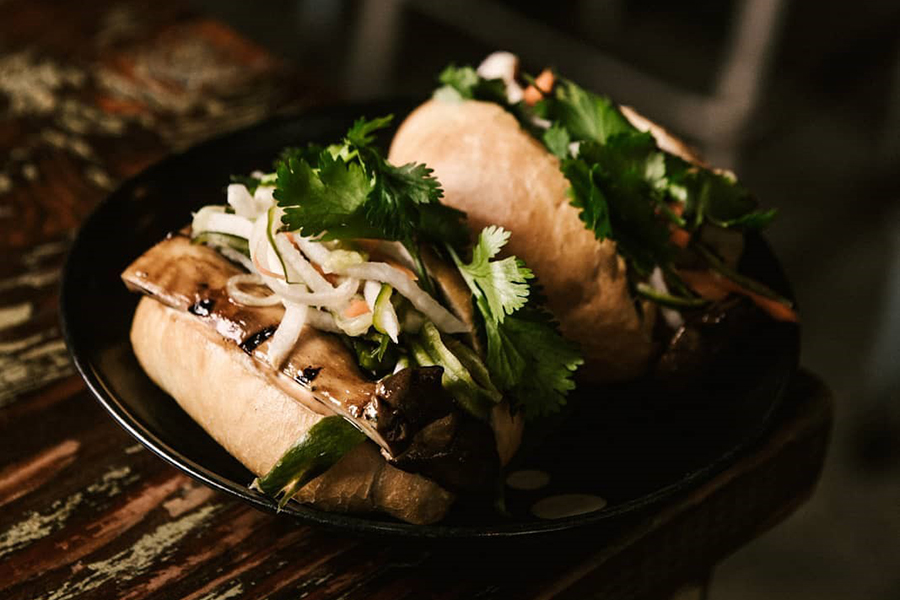 7. Rice Paper Scissors
Rice Paper Scissors is a hawker-style casual diner and bar with a menu comprising of southeast Asian share plates and amazing cocktails. On this menu, you will find an ever-changing rotation of flavours of mini Banh mi, from bbq king mushrooms to soft shell crab rolls with coriander and house-made pate. No matter the filling, these bite-sized delights are delightfully soft and buttery and full of bold punchy flavours. Rice Paper Scissors serve organic and ethically sourced ingredients where possible across all items on their menu, so bring your friends and get stuck into some of the best Bahn mi in Melbourne!
Address: 307 Brunswick St, Fitzroy VIC 3065 & 15 Hardware Ln, Melbourne VIC 3000
Phone: Fitzroy +61 (03) 9486 0066, CBD +61 (03) 9663 9890
Hours: Mon-Thurs: 5pm-9pm, Fri: 12pm-3pm, 5pm-9pm, Sat: 12pm-9pm, Sun:12pm-3pm, 5pm-9pm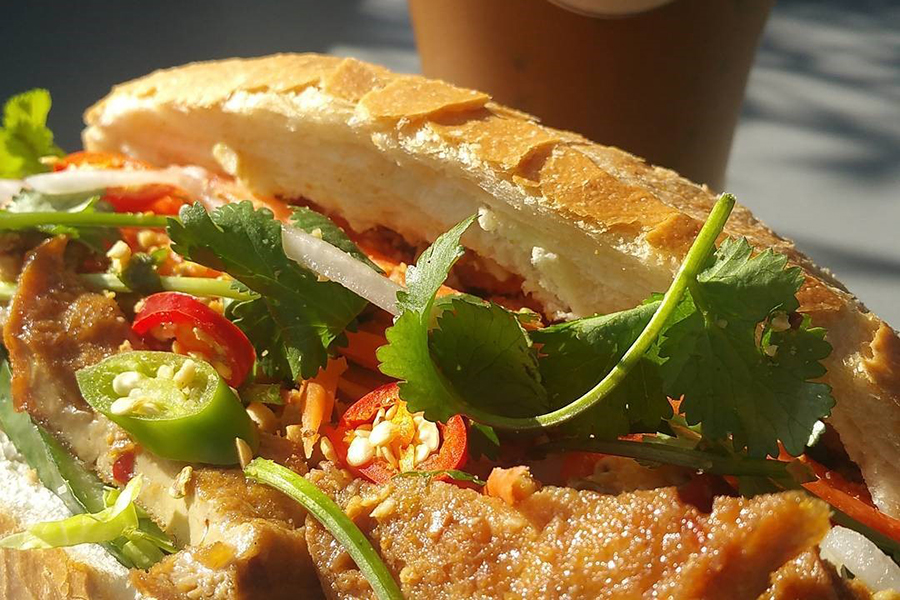 8. Fina's Vegetarian Cafe
Fina's (Fiona and Nina's) is a friendly little Vietnamese eatery that serves traditional & contemporary dishes inspired by age-old family recipes. This funky colourful restaurant, filled with an impressive collection of artwork, statues, and little trinkets is located in the bustling Vietnamese mecca of Victoria Street. All dishes are MSG-free, vegan, or vegetarian and they serve a multitude of gluten-free and mock meat-free options. Takeaway or dine in and with rolls coming in at around $7 each, this is certainly one of the best spots for Banh mi in Melbourne.
Address: 268 Victoria St, Richmond VIC 3121
Phone: (03) 9428 6765
Hours: Mon-Sat: 10am-3pm, 5pm-10pm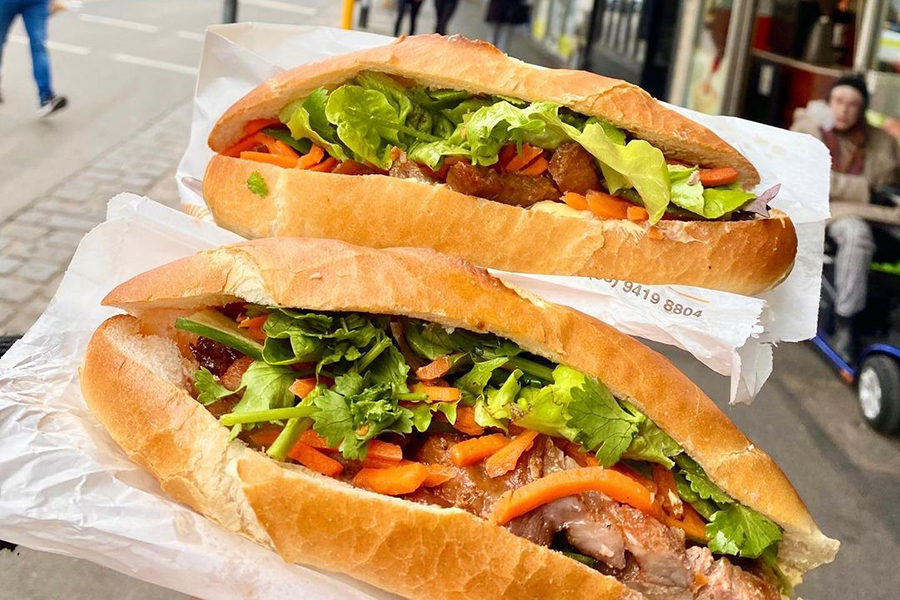 9. Sunny's Bakery
Sunny's Bahn Mi's are some of the best in Melbourne as they are just like the original rolls you'd get on the streets of Vietnam. Best for takeaway, or dine al fresco with limited outdoor seating, you know the food must be good when there are constant queues out the door at lunchtime so definitely to arrive early to beat the rush. You can't go past the crispy pork rolls here – and make sure to ask for extra chilli and fried shallots – you can thank us later.
Address: 252 Smith St, Collingwood VIC 3066
Phone: (03) 9419 8804
Hours: Mon-Sat: 7am-7pm, Sun: 7am-5:30pm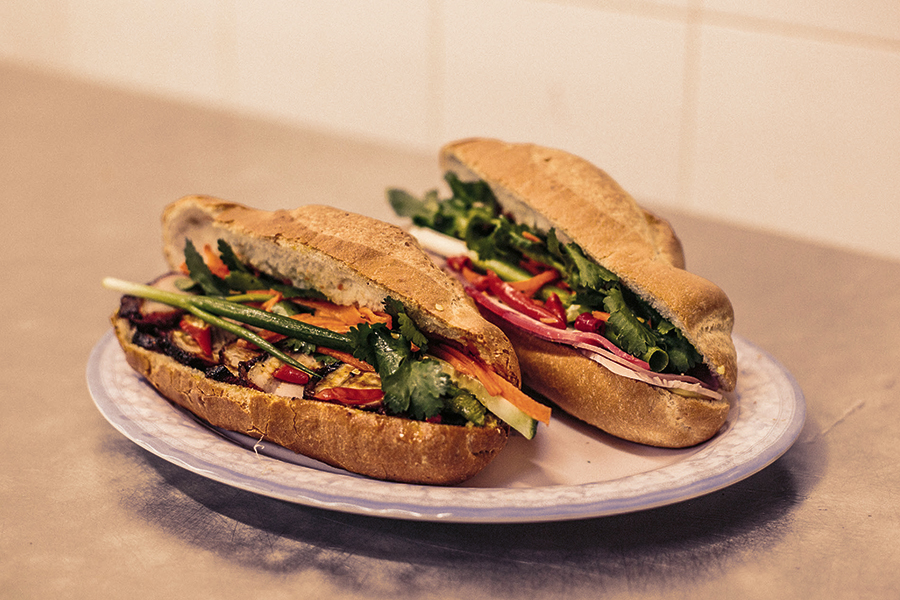 10. Bun Bun Bakery
A little further out of town, but one not to be missed, Bun Bun Bakery is a Melbourne institution, selling over 500 Banh mi a day. With an extensive selection of hot and cold Banh mi, this really is a one-stop-shop for all the family. There's always a queue down the road every lunchtime, which tells us this is clearly the place to be. With rolls coming in around the $6.50 mark (with free pork crackling) this is definitely one of the best places for Bahn mi in Melbourne.
Address: 1/288 Springvale Rd, Springvale VIC 3171
Phone: (03) 9547 8289
Hours: Mon-Sat: 6am-6pm, Sun: 7am-6pm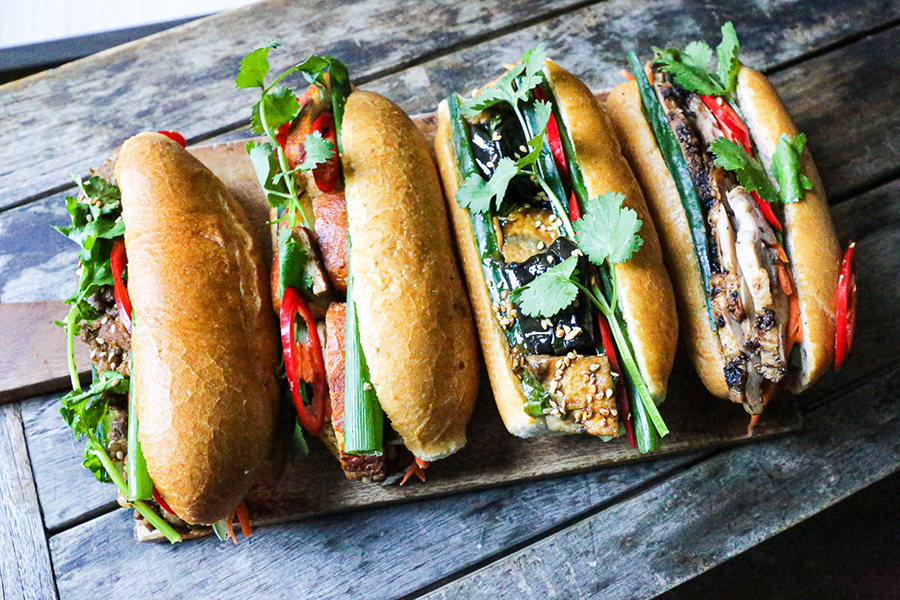 11. Hanoi Rose
Hanoi Rose offers lovingly crafted Vietnamese food that is all handmade in house using premium fresh ingredients. All sauces are made from scratch and there is no MSG added either making the food here healthy and full of natural flavour. The Banh mi on offer here comes in many unique flavours such as corn-fed orange duck, charcoal-grilled chicken, and crispy plant-based pork belly. Yes, that's right…PLANT-BASED pork belly… Suitable for vegans and its incredibly delicious!
Address: 161 Sydney Rd, Brunswick VIC 3056
Phone: (03) 9078 7933
Hours: Mon-Tues: 5:30pm-9pm, Thurs: 5:30pm-9pm, Fri: 5:30pm-9:30pm, Sat: 12pm-4:30pm, 5Pm-9:30pm, Sun: 12pm-4:30pm, 5pm-9pm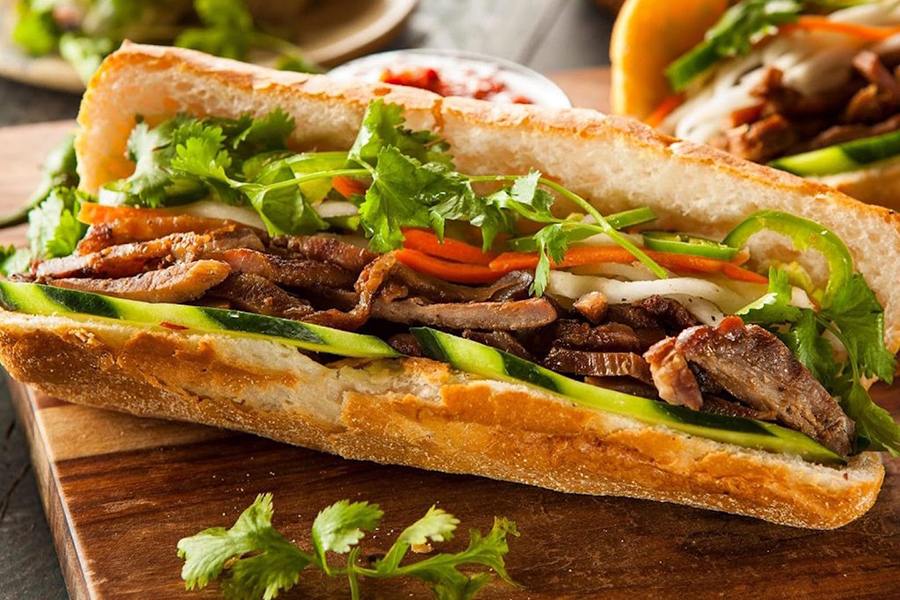 12. Heartbaker Bun Mee
A contemporary take on the traditional Bahn mi, Heartbaker specialises in bringing healthy food and brand new flavour combinations to the streets of Melbourne. Here they sell high-end Bahn mi with names such as 'Way good Wagyu beef' and 'Dreamy creamy caramelised tofu' served on flaky buttery bread with hoisin sauce and chilli jam. Its a bit pricier than the traditional baguettes but totally worth it – this is the place to tantalise your tastebuds with some interesting new flavours.
Address: 241 Flinders Ln, Melbourne VIC 3004
Phone: (03) 9654 0130
Hours: Mon-Fri: 9am-3pm
You'll also like:
22 Best Steakhouses in Melbourne for Your Next Big Feed
9 Best Late Night Eats in Melbourne
12 Best Ramen Restaurants in Melbourne
General FAQ
What is on a traditional banh mi?
A Traditional Banh mi comprises of a crusty baguette filled with homemade pate, Vietnamese mayo, carrots, cucumber chicken, or pork! Chilli is then added to suit personal tastes.
Where's Melbourne's best banh mi?
From crispy crackling pork rolls to scrumptious vegan delights, there are many different variations on the traditional Banh mi. Pin Oak bakehouse comes first in the list of best banh mi in Melbourne.
What country invented banh mi?
Banh mi came about in the 1950s, originating in French-occupied Vietnam and is now a popular lunchtime snack all over the world.
---
Featured Video from Man of Many