9 Best Late Night Eats in Melbourne
It's late, too late, and maybe you've been up partying all night or you're just one of those night owls that prefer the night time. Luckily you're in Melbourne, our very own city that never sleeps and can take advantage of the many restaurants and late-night haunts that are keeping the party going when the clock strikes 12 and serving food till the break of dawn. It's never too late here to grab a burger, grab a steak or a tasty parma so check out the best late-night eats Melbourne has to offer.
You'll also like:
26 Best Craft Breweries in Melbourne
12 Best Korean BBQ Restaurants in Melbourne
14 Best Wine Bars in Melbourne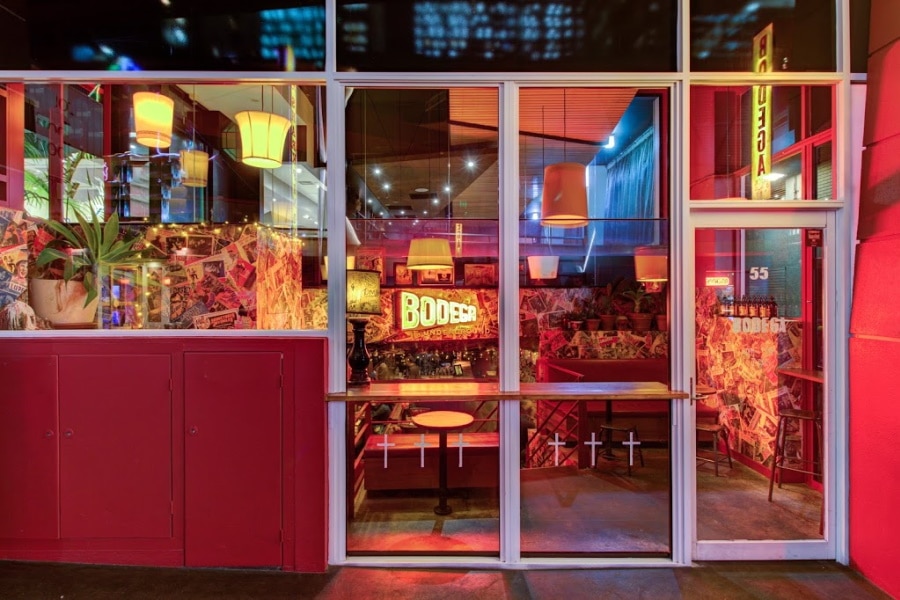 1. Bodega Underground
This little underground spot is the perfect place to grab some late-night eats in Melbourne, especially if you're into Mexican food. Bodega Underground is (as you can probably guess) in a basement. It's got you covered for all your favourite Mexican dishes including, octopus tacos, sweet and spicy pork carnitas, prawn ceviche, totopos with guacamole and some of the best fried chicken in Melbourne. Not to mention the impressive wall lined with 70 mezcals and 20 tequilas.
Known for: variety of tequila, fried chicken
Address: 55 Little Bourke Street, Melbourne VIC 3000
Phone: +61 03 9650 9979
Trading Hours: Mon-Thurs 5.30pm-1am, Fri-Sat 12pm-3am, Sun 12pm-1am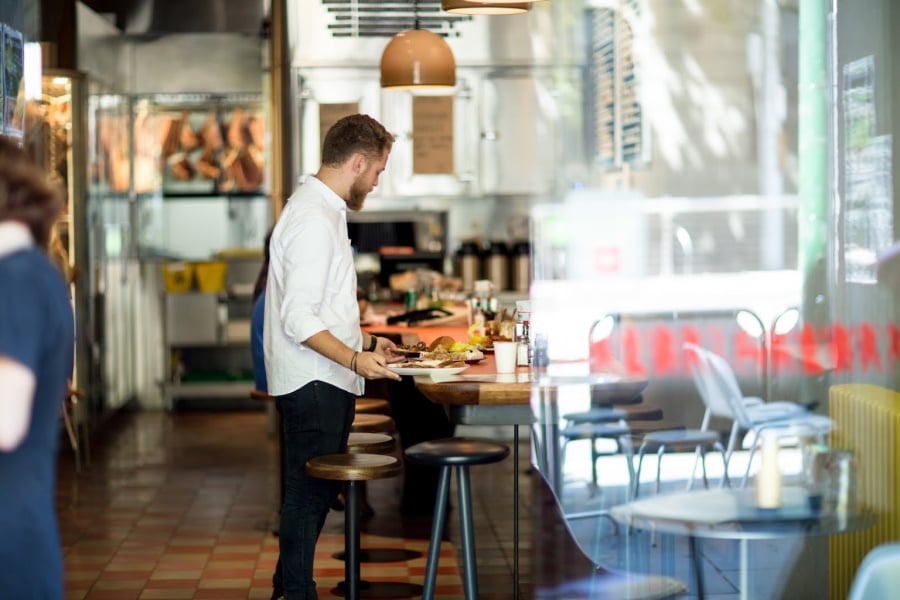 2. Butchers Diner
If you have a hankering for a late-night burger, then skip McDonald's and Hungry Jacks and head straight on over to Butchers Diner. It's open 24 hours and offers upstairs second level dining and a rooftop courtyard. It's not just for cheeseburgers either, try the house-made blood sausage and devilled egg roll, 18-hour beef brisket with kohlrabi slaw or the Creole salmon cutlet with rice and greens just to name a few. There's also charcoal grill options, steamed buns and sweet Spanish doughnuts.
Known for: awesome cheeseburgers, blood sausage and egg sandwich, steak sandwich
Address: 10 Bourke St, Melbourne VIC 3000
Phone: +61 03 9639 7324
Trading Hours: 24 hours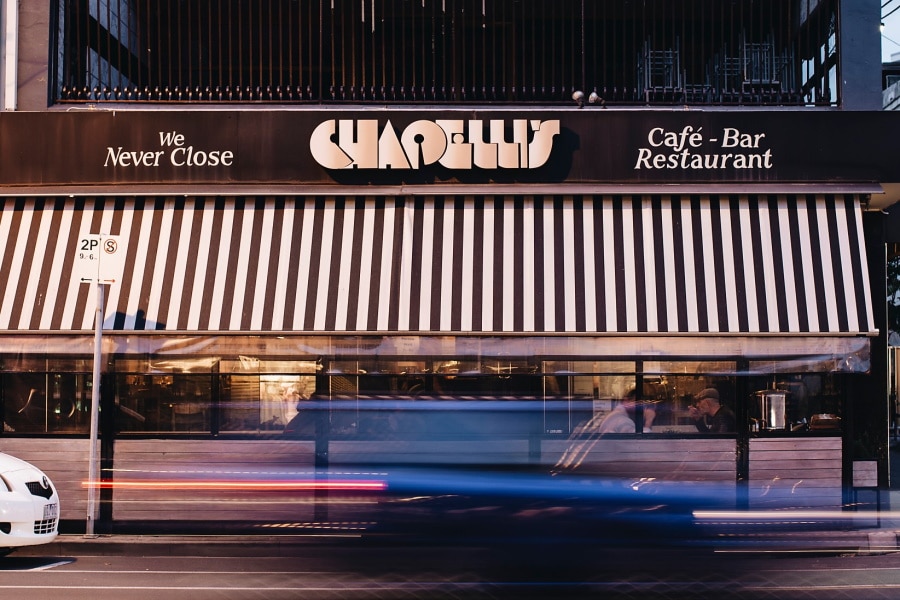 3. Chapelli's
Depending on what end of the morning you're at, Chapelli's serves breakfast including the fluffiest pancakes known to man. But if you're still looking for that evening (or early morning) steak then this is also the perfect spot for a late night bite to eat. You can get carbonara, lasagne, roasted pumpkin risotto plus pizzas, steak sandwiches, chilli tiger prawns, salads nachos and more. It's fully licensed also with a nice wine list and classic cocktails.
Known for: carbonara, porterhouse steak
Address: 571 Chapel St, South Yarra VIC 3141
Phone: +61 03 9826 9516
Trading Hours: 24 hours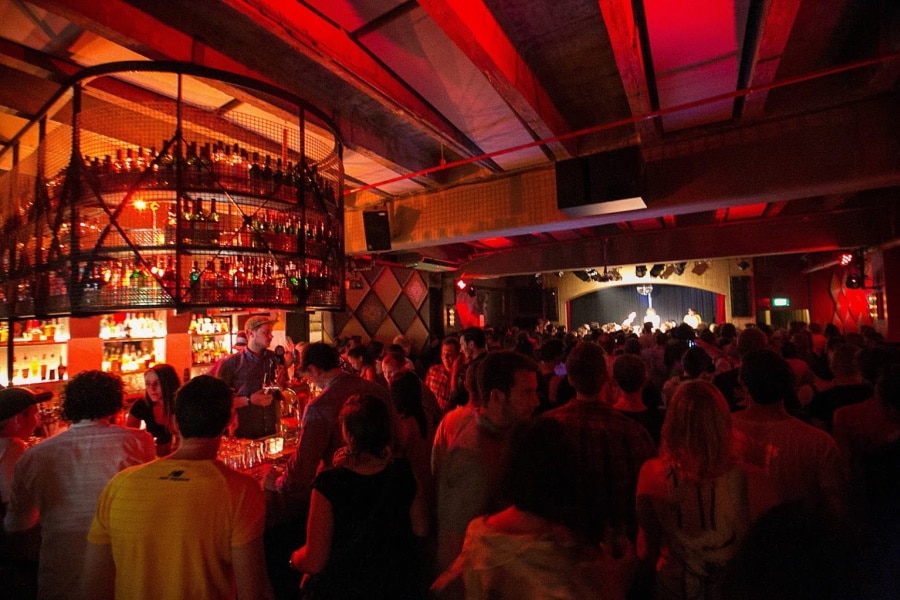 4. The Toff in Town
The Toff in Town bar and kitchen is serving up bar food and dinner up until 3am weekdays and 5am on weekends, so it's the perfect option if you're looking for tasty late night eats in Melbourne. Here you'll find Asian and western-inspired dishes like pulled pork with buffalo mozzarella, pepper snapped with green mango salad and Peking duck with snow peas. Not only that, but there's also live music and entertainment throughout the week and DJs on Fridays and Saturdays.
Known for:
Address: 2f/252 Swanston St, Melbourne VIC 3000
Phone: +61 03 9639 8770
Trading Hours: Sun-Thurs 5pm-3am, Fri-Sat 5pm-5am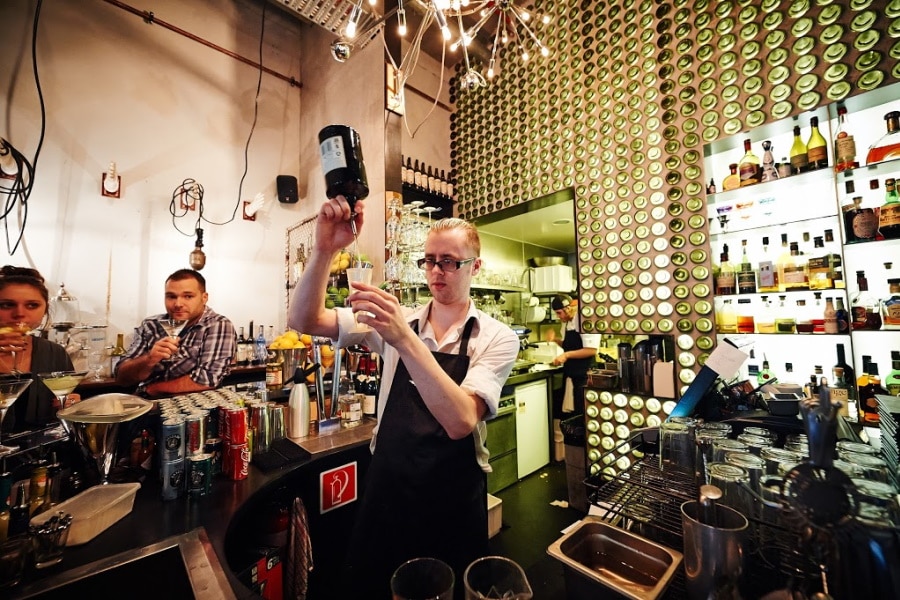 5. Bar Ampere
This quirky little bar is a hidden gem in the CBD and the perfect spot for some late night food and drinks. Bar Ampere's Parisian-esque ambience and impressive range of European aperitifs, absinthe and imported wines and beers, all add to its charm. As for food, you can pick up some gourmet burgers like the ampere burger, a beef patty in a yogurt bun oven roasted with gruyere and spicy tomato relish, or grab some bar snacks with your drinks like prosciutto croquettes, charcuterie or a delicious cheese platter.
Known for: ampere burger, variety of drinks
Address: 16 Russell Place, Melbourne VIC 3000
Phone: +61 03 9663 7557
Trading Hours: Mon-Sun 4pm-3am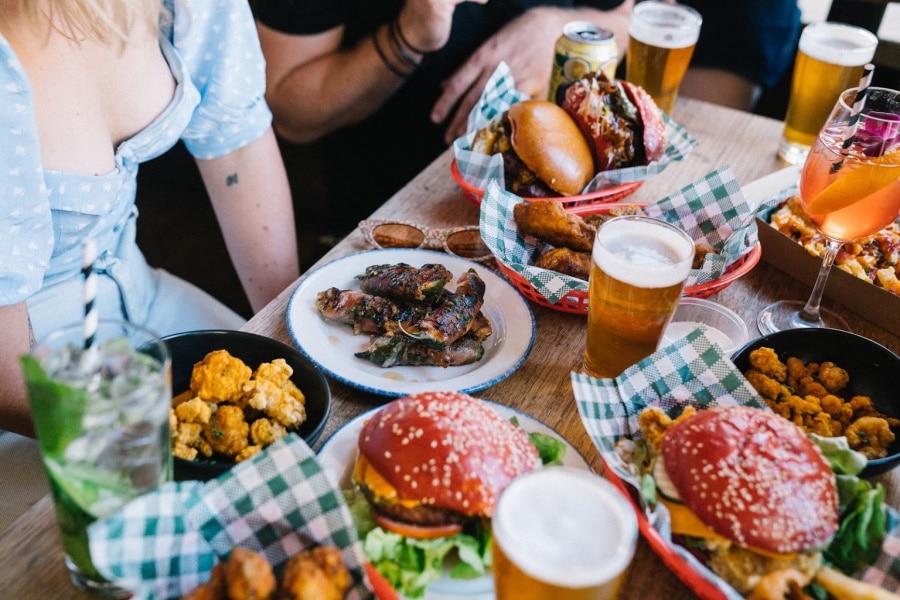 6. Ferdydurke
When on the hunt for a tasty late night bite, you can't go past Ferdydurke. Set in a lofty New York style space and with a nice glowing fireplace, you can find a comfy spot to stop and try the Smokey Chipotle BBQ Wings with Blue Cheese Ranch. The comprehensive list of classic cocktails and import beers also make it a perfect stop for a night cap in Melbourne. Not only that, you'll find local and international DJs, plus art exhibitions every Sunday to keep you entertained.
Known for:
Address: Level 1 & 2, 31 Tattersalls Lane, Melbourne VIC 3000
Phone: +61 03 9639 3750
Trading Hours: Sun-Thurs 12pm-1am, Fri-Sat 4pm-3am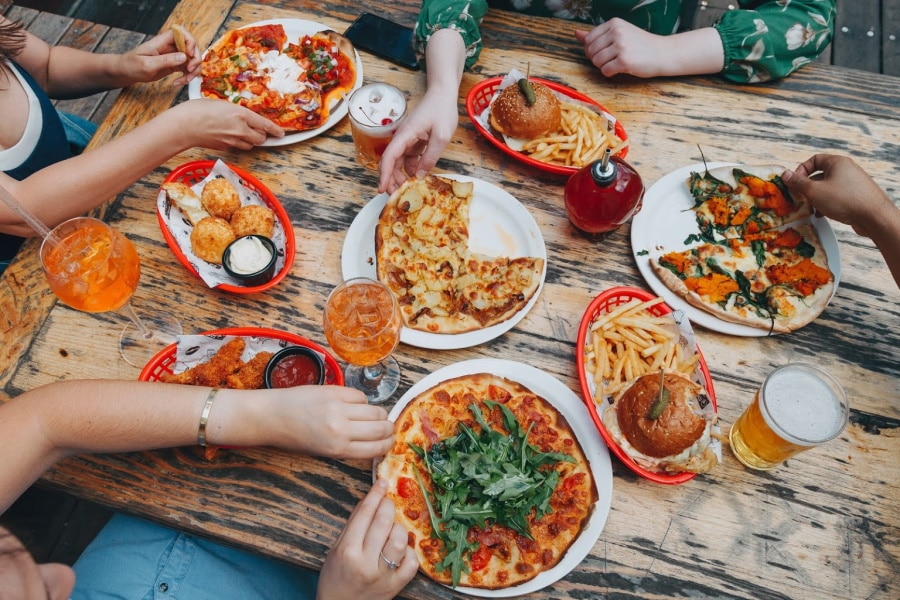 7. Lucky Coq
Sister to Bimbo Deluxe, Lucky Coq offers the ultimate Sunday pick me up, cheap greasy pizza. It's the place to hang out when you've got a hangover but still want to be social. It's dark and dimly lit, a cavernous hidey hole to get over the night before. Upstairs it's a whole other story, the nightclub vibes are strong and there's even a dancefloor if you feel a little boogie coming on.
Known for:
Address: 179 Chapel Street, Windsor VIC 3181
Phone: +61 03 9639 3750
Trading Hours: Mon-Fri 11.30am-3am, Sat-Sun 12pm-3am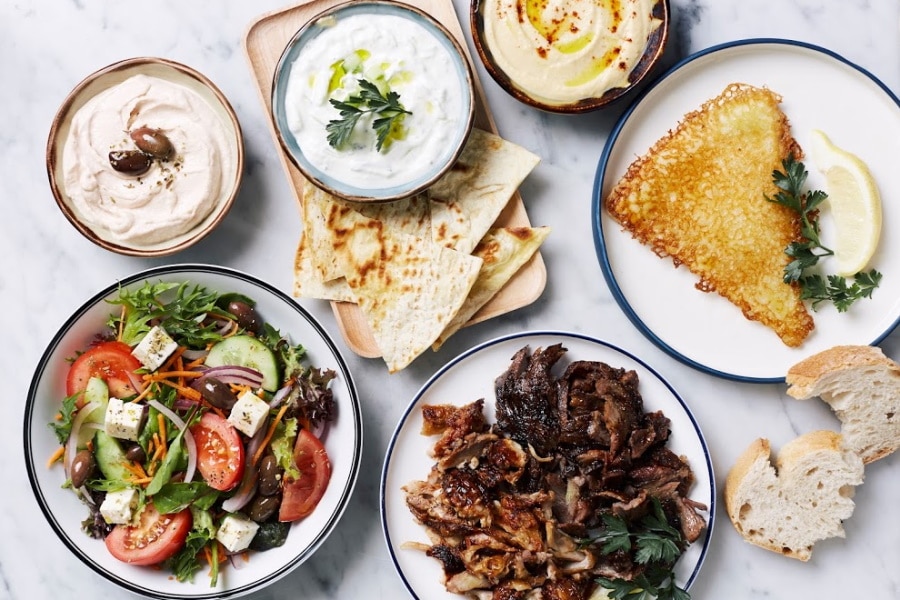 8. Stalactites Restaurant
As one of Melbourne's longest established and locally loved Greek restaurants, you can't really go wrong at Stalactites Restaurant when you're looking for a late night bite in Melbourne. It's still owned and run by the same Greek family and offers all the classic Greek dishes you can imagine. Giro platters to share full of marinated meat, traditional Greek soups like the Fasolada, delicious souvlaki wrapped in hot pita bread and homemade moussaka are just some of the culinary delights you can grab on a late night out.
Known for: souvlaki, chicken and lamb giros
Address: 177/183 Lonsdale St, Melbourne VIC 3000
Phone: +61 03 9639 3750
Trading Hours: Mon-Sun 10am-12am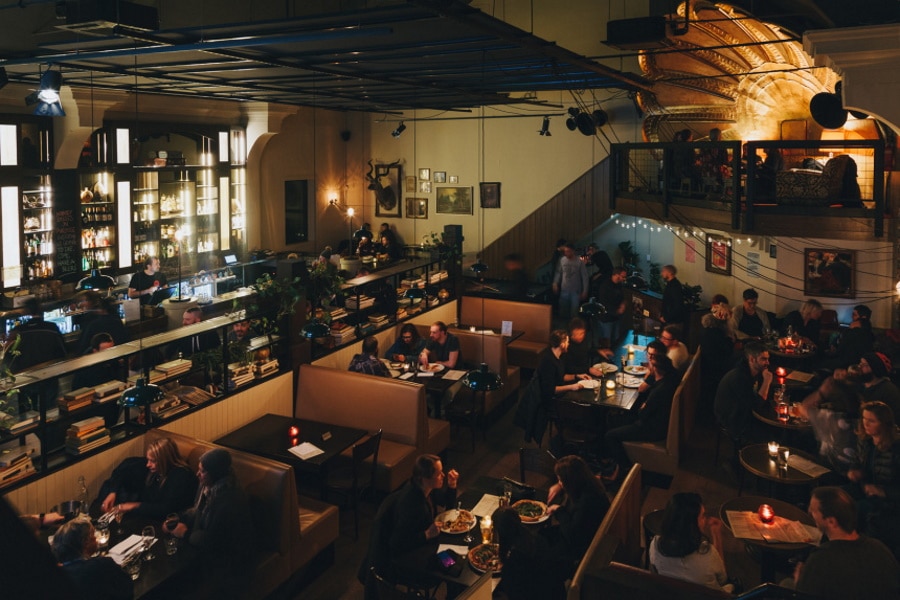 9. Forester's Pub & Dining
An iconic Collingwood venue and the perfect spot for some late night eats in Melbourne, Forester's Pub and Dining has been catering to the late night masses for many many years and is a local favourite. It's home to the $10 chicken parma, 24 beer taps plus some high end whiskeys, upstairs rock and roll bar, DJs till 4am on the weekend and much more. It's a one stop shop for all your late night needs.
Known for: $10 parma,
Address: 64 Smith Street, Collingwood VIC 3066
Phone: +61 03 8415 1104
Trading Hours: Sun-Thurs 4pm-2am, Fri-Sat 4pm-4am
You'll also like:
33 Best Burger Shops in Melbourne
49 Best Bars in Melbourne For a Good Night Out
17 Cool Restaurants in Melbourne
General FAQs
When do restaurants close in Melbourne?
While many of Melbourne's restaurants close at around 10pm, there are a number of CBD venues that offer late night eats. These restaurants, such as Forester's Pub & Dining and Lucky Coq offer dining options until 3am.
What areas are good for late night eats in Melbourne?
For the most part, the Melbourne CBD offers a range of late night places to eat, particularly in areas close to Chinatown.
Where can you get late night burgers in Melbourne?
If you are chasing burgers in Melbourne and it's after 2am, your options are limited. The best places to score late night burgers are Ferdyduke, Lucky Coq, Bar Ampere and Butchers Diner.