How to Make the Viral TikTok Feta Pasta Recipe
Ahh, TikTok, the groovy digital rabbit hole app for one to thrust oneself into; allowing users to acquaint themself with every DIY trend, LOL moment, WTF instant. The thing is, you're going to happen upon some cringeworthy and stirring stuff when on social media. And naturally, when it comes to food, users stop scrolling and start drolling. Ditto.
TikTok is now the tongue-in-cheek online den of Gen Z'ers and X'ers and is notorious for creating and sharing creative content. And the feta pasta recipe is one of a couple that has been emulated globally for its simplicity and delectability. It's just that the whole thing seems too simple. Like, come on? Cooking a block of feta ringed with tomatoes? Apparently, yes; it was so good, it broke the internet. And here's how to make it.
You'll also like:
How to Make Whipped Coffee: The Viral TikTok Recipe
What is Dry Scooping? The TikTok Challenge You Should Really Avoid
What is a Simp? The True Simp Meaning Explained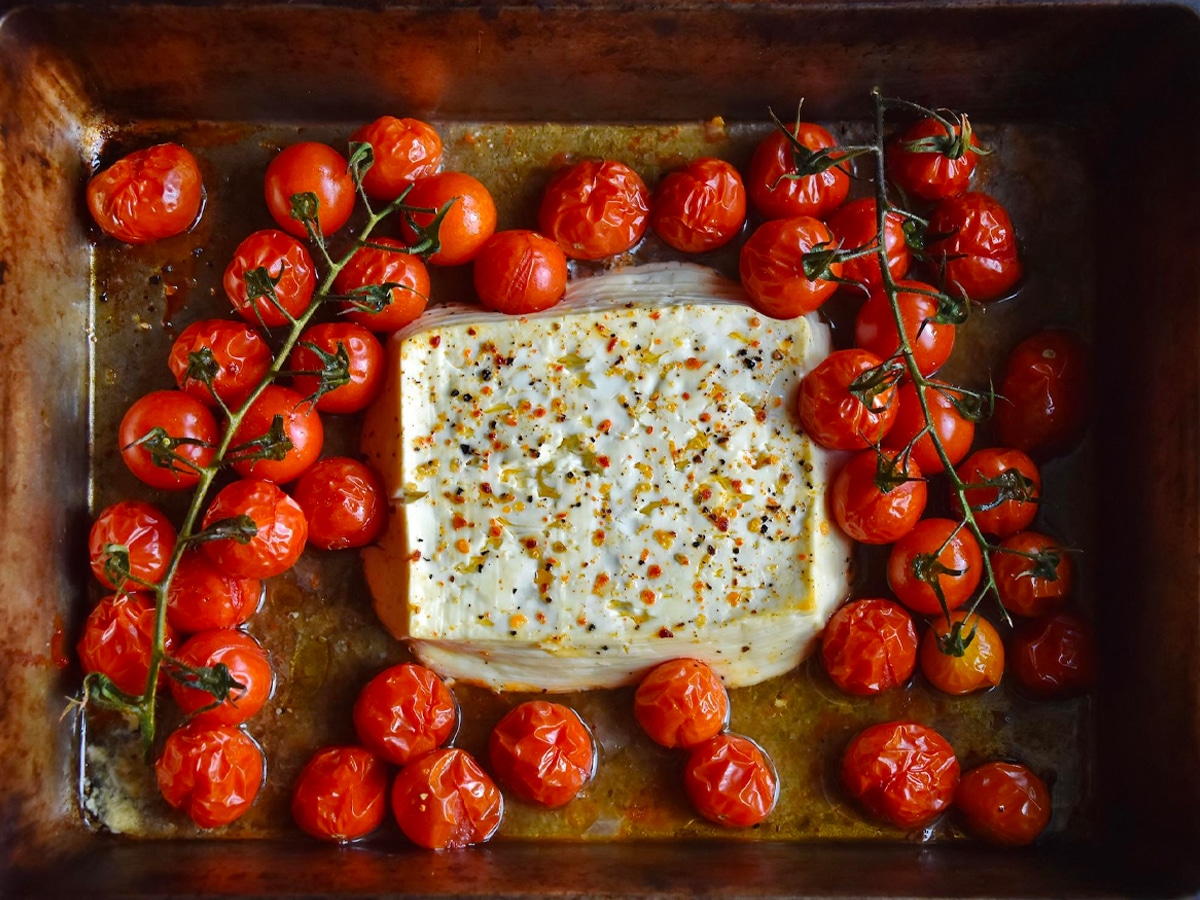 What is the Viral TikTok Pasta?
With pasta being the most iconic and celebrated of foods worldwide, the baked feta pasta was a shoo-in for being 2021's most popular food trend to hit social media airwaves. It's a breezy recipe for pasta with tomatoes and cheese — probably not worth the hype, but worth the hanker.
It all started in 2018, in Finland when blogger Jenni Hayrinen made a "uunifetapasta" recipe (meaning "oven-baked feta pasta" in Finnish) that made ripples in her homeland, with an easier version released a year later.  The baked feta pasta fade made its way to the United States, and later around the world, by way of MacKenzie Smith, the blogger behind Grilled Cheese Social, when she posted a video to her TikTok of yet again at the end of January 2021 (though she posted it to her blog in June 2019).
Why is it so Popular Online?
Because it's easy-peasy ya dud. You would have stumbled across TikTok videos, articles or haphazardly heard people speak favourably of the recipe since it blew up in early February — and you can't blame them. Every time you cook up a dish, it takes forever and the kitchen is turned upside down. But with the TikTok feta pasta recipe, it's a small slab of feta cheese, ringed generously with tomatoes, all drizzled with olive oil together, in a roasting dish that's popped in the oven for 40-45 minutes, and mixed with pasta, fresh basil and any other auxiliary topping.
The reason being of the feta pasta being so voguish is due to its versatility. The original TikTok recipe makes use of fresh chile pepper, while the alternative main recipe fancies crushed pepper flakes — whatever the case, feel to flavour it up a little.
Baked Feta Pasta Ingredients
The ingredients involved in baking this wholesome recipe would most probably be at hand in your fridge or pantry; whole feta cheese, a wealth of cherry tomatoes, olive oil, garlic cloves and salt. And once they're cooked, mix the feta, garlic and tomatoes and combine with cooked pasta and some fresh herbs. According to MacKenzie Smith's original recipe, here's what you need to make TikTok feta pasta:
2 cups of tomatoes (preferably cherry)
300g of pasta (preferably mezze rigatoni, rigatoni or macaroni)
1/2 cup of extra virgin olive oil
225g block feta
2 cloves of finely grated garlic
Sea salt/ regular salt & ground black pepper
Crushed red pepper flakes (optional)
3 sprigs thyme
Grated parmesan (optional)
TikTok Feta Pasta Recipe
The original recipe requires one to bake the feta with the tomatoes at 200°C for a half-hour, then turn it up to 220°C for the last 10-15 minutes. But keep an eye out on the dish to avoid burning the garlic, surface of the feta and herbs.
Preheat oven to 200°C/ 400°F
In a medium-sized baking dish, combine tomatoes, shallot, garlic and most of the olive oil.
Add salt and freshly ground black pepper.
Place feta into the centre of the tomato mixture and drizzle the top with olive oil. Sprinkle thyme over tomatoes.
Bake for 40 to 45 minutes, until tomatoes are bursting and feta is golden on top.
In a large pot of salted boiling water, cook pasta according to package instructions.
Reserve ½ cup pasta water before draining.
To dish with tomatoes and feta, add cooked pasta, reserved pasta water to the pan and stir until completely combined.
Add 1/4 cup of fresh basil leaves, thinly sliced.
Top it off with some grated parmesan (optional).
Tips and Tricks
Using other types of pasta – You could try rigatoni, macaroni, or pretty much any shape.
Full fat feta cheese – Don't get us wrong, low-fat feta will work but the full-fat enhances the flavour.
What if you only have crumbled feta? That's still cool. But just try to keep the feta crumbled piled up in the centre.
Can I add something other than tomatoes and feta? Of course, you can you dope. Hint: Shallots/ or smashed garlic coupled with the olive oil will amplify the flavour.
Adding some crushed red pepper flakes and a bit of thyme won't hurt.
What if the pasta's too dry? Then just add a bit of pasta water and stir. That sh*t does wonders for food.
A vegan feta pasta recipe? Follow the recipe as is but do not add the vegan feta until the last 5-10 minutes.
Dish size matters – Use a small to medium-sized oven baking dish so the tomatoes can cook well.
You'll also like:
How to Make Whipped Coffee: The Viral TikTok Recipe
What is Dry Scooping? The TikTok Challenge You Should Really Avoid
What is a Simp? The True Simp Meaning Explained
General FAQs
Can you make the TikTok pasta with crumbled feta?
Of course, you can! The original TikTok feta pasta recipe is made with a block of feta cheese that's placed at the centre of the dish before being popped in the oven. In fact, using crumbled feta would allow the cheese to cook more finely and quickly. But just try to keep the crumbled feta piled up in the centre.
Is the TikTok pasta good?
Apparently, it is. It's so good, it made ripples worldwide and has had every TikTok user try their hand at making it. And the result of each attempt is fruitful.