Atlantis the Royal Review: Inside the 'Most Ultra-Luxury' Resort in the World
When you hear a hotel referred to as 'the most ultra-luxury experiential resort in the world', it's bound to raise a few eyebrows. Atlantis The Royal, the AUD$2 billion resort located on the crescent of Palm Island in Dubai, is the kind of property that looks best suited to royalty, and for good reason. The resort first claimed world attention as the setting for Beyonce's outrageous $55 million set at the star-studded unveiling event in January. A few months on and we've finally got the chance to see the travel destination for ourselves. We figure, if it's good enough for Beyonce, it's good enough for Man of Many.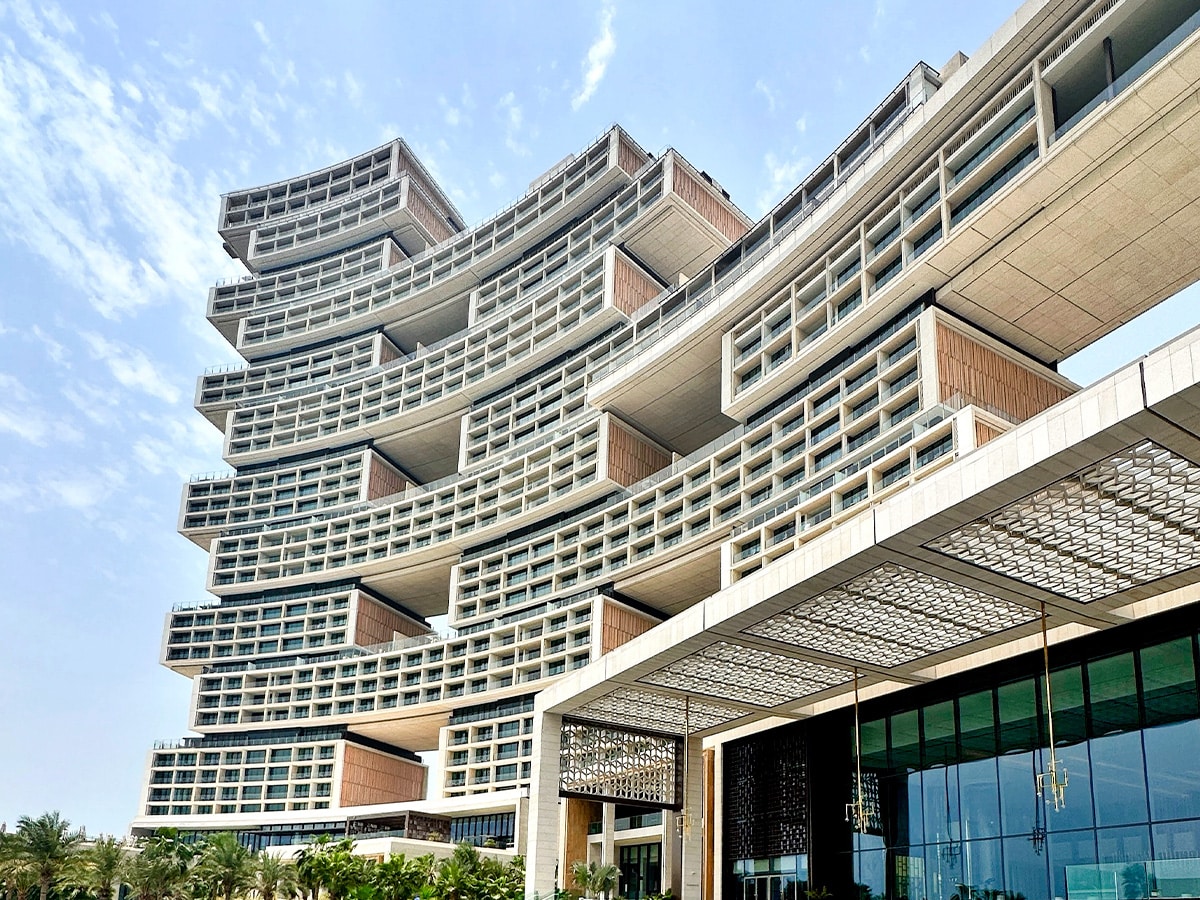 How to Get to Atlantis The Royal
Travelling from Sydney to Dubai was surprisingly quite seamless. I had never travelled to the Middle East before but the 14-hour direct flight on the UAE's international carrier, Emirates, felt like a breeze. Getting from DXB to Atlantis The Royal is around a 40-minute cab ride and costs approximately AED 120 (AUD$50). Alternatively, you can arrange a luxury transfer service through Atlantis, for a fee.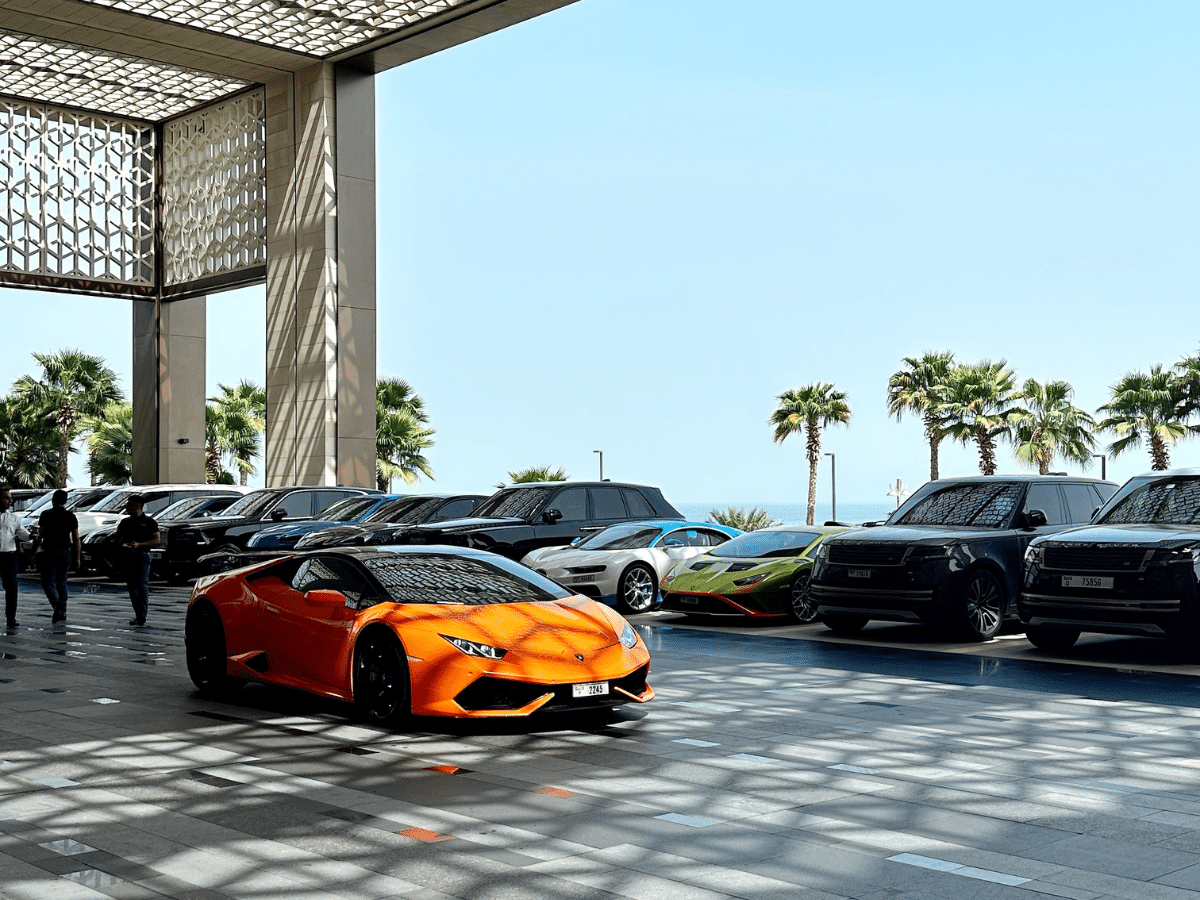 A Grand Arrival
Nestled on a prime position on Dubai's man-made island Palm Jumeirah, Atlantis The Royal sits about 1km away from its sister resort, the Atlantis The Palm. On the drive there you pass The Palm and the in-house waterpark, Aquaventure (more on that later). But The Royal from the exterior truly stands as a testament to opulence and extravagance. The property used "daring" construction techniques to pull off its Jenga-like stacked modernist design. It took USD $1.6 billion and over six years to build and it's certainly a sight to behold.
When pulling up to the valet area and seeing the Chirons, Huracans, and Rolls Royces all being chauffeured in and out, I instantly knew I wasn't in Kansas anymore.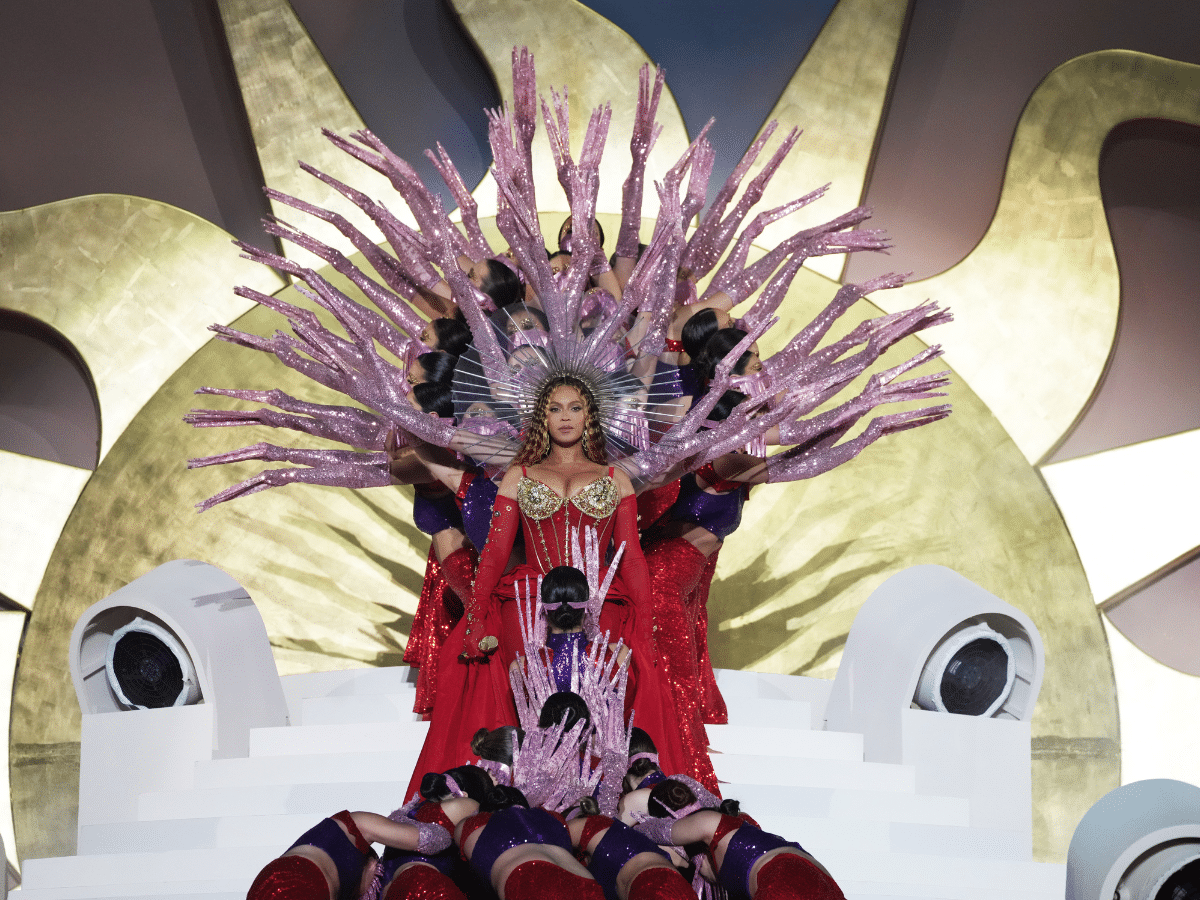 From the second you step out of the car, every staff member you walk past, whether you make eye contact with them or not, will greet you with a warm and heartfelt hand on the heart. A standard Emirati greeting. I found myself testing this out throughout my stay. I found that even if you're within a 10m radius of a staff member, a hand will most certainly be on a heart.
The grand entrance is adorned with cascading water features, giant fish tank installations and intricate architectural details. All of which tie in with the overall conceptual theme of the resort: fire and water. Who could forget Beyonce's $55 million performance, on top of a water fountain, with flames shooting up behind her?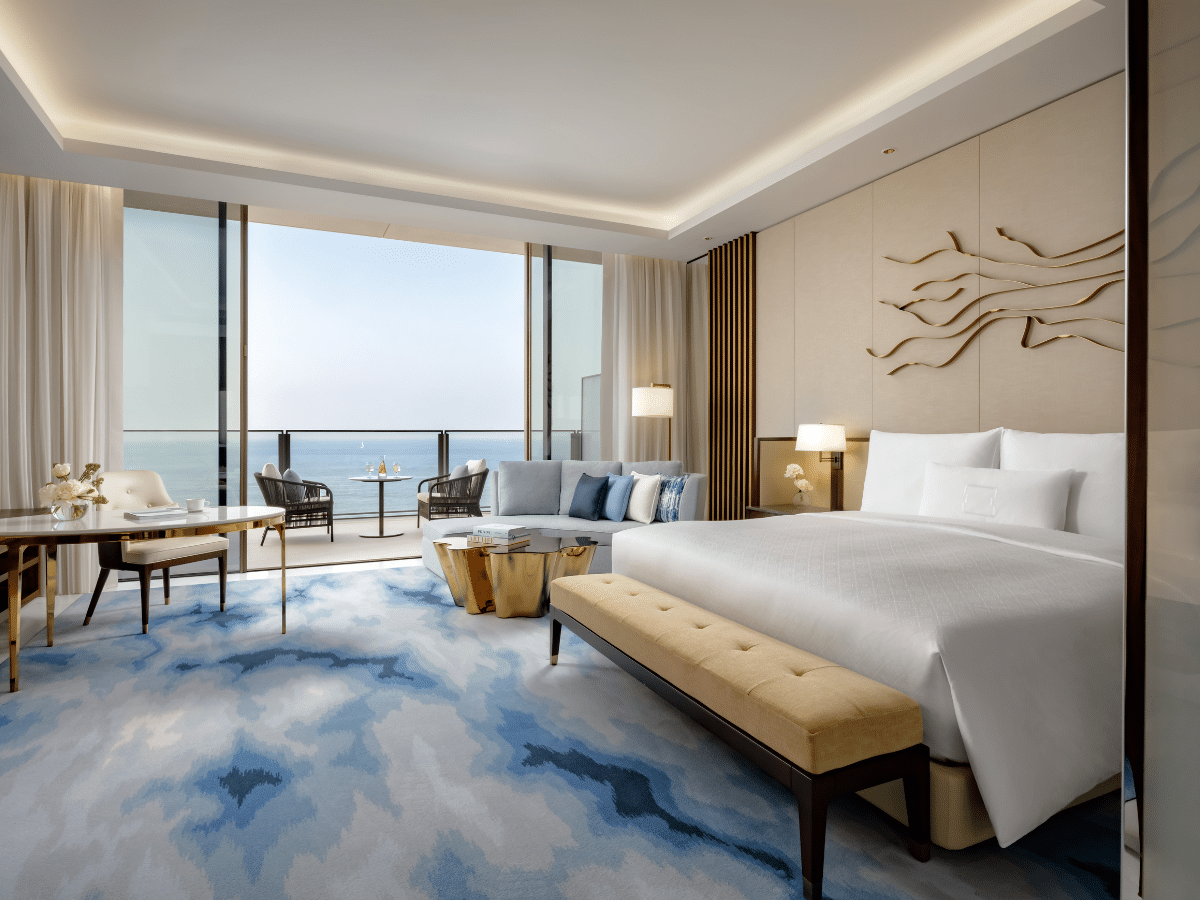 Ultra-Luxury Rooms: Seascape Suite
The room I stayed in was a Seascape Suite. As soon as opened the door, I was instantly drawn to the breathtaking view of the entire Palm Jumeriah and Dubai skyline beckoning from the balcony. The floor-to-ceiling windows provide an uninterrupted panoramic view of the resort plus the stunning turquoise Arabian Gulf. Every sunrise and sunset want an exquisite masterpiece from that vantage point.
This suite sets the bar relatively high for five-star hotels. You can tell the flow of the room was well thought-out. And good luck finding a switch anywhere because the room has touch panels for everything. Lights, curtains, privacy frosting on the glass-walled ensuite. Speaking of the ensuite, it houses a stunning free-standing bath and is laden with gold accessories.
Now, hear me out. I've found that you can almost always tell how good a hotel is by the brand of toiletries they stock. It's actually become one of the first things I check when first arriving in my room. It either makes or breaks my first impressions. Trust me, a lot is said about a hotel that stocks a 3-in-1 shampoo, versus one with Diptyque body balm.
My seascape room was stocked with beautiful-smelling Acqua Di Parma (or Parmi, if you live in NSW), adding a luxe Italian flavour to the Middle East. Box-checked, there! (Some of these may or may not have accidentally fallen into my luggage and ended up in my guest bathroom.)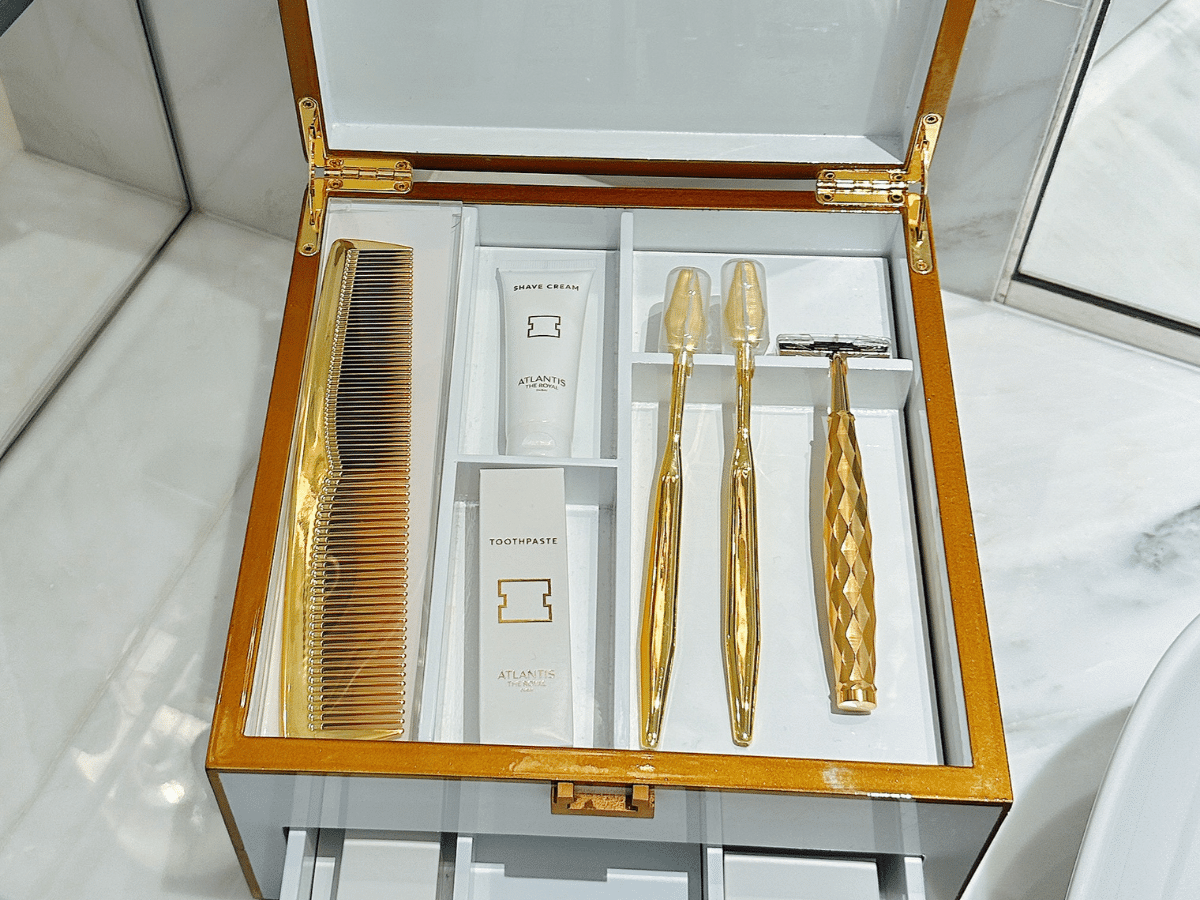 World Class Dining
Sure, there's much to see and do around the resort and in Dubai itself, but this place is a true foodie destination hub. Atlantis The Royal is home to some of the world's finest gastronomic establishments, led by some of the greatest chefs of our time. You could most certainly design a holiday here just to eat and eat well.
The Royal houses 17 world-class restaurants, including eight celebrity chef restaurants, one Michelin-star restaurant, as well as four Michelin-awarded restaurants. I couldn't dine at all 17 establishments during my three-night stay, I certainly tried to fit in as much as I could.
Dinner by Heston
Dining at Chef Heston Blumenthal's Michelin-star restaurant has always been a bucket list item of mine. The restaurant is a relaxed dining experience and the menu is a reimagining of Britain's gastronomic past. The menu bears historical dates that stretch back as far as the 14th century. Each dish that comes out is a theatrical delight that tells a unique story. The highlight for me here was the Nitro Gelato cart.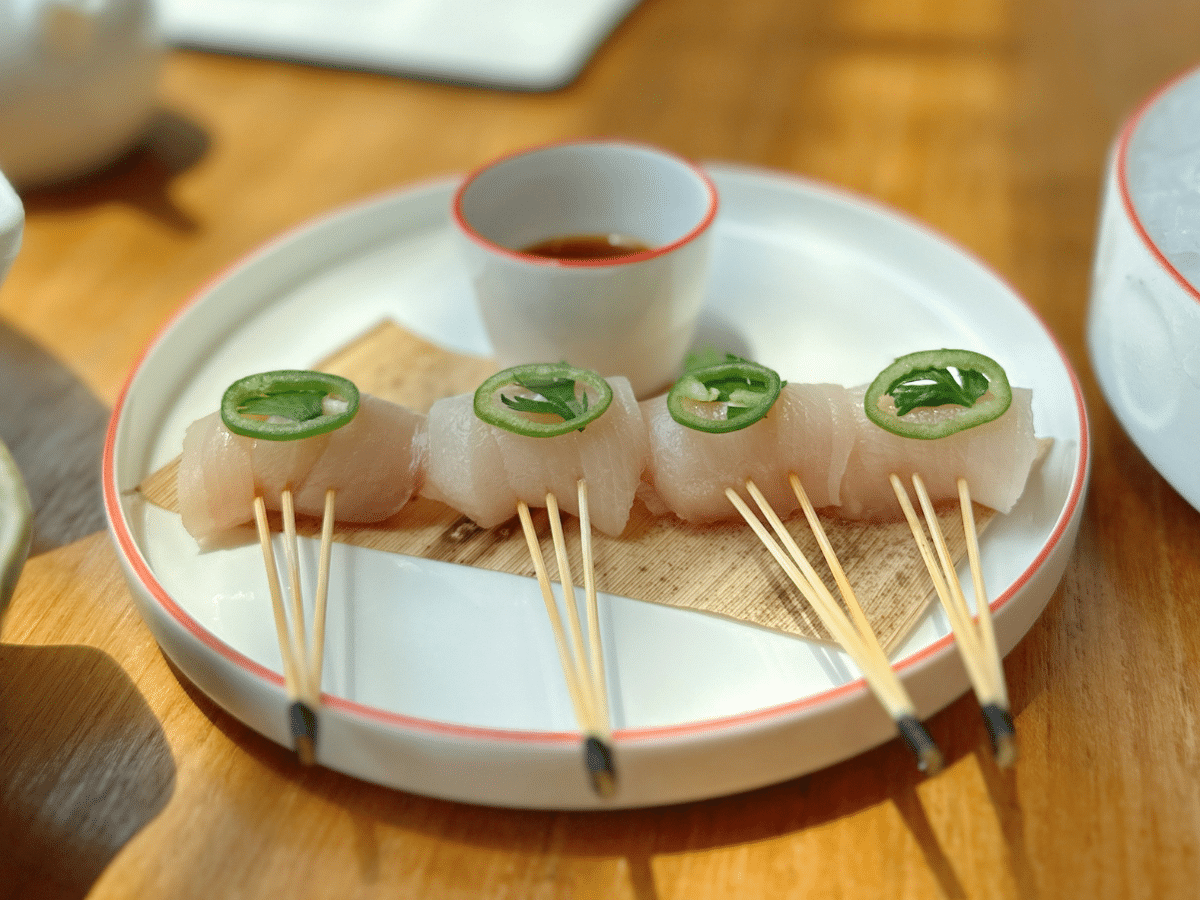 Nobu By the Beach
What's better than dining at Nobu? Answer: Dining at Nobu by the beach in an exclusive adults-only pool and beach club. Nobu By The Beach has an indoor restaurant that serves the Japanese creations of Chef Nobuyuki Matsuhisa. If dining by the pool is more your thing, you can book one of the 140 sun loungers or VIP cabanas. The highlight dish for me was the Yellowtail Jalapeño Sashimi.
JALEO BY JOSÉ ANDRÉS
Paleo by Jose Andres was a lot of fun and my personal favourite. Celebrating the traditional as well as the cutting-edge, Jaleo offers a taste of Spain in a festive, stylish, and casual atmosphere. At the centre of the restaurant is the live Paella station. Chefs surround the station making their signature paellas cooked on an open wood fire. It's hard to choose a highlight dish, as they were all incredible. It'd have to be a toss-up between the signature Pollo Paella and the Tarta de queso. Seriously one of the best Basque cheese cakes I've ever tasted. Burnt and crisp on the top, gooey and soft on the inside. I still have dreams about it to this day.
LA MAR BY GASTÓN ACURIO
The award-winning La Mar by Gastón Acurio offers diners the chance to explore the authentic and diverse flavours of Peruvian gastronomy. The stunning space overlooks the Skyblaze Fountain and Dubai skyline with both indoor and outdoor dining options. The highlight dish for me here was the authentic Peruvian Ceviche.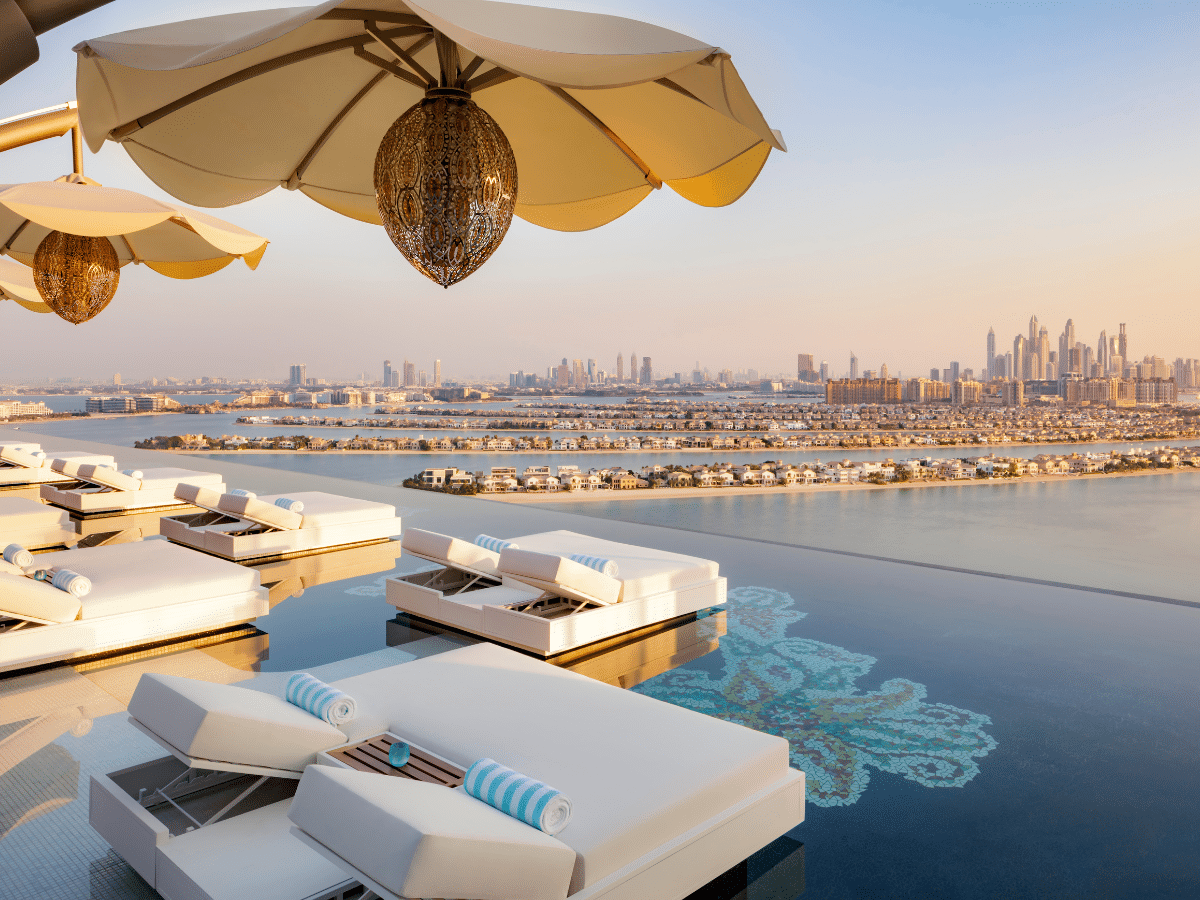 Cloud 22
Perched on top of the sky bridge, Cloud 22 is an Instagrammer's heaven. It's Atlantis The Royal's rooftop bar and home to the city's most recognisable sky pool. With sweeping views over The Palm Jumeriah, the Arabian Sea and Dubai's captivating skyline, Cloud 22 is perfect for sundowners in the swim-up pool bar.
Gastronomy
If I were to call out one highlight of my stay, it would be the in-house breakfast buffet restaurant, Gastronomy. It would be remiss of me to even call this restaurant a 'buffet' because it's so much more than that. The restaurant is set up like a giant food hall. Picture several cooking stations and food shops for every food category you can imagine. Want a croissant? Well, there's an entire bakery brimming with pastries to choose from. Feel like sashimi for breakfast?
There's a whole bar dedicated to gravlax, sashimi, and fresh seafood. Have a sweet tooth? There's a dessert store that'll make Willy Wonka second guess his life choices. I'm talking free-flowing chocolate fondues, a gelato bar, and enough candy to keep your kids awake for the rest of the year.
I compared it to a Westfield floor with stores you can freely walk in and out of, grabbing anything and everything your stomach desires. My favourite part of a hotel breakfast buffet has always been the egg station. Who doesn't like eggs and who doesn't like eggs cooked exactly the way you like them? Not only does Gastronomy have an egg station, but it also has a dedicated eggs benedict station.
Simply bring your plate, choose from a range of meats and seafood, and the chef will poach an egg, assemble, and sauce your eggs Benedict right in front of you. I went for a tender, off-the-bone, wagyu brisket, topped with a perfectly poached egg, slathered in thick hollandaise sauce.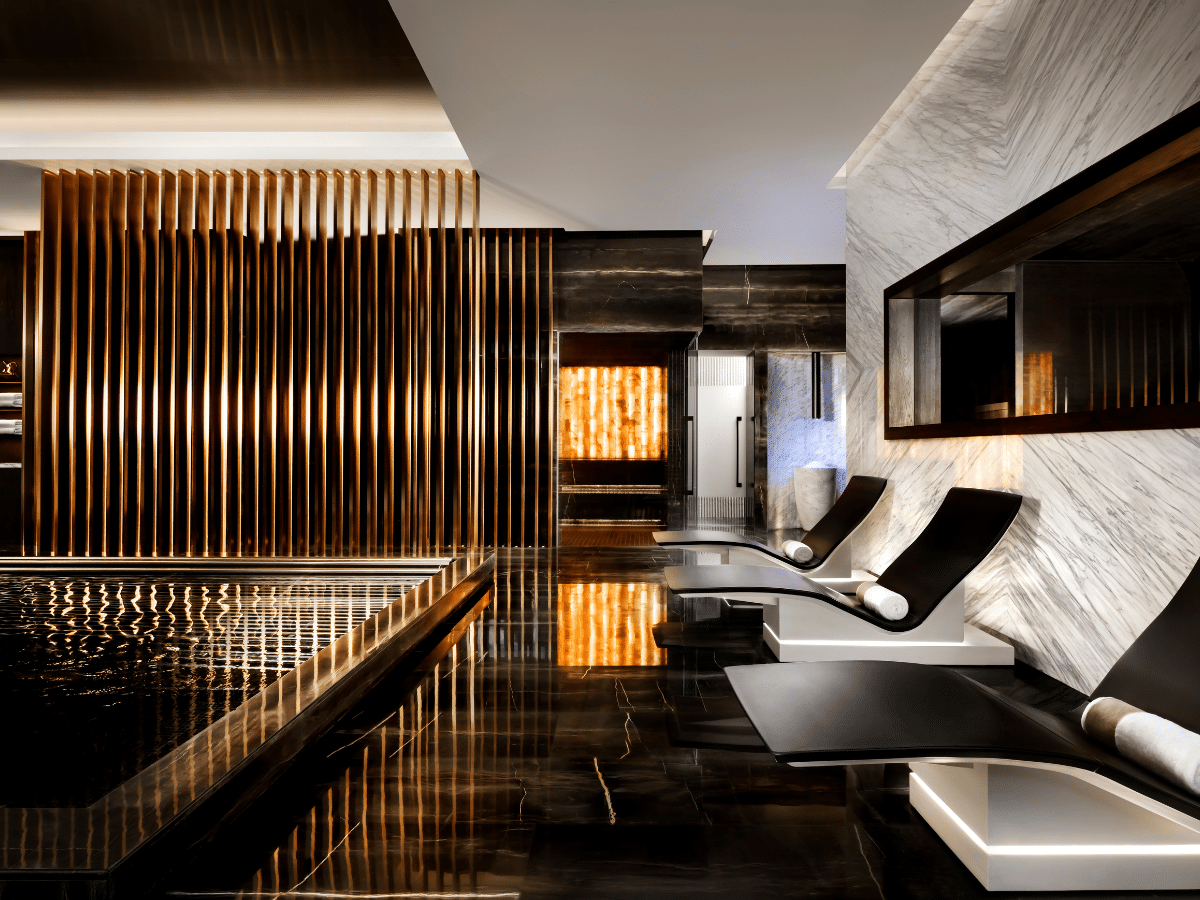 AWAKEN Wellness
The AWAKEN Spa on the ground floor of the Royal is the ultimate wellbeing experience, designed to awaken all elements of nature – body (earth), mind (fire), emotion (water), and spirit (air). AWAKEN includes both indoor and outdoor facilities consisting of 15 therapy, VIP, and specialty suites. Guests who have a treatment booked have complimentary access to the space facilities, including Halotherapy Salt Rooms, grounding Meditation Gardens, Hydrotherapy Pool, Charcoal Sauna, and Alchemy Shower.
You could easily spend the whole day here. I was booked for a signature AWAKEN Massage and was told to arrive an hour earlier to make the most of the spa area. Due to the culture in Dubai, the spas are genders, so there are separate men's and women's spa. Now before the massage, the therapist made me blindly choose a stone out of a bag. Each stone would represent what part of the wellness experience would need the most attention. I chose the 'earth' stone which represents the body. Very good.
Opposed AWAKEN Spa is AWAKEN Fitness and this gym is honestly next level. Guests can expect group exercise classes, a 25m lap pool with aquatic training, and beach-camp HIIT sessions along the 2km stretch of beachfront. The gym area is stocked with the latest Technogym cardio and body conditioning equipment. The Fitness A-La-Carte menu features both physical & mental fitness plus emotional & spiritual fitness for a well-rounded experience.
Alkemy Salon
Ever wonder what it's like to get a 1000AED haircut treatment? I hadn't 'til I got to experience once inside Atlantis The Royal's in-house men's grooming salon, Alkemy Man. Of course, you'll want to look your best for those Instagram pics and holiday snaps. Alkemy Man offers a one-stop, luxury shop for all your grooming needs.
Whether you need a haircut, a manicure, or a facial treatment, the team will have you sorted. Upon arrival to my appointment, I was greeted by Alkemy's hair wizards. I was first offered a coffee and then sat down for a five-minute hair consultation. After chatting about what hairstyle I wanted, he simply snipped away and worked his magic. All while a manicurist worked on my unkept and frequently bitten fingernails.
Aquaventure
Between Atlantis the Royal and Atlantis The Palm is the world's largest waterpark. Aquaventure currently holds the Guinness World Record title of having the most waterslides. On top of having the most slides, it also has the tallest waterslides on the planet. All guests staying at the Atlantis Resorts are given unlimited complimentary access to the waterpark and The Lost Chambers Aquarium.
With a total of 105 attractions and 22.5 hectares of waterpark, Aquaventure is a fun day out for everyone. I can proudly say I have conquered the world's tallest waterslide, albeit screaming. Keep an eye out on the Man of Many TikTok for when the footage drops.
Should You Stay Here?
Atlantis The Royal transcends the concept of a mere resort. From the luxurious embrace of the Seascape Suite to the culinary wonders, and world-class service, each aspect of my stay weaves into a seamless tapestry of unforgettable moments.
To me, what really makes any stay memorable is the hospitality. Atlantis The Royal truly exceeds in this and has really found the best when it comes to talent. For me, it was the friendliness of restaurant servers who remembered my name every morning and every staff member greeting me with a hand of heart. If you asked me what makes the Atlantis the Royal the pinnacle of world-class luxury, it's the people.
Disclaimer: The author of this article, John Guanzon. was invited to stay as a guest of Atlantis The Royal for the purposes of this review.