25 Best Beaches in the World for 2021: The Official List
Australia is renowned for its stunning beaches, so when it comes to deciding the best beaches in the world, we are probably the best qualified to answer. However, if you aren't willing to take our word for it, TripAdvisor recently unveiled the winners in the Travellers' Choice Best of the Best Awards. In a year marred by infrequent travel and the border restrictions, apparently, some travellers still had the time to cast a vote for their favourite stretches of sand, and wouldn't you know it, we've topped the list.
According to the travel and information website, beach-goers across the globe voted Whitehaven Beach in the Whitsunday Islands as the best beach in the world for 2020. But who else made the list and what hotspots do we need to put on our bucket list, once the airport floodgates reopen?
You'll also like:
13 Best Perth Beaches for Swimming, Snorkelling and Surfing
15 Best Beaches in Sydney
10 Best Beaches Near Brisbane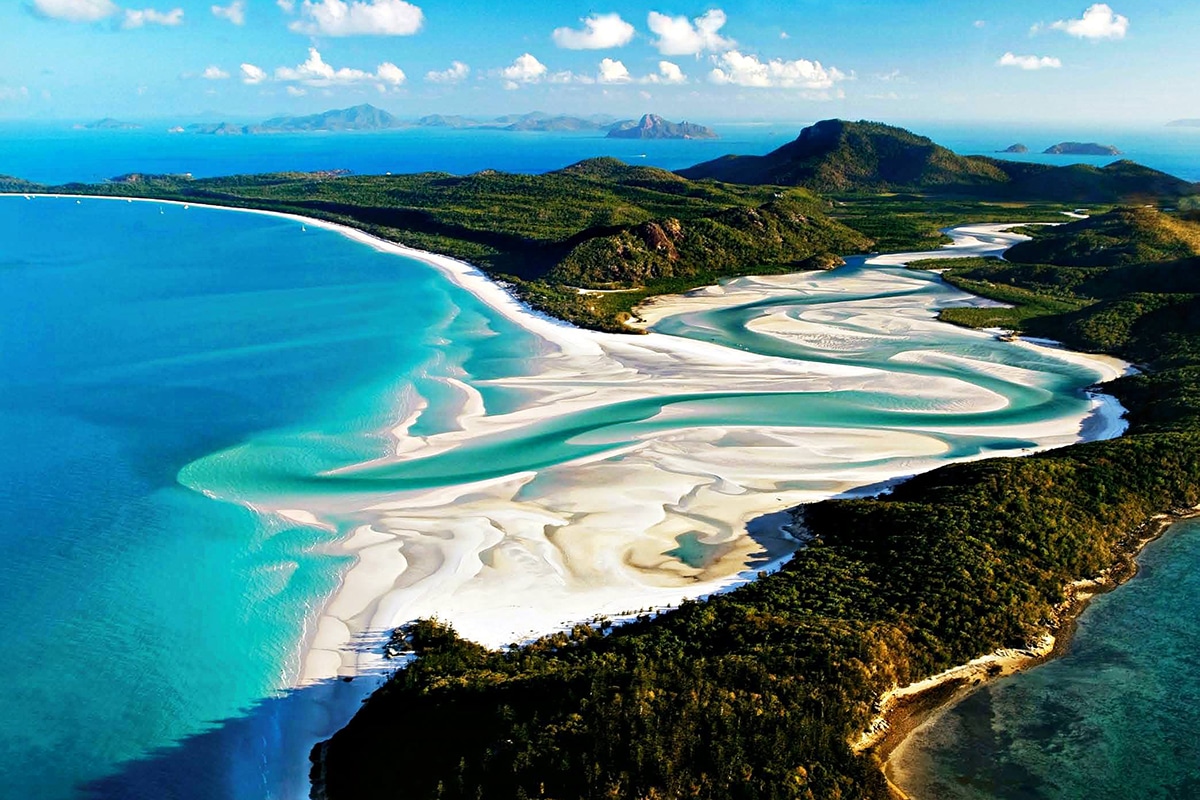 1. Whitehaven Beach
Nestled in the beautiful Whitsunday Australia's stunning coastline, Whitehaven Beach is one of our very own and one of the most spectacular beaches on the entire planet. The soft white sand stretches for miles and is contrasted beautifully against the clear turquoise water. A visit to this beach will transcend you into a zone of pure Zen- a must-visit!
City: Whitsunday Islands
Country: Australia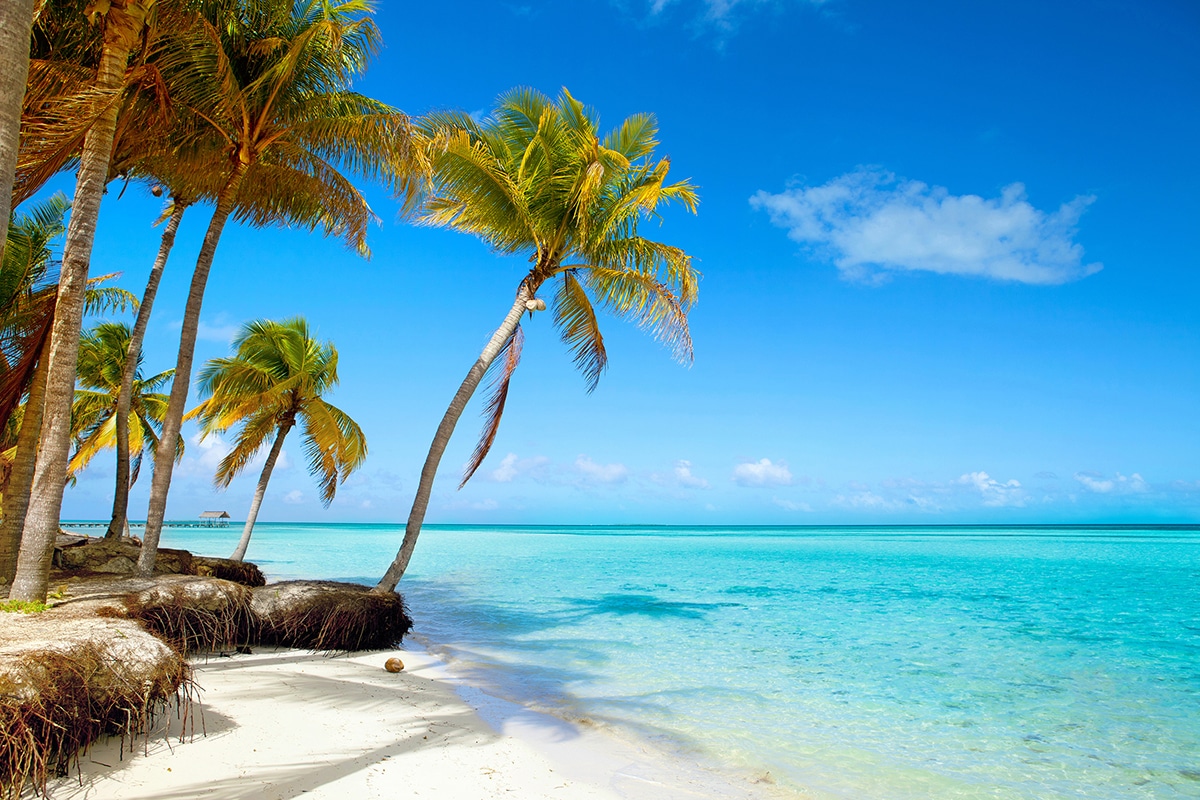 2. Santa Maria Beach
One of the best beaches in Cuba, Santa Maria is a sight for sore eyes. The sand feels as soft as flour and the water is calm and peaceful, perfect for floating and relaxing. Expect to see small fish swimming around and dolphins jumping about. There are also plenty of hotels in the area so you can make your visit part of a week-long holiday.
City: Cayo Santa Maria
Country: Cuba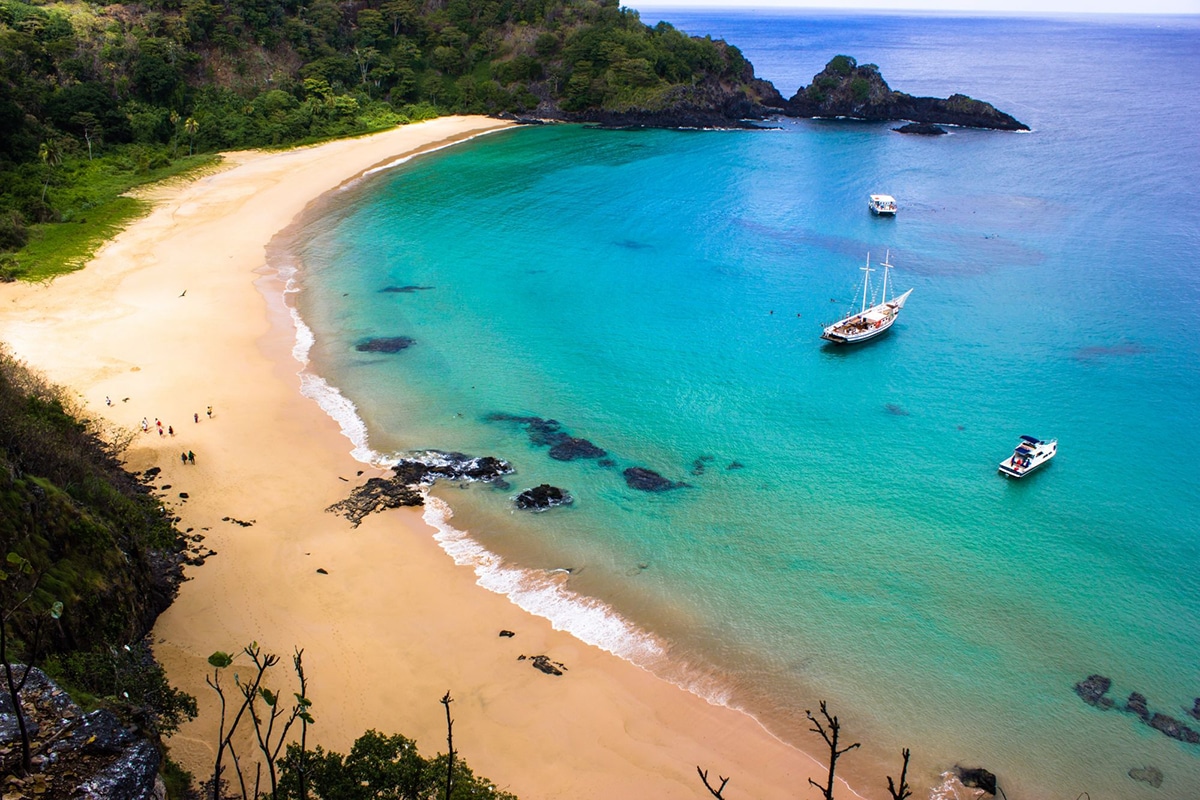 3. Baia do Sancho
If secluded beaches are your cup of tea, Baia do Sancho can do no wrong. The beach is remote and shadowed by luscious green cliffs, offering a secluded oasis. You reach the beach by scaling descending ladders and stone steps, and whilst it is a bit of a hike, once you reach the bottom it is definitely worth it! Brace yourself for the trip back up though!
---
Featured Video from Man of Many
---
City: Fernando de Noronha
Country: Brazil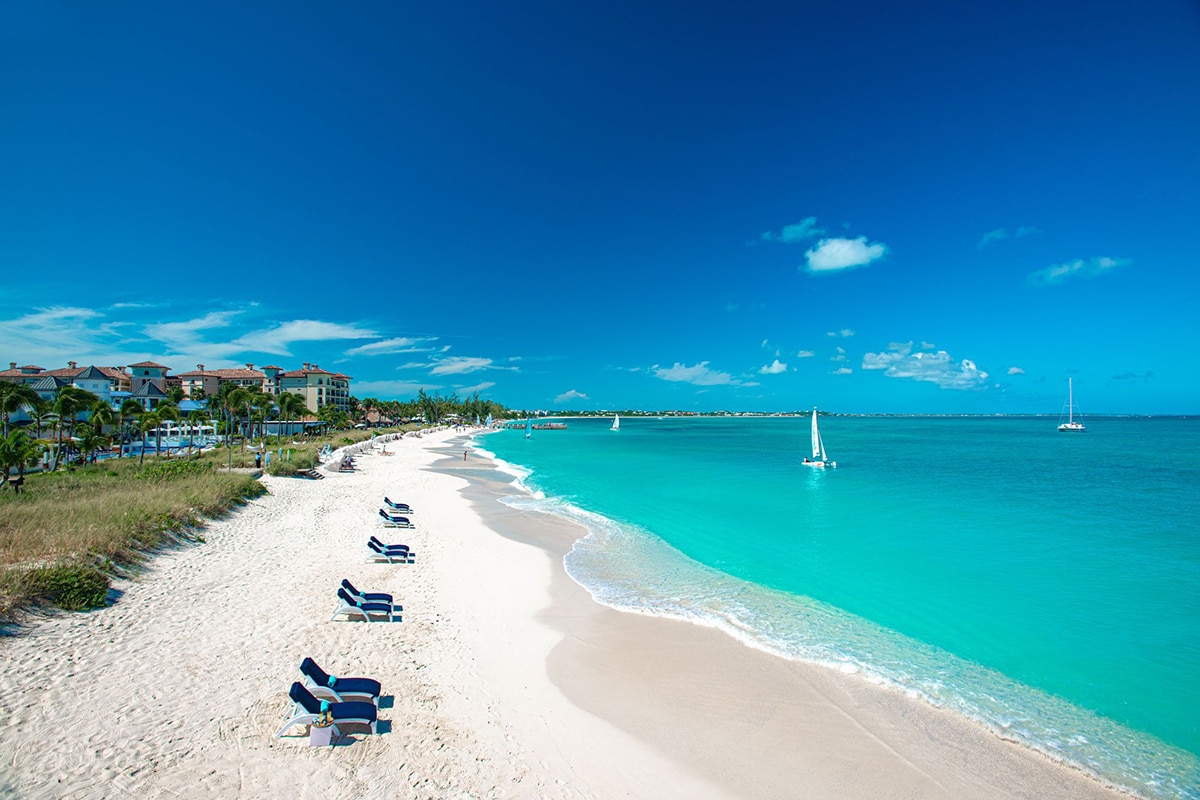 4. Grace Bay Beach
A dose of luxury in the Caribbean, this pristine beach is the benchmark of the Turks and Caicos Islands. The sand is white and soft, the water clear and there is a huge barrier reef located a short distance offshore. The water is calm and perfect for snorkelling, so don't forget your gear!
City: Grace Bay
Country: Providenciales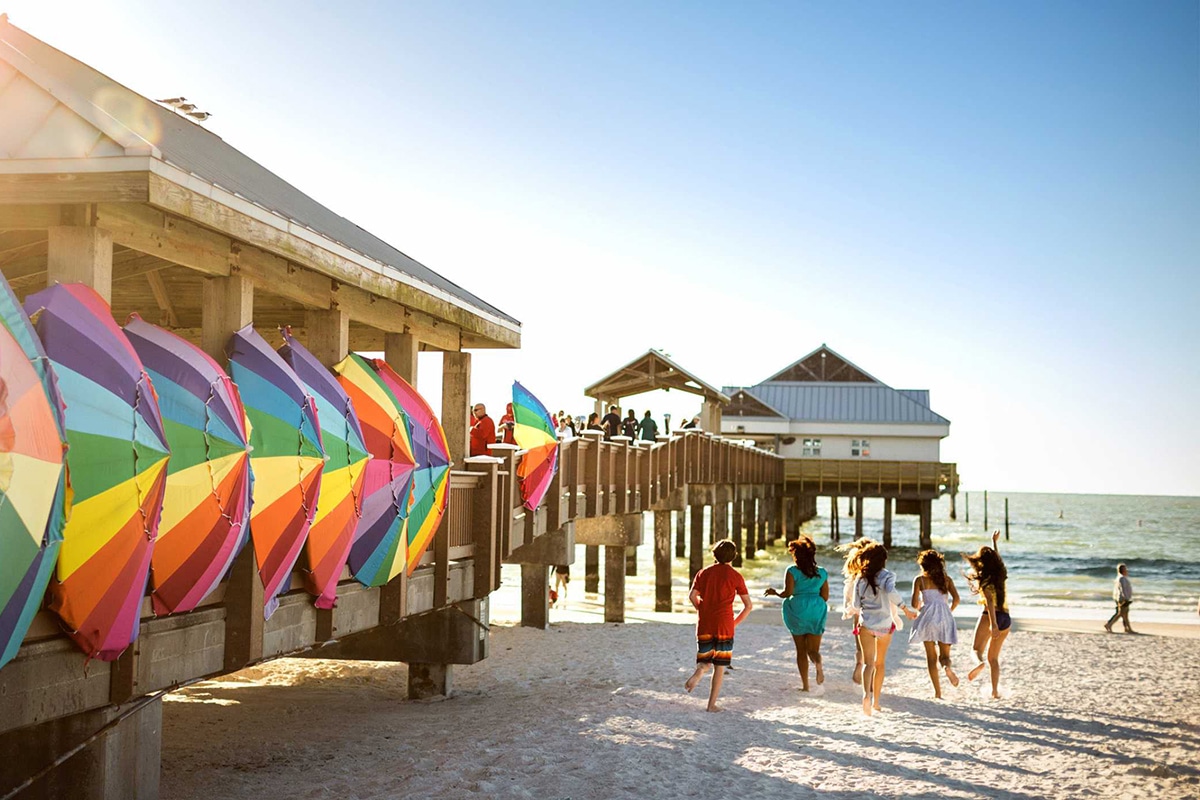 5. Saint Pete Beach
This beach is a popular tourist destination so it's no secret it's one of the best beaches in the world. The reasons are clear- white sand, crystal blue waters and a great town with plenty of cafes, shops and luxury places to stay. Grab some lunch and eat it on the beach, then go grab an afternoon drink after a day of lounging- oh the hard life!
City: Florida
Country: United States
6. Turquoise Bay
Turquoise Bay is a stunning beach that is nestled along the jagged coastline of Western Australia. This is one of our recommendations for the best beaches to go to if you love a bit of snorkelling. Turquoise Bay offers world-class snorkelling for beginners as well as those who are more experienced.
City: Exmouth
Country: Australia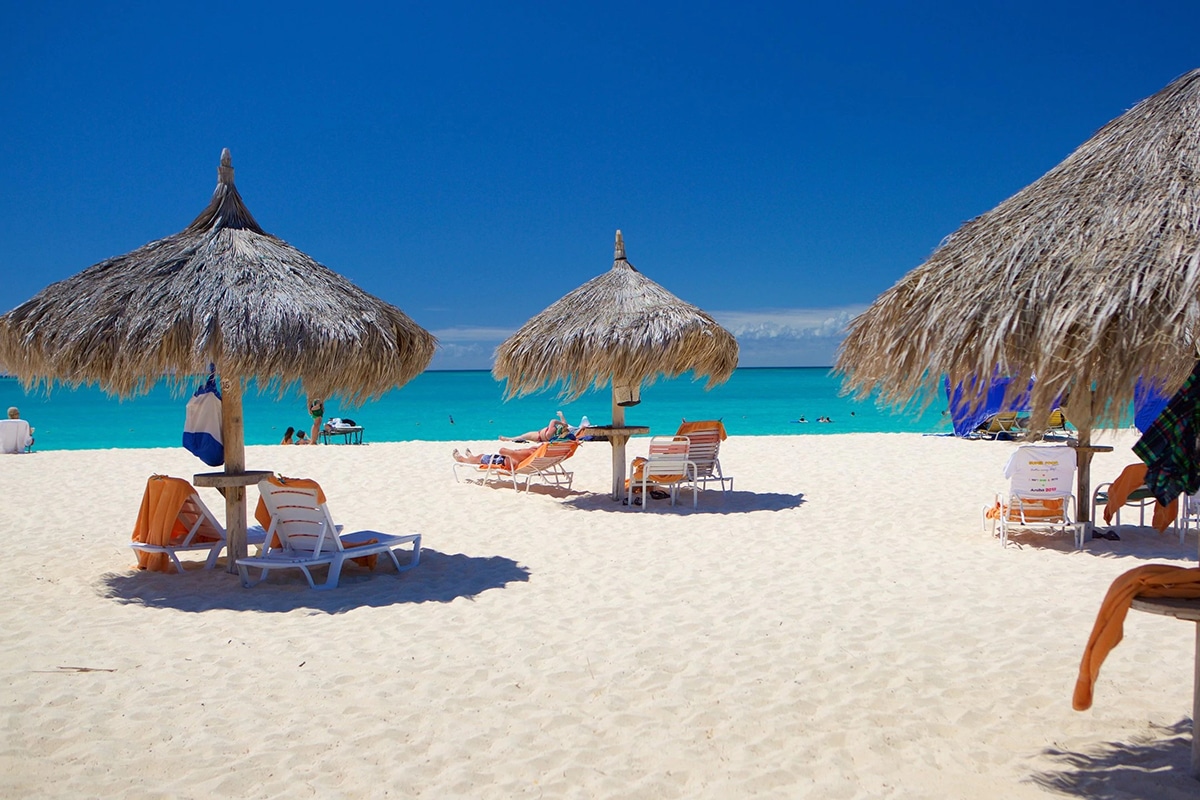 7. Eagle Beach
A trip to Aruba sounds like an exotic dream, and no trip would be complete without stopping by at Eagle Beach. It is the widest beach in Aruba, so there's plenty of space. The white sand and turquoise water once again make for an idyllic setting for you to unwind, either by yourself or with your friends or family.
City: Palm- Eagle Beach
Country: Aruba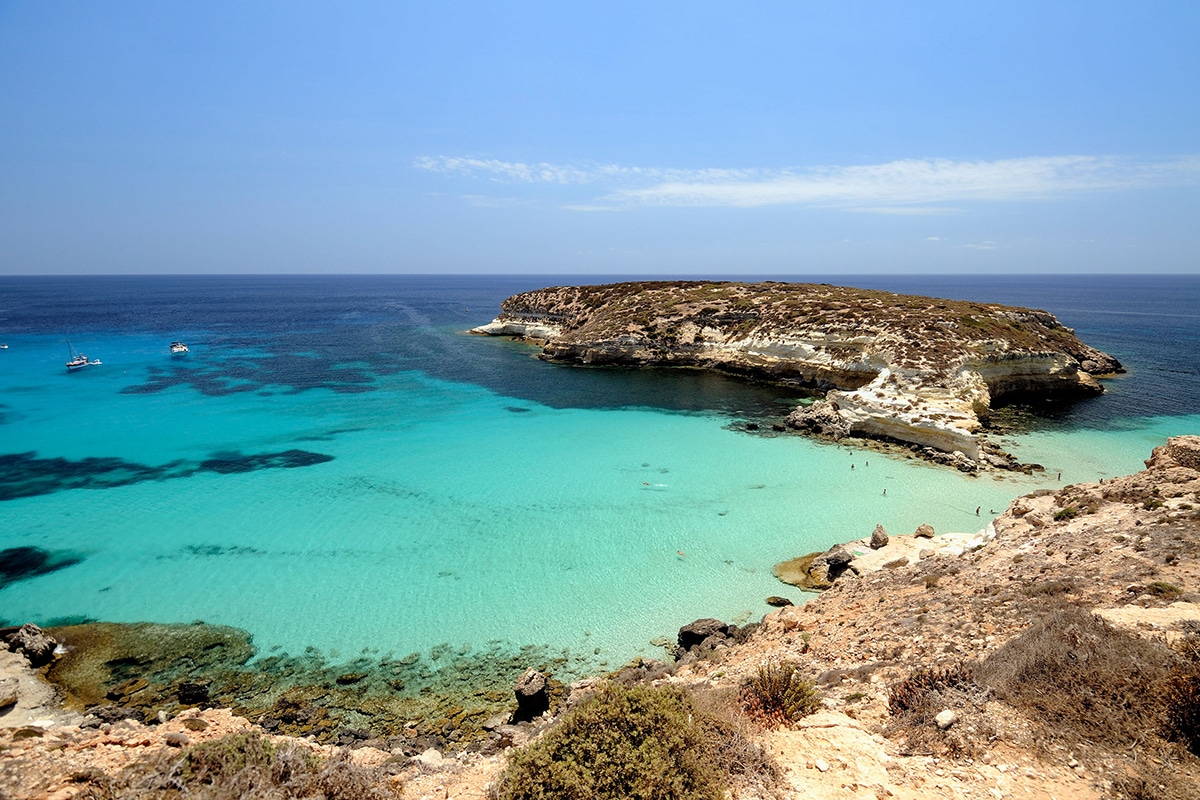 8. Spiaggia dei Conigli
This one is a bit of a walk, but the stunning beach you are met with at the end of your journey is priceless. The landscape of Spiaggia Dei Conigli is almost unearthly- you could be mistaken for being on Mars! The mix of reddish rock cliffs and shades of blue in the water is mesmerising.
City: Lampedusa
Country: Islands of Sicily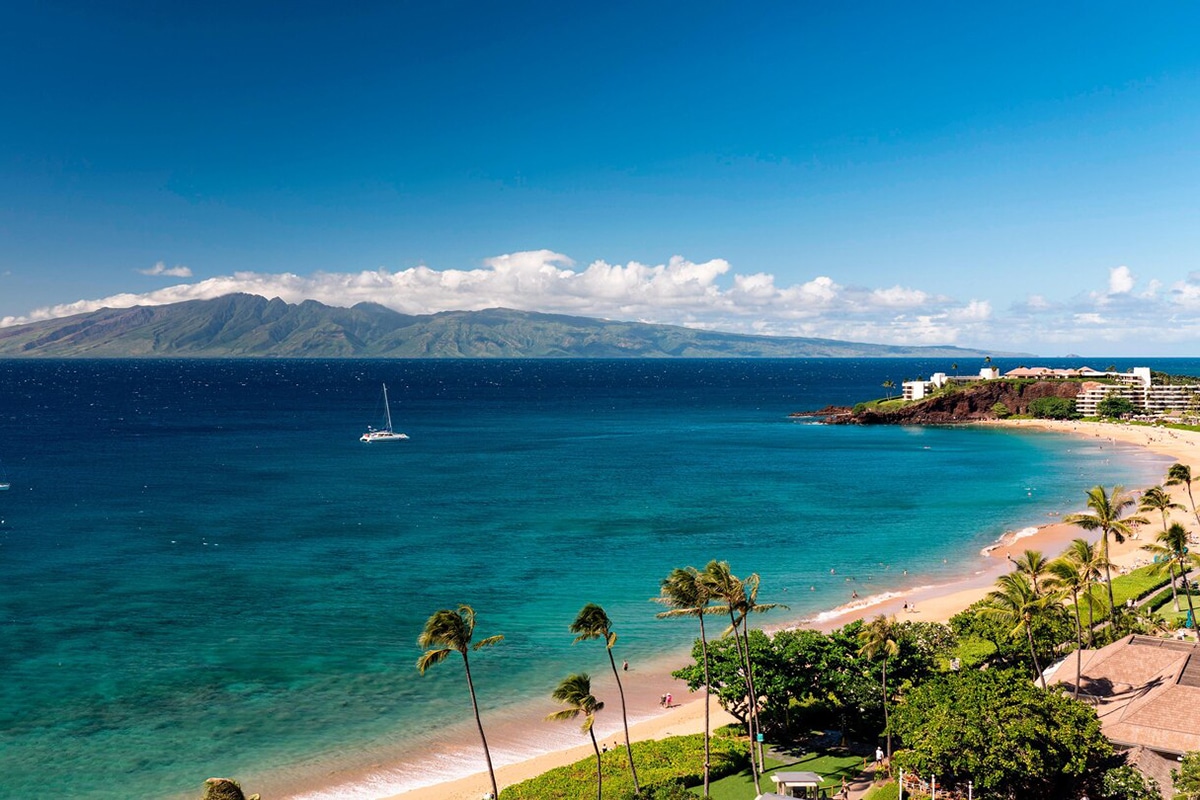 9. Ka'anapali Beach
You will be pinching yourself when you visit Ka'anapali Beach in Hawaii – it's just so beautiful. The beach has plenty of outdoor activities, from walking, climbing mountains and of course, swimming. Parking is easy, and the beach is a much-loved spot for avid paddle-boarders. So many activities or just a place to relax, this is a paradise like no other.
City: Lahaina
Country: Hawaii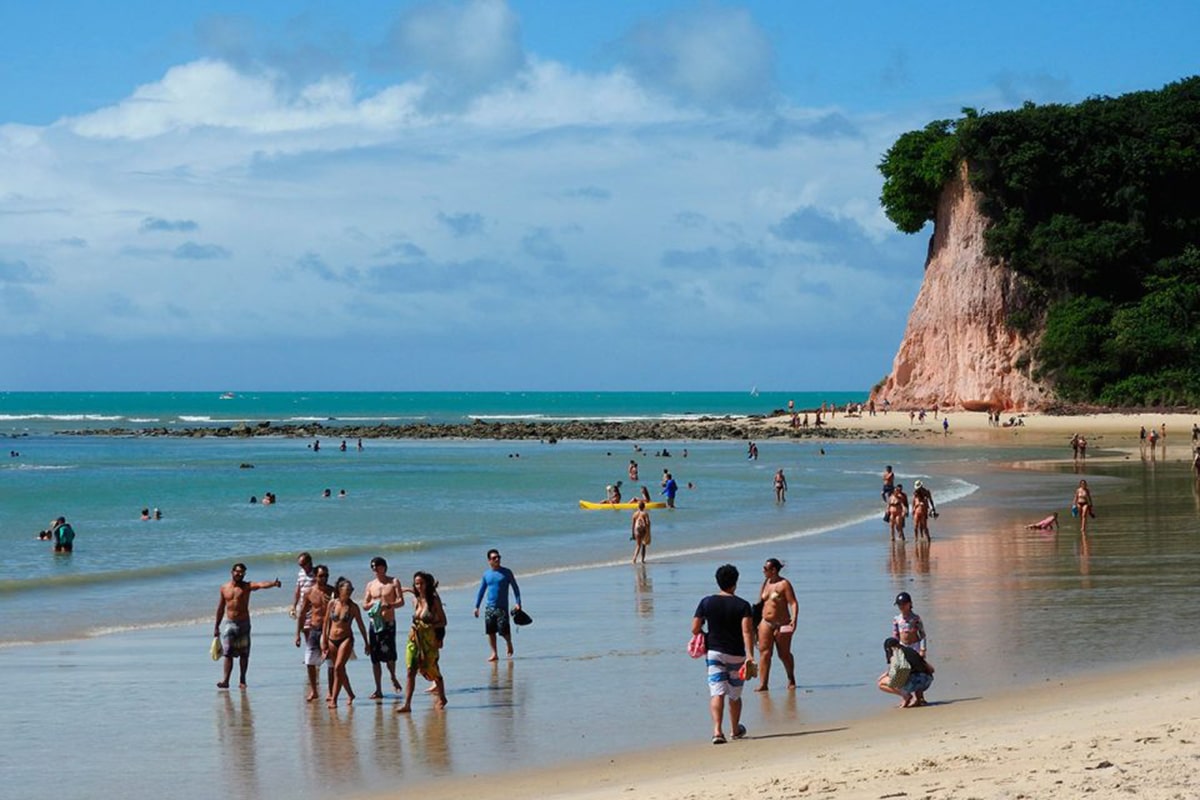 10. Baia dos Golfinhos
This beach is impossible to leave once you arrive, and there's no doubt why! The sand and water are just divine, and it's the perfect spot to come if you have a love for dolphins. Dolphins always appear jumping beyond the horizon, making your beach experience even more of an occasion. Shadowed by rocky mountains, this is a Brazilian gem.
City: Praia da Pipa
Country: Brazil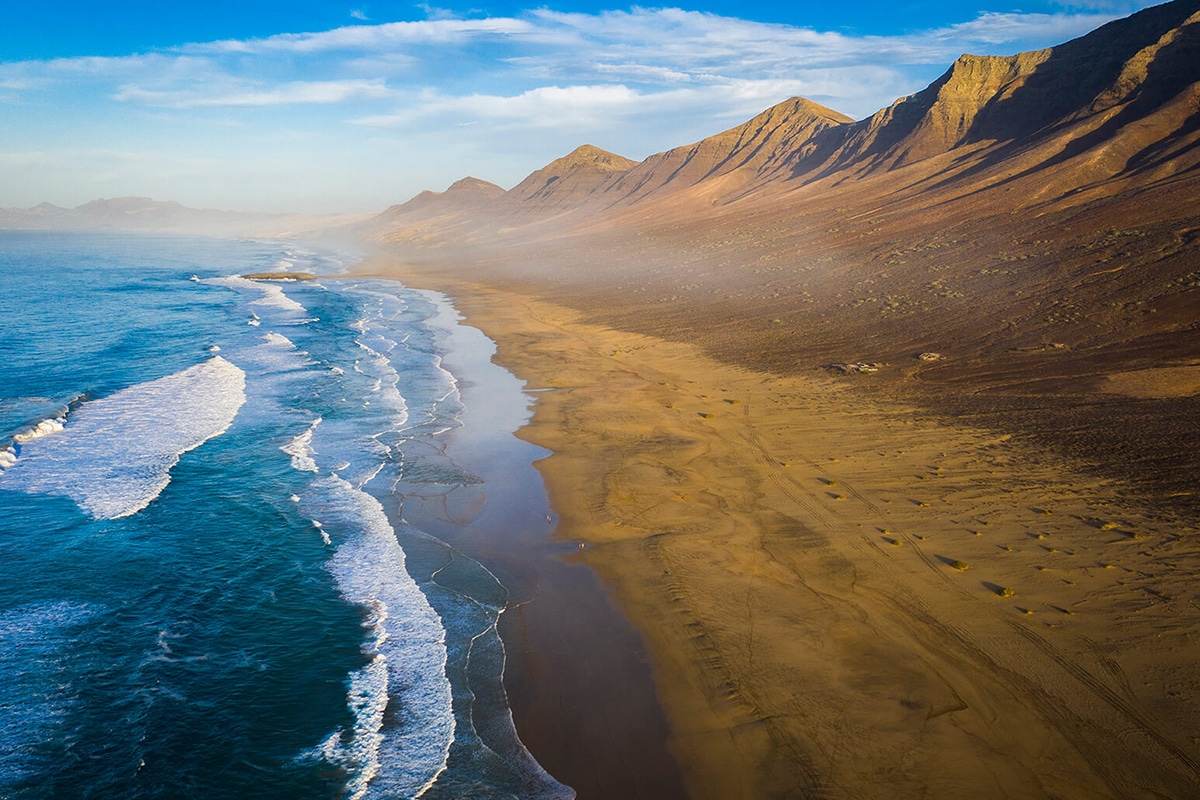 11. Playa de Cofete
A landscape so untouched, it's a wonder that people have even discovered this beach. Playa de Cofete is one of the best beaches in Spain, wrapped in mountains that lend themselves seamlessly to the deep blue water. This beach has big, crashing waves, creating a majestic scene that you will savour forever.
City: Morro del Jable
Country: Spain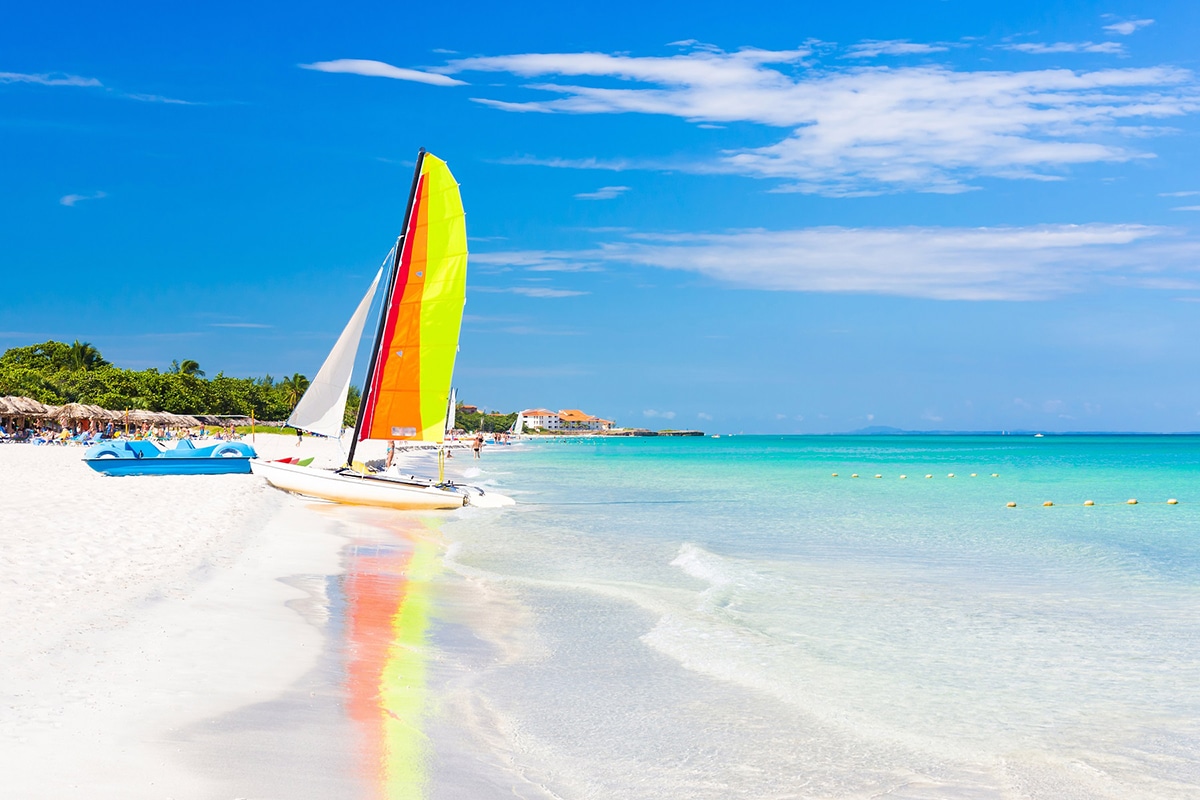 12. Varadero Beach
Is a Cuban holiday on the cards? If that's the case, Varadero is one of the best beaches in the South American Country and a must-visit for all those passing through. Varadero beach looks like a postcard- with the white powder sand and bright blue water. There are plenty of hotels and B&Bs around town for you to perch during your stay.
City: Varadero
Country: Cuba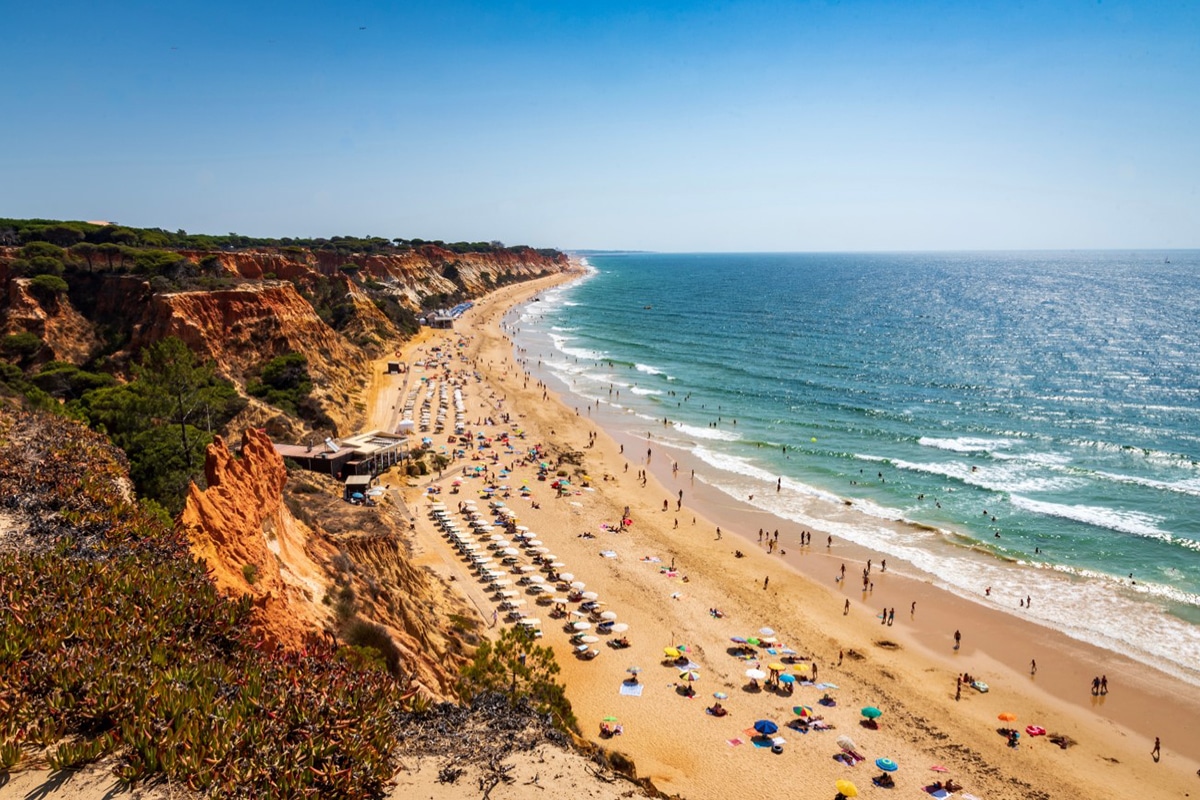 13. Praia da Falesia
Perhaps one of the strongest contenders in the region with the best beaches in the world, Portugal has plenty of stunning beaches that you need to visit at some point. Praia da Falesia is on the top of our list of the very best in Portugal. The beach is surrounded by spectacular red sand cliffs. The sand seems to stretch on forever, making you feel small- in a good way!
City: Olhos de Agua
Country: Portugal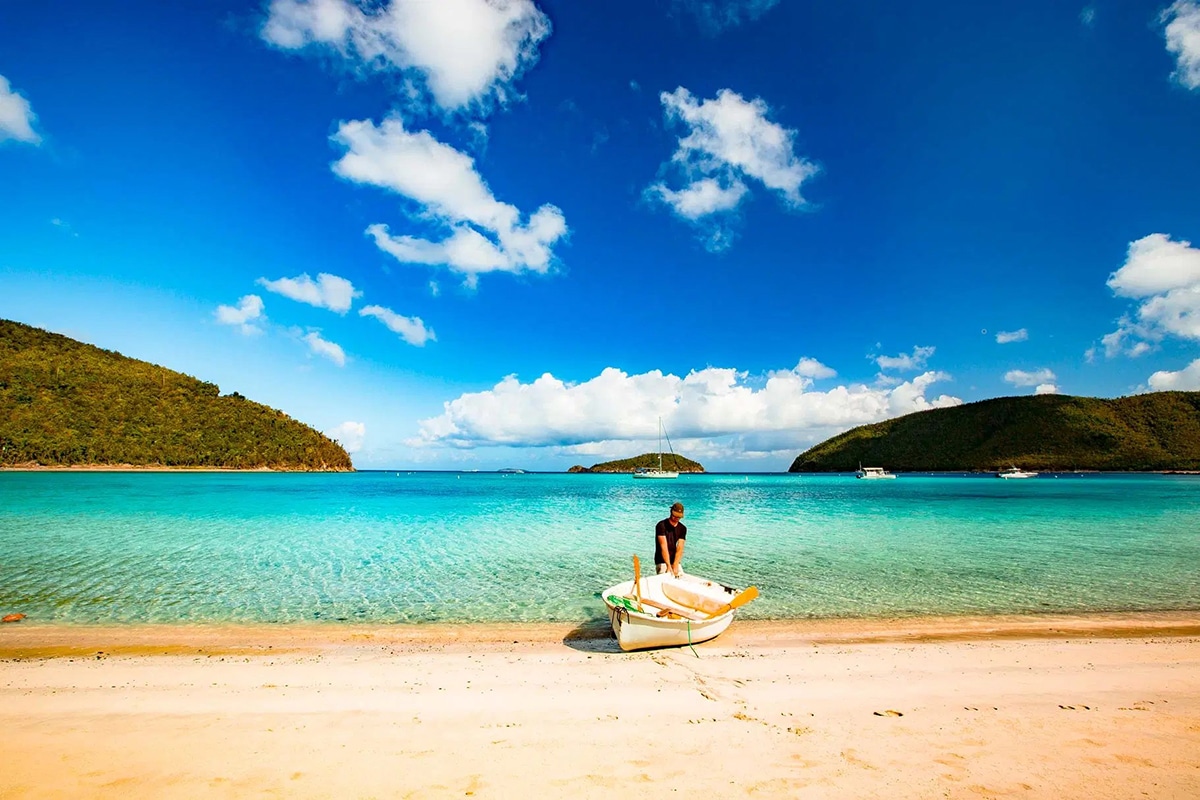 14. Maho Bay Beach
An island paradise, Maho Bay Beach feels like you're stepping into a salty, sandy heaven. St. John beach is also our recommendation is you love sea turtles; the beach is sprawling with them! Grab your snorkel and you will undoubtedly see sea turtles and octopus among other exciting sea creatures!
City: Cruz Bay
Country: St. John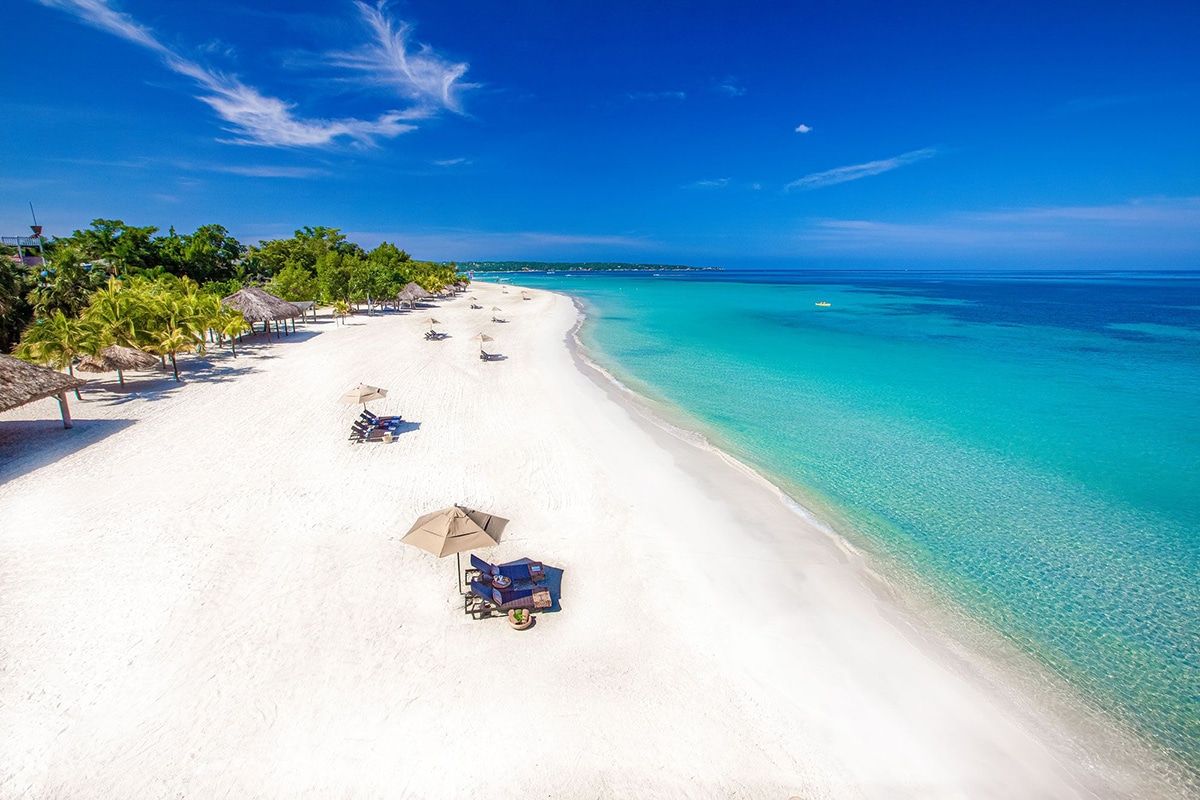 15. Seven Mile Beach
Like the name says, Seven Mile Beach goes on forever. The Jamaican stretch of sand is known for its clear turquoise water and perfect water temperatures. Shady palm trees fringe the beach, so you will always find a spot to rest in the shade, which is a bonus. The vibe is laid-back, so lay down and relax or go for a stroll to explore the very best of the Caribbean coastline.
City: Negril
Country: Jamaica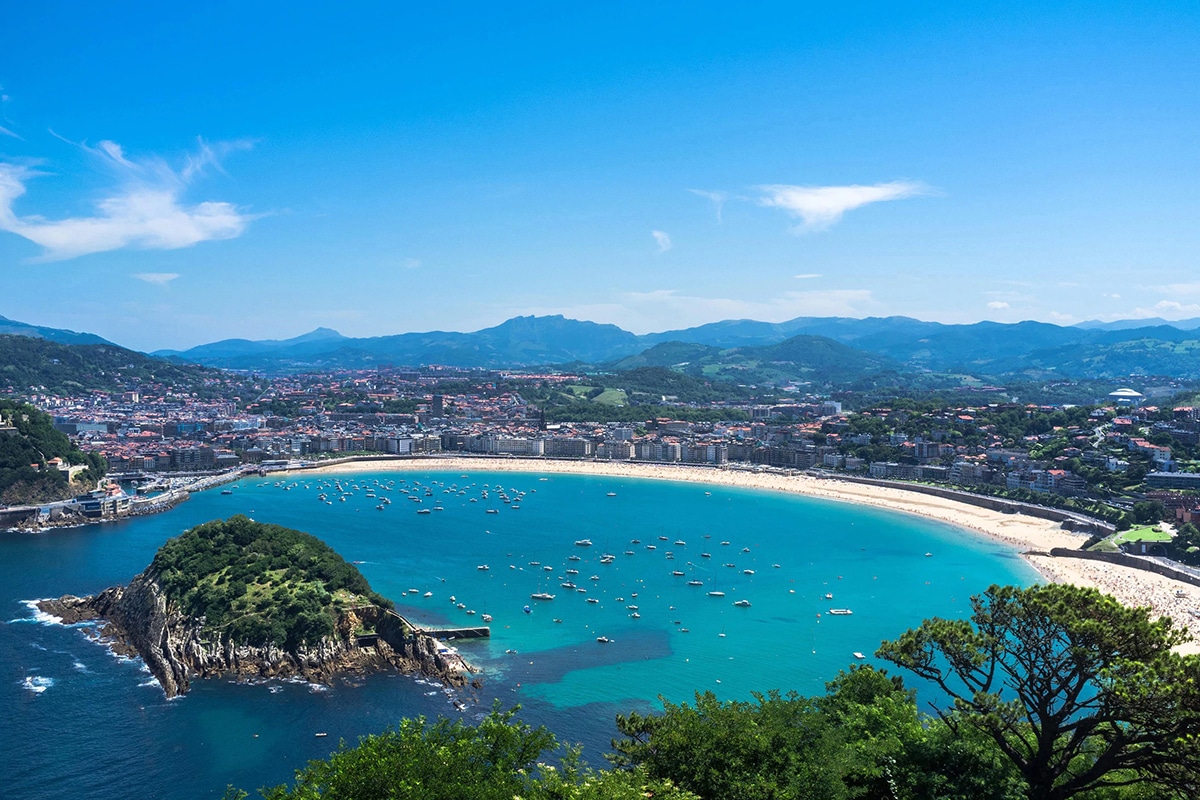 16. La Concha Beach
A popular tourist destination in the buzzing town of San Sebastian, La Concha Beach is vibrant and alluring. With so many adventures on the beach and nearby, you could easily spend weeks on end enjoying it all. The golden sand and clear waters sit perfectly in front of an exciting esplanade and mountainous ranges- what more could you want?
City: San Sebastian
Country: Spain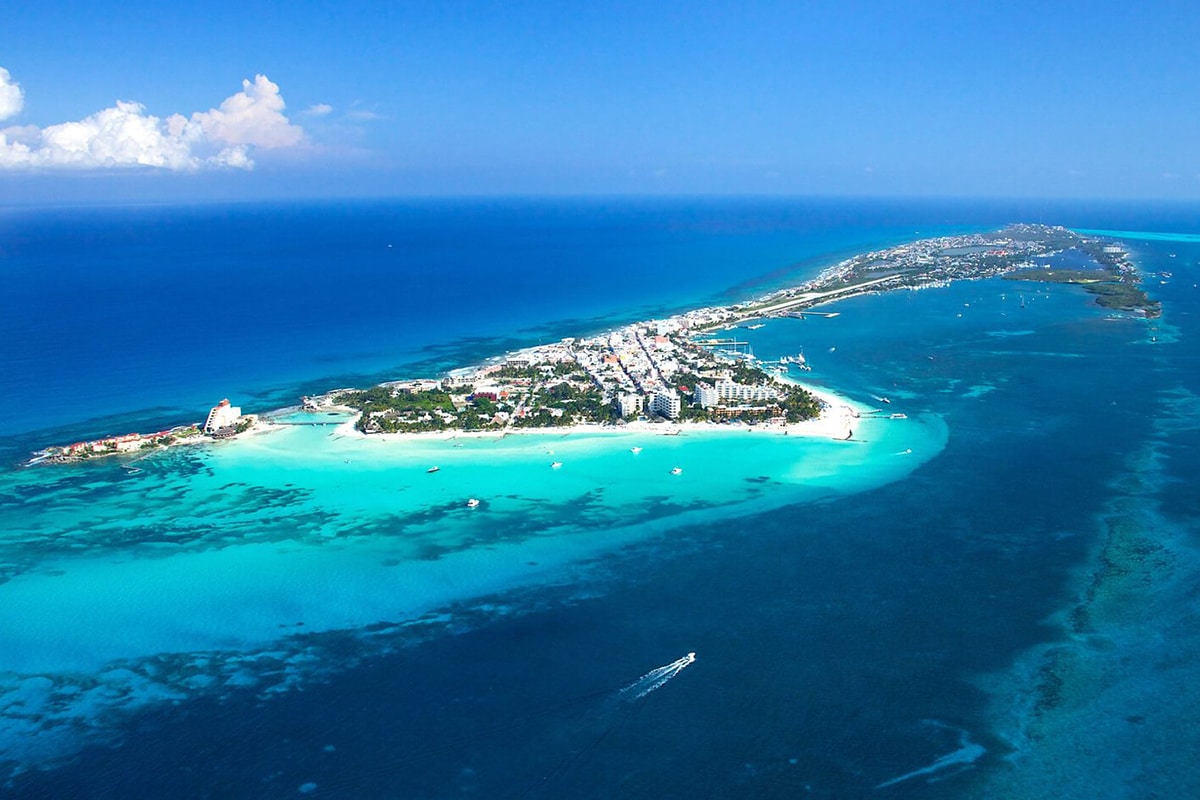 17. Playa Norte
One of the most picturesque beaches in the Mujeres, Playa Norte is an iconic beach getaway. Just off the coast of Cancun, the sand is white and the water a sparkly turquoise blue- ever enticing. The beach is on an island which makes it isolated, however, it is easily accessible by ferry from two points in Cancun.
City: Isla
Country: Mujeres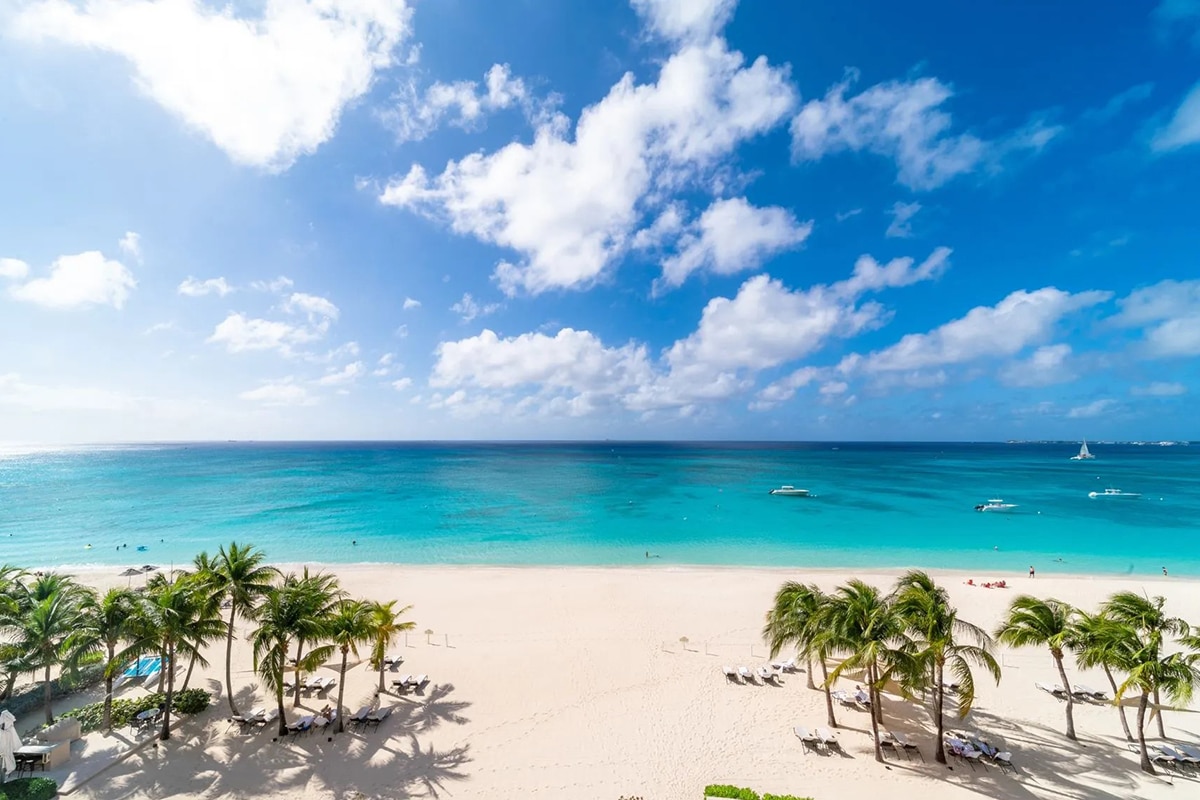 18. Seven Mile Beach
If you haven't been to Seven Mile Beach, it must be added to your list! Recently receiving 'The Caribbean's Best Beach', the beach is long and full of luxury resorts and hotels. If you have expensive taste and a love of stunning white sand beaches, Seven Mile Beach is your dream come true.
City: Grand Cayman
Country: Cayman Islands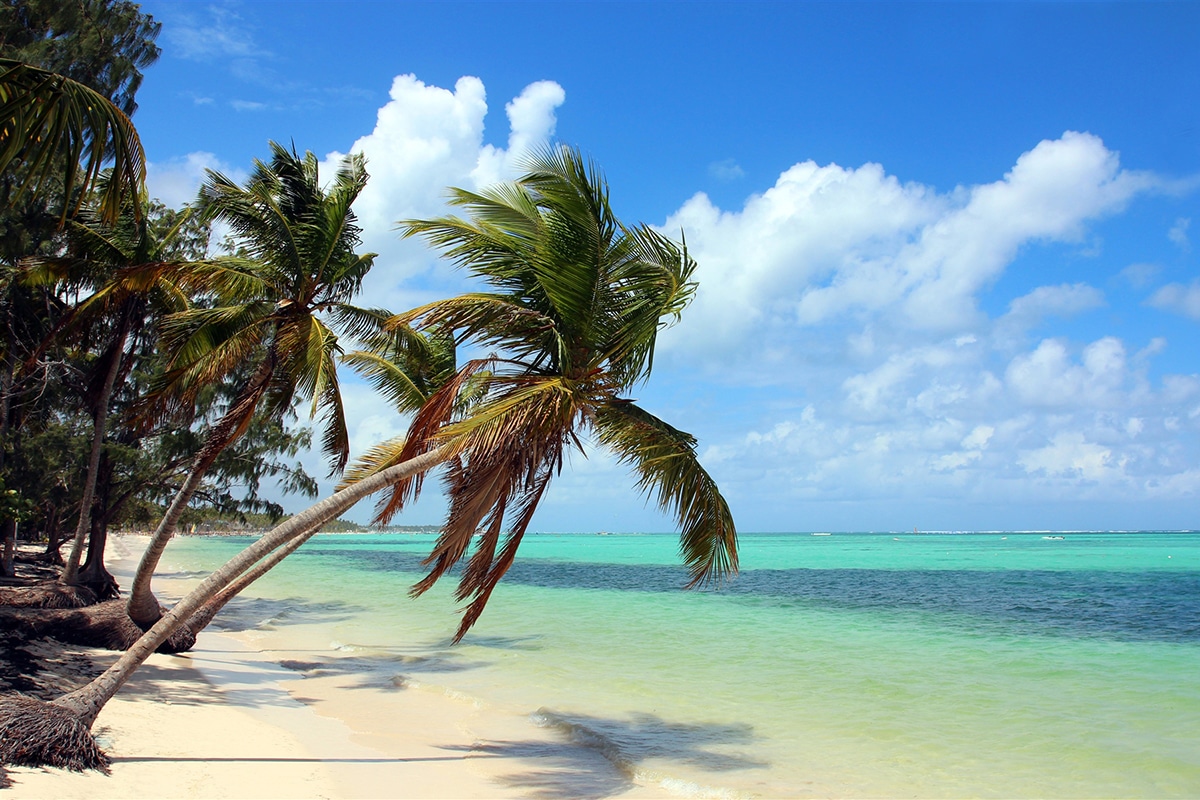 19. Bavaro Beach
Plenty of palm trees, a long stretch of fine white sand and an ocean that will envelop you and your worries off to another world. This beach is a combination of luxury and nature at its finest. You can choose to take a walk along the sand or rest up on one of the many lounge chairs that are scattered along the beach.
City: Bavaro
Country: Dominican Islands
20. Bournemouth Beach
You may be surprised to find a beach from the UK that's made its way onto the list, but this is no joke! Bournemouth Beach gives the Brits a beach to be proud of. The beach is surprisingly not covered with rocks, but instead, its white sand stretches on for miles and the calm water is the perfect excuse to make a trip down south to the sea (as the Brits would say!)
City: Bournemouth
Country: United Kingdom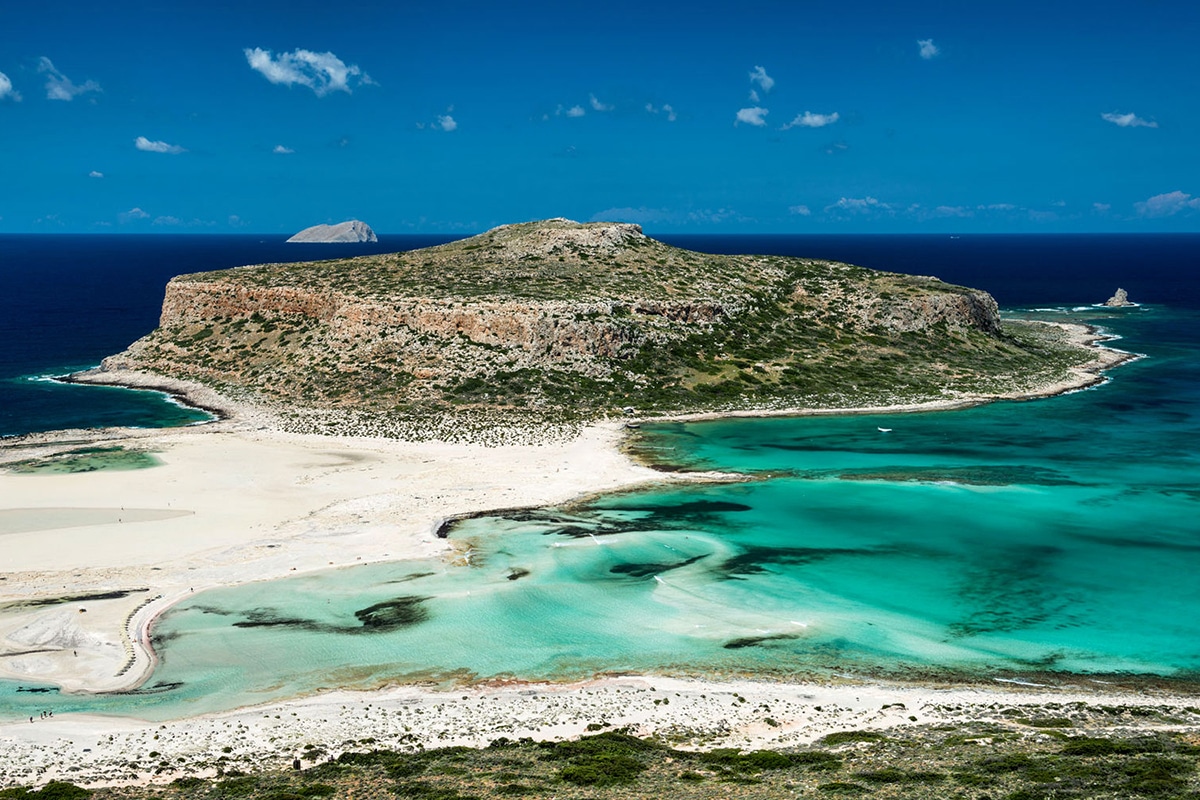 21. Balos Lagoon
No list of the best beaches in the world would be complete without a beach in the Greek Islands. A strange but perfect combination of beach, sand and lagoon, Balos lagoon is a beautiful formation of water and rock that makes you feel like you are on another planet entirely. There's something for everyone- chill at the beach, the lagoon or attempt to climb the cliffs!
City: Kissamos
Country: Greece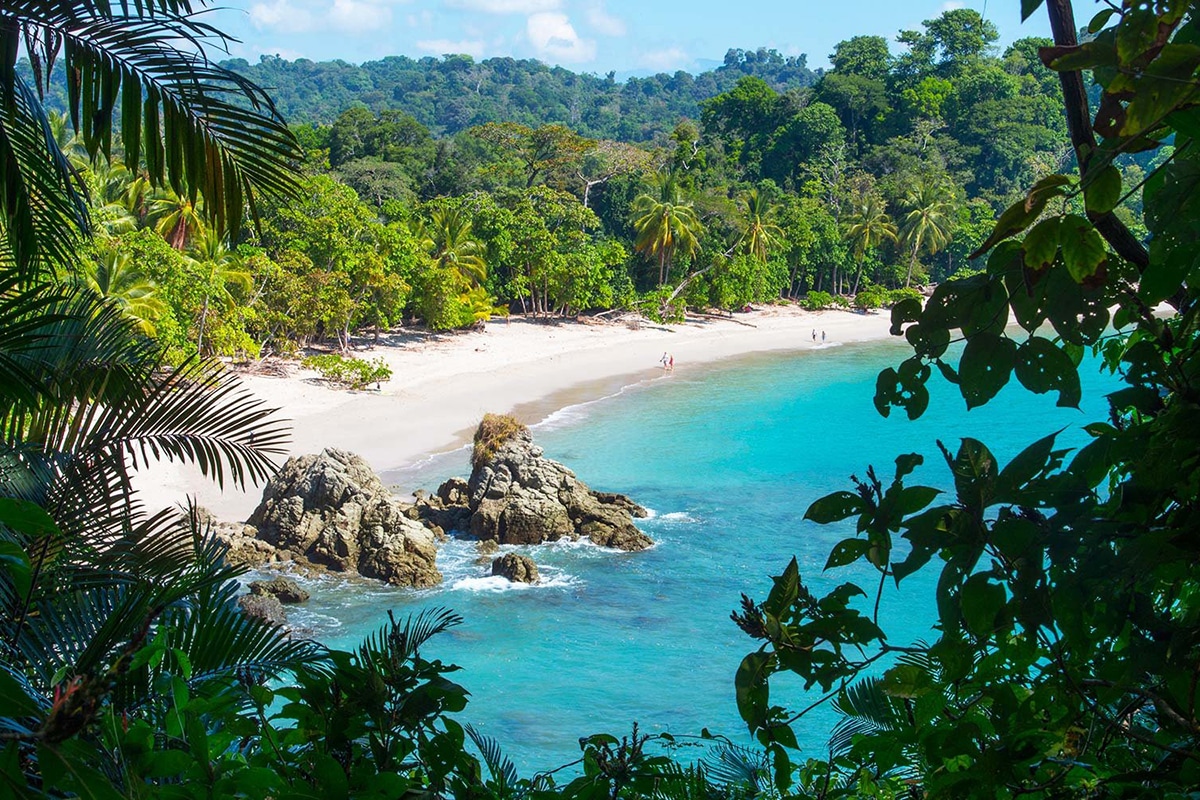 22. Playa Manuel Antonio
Ah, the Costa Rican beaches are like no other and Playa Manuel Antonio is no exception. The sand is our favourite part, coming in all shades from sparkly black to floury white. The water is peacefully calm, perfect to float and bask in the beauty that is surrounding you.
City: Manuel Antonio
Country: Costa Rica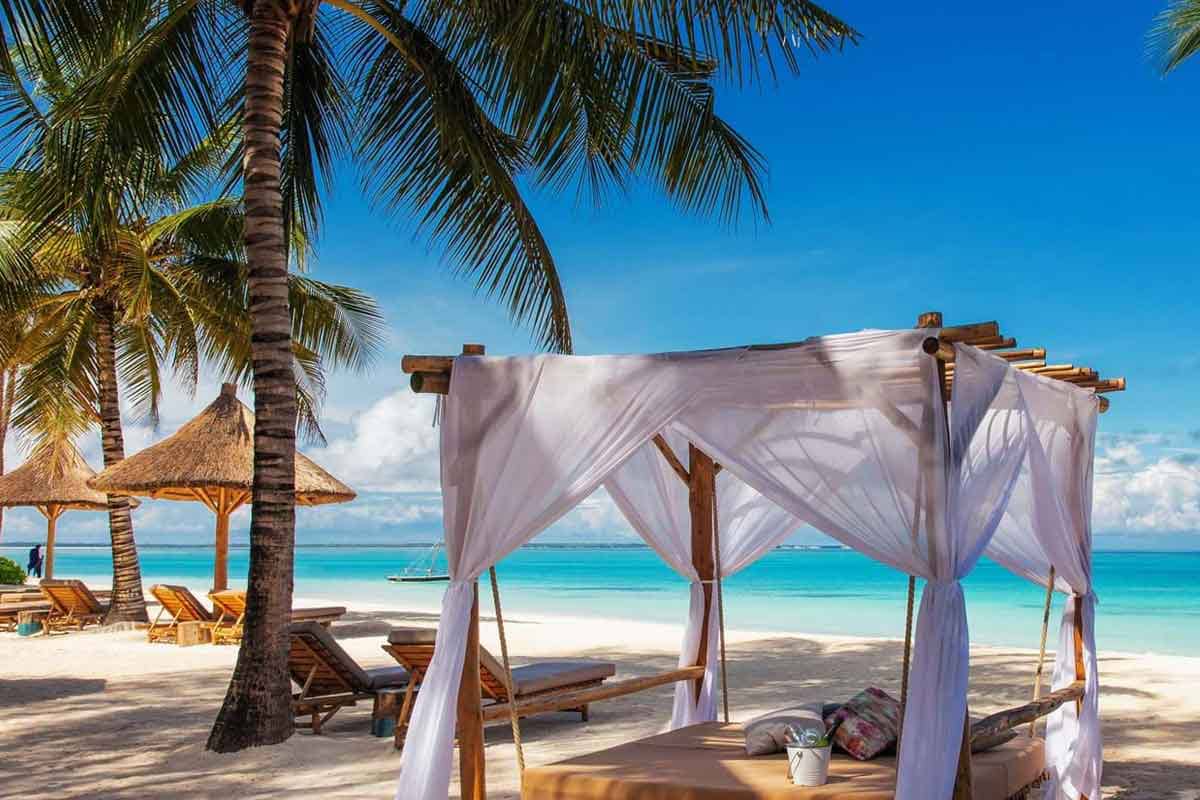 23. Nungwi Beach
For those that like to brave the African waters, Tanzania has an array of stunning beaches. The water is so pristine, a quick dip at Nungwi Beach will cleanse you in more ways than one. The sand is so velvety and the water a shining emerald green- the beach is beautiful and refreshing all at once.
City: Nungwi
Country: Tanzania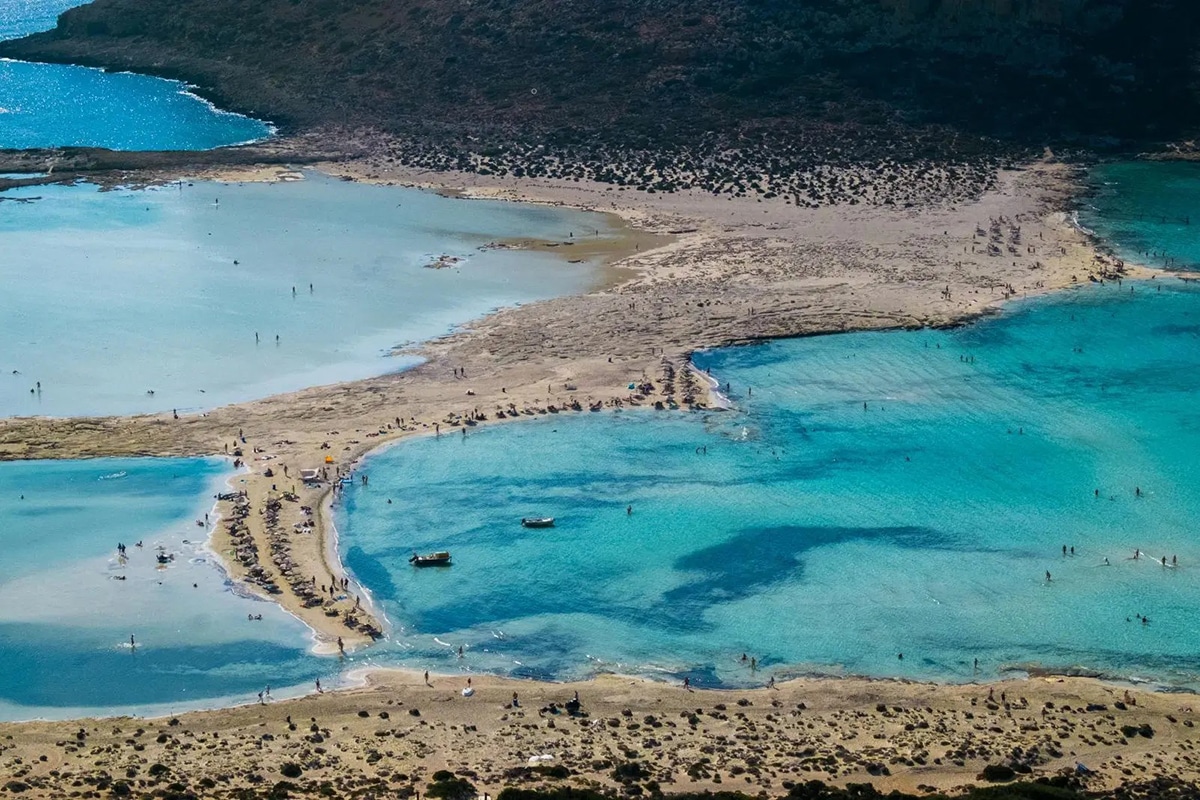 24. Elafonissi Beach
Another one of our ultimate stunning Grecian beaches. Our favourite thing about Elafonissi Beach is the pink coral sand and the oh-so-warm crystal-clear waters. The landscape is almost like a dessert, so the ocean waters just next door may confuse you, but this is why we love it!
City: Elafonissi
Country: Greece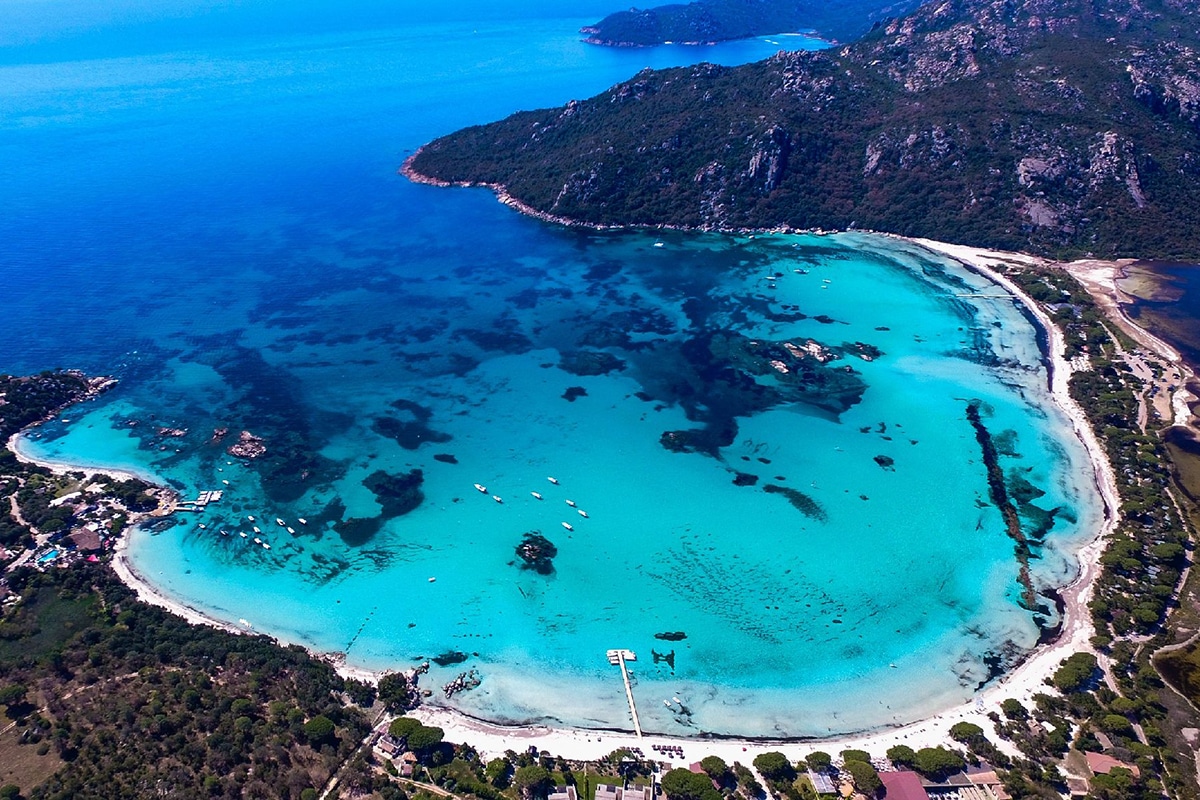 25. Plage de Santa Giulia
Plage de Santa Giulia has it all- ocean swimming, fishing and a vibrant esplanade. There is a long jetty that extends up the beach that you can fish off, jump off and chill out on. The beautiful landscape that sits behind the beach makes for a picturesque setting and a perfect beach day.
City: Santa Giulia
Country: France
You'll also like:
13 Best Perth Beaches for Swimming, Snorkelling and Surfing
15 Best Beaches in Sydney
10 Best Beaches Near Brisbane
General FAQs
What is the number 1 beach in the world?
According to Tripadvisor, the Whitsundays' Whitehaven Beach is the number one beach in the world for 2021.
What is the world's best beach?
There are so many amazing beaches in the world, but our favourite is Praia da Falesia in Portugal.
Which beach has the whitest sand in the world?
According to the Guinness World Records, Hyams Beach on the South Coast of NSW has the world's whitest sand.
---
Featured Video from Man of Many