Land Rover Defender 90 Review: Bite Sized Fun
Like many, we couldn't wait to get back out on the tracks and explore our regions after NSW finished its second 100+ day lockdown, but finding a place to stay without taking the risk and booking months in advance was proving difficult.
Instead, we decided to explore our own backyard.
Sydneysiders are only a stone's throw from some of the best offroad tracks in the country. Within 2-hours of the CBD, you can take your pick from some of the best tracks in the country e.g. Lithgow (ZigZag), South Coast (Yalwal), or even the muddy Watagan State Forest, but we were in for a bit of sightseeing and with a brand new 2022 Land Rover Defender in the stable for the weekend, adventure was on the cards.
2022 Land Rover Defender 90 S P300
Our weapon of choice for the trip was the brand new 2022 Land Rover Defender 90 P300. An offroad tool that's equally at home on the road – it's simply made for this type of adventure. Being a blend of tarmac and fire trail, with a few sidetracks thrown in for a good mix, this gave us a chance to give the new model a proper shakedown under conditions most owners would face.
You might hold fond memories of the old Defender (as do we), but let us be the first to say that while it might look a little softer and less boxy on the outside, the new Defender still holds enough of the quirks and charms to remind you it's still a proper off-road vehicle.
Option out your Defender to feature as much leather as you want, but if you're a weekend warrior like us, you can opt for fewer creature comforts and save some kitty in the piggy bank for some choice modifications. It's still a Defender at heart, it just drives like a normal car now.
| | |
| --- | --- |
| Engine | 1,997cc Ingenium Inline 4-Cylinder Turbocharged Petrol |
| Power | 221kW @ 5,500 rpm |
| Torque | 400Nm @ 1,500-4,500 rpm |
| Acceleration | 0-100km/h in 7.1 secs |
| Transmission | 8-speed Automatic, All-Wheel Drive |
| Weight | from 2,140 kgs |
| Warranty | 5 Years/Unlimited km with 5 years roadside assistance |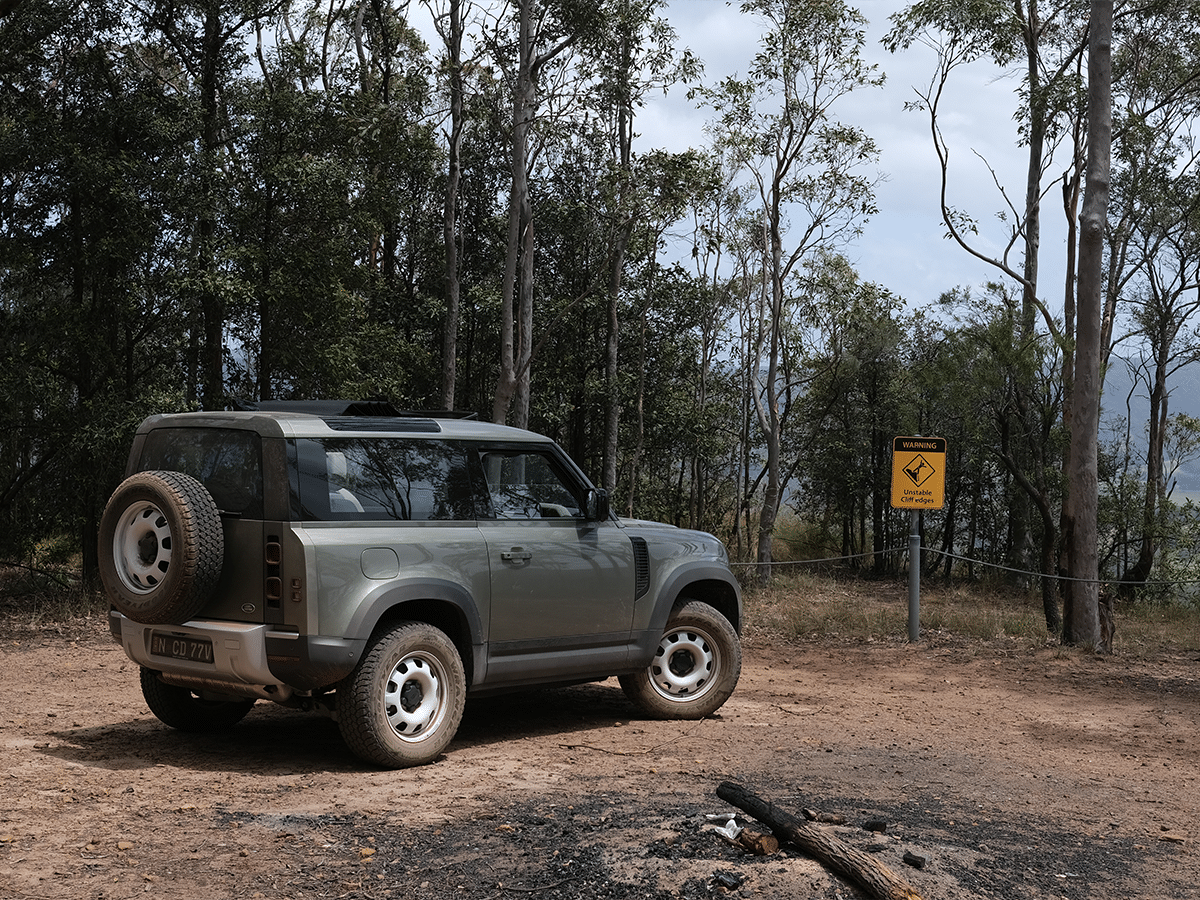 8 Best Lookouts on the Central Coast
Hunting for some lesser-known 4WD friendly lookouts on the NSW Central Coast was the order of the day, and being 2-hours of Sydney, and 45mins of the coast, it wasn't long before we were airing down for the day ahead.
The only real challenge when exploring the Central Coast best 4WD tracks is finding the balance between fun, and car damaging tracks. While testing something with rock sliders, big mud tires, dual lockers and 1-metre of articulation might float the boat for some, pushing a new Land Rover Defender through tracks like CPT80 and Greens Break Road in the Watagans simply wasn't an option.
We mapped out a trip around the best lookouts on the Central Coast of NSW, but don't worry, we aren't going to spoil the views too much.
1. Heaton Picnic Area / Lookout
The drive out to Heaton Lookout from Sydney takes just under 2-hours on the tarmac from Sydney CBD.
It was a particularly relaxing experience behind the wheel of the new Defender. With radar cruise control and enough torque (400Nm @ 1,500rpm) to waft you up any hills without even needing to kick down any one of its 8 gears, it's here that it truly sets itself apart from the old model.
Unlike the old model, you don't get blown off the road every time a truck passes you, and even with the short wheelbase, it's planted and safe when cruising at 110km/h. We'd have no hesitation taking the new Defender on a 6-hour drive, with a good sound system, stable ride and greenhouse visibility, it's a safe and comfortable option.
Locating Heaton Lookout is easy and you can find it on Google Maps via the link below. We recommend airing down anywhere along Mount Faulk road to around 25-psi (depending on the weight of your vehicle). From here, it's an easy cruise along a fire road, take a right onto Heaton Rd and about halfway along is Heaton Lookout, you can't miss it.
Address: Watagans National Park, Heaton Rd, Cooranbong NSW 2265
Co-ordinates: 32°59'01.9″S 151°27'17.1″E
Terrain: Easy (Fire-roads)
View rating: 8/10
2. Taylors Rd Lookout
Continuing along Heaton Road for another few minutes you might notice a little quarry out to the right with some inclines to explore your vehicle (video below). Further along, you'll get to a transmission tower and the turnoff to Taylors Road. While the locals mightn't consider this a secret lookout it's fairly underrated and doesn't receive as much traffic as Heaton Lookout as most just turn around.
It's also a seriously fun drive.
The road is mostly smooth, and while you could tackle this one in your average SUV, it's made all the more enjoyable with the new Defender 90. Our test vehicle featured the spring and shock combo, lacking the optional Air Suspension, which at just over a grand, is a no brainer for the average punter. You could argue that the spring and shock combo is a better option for those who'll look to turn their Defender into a beast with aftermarket modifications and we'd believe you. In any case, we stuck the boot in and punted down this fun little trail – Dakar style.
How was the ride? Superb. When blasting down a fire trail like Taylors Road the ride was outstanding. We were actually quite shocked at how well it rode without the air suspension and it's clear the engineers didn't waste any time tuning the suspension. Sharp edge potholes were never an issue, and with independent suspension geometry all around, the ride was controlled and level at all times. It might've hampered the D90 if we pushed it any further with some larger rock steps, however, when ground clearance isn't an issue it's extremely competent and reassuring.
Address: Taylors Rd, Olney NSW 2325
Co-ordinates: 32°57'47.6″S 151°26'40.9″E
Terrain: Easy (Fire-roads)
View rating: 7/10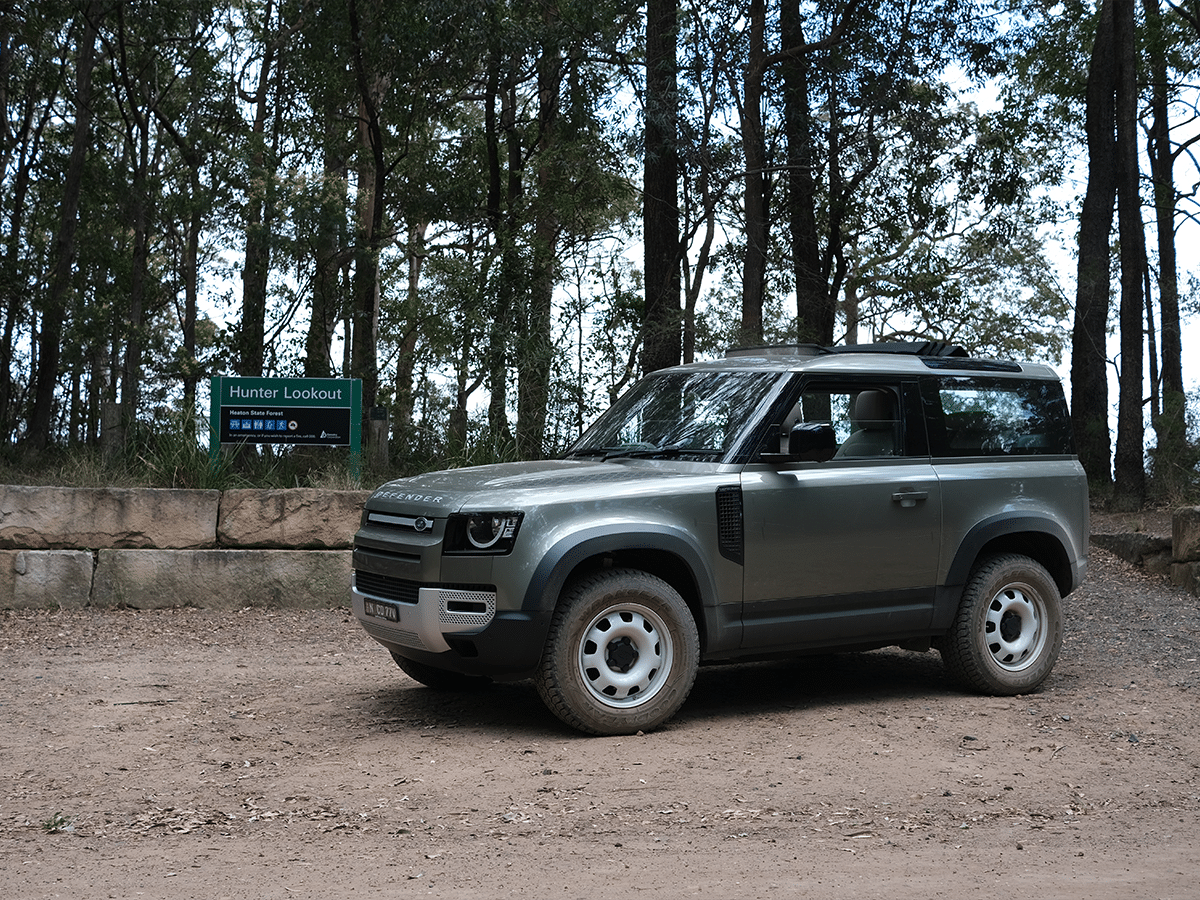 3. Hunter Lookout
Turn around and have another blast down Taylors Road before heading back along Heaton Road and turning right back onto Mount Falk Road. From here you'll head along until you find the turn off for Bakers Road at the Watagan Headquarter Camping Area. Upon arrival at Hunter Lookout, park the car in the waiting area and have a stroll to the fenced lookout that takes in views of the valley below. This is a great spot for lunch!
Mount Faulk road is a particularly terrible piece of dirt fire road with a myriad of sharp-edged potholes and washouts so be careful. While you can easily tackle this trail in a 2WD vehicle (with a little ground clearance) it'll be very slow going.
Address: Olney NSW 2325
Co-ordinates: 32°57'45.2″S 151°24'50.8″E
Terrain: Easy (Fire-roads)
View rating: 8/10
4. McLeans Lookout
McLeans Lookout is another 5-mins drive down Bakers Road, but the view is well worth the extra drive.
Address: Olney NSW 2325
Co-ordinates: 32°57'27.5″S 151°25'03.3″E
Terrain: Easy (Fire-roads)
View rating: 7/10
5. The Narrow Place lookout
You can decide at this point if you've seen enough lookouts, but we recommend heading back to Watagan Forest Road and heading along before taking the turnoff to Georges Road on the left. This is where the lookouts get really good.
Georges Road is only a little more challenging than your average firetail (4WD access only), but it's enough to keep things interesting and you have to pick your lines correctly on the odd occasion to avoid slippage. Never a problem in the Defender 90 with Terrain Response and locking rear and centre differentials. You'd have to explore the limits of your ground clearance before any of these systems really start working, but knowing they're there is reassuring.
Address: Olney NSW 2325
Co-ordinates: 32°58'35.5″S 151°21'31.7″E
Terrain: Easy/ Moderate (4WD access only)
View rating: 8/10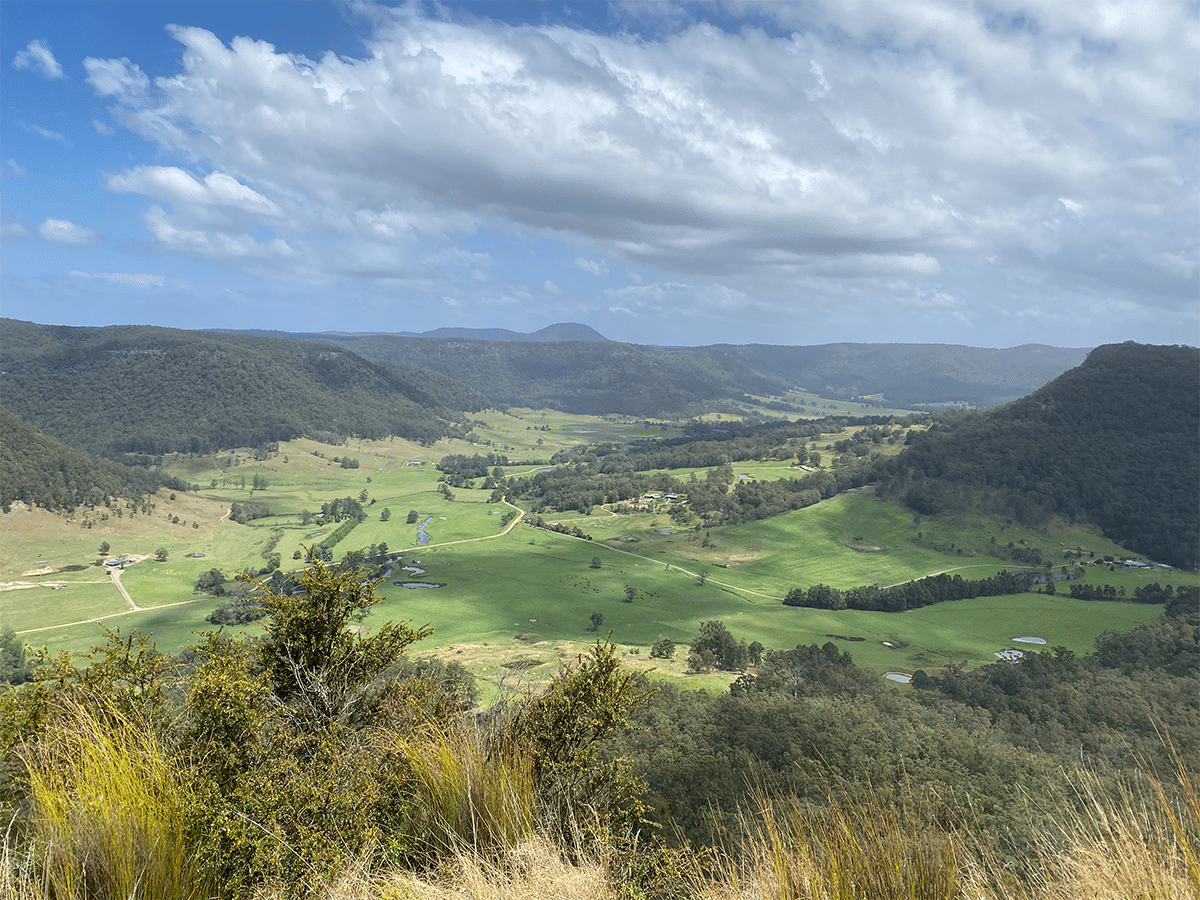 6. 125r Lookout
Continue along Georges Road for another 10mins and you'll come across a left turn signposted 125r lookout road. Try not to get your heart pumping too much at this point as the scenery is about to get spectacular (only bested by the final spot). Once you arrive at the lookout park up and watch out for goannas (seriously) before walking 10-metres.
Take in the view of the Congewai valley and ironically crack an Australian saying to your mates, maybe something like "I wonder what the poor people are looking at right now". Hooroo.
Note: While Georges Road appears to continue on the map, it doesn't, and you'll have to go back the way you came.
Address: 125r Lookout Trail, Congewai NSW 2325
Co-ordinates: 32°59'00.7″S 151°20'09.3″E
Terrain: Easy/ Moderate (4WD access only)
View rating: 9/10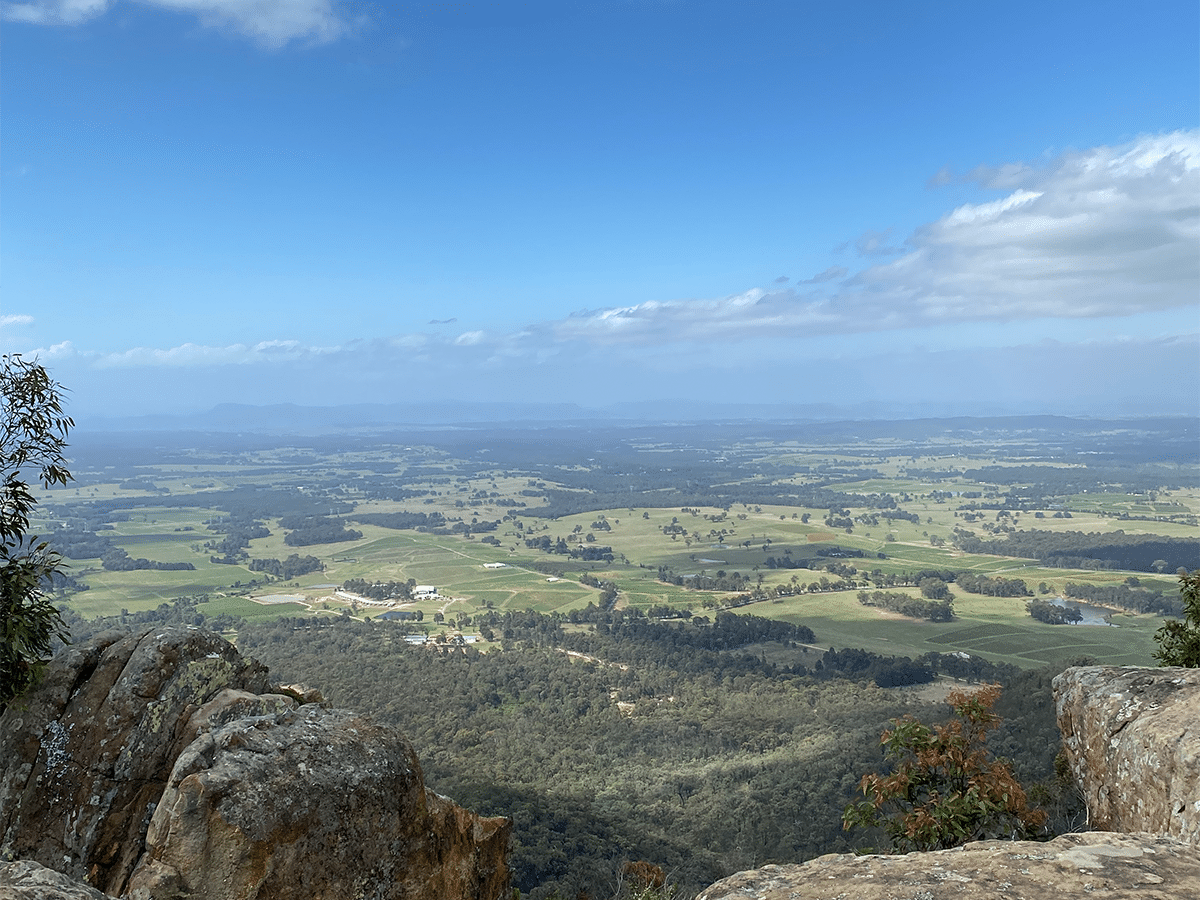 7. Secret Lookout – Pokolbin State Forest
This lookout in Pokolbin State Forest is the best lookout on the Central Coast bar none. You could even argue it's the best lookout in NSW! Unfortunately, it's a big secret amongst the 4WD community and we're not going to be the ones to spoil it and tell everyone how to get there, but we will leave a few hints and if you can be bothered enough to find it, you will.
Hint: Find your way to Broken Back Road via Pokolbin Mountain Road, from here, keep following Broken Back Road and the entrance will be on your right. That's all we're going to say!
Terrain: Easy/ Moderate (4WD access only)
View rating: 10/10
Final Thoughts on the 2022 Land Rover Defender 90
We absolutely loved our time exploring the new Defender. The vehicle perfectly blends new and old to create a quality driving experience on-road and off. It attracts plenty of good attention and certainly looks the part while cruising the streets of Surry Hills in its short wheelbase format, but it also performs well off the beaten track thanks to improved ramp over angles that come with a 'shortie' – as seen above.
The idea of packing the D90 full of essentials and exploring the local mountains just 2-hours from the CBD creates a seriously enticing package for adventurers everywhere. And there are enough creature comforts involved to keep even the most amateur 4WD'er prepared – with options such as Integrated Air Compressor ($1504), Wheel Arch Protection ($1311), Electronic Active Differential w/-Torque Vectoring by braking ($806), and Heavy Duty Rubber Mats ($338).
While the options list is extensive, the price of the car can begin to skyrocket if optioned up with things like a clear sight rearview mirror ($1274), but after experiencing what they bring to the table it's hard not to tick the box for everything. That is except for the fabric roof ($4810), which sounds like your driving a tent when it starts to rain.
For 90% of customers, this is all the 4WD you'll ever need. It's got enough 'tech' to keep you happy during the week, and enough smarts to pull you up just about anything you can point at it on the weekend. Creating a car that can comfortably do both is a challenge for most manufacturers but we think Land Rover has nailed it with the new Defender.
Price (MSRP)
$83,346
Colour of the test car
Pangea Green Metallic Paint
Options
Folding Fabric Roof ($4810)
Metallic Paint ($2060)
Integrated Air Compressor ($1504)
Clearsight Interior Rear-view Mirror ($1274)
Wheel Arch Protection ($1311)
Leisure Active Key ($910)
Electronic Active Differential w/-Torque Vectoring by braking ($806)
Heavy Duty Rubber Mats ($338)
Cross Car Beam Finish White ($299)
18″ 10 Spoke Style 5093 Sparkle White (NCO)
Price as tested
$96,478 (plus on-road)
You'll also like:
2022 Jeep Compass Review: It's What's On the Inside That Counts
Suzuki Jimny Review: A Pint-Sized Off-Roader with Loads of Charm
2022 Mercedes-AMG GT63 S E Performance Preview: A Mouthful of Hybrid Power