The Porsche 911 Carrera T: Naked Perfection
Antoine de Saint Exupéry once stated " perfection is finally attained not when there is no longer anything to add, but when there is no longer anything to take away, when a body has been stripped down to its nakedness." Now, I'm not sure if the Porsche engineers are huge fans of 1930s French literature, but it's been clear for some time now, that they share the same ethos. The 911 T was, in fact, first released in 1967 when customers wanted a stripped back version of the base 911, resulting in the 911 Touring (hence the 'T'). Fast forward to 2018, and while the updated car prescribes to the same mantra; it's a different machine entirely.
---
You'll also like:
Changes to the 2019 Porsche Macan SUV Go Deep
A dash of Cayenne: Celebrating Porsche's 70th Birthday
Get Caught in the Web of Porsche Prototype Racing Cars
---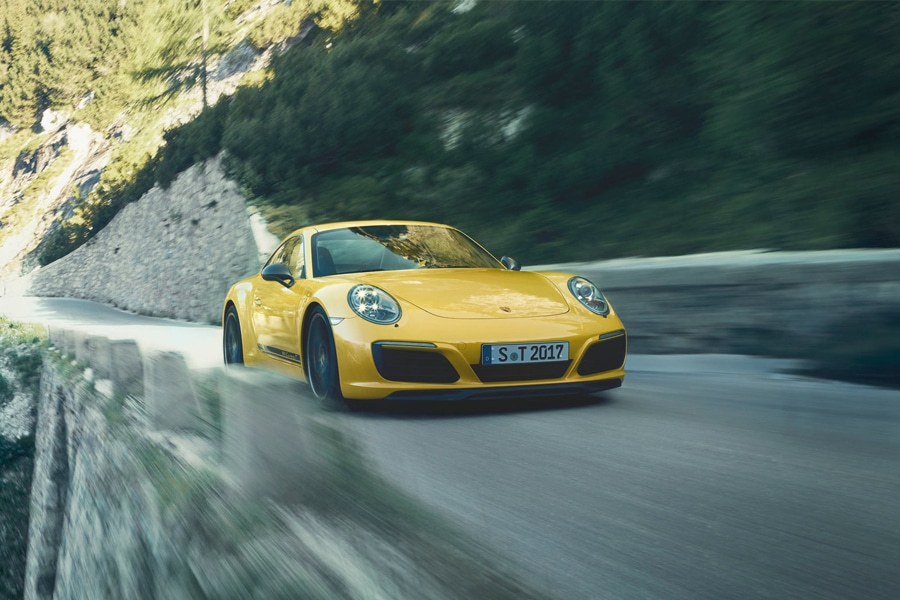 It's that silhouette that gets you. It's been getting you for years… but there is something special about this one. It's more understated than the GT and RS models, you won't find a showy rear wing or roll cage, yet it has more charisma than the standard 911. Large air intakes and an aggressive aero spoiler lip give that beautiful face some definition… A pair of sizeable '911 Carrera T' decals running along the base of the door raises a glass to Porsche's history… 20 inch Carrera S wheels painted in Titanium contrast theatrically with the yellow bodywork… Centrally mounted exhaust pipes visually anchor a delicately curved rear end… The 911 Carrera T is beauty with character. It wears its history on its sleeve but it doesn't shout at you, it draws you in with it's gaze. There is modern technology fused in every visual detail, but it's executed in such a way that doesn't disconnect you from the heritage of the original car.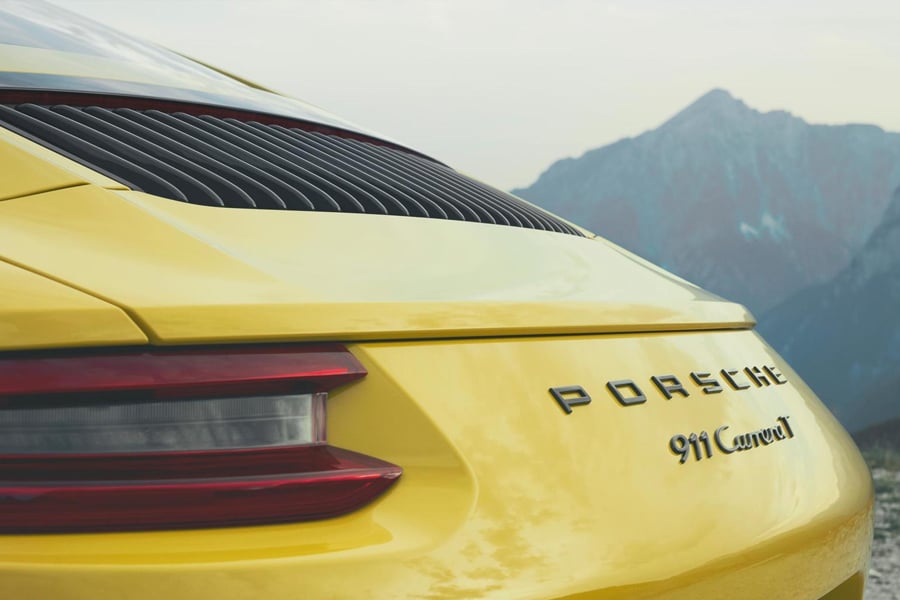 If there comes a time where you stop looking at the beauty of the 911 Carrera T, then there is plenty of kit to be impressed with as well. A 3.0 litre twin turbo 6 cylinder sings to the tune of 272 Kilowatts and 450 Newton meters. Weight has been reduced with the use of minimal sound proofing, the rear screen and side windows are made of lightweight glass, and the rear seats have been left back in Stuttgart. As you can guess, less weight + more power = my kind of maths. 0 – 100 km/h disappears in 4.5 seconds… 0 – 200 km/h? 15.1 seconds… and it won't take the 911 T much longer to reach its top speed of 293 km/h. With so much racy nakedness, you'll need protection. Four-piston aluminium monobloc callipers front and rear are coupled with 330 mm vented and cross-drilled discs providing outstanding feel as you slow things down.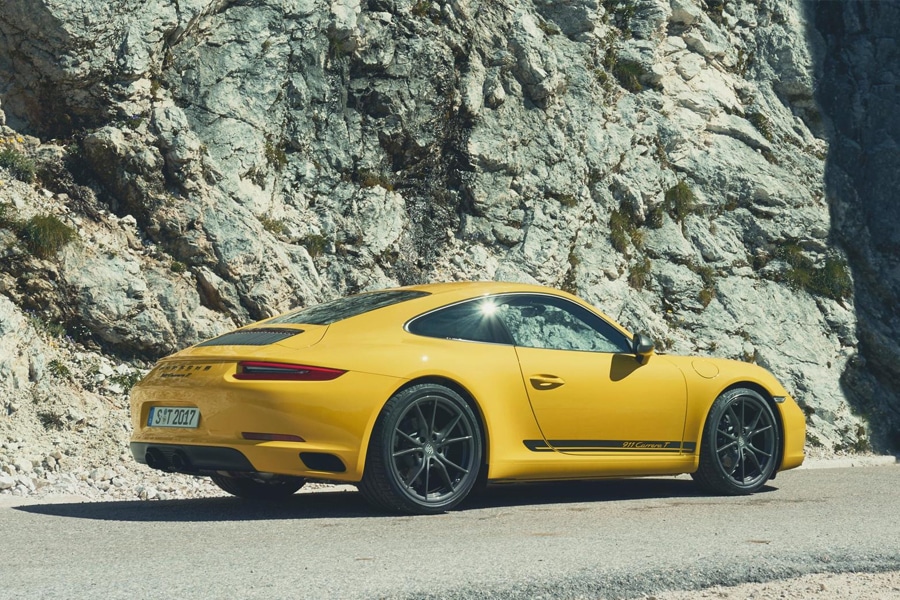 But can we take a paragraph and talk about that manual gearbox. It's the first thing you look forward to when you jump in the cockpit and you miss it deeply when you jump out. Beautifully weighted, precise, solid, direct… I would have been happy writing an article on the gearbox alone. Every shift rewards you with a sense of purpose and a degree of human fragility. Get the shift wrong, and the 911 T encourages you to do better next time. Nail the shift perfectly, and you go all gooey inside… it's that good. Pedal spacing if perfect for some good old fashion heel toe-ing but the Porsche dynamic throttle blipping can assist in rev matching duties if required. Of course, you could go with the PDK transmission, but I think it would be a crime to do so. The soul of the T is alive and engaging and the manual gearbox is at its core.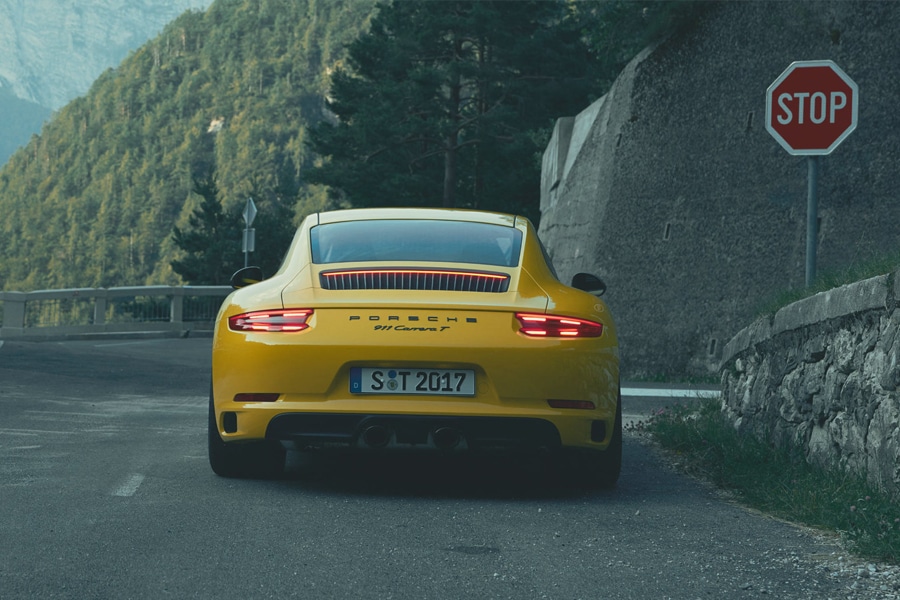 Apex to apex, the chassis of the 911 T is notably poised. Porsche's active suspension continuously adjusts damping force independently, which works beautifully with our questionable road surfaces. Springs and anti-roll bars are firmer than the standard 911 whilst front and rear spoilers have been tweaked to reduce lift in the front and increase downforce at the rear. If that wasn't enough, a rear locking diff works in tandem with some clever torque vectoring, perceptively braking the inside wheel slightly and pushing more drive to the outside wheel. Even with traction control turned off, the predictability and grip of this package is pure brilliance.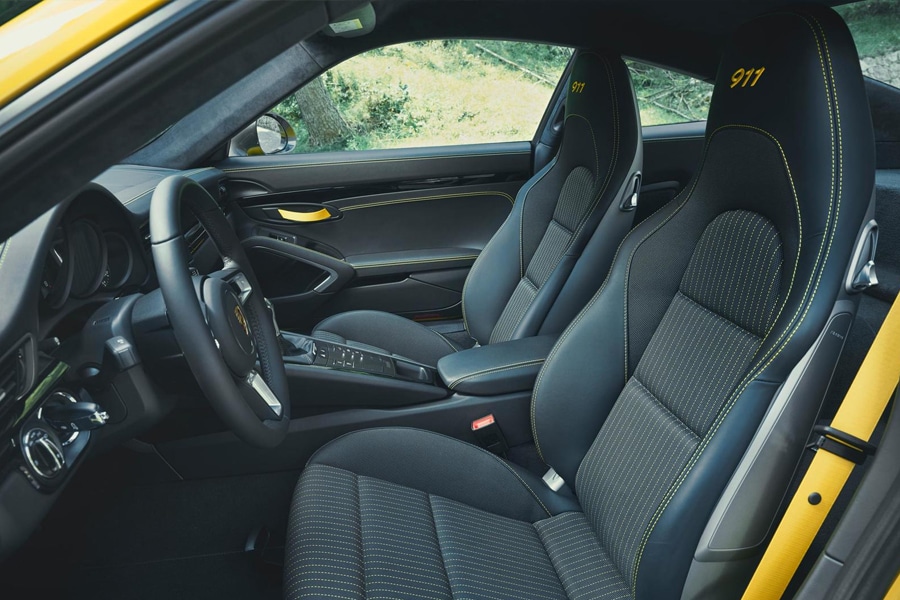 When I briefly shifted my focus away from the steering wheel, shifter and pedals, I noticed a very driver focused interior. Black with yellow highlights scattered the cabin in an unexpectedly sophisticated way. Traditional door handles have made way for fabric door loop pulls and the sports seats are as pleasant to sit in as they look. If that's not stripped enough, Porsche also offers full bucket seats with Alcantara centres as an optional extra. As you'd expect from Porsche, every textile and stitch has been thoughtfully selected and methodically executed.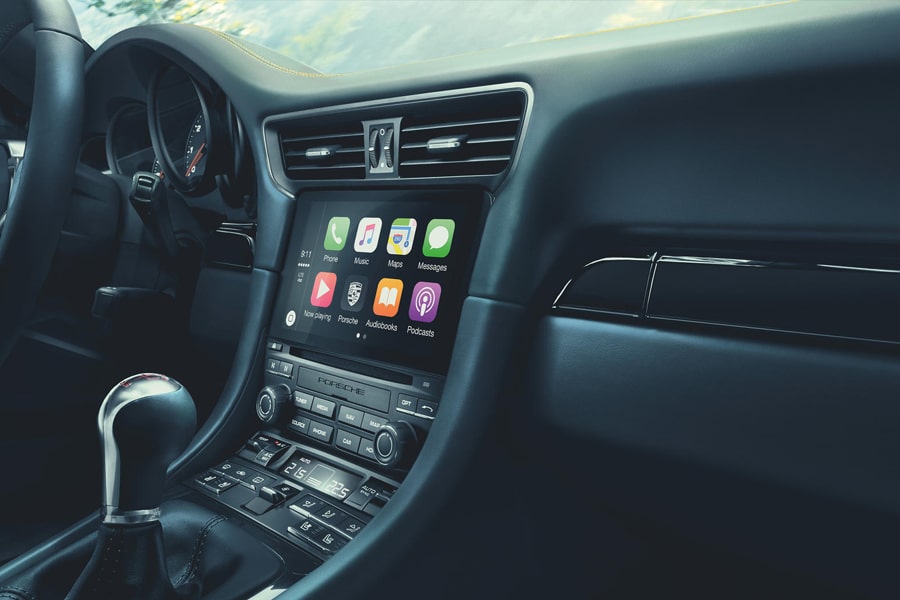 So, who buys the 911 Carrera T? It's the sort of person that goes to a live show rather than a listen to a recording, the sort of person with a wild soul and a romantic heart and it's the sort of person that takes the long way home just for the sake of driving. Porsche have taken an outstanding 911 Carrera, dialled down the lux and cranked up the flux. It's a car that feels special to be involved with and would continue to flourish over time. Spring is here, get naked… the 911 Carrera T might just be the love of your life.
---
You'll also like:
Changes to the 2019 Porsche Macan SUV Go Deep
A dash of Cayenne: Celebrating Porsche's 70th Birthday
Get Caught in the Web of Porsche Prototype Racing Cars
---
Have you subscribed to Man of Many? You can also follow us on Facebook, Twitter, and Instagram.