Emory Outlaw 911K is Porsche Racing Royalty Retooled
Emory Motorsports built this fully customised Porsche 911K with every aspect tailored towards agility while retaining the appearance of Porsche competition vehicles of the 1960s. This one-off is dubbed the Emory Outlaw 911K and features a unique combination of parts and a sleek bullet-shaped body to produce the perfect track and rally weapon.
Before customisation, this 1968 Porsche 908 was one of the first closed-cockpit prototype cars. It is also believed to be one of only five that still exists, and was also one of the five that initially received the short-tail ("Kurzheck") bodywork.
Distinct Motorsport cues include an amber fibreglass dash cap, Porsche Light Ivory paint with a signal-yellow accent and hand-painted Mobil Pegasus for an authentic touch.
The air horns and auxiliary lights define the car's rally stance from the front. Other body modifications include mesh intake guards, a twin-grille decklid, R-style hinges and R-style bumpers.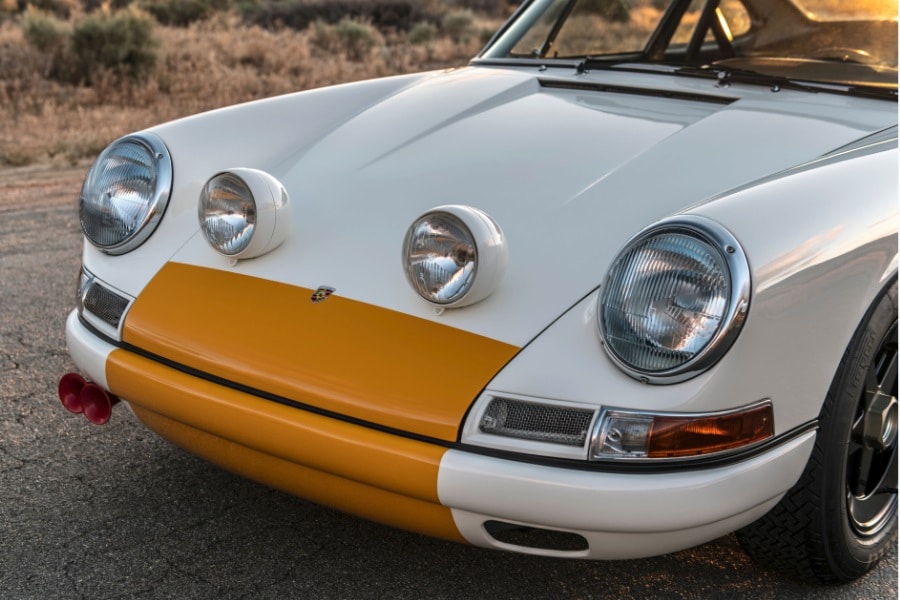 Power for the Porsche 911K comes from a later model 2.5-litre twin-plug 911 engine. The hot-rodded six-cylinder powerplant produces 190 horsepower. Emory Motorsports upgraded the brakes with 911 S alloy calipers, custom rotors and hats. The grip is courtesy of the Pirelli CN36 tires on custom 908-inspired 5-spoke wheels by 1552 rotating on Porsche 935 Carrera centre lock hubs.
The interior offers 908-inspired front seats with fire-retardant Spanish Red Veltex covers and MOMO 5-point competition harnesses. The MOMO influence continues to the Prototipo steering wheel and shift knob for the 901 five-speed transmission. Other custom additions include the removable roll bar, lightweight door panels & pulls and leather window straps.
The Emory Outlaw 911K is the latest build from third-generation car customiser and world-renowned Porsche 356 expert Rod Emory who utilised his lifetime of automotive experience to develop this classic racer.
"The inspiration for this car comes from Porsche 908-010, a K-bodied sports prototype once piloted by Vic Elford," said Rod. "The design cues and livery from that car lend themselves beautifully to this build."