Harley-Davidson Road Glide ST Review: One Tough Piece of Kit
We're not going to lie, motorcycles with speakers have always seemed a tad, well, American. Sure, back in the day, the thought of firing up your Road Glide, cranking the stereo, and hitting the highway, was very appealing. But with the current lineup of Bluetooth communication systems and helmets, which deliver audio unaffected by external noise, you question the relevance of speakers on a motorcycle, entirely.
First Impressions
It wasn't until we caught a glimpse of the US race series "King of the Baggers" that I started looking at Road Glides in a different light. Sure, they're big, obnoxious, and loud, but when you see them being chucked around a racetrack, you can't help to crack a smile at the lunacy of it all.
So while we haven't exactly been first in line to throw our leg over a Road Glide in the past, when Harley-Davidson Australia offered us the keys to the new ST, the thought of channelling some King of the Baggers energy was too good to pass up. and we spent two weeks figuring out what that meant.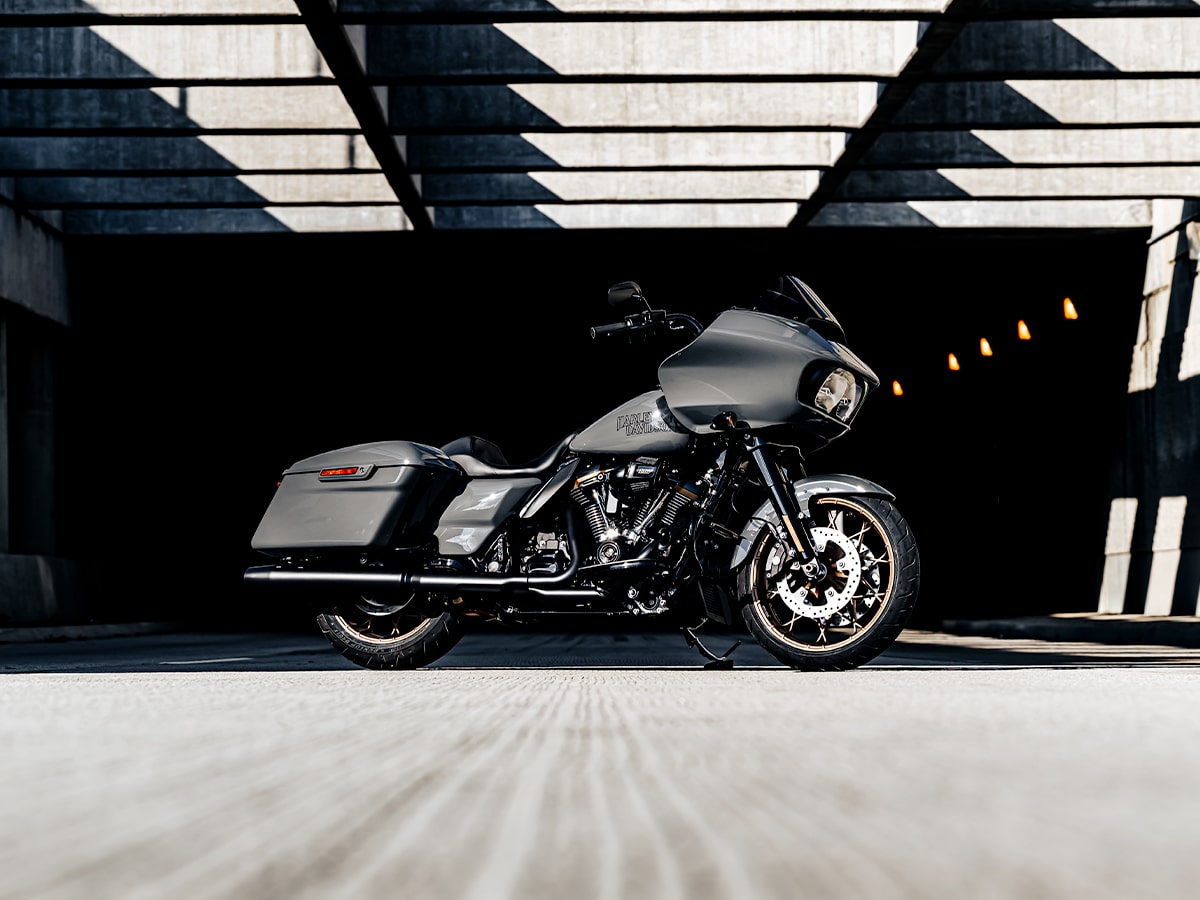 Design
We'll start with the obvious, Harley has gone heavy with the black paint. Controls, exhaust, saddlebags, powertrain, fairings… you won't find much on this bad bagger that isn't embracing the darkness. The only pieces spared are the tappet covers and pushrod tubes, which add some needed mechanical contrast.
In terms of design focal points, you can't go past that shark-nose fairing. The massive unit not only buffets winds like you're slipstreaming a truck, but it also houses the Boom! Box GTS infotainment system, two fairing-mount speakers and a plethora of controls.
Harley-Davidson Road Glide ST Engine
While the classic Road Glide silhouette might look familiar to most, the engine below might be less acquainted. The 117 (1,923 ccs) V-Twin uses the new generation Milwaukee-Eight architecture (four valves per cylinder, eight valves total) resulting in some tasty numbers, increased reliability and efficiency. How tasty? We hear you ask. Well, how does 168 Nm of torque at 3500 RPM sound?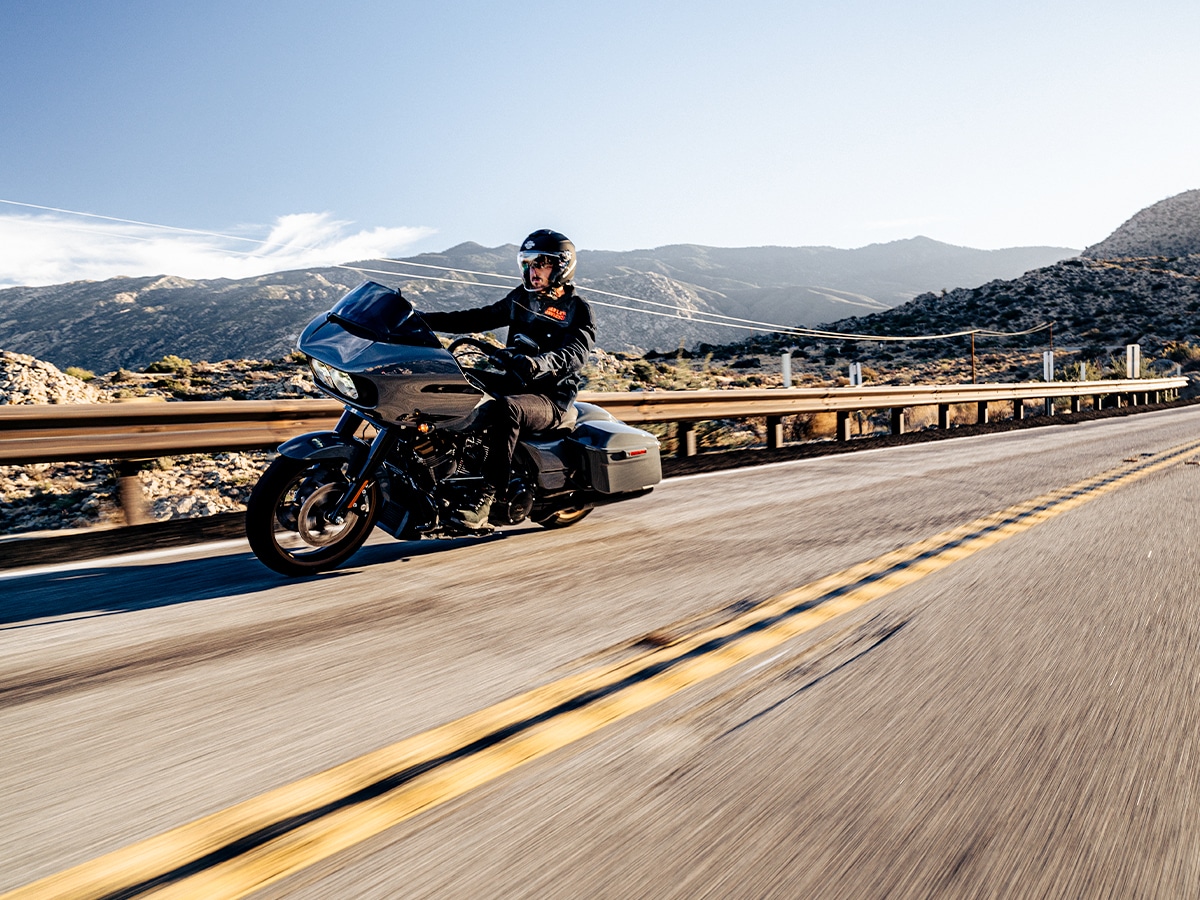 Riding
At low speed, the Road Glide ST feels as hefty as it looks. Ergonomically, my 190cm frame was a touch too crammed with the standard bars and it took some getting used to for slow maneuvers.
Obviously, with the massive front fairing, lane filtering was pretty much non-existent in city riding, but cranking out some J Cole through the dual speakers, meant we were at least entertained while we sat with our automotive cousins.
Once we were out of the city and above 80 kph, the Road Glide ST started to make sense. The 117 pulls effortlessly from any gear, and the front end starts to feel lighter the more you slalom about. The front fairing was extremely effective at wind buffering meaning we had a level of highway comfort we hadn't experienced before, and while the speakers are fun, they are rendered fairly useless at high speeds, especially when wearing a full-face helmet.
---
Featured Video from Man of Many
---
In terms of chassis, there is a constant tug of war between touring and performance. We found the ST to be in its happy place with long, sweeping bends, rather than tighter switchbacks and sharper radius turns (think country roads over national parks). That being said, considering the torque available in that 117, Harley has done a great job of harnessing the overall package, into a pliant, performance-slanted touring motorcycle.
So, who's it for? If you look at it on paper, it doesn't seem as good value as say, a Pan America. Harley's adventure tourer is more versatile, capable, and most importantly, more affordable than the Road Glide ST. Sure, you might think we're comparing apples and oranges (and in a way, we are), but at the end of the day, both bikes will ultimately make many rider's touring wishlists. In a way, the ST is a gut purchase. It might not represent the best value, nor the most terrain options, but for those that love that old-school, performance bagger package, it's a tough piece of kit.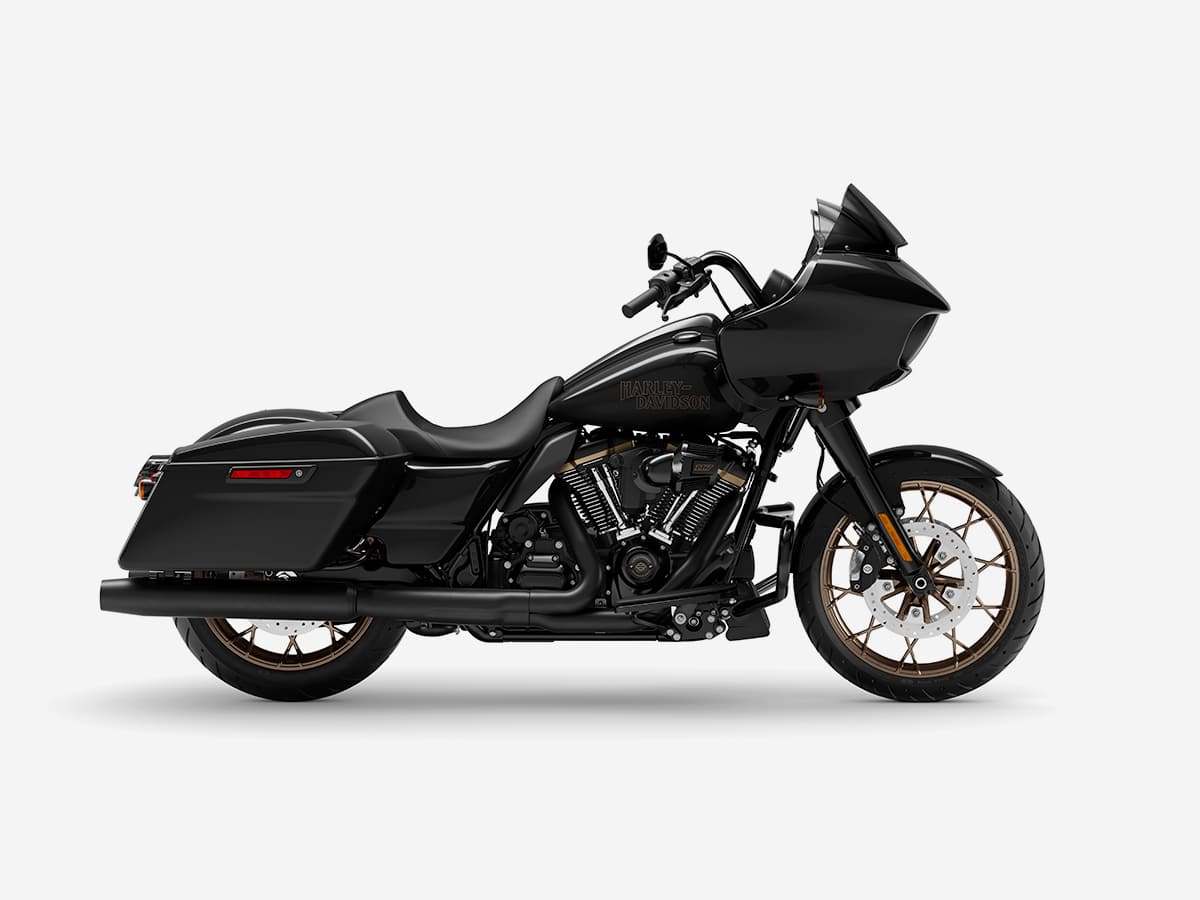 Harley-Davidson Road Glide ST Specifications
Engine: Milwaukee-Eight 117
Bore: 103.5 mm
Stroke: 114.3 mm
Displacement: 1,923 cc
Compression Ratio: 10.2:1
Fuel System: Electronic Sequential Port Fuel Injection (ESPFI)
Exhaust: Dual, with crossover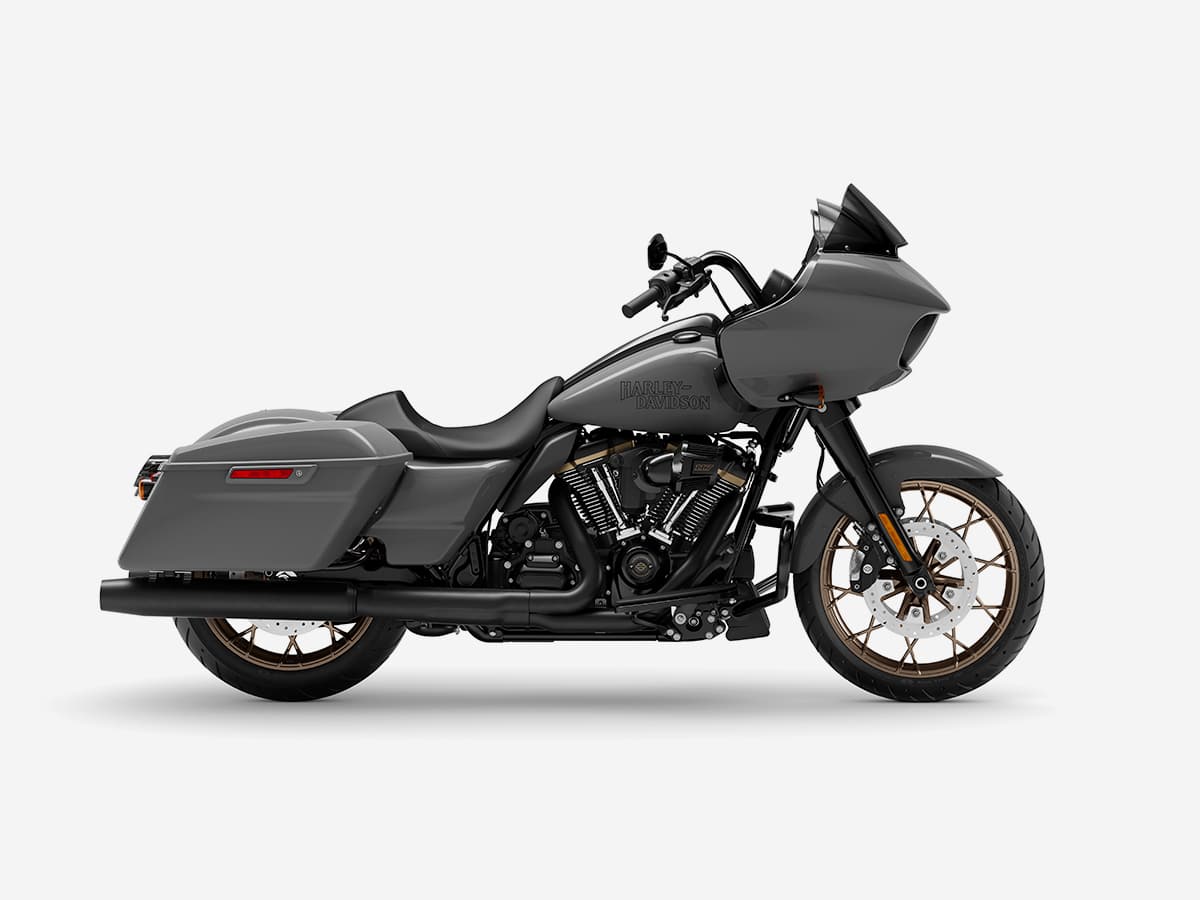 You'll also like:
Harley-Davidson Pan America 1250 Special: 'It's Like Nothing Else'
Harley-Davidson's All-New 975cc Nightster Unveiled
Best Cafe Racers You Can Buy Off the Lot
---
Featured Video from Man of Many