Asus ROG Ally Review: A Casual Gamers Dream Portable PC
The handheld gaming console market is one of the fastest-growing tech sectors in the world. Like a Nintendo Switch on steroids, these portable gaming consoles – like the Asus ROG Ally I tested in this article – are bringing PC-level performance to the palm of your hand with the ability to run Steam, Xbox Game Pass, Epic, GOG, and more for hours while travelling.
If you want to find out what these handheld gaming consoles are capable of keep reading my casual gamer review of the ROG Ally below.
RELATED: ASUS ROG Flow X16 is a Hybrid Gaming Laptop Designed to Change Your Workflow.
Who Should Buy the Asus ROG Ally?
It goes without saying, but the ROG Ally isn't for everyone. These are the factors you'll want to consider if you're interested in buying the portable console.
How Much Does the Asus ROG Ally Cost?
The ROG Ally is available now in Australia and is priced at AUD 1,299.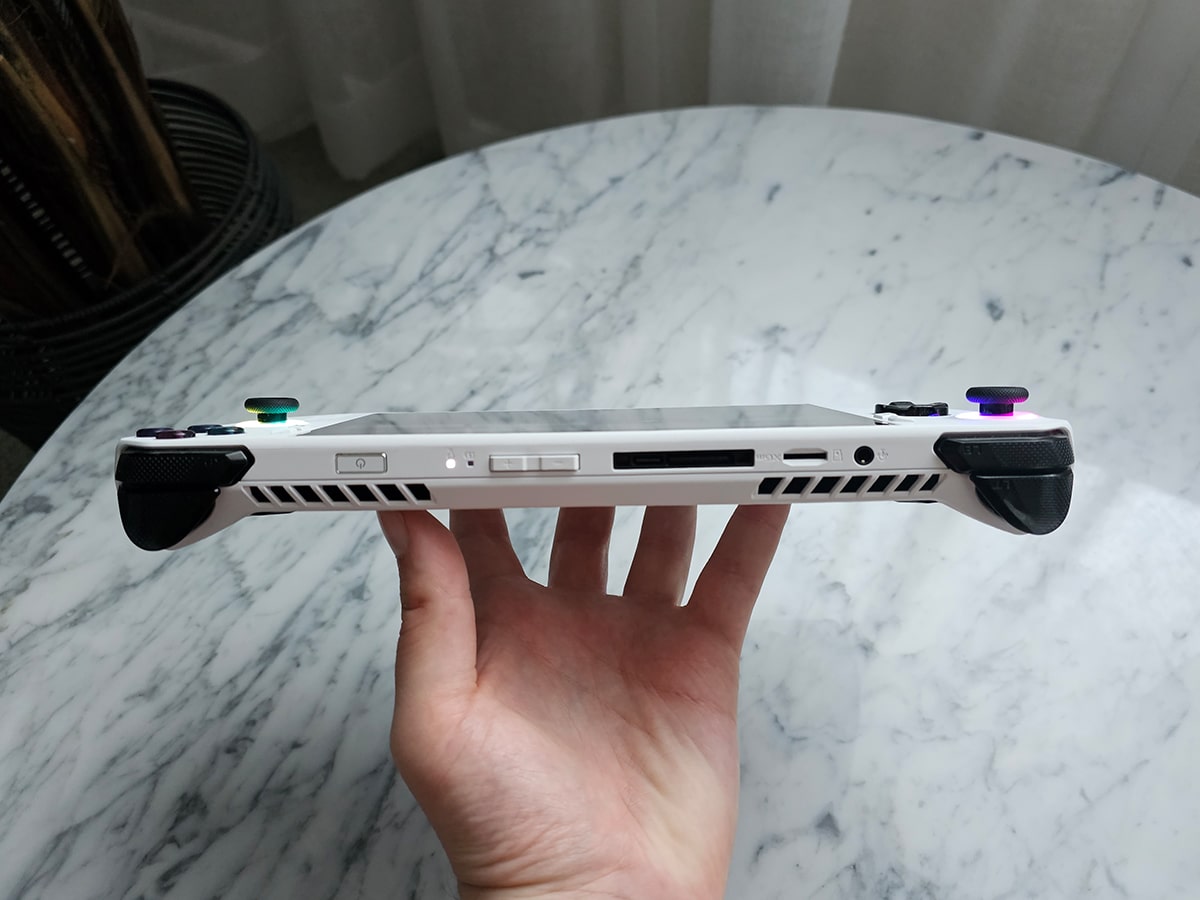 Portability of the Asus ROG Ally
The biggest selling point for hand-held gaming PCs is portability. In the case of ROG Ally, the first thing I noticed was the weight. Weighing 608 grams, it's 200 grams heavier than the Nintendo Switch, but it's still in that sweet spot where it's comfortable for extended sessions but solid and well-made.
The second thing I noticed was the comfort and ergonomics of the controls. Curved edges are created by a white polycarbonate that moulds perfectly in hand and creates an anti-slip surface with a micro-triangle texture. The edges slant away for comfort and the buttons are made from liquid silicone rubber in a domed shape to mimic your favourite gaming console controller. Most importantly, the buttons are located directly above the joystick on the right-hand side like an Xbox controller.
Speaking of which, the joysticks are fully customizable with adjustments for dead zones and size. Haptic feedback and macro keys (M1 & M2) are located on the back of the controller.
---
Featured Video from Man of Many
---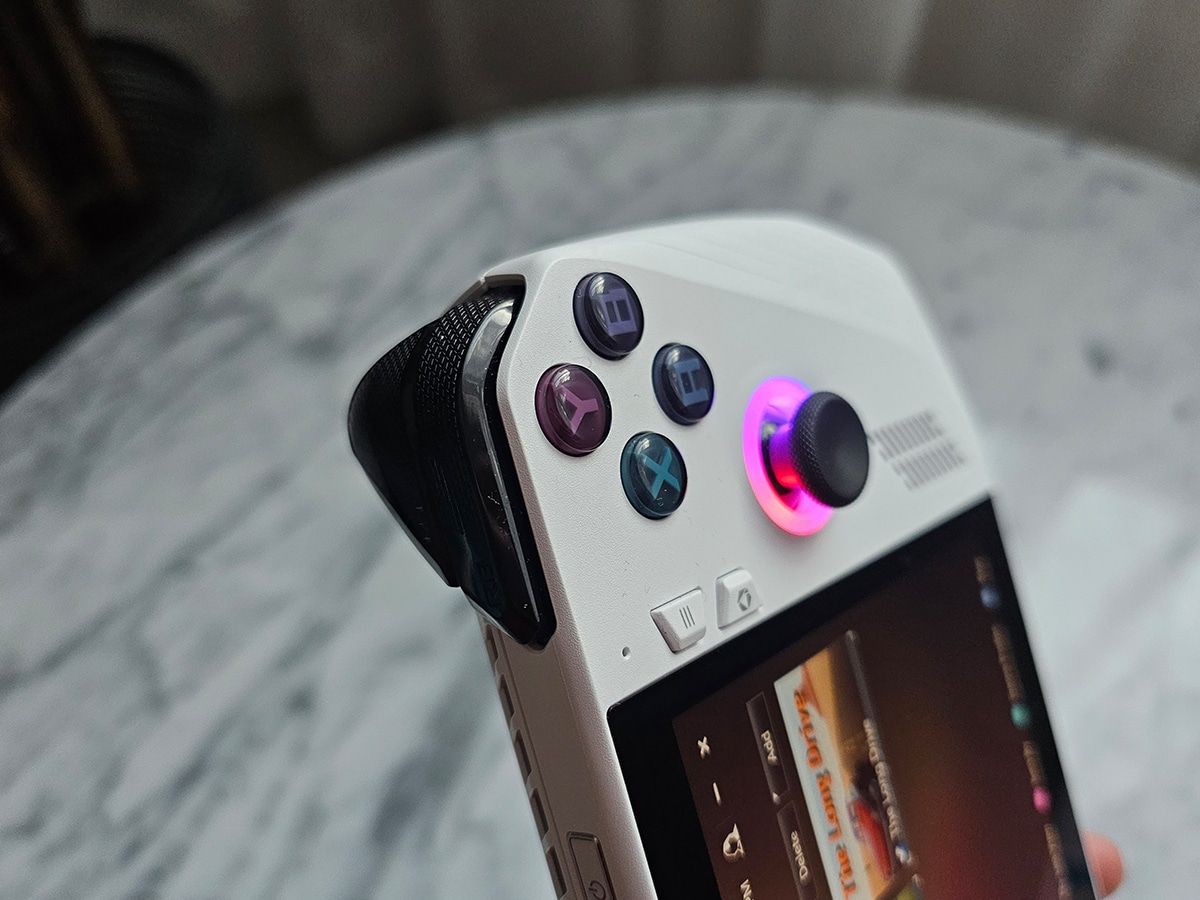 Games You Can Play on the Asus ROG Ally
You'll be able to see from the photos throughout this article that the ROG Ally is essentially a Windows PC with joysticks and buttons. That means you're able to run almost any Windows, Steam, GOG, XBOX Game Pass, GeForce Now, and Android game you can think of. For me, that means Forza Horizon, but you could also try out NBA 2K23, Diablo IV, or any of the best new games we've covered right here.
To access all of these game launchers in one central location, ROG has created the Armoury Crate SE which can be accessed via a quick access button. Here you can also adjust keymaps, manage your game footage, and tweak Aura Sync lighting.
Opposite the Armoury Crate SE is the Command Center where you can adjust the performance aspects of the device, including control modes, operating modes, keyboard, the FPS limiter, and the resolution and refresh rate of the screen itself. I typically used these configurations for saving battery life when playing less performance-focused games like The Long Drive.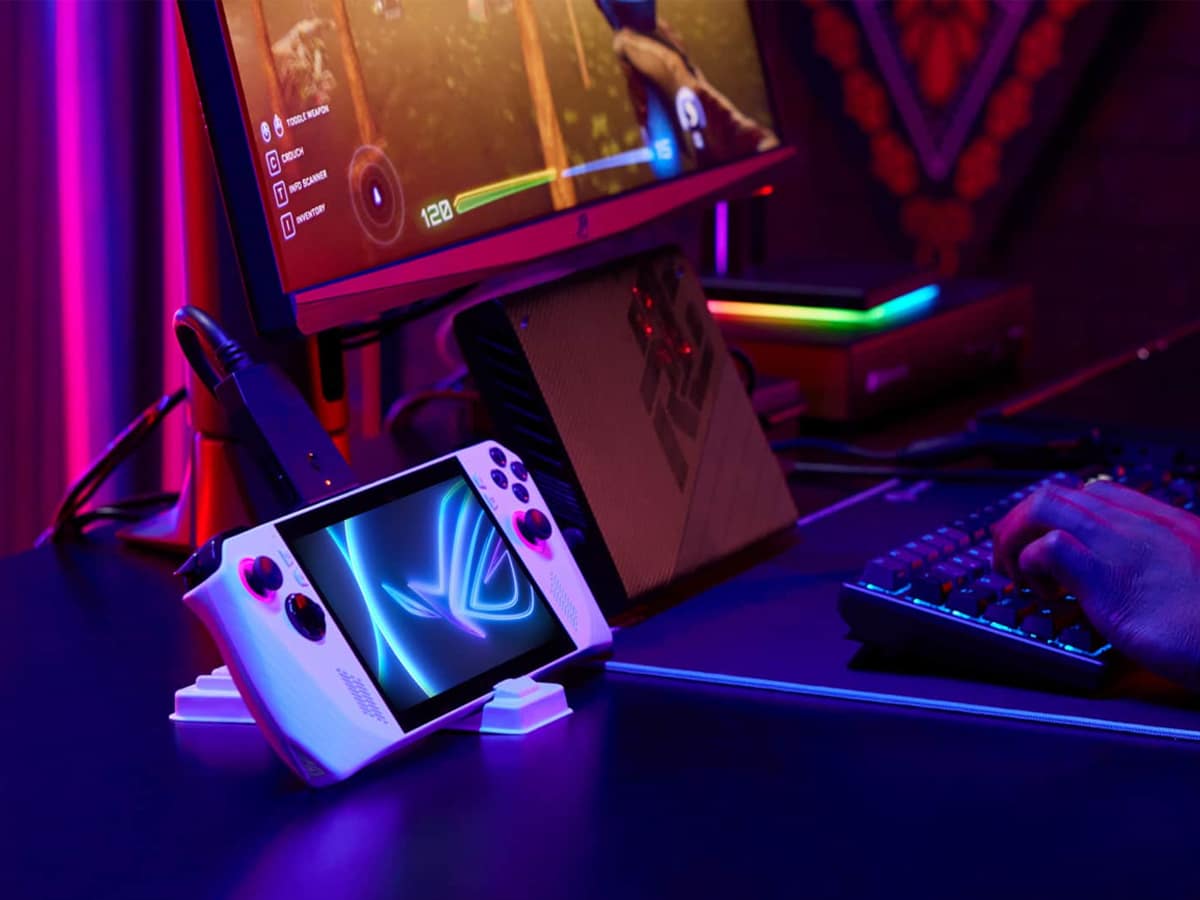 It Can Substitute Your PC
Here's where things get interesting with the ROG Ally because your portable gaming PC can also become your stationary gaming PC. With an HDMI 2.0 port, you're able to plug your Ally into your gaming monitor and use the device like a gaming PC.
Furthermore, with the ROG 65W gaming charger dock you can connect to a TV or external monitor with HDMI, connect a keyboard and mouse with USB-A, and charge your device with USB-C.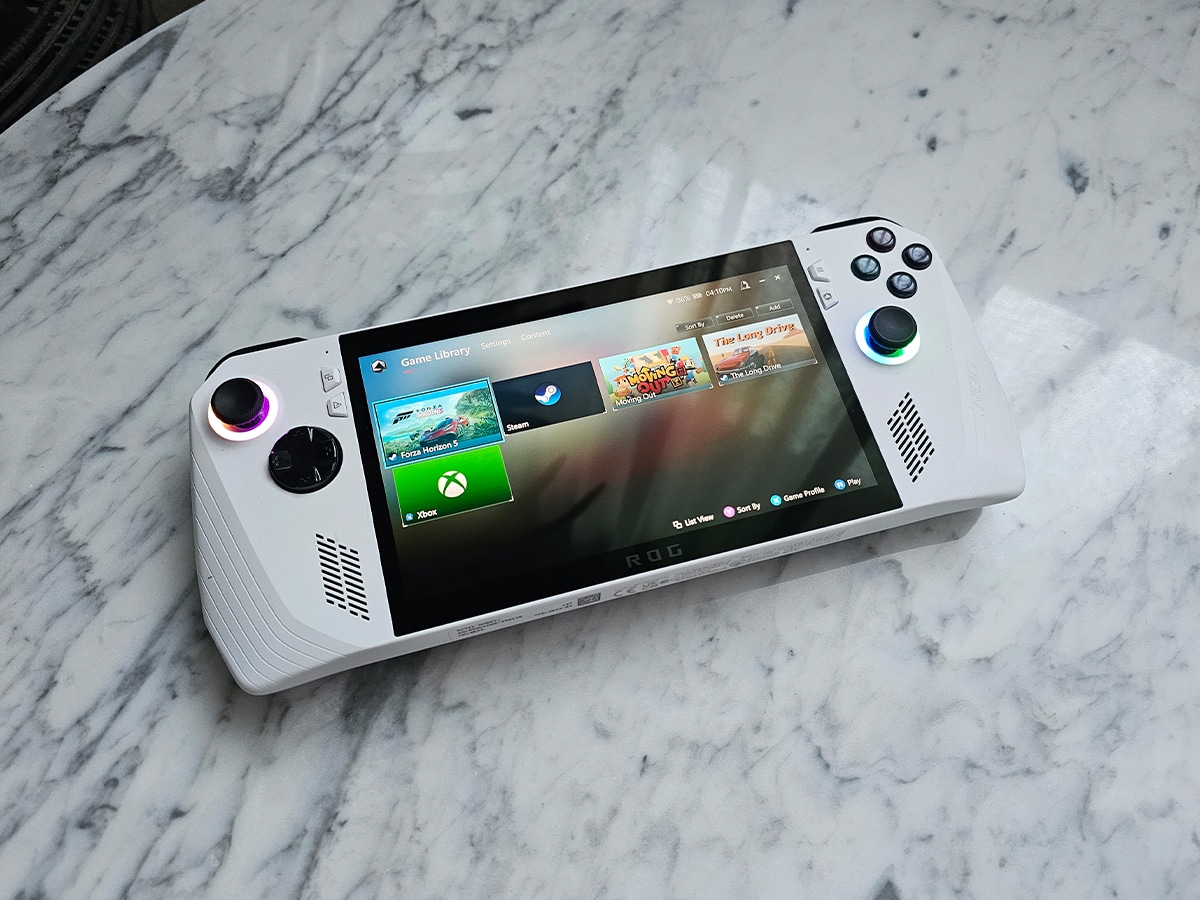 What is the Display Like on the Asus ROG Ally?
The ROG Ally takes advantage of a 7-inch 1080P IPS touch-screen display with a maximum refresh rate of 120hz. It boasts a 7ms response time and comes equipped with FreeSync Premium for ultra-smooth gameplay at all times without tearing.
These specs put the hand-held gaming console on par with much larger gaming laptops and thanks to the relatively compact screen size, I found that the pixel density and 100% coverage of the sRGB colour space resulted in outstanding graphics for such a portable device.
If I had to point the finger at something it would be the size of the screen. Some games, particularly those where you're not controlling a person, car, or specific item (such as Farming Simulator or Sims) might result in a few squinty eyes. Of course, this can be rectified by simply plugging the ROG Ally into your gaming monitor at home with an HDMI cable, I like to use it with my Corsair XENEON 32QHD165.
Knowing that this device will be used as a portable unit the majority of the time, you'll find Corning Gorilla Glass Victus technology for durability and scratch resistance. And if you're desperate to play games outside, this screen also offers a peak brightness of 500 nits.
How Does the ROG Ally Perform?
The quality of the display is only as good as the performance that the machine can muster. Thankfully, the ROG Ally is more than up to the task thanks to the new AMD chipset. Under the skin, you'll find AMD's latest Ryzen Z1 Extreme APU with 8 cores and 16 threads. All of this is built on a 4nm process, but what you'll really want to know is what kind of games you're able to run with these specs.
ROG Ally has no problem playing flagship-level games such as Forza Horizon 5, Diablo IV, and Call of Duty: Modern Warfare II. They ask a lot from a performance perspective, but I never had an issue when I turned up some of the graphics beyond the pre-configured limits.
You can check out the level of graphics I was able to muster on Forza Horizon 5 in the images throughout this article, however, The Verge was able to bench-test the ROG Ally and you can check out the results of their test right here. In short, you won't have any issues trying to run any quality games on this device.
What About the Battery Life on the ROG Ally?
As you might expect from a powerful gaming console, the ROG Ally uses a lot of power when you're running flagship games. I wasn't able to get more than 2 hours of gameplay when playing Forza Horizon 5, but if I switched to less graphic-intensive games like The Long Drive I was able to eke out nearly 3 hours. Something to consider if you plan on playing the Ally on long-haul flights.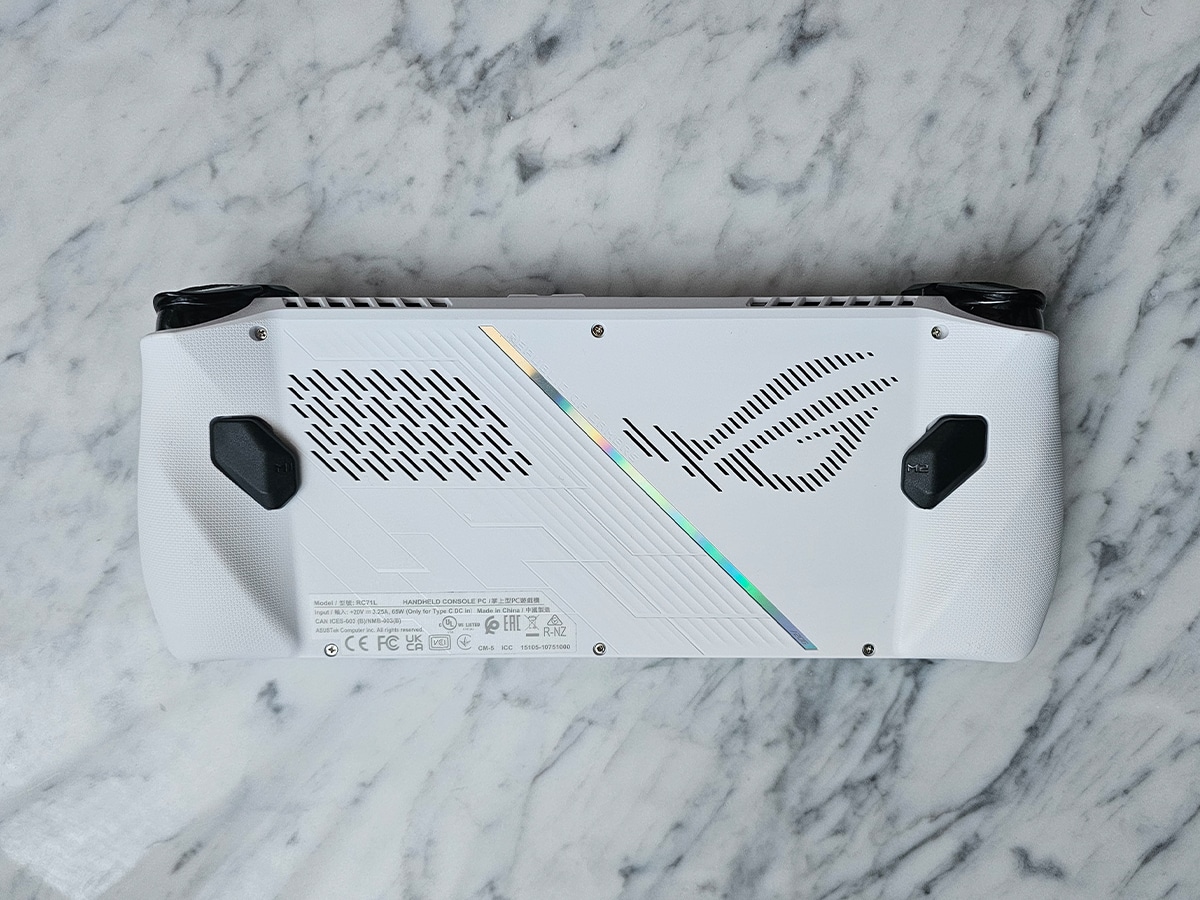 Man of Many's Verdict on the ROG Ally
This was my first encounter with a hand-held gaming console and I was shocked at just how versatile and easy to use the device was. I was impressed that it was able to run game like Forza Horizon 5 on decent graphics settings without any significant performance issues and even though I tested a pre-production model I never ran into any crashing or software issues.
You'll have to consider the battery life if you plan on purchasing one of these for long-haul flights or scenarios when you don't have access to a wall plug.
With a retail price of $1,299 in Australia, it's about what you'd expect to pay for a gaming PC that offers this level of performance. However, it's portable. And when you consider the fact the ROG Ally has support from the factory to plug in the Ally and create a quality gaming station at home with the ROG 65W gaming charger dock we might've found the ultimate casual gamers set-up.
You'll also like:
---
Featured Video from Man of Many