Samsung Believes the Future is Foldable: Introducing the Galaxy Z Flip5 & Fold5
The author of this article, Rob Edwards, was invited to attend Unpacked 2023 as a guest of Samsung. 
If Samsung's Unpacked 2023 event this week has been anything to go by, the Galaxy Z Fold and Z Flip lines are the future of its smartphone division. According to those in the know, it's only a matter of time until these devices overtake their non-folding brethren and we see the likes of the Galaxy Z Flip5 and Fold5 (along with their successors and competitors) in the hands of everyone, from CEOs to school kids, your nan to your dog walker. 
Related: Everything Samsung Announced at Unpacked 2023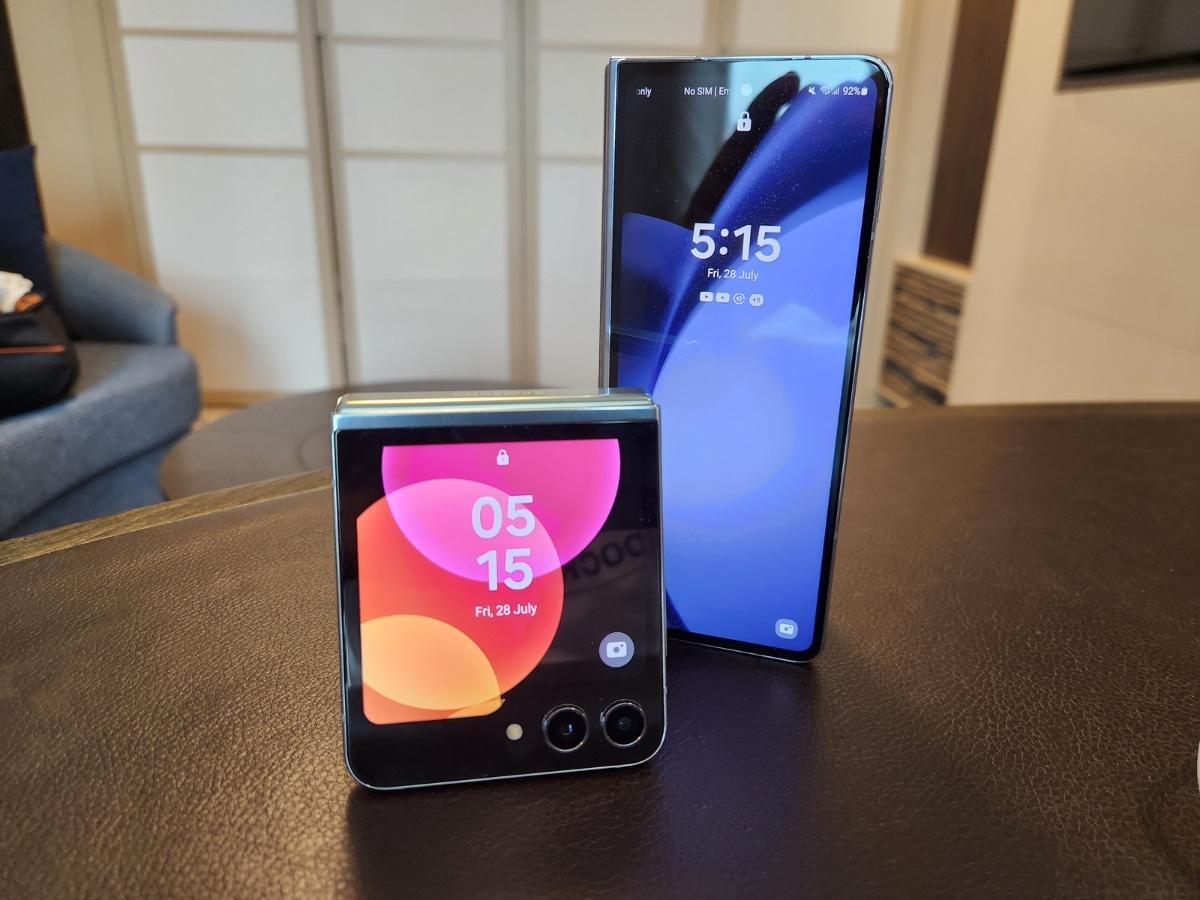 Due to its five-year head start in the category, Samsung insists it isn't worried about devices from the competition either. As the old saying goes, a rising tide lifts all boats, and so the more broadly accepted these fancy devices become, the more Flips and Folds Samsung believes it'll place in the hands of Australians and people the world over. If so, the smartphone market is on the verge of its biggest shakeup in well over a decade.
Talking with Garry McGregor, Samsung Electronics Australia's Vice President of Mobile eXperience, it's clear that this is not a fad like curved TVs or Twitter: "We genuinely believe at Samsung that foldable is going to be the smartphone form factor of the future. This concept of folding and bending glass is one that's really going to be adopted in the future. So, I predict that foldable—you can even call it rollable in some cases—are form factors that we will see become the number one form factor in Australia in the next three to four years."
While we're inclined to think that foldable domination may take just a little longer, we'll have to wait and see (particularly if that rollable device comes into play). In the meantime, these are compelling devices that are gaining traction. As we've had a chance to go hands-on with them at Unpacked 2023, let's dive into precisely what Samsung's Galaxy Z Flip5 and Fold5 are bringing to the table in order to cause the heralded foldables revolution.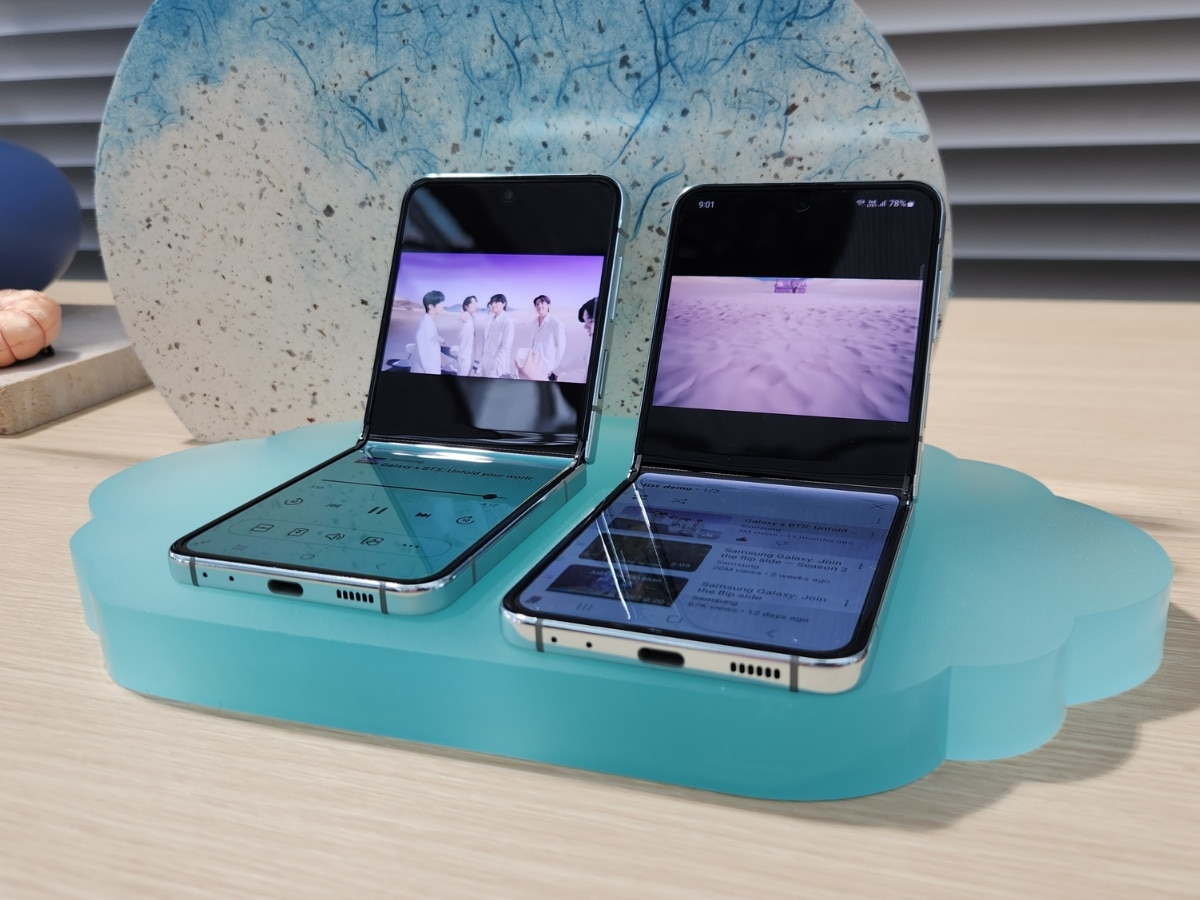 Quite the Flex
While our particular focus at last year's Unpacked event was the Fold4, this year the hero of the hour is undoubtedly the new Flip5. Even as the Fold remains a highly desirable, uber-premium piece of technological mastery, we believe it's the Flip, with its cheerful design, fun feature set, and considerably more accessible price point, that's most likely to entice people to give Samsung's stable of foldables a try.
With the introduction of the new Flex Window—the phone's exterior screen that's almost four times larger than its predecessor's equivalent—the Flip5 finally feels like the device the Flip should have been from the start. While the Flip4 was an admirable device, Samsung's grasp seems to have caught up to its reach, resulting in a clamshell foldable that feels like it's no longer a compromise.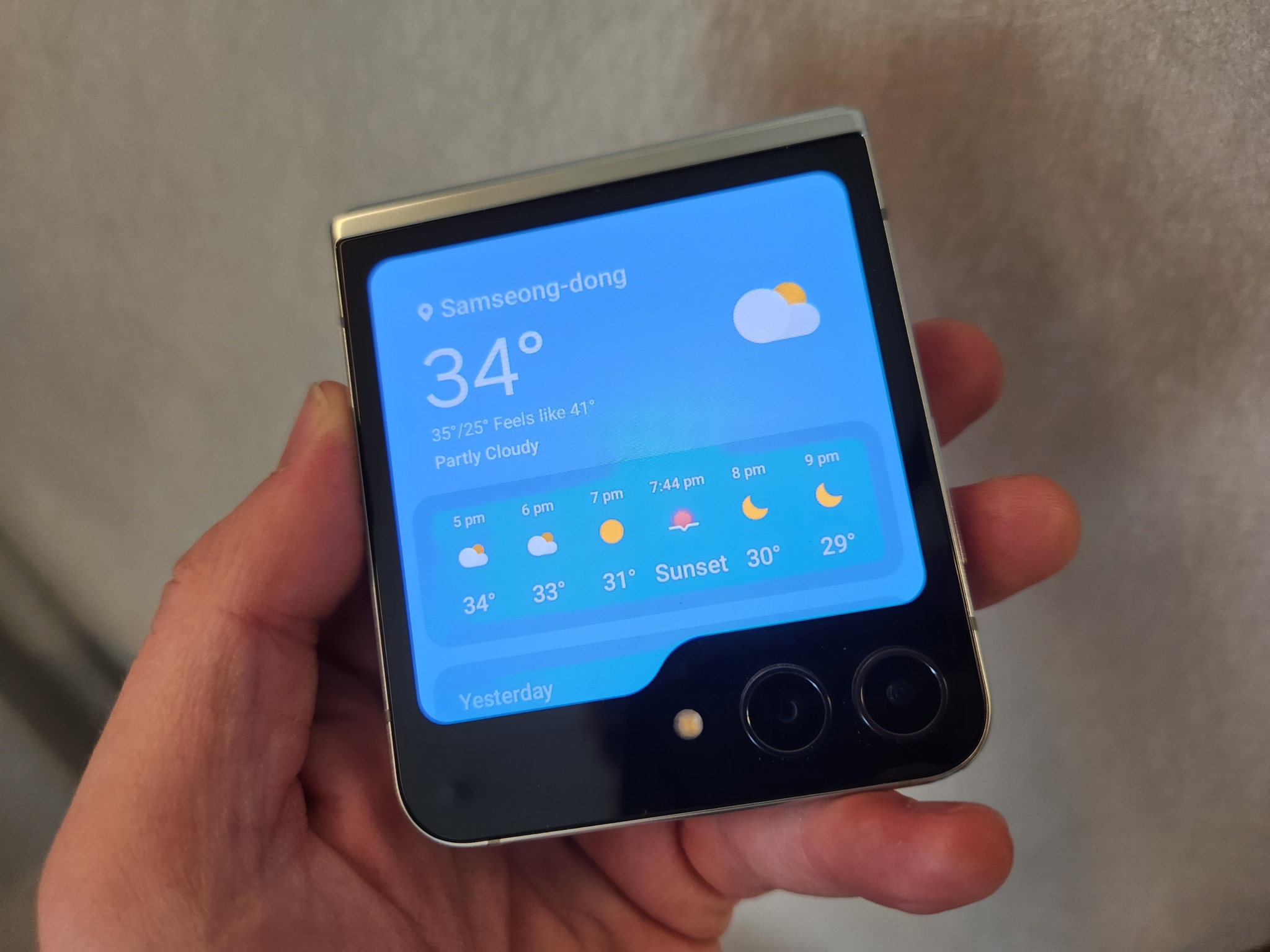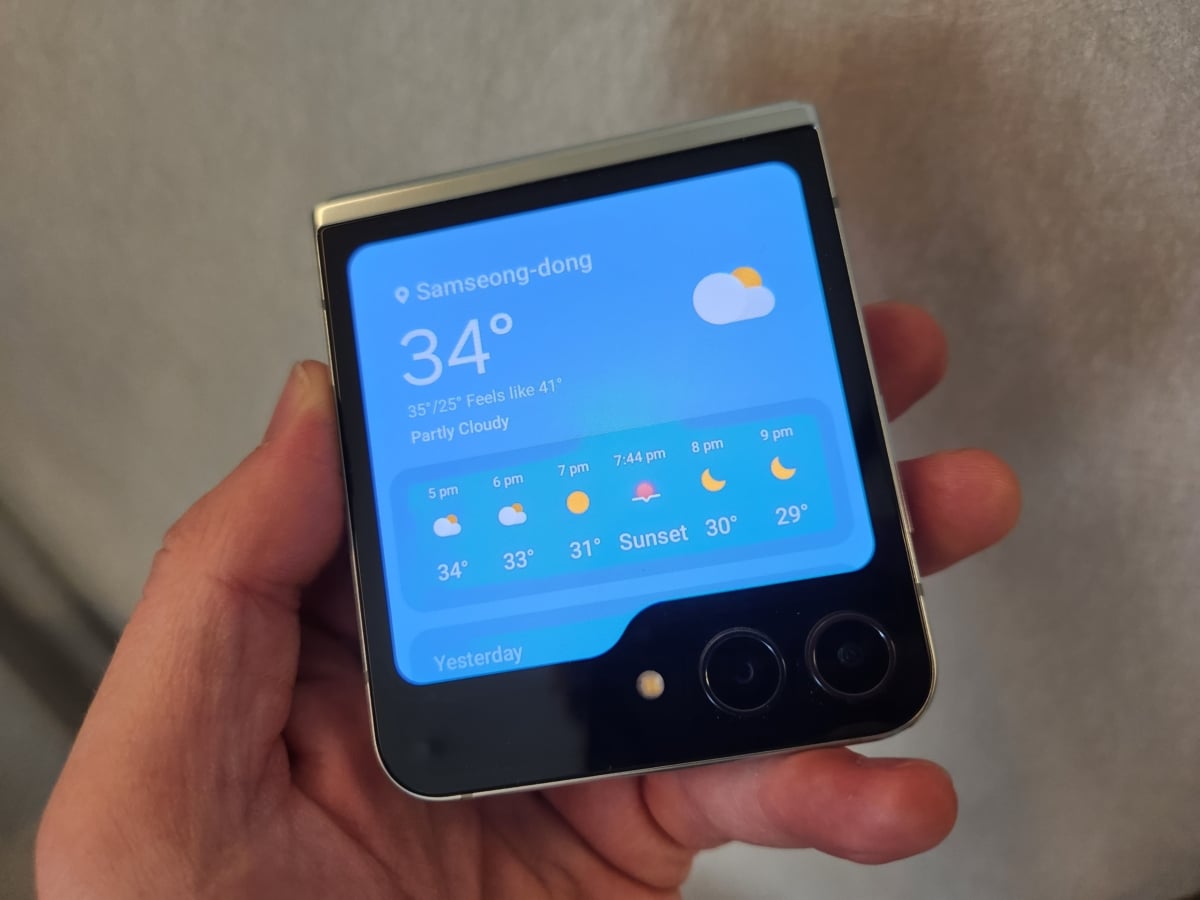 The Flex Window serves up a wide range of capabilities, some carried over from previous generations and some completely new. For a start, Flippers (we're just trying the name out) can make their device feel uniquely their own via a wide range of customisation options, including stylish frames, wallpapers, widgets and clocks designed to match their Galaxy Watch6 wearable. 
As an aside, in a fun bit of accessorising, the Flip5's new Flipsuit Case provides more than protection, coming with a changeable NFC card that enables Flippers (guess we're sticking with it) to match their Flex Window's design with that of their case, resulting in even more personalisation options.
The ultimate point of the Flex Window, however, is to increase usability and it certainly does that. When the Flip5 is closed it enables quick and easy access to a range of handy information, much like your regular phone's lock screen. Via widgets, Flippers can check notifications, control media playback, or check the weather forecast. A quick pinch of the screen activates Multi Widget View, which enables all widgets to be seen at once, facilitating quick switching between them. Of course, the Flex Window also offers effortless access to settings like Wi-Fi or Bluetooth, Samsung Wallet functionality, as well as the ability to reply to texts without opening the device.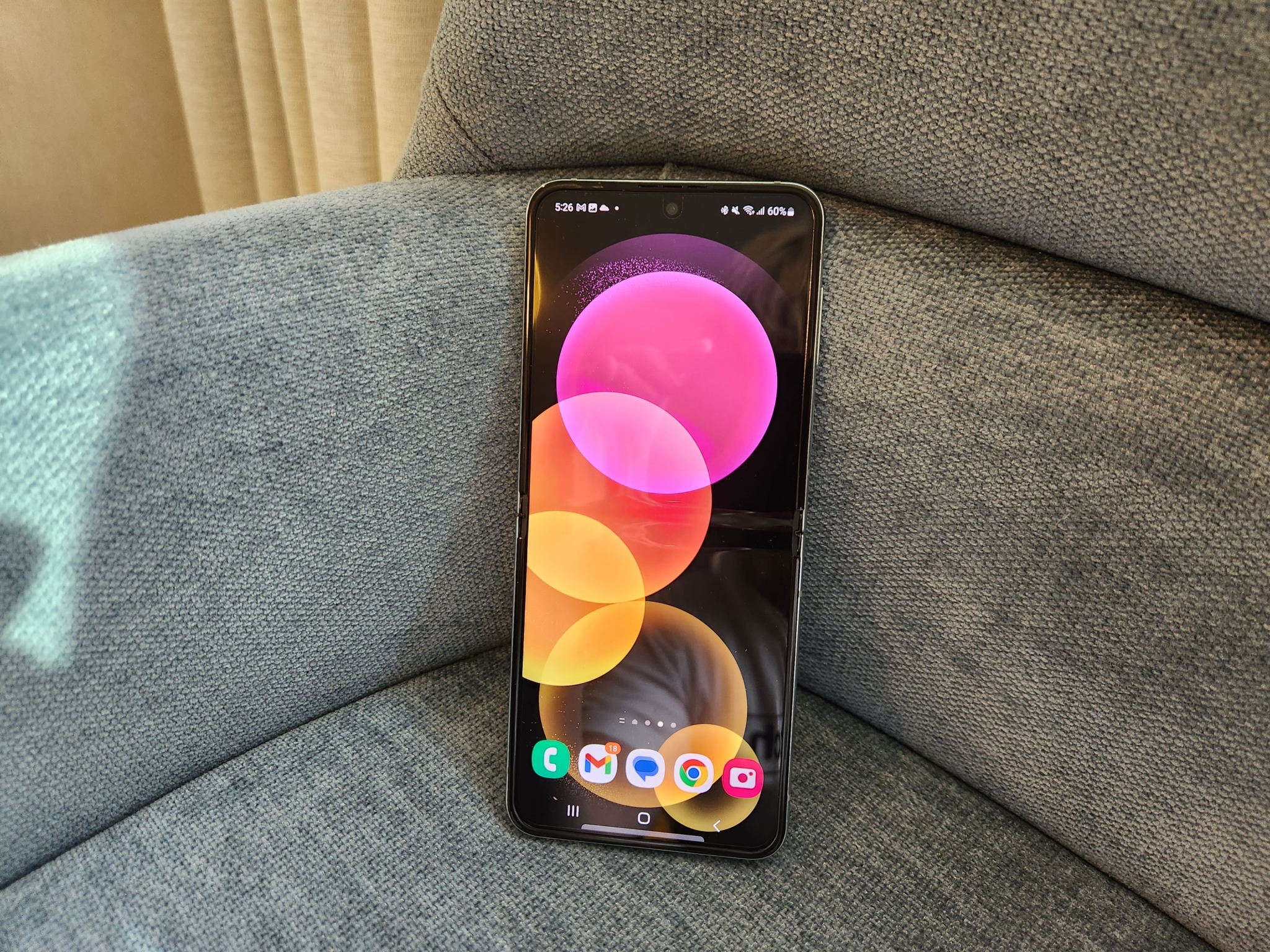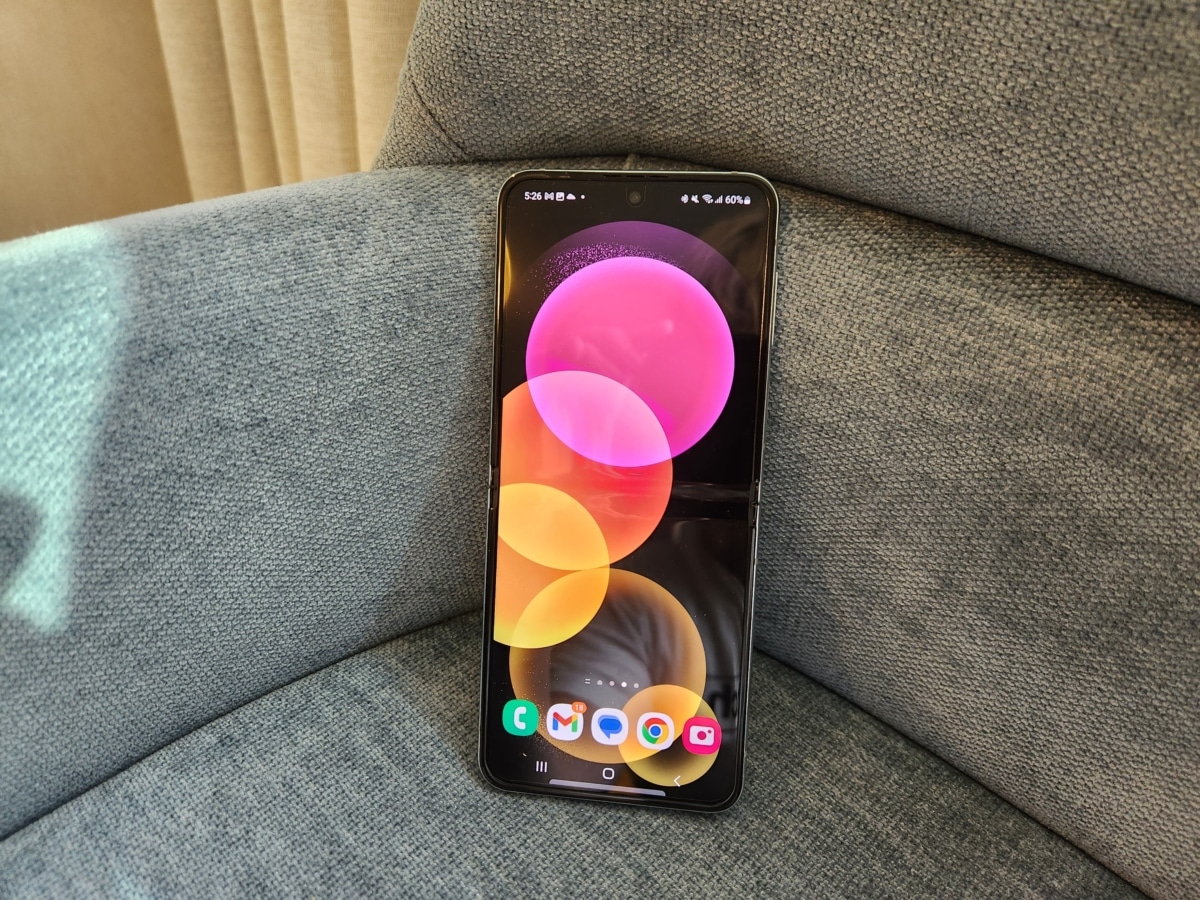 Let 'er Flip
Unfolding the Flip5 reveals its handsome internal 6.7-inch screen, which is very much capable of serving up your traditional smartphone experience. Yes, the subtle crease remains across the centre of the screen but it doesn't take long before you stop noticing it, and to our eyes it's less pronounced than it was on last year's device.
You'll certainly find yourself folding and unfolding the device many times over during the course of a day, but perhaps the most compelling thing about the Flip5 is what it's capable of when you don't unfold it all the way. Its bendable design makes it an incredibly useful tool for capturing photos and video from creative angles, as it acts as its own camera stand. Combine this with the upgraded camera setup and you have a recipe for some impressive photographic results.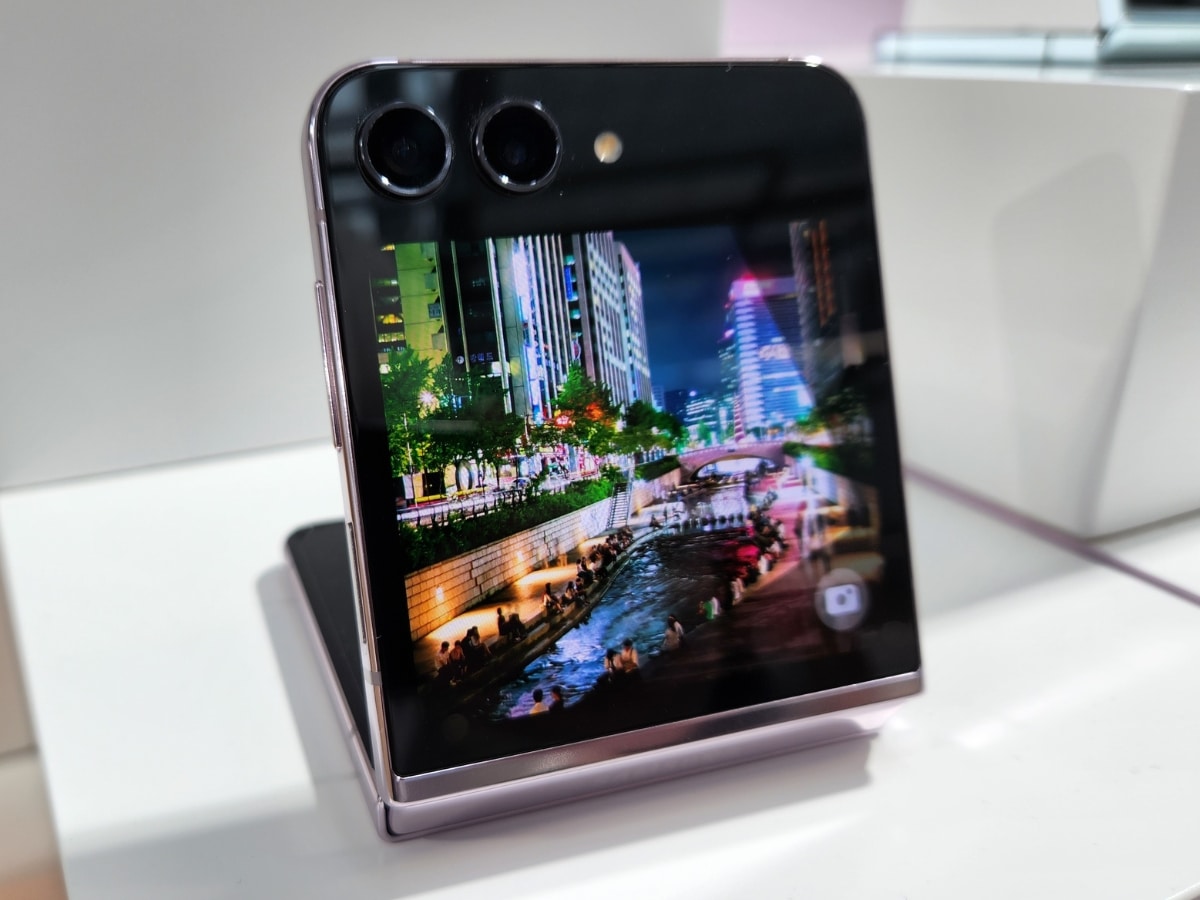 With an AI-enhanced camera offering, the Flip5 is designed to enhance every snap you take, particularly in low light, where Samsung's impressive Nightography (we still can't get on board with that name, though) functionality will optimise photos and videos taken in less-than-stellar lighting conditions by correcting visual noise.
Plus, like its predecessor, anytime you bend the Flip5 between the angles of 75 and 115 degrees, it activates Flex Mode, via which you can manually edit your shots, or unlock a range of other functions, including multitasking between more than one app as the screen in most cases splits in two along the fold.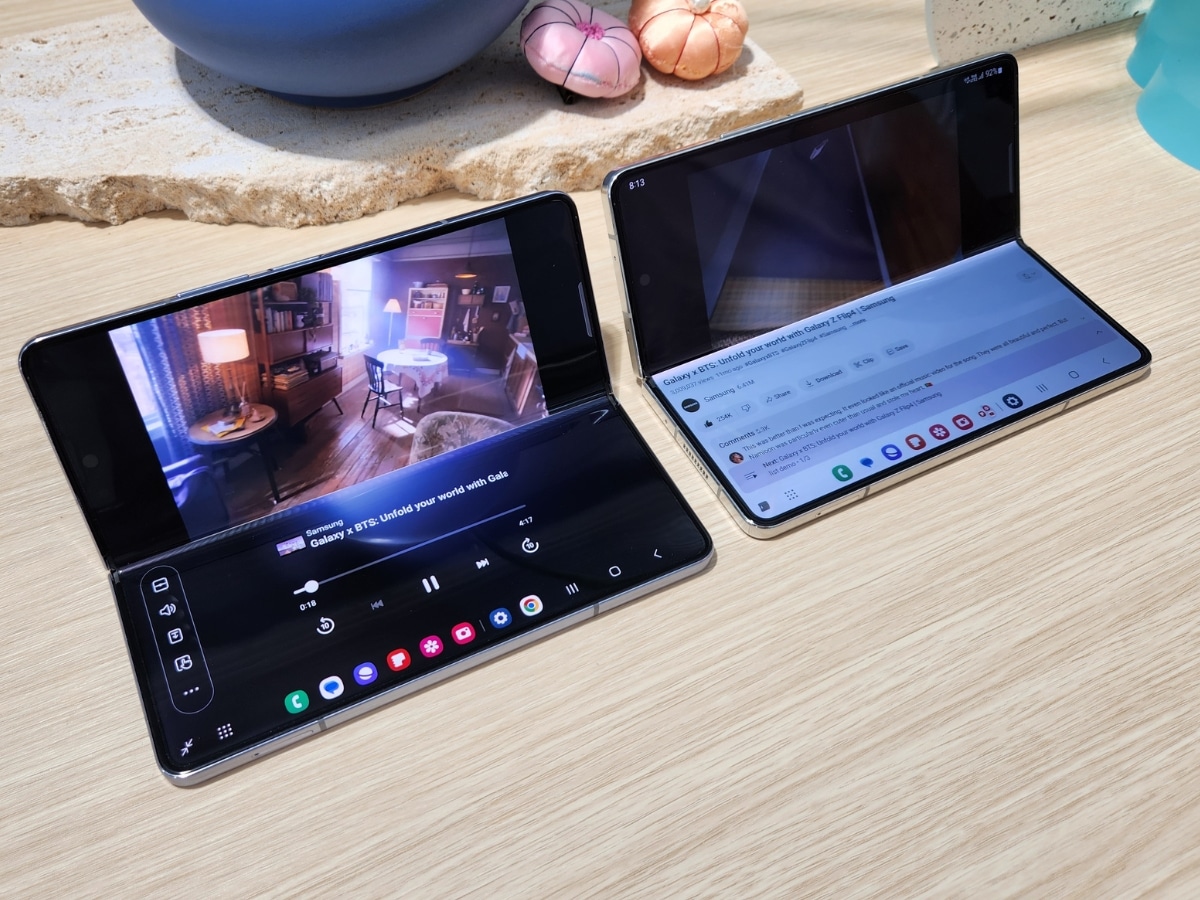 Fold Steady
If the Flip5 feels like a device claiming its final form, the Fold5 is more of a refinement of an already fully realised vision. Samsung has clearly taken an 'if it ain't broke' approach here. We were big fans of Fold4 around the Man of Many office, but we have to admit that even if the Fold5 isn't a dramatic departure from what came before, it is a far more elegant take on that same core design.
Our point being that while it's probably not worth a Fold4 owner handing over the dosh to upgrade to the Fold5, once they see the devices side by side they'll be mighty tempted nonetheless. What's more, those new to the category and looking for a high-end foldables experience will find the Fold5 a very compelling proposition.
Power and productivity in a premium package has always been the Fold's game, but here that package is the thinnest and lightest yet. In fact, thanks to the newly introduced Flex Hinge—present across both the Fold5 and Flip5—this device no longer comes with the gap that was present between both sides of the folded screen when the Fold4 was closed, resulting in a build that's more than 2 mm thinner than that device. A mere 2 mm might not sound like much, but trust us, the difference is stark. Yes, the Flex Hinge is also found in the Flip5, making that a more refined device as well, but due to the extremely premium space the Fold occupies it feels more impactful here.
The S Pen is Mightier…
The productivity comes by unfolding the Fold5's 7.6-inch main screen, where the Taskbar makes it easy to jump between your most frequently used apps, with up to four now at the ready for added efficiency. There's also an enhanced two-handed drag and drop functionality designed to make it easier to move content around between apps and screens.
Also key to maximising productivity is the new S Pen Fold Edition. The S Pen has always made it easier to take notes, indulge in a little creative sketching, or just generally work more precisely and that remains the case here. But as the new S Pen is considerably slimmer than previous versions, fitting comfortably into the Slim S Pen Case, which is not noticeably thicker than a regular case, it feels far more pocketable. While we'd prefer to have the S Pen inserted into the Fold's body like it used to with the Samsung Note series, this remains a marked improvement over the last incarnation.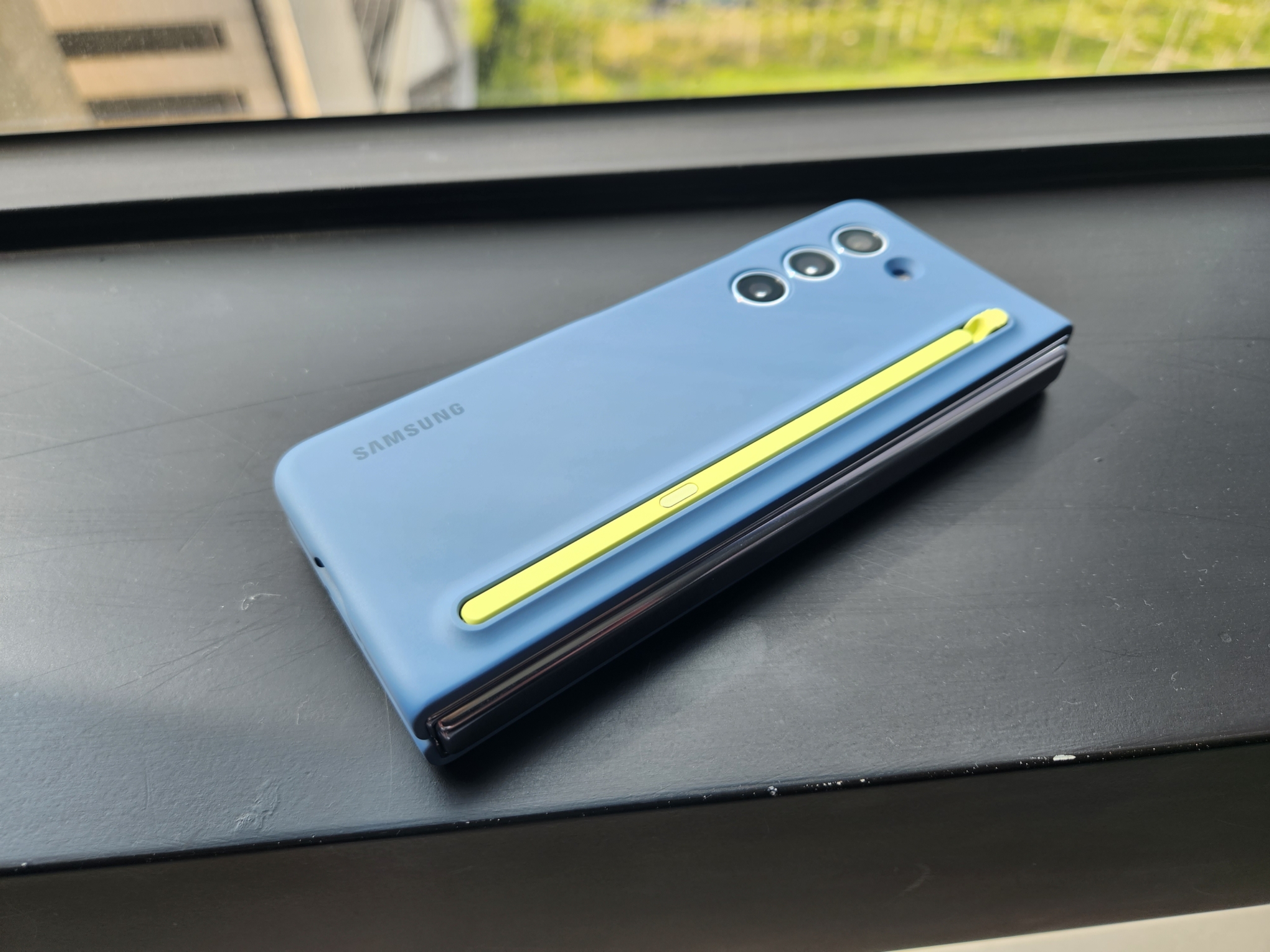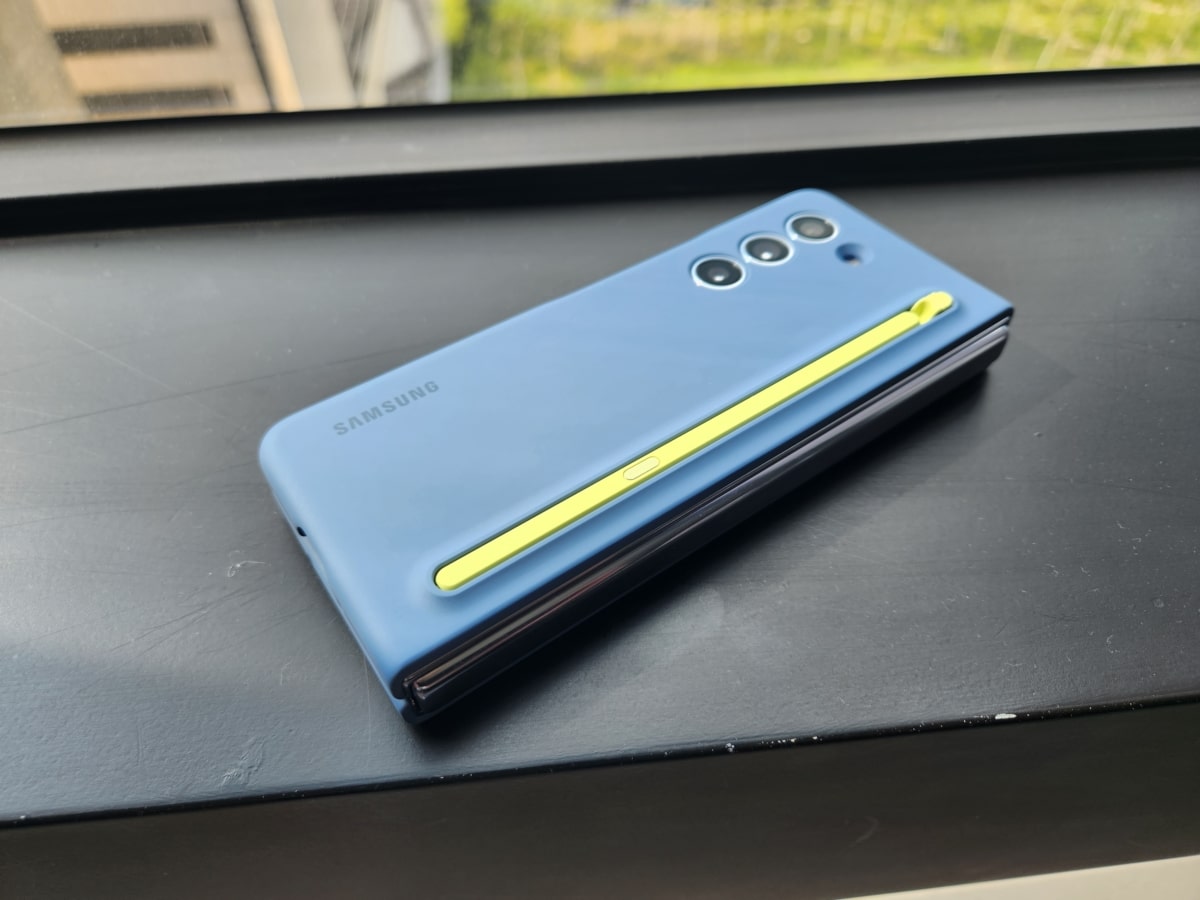 Like the S Pen, the Fold5's main screen has also been enhanced, with brightness increased by over 30 per cent (up to 1750 nits), meaning you can easily view it in direct sunlight – something we never struggled with on the Fold4, but it's still a significant step up. The improved screen also enhances the Fold gaming experience, powered by the Snapdragon 8 Gen 2 Mobile Platform for Galaxy, the small amount of gaming we've seen on the Fold5 thus far has been dazzling in a way that regular smartphones simply cannot match.
Sold on the Fold?
That comparison to traditional smartphones carries a sentiment that for the most part sums up the Flip5 and Fold5 nicely. Whether a significant change in our smartphone-buying habits takes place within a timespan of three to four years remains to be seen, but it's hard to deny that these devices are building towards something. If we were to place money on it, at the very least we'd wager that Samsung's new smartphones—particularly the Flip5—open up swathes of new people to the foldable experience and normalise this genuinely innovative technology. 
Tech moves so fast these days that it's easy to be apathetic about developments, but if you really think about how sophisticated these devices are, it remains a borderline miracle that they exist at all. The fact they do and in a way that's so polished, fun, and useful just makes it even more so.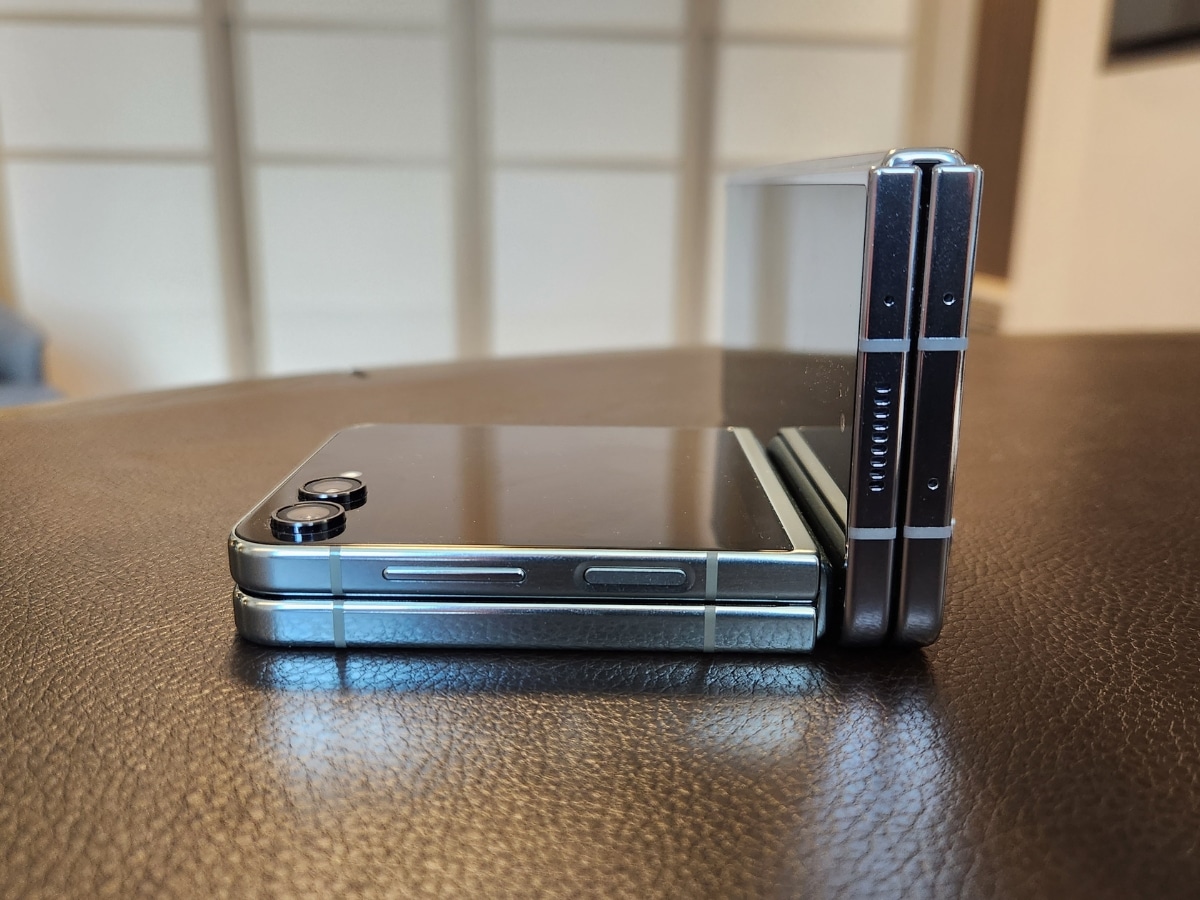 As you've probably gathered, the Galaxy Z Fold5 is Samsung's most high-end piece of smartphone kit and as a result it does not come cheap. Pricing starts at AUD$2,599 for the 256GB model, AUD$2,799 for the 512GB model, and a formidable AUD$3,149 for the 1TB model, and it also comes in Phantom Black, Cream, and Icy Blue finishes. The simple fact is that the Fold has never been the foldable for everybody, and that remains the case with the Fold5, but we will say that you do get what you pay for. 
The Flip5 is Samsung's more accessible, fun, but no less polished option. Available in Mint, Graphite, Cream, or Lavender, it comes in 256GB and 512GB models that retail for AUD$1,649 and AUD$1,849 respectively.
Pre-orders for the Samsung Galaxy Z Flip5 and Galaxy Z Fold5 are open now, with both devices going on sale on Friday, August 18.