Atari VCS Review: Retro Gaming Console with Style
Before Xbox, PlayStation and even in the days before Nintendo, your parents were likely chasing high scores on an Asteroids arcade cabinet or competing in lengthy Pong rallies. Atari was a big deal during the 70s and 80s but these days, the brand primarily relies on nostalgia to make bank. And that's where the VCS aims to change things.
You'll also like:
$563,000 Charizard Card Sale Shatters Auctions Records
Hogwarts Legacy Release 15 Minutes of Gameplay
HyperX Cloud Core Wireless Review: A Headset Full of Surprises
Atari VCS is a hybrid open platform console that was crowdfunded into existence. It possesses a classic console's look, feel, and game selection for those chasing simpler times, along with a slew of modern upgrades that see the hardware also function as a budget PC. It features a mass of functions but doesn't necessarily perform any to the standards one would expect from a console in 2022. Especially not when it carries roughly the same Australian price tag as a PlayStation 5 and Xbox Series X. Here's what we think of Atari's newest console:
| What We Love | What We'd Change |
| --- | --- |
| Sleek retro design | Overly expensive price |
| Tonnes of games | Sluggish OS |
| Loads of functions | Barren marketplace |

Atari VCS Design
The Atari VSC is available in two versions: Onyx and Black Walnut. I reviewed the Black Walnut variant, which features a woodgrain front panel and comes bundled with a modern wireless controller and a wireless joystick. Both versions are modelled on the Atari 2600 that was first released in 1977. VCS retains a similar shape to the classic console while doing away with the onboard switches and cartridge port. Plus, the entire design is slimmed and rounded at the edges, and the Atari logo at the front right lights up when the console is powered on.
The designers have done a great job recapturing the original 45-year-old aesthetic while also making it look sleek and modern. I'd love to see the woodgrain make a comeback and feature on more contemporary technologies. When it comes to connections, there and two USB ports hidden in the bevelled edge just beneath the wood veneer. Two more ports are found at the rear for four total. The front ports are ideal for charging the wireless controller and the joystick, while the rear ports are great for concealing the connections to PC accessories like a keyboard, mouse and portable hard drive.
The rear panel is also where you'll find the power button, HDMI and optional Ethernet port, as the Atari VCS features wireless connectivity. Overall, the design is one of the strongest elements of this retro remake, offering a display-worthy piece with enough modern connections to suit every user. It's worth mentioning that the Onyx VCS doesn't include any controllers but supports most third-party Bluetooth options.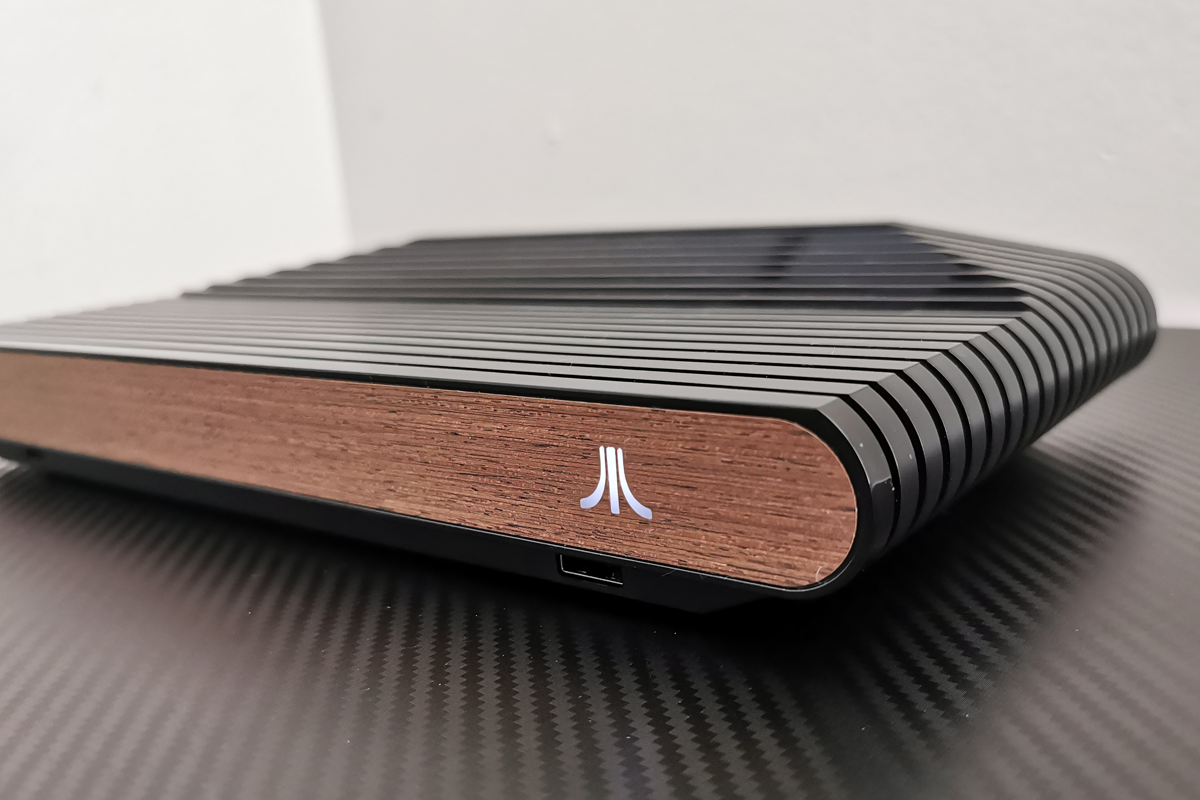 Features and Performance
Boot up the VCS, and the first thing you'll notice is the noise of the internal fans. It's loud! And the noise rarely goes away. Browsing menus are about the only reprieve, so I suggest you sit as far from the console as possible. After creating an account, you're greeted to a dashboard resembling that of a Nintendo Wii. You'll find several pre-installed apps, including Atari VCS Vault, Antsream Arcade, Google Chrome browser and a shortcut for installing the VCS Companion app on your phone.
There's also a digital store and friends list. The Store is home to several Atari classics, some remixed titles and several modern indie games. The selection of games is very narrow, with the pre-installed apps being the main source of entertainment. The Store also features a selection of apps, including Netflix, Spotify, Twitch, Discord, Prime Video, YouTube, Disney+ and Google Docs. VCS supports gaming and streaming in up to 4K.
Unfortunately, many of these apps are just shortcuts to each platform's web version, and the Atari controllers are not compatible with navigating menus. The same goes for the pre-installed Google Chrome app. A keyboard and mouse are required, or you can rely on the VCS Companion App, which offers a virtual keyboard, trackpad and mouse buttons. The Companion App is a great accessory. I would love to see more consoles implement these features; anything that saves from having to repeatedly type email addresses and DLC codes with a thumbstick would be much appreciated. Browsing the menus can be sluggish with performance not as fast as you might expect from a modern console. It feels more in line with a Switch browsing the Nintendo eShop than navigating a PS5 dashboard.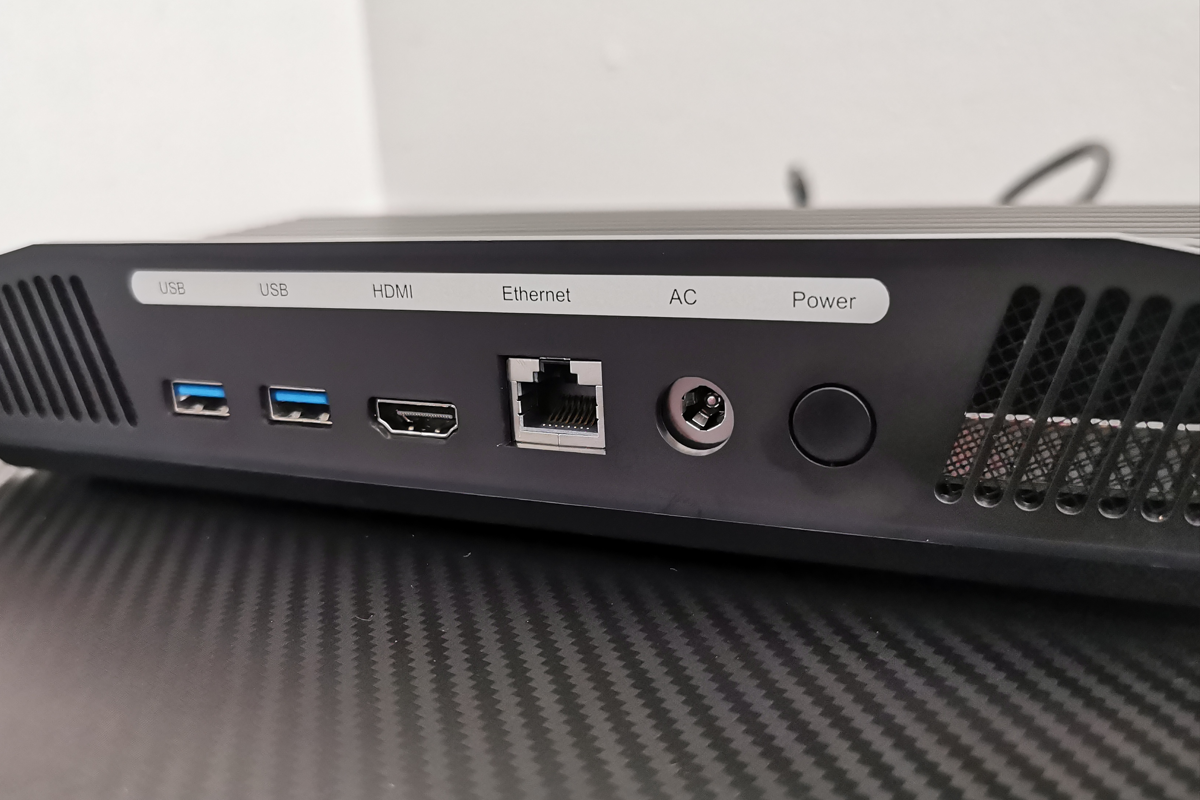 Atari VCS Games
What's a console without games? VCS offers access to thousands of classic titles and several newish ones. Pre-installed is Atari VSC Vault. Boot the app for dozens of Atari arcade, and 2600 games, all included as standard. We're talking essentials like Asteroids, Adventure, Centipede and Black Widow. But the available selection feels less like a compilation of the greatest hits and more everything the developers could get their hands on. We're looking at you specifically Basic Math, Slot Machine and the many American football games.
Each game is presented with replica arcade cabinets, boxes, and scans of the original instruction manuals, which is a nice touch. Jump into the Store, and Atari VCS Vault Vol 2 is available for purchase. It's AU $7 and includes 50 more games from the Atari 2600 and Atari 5200 platforms, but some appear to be duplicated from volume 1. The digital marketplace also has select Atari games available to purchase individually and the modern range of Atari remakes, including Centipede: Recharged, Missile Command: Recharged and Black Widow: Recharged. A few indie games are available to buy, most of which can be found on Steam.
Ultimately, the Store is barren and resembles that of a console that just launched, despite VCS being available widely since 2021. It's unclear whether it will continue to receive additional content moving forward. Arguably the more interesting content is the selection of game streaming apps. Xbox Cloud Gaming, Amazon Luna and Antsream Arcade are all available, while the Stadia app can be found in select regions. So you can access a great selection of AAA PC and Xbox games all from the Atari console if, for some reason, you don't have access to other platforms. Albeit, a separate subscription is required for each.
Personally, Antstream Arcade is the real drawcard. It features a library of thousands of classic games, including Metal Slug, Worms, Final Fight and Mortal Kombat, to name a few. Each game is remixed with challenges and leaderboards breathing new life into games you've probably finished dozens of times over. Retro gaming fans will find a lot to like with the VCS selection. The issue is the majority of these games and apps are also readily available on PC, smartphones and mainstream consoles. Even the Atari Vault can be purchased on Steam.
Atari VCS Specifications
Operating System
Atari Custom Linux OS
CPU
AMD Ryzen Embedded R1606G
GPU
Radeon Vega 3
RAM
8GB Kingston DDR4 (upgradable)
Storage
32GB Kingston eMMC /SSD support
Wireless Connectivity
WiFi / Bluetooth
Ports
4 x USB 3.1
1x HDMI 2.1
1 x AC power
PC Mode OS Support
Windows 10 / Linux / Ubuntu / Debian / Chromium
Tested Controller Support
Atari Wireless Controller / Atari Classic Joystick / Wireless Xbox Controller
Dimensions
29.4cm x 14.9cm x 4.8cm
Weight
1.3kg
Price
Atari VCS All-In bundle US $399 / AU $699 – $850
Atari VCS PC Mode
So, one of the more bizarre features of VCS is its ability to boot and run PC operating systems. Have a copy of Windows, Linux or another OS on a thumb drive or SDD and the console functions as a desktop. A keyboard and mouse are required to use these features, but once connected, what you have is essentially a slim PC with a sweet retro aesthetic.
The Atari becomes a surprisingly functional productivity machine capable of whatever work you throw its way. Gaming is also effective for low demanding games. Over Game Pass, the sampled indie games all run fine. There's potential for running more demanding games so long as you have the required storage on a connected drive as the Atari VCS has just 32GB of internal storage. Overall, PC Mode is far from an essential feature. If you own the required keyboard, mouse and spare operating system, I would assume you already have a functional PC or laptop. And yet, the inclusion of PC support is easily one of the most exciting functions and a major drawcard for this console.
VCS Controllers
As mentioned above, two controllers launched alongside the Atari VCS and came bundled with the Black Walnut All-In bundle. The Atari VCS Wireless Modern Controller borrows design cues from the Xbox and Switch Pro controllers. It's a comfortable and extremely lightweight option that works well but sounds hollow when pressing buttons, triggers and thumbsticks, which cheapens the experience.
The other controller, the Atari VCS Classic Joystick, is a treat for fans of the original Atari hardware. The Classic Joystick looks like the original Atari joystick and enhances it with a shoulder button, built-in rumble and a wireless connection. It feels great playing classics, but most gamers will likely favour the comfort of a traditional thumbstick, or D-pad found on the Modern Controller. Both controllers are wireless and can be paired with a PC for desktop gaming if required. Both the Classic Joystick and Wireless Modern Controller are expensive if purchased individually. They retail for around AU $100 each. It's far better to bundle these controllers with the Black Walnut Atari VCS or to skip them entirely and rely on existing controllers, albeit losing some nostalgia.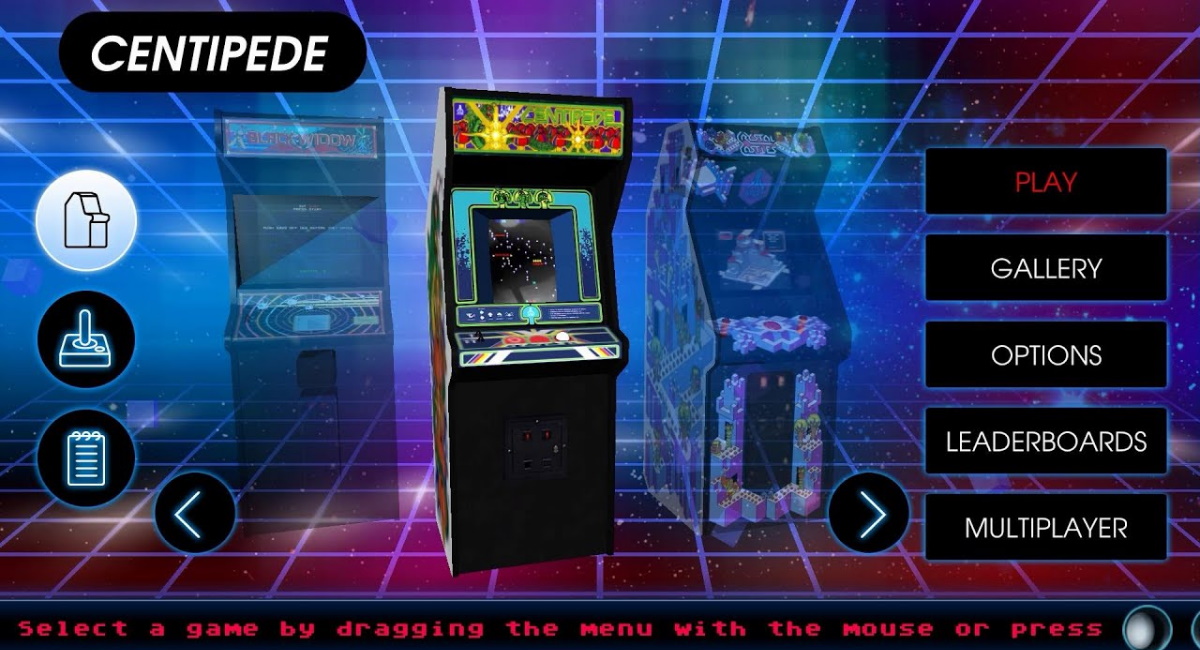 The Verdict
The Atari VCS is not a bad console. It's just a niche one that alienates a significant portion of its potential market with an over-the-top price tag. The classic console doesn't appear to be readily available in Australia, explaining why the local price is so high. You could pay anywhere between $700 and $850 for the All-In bundle which places the VCS in line with the XBX and PS5. Those who just want the classic games can pick them up on a PC, smartphone or one of the affordable Atari Flashback consoles, which appear to drop every few years. However, the expensive nature and grand ambitions of VCS make it better suited for those who like tinkering with open source technology or want to expand the gaming collection with display-worthy hardware.
The writer received a console for review courtesy of the brand. Images are provided by the writer and the brand.
You'll also like:
$563,000 Charizard Card Sale Shatters Auctions Records
Hogwarts Legacy Release 15 Minutes of Gameplay
HyperX Cloud Core Wireless Review: A Headset Full of Surprises
General FAQ
What games are on Atari VCS?
Atari VCS includes dozens of Atari classics as standard, including Asteroids, Adventure, Centipede and Black Widow. The console's marketplace gives access to several modern Atari remakes and indie games. On top of that, it offers game streaming services, including Xbox Cloud Gaming and Google Stadia in select regions. Connect VCS to Windows, and you have access to an infinite number of PC games playable on this retro console.
How do you install Windows on Atari VCS?
Simply have a copy of Windows on an SSD and connect it to the Atari VCS via USB. Switch on the console, and it launches in PC Mode. You will need a mouse and keyboard to navigate the menus.
How much does Atari VCS cost?
In the US, Atari VCS retails for $299 to $399, depending on whether you purchase the Onyx Base System or the Black Walnut All-In. In Australia, the console sets you back around $800 as it doesn't appear to be readily available and is likely import only.