30 Best Sci-Fi Movies on Netflix
Science fiction is a top contender as one of the best movie genres of all time, and Netflix has upped its sci-fi game to accommodate the masses of sci-fi lovers. The genre is so popular amongst movie lovers because it really does have something for everyone. From alien robots, dystopian worlds, dragons, or magic, you're bound to find something you love.
You'll also like:
30 Best Australian Movies of All Time
30 Must Watch SBS On-Demand Movies
15 Best Time Travel Movies of All Time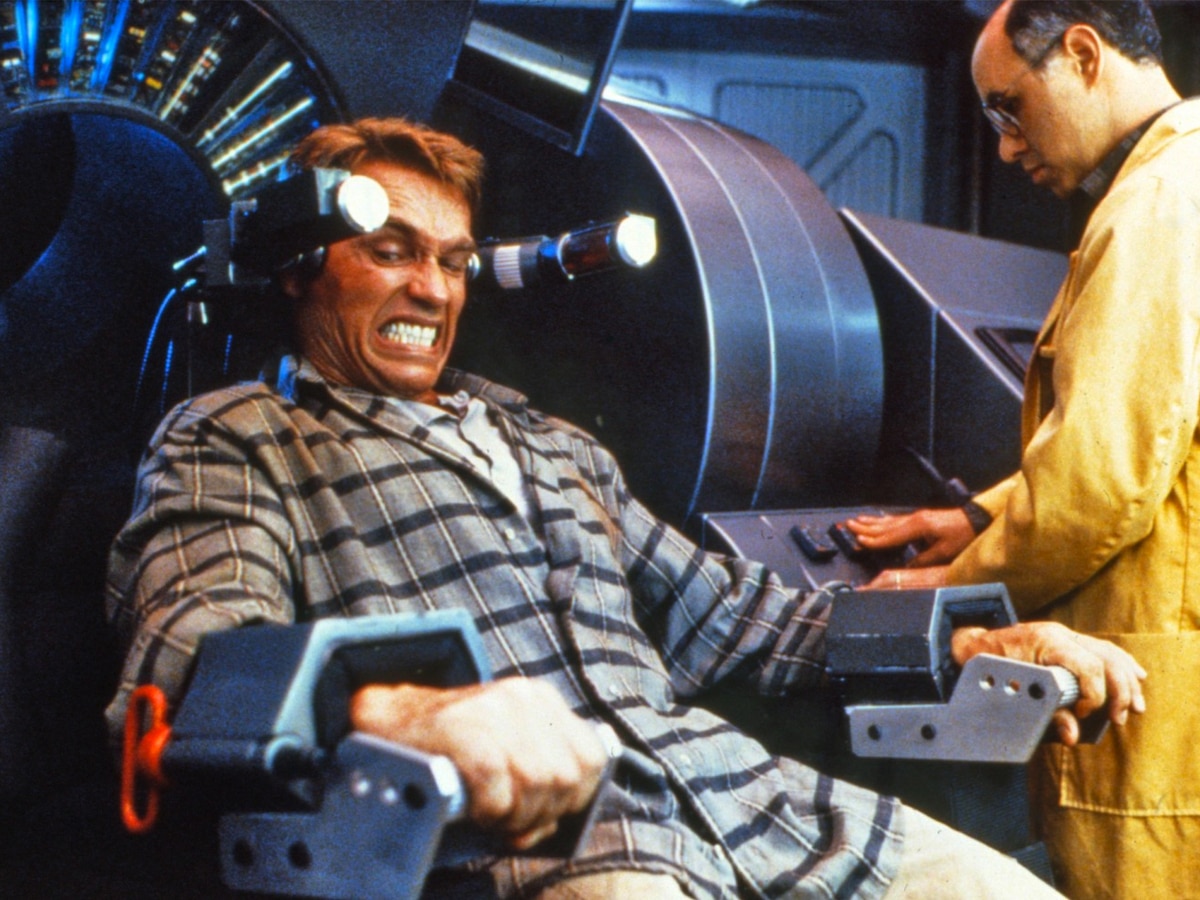 What Makes a Good Sci-Fi Movie?
All the best sci-fi movies on Netflix have a common theme – Hope. Whether it is battling aliens, travelling to outer space or through time itself, the characters in sci-fi movies tend to have an unrelenting desire to seek the truth or find new hope. More recently, science-fiction has pointed a mirror at the world around us, helping to show inverse realities and world's not beyond our comprehension.
In Science Fiction Cinema, authors Geoff King and Tanya Krzywinska note that science fiction is a "powerful cultural barometer of our times". In fact, films like The Matrix have helped t articulate some of life's most philosophical of questions. Not unlike the famous passage from Plato's Republic (ca 380 BCE), Neo imagine the human condition as being like a group of prisoners who have lived their lives underground and shackled, so that their experience of reality is limited to shadows projected onto their cave wall. With AI technology leading new forms of warfare and growth, the dystopia we've seen in sci-fi movies like The Terminator isn't too far from reality.
The Criteria
Choosing a list of the best sci-fi movies on Netflix is no mean feat, so we took it upon ourselves to do the research. After hours spent reviewing, watching and deconstructing the vast array of films on the streaming platform, we dived into the upper echelon. Further, reviews from critics, fan sentiments through platforms like Rotten Tomatoes and IMDB have also factored into our list, as well as the cultural impact on the film industry. Every movie has a rating of at least 5 out of 10 on IMDB, which means you don't need to waste time trawling through search results to get to the cream of the crop. Some directors have established household names, whereas some are young guns making their debut.
Best Sci-Fi Movies on Netflix
Perch yourself on the couch and grab some popcorn because these are the 30 best sci-fi movies on Netflix.
---
Featured Video from Man of Many
---
1. A Clockwork Orange (1971)
Stanley Kubrick's 1971 classic is a quintessential dystopian film and one of the best sci-fi movies on Netflix right now. The satirical comedy-thriller stars Malcolm McDowell, who plays the leader of the Droogs, a gang of delinquents. The iconic film explores themes of crime, rebellion, and the importance of free will.
Director: Stanley Kubrick
Starring: Malcolm McDowell, Adrienne Corri
IMDB:8.3/10
Run Time: 2 h 16 mins
2. Terminator 2: Judgment Day (1991)
The highly anticipated sequel to the Terminator, this movie has a lot to live up to. A cyborg, identical to the one who failed to kill Sarah Connor, must now protect her ten-year-old son, John Connor, from a more advanced and powerful cyborg. Almost just as good as its predecessor; if you're a fan of cyborgs and Arnold Schwarzenegger, it's definitely worth a watch.
Director: James Cameron
Starring: Arnold Schwarzenegger, Linda Hamilton
IMDB: 8.5/10
Run Time: 2 h 17 mins
3. Okja (2017)
If you love all things magical and mystical, Okja is a must-watch. The sci-fi movie seamlessly combines fantastical musings with real-world complexities. A young girl puts her life at stake to prevent a money-hungry company from kidnapping her beastly-looking friend, Ojka. It explores timely themes of capitalism and power in a thoughtful, nuanced way.
Director: Bong Joon Ho
Starring: Tilda Swindon, Paul Dano, Seo-hyun Ahn
IMDB: 7.3/10
Run Time: 2 hours
4. Midnight Special (2016)
One of the best sci-fi movies in the indie realm, Midnight Special enters the fantasy world of superpowers in a grounded, realistic way. A father and son run away from the government and a cult, who are on the hunt to catch him for his special powers. The minimalist effects make this an eerie, contemplative performance.
Director: Jeff Nichols
Starring: Joel Edgerton, Kirsten Dunst, Micheal Shannon
IMDB: 6.6/10
Run Time: 1 h 52 mins
5. Total Recall (1990)
The worlds of espionage and sci-fi combine in this cult classic. Expect plenty of action and an iconic throwback to 1980s stellar effects. Arnold Schwarzenegger stars as a construction worker who finds himself in the world of espionage involving a colony on Mars. The movie is funny and a little bit weird, which is why we love it.
Director: Paul Verhoven
Starring: Arnold Schwarzenegger, Sharon Stone
IMDB: 7.5/10
Run Time: 1 h 53 mins
6. Snowpiercer (2013)
This sci-fi movie is a timely exploration of the current climate crises in a dark and twisted way. The film depicts a climate-change experiment gone wrong, where only a few humans remain alive after its disastrous effects. The post-apocalyptic world sees a new class system come into being, making us think about ideas surrounding climate and the looming end of the world.
Director: Bong Joon Ho
Starring: Chris Evans, Jaime Bell
IMDB: 7.1/10
Run Time: 2 h 6 mins
7. Ex Machina (2014)
This A24 sci-fi film follows a programmer testing whether his latest creation; the female android Ava, can imitate real human consciousness. All three main performances are excellent and the direction is top-notch too, making Ex Machina a modern-day Frankenstein story about man's ambition to play god going too far.
Director: Alex Garland
Starring: Domhnall Gleeson, Oscar Isaac, Alicia Vikander
Release date: 7 May 2015 (Australia)
Screenplay: Alex Garland
Budget: 15 million USD
8. The Jurassic Park Trilogy (1993-2018)
The Jurassic Park Trilogy is a must-watch, perhaps the most iconic sci-fi cult classic trilogy to grace our screens. Reminding us all of the magical and fantastical worlds of dinosaurs we loved in our youth, the movie has all the action and adventure you'd expect from a much-loved sci-fi movie.
Director: Steven Spielberg
Starring: Sam Neill, Laura Dern
IMDB: 8.1/10
Run Time: 2 h 7 mins
9. Safety Not Guaranteed (2012)
Fan of time travel? Safety Not Guaranteed is a must-watch for you. The drama follows the story of Darius, a young intern at a magazine who investigates the author of an ad seeking someone to travel back in time with. There is also a bit of romance to keep all the romance-lovers happy.
Director: Colin Trevorrow
Starring: Aubrey Plaza, Mark Duplass
IMDB: 7.0/10
Run Time: 1 h 26 mins
10. Mad Max (1979)
The movie that skyrocketed Australia's Mel Gibson to international fame, Mad Max is an iconic sci-fi movie. In a dystopian Australia future, Mad Max tells the story of a highway patrolman cruising the back roads full of criminals foraging for gasoline and scraps. Expect action and post-apocalyptic adventure.
Director: George Miller
Starring: Mel Gibson, Joanne Samuel
IMDB: 6.9/10
Run Time: 1 h 28 mins
11. Oxygen (2021)
One of the best sci-fi thrillers on Netflix right now, Oxygen is as gripping as it is terrifying. It follows the journey of a woman who wakes up and has no idea how she got there, who she is, or how to get out – all the while her oxygen is running out. You will almost feel like you're living the nightmare yourself and will undoubtedly come out with a greater appreciation of memory.
Director: Alexandre Aja
Starring: Melanie Laurent, Malik Zidi
IMDB: 6.5/10
Run Time: 1 h 40 mins
12. The Midnight Sky (2020)
One of the more recent sci-fi movies on Netflix to add to the list, The midnight Sky is a quintessential post-apocalyptic drama. This movie is a highly believable sci-fi story of a scientist in the arctic who races to stop a group of astronauts returning home to catastrophe.
Director: George Clooney
Starring: George Clooney, Felicity Jones
IMDB: 5.6/10
Run Time: 1 h 58 mins
13. The Old Guard (2020)
Charlize Theron stars in this action-packed sci-fi movie. A team of immortal mercenaries are exposed and must fight to keep their identity under wraps, which sees a complex and long journey play out. The movie deep dives into the ideas of power and money in a thoughtful, provocative way.
Director: Gina Prince-Bythewood
Starring: Charlize Theron, Kiki Layne
IMDB: 6.7/10
Run Time: 2 h 5 mins
14. In The Shadow of The Moon (2019)
A well-executed sci-fi drama that explores time travel and crime in one twisted, engaging plot, In The Shadow of The Moon is a must-watch. A serial killer is in the midst whose crimes defy reasonable explanation, and one Philadelphia police officer is obsessed with figuring it all out. Go on the confusing, scary and earth-dying journey with him.
Director: Jim Mickle
Starring: Boyd Holbrook, Cleopatra Coleman
IMDB: 6.2/10
Run Time: 1h 55 mins
15. Cloud Atlas (2012)
A complex entanglement of past, present and future, this sci-fi hit isn't one for the faint-hearted. Just under three hours long, the time is needed as the movie seamlessly shifts between six very different storylines. Brace yourself- you will need maximum concentration for this one.
Director: Tom Tykwer, Lana Wachowski, Lilly Wachowski
Starring: Tom Hanks, Halle Berry
IMDB: 7.4/10
Run Time: 2 h 52 mins
16. The Platform (2019)
The Platform ventures beyond what the human mind could ever imagine; a genius idea and an endless nightmare. The film documents a prison with one cell on each level- there is only one food platform and two minutes per day to feed. Diabolical, doomed, and no doubt a movie to strike one's curiosity, it is definitely worth the brain-twisting.
Director: Glader Gaztelu-Urrutia
Starring: Ivan Massague, Zorion Eguileor
IMDB: 7.0/10
Run Time: 1 h 34 mins
17. Space Sweepers (2021)
A dystopian film set in 2092, it is one of the first Korean blockbusters to delve into the sci-fi genre. Watch on with anticipation as a crew of a space junk collector ship discover a humanoid robot that is a weapon of mass destruction. Expect lots of action, an engaging plot and some serious questions about humanity.
Director: Sung-hee Jo
Starring: Song Joong-ki, Km Tae-Ri
IMDB: 6.6/10
Run Time: 2 h 16 mins
18. The Endless (2017)
Spurring from the freakiness of a sci-fi cult, The Endless enters the dark world of drama and sci-fi horror. Two adult brothers who escaped a UFO death cult seek answers after discovering an old videotape. Poignantly eerie and equally as gripping, this movie is bound to take you on an unexpected journey.
Director: Justin Benson, Aaron Moorhead
Starring: Justin Benson, Aaron Moorhead
IMDB: 6.5/10
Run Time: 1 h 51 mins
19. Blame! (2017)
A distant technological future and the fight to save humanity, Blame! is a sci-fi animation like no other. In the movie, humans are declared "illegal residents" and hunted by murderous robots. Watch as an exciting and, at times, tumultuous battle to survive ensues.
Director: Hiroyuki Seshita
Starring: Takahiro Sakurai, Kana Hanazawa, Sora Amamiya(
IMDB: 6.7/10
Run Time: 1 h 46 mins
20. Project Power (2020)
Exploring dystopian ideas of power with an easy-to-grasp concept comes this 2020 sci-fi movie starring Jamie Foxx. In the movie, if you take a pill, you get a new superpower for five minutes. Whilst not majorly groundbreaking, it is a fun, entertaining watch.
Director: Henry Joost, Ariel Schulman
Starring: Jaime Foxx, Joseph Gorden-Levitt
IMDB: 6/10
Run Time: 1 h 53 mins
21. Back to the Future (1985)
Easily one of the most iconic films of all time, not just in the sci-fi realm, Back to the Future is essential viewing for everyone. With classic 80's cinematography at the forefront, the movie follows a teen who time travels. This is a feel-good movie that takes a spin on traditional dystopian themes classic of the sci-fi genre.
Director: Robert Zemeckis
Starring: Micheal J. Fox, Christopher Lloyd
IMDB: 8.5/10
Run Time: 1 h 56 mins
22. The Mitchells vs The Machines (2021)
One of the few animations to make it onto the list, The Mitchells vs The Machines is a funny and quirky sci-fi movie that the whole family can enjoy. The film follows the bizarre journey of a somewhat dysfunctional family who finds themselves in the thick of a robot apocalypse while on their road trip. The end of the world energy with a humorous edge makes it one of our favourites.
Director: Micheal Rinada, Jeff Rowe
Starring: Danny McBride, Abbi Jacobson
IMDB: 7.7/10
Run Time: 1 h 53 mins
23. Invader Zim: Enter the Florpus (2001)
Invader Zim is a quirky movie about aliens for a slightly older crowd of cartoon lovers. ZIM is the smallest member of an alien species who discovers his almighty leaders never intended to come to Earth.
Director: Hae Young Jung
Starring: Ricky Simmons, Andy Burman
IMDB: 7.5/10
Run Time: 1 h 11 mins
24. The Signal (2014)
Have you ever had a nightmare then realised it was reality? The Signal explores this harrowing concept with stark detail, drama, and mystery. A computer genius plays a vital role in the plot, asking questions about trusting technology and the world of hacking.
Director: William Eubank
Starring: Brenton Thwaites, Olivia Cooke
IMDB: 6.1/10
Run Time: 1 h 37 mins
25. I Am Mother (2019)
I Am Mother is an emotional take on classic sci-fi themes. A robot mother raises a human child, providing a newfound sense of hope for humanity. It is a gripping drama that touches on the idea of human and non-human bonds in a thoughtful way.
Director: Grant Sputore
Starring: Rose Byrne, Luke Hawker
IMDB: 6.7/10
Run Time: 1 h 53 mins
26. Jiu-Jitsu (2020)
This sci-fi film combines jiu-jitsu and alien invaders in a race to save humankind. Although an interesting concept, the movie has been criticised for its poor fight choreography and lack of sophisticated dialogue. It is worth watching if you're in the mood for something simple and a little bit cheesy.
Director: Dimitri Logothetis
Starring: Nicolas Cage, Alain Moussi
IMDB: 2.9/10
Run Time: 1h 42 mins
27. Prospect (2018)
Prospect is another one of the better alien-themed sci-fi movies to make the list. A teenage girl and her father travel to an alien moon, hoping to become rich, but it goes wrong, and they are left fighting for survival. It starts slow, but we recommend sticking it out.
Director: Christopher Caldwell, Zeek Earl
Starring: Sophie Thatcher, Jay Duplass
IMDB: 6.3/10
Run Time: 1 h 40 mins
28. E.T. The Extra-Terrestrial (1982)
Steven Spielberg shines in this family-friendly sci-fi film. Expect to feel all the feels as a troubled child helps an alien escape Earth and reunite with their homeland. It's one of those rare movies that truly never gets old.
Director: Steven Spielberg
Starring: Henry Thomas, Drew Barrymore
IMDB: 7.8/10
Run Time: 1 h 55 mins
29. Real Steel (2011)
Boxing fans will be sure to love this sci-fi action drama about robot boxing. It stars Australia's favourite action hero, Hugh Jackman, and has plenty of feel-good moments. With a mix of sport, family, drama and robot action, this movie has a little bit of everything.
Director: Shawn Levy
Starring: High Jackman, Evangeline Lilly
IMDB: 7.0/10
Run Time: 2 h 7 mins
30. Code 8 (2019)
Code 8 provides a classic sci-fi moral dilemma for us to think about. A super-powered construction worker falls in with a group of criminals in order to raise funds to help his ill mother. The special effects are also to be applauded.
Director: Jeff Chan
Starring: Kari Matchett
IMDB: 6.1/10
Run Time: 1 h 38 mins
You'll also like:
30 Best Australian Movies of All Time
30 Must Watch SBS On-Demand Movies
15 Best Time Travel Movies of All Time
General FAQs
What's the best sci-fi movie on Netflix?
The best sci-fi movie on Netflix, according to IMDB ratings, is Back to The Future.
What good sci-fi movies are on Netflix?
Some good sci-fi movies on Netflix to watch are Mad Max, Snowpiercer and A Clockwork Orange.
What family sci-fi movies are on Netflix?
Invader Zim: Enter the Florpus and E.T. are good family sci-fi movies on Netflix.
---
Featured Video from Man of Many