Jimmy Butler Dunks on the Internet with Hilarious 'Emo' Haircut
On and off the court, Jimmy Butler is a master troll.
The Miami star made headlines last season when he went viral for his gold-tipped dreadlocks at the NBA's Media Day. This season, he's embracing a whole new style, sporting straightened hair and multiple piercings in his eyebrows, nose, and lips.
Butler has described the change as his new "emo" look, although some of us can't help but see more goth-Karen vibes. It appears that the guard is currently deep in the feels, likely triggered by the recent trade of Damian Lillard to the Bucks.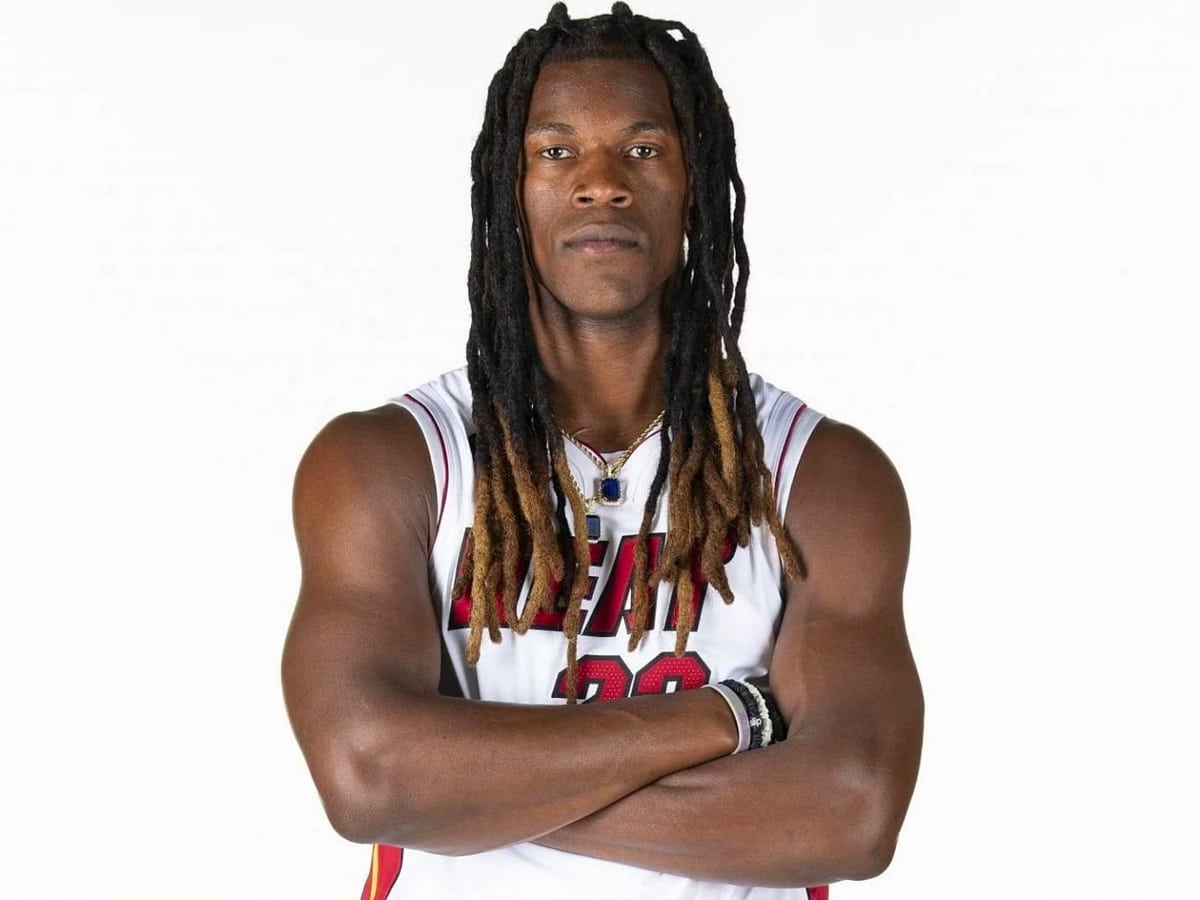 "This is my emotional state," Butler responded when asked about his appearance. "I'm one with my emotions. So this is what you get."
"I'm very emotional right now. This is my emo state and I like this. This is me," Butler continued. "This is how I'm feeling as of late."
Jimmy making sure the NBA media partners have to post this as their pic of him after he has a 40 point playoff night is the ultimate troll. Second year in a row of him trolling with his hairstyle on media day. And they can't fine him 🤣🤣🤣🤣🤣🤣🤣🤣🤣🤣 https://t.co/VXWhQkr7sq

— Nate Jones (@JonesOnTheNBA) October 2, 2023
While Butler is known to be more on the emotional side, we can suspect that he's simply trolling everyone for the second year in a row. When asked about his hair at last year's Media Day, he revealed he was "just messing with stuff to make the internet mad." So it's safe to assume that the Heat player is back for a lolz repeat this season. However, not everyone is laughing.
Media Day holds immense importance for all of the NBA's media partners, who rely on the captured images and footage throughout the season. As NBA agent Nate Jones points out above, Jimmy's antics put them in a tough spot, and ESPN wasn't exactly thrilled with Butler's assets last year. Instead of using Butler's dreadlocks photo, the network reportedly opted for a rendering from the NBA 2K video game. Later, they altered their choice by replacing it with an older photo of Butler. Fun police, much?
---
Featured Video from Man of Many
---
Jimmy had Tyler shook and Bam in tears 😭 pic.twitter.com/VDx4Bz8wUr

— Miami HEAT (@MiamiHEAT) October 2, 2023
So what did his fellow teammates think of the updated hairdo? Heat forward Bam Adebayo was just as shocked as the rest of us, saying "That is not real. … That is (expletive) hilarious."
"Whatever gets us wins at this point," Adebayo continued with Butler reportedly playing a Panic! at the Disco song in the background. "I feel like he's going to go into training camp and have … a great training camp?"
In a recent social media post shared by the Miami Heat, fellow star Tyler Herro also appears to be struggling to stifle his laughter during their photoshoot.
Jimmy Butler kicks off year 12 in the big league when the Heat play their first preseason game on October 10, 2023. We can't wait to see what he comes up with next season.
---
Featured Video from Man of Many