Men Can Wear Bracelets Too With These 10 Options
Bracelets for men are the new fashion opportunity to enhance your personal style and complete the look you're going for. If you are a first timer the options may be daunting, but as ever, we will try and steer you in the right direction as far as possible.
First, you need to know some of the materials used for the various bracelets and what it can say about you. Leather on your wrist indicates refined masculinity and that you are man enough to wear this. It's also a great way of showing your inner rebel without going overboard. Woven bracelets bring some colour into play and can accent your outfit. Normally associated with a relaxed surfer style and can fit in the office where the culture is relaxed. The beaded bracelet is for the man in the suit.
The beads can be anything from wood to stone and the general trend is, the bigger the bead, the more casual the bracelet. Metals such as gold and silver are probably the most masculine option. Not for the strict corporate wear policy company but rather restrained and serious.
You'll also like:
Accessories to Get that Luxurious Look
5 Ways to Look Wealthy with Men's Jewellery
Leave a Legacy with Crooked Howlet Jewellery
Vitaly Cirkel x Matte Black
The Cirkel (Dutch for circle) in matt black is made from stainless steel. This one is for life as it won't corrode or rust. The beautiful matt colour will pair nicely with your suit and tie evening or if you going casual it must be smart. It shows your more serious side and as such should be treated with respect. Not for the evening with your friends at the pub.
False Reality Co Genuine Wood Bracelet Pack
This handcrafted wooden bead four pack from False Reality extends your wardrobe with a number of possibilities. Use them when you dress up or dress down and pair it with your shirt or tie. Use it daily if your office environment is more relaxed or at the weekend wherever you go.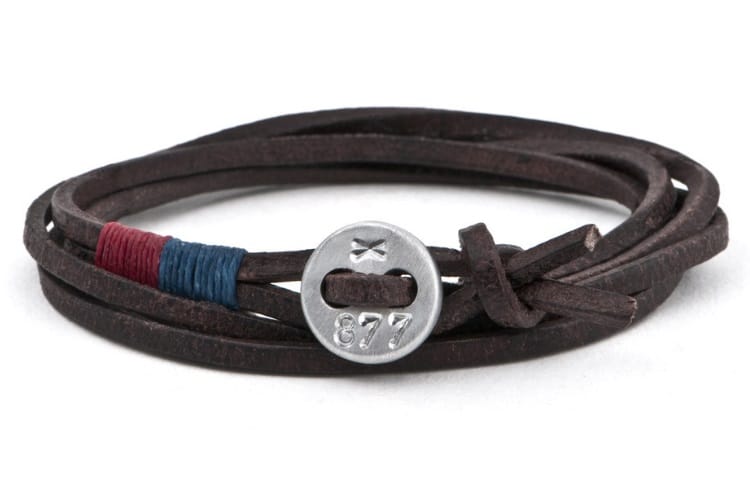 877 Herren Armband Cross Leder rot Blau
The 877 Herren Armband Cross Leder rot Blau brown leather bracelet features an aluminium button closure and finished off with some red and blue hem to give it that something extra. This is a very masculine bracelet and will fit in with smart casual evening attire. If you have the personality to accompany it, it will great in a more relaxed board short and T attire while showing off your new surfboard or skateboard.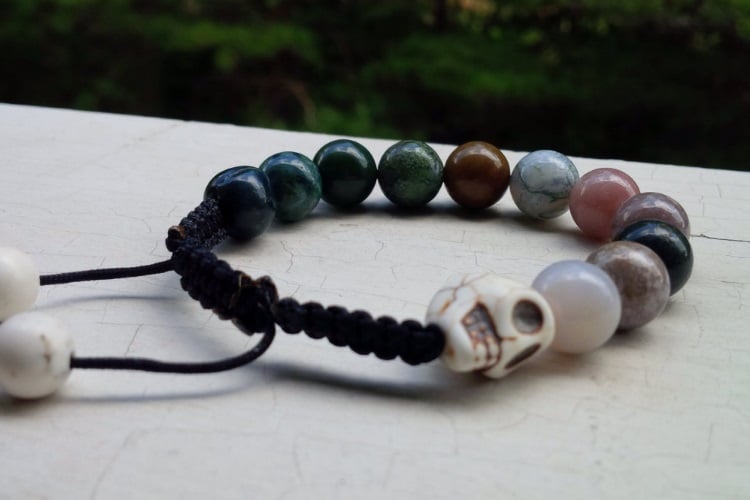 DesiRJewels Lava Beads
Remember what we said about the bigger the bead? This Shamballa style bracelet features colourful big beads with a skull at the end to finish it off. This one is for after work only. The skull either shows your fascination with the dead or just the general "I'm hardcore like that" look. The colours of the beads are a bit all over the spectrum so a plainer one coloured shirt will ensure the attention is drawn to the bracelet.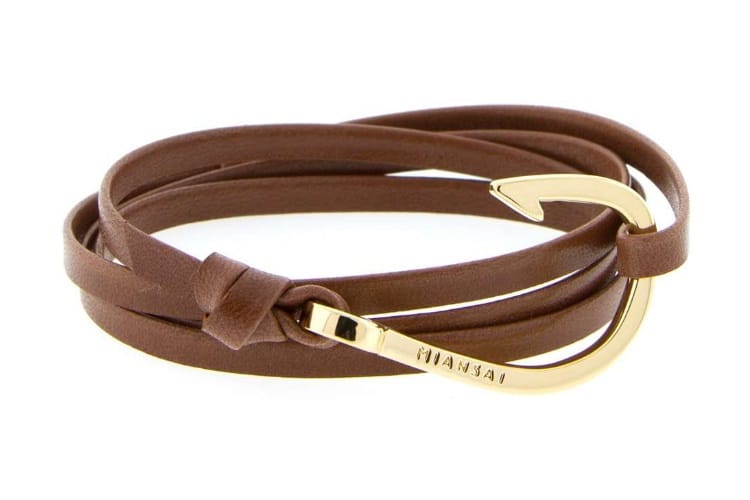 Miansai Gold Plated Hook Brown Leather
Get hooked on this bracelet. It is made from fine Italian full-grain leather that was vegetable tanned. A gold hook sports the Miansai brand name and has a barb to keep the bracelet from slipping off. Your fishing buddies will be most impressed. Suitable when wearing something casual but still smart.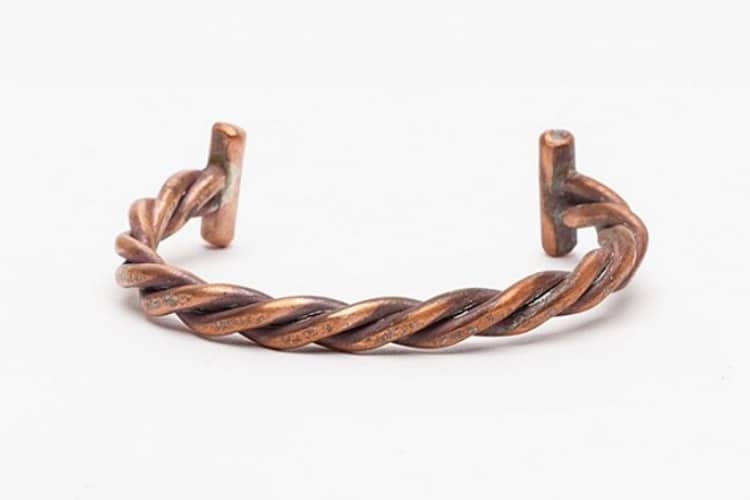 Cause And Effect Copper Twist Cuff
Copper is not one of your valuable metal but it adds a certain rustic look. This three wire twisted copper cuff won't make you badass but it will still portray you as a man that knows what he wants out of life. This everywhere bracelet will be suited for any after-hours attire but rather leave it at home when going to work. Fair warning though, copper tends to leave a blue hue stain on your skin from long-term wear.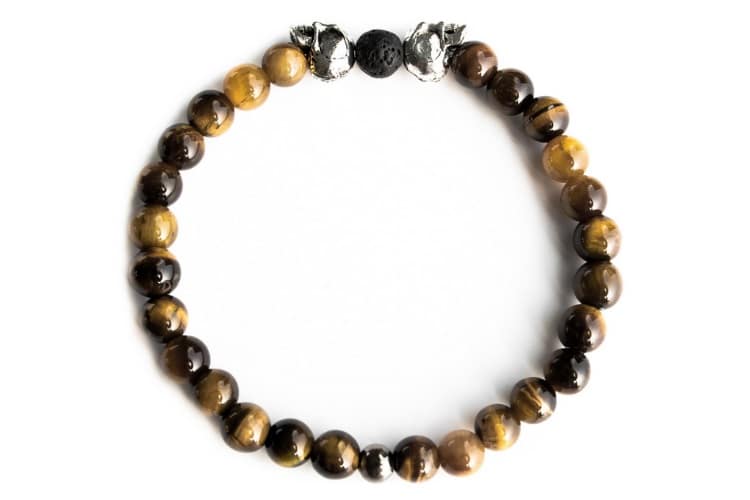 Chanman Beaded Brown Tiger Eyes & Skulls
Tiger eye stones are known for their remarkable gold and brown combinations and when polished looks like a gem. This is a well-made bracelet and the added silver skulls add that extra bit of mystery. The colour is superb and can be used at the relaxed office or casual attire. Not board short casual but will add style to jeans and shirt outing.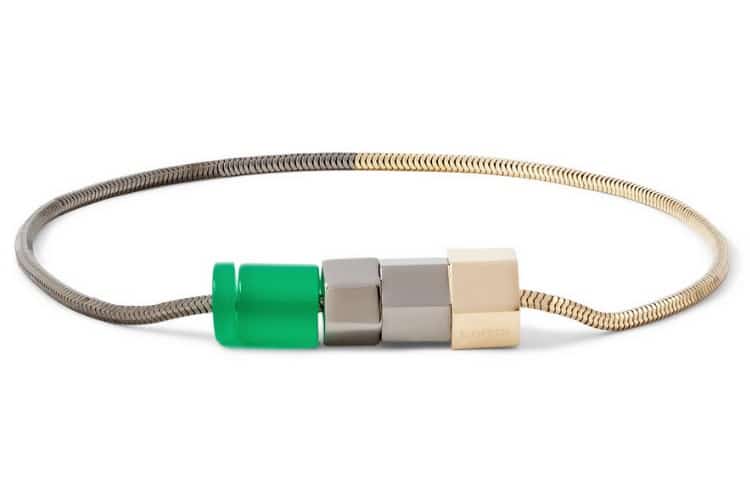 Lanvin Bolt & Bead Two-Tone Metal Bracelet
For this one you need confidence. The chain is a two-tone colour with one half of the chain silver and the other half gold. The bracelet ends connects with industrial bolt fastenings and finished off with translucent green beads. Only wear this with smart casual looks. And remind your friends you are a trendsetter.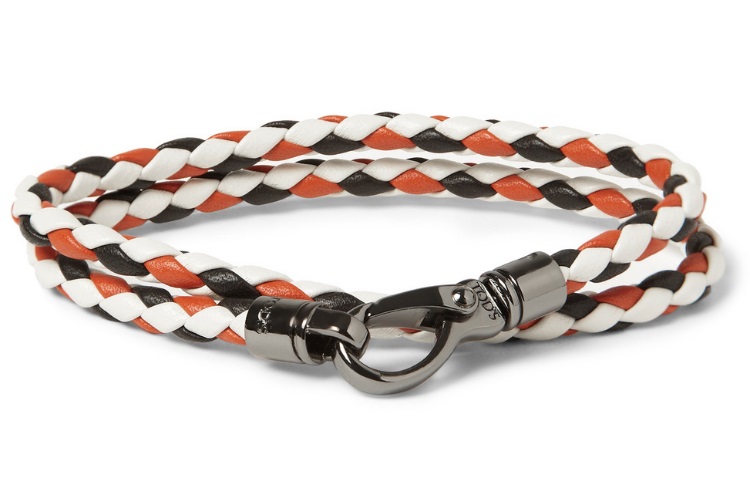 Tod's Woven-Leather Wrap Bracelet
This Italian made bracelet features a stylish three-tone colour woven bracelet made from supple high-grade leather and kept on your arm with the nickel plated metal hook. This will add a dash of colour when you're wearing natural coloured clothing, for example, black pants with a white shirt.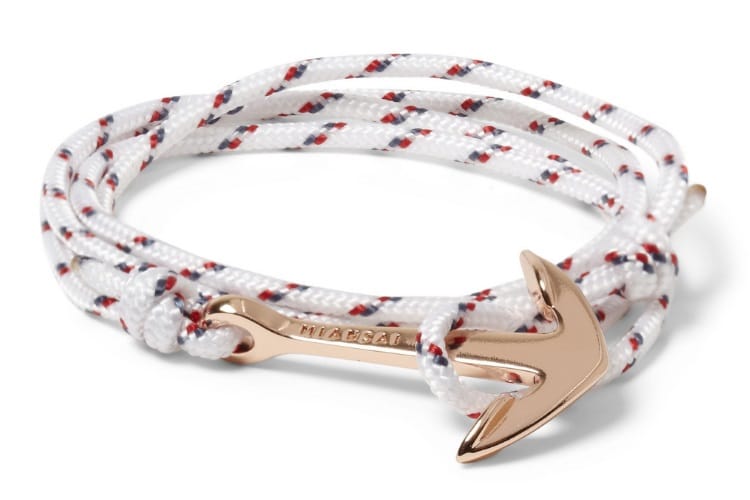 Miansai Anchor on Rope Bracelet
Ahoy! Grab your gear and head for the waters with this 100% nylon maritime grade rope bracelet. Because it is nylon it won't stain or rust. The bracelet is kept in place with a golden anchor sporting the Miansai brand. Perfect for your day on the beach or setting sail in your boat, it will be perfect for smart or casual attire.
You'll also like:
Accessories to Get that Luxurious Look
5 Ways to Look Wealthy with Men's Jewellery
Leave a Legacy with Crooked Howlet Jewellery