How to Deal With Grey Hair
Have you woken up one morning and noticed that your once lustrous locks suddenly seem as though they've been sprinkled with a dusting of salt and pepper? That my friend is just one of the effects of getting older. Although you might feel as though the rapid onset of grey hair signifies the point of life that your days of youth have officially come to a screeching halt, do not despair. Man of Many is here to help. In order to figure out how to deal with grey hair, we have consulted some of our most trusted Trend Alert – Modern Hairstyles For Men experts to give their best advice on how to go grey with style, class and dignity. Here's what they had to say:
You'll also like:
How to Get Rid of Greys in Less Than 5 Minutes
What Grooming Products Every Man Should Own
Anthony Nader – International Stylist and Founder RAW Anthony Nader Salon, Surry Hills
Do you really want my honest answer? #Embrace. I think there's nothing more stylish than a man with a flicker of silver/greys showing up. We have so many guys that come to the salon and they always take home a silver-based shampoo as this cleanses the hair of any impurities and brassiness. Think George Clooney here guys, that gunmetal steel hue that looks expensive and classy.
Master Barber at Murdock London
Don't panic. Don't be afraid to keep things natural if you're starting to notice an influx of greying. Certainly, don't rush to buy and over-do applications of hair dye, or even worry about receding hairlines for that matter. Good grooming upkeep should be followed to enhance, not to completely alter the way you look. Use the right products (ideally with natural ingredients instead of harsh chemicals) in moderation – shampoo, conditioner, styling product and you'll probably find that you soon actually warm to any natural change in colour.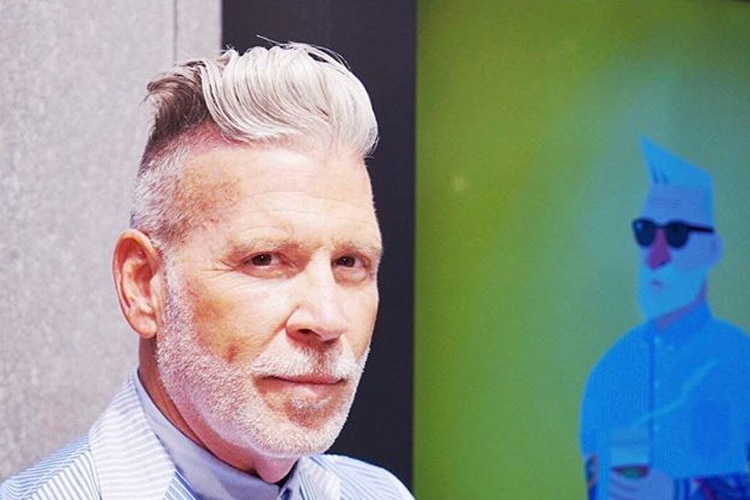 Nick Wooster – one of Instagram's most stylish men
Jules Togini – Philips Shaving and Grooming ambassador and Men's Hairdresser Of The Year
Discovering those first grey hairs is guaranteed to be a shock but there are a number of ways you can manage the salt and pepper look. Firstly, and most importantly – stay away from permanent hair dye. Grown out grey roots on men is a terrible look and I mean terrible. If you want to cover up grey hair with dye, opt for a semi-permanent hair dye that will gradually fade and blends those bad boys. If colouring your hair is not your thing, try a shorter, edgier haircut for a youthful look. Short sides will expose greys so ask the barber/hairdresser for a little-textured length on top and this will blend your natural and grey hair seamlessly.
Phoenix Thomson – Stylist at American Crew
Grey hair can be distinguished and dapper, but it can also be ageing. If you want to embrace it, keep the natural white highlights looking cool, by using American CREW Gray Shampoo. It will keep them bright, and get rid of any unwanted tones.
To mute it down a little and lose a few years I recommend visiting your hairdresser for a grey blending service. American CREW precision blend will tone the grey enough to blend it with your natural and is over in only 5 minutes.
---
Featured Video from Man of Many
---
You'll also like:
What Grooming Products Every Man Should Own
How to Get Rid of Greys in Less Than 5 Minutes
---
Featured Video from Man of Many