20 Most Expensive Watches in the World for Men
Like the world's most expensive cars, the world's most expensive watches for men are something 99.9% of us can certainly appreciate, but definitely never afford. Indeed, these outrageously valuable watches make some of Patek Philippe's priciest new releases look downright affordable by comparison. Meanwhile, a handful of the world's most expensive watches–such as the Paul Newman Rolex Daytona–are as desirable for their legacies as they are for their features or aesthetics. At the other end of the spectrum is a piece like the Graff Diamonds Hallucination, which touts so much built-in value and aesthetic prestige that its ability to tell time is practically negligible. Put all these stunners in one place and the words "haute horlogerie" suddenly seem resoundingly inadequate. From expensive gold watches to timepieces that are costly in other ways, we've scoured the planet for wrist accessories that alter our perception of what's considered "reasonable." To show you what luxury and exclusivity really looks like (in wrist watch form), we present the 20 most expensive watches in the world.
You'll also like:
31 Best Luxury Watch Brands
Rolex 'Hulk' Submariner – A History & Review
40 Best Minimalist Watches for Men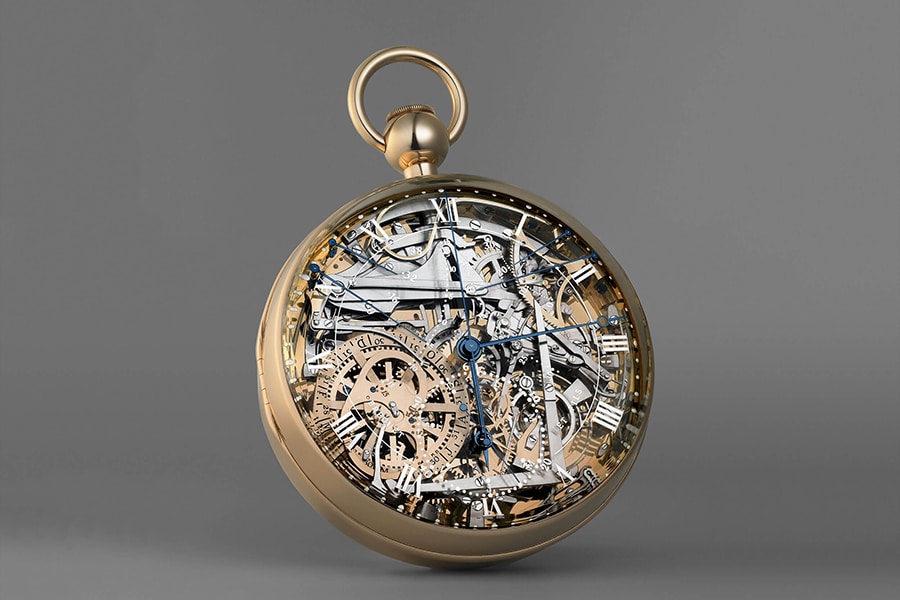 1. Breguet Marie-Antoinette Grande Complication Pocket Watch
Brimming with distinction in every sense of the word, the Breguet Marie-Antoinette Grande Complication Pocket Watch was commissioned by one of the infamous 18th-century French queen's lovers. According to legend, the pocket watch took a whopping 40 years to construct. As a result, both the queen and her lover were long dead by the time the extraordinary timepiece was ready. Nevertheless, we say it was worth the wait. Featuring a gold case and skeletonised dial–which exhibits a simply marvelous myriad of mechanisms–this valuable, dear watch is a true sight to behold. Meanwhile, the piece's remarkable story extends well beyond its royal origins. Specifically, the unique and culturally significant watch was stolen from a Jerusalem museum in the late 1900s, only to miraculously re-appear in 2007. Nowadays, it's in the possession of the Mayer Museum in Los Angeles, unless of course you want to take it off their hands for a cool $30 mil. Easily one of the top 20 watches in the world, especially given its historical significance.
Release date: April 2008
What's special: made after 4 years of research and reconstruction
Price: $30 Million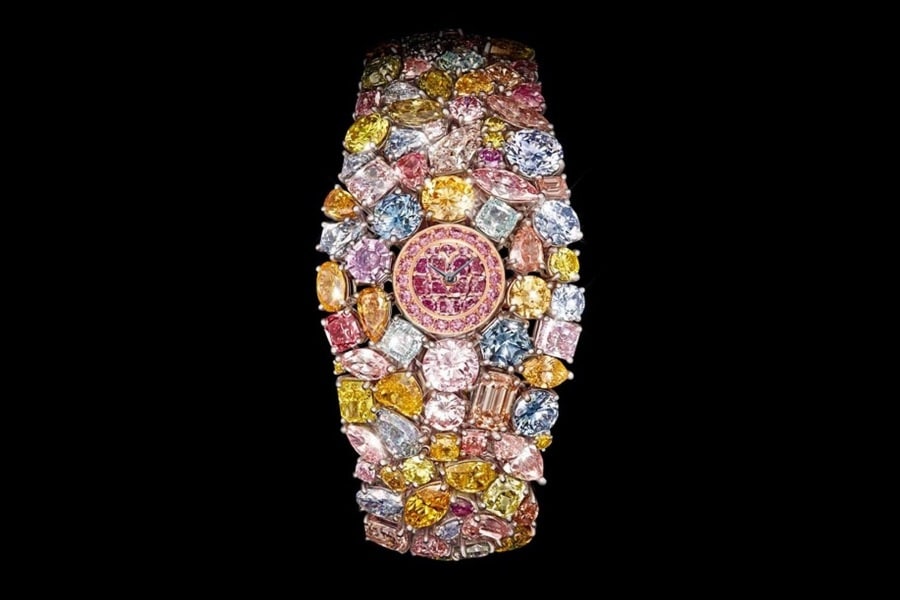 2. Chopard 201-Carat Watch
To figure out why the Chopard 201-Carat Watch is one of the most expensive watches in the world, look no further than the name. Making good on that classic name is a substantial cluster of coloured diamonds, including a 15-carat pink diamond, a 12-carat blue diamond and an 11-carat white diamond. That's joined by 163 carats of white and yellow diamonds, adding up to 201 carats total. Naturally, it all makes for one heck of a valuable timepiece, even if timekeeping seems almost beside the point.
Release date: 2000
What's special: central deep blue diamond 20.02-carats; whole piece 120.81 carats
Price: $25 Million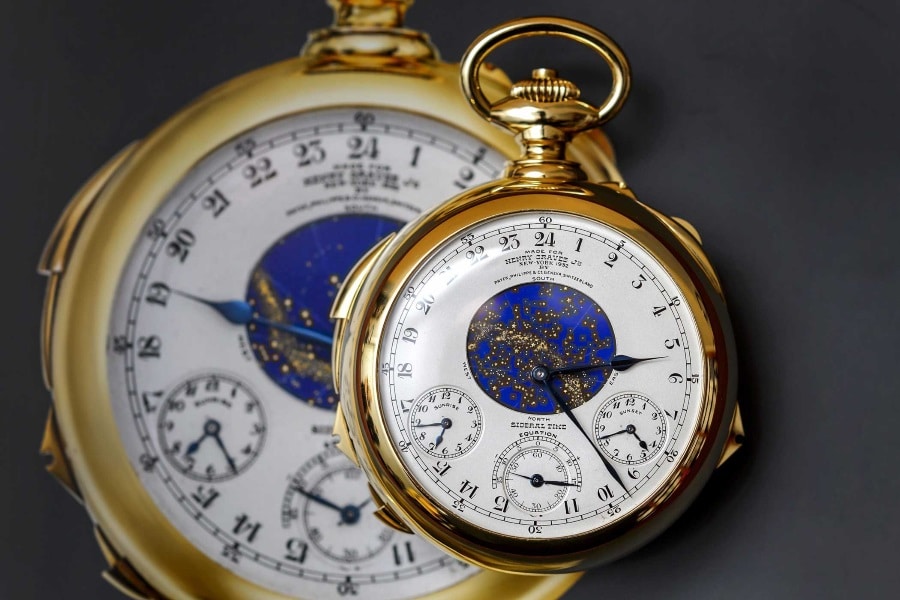 3. Patek Philippe Henry Graves Supercomplication
20 Most Expensive Watches in the World for Men is complete without the name Patek Philippe on it. The iconic luxury brand enters the list with the Henry Graves Supercomplication, which was created for a wealthy American banker of the very same name (well, Henry Graves Jr. to be precise). As sophisticated as it is luxurious, the stunning piece features no less than 24 complications. Included among them is a perpetual calendar, a minute repeater with Westminster Chimes, and a celestial chart based on the night sky above the owner's New York estate. Clearly among the most luxurious watches in the world, and possibly the universe.
Release date: 1933
What's special: gold; double-dialled; double-openfaced; Perpetual calendar; chronograph – stopwatch; chime
Price: $24 Million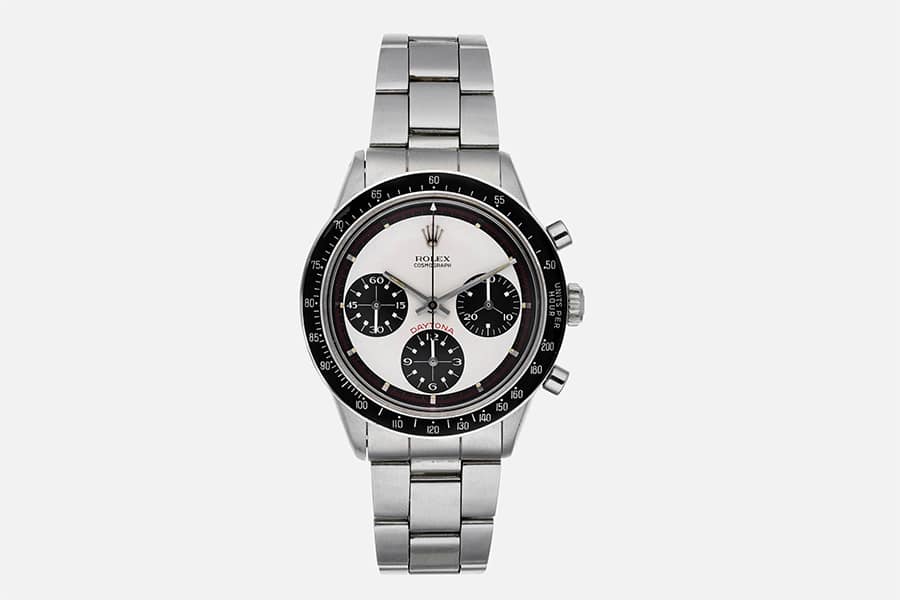 4. Paul Newman Rolex Daytona
As some of the entries above might demonstrate, just because a watch is valuable or expensive, that doesn't mean it's necessarily desired by collectors. By contrast, the Paul Newman Rolex Daytona is a genuine watch lover's dream come true. Given to the famous actor by his wife, the piece pays tribute to Newman's love of horology and motorsport alike. Aside from its built-in legacy, the expensive hand watch is distinguished by its steadfast movement and unique, black-and-creme dial. Yet even with all that going for it, the industry was still stunned after the piece fetched $15.5 million at auction (which came out to over $17.7 million after the buyer's premium was thrown in). Arguably the best looking Rolex watch around, and naturally one of the priciest.
Release date: 1969
What's special: Paul Newman Dial; full lume plots
Price: $15.5 Million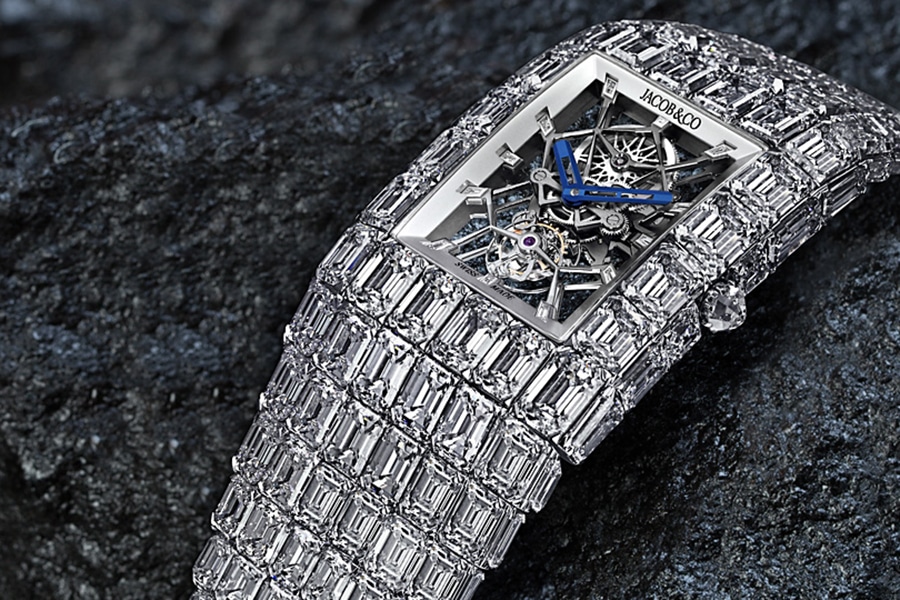 5. Jacob & Co. Billionaire Watch
Emanating with luxury is the Jacob & Co. Billionaire Watch, which like so many others on the list definitely takes its name to heart. Flaunting 260 carats of emerald cut diamonds, the timepiece will draw eyeballs from across the ballroom, country club, or wherever else a bunch of billionaires happen to be gathered. There to remind you that this is indeed a watch–and one of the world's most expensive watches at that–is a beautifully succinct, skeletonised dial. A costly watch, but not if you've got a private jet and similar high-end things.
Release date: 2015
What's special: 47.5mm wide; 58mm tall; 260 carats of emerald-cut diamonds
Price: $11 Million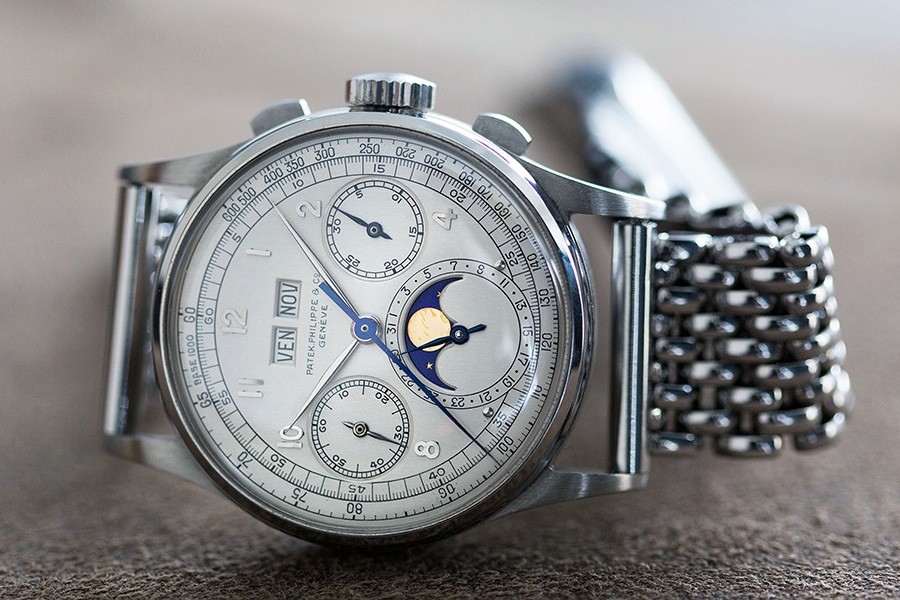 6. Patek Philippe Ref. 1518 in Stainless Steel
The first in a limited edition series (and by "limited edition" we mean four pieces total), the Patek Philippe 1518 hosts a case of high grade stainless steel, making it unique when compared to most offerings from the luxury brand. Between that and the watch's bevy of brilliant features–including a lovely moon phase aperture on the dial– the 1518 simply oozes with majesty and precision. Just how much majesty and precision, you might ask? Oh, about $11 million worth, according to highest bidder at a recent auction. One of our most expensive mechanical watches on the list.
Release date: 1941
What's special: moon phases; applied arabic hour markers; tachymeter scale
Price: $11 Million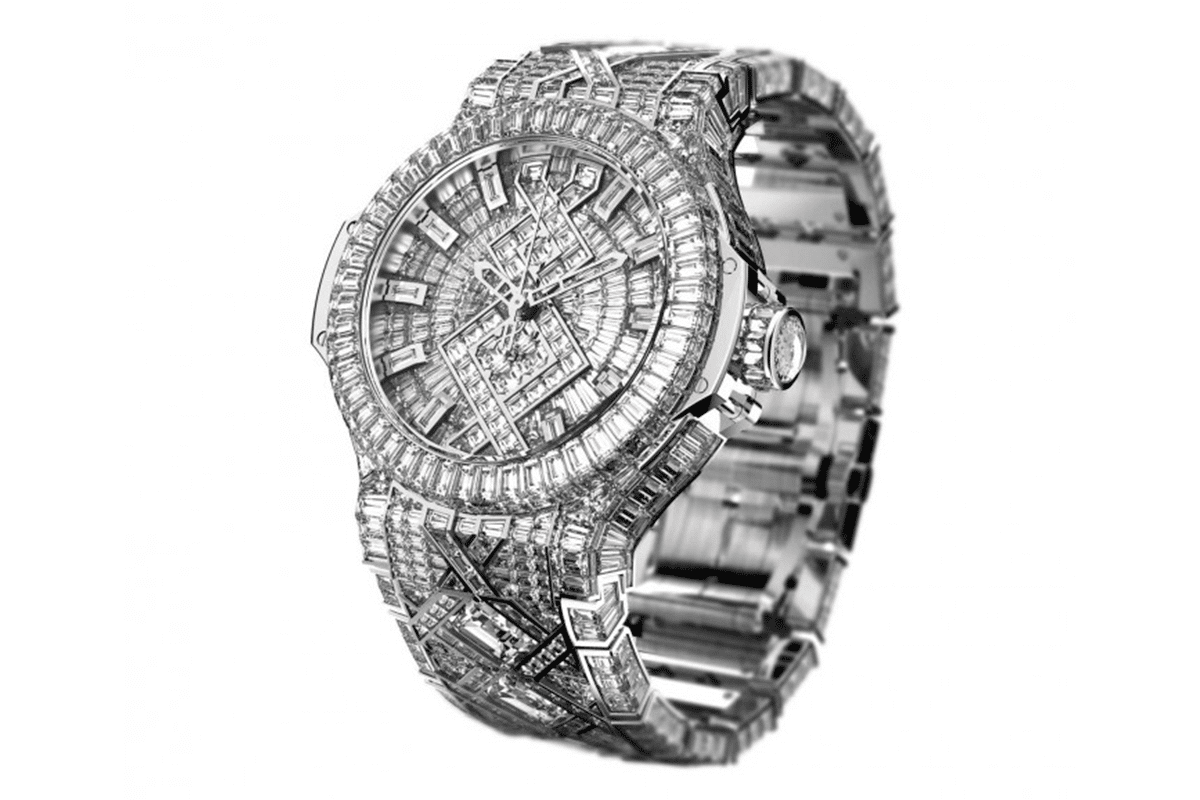 7. Hublot Big Bang
Like the universe itself, the Hublot Big Bang renders a formidable impression. Not only is this expensive men's watch equipped with an astounding 1280 diamonds, but each one was cut by the same, highly experienced New York City jeweller. The result is a high priced wristwatch that's simply astounding in its uniform aesthetic, and bursting with visual distinction. Indeed, one might even say the piece looks like something handed down to us from an advanced alien race. A beautiful diamond watch, and if you have $5 million to spare, there are far worse ways to spend it. This is one of the finest, expensive watches for men money can buy.
Release date: 2012
What's special: Limited edition of 1 Watch, Dial set with 179 baguette diamonds, case set with 302 baguette diamonds and bracelet set with 782 baguette diamonds.
Total carat: 118.00
Movement Type: Self-winding mechanical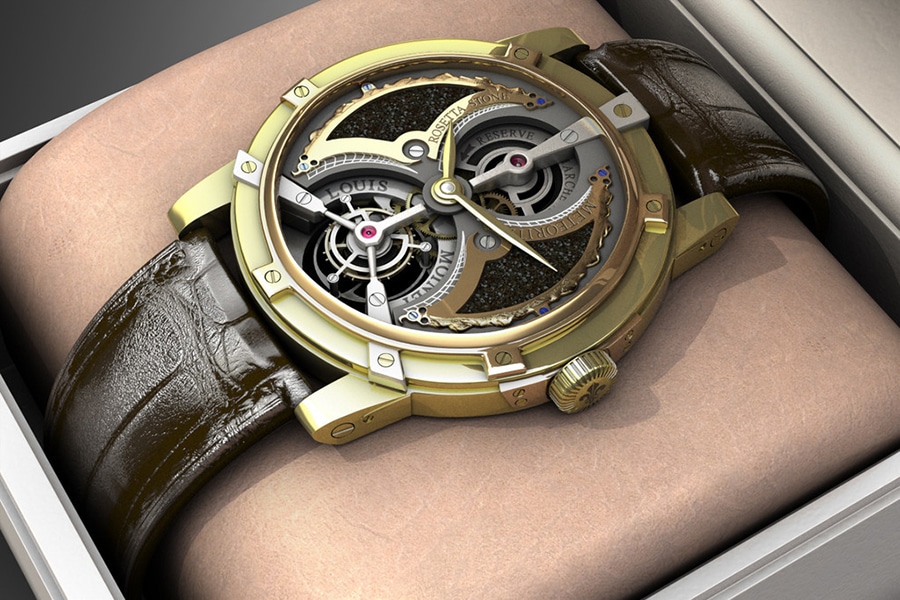 8. Louis Monet Meteoris
Speaking of intergalactic allure, the Louis Monet Meteoris incorporates actual space rock into its construction, which helps explain the high-end watch's astronomical price tag. Further contributing to its lofty price point are the simple laws of supply and demand, whereas only four of these beauties were made, each one unique from the other in subtle ways. Throw in some top-shelf mechanics–which can be seen through the skeletonised dial–and it's no wonder the piece demands such high numbers. And for those who don't recognise the name Louis Monet, he was the 18th century father of the chronograph. If nothing else, the expensive piece certainly delivers an endless supply of things to talk about. For one of the world's rarest watches, this $4.5 million price tag isn't the worst.
Price: $4.5 Million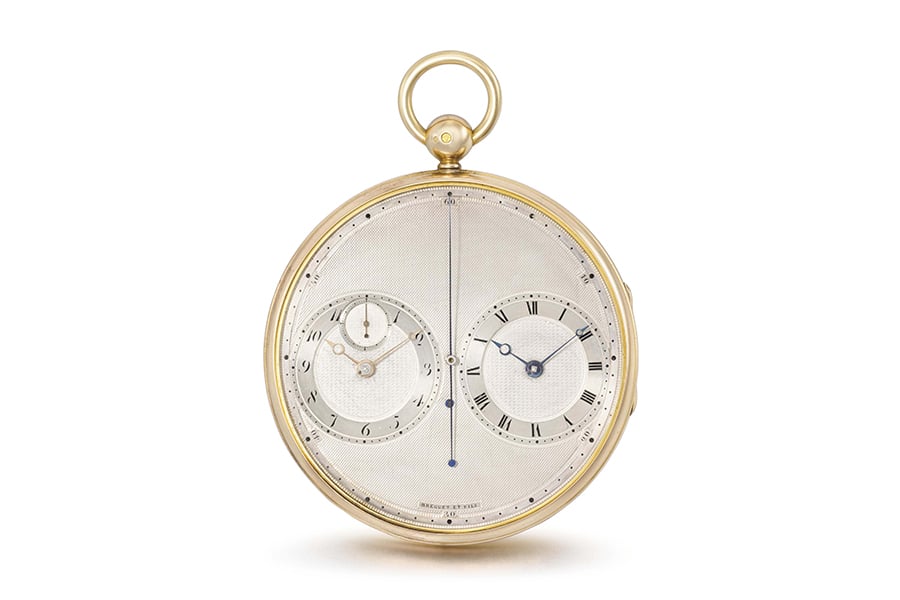 9. Breguet Antique Number 2667
Between its eye-catching case of 18k yellow gold, and its two oscillating bodies on the pristine dial, the Breguet Antique Number 2667 pocket watch infuses striking sophistication into a somewhat traditional aesthetic. As a result, the piece offers the best of two worlds, delivering classicism and distinction in equal measure. This train conductor's timepiece is something that most watch companies don't make anymore, which is probably why it comes at such a lofty cost.
Release date: 1814
What's special: 18K gold
Price: $4.5 Million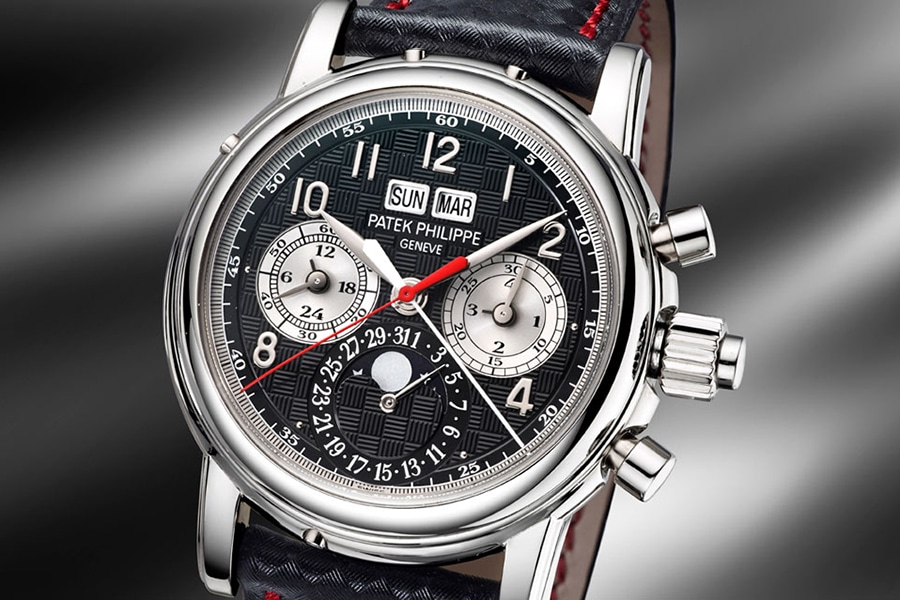 10. Patek Philippe 5004T
Created exclusively for auction in 2013, the Patek Philippe 5004T breaks out from the (now discontinued) 5004 collection in all sorts of radical ways. For instance, thanks to titanium construction, the piece serves up a sportier aesthetic than its conservative counterparts, and some bolder colour as well. It's therefore no wonder that the rare stunner invoked an intense bidding war, which topped out at just over $4 million. This luxury timepiece makes an excellent addition to any well-to-do individual's collection. That makes it one of the most expensive watches in the world, and the stuff of legend among collectors and enthusiasts.
Release date: 2013
What's special: Caliber CHR 27-70 Q movement; perpetual calendar
Price: $4 Million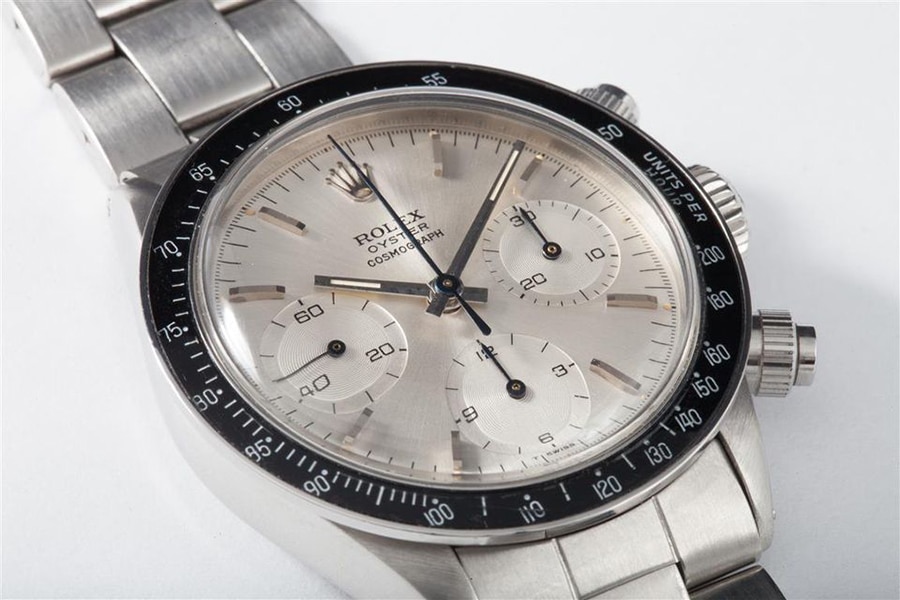 11. Rolex Daytona Ref. 6263 Oyster Albino
Named after the distinctive white hue on its chronograph subdials, the Rolex Daytona Ref. 6263 Oyster Albino is one of the world's most expensive watches from the world's foremost luxury brand. Also featured on the legendary timepiece is a stainless steel case, a stainless steel bracelet, and Caliber 727 under the skin. Guitar legend Eric Clapton once owned one, before throwing it up for auction in 2015.  Limited to four units, the supremely rare watch is simply dripping with collector appeal.
Release date: 1971
What's special: Calibre 727 manual wind movement; silver colored subdials for the chronograph
Price: $4 Million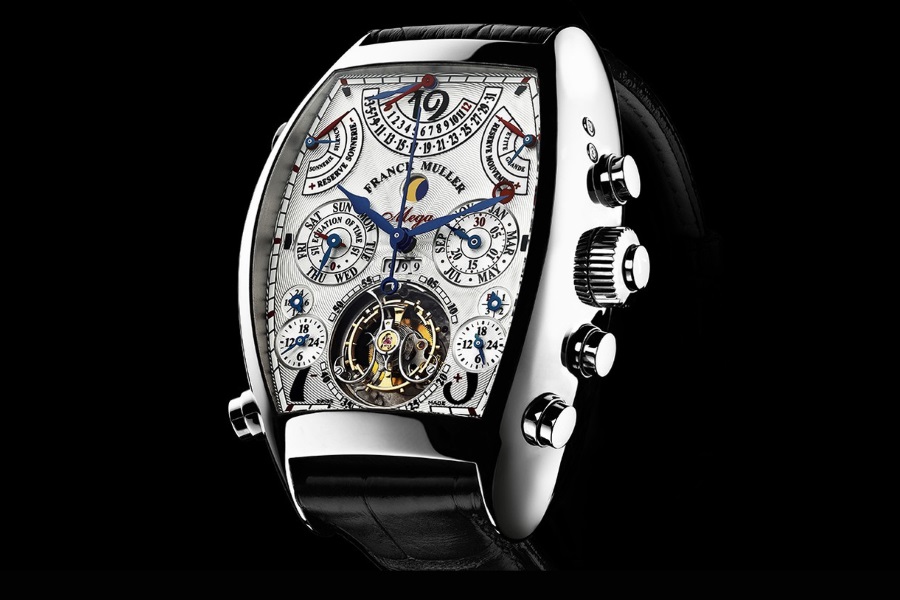 12. Franck Muller Aeternitas Mega 4
Not only is the Franck Muller Aeternitas Mega 4 among the most expensive watches in the world, it's also literally the most complicated. For proof, look no further than the watch face, which hosts enough intricacy and depth to make your head spin. Dive below that daunting surface (or peek through its window) and you'll find 1483 components and a record-breaking 36 complications total, including an eternally renewable calendar that doesn't need to be adjusted for 1000 years. A luxury brand fit for kings, literally.
Release date: 2009
What's special: 1483 different parts; 99 jewels; 36 complications: a mechanical Tourbillon, a Carillon-Westminster on four hammers and four gongs, a Chronograph with Fly-back mechanism and only one push-piece, a Perpetual Calendar Secular, an Equation of Time, two additional timezones, an Automatic self-winding mechanism for the movement and a Westminster carillon
Price: $2.7 Million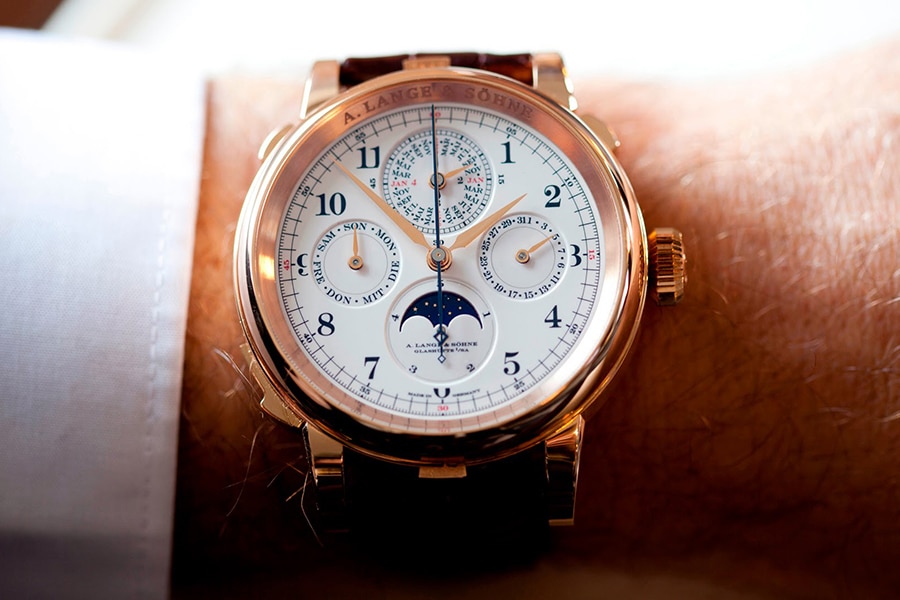 13. Lange & Söhne Grand Complication
It takes nearly a full year to manufactur the Grand Complication from Lange & Söhne, and the wristwatch goes to great lengths to remind you of the fact. Consisting of 876 parts, the luxury brand's most expensive timepiece hosts a hefty gold case that's 50mm in diameter and 20mm thick. Among its slew of high-end complications is a perpetual calendar with moonphase, split-seconds chronograph with flying seconds, and a grande and petite sonnerie with minute repeater. Owning one of these beauties will cost you, but you'll never question its value. A somewhat regular-looking "wear it to work" sort of watch, but with a very high price tag.
Release date: 2013
What's special: multifarious complications – Grand Sonnerie and Petite Sonnerie, a minute repeater; calibre L1902 movement
Price: $2.5 Million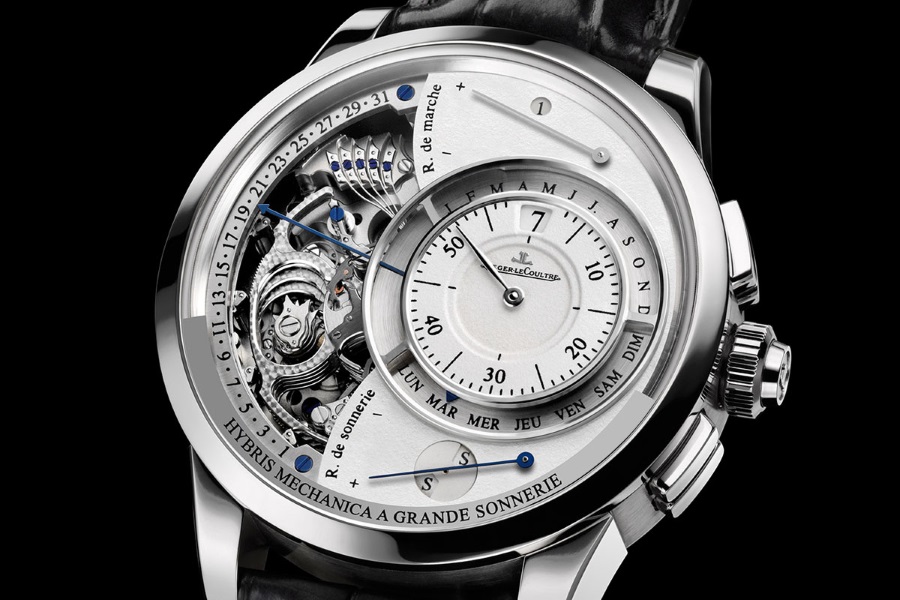 14. Jaeger-LeCoultre Hybris Mechanica Grande Sonnerie
Blending no less than 1406 parts to horological perfection, the Jaeger-LeCoultre Hybris Mechanica Grande delivers striking masculine allure and no shortage of impeccable steel functionality. Not only is the piece equipped with a range of modes and complications, but it plays a Westminster chime fashioned after Big Ben's own, thereby delivering one of the longest melodies on a Grand Sonnerie. All that and more arguably justifies the high price point on this mechanical stunner. This is one of the most stunning, expensive watches for men in the market.
Release date: 2009
What's special: 26 complications; Calibre 182 tourbillon movement (with over 1,300 parts); 45mm wide; 15mm tall case
Price: $2.5 Million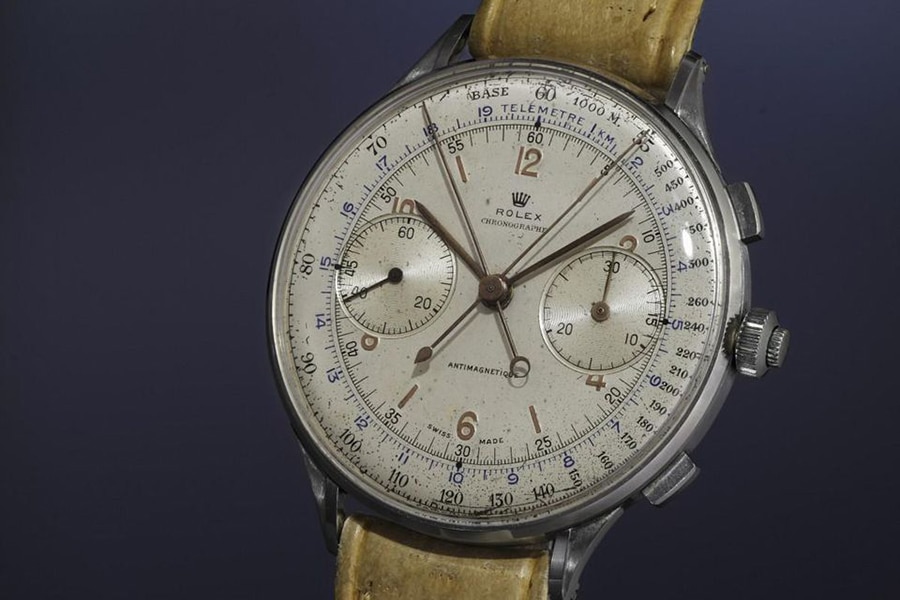 15. Rolex Antimagnetique Ref. 4113 from 1942
A truly rare beast, the Rolex Antimagnetique Ref. 4133 broke a record when it fetched over $2.4 million at a 2016 auction in Geneva. Manufactured in 1942, the split-seconds chronograph hosts a 44mm case of stainless steel. Only twelve examples are known to exist. One of the rarest watches in the world, combined with the fact that it's a Rolex, makes this a sought after chronograph.
Release date: 1942
What's special: oversized stainless steel split-seconds chronograph wristwatch
Price: $2.4 Million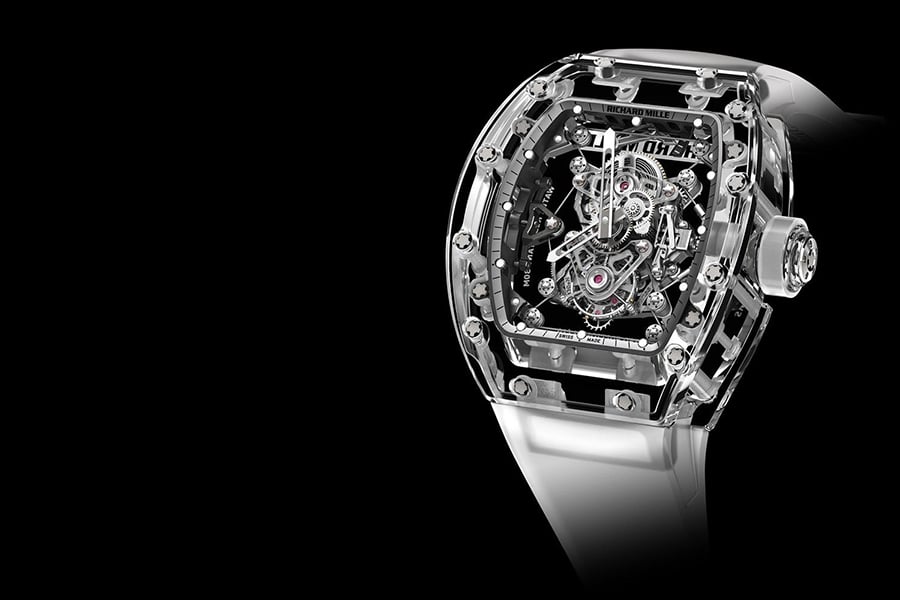 16. Richard Mille RM 56-02 Sapphire Tourbillon
Bolstered by unmistakable craftsmanship, the Richard Mille RM 56-02 Sapphire Tourbillon is a masterpiece of movement and detail alike. This sapphire wrist watch was introduced in 2014, and the split-seconds chronograph makes unparalleled use of sapphire crystal on the case. This furthermore suspends the complex movement (also made out of sapphire) within by way of a cable and pulley system. Put simply, there is no mistaking this piece for any other. Driving that point home is the fact that this is one of the most expensive watches for men in the world.
Release date: 2014
What's special: cable suspended movement; sapphire crystal case; two transparent nitrile O-rings with 24 spline screws made of titanium (grade 5)
Price: $2 Million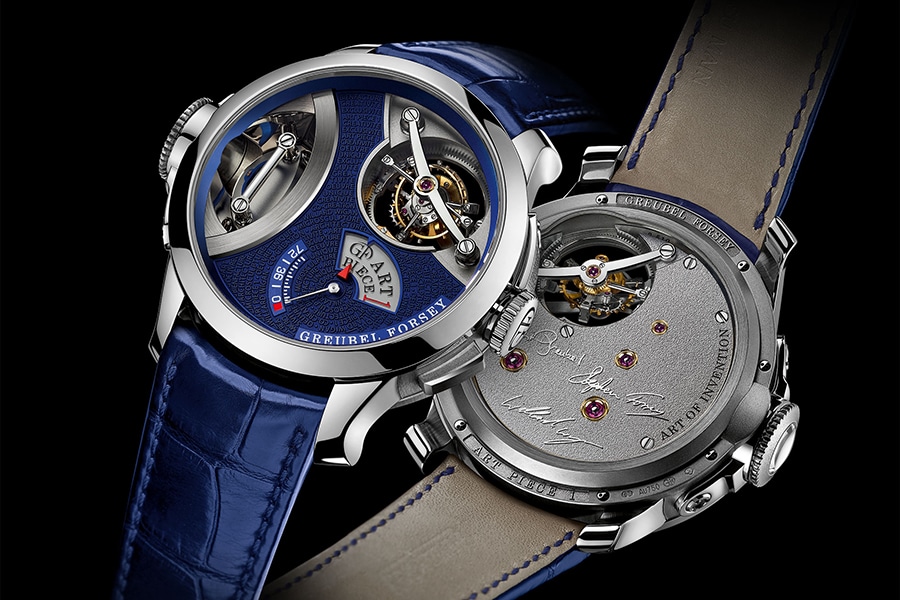 17. Greubel Forsey Art Piece 1
Featuring 30° inclined double tourbillon and a nano-sculpture that can only be seen through a microscope system in the watch crown, the Art Piece 1 by Greubel Forsey is a work of art, indeed. Take a peek through the tiny lens and you might find a ship, or a hummingbird, or a mask, or something new entirely. Of course, before you do that, you'll need to cough up a cool $1.5 million. This ain't no dollar watch, to say the least.
Release date: 2014
What's special: Greubel Forsey 30 degree double-tourbillon; Wigan microsculpture; blue coloured dial; a microsculpture seen through a 23x magnifier
Price: $1.5 Million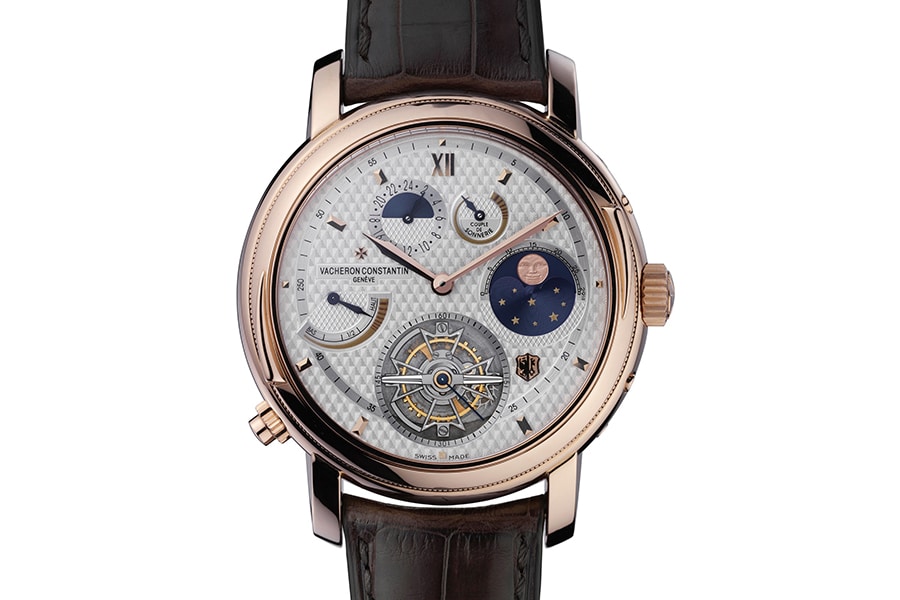 18. Vacheron Constantin Tour de I'Ile
Made in 2005 to honour Vacheron Constantin's 250th anniversary, the legendary Tour de l'Ile was considered the most complicated wristwatch of its day. Bolstered by a unique, double-sided design, the valuable watch is essentially an art piece that hosts tourbillon movement, perpetual calendar, dual times, moonphase and more. While not necessarily the grand champion of complications that it once was, the pocket watch still demands respect, admiration, and approximately 1.5 million big ones. When it comes to expensive watches for men, this is one of the finest available.
Release date: 2005
What's special: limited edition of 7 pieces; 16 horological complications; 834 individual parts; pure 18K gold; non-reflective blue sapphire glass
Price: $1.5 Million

19. Graff Diamonds Hallucination
True to its name, the Graff Diamonds Hallucination looks like something out of a high end collector's wildest fever dream. More than the most expensive watch ever made, this glimmering amalgamation of coloured diamonds (over 110 carats worth) is pure opulence, so much so that you get intimidated just by looking at pictures of it. Also included is a platinum bracelet, just in case the owner feels bold enough to try it on. Whether strapped to a wrist or displayed behind glass, the Hallucination takes haute horlogerie to its most luxurious extreme, and is thereby the #1 world's most expensive watch.
Release date: March 26, 2014
What's special: with 110ct extremely rare coloured diamonds
Price: $55 Million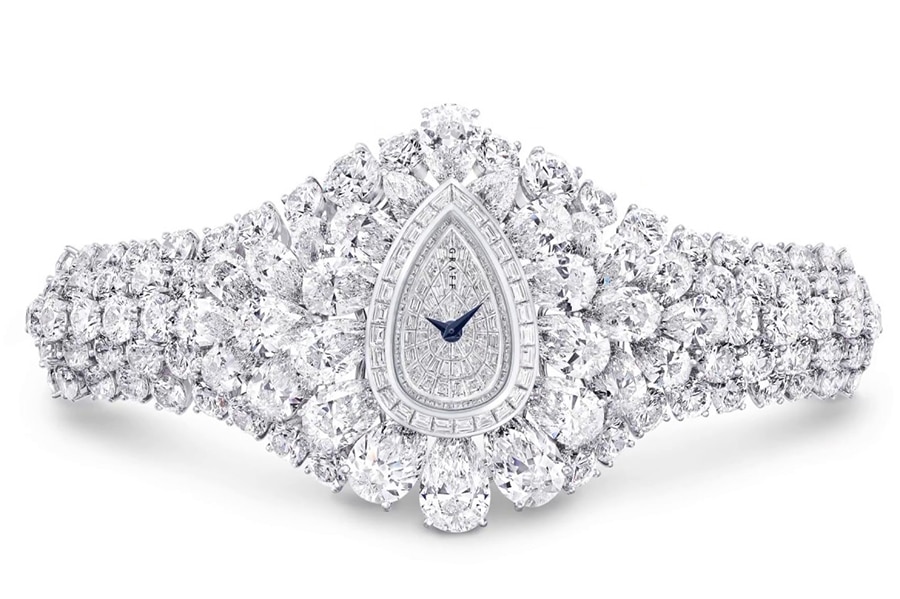 20. Graff Diamonds The Fascination
If traditional-looking diamonds are more your thing–and you happen to have $40 million to spare–by all means consider The Fascination from Graff Diamonds. It comes in as the world's second-most expensive watch, with 152.96 carats of white diamonds to show for it. As if that wasn't enough, the piece also features a detachable, 38.13 carat pear-shaped diamond in the centre, which doubles as a ring. Fascinating, indeed. Expensive, too. Very, very expensive. If you're into luxury to the nth extreme, The Fascination should be your #1 choice for a diamond wrist piece. When it comes to men's expensive watches for men, this is the one to buy.
Release date: March 19, 2015
What's special: 152.96-carat diamond wrist watch
Price: $40 million
General FAQ
What is the #1 watch in the world?
The top luxury watch brand is Patek Philipe, selling some rare, high end watches for millions of dollars each.
Which watch brand is the most expensive?
The most expensive watch brands are F.P. Journe, Richard Mille, Patek Phillipe and Audemars Piguet.
You'll also like:
31 Best Luxury Watch Brands
Rolex 'Hulk' Submariner – A History & Review
40 Best Minimalist Watches for Men