12 Best Sneaker Stores in Sydney
Our list of the 12 Best Sneaker Stores in Sydney contains some of these proverbial retail spring chickens while also including and paying homage to sneaker shops that have been around long before sneaker hysteria engulfed the city, state, nation and a generation.
Whether you're a fan of the sneaker staples Nike and adidas or enjoy the obscure albeit unique brands, when it comes to sneaker stores, Sydney has got you covered . The kicks appreciation culture has exploded in the last few years with many new sneaker shops popping up to provide only the best shoes to an adoring public, while also providing a one of a kind customer service experience.
You'll also like:
Blacked Out – The Best Triple Black Sneakers
12 Best Sneaker Blogs
Top 10 Sneakers You Can Wear to Work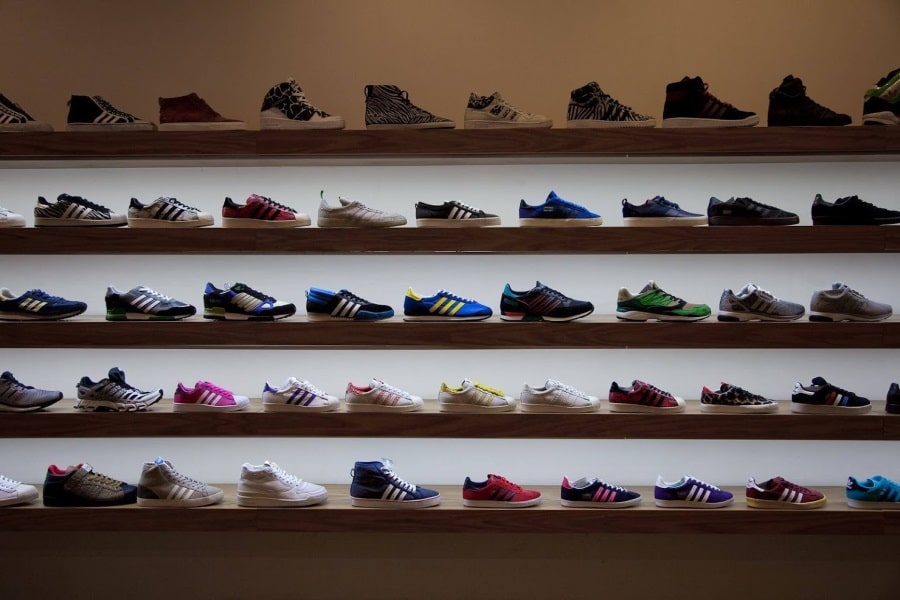 1. Espionage
Since opening its doors way back in 2002, Espionage has had a goal to offer exclusive urban/streetwear clothing and sneakers, giving their customers an option outside of the mainstream. Looking to find the best of the new or the "up and coming" brands, while also providing such high-end brands like Y-3 and Hood By Air, Espionage has made profound impact on the Sydney sneaker game for good reasons, mainly for providing an array of choices to every discerning customer. Espionage is your classic Sydney sneaker store.
Address: 2/22-26 Goulburn Street, Sydney NSW 2000
Phone: +61 2 9264 9704
Hours: Mon-Wed 11am-9pm, Thu-Fri 11am-10pm, Sat 10am-10pm, Sun 11:30am-9pm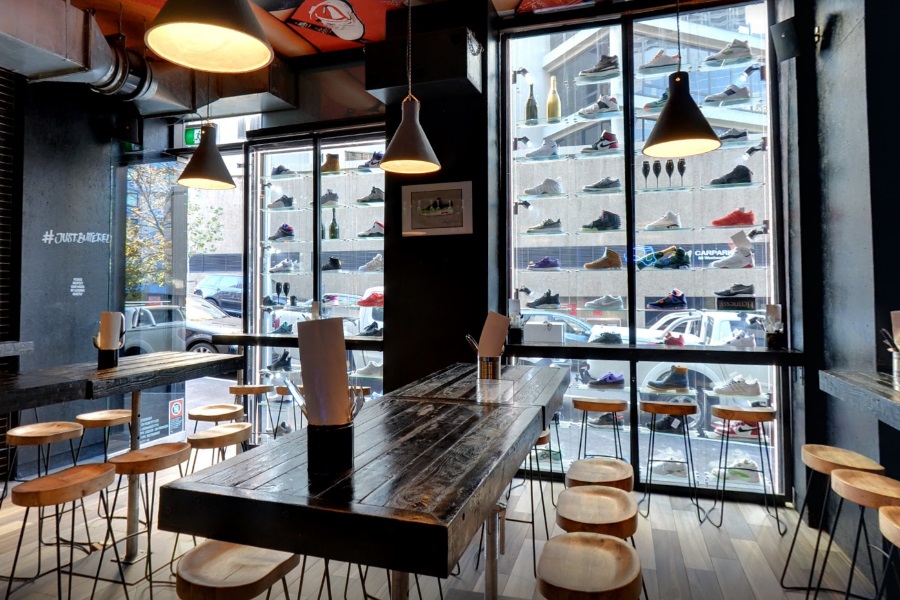 2. Butter
Creativity is a word that is thrown around these days a bit like larrikin or iconic (terms which $#!+ me to tears) but Butter is certainly a creative and unique shop. As made plainly evident in the about section of Butter's website, the Sydney store is a "Hybrid sneaker, fried chicken and champagne bar in Surry Hills, Sydney". I mean what else can you say but chicken, bubbles and shoes together at last. If it's good enough for the Wu-Tang Clan than it's got to be good for everyone.
Address: 6 Hunt Street, Surry Hills NSW 2010
Phone: +61 2 8283 9146
Hours: Mon-Wed 11:30am-10pm, Thu-Sat 11:30am-12am, Sun 12pm-10pm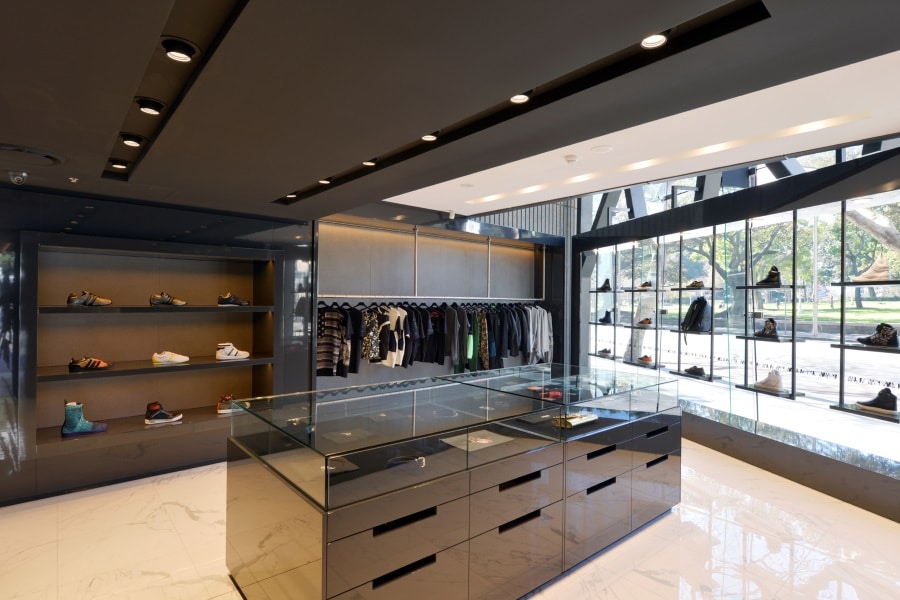 3. Republic Boutique
When looking for sneakers, Sydney has plenty of options. This Sydney sneaker shop prides itself on being a boutique that offers only the finest in luxury sneaker brands. With a heavy focus on European brands, Republic Boutique is the place to go if you are looking to load up your footwear arsenal with brands such as KENZO, Alexander McQueen, YEEZY, Y-3 and Versace.
Address: Shop 2A, 227 Elizabeth Street, Sydney NSW 2000
Phone: +61 2 9283 6267
Hours: Mon-Fri 10am-9pm, Sat-Sun 11am-9pm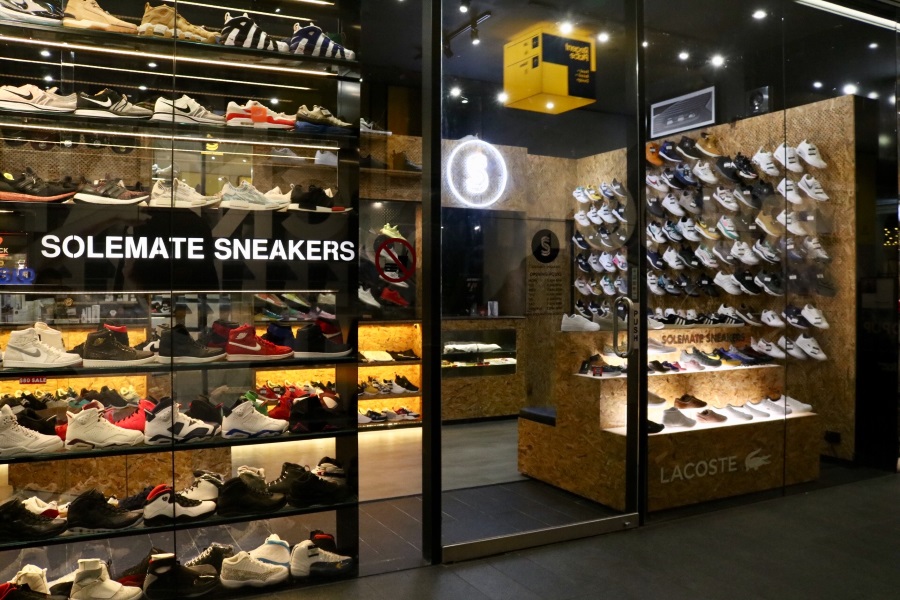 4. Solemate Sneaker Boutique
Solemate Sneakers is a Sydney sneaker boutique established in 2012. Offering the coolest kicks to come into Sydney, the shop provides a sneaker consignment element, which is pretty cool. Their real strength, however, is the fact their shelves are adorned with some of the rarest and freshest sneakers this town has seen, with rare releases from Nike, Saucony, Le Coq Sportif and Timberland. Solemate makes sure that Sydney's sneakers are always fresh, unique and stylish. Solemate is one of the trendiest sneaker shops Sydney has to offer.
Address: Shop 16B/501 George Street, Sydney NSW 2000
Phone: +61 2 7900 3569
Hours: Mon-Wed & Sat 11am-8pm, Thu-Fri 11am-9pm, Sun 12pm-6pm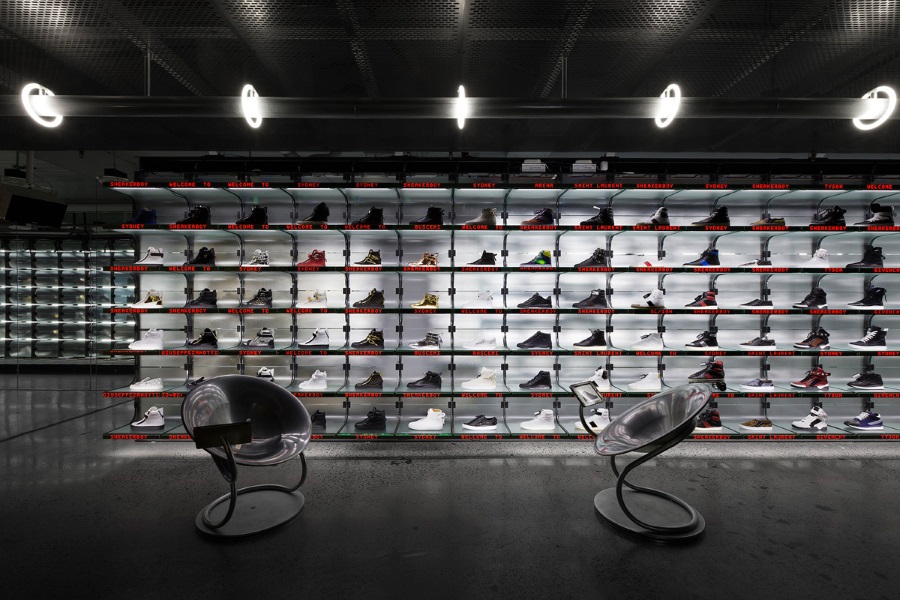 5. Sneakerboy Sydney
Combining luxury with a distinctive service, Sneakerboy ensures that shoppers visiting the store are leaving tangibly empty handed. Confused? Fair enough, basically Sneakerboy allows customers to come into their store, try any of their wide variety of sneakers on and then purchase the shoes online. Within a few days the shoes arrive at your door and the service is complete. Strange yet intriguing, give it a try at the aptly named Temperance Lane shopfront.
Address: 3 Temperance Lane, Sydney NSW 2000
Phone: +61 2 9279 4066
Hours: Mon-Wed & Fri-Sat 10am-6:30pm, Thu 10am-9pm, Sun 11am-6pm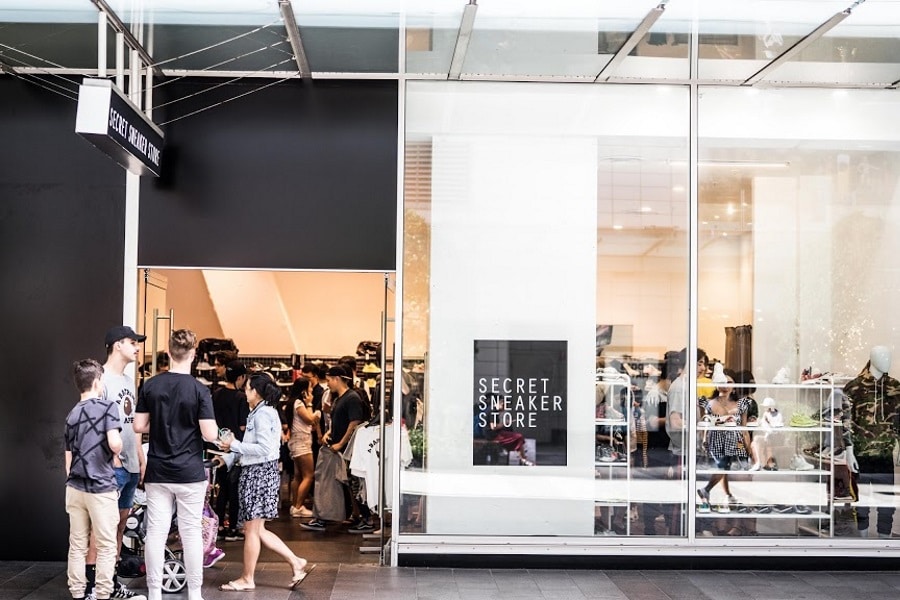 6. Secret Sneaker Store
The secret's out (I'm ashamed of that), the Secret Sneaker Store in Sydney is a new and clever retail concept capitalising on the sneaker convention concept. Bringing together all the Hypebeasts and Sneakerheads under one roof, Secret Sneaker Store of SSS offers buying events with every new location opening similar say to a pop up. Creating and fostering a community of kicksologists (It's a word, look it up) SSS is all about the shoes and people.
Address: Shop 1001A Level 1 Westfield Sydney (Opposite Nike), Pitt St & Market St, Sydney NSW 2000
Phone: 02 9222 4123
Hours: Mon-Wed & Fri-Sat 9:30am-7pm, Thu 9:30am-9pm, Sun 10am-7pm
7. Subtype Store
To Subtype the word exclusivity reigns supreme. The Subtype store is a curated gallery experience showcasing limited and meticulously selected sneaker styles from the very best collections globally. When it comes to Sydney sneaker stores, Subtype is very much among the upper echelon, wanting their customers to fall in love with their sneakers while also being a part of their customers sneaker story is of the utmost concern for Subtype and we salute them because of this.
Address: World Square Shop 10.18 644 George St, Sydney, NSW 2000
Phone: 02 9054 0626
Hours: Mon-Wed & Fri-Sat 10am-7pm, Thu 10am-9pm, Sun 11am-5pm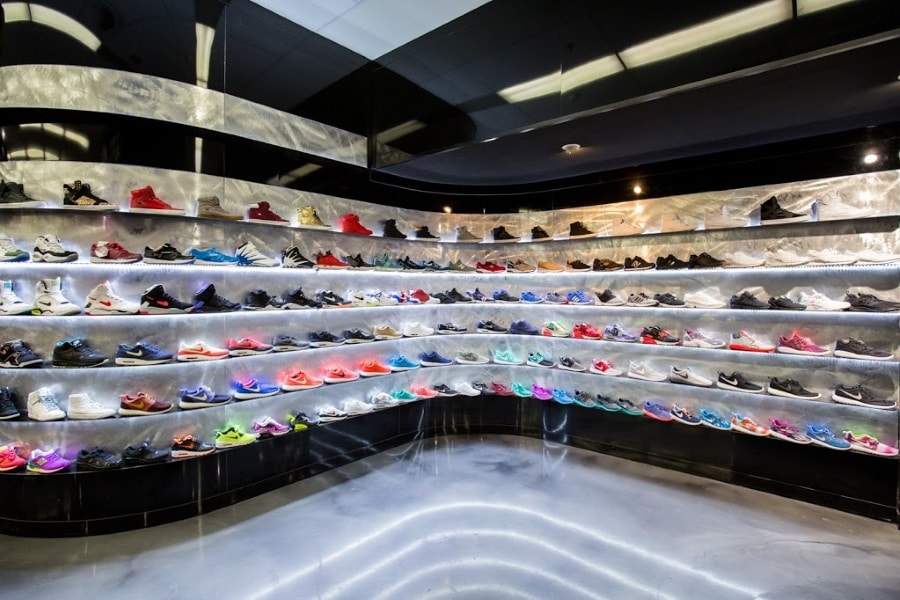 8. Culture Kings Sydney
Culture Kings Sydney is a modernised, streetwear Shangri-La, home to the most extensive and sought-after range of streetwear from all corners of the globe. Featuring an incredible range of over 100 brands that cross all different aspects of sport, music and fashion. Capitalising on the popularity of this form of fashion amongst millennials, Culture Kings Sydney additionally has an on site Barbers and the occasional live DJ, ensuring your visit is noteworthy.
Address: 420 George Street, Sydney NSW 2000
Phone: +61 2 9232 0473
Hours: Sun-Wed 10am-6pm, Thu 10am-9pm, Fri 10am-7pm, Sat 9:30am-6:30pm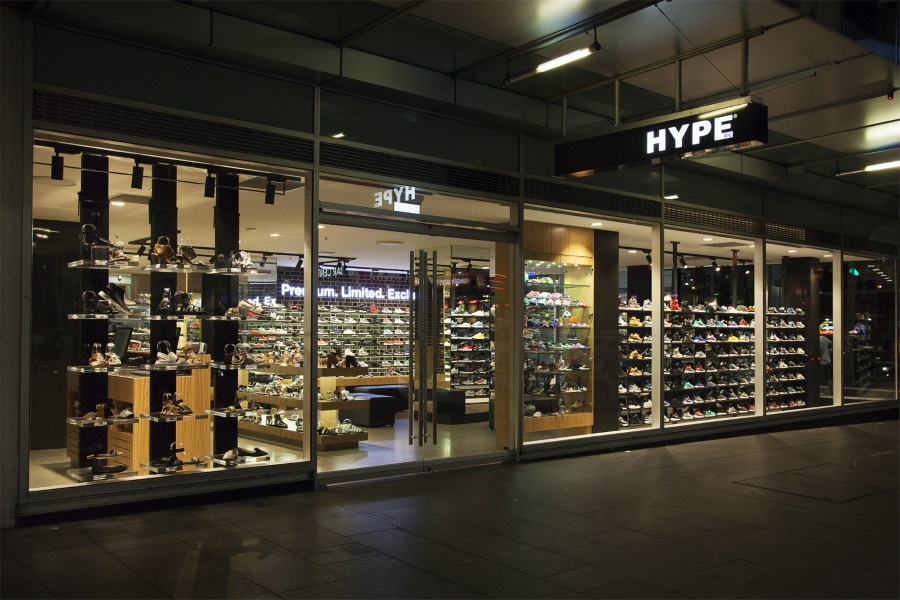 9. HYPE DC
If you are looking for a more restrained and refined sneaker purchasing experience than look no further than HYPE DC. With outlets popping up all over Sydney you're sure to find a bricks and mortar establishment which houses a wide array of sneaker brands for all tastes and budgets.
Address: 455 George Street, Sydney NSW 2000
Phone: +61 2 9230 0212
Hours: Mon-Sat 9am-6pm, Sun 10am-5pm
Address: Queen Victoria Building, 50/455 George St, Sydney NSW 2000, Australia
Phone: +61 2 9055 7460
Hours: Mon-Wed & Fri-Sat 9am-6:30pm, Thu 9am-9pm, Sun 11am-5pm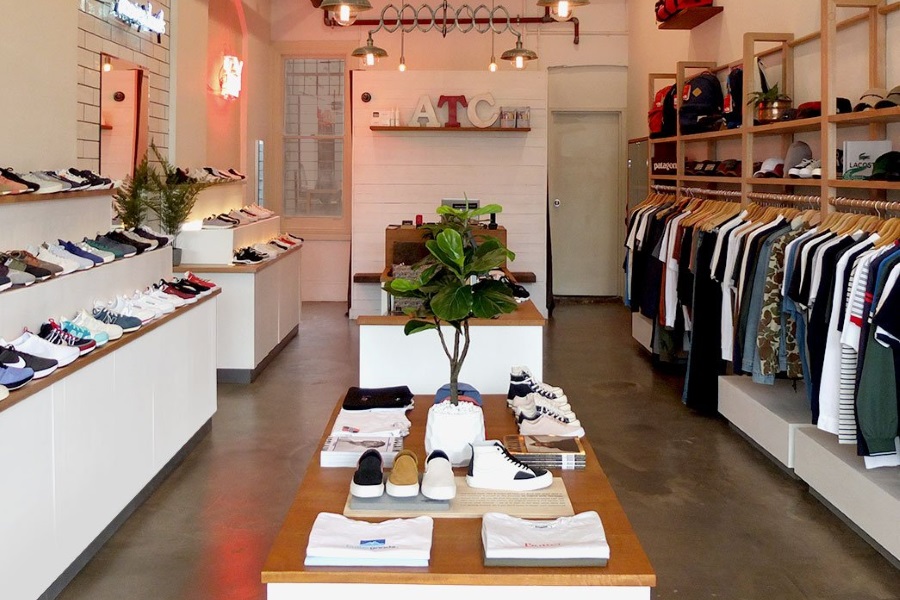 10. Above the Clouds
Another staple when it comes to Sydney sneakers stores, this Darlinghurst boutique is one that combines an array of brands with expert customer service. Despite the diminutive store size, Above the Clouds has an extensive range not only focussing on sneakers but also exclusive streetwear brands from all across the globe. Pop in the shop to experience a superb Sydney sneaker shopping experience.
Address: Shop 4/285a Crown St, Surry Hills NSW 2010, Australia
Phone: +61 2 8386 1458
Hours: Mon-Wed & Fri-Sat 10am-6pm, Thu 10am-7pm, Sun 12pm-5pm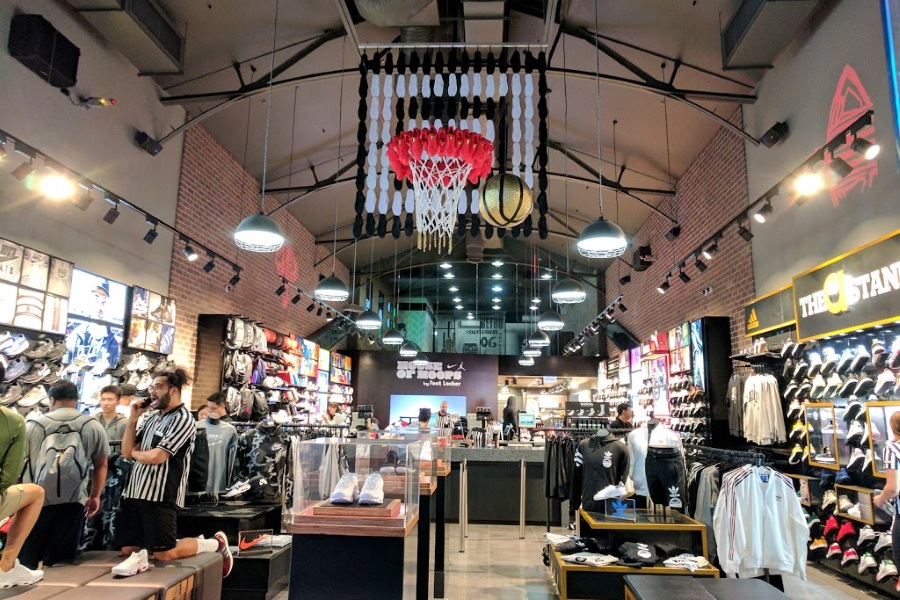 11. Foot Locker
What sneaker shop list would be completed without the one, the only, Foot Locker. A Goliath global sneaker retailer Foot Locker provides not only the latest and greatest from such brands a Nike, Adidas and Converse but also an in-depth knowledge in various aspects of the footwear industry. With locations all over Sydney, you're sure to spot the shop with the referee garb adorned staff you know you're getting the best.
Address: 800 Grand Lake Road, Sydney, NS B1P6S9
Phone: (902) 539-9599
Hours: Mon-Sat 10am-9pm, Sun 11:30am-5pm
Address: 525 George Street, Sydney NSW 2000
Phone: +61 2 9307 8500
Hours: Mon-Sun 9am-9pm
Address: Westfield Sydney, 188 Pitt St, Sydney NSW 2000, Australia
Phone: +61 2 9504 4000
Hours: Mon-Wed & Fri-Sat 9:30am-7pm, Thu 9:30am-9pm, Sun 10am-7pm
12. Platypus
Housing an extensive collection of iconic global brands, Platypus prides itself on stocking the latest and greatest footwear and apparel. Their range is carefully selected so you can find a treasured iconic style or a newly engineered silhouette. With a team that walk and talk sneakers and a store base of over 70 locations spanning Australia and New Zealand, you're sure to find your perfect pair, and who said that monotremes couldn't sell shoes?
Addresss: 462 George Street, Sydney NSW 2000
Phone: 61 2 9286 3855
Hours: Mon-Wed & Fri-Sat 9am-8pm, Thu 9am-10pm, Sun 10am-7pm
Address: 275 King St, Newtown NSW 2042, Australia
Phone: +61 2 9565 4594
Hours: Mon-Wed & Fri 9:30am-7pm, Thu 9:30am-8pm, Sat-Sun 10am-6pm
Address: 9-13 Hay St, Haymarket NSW 2000, Australia
Phone: +61 2 9280 2890
Hours: Mon-Wed & Fri-Sun 10am-7pm, Thu 10am-8pm
Address: 124 Campbell Parade, Bondi Beach NSW 2026, Australia
Phone: +61 2 9159 9182
Hours: Mon-Sun 9am-7pm
You'll also like:
Blacked Out – The Best Triple Black Sneakers
12 Best Sneaker Blogs
Top 10 Sneakers You Can Wear to Work