10 Best Australian Boots Brands to Give You a Leg Up
The best Australian boots are made for walking, and presuming you already own a pair, that's just what they'll do. Just like your favourite Nike sneakers, Australian made boots are also made for so much more than walking, as if you didn't already know. Coming to you from a range of the best Australian boots brands, they're good for everything from hiking to working or just looking stylish (talking to you RM wearers).
Speaking of the best Australian made boots, a number of them have been around for ages. In the process, they've helped cultivate an identifiable style of an Australian work boot, which typically features a leather upper, pull tabs on the front and back, polyurethane soles, and no tongue or laces. For those extra intense work environments, you might even find the occasional steel toe cap. It all keeps us Aussies safe on the job, no matter how brutal that job may be.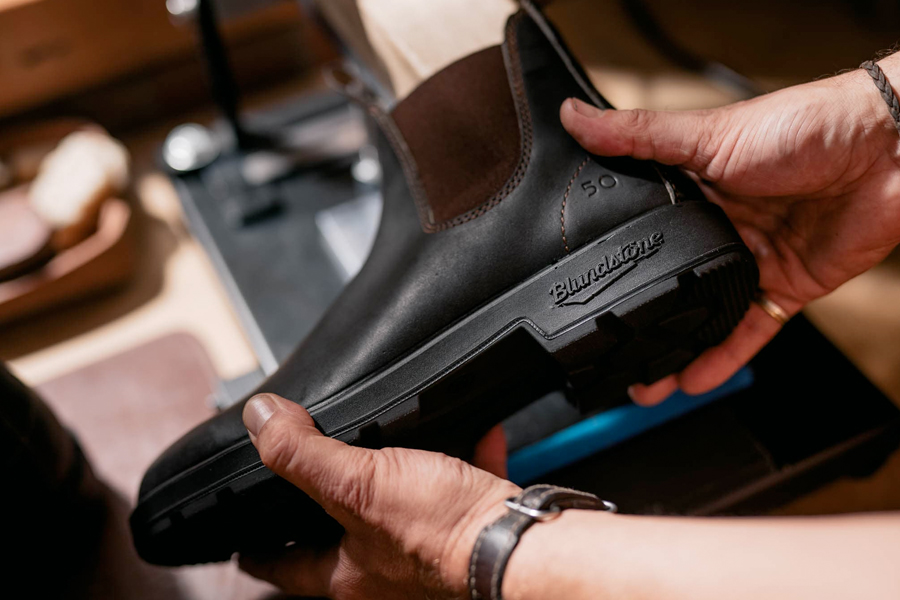 Of course, following in the footsteps of the best shoemakers in the world, Australian work boots are but one of a number of different boot styles on offer. For example, if you're seeking a pair of quality Chelsea boots or premium chukkas, many of the best Aussie boot brands have you covered. It's thus with great honour that we present our list of the 10 best Australian boots brands, which leaves no style or situation behind.
You'll also like:
11 Best Australian Men's Shoe Brands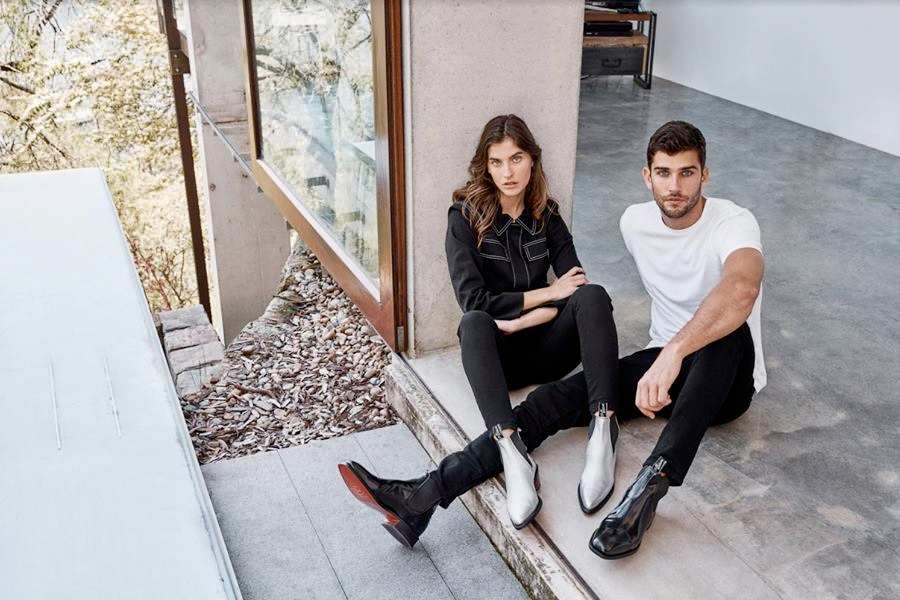 1. R.M. Williams
The one, the only: R.M. Williams. This legendary boots brand is named for its legendary founder, who once spent three years trekking through the Australian desert when he was in his late teens and early 20s. Empowered by his indomitable spirit and entrepreneurial instincts, Williams would eventually forge an empire, defining Australian bushwear style in the process. Here we are decades later and the brand's iconic boots are still handcrafted from a single piece of leather, making them some of the best you can buy. Just ask spokesman Hugh Jackman.
Founder: Reginald Murray Williams
Year Established: 1932
Headquarters: Salisbury, South Australia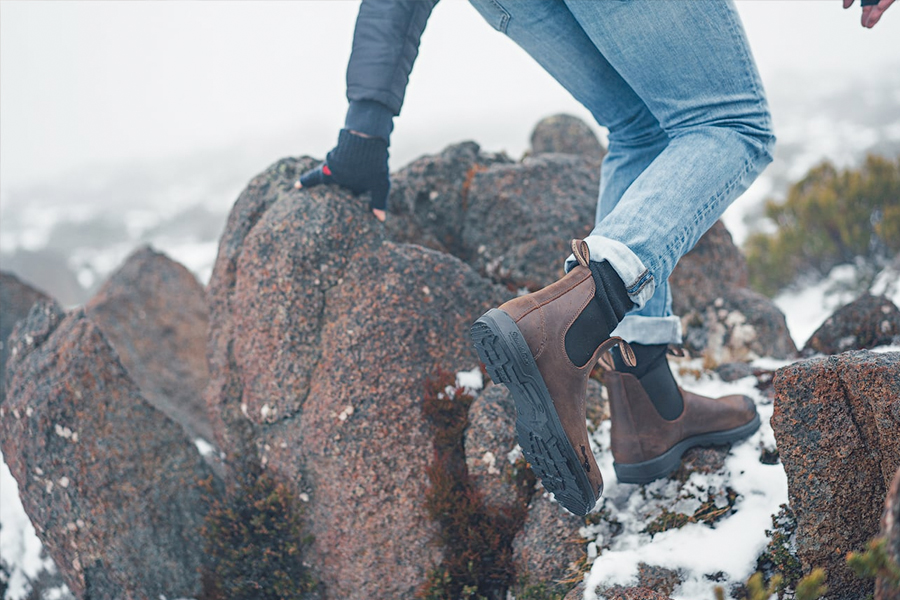 2. Blundstone
Blundstone goes all the way back to 1870, using the time since to craft the perfect Australian work boot. Featuring a downright classic Aussie design (i.e. leather construction and no tongue or laces), the boot delivers safety, comfort, and durability in equal measure. Over the years, the brand has expanded its operation, stepping into the respective lifestyle and outdoor arenas. As such, you can find it all within their glorious inventory.
---
Featured Video from Man of Many
---
Founder: John Blundstone, et al.
Year Established: 1853
Headquarters: Hobart, Tasmania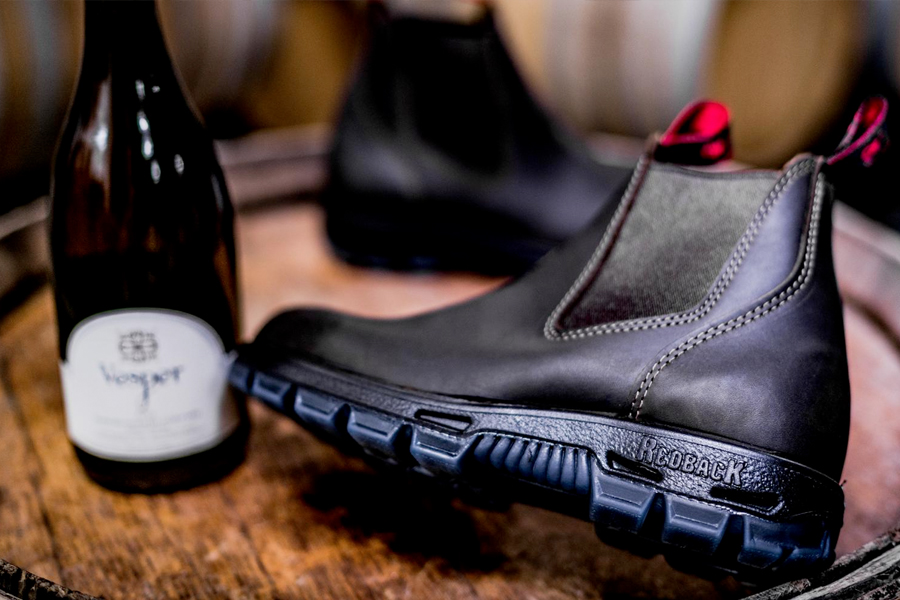 3. Redback Boots
The 100% authentic Australian made work boots from Redback are "built as tough as the people who wear them." They're also safe and comfortable by design, featuring full-grain leather construction and a variety of optimal details. The brand's best-seller is the Easy Escape, a slip-resistant leather work boot with elastic sides and a signature logo on the pull tabs. No matter what your environment, Redback Boots has you covered.
Founder: Cloros family
Year Established: 1927
Headquarters: Alexandria, New South Wales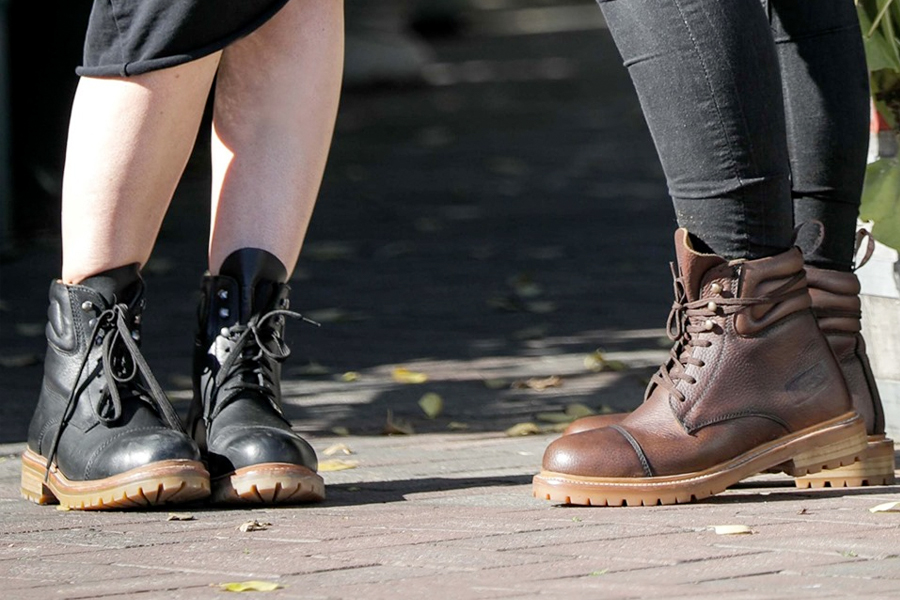 4. Rossi Boots
Here's another seasoned brand that's mastered the art of the classic Australian work boots. Since 1910, Rossi Boots has catered to a full spectrum of industries and environments. That's truer now than ever before, with a slate of dress boots and desert boots to show for it. Thanks to a broad network of distributors, the label also spreads Aussie quality and design to the world at large. If you don't want to overthink the whole work boot-buying process, consider this the beginning and end of your journey.
Founder: Arthur Rossiter
Year Established: 1910
Headquarters: Kilburn, South Australia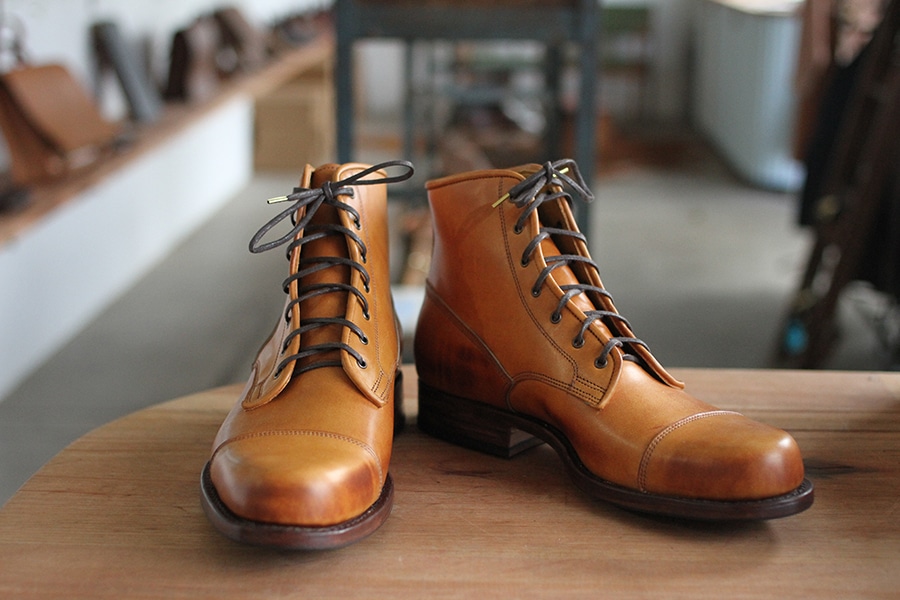 5. Wootten
As if conjuring the spirit of a bygone era, head cordwainer Jess Cameron-Wootten (son of bespoke footwear maker Ross Wootten) custom-makes his boots to order, meaning a little patience is key. He plies his craft at a solitary workshop in Victoria, engaging with customers through a Melbourne storefront. It all results in a truly palpable tier of quality, the kind of which can be seen in every spare stitch. In addition to offering boots of all styles, Wootten also custom-makes its own athletic footwear. The brand's bags and aprons likewise brim with the artisanal touch.
Founder: Ross Wootten
Year Established: 1975
Headquarters: Melbourne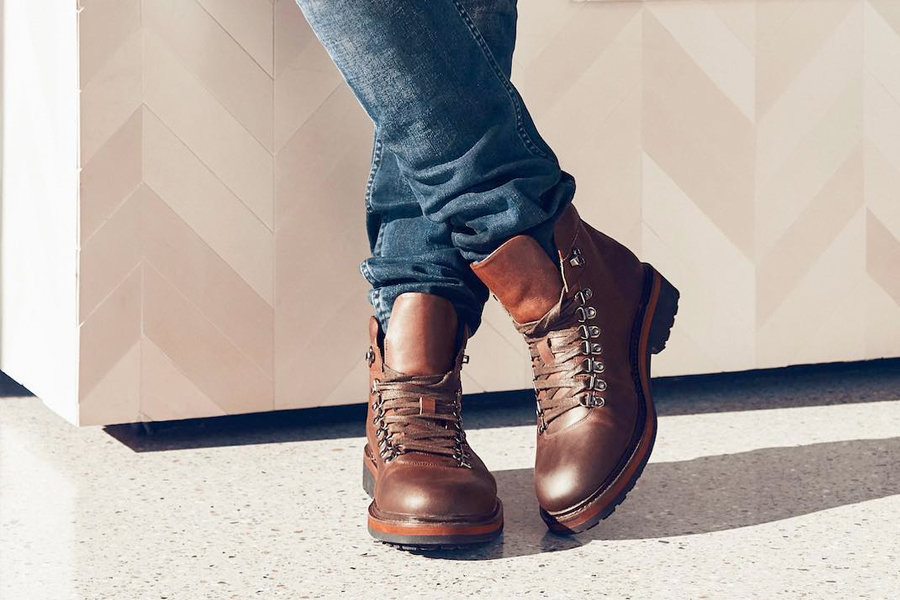 6. Julius Marlow
Looking for a pair of Australian Chelsea boots? How about hiking boots, suede boots, zip boots, chukka boots, work boots, or dress boots? You can probably figure out where we're going with this: to Julius Marlow, where no type, size, or style gets left behind. No matter what you're seeking, you'll find it here. Start exploring now.
Founder: Ivor Trescowthick
Year Established: 1934
Headquarters: Melbourne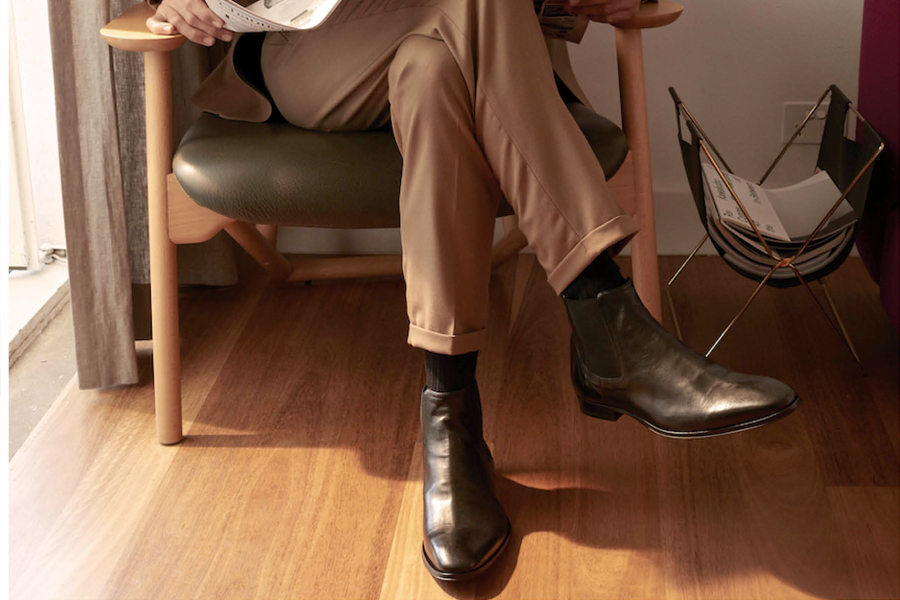 7. Aquila
What began in a Melbourne workshop circa 1958 has since grown into a nationwide brand, with over 40 locations throughout Australia. Now overseen by the third generation of original family members, Aquila (which translates to 'Eagle') continues to incorporate a European influence, all while maintaining the utmost dedication toward quality and style. It all results in some truly fashionable footwear, along with premium accessories like belts, wallets, ties, and socks. This is everything the modern man can ask for in a top Australian brand.
Founder: Tony Longo
Year Established: 1958
Headquarters: Melbourne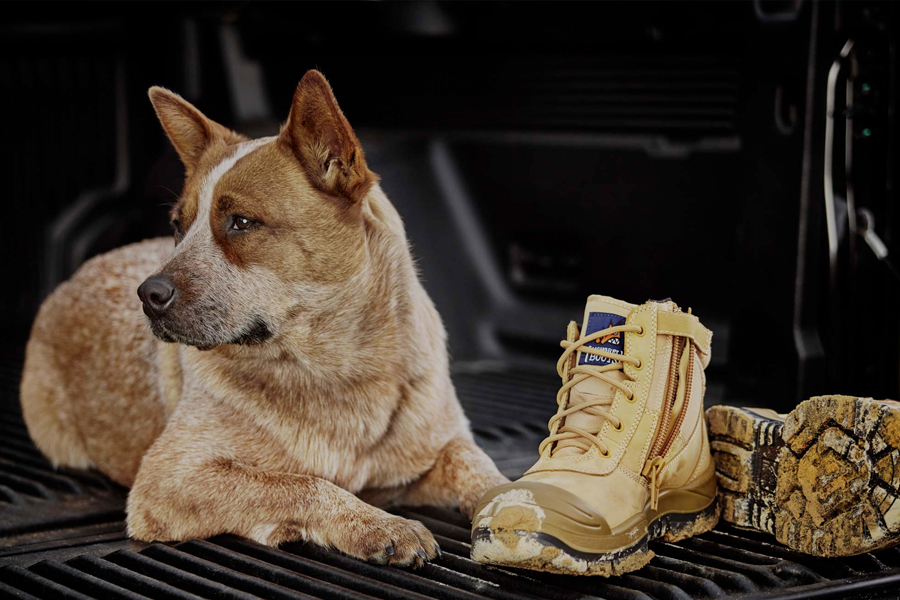 8. Mongrel Boots
True to its name, Mongrel Boots gets downright savage when it comes to the Australian work boots. Born and bred on native soil, the brand rocketed to success on the back of its zip-side style boots, which remain a category leader here in Australia. Even as the label grows, its output remains identifiable by way of design and endurance alike.
Founder: Victor Footwear (since 1930)
Year Established: 2000
Headquarters: Sydney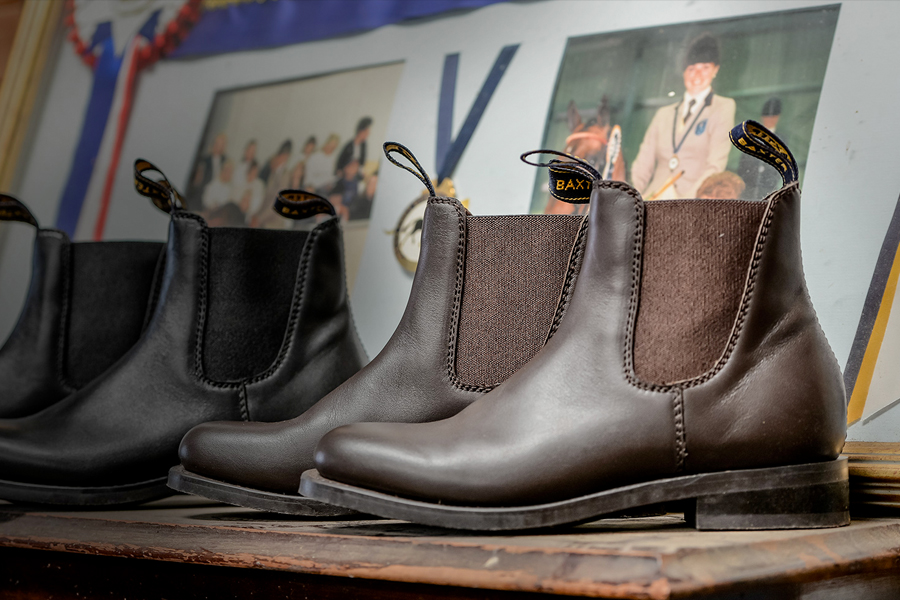 9. Baxter Boots & Shoes
Presenting yet another brand that goes way back. Just how far back, you ask? Try all the way back to 1850. It's then no surprise that Baxter Boots & Shoes has quality and craftsmanship on lock, and a massive following to boot (no pun intended). The brand's trademark elastic sided riding boots remain the stuff of legend.
Founder: Henry Baxter
Year Established: 1885
Headquarters: Goulburn, Australia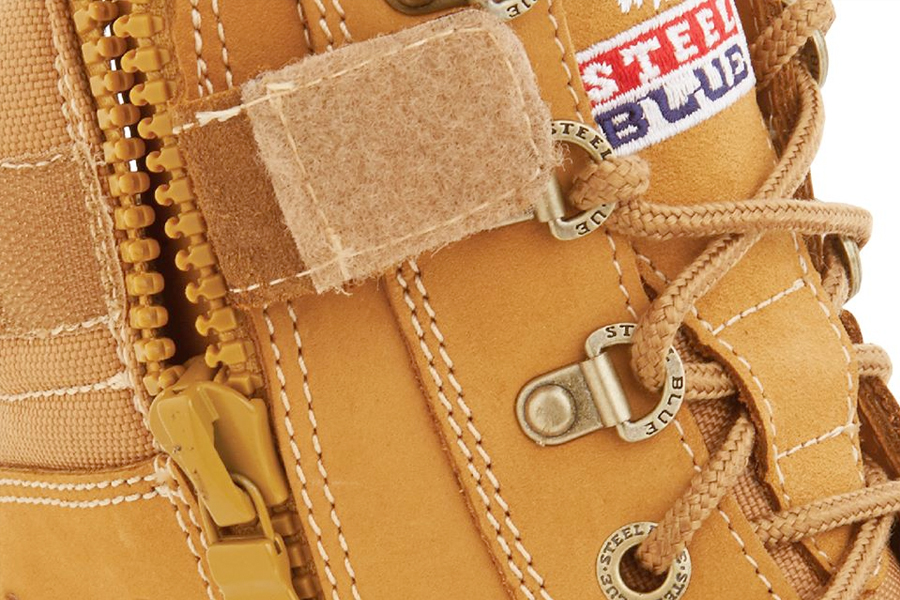 10. Steel Blue
Capping off our list of the best Australian made boots is Steel Blue. 100% Aussie owned, the label has been providing comfortable and resilient footwear since 1995, penetrating both national and international markets in the process. Packed with innovation, the boots feature patented soling system cushions, heat resistant outsoles, electrical protection, Ortho Rebound Footbeds, full-grain leather construction, and elite Toe Cap technology, among other things. The name pretty much says it all: these boots are tough as steel (albeit much cosier).
Founder: Ross Fitzgerald, Nev Hurring, Peter Nichols and Brian Piggott
Year Established: 1995
Headquarters: Malaga, Western Australia
Interested in more stories about footwear? Here are a few stories to get you started:
Alternatives to the Best Australian Boot Brands
Other Popular Footwear for Men
Best Shoe Repair Stores in Melbourne & Sydney
You'll also like:
General FAQ
What boots are made in Australia?
Some of Australia's foremost bootmakers are as follows: R.M. Williams, Blundstone, Rossi, Wootten, and Mongrel.
What are the best work boots in Australia?
Some of the best work boots in Australia are as follows: Blundstone 992, Rossi 700 Trojan Safety, Redback Alpine, Steel Blue Argyle Zip, and Blundstone 990.
Which brand of boots is the best?
In Australia, some of the best boot brands are R.M. Williams, Rossi, Blundstone, Redback, Wootten, Julius Marlow, Steel Blue, and Mongrel.
---
Featured Video from Man of Many