Nike Generates US$800 Million in Air Force 1 Sales Per Year
Nike is going hard in its fight against custom sneaker makers. And it's stepped up its game by lodging formal trademark complaints against multiple entities. Early last week, Nike filed two customization-centric lawsuits against Drip Creationz and KickRich. The latter of which uncovered some well know facts about the Nike Air Force 1 model. As well as a handful of unbelievable facts about how much money the Air Force 1 generates for the brand per year.
Amongst a number of ideas outlined by Nike in the case law, they stated "the Air Force 1 shoe remains incredibly popular and has maintained sales in excess of 800 million dollars per year," as seen in paragraph 76 of the document. That equates to around US$300 million in profit off one sneaker silhouette per year. So the question lingers, why are they suing a couple of sole trading sneaker customisers? Let's find out.
You'll also like:
World's Most Expensive Sneakers Just Sold for $2.2 Million
The brand is suing both parties for similar reasons, accusing them of trademark infringement in connection with their well-known customisation practices. Stating the defendant (KickRich) is "reselling Nike and Converse products that have been materially altered in ways that the brands have never approved or authorized," thereby disturbing the way in which the brands "carefully manage collaborations with and thoughtfully select where, when, and how often their marks are used to guide the public perception for their iconic brands," the court documents show.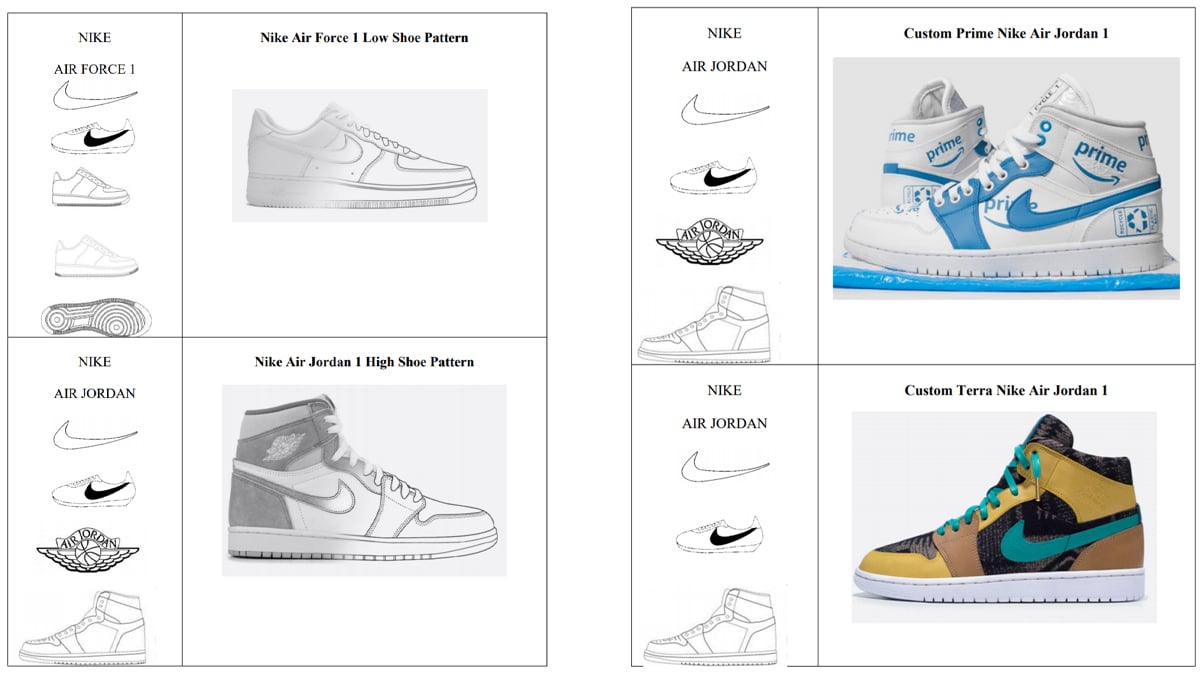 The defendant Jeffrey Waskowiak was a former employee of Nike and the brand is claiming that he and other custom sneaker makers are using Nikes trademark silhouettes to market "custom" footwear products that "combine purportedly genuine Nike shoe soles with uppers fabricated entirely by the defendants," and include "reproductions of Nike's famous Swoosh design and other protected trade dress," and then selling them for "hundreds or up to several thousand dollars each." Which, quite frankly, is exactly what seems to be happening.
While we won't divulge into the detail's of the case as they're substantial, Nike points to shoes (as seen above) that the defendants promote. Take, for example, the "Custom Prime Nike Air Jordan 1," which the brand claims "falsely affiliates Nike with Amazon" and it certainly appears that way.
And it didn't stop there, in another blow to the customer sneaker makers, Nike and Converse claim that KickRich's "infringement and dilution does not end there" they also "make and sell laser cut and digital download 'shoe patterns' (seen above) that allow others to make fakes for several of Nike's iconic and trade-dress protected footwear styles, including the Air Force 1, the Dunk, and the Air Jordan 1."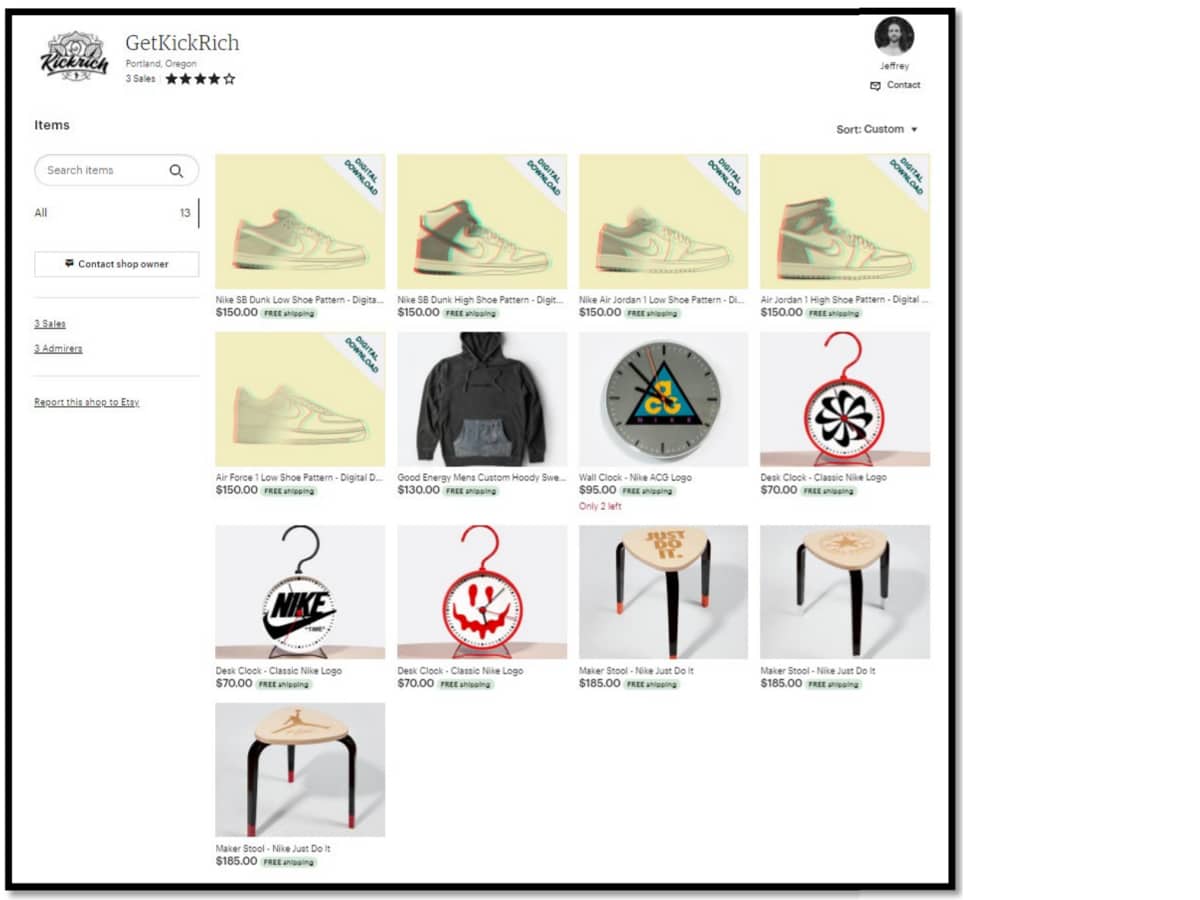 Finally, KickRich has also been manufacturing and selling branded products such as wall clocks and stools that aren't official Nike products, yet contain trademarked imagery and logos. The plaintiff states "Defendants use Plaintiffs' Asserted Marks to promote and sell the Infringing Products through their website and Etsy page. Defendants' use of infringing marks in connection with the Infringing Products improperly creates associations with Plaintiffs."
Interested in more sneakers stories? Here are a few stories to get you started:
Alternatives to Nike's Air Force 1 Sneakers
Best Sneaker Styles for Men
Best Sneakers for Men by Colour
Best Sneaker Stores in Australia
You'll also like:
How many sales do Nike make from Air Force 1s per year?
According to court documents, Nike states they make US$800 million in sales from Air Force 1s per year.
Is KickRich legit?
KickRich is a custom sneaker manufacturer, while his sneakers are based on real Nike and Converse products they aren't formally approved as collaborations.