15 Best Dive Watches Under $1,500
We all love a good dive watch. There's something appealing about a rugged timepiece that sits on the fence between jewellery and functional tool. The world's best watchmakers know this and bombard us with all sorts of waterproof wristwear, and at its most extreme this means very expensive watches with astonishing features, as demonstrated by the recent head-to-head battle between Swiss giants Rolex and OMEGA to create a record-breaking dive watch.
At the other extreme, Casio dive watches can be picked up for less than $100 and the Casio Duro Marlin now boasts a cult following. But like a lot of things in life, there's a middle ground that suits most of us. Robust and functional models that aren't the cheapest diving watch, but won't break the bank either. Think of a watch like Tudor's Pelagos, which was recently crowned 2022's best diver's watch.
Best Dive Watches Under $1,500
Below, we've collected the best dive watches that occupy this sweet spot between the extremes. Each perfectly balances the premium and the functional without requiring the sale of a kidney to obtain one.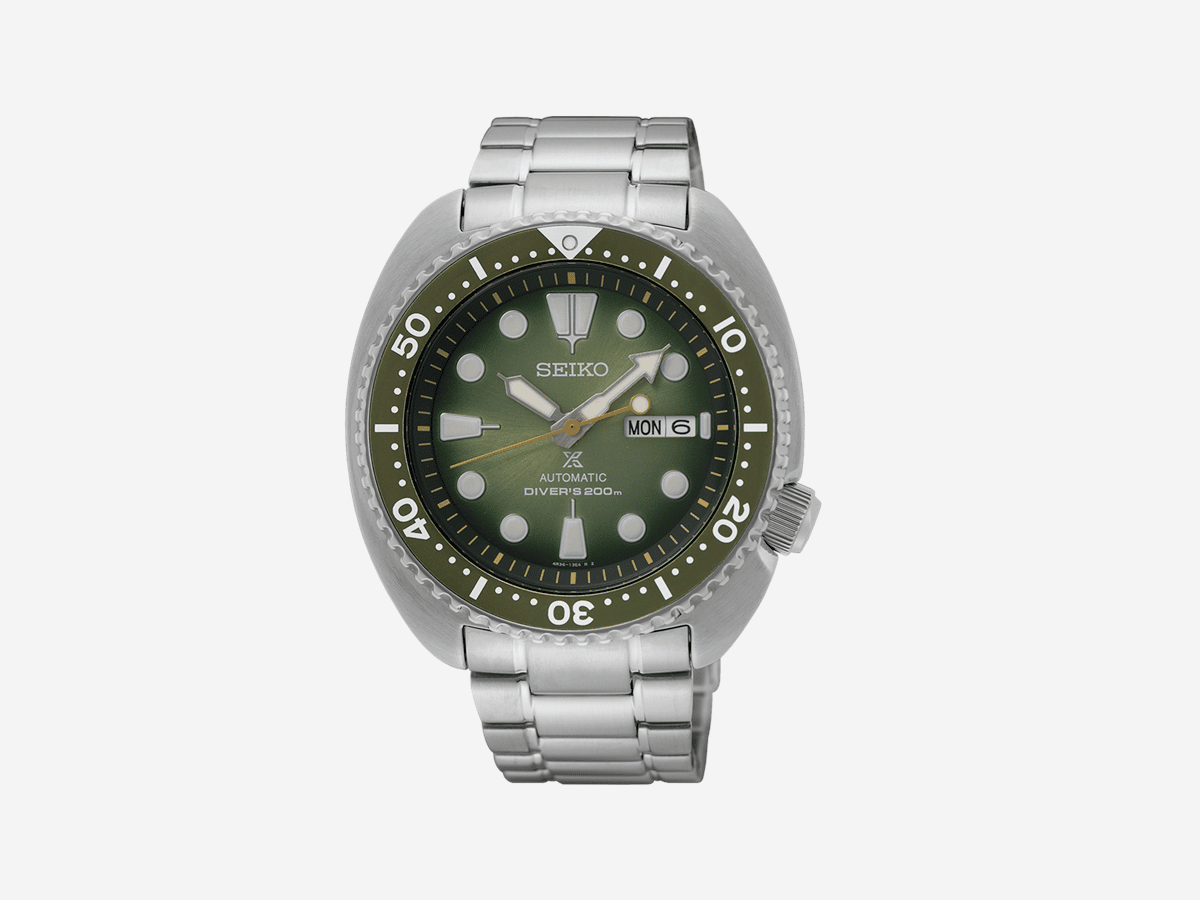 1. Seiko Prospex Automatic Limited Edition 'Eucalyptus' SRPJ53K
Diameter: 45mm
Height: 13.2mm
Straps: Stainless Steel Bracelet and Rubber
Case: Stainless Steel
Movement: Seiko 4R36 Automatic
Water Resistance: 200M
Price: AUD$895
No list of dive watches would be complete without a Seiko model (ok we've actually included three). Japan's premier watchmaker has a whole collection of dive watches under $1,000 and will definitely have a model for you.
Our first Seiko pick is an exciting watch that was released exclusively to the Australian market. Limited to 1,000 pieces, it's a substantial piece that features Seiko's signature 45mm Turtle case. Inspired by Australia's landscape – specifically the Eucalyptus tree – the SRPJ53K has a vintage vibe and an aesthetic that is familiar to Seiko fans.
The chunky case has a crown repositioned to 4 o'clock and can be paired with either the stainless steel bracelet or a lighter rubber strap that comes as part of the package. The stunning green dial has a gradient effect that sets it apart from most dive watches and the 200M water resistance protects the watch's automatic movement. The glass is Seiko's own Hardlex Crystal.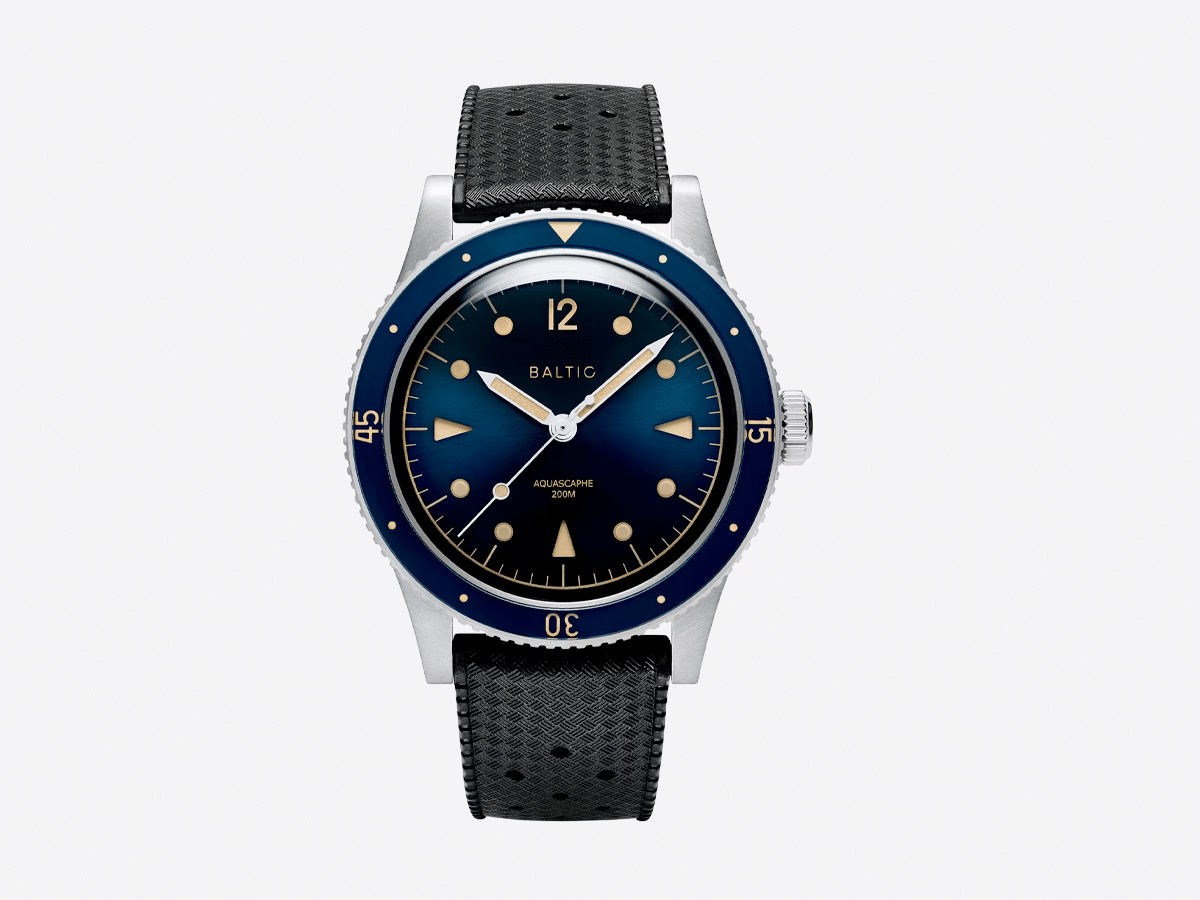 2. Baltic Aquascaphe
Diameter: 39mm
Height: 12mm
Straps: Stainless Steel Bracelet or Rubber
Case: Stainless Steel
Movement: Miyota 9039 Automatic
Water Resistance: 200M
Price: €580.00
French brand Baltic describes its style as neo-vintage and the Aquascaphe is a great example of that ethos. It's a modern watch that gives a nod to the past – it's reminiscent of Blancpain's iconic Fifty-Fathoms diver. The styling is spartan, although the rich blue sandwich dial – the indexes are cut out – adds a touch of flair.
Hand-assembled in France, the watch is modestly sized and offers a contrast to the larger Seiko. 38mm dive watches are on trend at the minute and the Aquascaphe shows why. It's understated, slim and at home in both the office and the sea. The model featured here is equipped with a versatile tropical rubber strap, but there is also an option for a heavier beads-of-rice style bracelet.
---
Featured Video from Man of Many
---
In keeping with the vintage styling, the Baltic Aquascaphe has a domed sapphire crystal and a utilitarian bezel. It's well under $1,000 and houses a reliable Japanese-made Miyota automatic movement.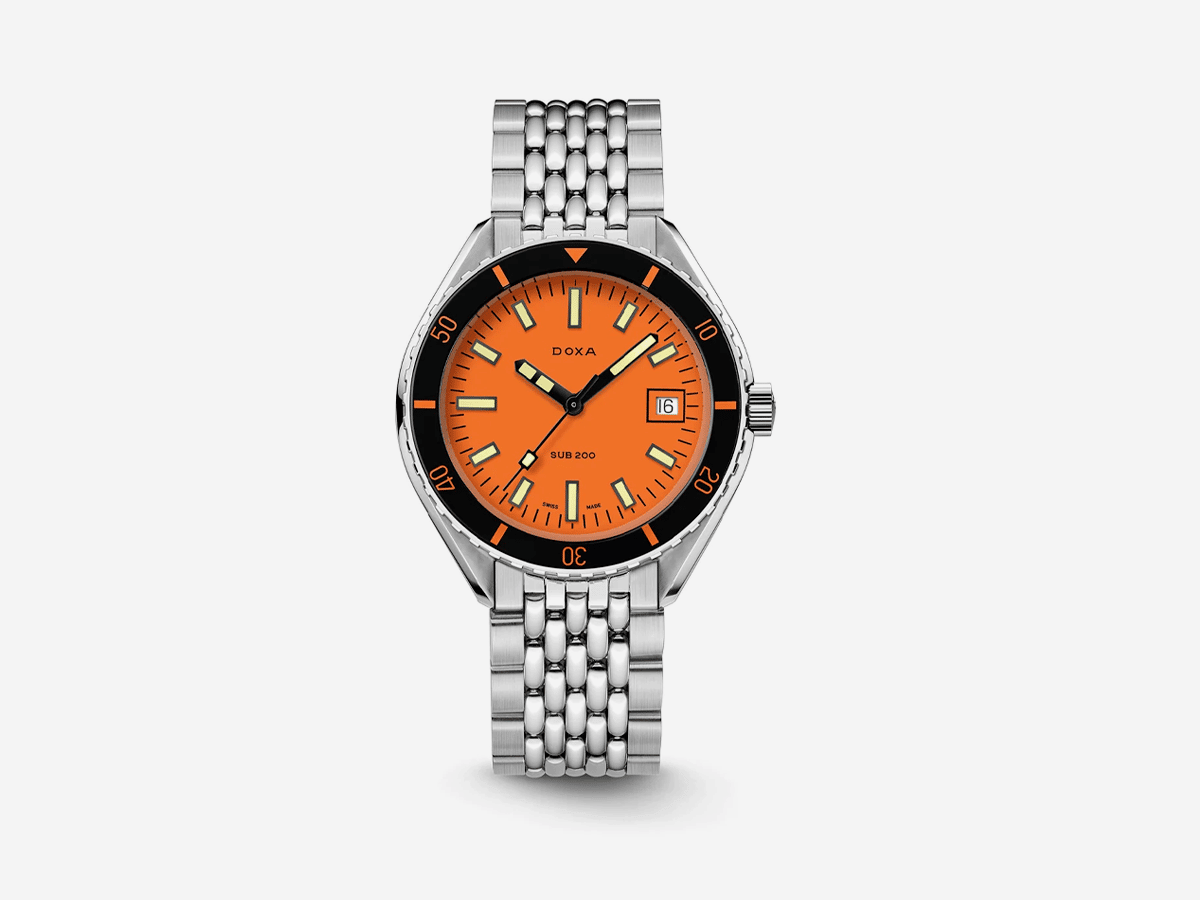 3. Doxa Sub 200
Diameter: 42mm
Height: 13.8mm
Straps: Stainless Steel Bracelet or Rubber
Case: Stainless Steel
Movement: Swiss Automatic
Water Resistance: 200M
Price: AUD$1,590
The Sub 200 is the Swiss watchmaker's entry-level diver. It takes inspiration from Doxa's earlier models and is a great place to start with the cult brand. Importantly, this variation sports the orange dial that Doxa popularised – the theory being that orange is easy to see underwater.
That legibility is central to the Sub 200's success and is continued with the straightforward hands and matching markers. The simple colourway of orange and black is also used on the unidirectional rotating bezel and it's all protected by a sapphire crystal.
The Sub 200 is a mid-sized watch that sits between the Seiko and Baltic and offers a more sporty appearance than either. In keeping with the Swiss-Made label, the movement is a Swiss automatic that has been decorated by Doxa.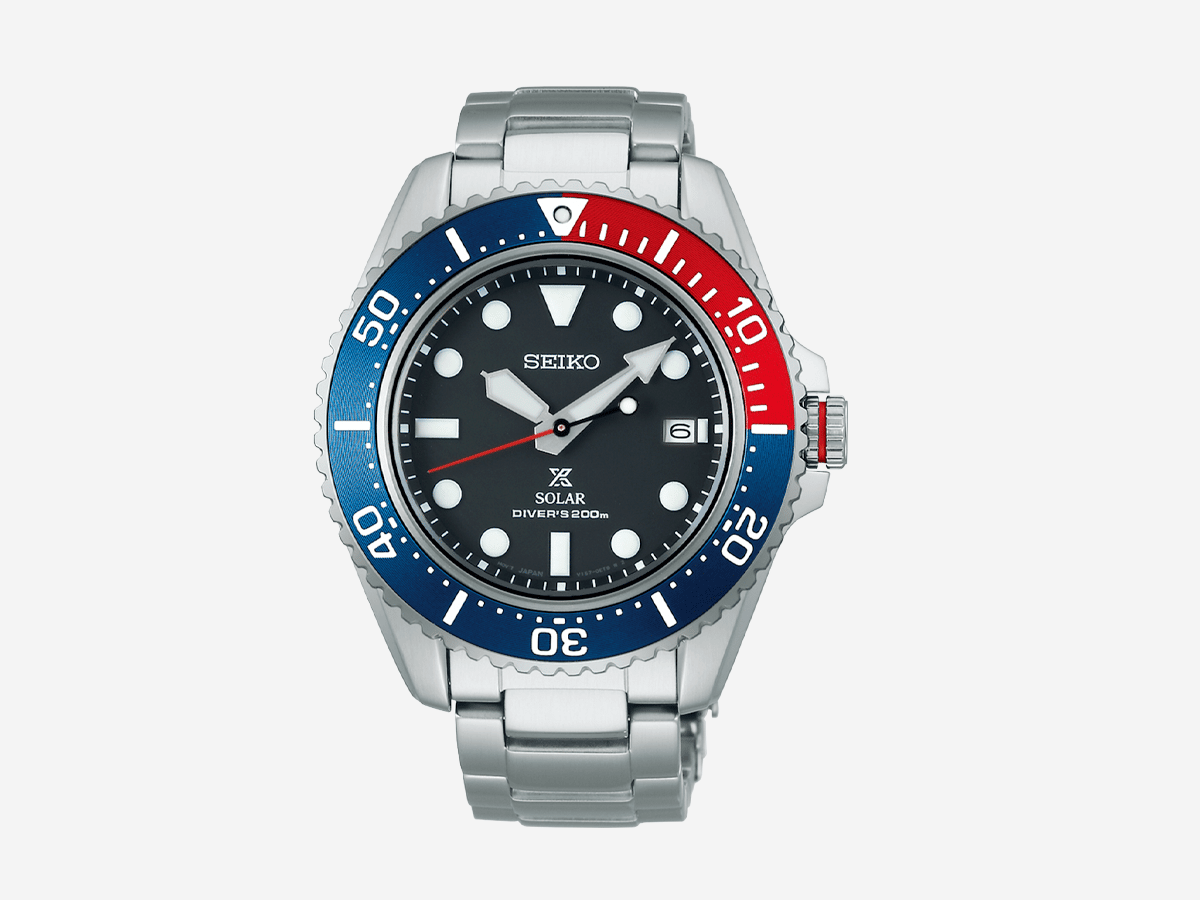 4. Seiko Prospex SNE591
Diameter: 42.8mm
Height: 10.7mm
Straps: Stainless Steel Bracelet
Case: Stainless Steel
Movement: Japanese Solar
Water Resistance: 200M
Price: AUD$825.00
You know that Seiko means business when it prints a large X on a watch's dial. That means the watch is a part of the Prospex line – it has Profesional Specifications. Although not limited to dive watches, the Prospex moniker identifies the watch as a piece built for adventure. They're durable and practical watches.
This model is no exception, but it does have a distinguishing feature. It's solar-powered. That's handy for a divers watch as it means you'll never need to open the watch up for a battery change.
Stylistically, the SNE591 is all Seiko. It has a familiar dial with large markers and distinctive hands. It also sports a colourful red and blue bezel and a chunky case that looks bulletproof. With 200M of water resistance and a sapphire crystal, this is a sportsman's watch.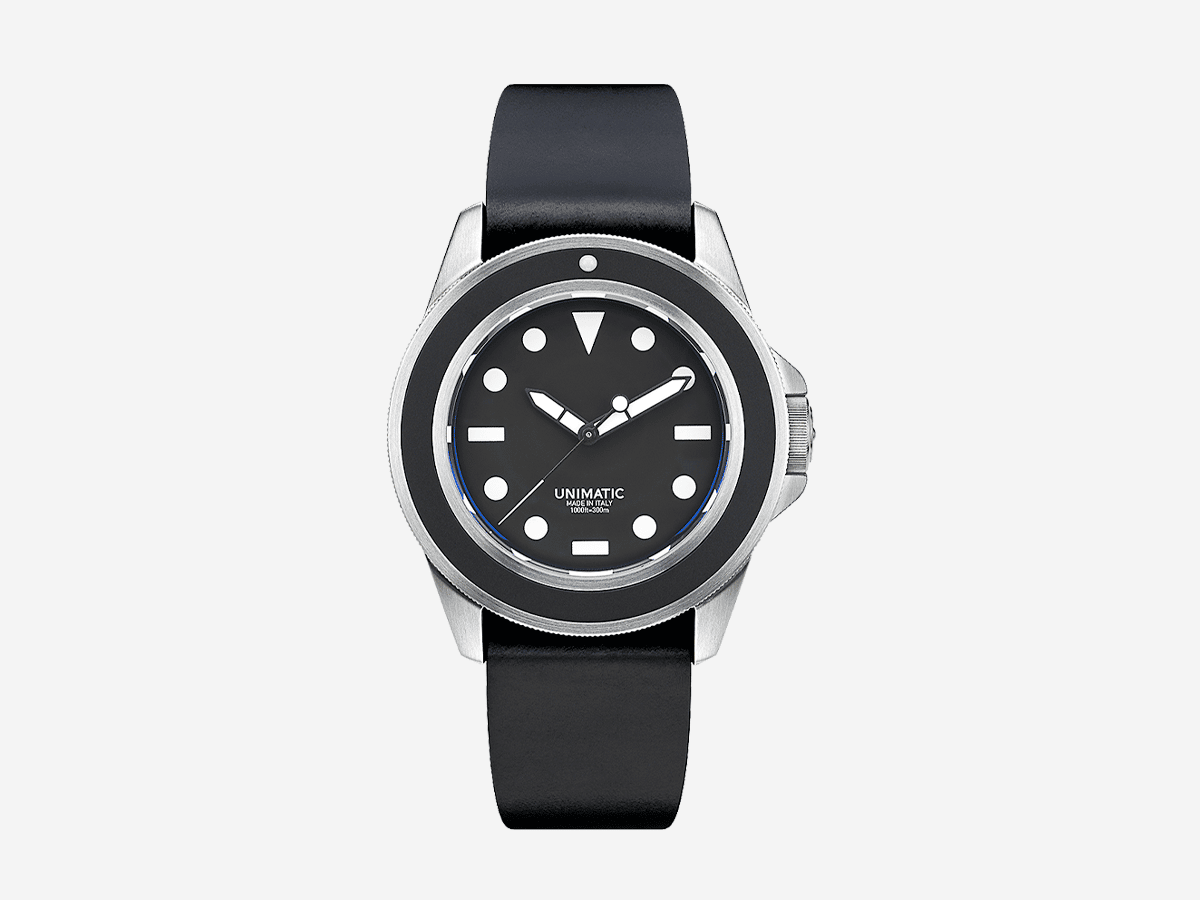 5. Unimatic Modello Uno U1-FM
Diameter: 40mm
Strap: Horween Cordovan Shell Strap
Case: Stainless Steel
Movement: Japanese Automatic
Water Resistance: 300M
Price: USD$650.00
Unimatic takes a different approach to established brands. Based in Milan, and founded by two industrial designers, it places less emphasis on catering to an active lifestyle and more on producing collectable watches. The Modello Uno U1-FM is typical of the brand – it's stylish, quirky and very Italian. But it's still a dive watch at heart and another contender for the best dive watch under $1,500.
It's a minimalist watch that features a simple matt black dial and a black aluminium bezel with a single lumed dot. There's nothing unnecessary here, with even the dial text kept to a minimum. Under the hood, it has the popular Seiko NH35A automatic movement and the glass is a double-domed sapphire crystal. This isn't a watch for diving watch purists, but it's ideal if you want a sub-$1,500 diver that stands out from the crowd.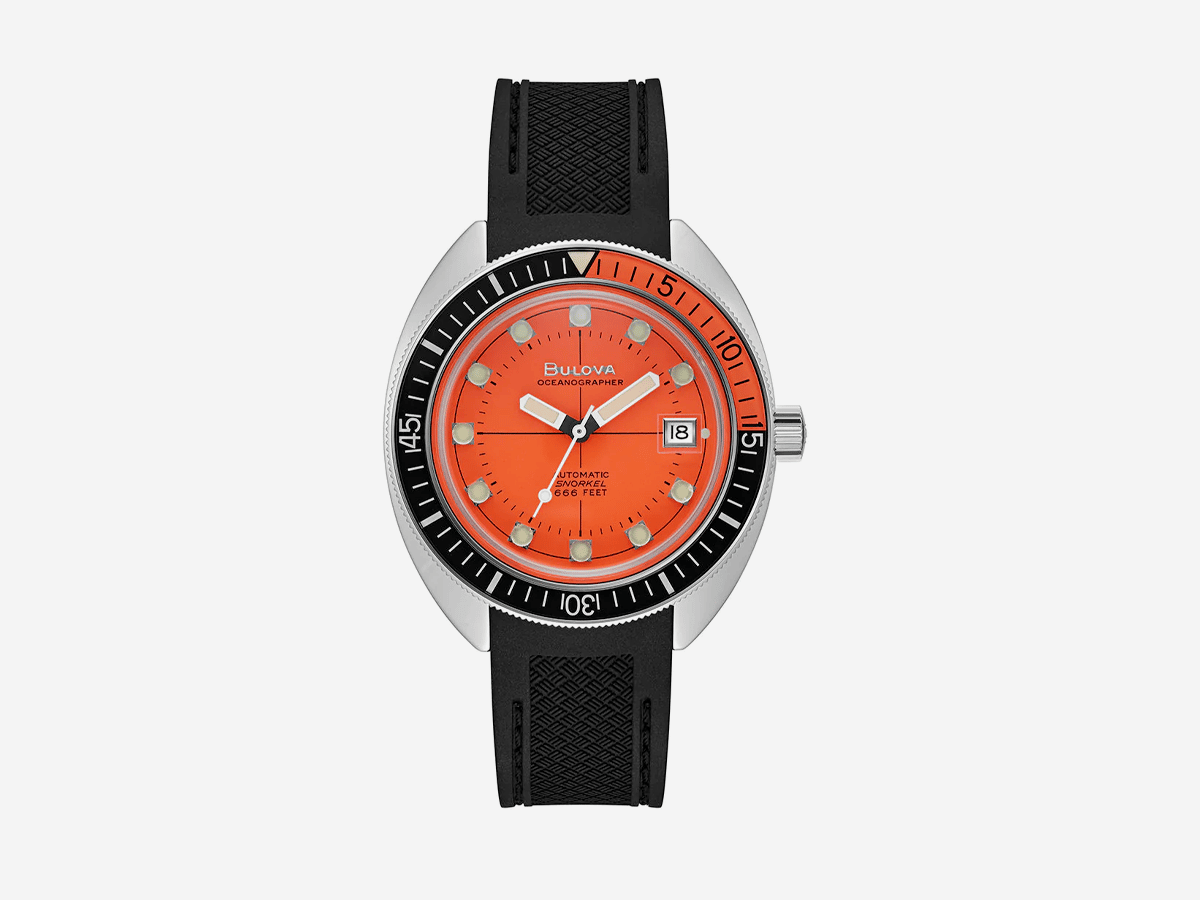 6. Bulova 96B350 Automatic Oceanographer Devil Diver
Diameter: 45mm
Height: 15mm
Straps: Silicone Strap
Case: Stainless Steel
Movement: Automatic
Water Resistance: 200M
Price: AUD$1,050
Dubbed the Devil Diver, the Oceonographer is a tribute to Bulova's iconic 70's dive watch. It's a bold and colourful piece that captures the spirit of American surf culture and harks back to an earlier era. It features an attractive cushion case and an eye-catching orange dial, and like the Doxa, it's easy to read and has a pleasing uncluttered aesthetic.
But why the Devil Diver nickname? When Bulova was exploring the limits of water resistance they created this watch, with a water rating of 666ft. Despite the nickname and the laid-back styling, this is still a very functional dive watch and it has the specs that you'd expect. It has 200M of water resistance, an automatic movement and a sapphire crystal with a magnifying box above the date window. It's not as versatile as a simple black model and it's not a cheap dive watch. Instead, it has heritage, a colourful back story and the specs to back them up.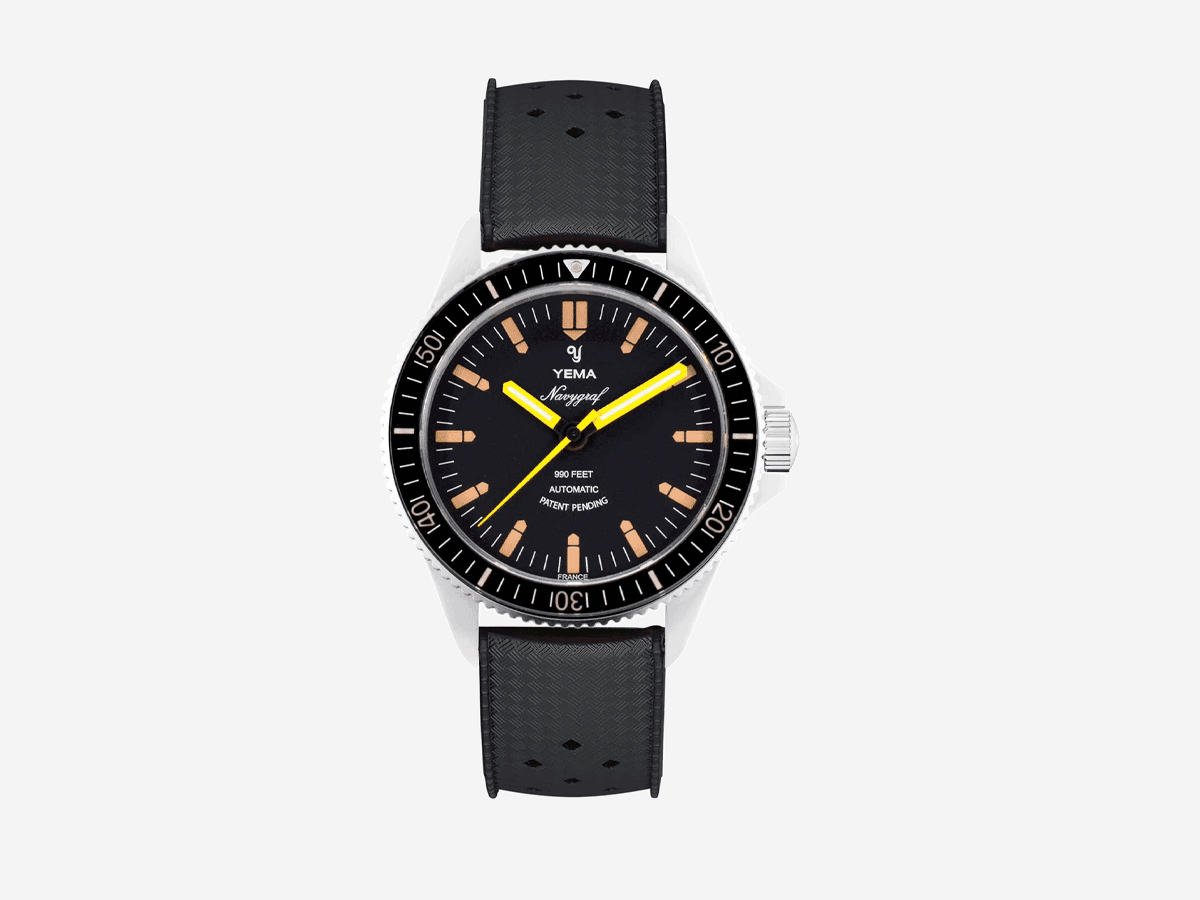 7. Yema Navygraf Heritage
Diameter: 39mm
Height: 12.15mm
Straps: Stainless Steel Bracelet
Case: Stainless Steel
Movement: YEMA2000 Automatic
Water Resistance: 300M
Price: USD$799
Yema, a manufacturer that you may not be familiar with, is the second French brand to make it onto our best dive watch under $1,500 list. Although not a household name like Citizen or Seiko, Yema has a fine history, including having its watches worn in space.
The Navygraf Heritage embraces this legacy and opts for an attractive retro styling. First released in the 70's the Navygraf has distinctive markers and bright yellow hands and a simple, functional look. However, this new improved version builds on the earlier success and upgrades the water resistance to 300M. It's also powered by Yema's own YEMA2000 automatic movement – another real selling point.
We've noted the sapphire crystal on other models, but Yema goes one better. Both the glass and the bezel are fashioned from sapphire crystal – a nice touch that demonstrates the brand's attention to detail.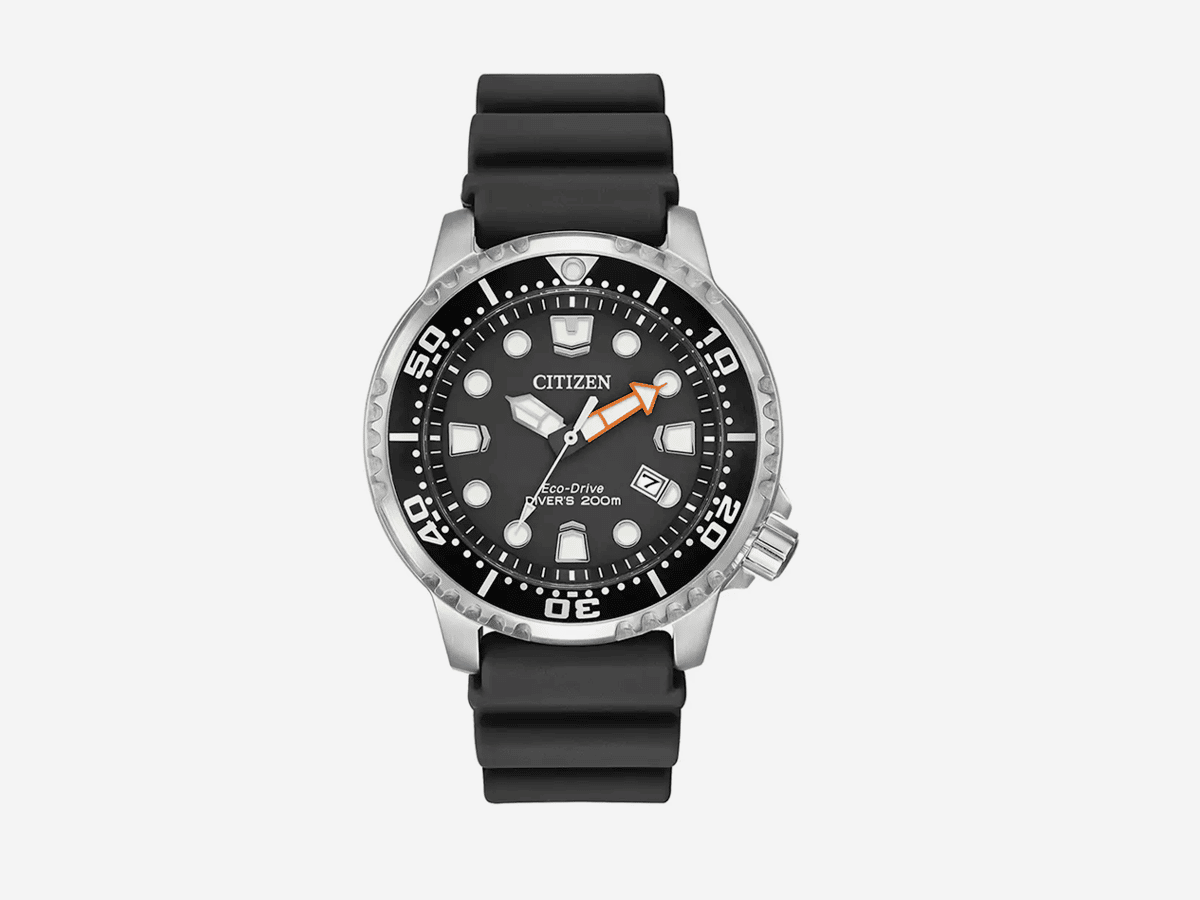 8. Citizen Eco-Drive Promaster BN0150-28E
Diameter: 42mm
Height: 12mm
Straps: Black Polyurethane Strap
Case: Stainless Steel
Movement: Eco-Drive Solar
Water Resistance: 200M
Price: GBP£269
With the BN0150-28E Citizen has built a rugged tool watch. It's not the most attractive or colourful watch on our list but it is among the cheapest and provides excellent value for money. Powered by light – using an ISO-compliant Eco-Drive movement – this is another watch that won't have its water resistance compromised by a battery change.
It's a very legible and durable piece that forgoes the elegant touches of some of the other watches and focuses more on simply telling the time underwater. At 42mm it shuns the 38mm dive watch trend and opts instead for a heavy-duty bezel and oversized hands and markers. It's a great choice for a daily beater that needs to be durable.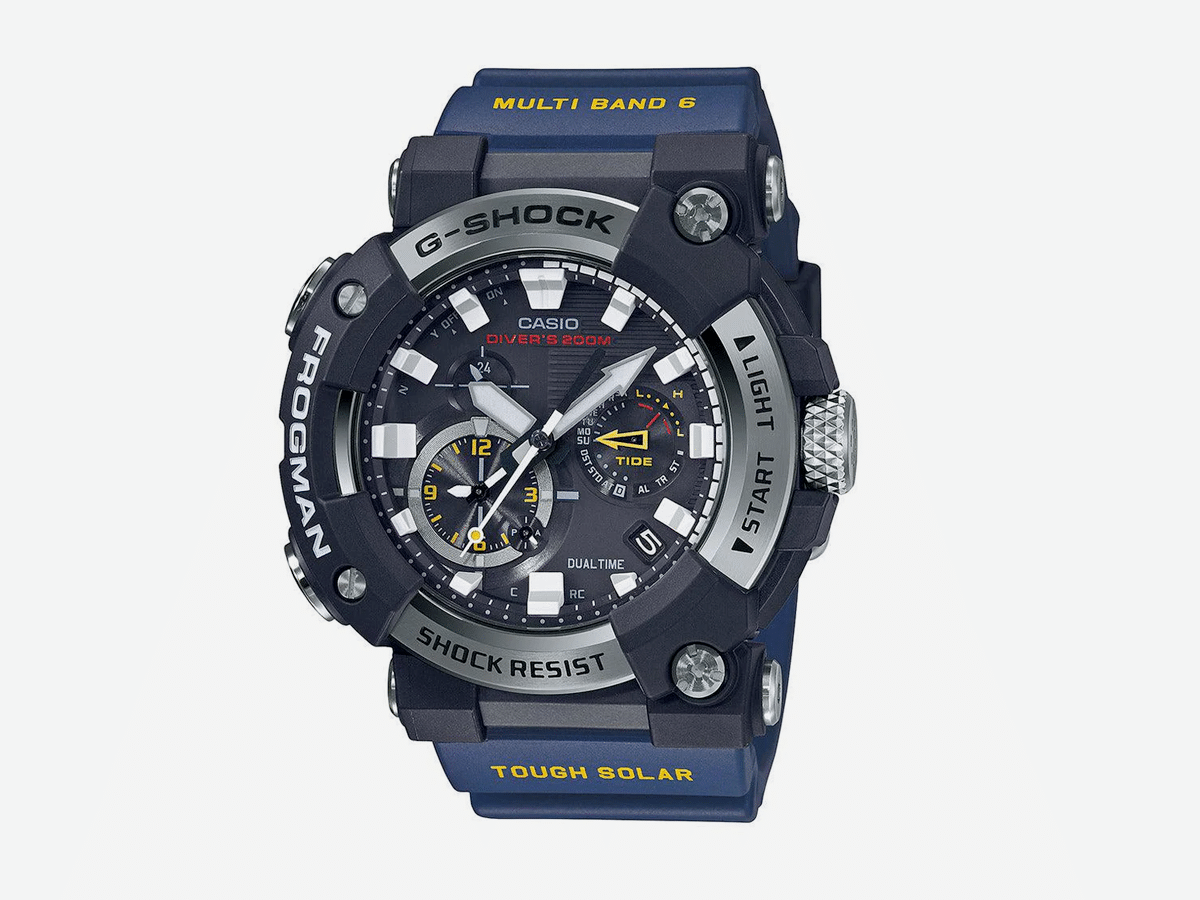 9. Casio G-SHOCK Frogman GWF-A1000-1A2
Diameter: 51mm
Height: 19.7mm
Strap: Resin
Case: Carbon / Stainless steel
Movement: Tough Solar
Water Resistance: 200M
Price: AUD$1,499
The analog version of the Frogman from Casio is a large watch that manages to not be overwhelming. That's mostly due to the clever use of carbon, a material that is both lightweight and tough. Of all of the watches on the list, the Casio Frogman boasts the most features. This really is the cutting edge of watch technology and arguably the future of dive watches.
Where to start? It's a solar-powered watch that features dual time zones and various pieces of diving information. It feels like a diving computer on your wrist. However, the dial layout with hour, minute and second hands, is fairly traditional. But this sits alongside the Frogman's exciting new features. Once linked to your phone through a companion app you can set tide data for thousands of locations around the world as well as access your diving logs.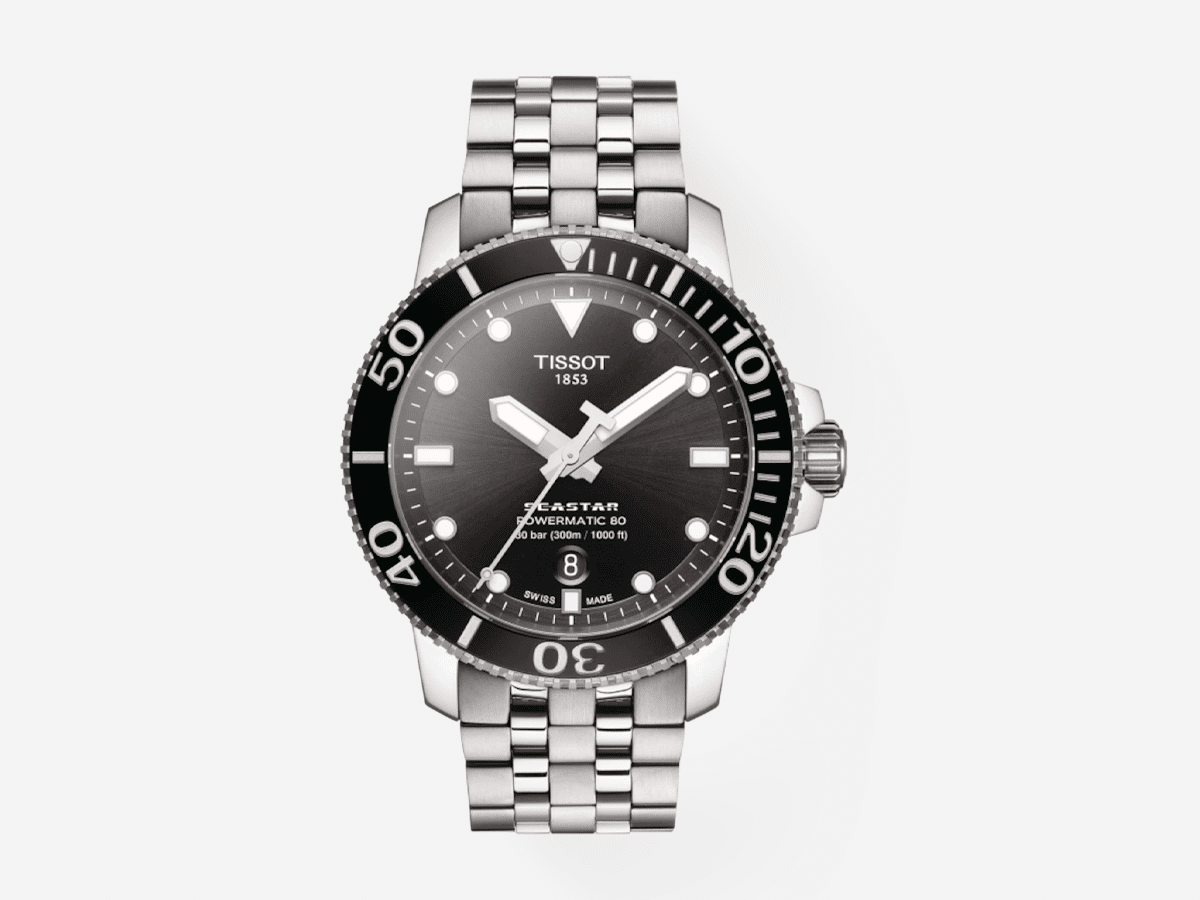 10. Tissot Seastar 1000 Powermatic 80
Diameter: 43mm
Height: 12.7mm
Straps: Stainless Steel Bracelet
Case: Stainless Steel
Movement: Powermatic 80 Automatic
Water Resistance: 300M
Price: AUD$1,200
Tissot's Seastar collection includes a variety of watches that each has 300M of water resistance and a common case design. Unlike the sporty Frogman or retro Bulova, the Seastar models are contemporary-styled dive watches that blend form and functionality.
This variant has a Swiss-made Powermatic movement that provides an 80-hour power reserve – that's enough to leave the watch off all weekend and still not need to wind it. The stainless steel case is robust and at 43mm is on the larger side. It features prominent crown guards and a sapphire crystal. The highly legible dial is a good match and the unconventional date window at 6 is a nice touch that maintains the symmetry of the dial. Tissot is often referred to as an entry-level Swiss brand and the Seastar 1000 is an ideal introduction to the manufacturer.
11. Seiko Prospex SNE593
Diameter: 42.8mm
Height: 10.7mm
Strap: Silicone
Case: Stainless Steel
Movement: Solar
Water Resistance: 200M
Price: AUD$775
Like the previous Seiko Prospex, the SNE593 is a no-nonsense watch that ticks the boxes needed for an affordable diver. There are other manufacturers doing similar – think of an Aquinas watch – but Seiko has a legion of fans and the SNE593 delivers what they want.
This time the colour palette marries a blue dial with a matching blue bezel while maintaining the large hands and indexes. As with other Submariner-style divers, there are neat crown guards and a heavily knurled crown. Again, it's solar-powered and as expected it has enough water resistance for the casual diver. When it comes to dive watches, this is what Seiko excels at. An affordable watch with a single purpose.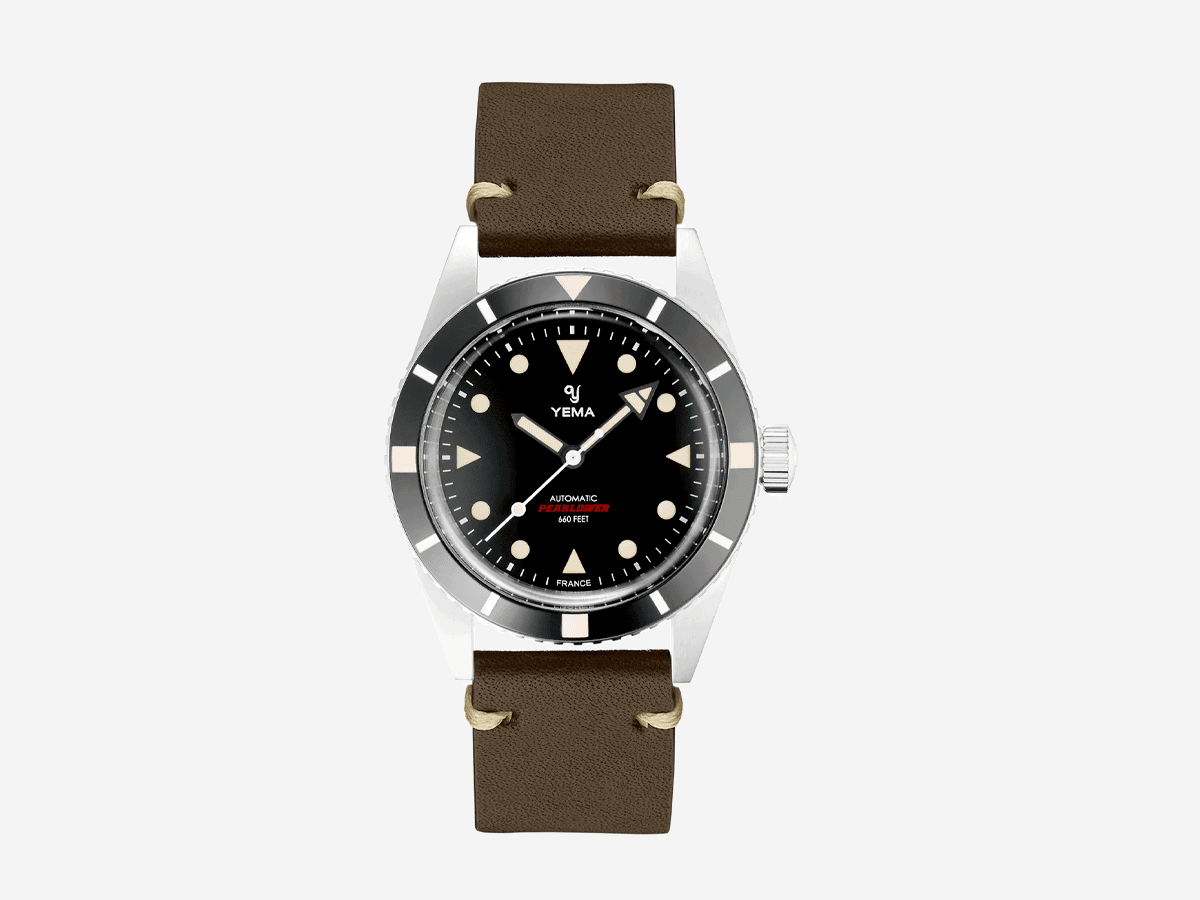 12. Yema Pearldiver
Diameter: 38mm
Height: 14mm
Strap: Stainless Steel Bracelet
Case: Stainless Steel
Movement: YEMA2000 Automatic
Water Resistance: 200M
Price: US$799
Yema's second entry on our list doubles down on the vintage styling of the Navygraf Heritage. Those differences, each just a small touch, make a world of difference on the finished watch. Take the case – the diameter is slightly reduced making this another 38mm dive watch. It also lacks crown guards. That reduces the size further and, along with the aged-looking lume, reinforces the vintage vibe. The utilitarian styling continues with the plain black dial and the aluminium bezel, both of which are restrained.
Once more, the watch is powered by Yema's own automatic calibre and there's no date window to break the symmetry of the dial. Another couple of nice details are also worth pointing out. To truly embrace the era, Yema has opted for a double-domed Hesalite crystal rather than a modern sapphire glass. It works, as does the large crown that emulates dive watches of the '50s.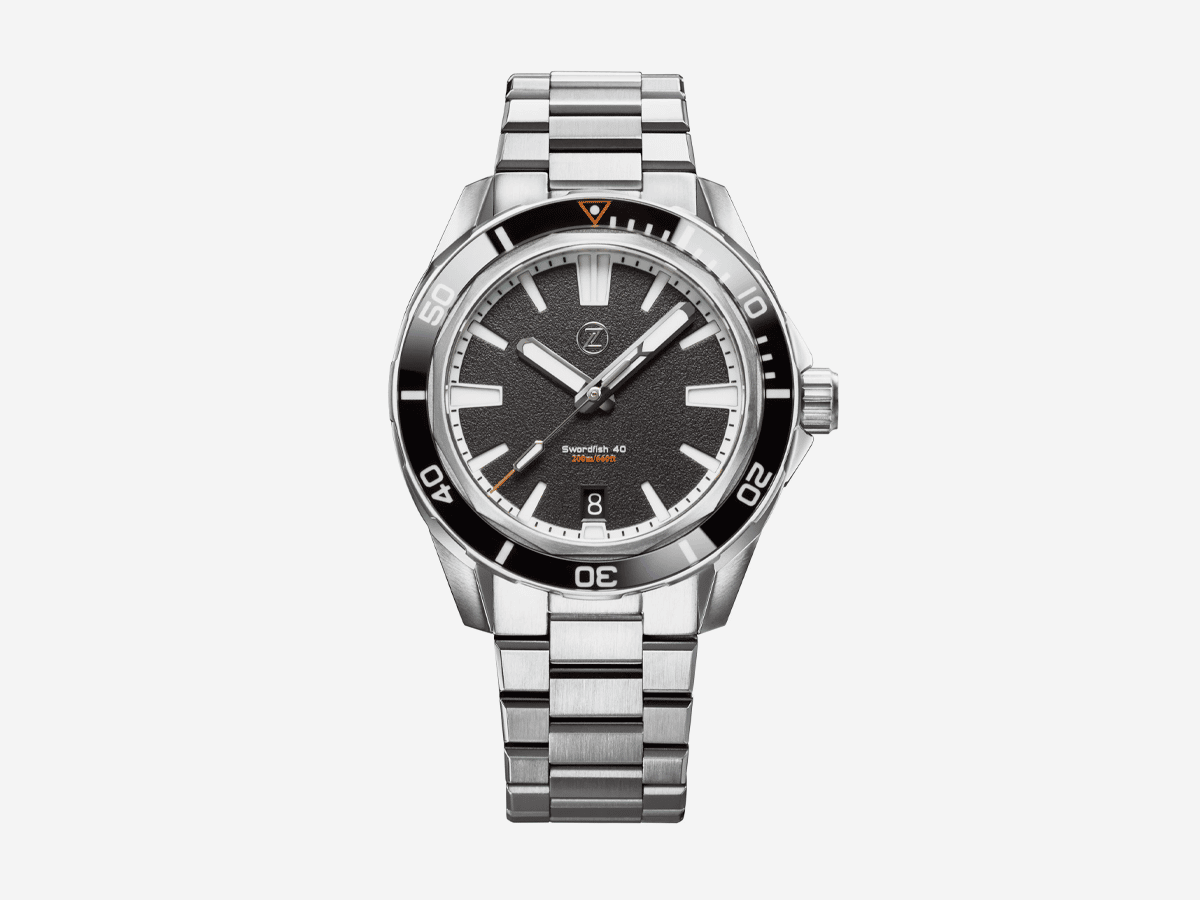 13. Zelos Swordfish 40MM SS Black Sand
Diameter: 40mm
Height: 12mm
Strap: Stainless Steel Bracelet
Case: Stainless Steel
Movement: Japanese Automatic
Water Resistance: 200M
Price: US$349
Singapore-based microbrand Zelos has gained a reputation for innovation and creativity. The Swordfish is a great example of a very affordable dive watch with a distinctive and striking appearance. It's the dial that is the star of the show here. Decorated with a sand-like finish it contrasts with a patina lume and gilt hands. The beige illumination gives the modern-looking design enough hints of vintage to create a real treat for watch fans.
Like other microbrands at this price point, Zelos has equipped the Swordfish with the ever-reliable Seiko NH35A movement. The case is a comfortable 40mm wide and has strong, clean lines. There's the required 200M of water resistance and sapphire crystal with an anti-reflective coating. It's a well-designed and cheap dive watch that you're unlikely to see on anyone else's wrist.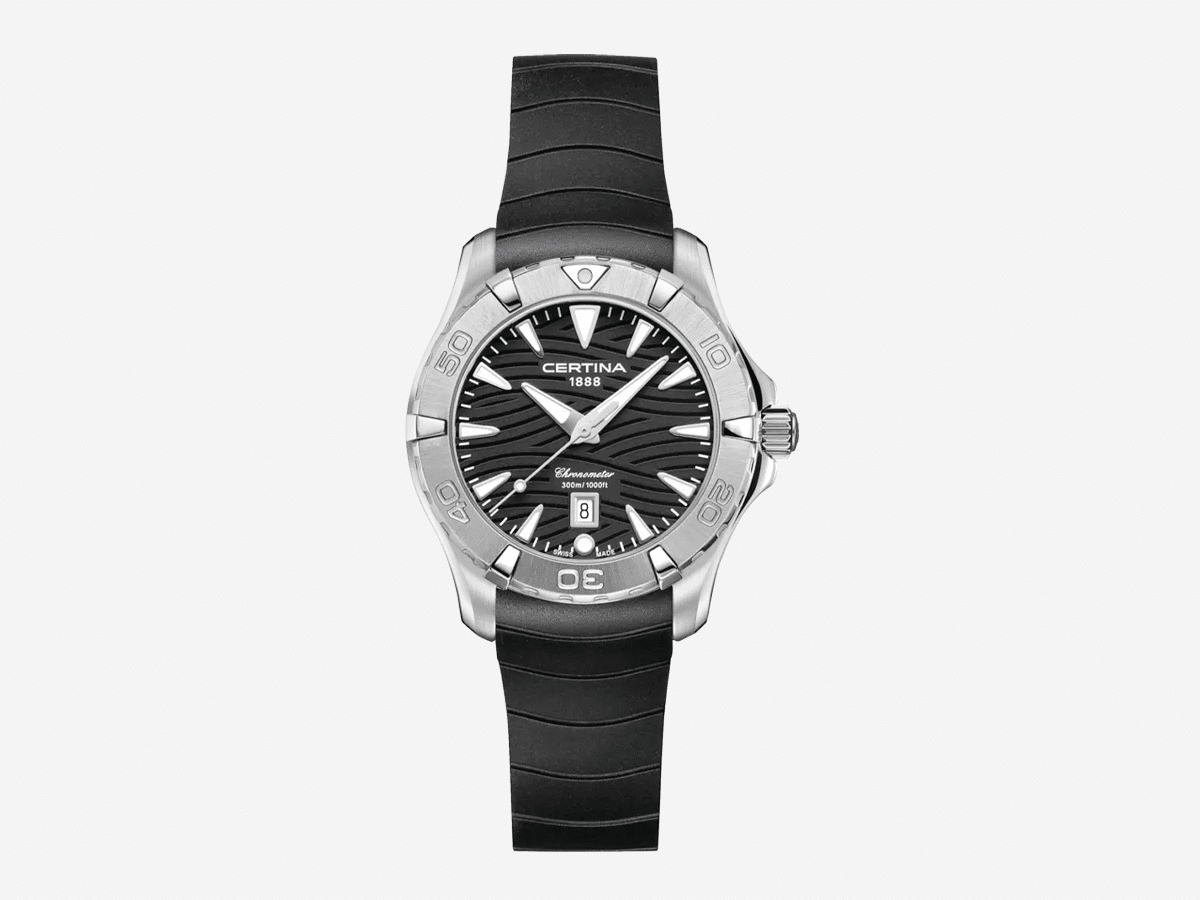 14. Certina DS Action
Diameter: 34.3mm
Height: 10.05mm
Strap: Rubber
Case: Stainless Steel
Movement: Quartz
Water Resistance: 300M
Price: AUD$745 Approx
This variation of Certina's well-known DS Action dive watch is a small piece created for female divers. Coming in at only 34mm it's a modest-sized watch most at home on a slim wrist. But make no mistake, it has the specs needed for a bracing sea dive.
It's all here. At 300M there's more than enough water resistance and the case has a diver's typically robust construction. The movement is quartz – Swiss-made of course – and the rubber strap is built for practicality. As a woman's watch, it's surprisingly spartan, but that just reinforces the idea that this is a tool to take into the sea rather than a piece of jewellery.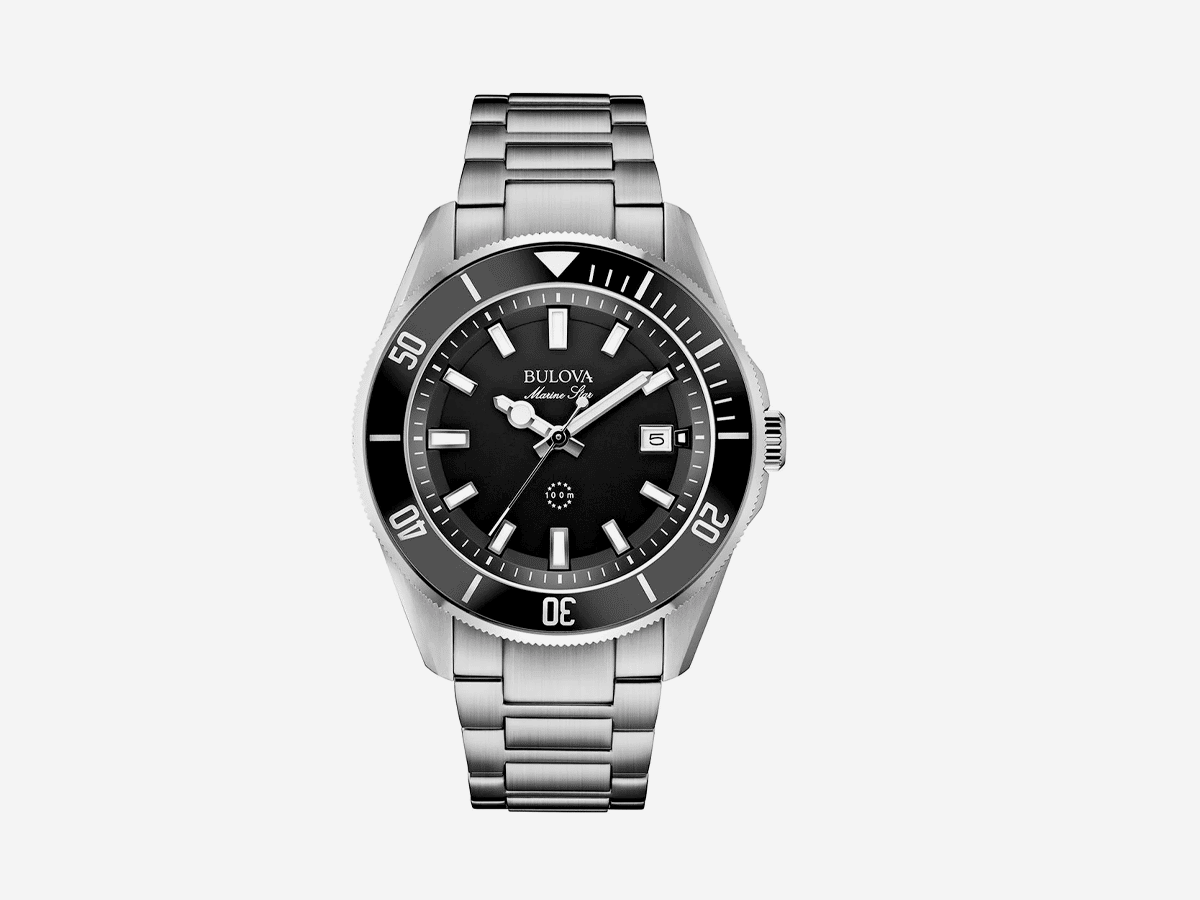 15. Bulova 98B203 Marine Star
Diameter: 43mm
Height: 11mm
Strap: Stainless Steel Bracelet
Case: Stainless Steel
Movement: Quartz
Water Resistance: 100M
Price: AUD$350
Rounding out the list is a great watch if you're on a tight budget. If you're after the cheapest diving watch then you can't go wrong with a quartz watch from Bulova's Marine Star collection. The 98B203 showcases this collection at its best, being affordable, classically styled and offering all the dive watch basics. It's also very versatile which usually means you'll get more for your money.
It's not a tough sports watch like the Citizen Promaster and it doesn't have the vintage flair of Bulova's more famous Devil Diver. What it does have is a simple colour palette that works as well on the beach as in the boardroom. And it also has a clear dial with neat markers. It's legible, fairly plain and within most buyers' budgets. In terms of specs, it has a mid-sized stainless steel case, a Japanese quartz movement and 100M of water resistance.
What is a Dive Watch?
It's ok to throw around the term diver's watch, but it's worth noting what we mean exactly, particularly when we're specifically looking at the best dive watches under $1,500. Simply put, a divers watch is a timepiece designed to be submerged in water. Obviously, it needs to be waterproof. Even a cheap dive watch needs to be watertight. We'd usually expect a dive watch to also be legible and to often have a rotating bezel to manually time a dive.
While dive watches have been around since the early 1960s, it wasn't until 1996 that the terminology started to get a bit more rigid. At that point, the International Organization for Standardization outlined a set of general guidelines regarding dive watches, mostly relating to testing and functionality underwater and under extreme pressure.
According to timepiece experts and historians Bob's Watches, for a watch to "officially" be considered a dive watch, it must pass a series of tests based on these criteria. Those watches that fulfil the requirements are then permitted to include the word 'Diver' on their dials, however, not all brands choose to do this. Similarly, a number of key maisons may opt to use an external independent contractor to perform the testing, ensuring regulatory standards are kept and requirements met. According to the International Organization for Standardization, the official testing for a dive watch includes:
The watch must be water-resistant to a depth of at least 100m, or 330ft.
The case must be made of a material able to withstand the galvanic corrosive effects of seawater.
If metal, the watch must have a bracelet constructed of an alloy with comparable properties.
Things to Consider When Purchasing a Dive Watch
If you're in the market for a dive watch, there are a few important elements to examine – you don't want a watch that looks the part but can't deliver.
Price – If the price wasn't an issue we'd all be driving a Ferrari or a Lamborghini. The same applies to watches. There are great watches at all price points. Yes, expensive watches often have extra features, but we're confident that you can get brilliant dive watches for under $1,500.
Water Resistance – If you're planning to wear your watch while diving then this is the number one consideration. Your watch must be water-resistant. We'd suggest a minimum of 100M water resistance with 200M or 300M being desirable.
Movement – We've included a variety of watch movements in our list for a simple reason. A good divers watch can be powered by a mechanical, quartz or solar movement. Each offer's its own advantages.
Construction – Most diver's watches will take a few knocks and their construction usually factors this in. Expect to see reasonably beefy cases, crown guards and highly legible dials. Good illumination is a must, as is a sturdy bracelet or strap.
Crystal – Vintage-inspired or cheap dive watches may use acrylic crystals, but for the most part, we'd recommend choosing a watch with a sapphire crystal. These are scratch resistant and often have an anti-reflective coating.
How Man of Many Chose this List of Best Dive Watches Under $1,500
This list of the best dive watches under $1,500 has been collated by Man of Many's experienced teams of watch writers and reviewers. In addition to reviewing the technical specifications of each timepiece on this list, we also turned to the wider public for their overall ratings. Our list takes into account three major perspectives to determine the overall rating. In addition to our own opinions, we take into account reviews via watch review sites A Blog to Watch and Chrono24. Each watch identified in the list was measured on:
Build quality
Value for money
Appearance
Similarly, while the one defining characteristic is that each release is under $1,500, prices can fluctuate from time to time. For the most part, the watches on this list are under $1,500, however, some may rise to $1,600 maximum, so be wary of the price.
Dive Watch FAQs
What is the most iconic dive watch?
Of all the influential dive watches, it's Rolex's Submariner that we'd suggest is the most iconic ever. Worn by James Bond and copied the world over, it's the one divers watch that every watch geek covets.
Do divers actually use dive watches?
Whilst there's always going to be a place for waterproof watches, the truth is that for serious divers the dive computer has replaced the wristwatch. Diver's still value watches and they're still status symbols – but for professional divers, they're no longer a necessity.
---
Featured Video from Man of Many