UNDONE's Popeye & Friends Inspired Timepieces are Strong to the Finish
In Partnership with UNDONE
We've made whole lists of watches made for the likes of James Bond, written about watches that talk dirty to you, and even timepieces flexed by former presidents of the United States. But never before have we seen a watch that has tugged on the heartstrings of our childhood like these incredible timepieces have. UNDONE introduces three limited-edition collector pieces inspired by Popeye & Friends to pay tribute to three of the most instantly recognisable cartoon characters and their famous onscreen Love Triangle. Commemorating Popeye, Olive Oyl and Brutus, UNDONE arrives to rekindle your favourite childhood memories with one hell of a watch collection. Now, where's the spinach. GUH-gu-gu-gu-gu-gu.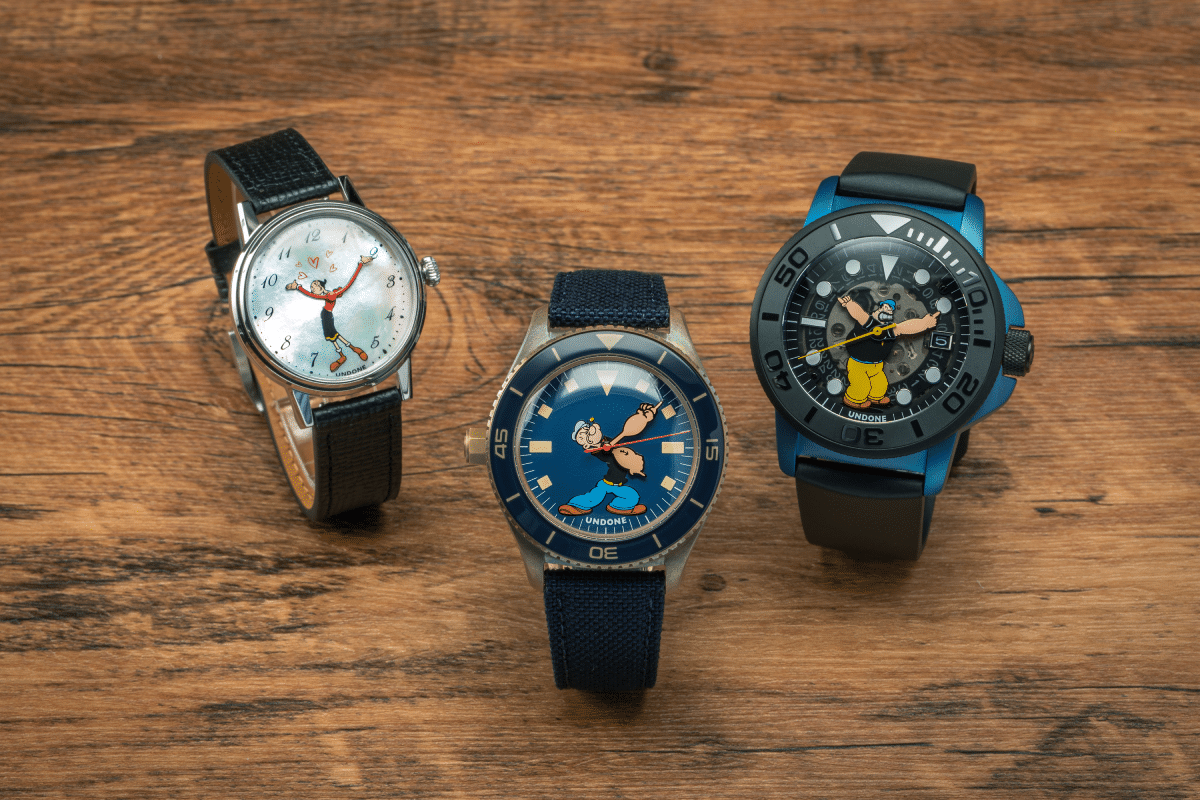 Two men fighting endlessly over the woman they love brought audiences worldwide a mesmerising story of love and spinach. Now immortalised in three limited-edition UNDONE timepieces, pay tribute to either Popeye, Olive Oyl, Brutus, or all three if you're lucky enough. Limited to just a few hundred pieces each, prices start at USD$295 for the limited edition UNDONE x Popeye & Friends 34 Olive timepiece.
Showcasing the mother-of-pearl dial, the UNDONE x Popeye & Friends 34 Olive timepiece features the lovely Olive Oyl in all her glory. Set on a mother-of-pearl (the iridescent lining found on the inside of a shell) dial, Olive Oyl is dressed in her classic red blouse and black skirt, with both her arms swivelling to tell the time. A feature you'll find across all three models. Powered by a Japanese TMI VH61 Quartz movement and limited to only 250 pieces, the UNDONE x Popeye & Friends 34 Olive timepiece reflects her ravishing appeal.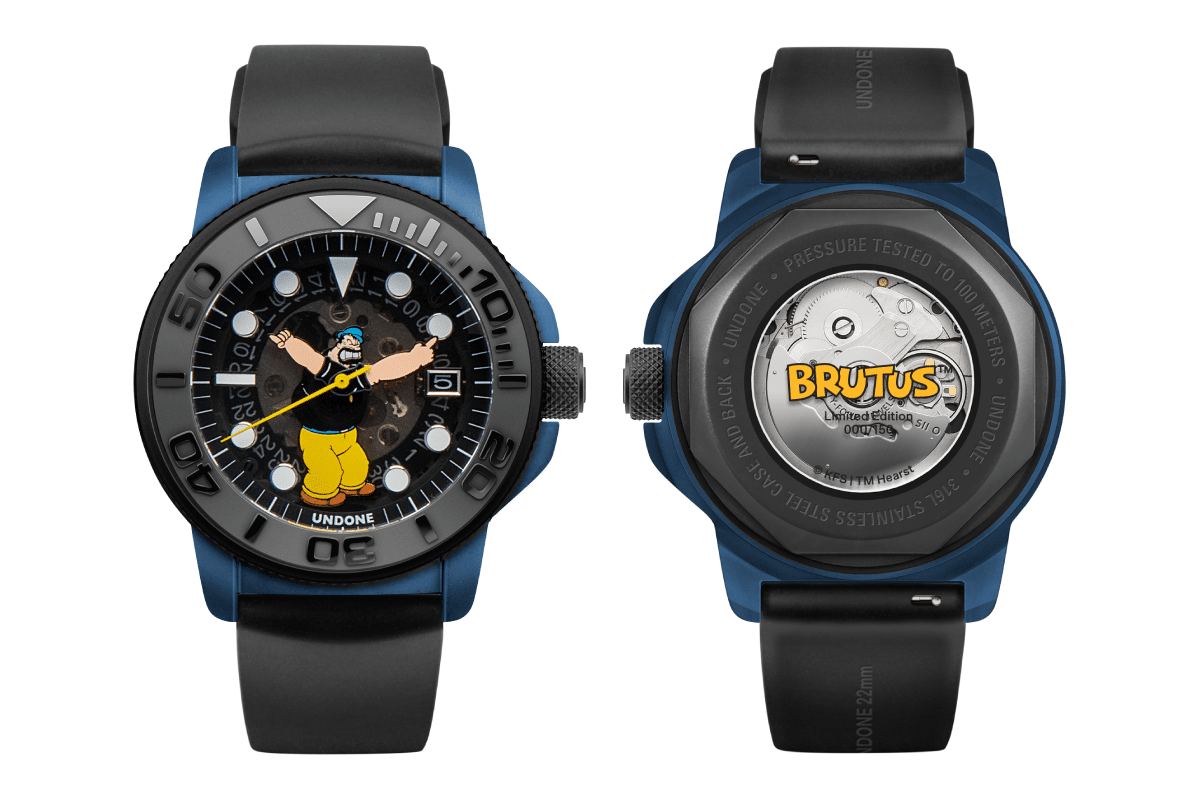 Moving onto our spinach consuming hero, UNDONE brings back Popeye with their very first watch for left-handed people. The "Destro" Popeye Limited Edition timepiece introduces a salt versus pepper equivalent to the first 'Marine Nationale snowflake" that inspired the El Capitan timepiece. Dubbed the "Destro", the left-handed watch features the crown positioned at nine o'clock instead of three, making it easier to access. Powered by the always trusted Japanese TMI NH35A Automatic Winding Mechanism and limited to only 250 pieces, the UNDONE x Popeye & Friends "Destro" Popeye Limited Edition will set you back USD$480 to see the sailorman's comically muscular forearms tell the time.
And last but certainly not least, we reach Brutus. Also known as Bluto's twin, Popeye's love rival and nemesis receive extra special treatment from UNDONE with the addition of their first half-transparent dial. Revealing the inner details of the mechanical movement (Japanese TMI NH35A Automatic Winding Mechanism supplied by SEIKO Manufacturing (H.K.) Limited) beneath the dial to showcase the "heartbeat" of time, it's certainly the most intricate of the bunch.
Priced at USD$580, the UNDONE x Popeye S Aqua Brutus Limited Edition comes complete with a PVD coated stainless steel case with a hardness above that of stainless steel. Presented with a deep elegant blue that's difficult to achieve with remarkable evenness and a rubber strap designed to absorb impact and resist corrosive chemicals. Furthermore, the ultra-thick sapphire crystal with its inner anti-reflective treatment increases visibility in sunlight, in addition to the Black Zirconium Dioxide (ZrO2) ceramic bezel insert makes it almost impossible to scratch under normal circumstances. Coupled with Brutus floating alluringly on a transparent dial, it's definitely our favourite of the bunch. Sorry, Popeye. Brutus wins this round. For once.