The Wind Up – Watch News #53
Summer has finally hit, and that means longer days, warmer nights, days spent at the beach and the good old Aussie tradition of backyard BBQs. But here at Man of Many, we have a sworn duty to provide you with the latest and greatest from the world of horology with our regular series focusing on everything related to watches, The Wind Up. In this instalment we have a couple of pieces from Girard-Perregaux, an absolute grail from Vacheron Constantin and something a little out there from Urwerk. So as always guys, sit back, relax, and enjoy!
---
You may also like:
The Wind Up – Watch News #52
The Wind Up – Watch News #51
The Wind Up – Watch News #50
---

Girard-Perregaux Laureato Flying Tourbillon Skeleton
Available in either 18k pink gold or 18k white gold, the Laureato Flying Tourbillon Skeleton is Girard-Perregaux's answer to the naysayers. They claim this to be the flagship model of their Laureato collection, and honestly this may be the highlight of 2017 for us here at Man of Many. This represents exactly what we've wanted to see from Girard-Perregaux for a very long time: daring, pizazz and high-end complication making. Everything on this screams quality and perfection. From the historic octagonal bezel to the beautifully constructed case. From the polished strap links to the mushroom crown. It all creates an aesthetic frame around the masterpiece that is the fully exposed movement. Some call it open-worked, others called it skeletonised, I liken the view to that of an early morning sunrise. Gorgeous, inspiring and alluring.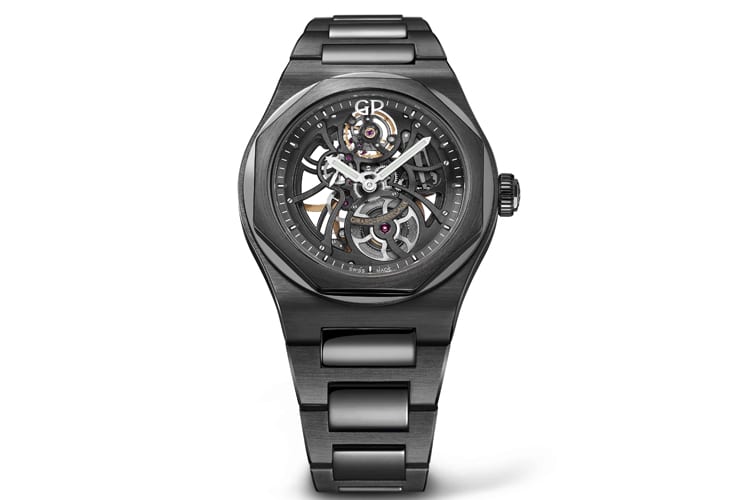 Girard-Perregaux Laureato Skeleton Ceramic
So we just took a look at something super high end from Girard-Perregaux. It was warm, it was inviting and it made you feel all fuzzy inside. Now let's turn the tables completely and take a look at the Laureato Skeleton Ceramic. It's a shady, menacing, almost aggressive looking timepiece that utilises the darkness of ceramic to create a spectacle that is both captivating and almost intimidating. You have a multitude of textural details on the case. From circular and horizontal brushing to super fine polishing, the differences in textures contrast wonderfully well with each other. This serves as the perfect framework for the exposed movement, which in itself has been blackened out and fully skeletonized. The open-worked bridges have been intricately tended to by the master watchmakers at Girard-Perregaux to ensure quality in abundance. The skeletonised gold rotor and gold balance wheel provide a great pop of colour for the monochromatic aesthetic of the piece, and legibility is less of an issue than you would think with thanks to the large hands filled with luminescence. Youthful, refreshing and utterly stunning, put my name down for two.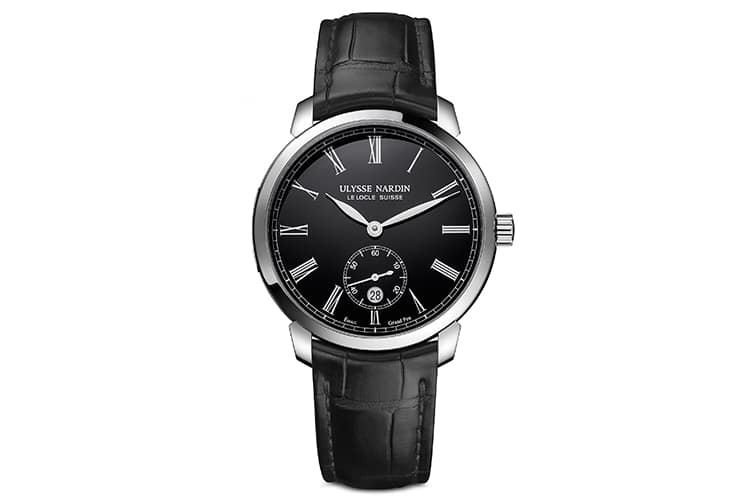 Ulysse Nardin Classico Manufacture Grand Feu
Here's something a bit different: a preview of what we can expect from Ulysse Nardin for the upcoming SIHH international watchmaking event. Here is my pick of the crop, the Classico Manufacture Grand Feu. Available with either a black or white grand feu enamel dial (my pick would, of course, be the black variant), this is an exceptionally well-executed timepiece. I've always thought that Ulysse Nardin hasn't really received the praise and acclaim that they deserve, and I sincerely hope that changes soon. They produce some remarkable timepieces at prices that (relatively speaking, of course) are quite affordable, all things considered. The Classico Manufacture Grand Feu brings together the worlds of traditional watchmaking with respect to its highly ornate dial, as well as contemporary horology. Its case looks super modern, and its movement is regarded as one of the most forward-thinking in the world, with leading patented technologies ensuring accuracy and longevity. This is an exciting piece. Slightly understated but still with enough zing to appeal to the more adventurous crowd.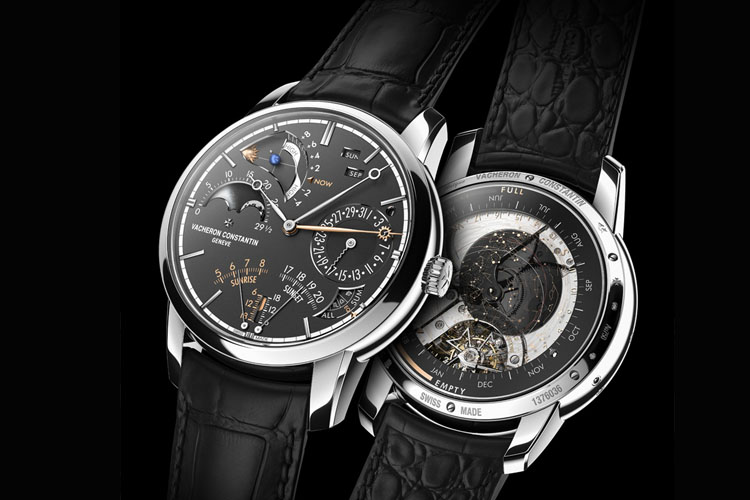 Vacheron Constantin Les Cabinotiers Celestia Astronomical Grand Complication 3600
It seems as though Vacheron Constantin can do no wrong as of late. Their Overseas collection was an instant hit, and with the introduction of this super-complication timepiece, their position as a leading and foundational haute horlogerie atelier is more solid than ever. Here is the Les Cabinotiers Celestia Astronomical Grand Complication 3600, the winner of the Mechanical Exception Watch Prize in the recent Grand Prix d'Horlogerie de Genève. No easy feat, mind you. From an aesthetic point of view, this is as good as it will ever get in a traditional (being round) watch. There are so many complications residing in this timepiece, but they all work so congruently and mesh together so well that legibility is of no issue at all. From a mechanical perspective, this is also as good as it gets. The Les Cabinotiers Celestia Astronomical Grand Complication 3600 costs upwards of $1,000,000, but let me tell you something. For the purchaser of this exceptional timepiece, their investment into the world of haute horlogerie will be filled with enjoyment, excitement and satisfaction.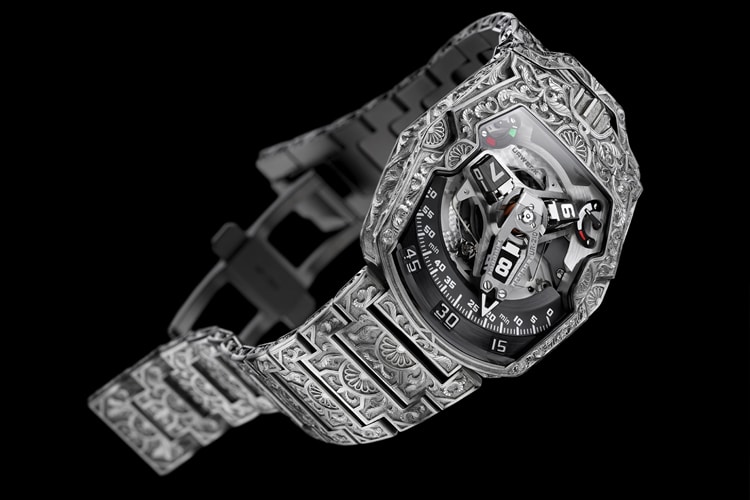 Urwerk UR-210 Dubai Edition
Customising watches is an ever-growing trend, and one of the most beautiful aspects of that is the individualization of a generic product. So imagine if a brand that creates some already very unique timepieces enters the game of customising. The outcome? Sheer insanity. In a good way! Urwerk have teamed up with expert craftsman Florian Güllert to create an engraved masterpiece that is the UR-210 Dubai Edition for the Dubai Watch Week hosted by Ahmed Seddiqi & Sons. This emblematic and tantalising timepiece combines the madness of Urwerk with the visual artistry of Güllert to create a package that is inspiring both from a visceral perspective and a mechanical perspective. It is indeed a charismatic timepiece which will suit the wrist of the wearer who carries similar traits as the UR-210 Dubai Edition. An air of adventure. A touch of madness. And perhaps a sprinkle of lunacy. You'll need all that plus some very deep pockets if you're looking at owning this work of art any time soon. Absolutely stunning!
If you enjoyed The Wind Up and would like to continue reading about watches, you can head on over to my blog, Haulogerie, where I delve a bit deeper into the wonderful world of watches.
Have you subscribed to Man of Many? You can also follow us on Facebook, Twitter, Instagram, and YouTube.
---
You may also like:
The Wind Up – Watch News #52
The Wind Up – Watch News #51
The Wind Up – Watch News #50
---