10 Best Cognac Brands to Spruce Up Your Snifter
Hailing from their namesake region in Southwest France, the world's best cognacs deliver quality and character in equal measure. Behind a number of these premium expressions are the best cognac houses, most of whom have been around for ages. It then goes without saying that each one has craftmanship down to a science, with the awards and reputation to show for it. Pour some of their finest output into the nearest sifter and you'll be sipping in style, indeed.
They don't call it the "water of life" for nothing, and that's before it's even hit the barrel!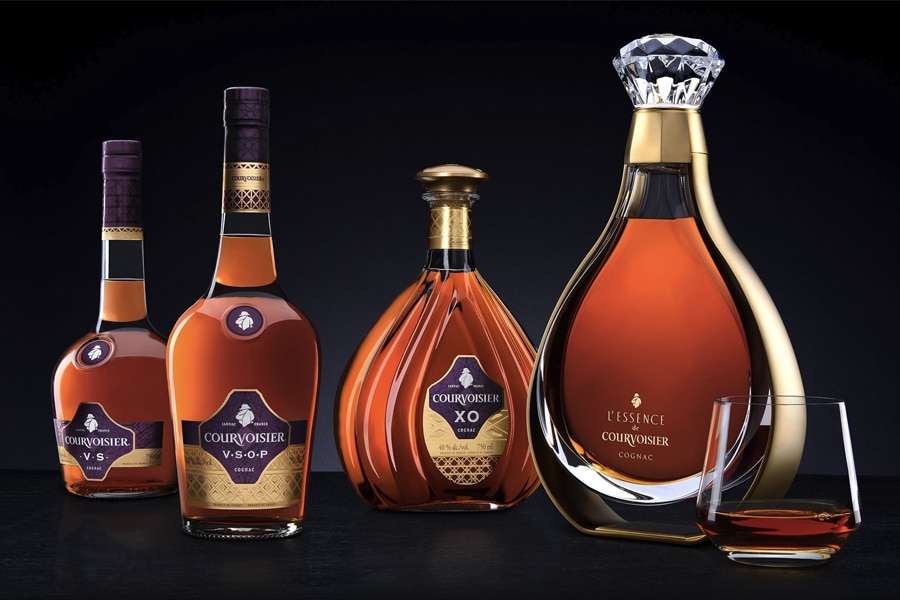 What is Cognac?
Before we dive into the best cognac houses (or châteaux, if you will), you might be wondering: what is cognac, anyway? The answer is fairly straightforward. Cognac is a specific type of brandy that's made in accordance with strict regulations. In order to make the cut, it must be produced using white grapes—mostly Ugni Blanc grapes—from one of six different terroirs in the Cognac region of Southwest France. The resulting juice is double-distilled in a copper pot still, which creates a young spirit known as eau de vie (translation: "water of life").
As per the regulatory standards, the eau de vie is aged for a minimum of two years, during a highly unique maturation process that involves redistribution from one French oak barrel to another. Next, a master blender typically "marries" (i.e. blends) assorted vintages and then puts the blend back in the barrel for additional aging. When the cognac finally lands in the bottle, it's adjoining age statement denotes the youngest vintage in the blend. There are three general age statements:
VS (Very Special) – The most common form of cognac, which has been aged for the mandatory minimum of two years.
VSOP (Very Superior Old Pale) – The youngest vintage in the blend has been aged for at least four years.
XO (Extra Old) – The youngest vintage in the blend has spent a minimum of six years inside the barrel.
For those who'd like to know more about how cognac is made, how it breaks down, and how it differs from other types of brandy, check out this separate article. However, if you're looking for the best cognac for under $50 or $100, the best cognac for sidecars or other cocktails, or just the best cognac in the world, stay right where you are. Without further delay, here are the 10 best cognac houses.
10 Best Cognac Houses

1. Hennessy
Presenting a cognac house so popular that "pass the Henny" has become part of the modern lexicon. It's then no surprise that the Hennessy distillery—which was originally founded in 1765—currently produces about 40% of the world's cognac. What's more, the brand has a supremely wide and versatile portfolio, which ranges from standard statements to limited-edition master blends.
For all the top-shelf drinkers out there, Hennessy XO has been the stuff of legend for nearly 150 years. In fact, some say it was the first XO ever produced. For everyone else, Hennessy VS is as reliable as it is ubiquitous. Sip it neat or use it to make the perfect cognac sidecar.
Alcohol content: 40% ABV
Founded: 1765
Founder: Richard Hennessy
Headquarters: Cognac, France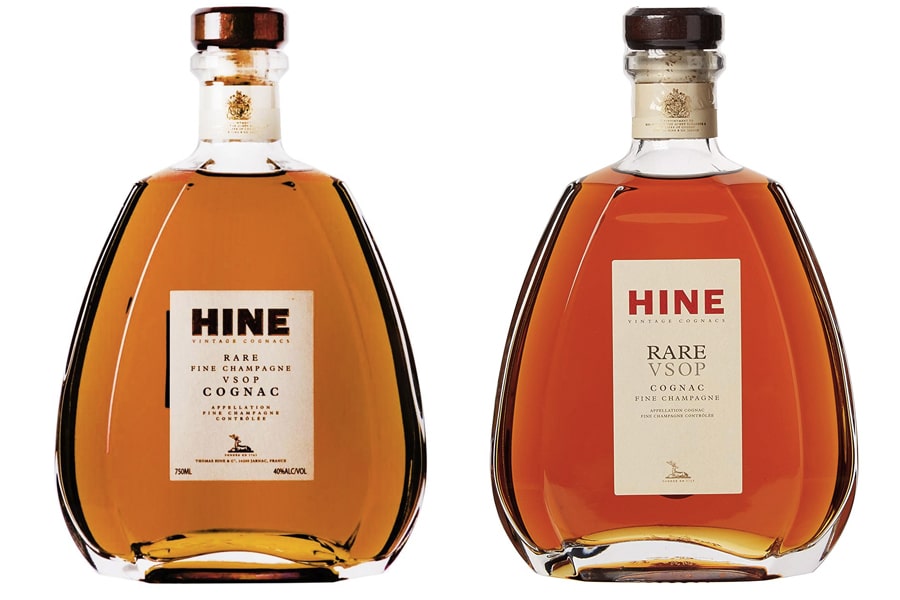 2. Hine
Most of the best cognac châteaux have been in the game for centuries, and Hine is certainly no exception. Since 1763, the acclaimed brand has been turning grapes into greatness by way of abundant resources and expert production techniques. Virtually everything this top cognac house produces strikes a distinctive accord, and no two releases in the Vintage Collection are exactly the same. For some of the best cognac under $100, grab a bottle of Hine Rare VSOP. You'll be glad you did.
Alcohol content: from 40% ABV
Founded: 1763
Founder: Thomas Hine
Headquarters: Jarnac, France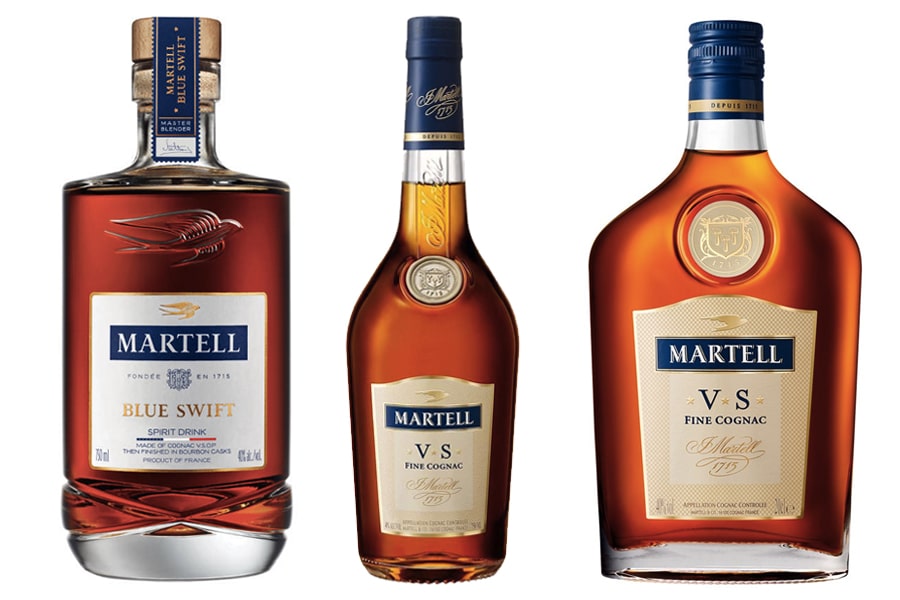 3. Martell
With 300 years of passion and history under its belt, Martell is the oldest of the active cognac houses. That's saying a lot, since most of the best cognac houses are really, really old. Naturally, this brand has craftsmanship and quality on lock, hence its broad slate of smooth sippers. Odds are you've seen Martell VSOP Cognac sitting on the shelf at the nearest upscale lounge, but that's merely skirting the surface. Take a deeper dive and you'll discover Cordon Bleu, a premium XO blend that marries 10 to 25-year vintages, using grapes from four different regions.
Alcohol content: 40% ABV
Founded: 1715
Founder: Jean Martell
Headquarters: Cognac, France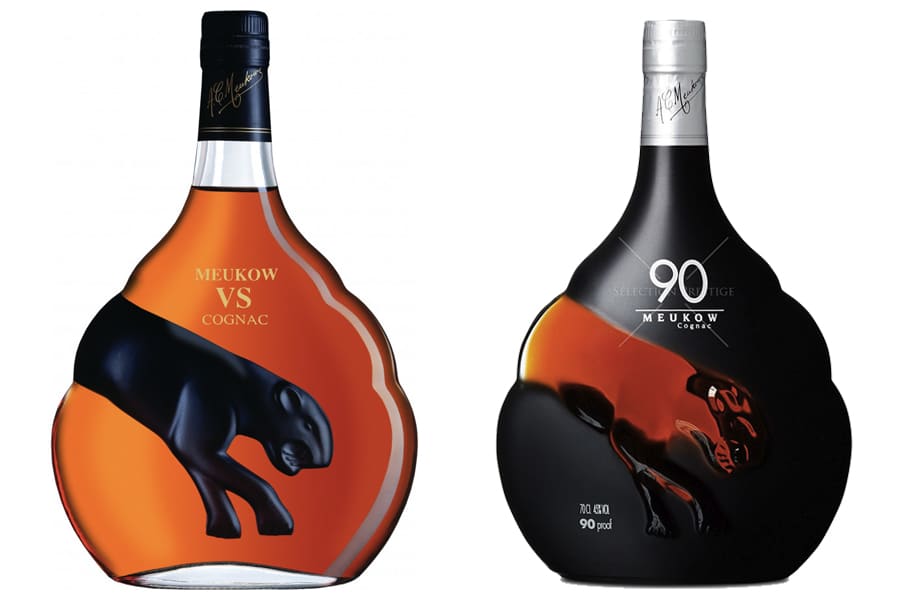 4. Meukow
This iconic distillery underwent renovations at the turn of the 21st century and now ranks among the most technically-advanced cognac houses. Distinguishing each expression is a brilliant sense of balance and complexity, as flavours of fruit, wood, and nuts partake in a delicate dance. For a touch of even more distinction, look no further than the black panther mascot adorning every bottle.
A number of the brand's releases are quite affordable, making them some of the best cognacs for under USD$50 and sometimes even USD$30. That is until you throw all those hefty import fees into the equation.
Alcohol content: from 30% ABV
Founded: 1862
Founder: Auguste-Christophe and Gustav Meukow
Headquarters: Cognac, France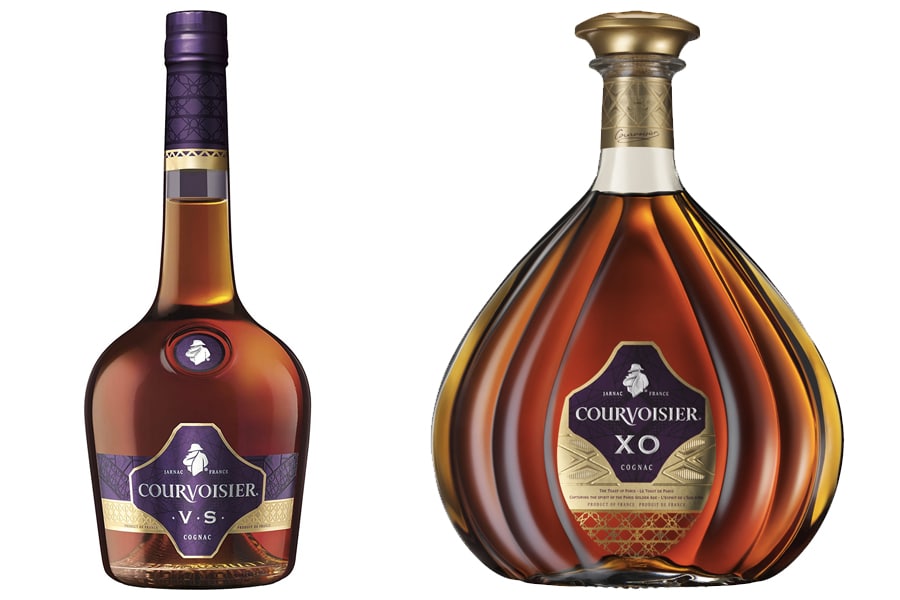 5. Courvoisier
Championed by everyone from Napoleon Bonaparte to Busta Rhymes, Courvoisier is a top cognac house that needs no introduction. A little more on the Napoleon connection: after visiting the distillery in 1811, he reportedly began dispensing this particular spirit to his troops during the Napoleonic Wars.
Given the emperor's subsequent defeat in 1815, we're not so sure that was such a good idea. According to legend, he also requested several casks of Courvoisier as his one luxury item upon being exiled. Multiple benchmarks would follow for this beloved and wildly successful brand.
Alcohol content: from 40% ABV
Founded: 1835
Founder: Felix Courvoisier
Headquarters: Jarnac, Charente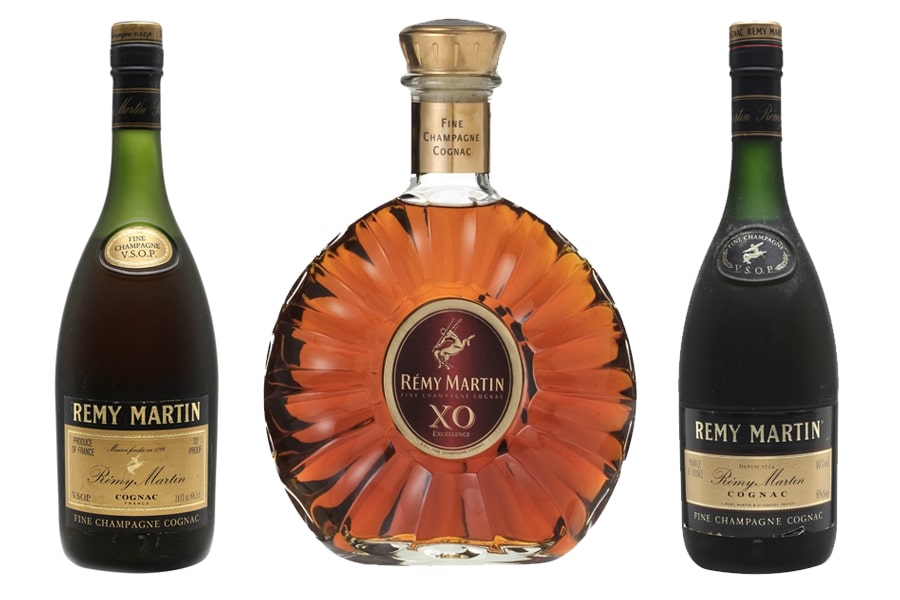 6. Rémy Martin
The most dominant names in cognac are Hennessy, Courvoisier, and this one right here: Rémy Martin. Founded in 1724, the top cognac house straddles a full spectrum of ages and prices. Its best-known expression, VSOP, is the biggest-selling VSOP worldwide, and a perfect base for your next sidecar.
This is also the brand behind the exclusive and renowned Louis XIII, which blends 1200 individual eaux-de-vie from Grande Champagne vineyards, representing an age range from 40 to 100 years. Should you ever score a bottle, don't even think about using it in a cocktail.
Alcohol content: from 40% ABV
Founded: 1724
Founder: E. Rémy Martin
Headquarters: Cognac, France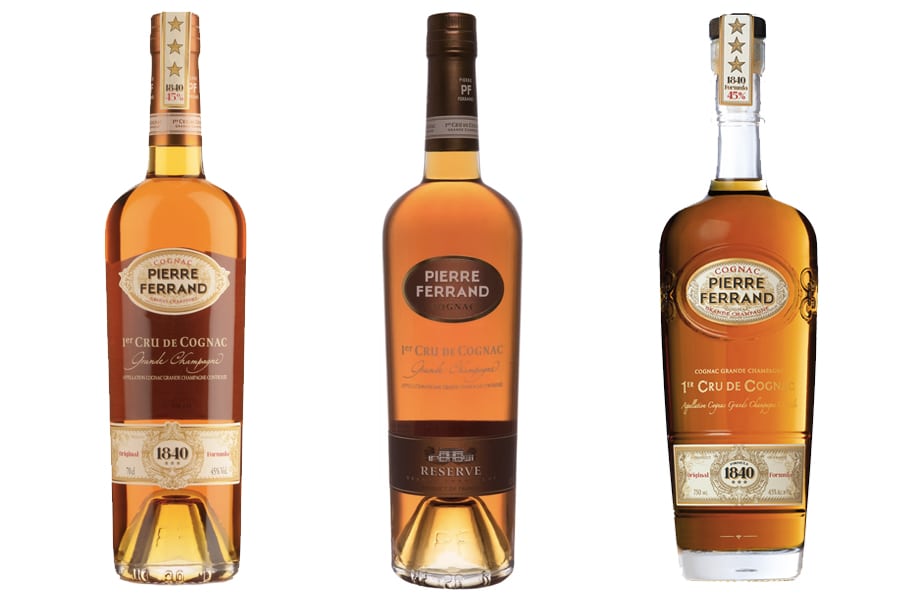 7. Pierre Ferrand
A living testament to the art of blending, Pierre Ferrand marries various vintages to harmonious effect. Striving for absolute distinction, the brand doesn't abide by the traditional classifications of VS, VSOP, and XO. Instead, it employs unique designations and occasionally veers outside of regulatory practices. In turn, some output doesn't fall under the official "cognac" banner, even if it's crafted entirely from Grande Champagne grapes. Suffice it to say, every aspect of this operation emanates with an artisanal vibe.
Founded: 1702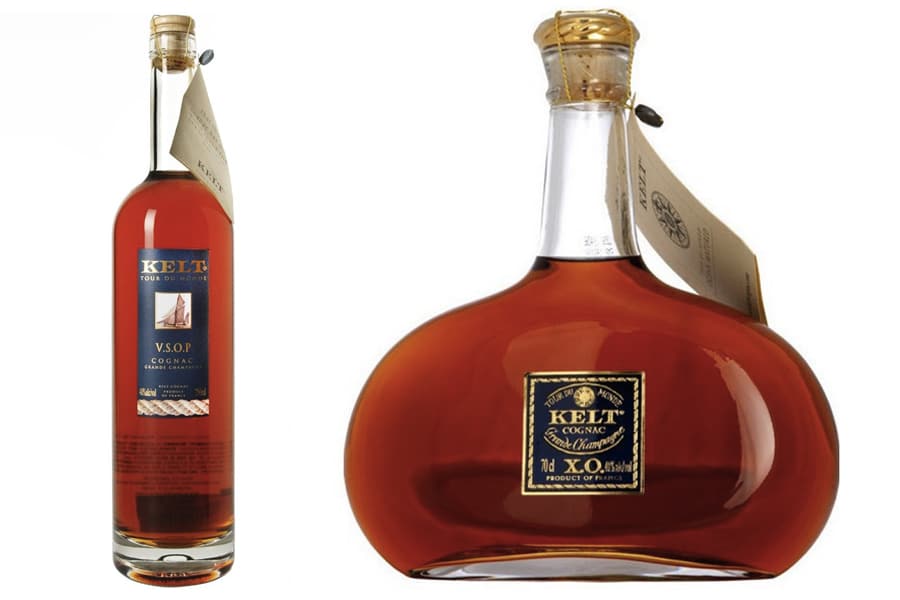 8. Kelt
Every spirit tells a story and Kelt has one heck of a story to tell. While the early stages of production are traditional by most standards, this cognac house breaks out on its own during the fifth and final stage, sending its barrels out to sea for three months of additional maturation. It's a process that harkens back to the old world, when all cognac was exported by way of long overseas voyages. Factors such as temperature fluctuations, changes in air pressure, and movement would improve the qualities of the spirit as it rested in the barrel.
We've come a long way in the time since, but that hasn't stopped the brand from utilising those former practices. Does it amount to some of the best cognac you'll ever try? Pick up a bottle of the Tour Du Monde VSOP or XO to find out.
Alcohol content: from 40% ABV
Founder: Olev Kelt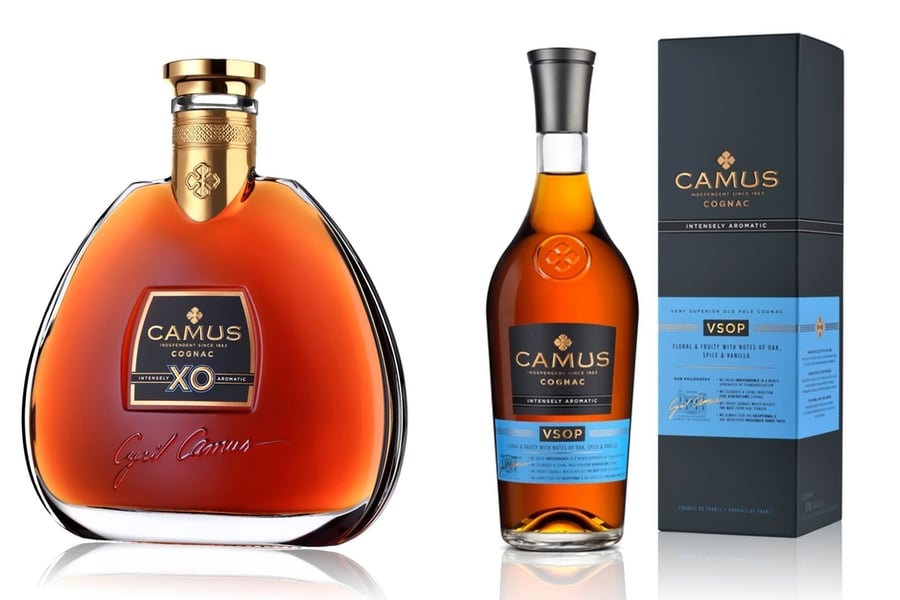 9. Camus
Whereas most distilleries have been swallowed up (i.e. bought out) by bigger fish, Camus retains an independent streak, keeping it in the family since 1863. Nowhere is that more evident than with the Broderies Range, which consists of single-estate blends produced from the label's own vineyards. The stamp of distinction starts with the wondrous aromas and extends to the luscious, complex taste.
Meanwhile, Camus continues to shake things up after all these years. On the heels of its acclaimed Elegance Range, the distillery recently debuted new VS, VSOP, and XO statements. Each one brings over 150 years of craftsmanship to fruition and delivers exceptional colour, aroma, and taste as a result.
Alcohol content: from 40% ABV
Founded: 1863
Founder: Jean-Baptiste Camus
Headquarters: Cognac, France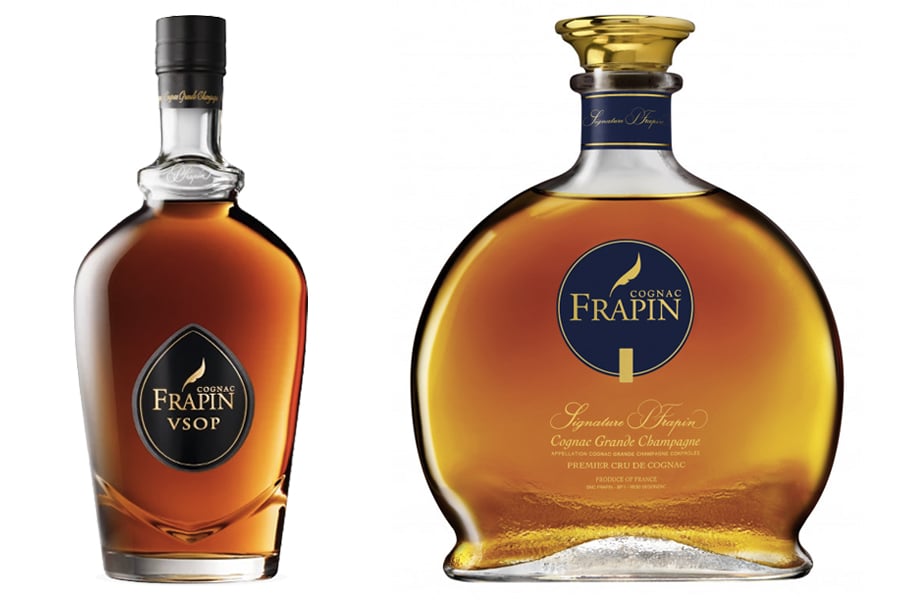 10. Frapin
Here we have another independent producer of the highest regard, which maintains a single estate in the heart of France's Grande Champagne region. Not only that, but Frapin employs growing and production methods first developed as early as 1270. These secrets have been passed down from one generation to the next, staying within the same family the entire time.
If you want to know what 21 generations of expert craftsmanship tastes like, this cognac brand is calling your name. The only caveat is that you might have to travel to France to try its best offerings—not that you mind.
Alcohol content: from 40% ABV
Founded: 1270
Founder: Frapin family
Headquarters: Segonzac, France
You'll also like:
15 Best Rye Whiskeys To Add to Your Liquor Cabinet
What is the Difference Between Brandy and Cognac?
12 Best Australian White Wines
General FAQ
What is difference between Cognac and Brandy?
In the same sense that Scotch is a type of whisky, cognac is a specific type of brandy that's made in accordance with strict regulations.
What is cognac made of?
In order to qualify as cognac, the brandy must be produced using white grapes from one of six different terroirs in the Cognac region of Southwest France. The juice must be double-distilled in a copper pot still and aged in French oak barrels for a minimum of two years.
Is cognac a whiskey?
Cognac is a type of brandy and it's made from grapes, not grains. It is not a type of whiskey.