11 Best Gin Bars in Brisbane to Join the Gin Revolution
Cementing itself as one of Australia's favourite spirits, gin has taken a stronghold within many Australian cities, seamlessly infusing itself into cocktails across the country. The gin revolution triumphantly made its way through the east coast strongholds of Melbourne and Sydney, now making a big move at the gin bars in Brisbane. Thankfully, the gin revolution presents nothing more than the best quality selection for Brisbanites, from local small-batch distilleries to remarkable international selections the revolution has been carefully circulated throughout some of the best gin bars in Brisbane.
So if you're in the mood to join the gin revolution, here is a list of the 11 Best Gin Bars Brisbane has to offer.
You'll also like:
11 Best Rooftop Bars in Brisbane
7 Best Whisky Bars in Brisbane
Shane Warne Just Dropped the Ultimate Session Gin & Tonic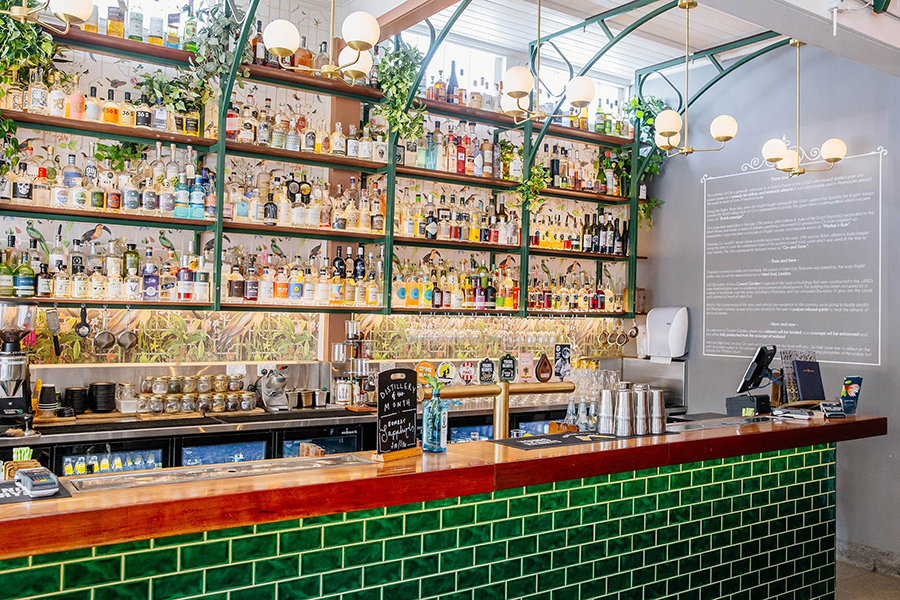 1. Covent Garden
Covent Garden is an exciting Brisbane gin bar that takes inspiration from London's Covent Garden, a famous shopping and entertainment district known for its award-winning stores and modish restaurants. Savouring the flavour of London's West End, Brisbane's Covent Garden finds success in adding touches of the popular London district throughout, intertwining a tropical theme that is more true to its Australian roots. The tropical theme translates to a fruitful cocktail menu with stand out drinks such as the Peppermint Tea Toddy, Prima Blazer and Moaning Myrtle bringing a touch of London to a cocktail menu that is sure to quench your thirst on a balmy Sunday arvo.
Popular Cocktails: Peppermint Tea Toddy, Prima Blazer, Moaning Myrtle
Address: 142 Boundary St, West End QLD 4101
Hours: Wed-Thur 12-10pm Fri 12pm-12am Sat-Sun 11am-10pm
Phone: (07) 3844 0142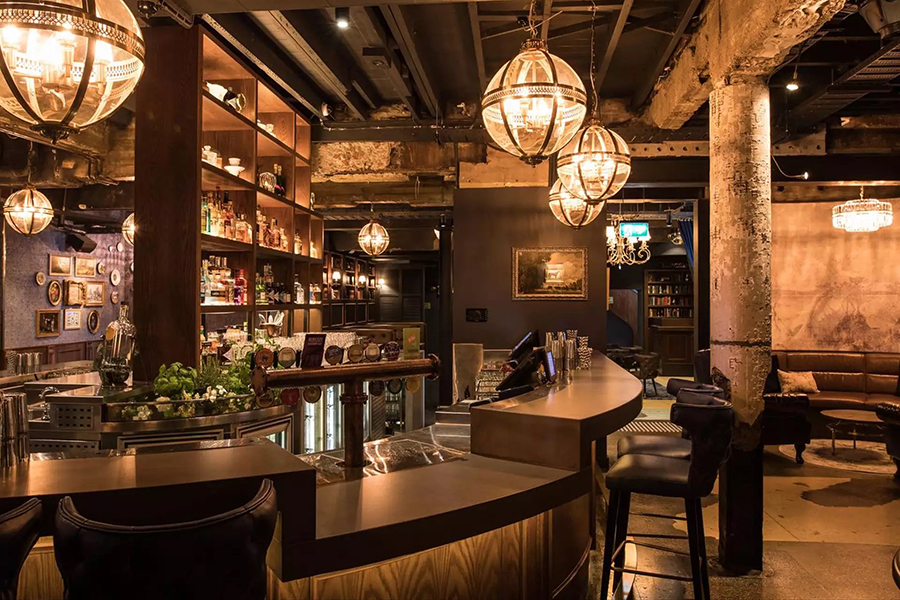 2. Shhh!
Bringing heritage that dates back to the late 19th Century, Shhh! is one of the newest gin bars in Brisbane. The site has undergone recent developments that give the gin lover a proper 'home away from home', including booths and a new decor that reiterates the library motif, shhh! You'll find yourself hiding away in leather booths amongst rows of books, overwhelmed with a gin cocktail menu that rivals any watering hole in town. Gin flights dominate the menu with selections that transport a gin connoisseur to all six corners of the gin world map. Highlights include the Mediterranean Flight with Four Pillars Rare Dry (Australia), Citadelle (France), and Monkey (Germany) rounding up your Mediterranean adventure.
Known for: Gin flights that transport a gin lover across six different gin regions
Address: 0 Constance St, Fortitude Valley QLD 4006
Hours: Wed-Thur 5-11pm Fri-Sat 5-11:30pm
Phone: (07) 3252 9833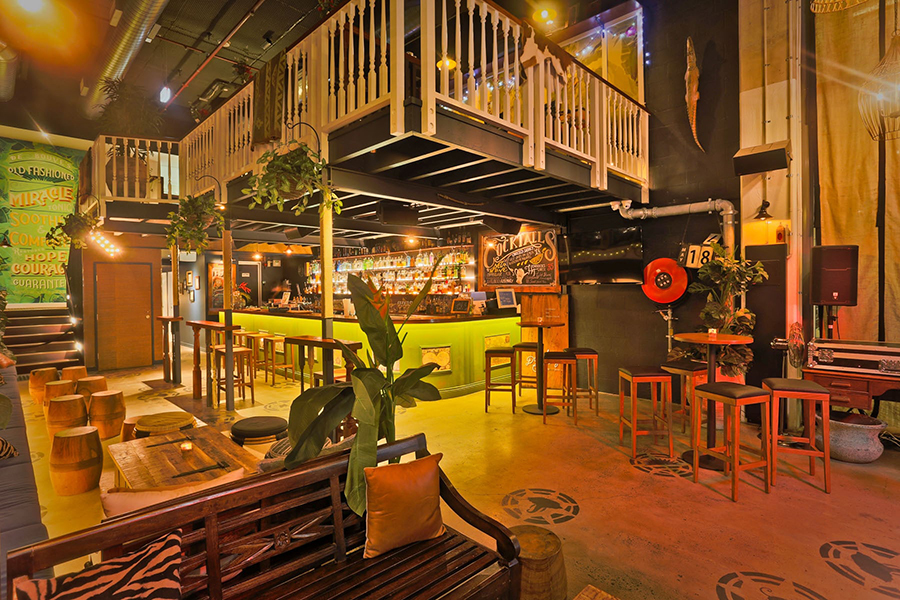 3. Dutch Courage
Dutch Courage is a plantation-style gin bar that represents the origins of the Gin & Tonic. Set over two storeys, Dutch Courage is a paradise for those interested in exploring the traditional roots of the G&T and boasts the most extensive traditional menu of all the gin bars in Brisbane. The options and combinations are endless and tailored to the gin lover every step of the way. A gin connoisseur will appreciate the choice in glass, the choice in the house or premium tonic, and a full collection of iconic gins that elevate Dutch Courage's drinks selection beyond the likes of Shhh! and Covent Garden. As a traditional venue, the bartender will be there every step of the way should you need it, allowing you to take your time with the menu as the selection encompasses over 140 gins including London Dry, Contemporary Dry, New Age Citrus, New Age Spice, New Age Floral/ Herbal, Sweet, and Barrel-Aged gin.
Popular Cocktails: Hendricks Teapot, Gin Bathtub
Address: 51 Alfred St, Fortitude Valley QLD 4006
Hours: Wed-Thur 4-11pm Fri 3-12am Sat 12pm-12am Sun 3-10pm
Phone: (07) 3852 4838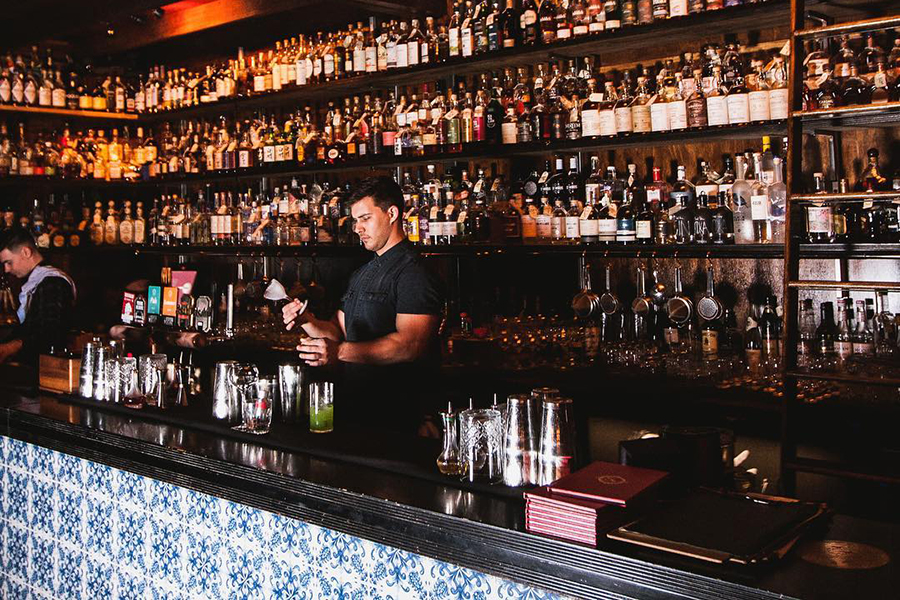 4. Savile Row
Try not to fall off your perch when you push through the orange door and peel back the black velvet curtain to reveal the 750 strong bottle collection that Savile Row proudly displays behind its open bar. Savile Row is one of Brisbane's hidden gems, the unassuming orange door that secludes Savile Row from its residency within Brisbane's trendiest district prevents everyone but those who know from entering the speakeasy-style bar. The dimly lit Brisbane gin bar presents a mysterious guise that transfers to its drinks menu, a menu that is exclusively available to patrons, and just like its main entrance, excludes itself to from those who are on the outside looking in.
Famous for: 750 bottle bar wall
Address: 667 Ann St, Fortitude Valley QLD 4006
Hours: Mon-Sun 5-3am
Phone: 0455 686 968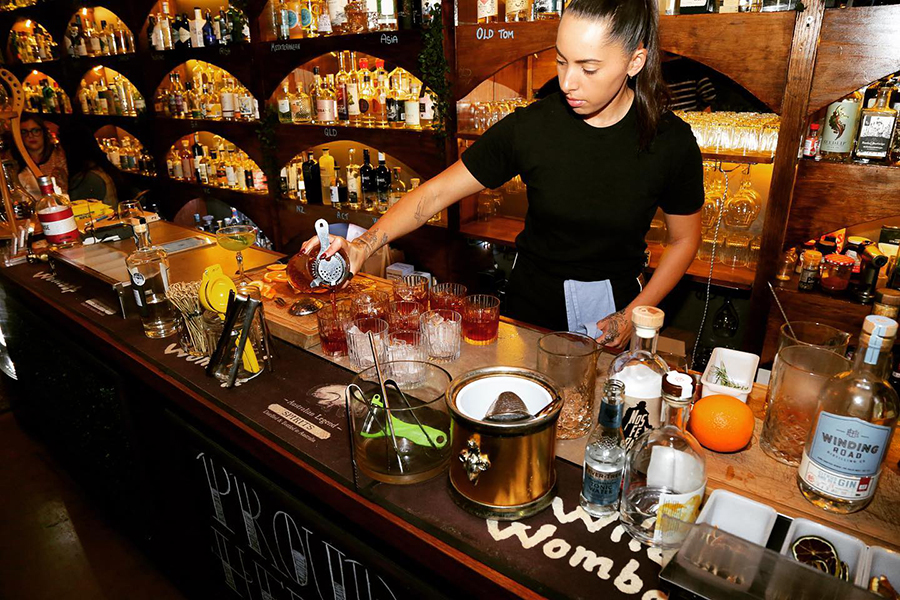 5. Proud Henry
Proud Henry is a must-visit for the gin lover that's looking for an extensive selection that includes options traditionally unavailable in Australia. Located minutes away from Chinatown in the middle of Fortitude Valley, Proud Henry is a form of urban oasis for gin fiends who seek a little bit more than the traditional regional offerings. Proud Henry (the peacock) watches over the 280 bottle collection behind the bar, and the bartenders are more than willing to share some of their insights with patrons, even creating an apothecary like gin concoction upon request. The drinks menu is extensive, highlights include the Herno Sipping Gin, Tanqueray N0.10, and the Black Fox Dry Gin.
Known for: Hard to find varieties, 280 bottle selection
Address: 153 Wickham St, Fortitude Valley QLD 4006
Hours: Wed-Thur 4-10pm Fri-Sat 4-12am
Phone: (07) 3102 1237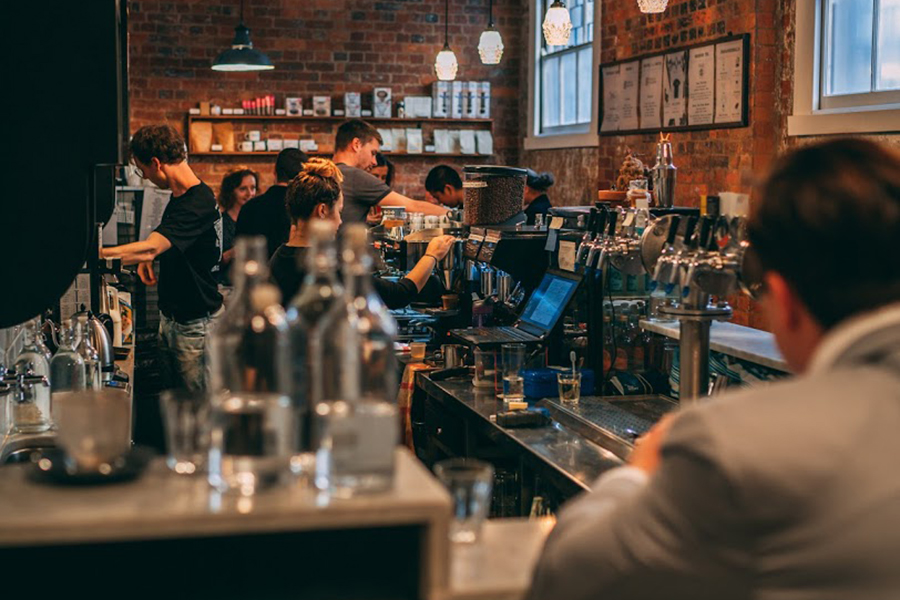 6. John Mills Himself
Sitting as the tallest amongst a group of heritage-listed brick buildings, John Mills Himself is hard to miss with its logo displayed proudly on the face of the building. Doubling as a cafe during the day and transforming into a secluded gin bar in the night, John Mills Himself is housed on the ground floor of the building. As one of the best gin bars Brisbane has to offer, John Mills Himself prides itself on quality, environmental sustainability, and the best practice of ethics in the gin scene. In an attempt to follow through with their philosophy the gin bar is committed to sourcing all of its products locally, pioneering the idea of 'Drink Miles', a concept akin to 'food miles' that looks at the carbon footprint associated with the transportation of imported goods. Many craft distillers were formerly farmers, who struggled with low crop yield and instead of turning to the drink, turned to make drinks, and John Mills Himself is here to support that cause. The drinks menu at John Mills Himself changes almost weekly, and because of the ever-changing landscape, a map of the current options can be found on their website.
Known for: Selection of craft Australian spirits and local mixers
Address: 40 Charlotte St, Brisbane City QLD 4000
Hours: Tues-Thur 6:30am-2:30pm, 3:30-8:30pm Friday 6:30am-2:30pm, 3:30-10:30pm Sat 3:30-8:30pm
Phone: 0434 064 349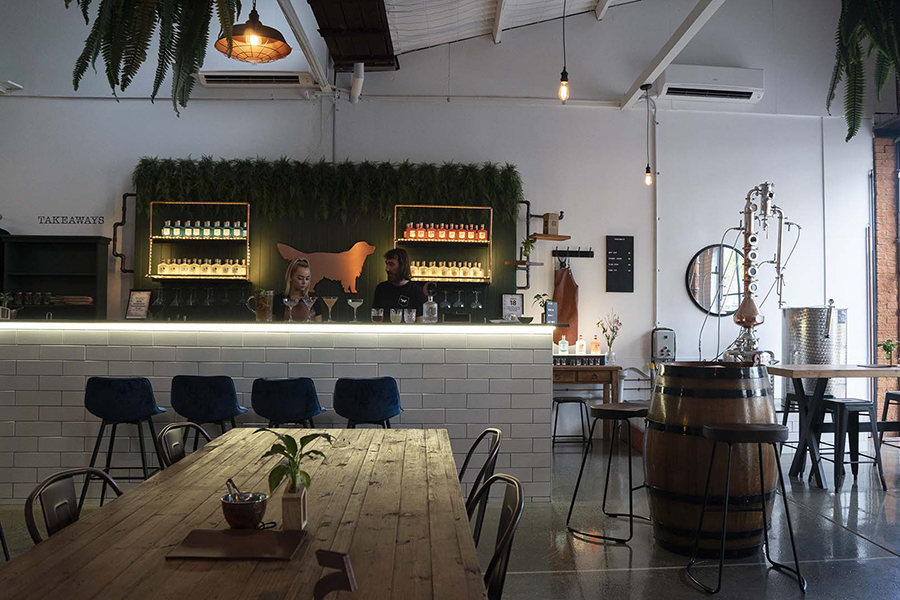 7. Winston Quinn
Winston Quinn is on the shortlist of pioneers for the small-batch new age botanical gin movement that is happening in Australia. Since its ginception Winston Quinn has taken the approach of a fine watchmaker, precision is the name of the game, and Winston Quinn's attention to detail is on full display throughout the entire process. Combining their use of natural, locally sourced ingredients, and their best-in-class bottle design, Winston Quinn honours its promise to focus on a painstakingly delicious final product. Winston Quinn offers a tasting experience, by appointment only sourced from its own stock, making it not only one of the best gin bars in Brisbane, but also a killer distillery.
Distillery Highlights: Navy Strength Double Denim gin, Skinny Jeans Gin, Classic Dry Gin
Address: 2 Prospect St, Fortitude Valley QLD 4006
Hours: Bookings on request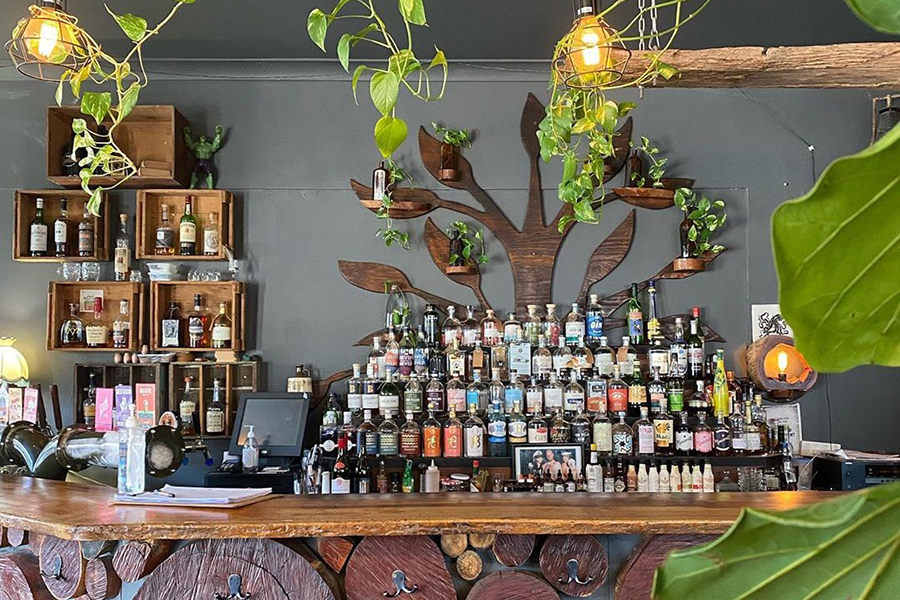 8. BOSC
Standing for Bar of Social Conscience, BOSC donates 20 per cent of its profits to charity, and with a drinks menu that features mouth-watering craft gins, and house specialities there is no reason to miss this Brisbane gin bar. BOSC is the gin bar that makes the world a better place, and ever since it started pouring drinks in 2013, the intention was always to become a Brisbane gin bar for patrons to help humanity and quench their thirst at the same time. The socially conscience gin bar is fully furnished in environmentally-friendly decor from the tables and benches to the floorboards, everything is recycled, there is even a wall of artificial plants and a space for local artists to show off their craft. To top off the experience Gin is the show-stopping choice of spirit, and boy does the BOSC inspire its patrons to donate till the cows come home. While the menu changes almost weekly, Gin lovers should be on the lookout for the Sloe Gin Fizz or the Vanilla Me Timbers featuring house-made vanilla fig syrup, rum, and grapefruit. Oh, and BOSC is dog friendly!
Known for: 20% of bar profits are donated to an orphanage in Mexico, dog friendly
Address: 69 Vulture St, West End QLD 4101
Hours: Wed-Sun 4-11:55pm
Phone: (07) 3013 6666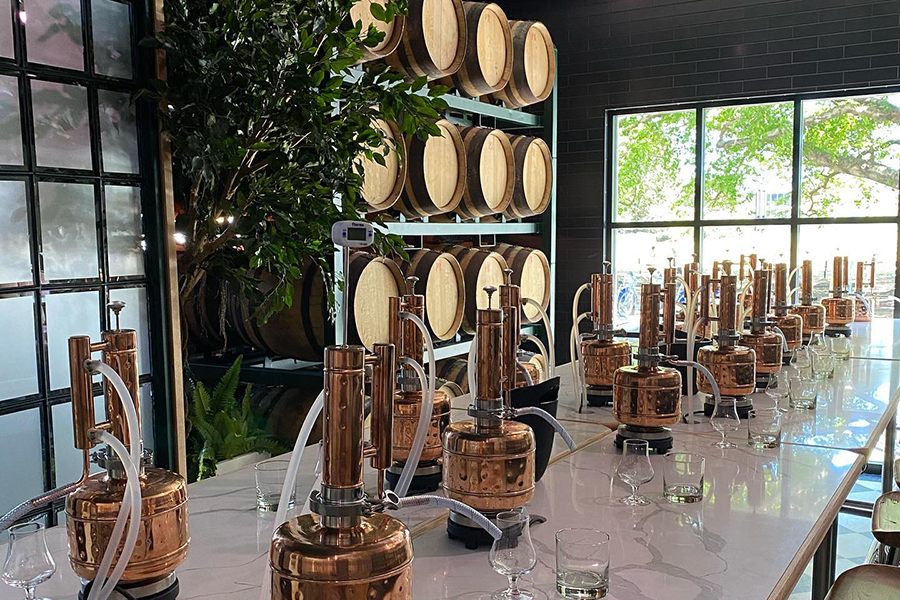 9. Brisbane Distillery
Brisbane Distillery is the city's first grain to glass artesian distillery, with a passion for utilising natural Queensland ingredients, its goal is to create a history of quality local gin. Located next to the Old Brisbane Windmill which houses the original distillery, this gin bar is brand new, 260sqm in size, and features a 23-metre-long bar that is lined with Brisbane Distilleries finest gin, vodka, and rum. The room is host to tastings, a great way to sip your way through the drinks menu which boasts over 40 cocktails, it is a great place to sip back and relax. The gin connoisseur will love Brisbane Distilleries gin school, a masterclass where spirit lovers will get the chance to create their own gincoction. Participants will love getting their gin lab coats on while considering which variety of citrus and botanicals they will infuse in hope of creating a gin memory that will last a lifetime, or a week, depending on how quickly you get through the included 500ml bottle.
Distillery Highlights: New Cocktail Bar, Free Tastings, Gin School
Address: 99 Jane St, West End QLD 4101
Hours: Tues-Sat 11-6pm
Phone: (07) 4243 4101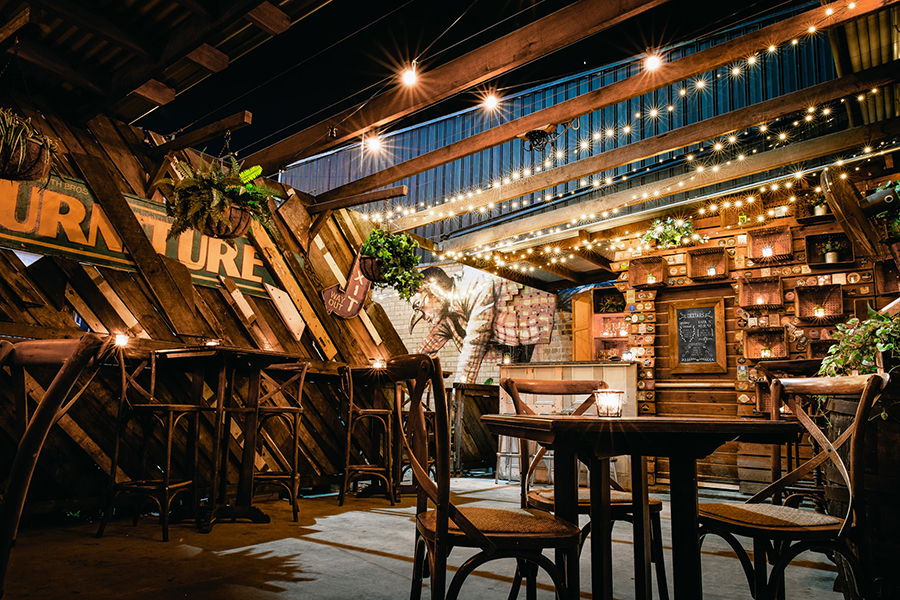 10. Canvas Club
Canvas Club is a living canvas of a Brisbane gin bar that features classy wine and cocktails, the bars philosophy is simple, great food, a relaxed chilled out sexy vibe, and interesting drinks. Canvas offers a seasonal cocktail list and a curated food menu that conveys a sophisticated aesthetic and far exceeds expectations. Located in Woolloongabba's traditional shopping district, Canvas Club reflects the heritage of the area with retro furnishings, mood set lighting, and a suave yet understated atmosphere. The seasonal drinks menu includes innovative gin-based cocktails such as 'The Last Dance' with Falernum and Grapefruit and the 'Matcha Made in Heaven' with Matcha Tea and Milk Punch. Canvas Club pairs their clever drinks menu with an extensive tapas menu, options include classics such as pulled pork tacos and lemon pepper wings that will impress even the most well-versed foodie.
Known for: Great selection of food to pair with your favourite cocktail
Address: 16B Logan Rd, Woolloongabba QLD 4102
Hours: Wed-Thur 4-11pm Fri-Sat 4-12pm
Phone: 0401 636 029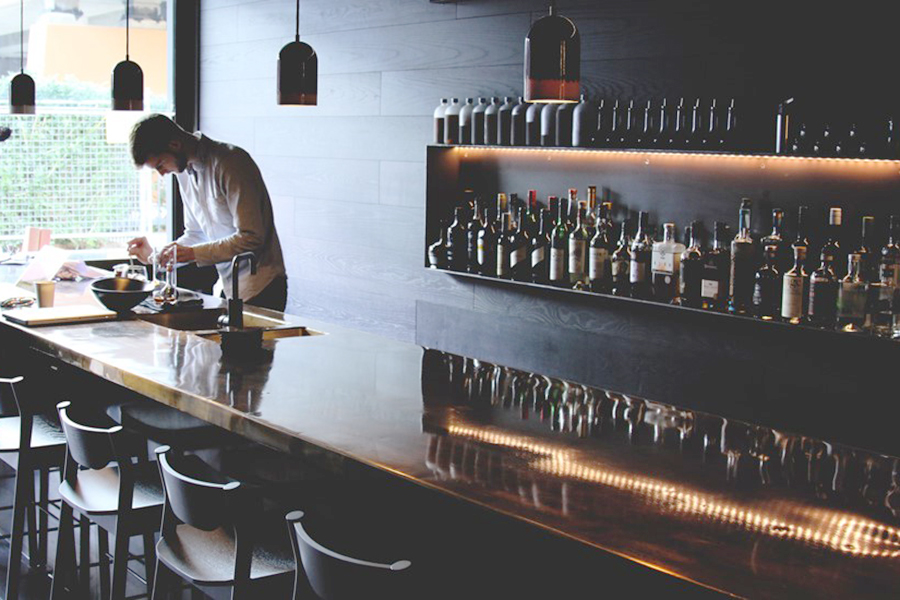 11. Maker
Hidden away in Brisbane's famous Fish Lane, Maker is a small hole-in-the-wall gin bar that brings levels of stirring minimalism to a bubbling local haunt. When you enter Maker the 7.5-metre-long brass bar commands the lion's share of attention, with a space that is otherwise empty Maker has a focus on a short drink and food menu that changes regularly. The finely detailed minimalist fit-out takes away all distractions and positions the drinks and food as the true performers, and performers they are. The menu is experimental without overstepping the mark, reflecting the minimalist nature of the space with options such as an altered Gin and Tonic with native quandong and finger lime or Reposado Tequila that gets hit with a touch of Cynar, watermelon, pomegranate and almond, the likes of which lift the drinks menu above many other gin bars in Brisbane.
Known for: Unique selection of handmade seasonal gin cocktails served with charcuterie
Address: 9 Fish Ln, South Brisbane QLD 4101
Hours: Tues-Sun 4-12am
Phone: 0437 338 072
You'll also like:
11 Best Rooftop Bars in Brisbane
7 Best Whisky Bars in Brisbane
How to Make Cold Brew Coffee That Actually Tastes Good
General FAQs
Where can I buy gin in Brisbane CBD?
In Brisbane, you can buy gin from a wealth of different locations. However, the gin bar scene in the city has taken off in recent years. Throughout the CBD you can find a wealth of fantastic and chic gin bars.
What are the best gin bars in Brisbane?
There are many good gin bars in Brisbane. According to Google Reviews, the top-rated gin bars in Brisbane are BOSC, Covent Garden and Dutch Courage.
Where are the best distilleries in Brisbane?
The rise of gin distilleries in Brisbane has been rapid and unwavering. On sheer size alone, Brisbane Distillery is one of our top picks.