21 Best Whisky & Scotch Glasses – A Complete Guide
There comes a point in every true whisky drinker's life where he puts down the shot glass and picks up the snifter, Glencairn, or tumbler instead. With the best whiskey glasses or Scotch glasses now at his disposal, our hypothetical enthusiast is sipping instead of gulping, savouring instead of abusing, and forming an actual appreciation for spirits along the way. The best part is, he's no longer waking up half-naked in some stranger's backyard the next day!
Before long, our enthusiast has developed a sincere understanding of whisky, and how it can range in terms of quality, flavour, colour, aroma, and texture. In fact, every time he pours himself a dram, he's using one of the 21 best whisky or scotch glasses, knowing all too well that they really do heighten the experience. But why, you might ask? We explain it below, before diving into a list of the best whisky glasses and Scotch glasses.
You may also like:
Guide to Australia's Best Distilleries
Watch How Whisky is Made
The Ultimate Guide to Beer Types & Styles

How to Choose The Best Whisky Glass or Scotch Glass
Ultimately, how to choose the best whisky glass or scotch glass is a matter of personal preference, but there are still some important parameters by which to abide. They are the following:
1. Whisky Glass Structure
Like all good spirits, quality whisky should have room to breathe and remain accessible to the nose and palate. Accordingly, the best Scotch glasses ensure that the liquid is easy to swirl around, and not too cloistered, but also not sitting at the bottom of a proverbial canyon (in other words, don't use a wine glass to drink whisky). Furthermore, the shape and texture of the glass are often fundamental to the sensory experience. For instance, the thin and curvaceous body of either a Glencairn glass or snifter optimises nosing capability, among other things. Along similar lines, you want to make sure the glass delivers seamless drinkability by way of a round or slightly curled mouth.
2. Glass Feel & Characteristics
A well-made whisky glass should feel good in your hand. To that end, the weight, design, and grip are all important.
3. Whisky Glass Appearance
It might sound superficial to say, but the best whisky and Scotch glasses should look as great as they feel. In other words: aesthetic counts.
4. Whisky Glass Type
There are a range of whisky glasses to choose from, the most popular types being the snifter, the tumbler, the Glencairn, the highball, the tulip-shaped glass, and the neat whisky glass. Find the one or two glasses for whiskey that work best for you, and start sipping like a pro. Here is a list of whisky glass types.
The Best Whisky & Scotch Glasses
1. The Neat Whiskey Glass
While The Neat Whiskey Glass might kind of look like a miniature fishbowl, that open-lipped design comes backed by hard science. Specifically, this whiskey glass was crafted based on Naturally Engineered Aroma Technology, which determines the most effective way to reduce ethanol vapours while enhancing favourable aromas. As a result of the bulbous body and flat rim, your nose hangs right over the 'sweet-spot' every time you take a whiff. This whisky glass also fits snugly into the palm of your hand. All that and more make it one of the best whiskey glasses Australia has to offer.
Price: $21.95 (2 pcs)
Manufacturer: Wine Enthusiast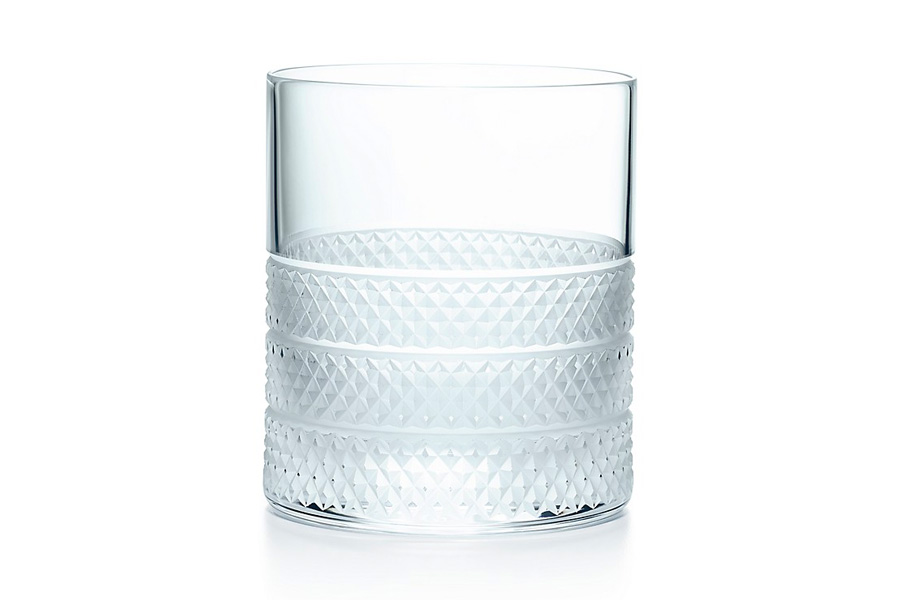 2. Tiffany & Co. Diamond Point Double Old Fashioned Glass
If you're looking for understated luxury in your whisky glasses then the Diamond Point Double Old Fashioned Glass from Tiffany & Co. The traditional profile and geometric style lend a modern edge to any home. Heavily weighted at 15 ounces, the Diamond Point Double Old Fashioned Glasses are sure to impress whoever you share a tipple with.
Price: $135
Manufacturer: Tiffany & Co.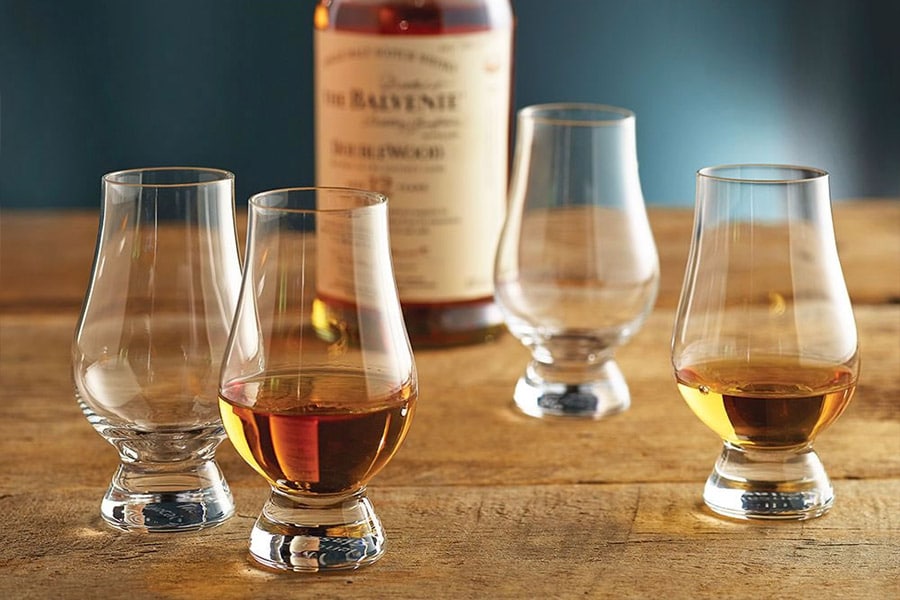 3. Glencairn Whisky Glass
The majority of aficionados swear by the Glencairn Whisky Glass, and with good reason. Made of premium crystal, it takes the heavy base of a whiskey tumbler and pairs that with the thin, curvy body of a tulip glass, thereby representing the best of two worlds. More than just the best whisky or Scotch glass, this is as close as one can get to an "official" whisky glass.
Price: $26.51 (4 pcs)
Manufacturer: Glencairn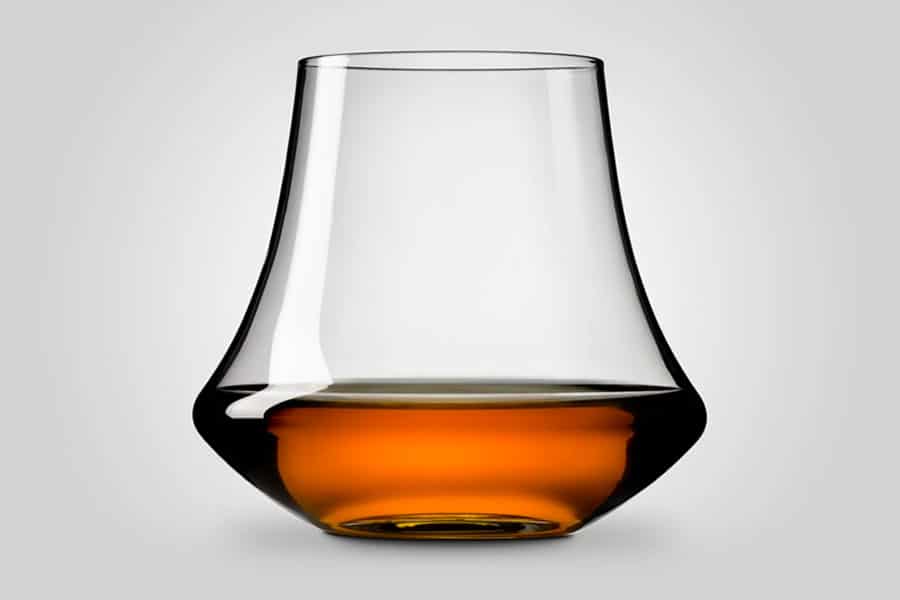 4. Denver & Liely Whisky Glass
A timeless silhouette and impeccable craftsmanship are both core components in the Denver & Liely Whisky Glass. Combining the key elements of the tumbler and the more traditional whisky snifter, the D&L Whisky Glass offers versatility without sacrificing the tasting experience. Those who know rate the D&L Whisky Glass as one of the best handblown glasses available.
Price: $50
Manufacturer: Denver & Liely.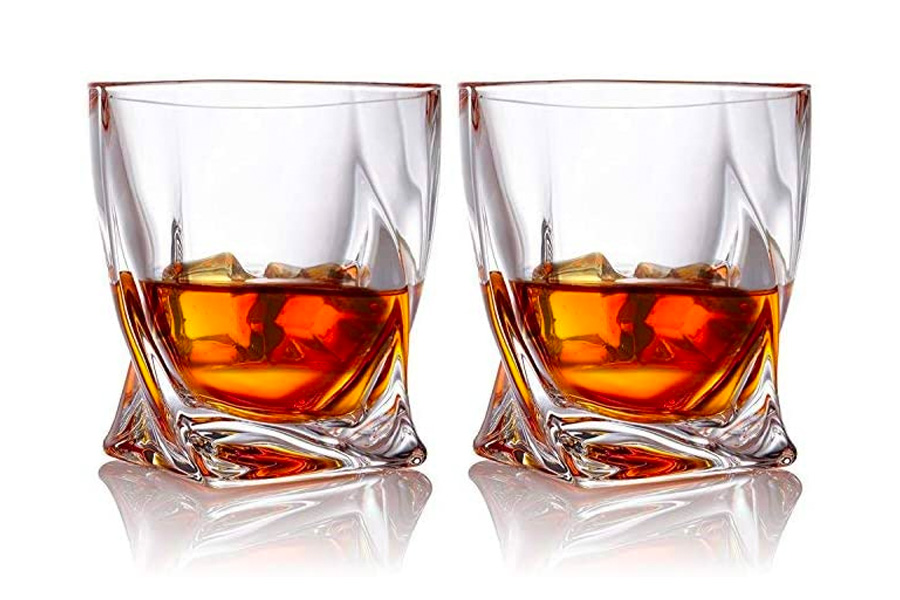 5. Twist Whiskey Glasses
These handcrafted, heavy-bottomed, tumblers are the perfect gift for any whisky enthusiast. Elegantly designed with 100% lead-free crystal, the Heavy Base of Van Daemon Whiskey glassware gives them real substance and heft. Blending old fashioned design with contemporary touches, means Van Daemon Glasses are ideal for any liquor or cocktail – Whisky, Scotch, Bourbon, Vodka, Gin… or even plain water.
Price: $38.99 (2 pcs)
Manufacturer: Van Daemon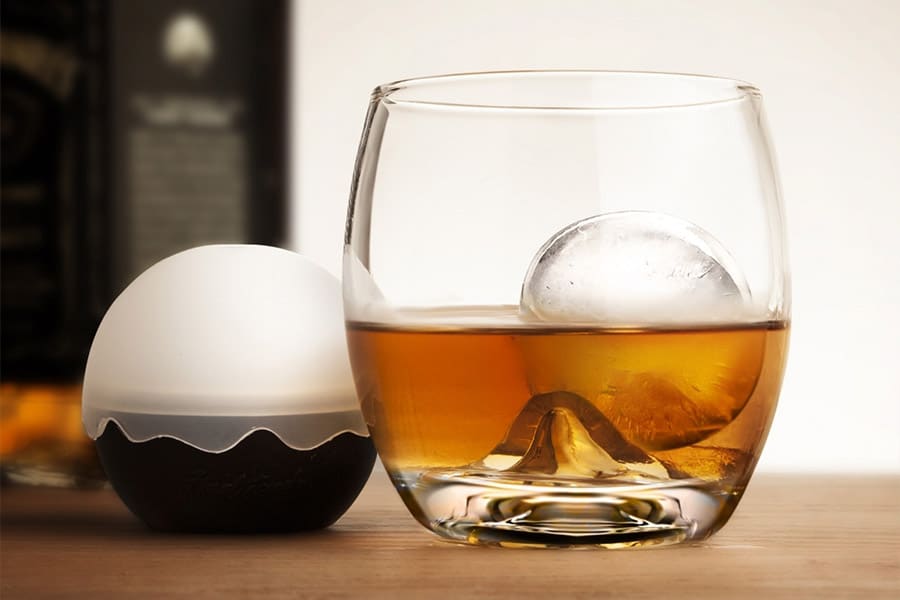 5. Final Touch on the Rock Glass with Ice Ball Mould
Not only does the Final Touch on the Rock Glass host a beautiful round shape, but it comes with an adjoining ice ball mould, which you can fill with water and then freeze. All it takes is a slight motion of the hand to get the ice ball rolling evenly around the base. For those who like their whisky cold, but not watered down, this whiskey glass is for you.
Price: $21.99 (1 pc)
Manufacturer: Product Specialties Inc.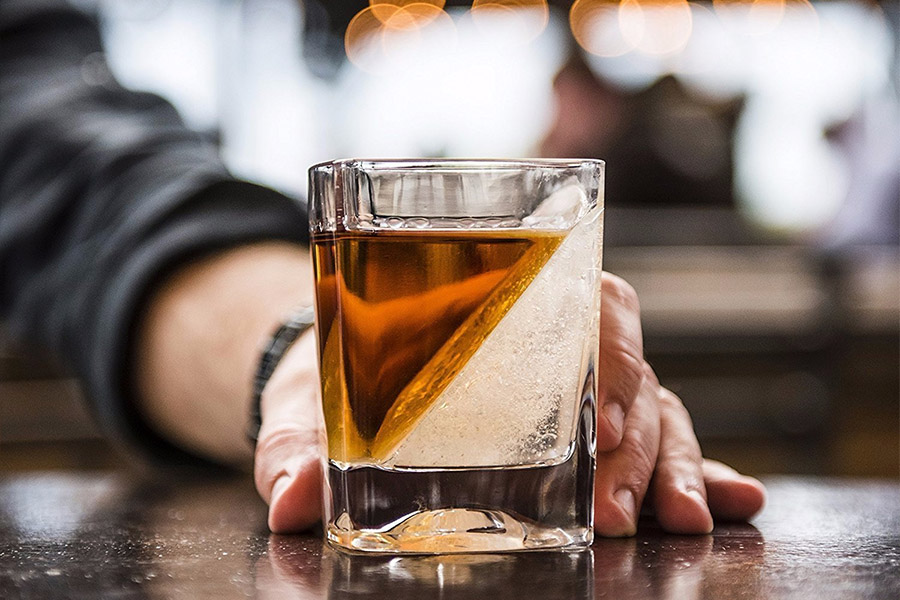 6. Corkcicle Whiskey Wedge
Not feeling the round shape of a moulded ice ball? Opt for the Corkcicle Whiskey Wedge instead. It consists of a straightforward whisky glass and a silicone ice form, which produces a thick slab. The result is a firm glacier of an ice cube and one that won't even break a sweat as you sip.
Price: $17.95 (1 pc)
Manufacturer: Corkcicle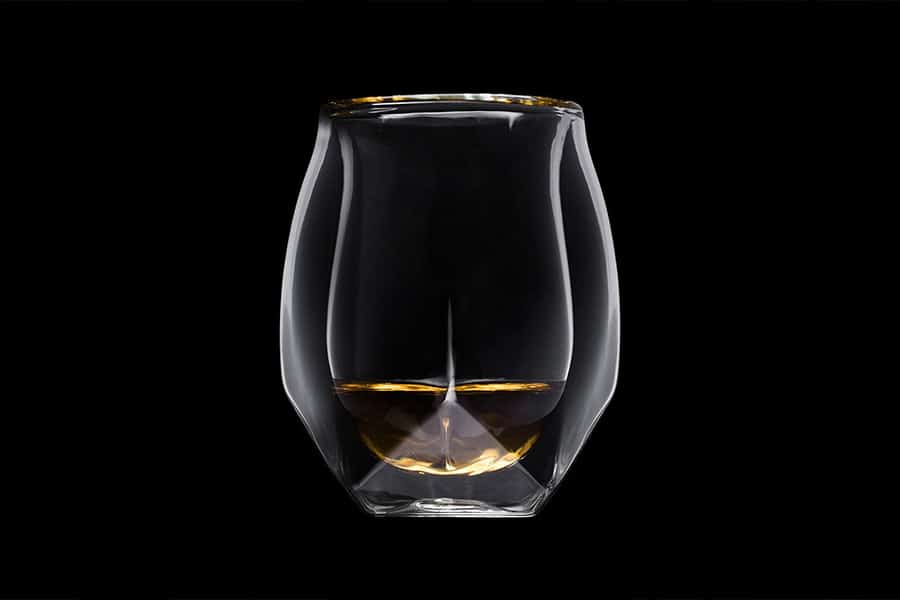 7. Norlan Whisky Glass
Made using hand-blown double-walled borosilicate glass, this lightweight stunner is made with true sippers in mind. Thanks to specially developed inner protrusions, the Norlan Whisky Glass naturally reduces ethanol burn, while its concave outer rim delivers smooth drinkability. Master Distiller Jim McEwan (of Bruichladdich fame) helped refine this eye-catcher during a four-day workshop, and it's accordingly one of the best Scotch glasses in the world.
Price: $48 (2 pcs)
Manufacturer: Norlan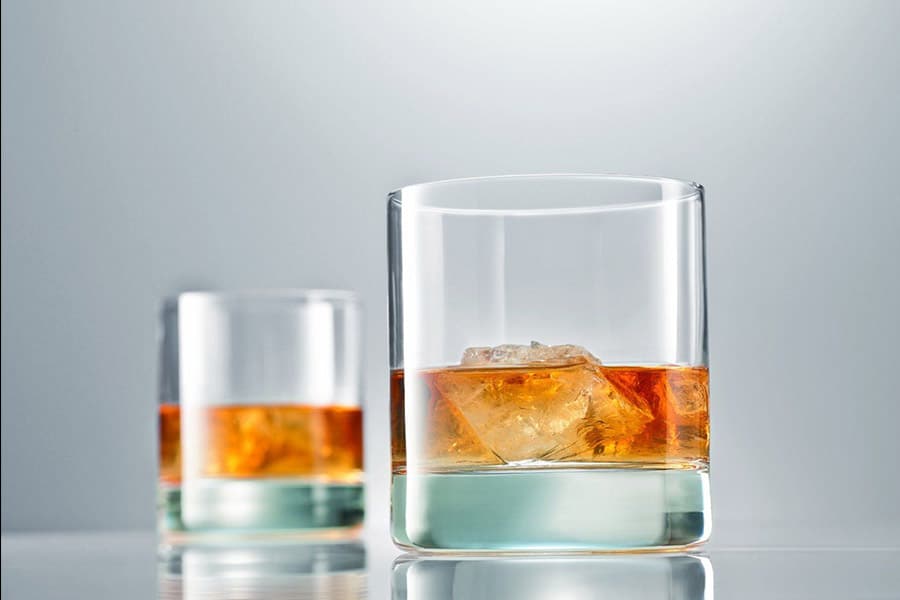 8. Schott Zwiesel Tritan Crystal Glass
Simple, elegant, and durable, the Schott Zwiesel Tritan Crystal Glass is made using a lead-free blend of titanium and zirconium oxide. When placed on a flat surface, this dancing tumbler will sway gently, unlocking the whisky's flavours and aromas in the process. This contender for best whiskey glass is also the ideal home for a delicious Old Fashioned.
Price: $22 (2 pcs)
Manufacturer: Fortessa /Schott Zwiesel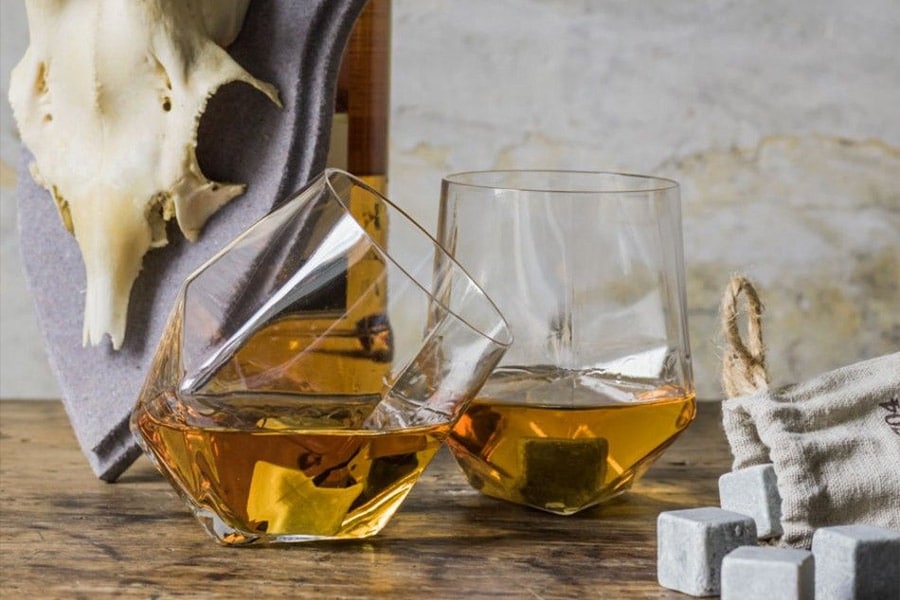 9. Viski Seneca Faceted Crystal Tumblers
Emanating with geometric splendour, the Seneca Faceted Crystal Tumblers host a triangular base and trigonal sides. Because of all those funky contours, these cool whiskey glasses produces hypnotic prisms of refracted light, sending visible photons directly through your dram or cocktail. Indeed, what goes better with intoxicating liquor than a built-in light show? Crystal whiskey glasses don't come much better.
Price: $26.99 (2 pcs)
Manufacturer: True Fabrication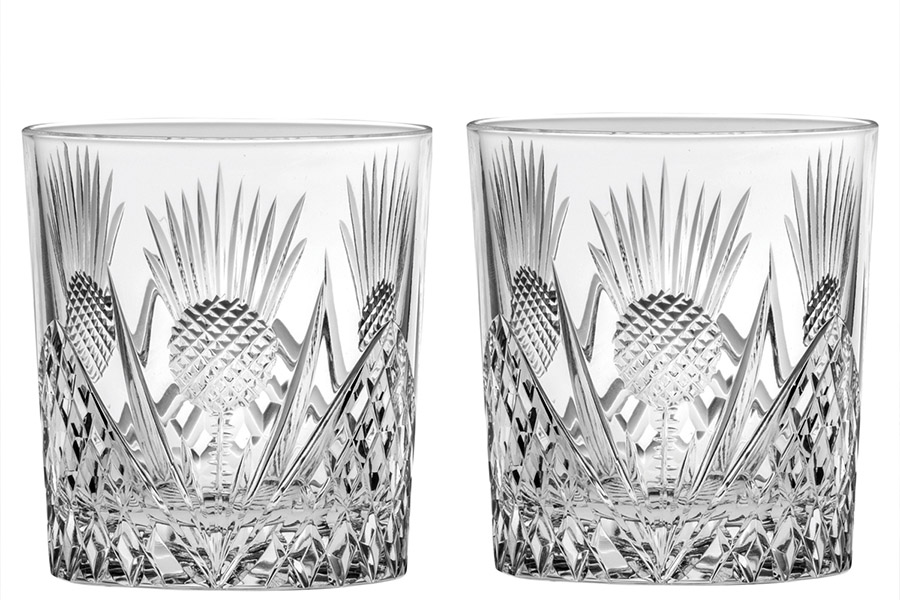 10. Royal Scot Crystal Scottish Thistle Set
Adorned with diamonds and a Scottish Thistle design, these 11 oz. crystal tumblers deliver copious amounts of sophistication, making them ideal for someone who likes the finer things in life. Fill one with a cocktail, or a whisky with water, and start sipping in timeless style. Arguably, one of the best whiskey glasses for the connoisseur.
Price: $105 (2 pcs)
Manufacturer: Royal Scot Crystal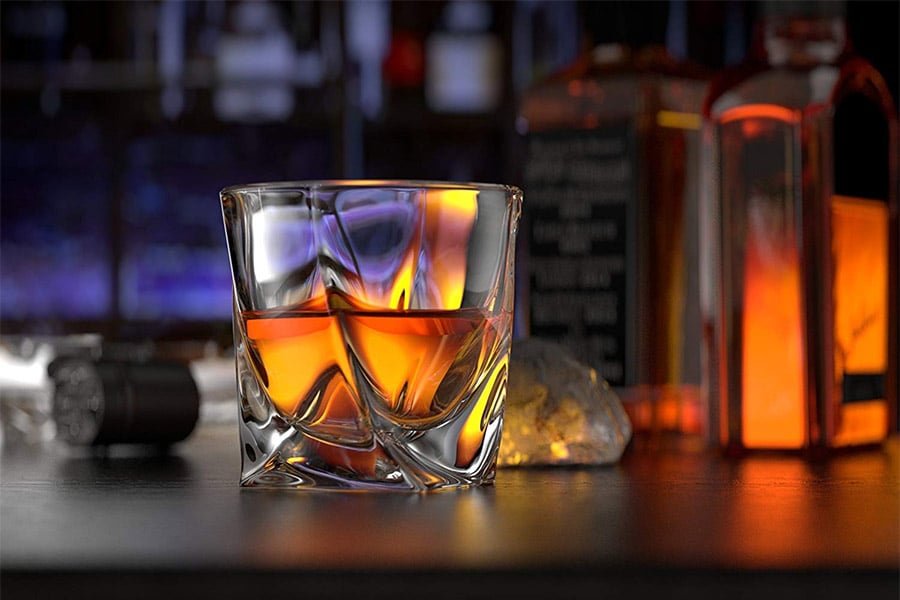 11. Gmark Fine Glassware Twist Whiskey Glasses
Gmark puts a distinctive "twist" on traditional glassware with these acclaimed, lead-free whisky glasses. Each one is roomy enough for ice, visually stunning, totally unique, easy to hold, and likewise easy to drink from. Are these some of the best whisky glasses you can own? You bet they are. Go ahead and grab a set of these cool whiskey glasses for yourself and another one for the whisky lover in your life.
Price: AU$32.30 (2 pcs)
Manufacturer: Ashcroft Fine Glassware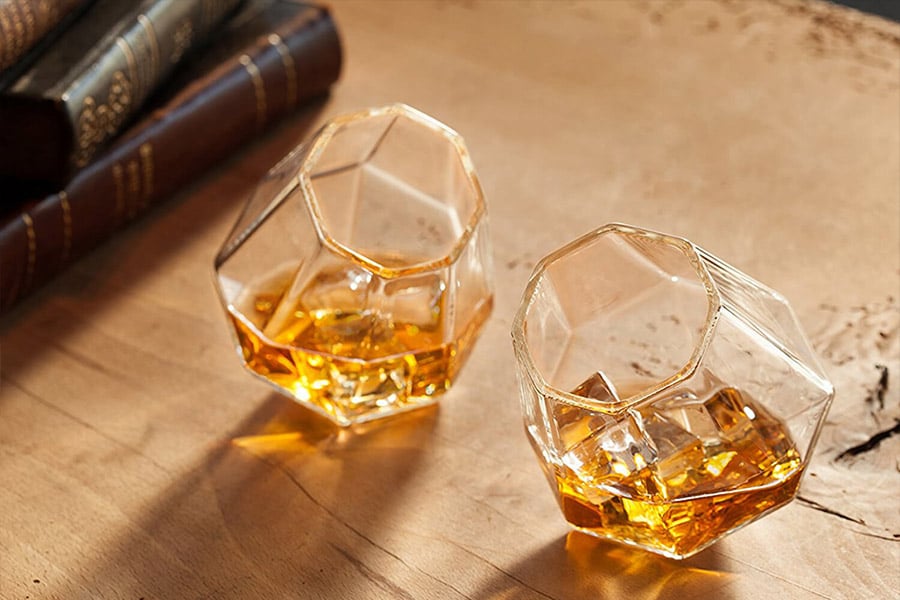 12. Dragon Glassware Diamond Whiskey Glasses
Inspired by diamonds and bolstered by a gravity-defying design, these unmistakable whiskey glasses provide natural aeration to your dram. They're also lead-free and downright addictive to gaze upon. Put simply, the Diamond Whiskey Glasses from Dragon Glassware have top-shelf form and function on lock. It's then no wonder that they made our list of the best scotch & whisky glasses.
Price: $35 (2 pcs)
Manufacturer: Dragon Glassware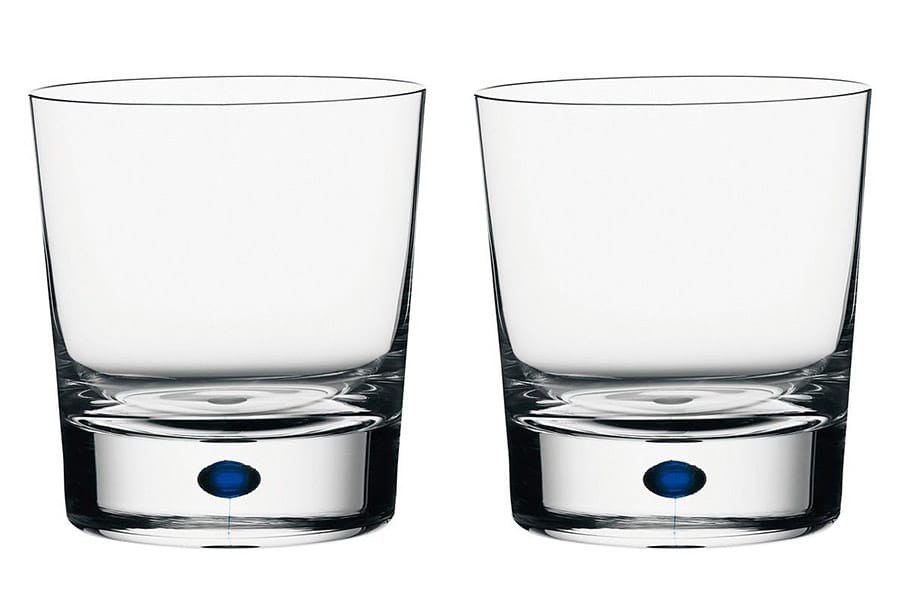 13. Orrefors Intermezzo Blue DOF
The Swedish are absolute masters when it comes to doing more with less, and artist Erika Lagerbielke is no exception. She's the designer behind this award-winning glass from Orrefors, which hosts a solitary colour drop at the stem, and oozes with minimalist allure. Each one is handmade by Orrefors' glassmakers, using lead-free material. These scotch and whiskey glasses are perfect for artistic minimalists.
Price: $67.30
Manufacturer: Orrefors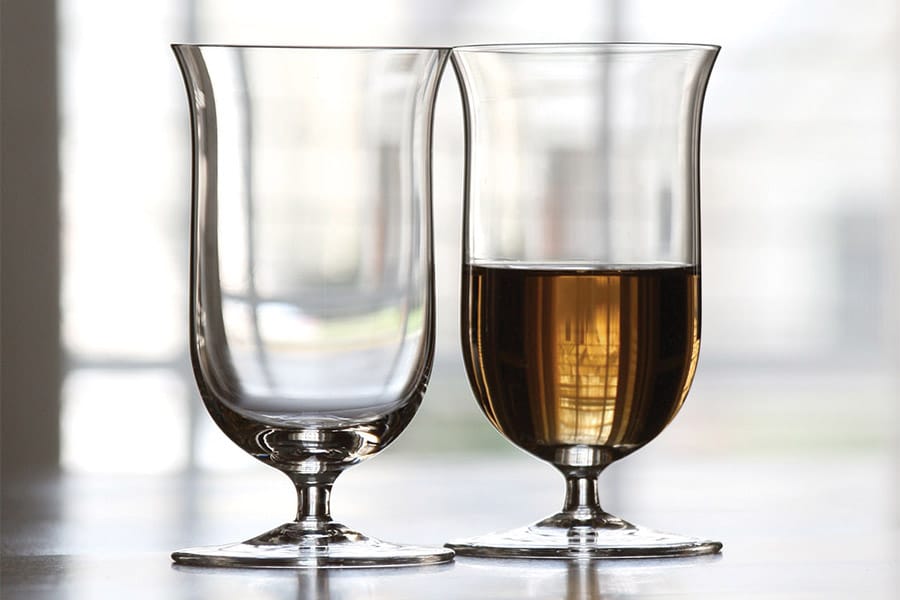 14. Riedel VINUM Whisky Glasses
With their outward-facing lips and elongated bodies, the Riedel VINUM Whisky Glasses naturally retain the creamy qualities of a premium single malt. Additionally, the positioning of the outer rim sets your mouth and taste buds up for maximum flavour extraction, particularly on sweeter drams.
Price: $39.95 (2 pcs)
Manufacturer: Riedel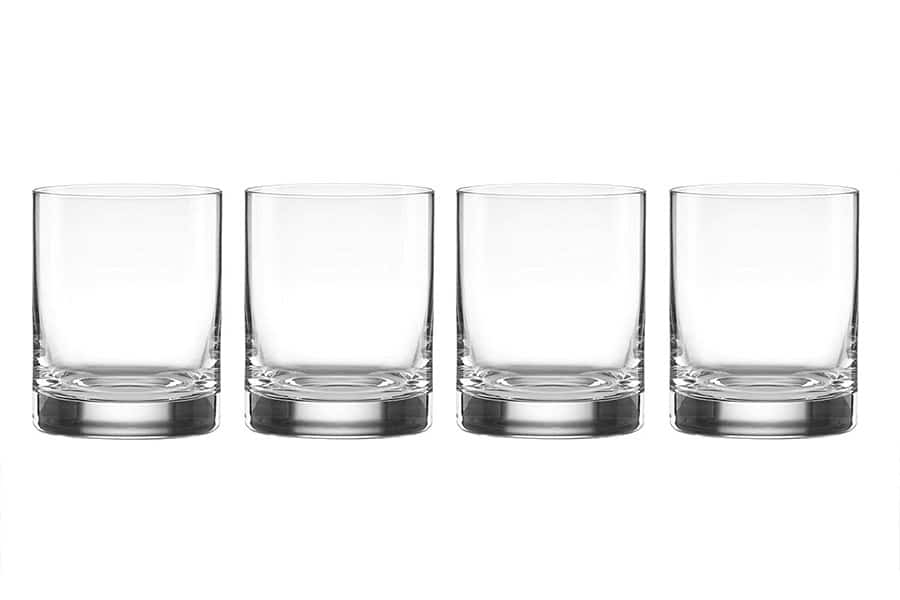 15. Old Fashioned Glass
An Old Fashioned is among the few cocktails to play off the natural flavours and textures of whisky, instead of overpowering them. The next time you make this classic drink, consider using the Classics Cylinder Double Old Fashioned Glass from Lenox Tuscany. Each minimalistic scotch glass is lead-free, dishwasher safe, and designed to make your next Old Fashioned everything it could be and more. Yum.
Price: $31 (4 pcs)
Manufacturer: Lenox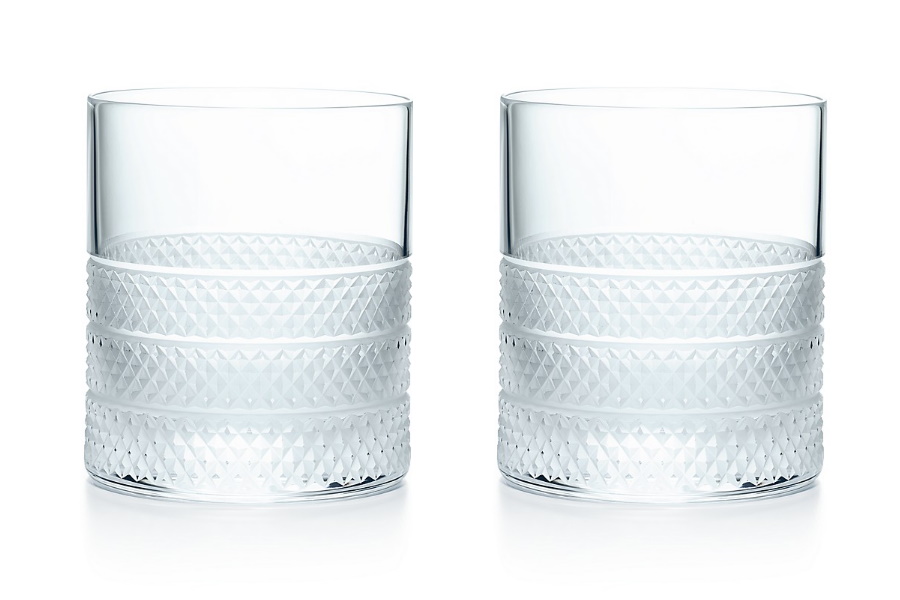 16. Double Old Fashioned Glasses
Available exclusively through Tiffany & Co., the geometric style of the Double Old Fashioned glasses lend a modern edge to classic design, perfect for adding a touch of history to your home dining or bar aesthetic. This is the go-to option for a whisky lover who wants his glassware to complement other aspects of the home and doesn't shy away from a premium price tag.
Price: $255 (2pcs)
Manufacturer: Diamond Point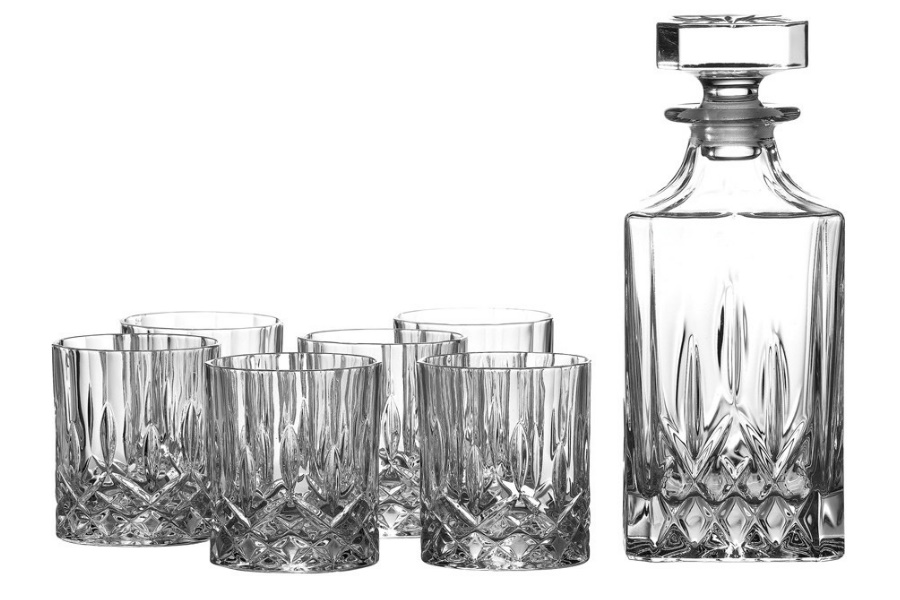 17. Royal Doulton Decanter Set
Add a splash of panache to any occasion with this set of four double old fashioned glasses paired with a square decanter. It's everything you need in one set—minus the whisky of course. The glasses and decanter are crafted from fine radiant crystal and belong on display, not tucked away behind closed doors.
Price: $269 (5 pcs)
Manufacturer: Royal Doulton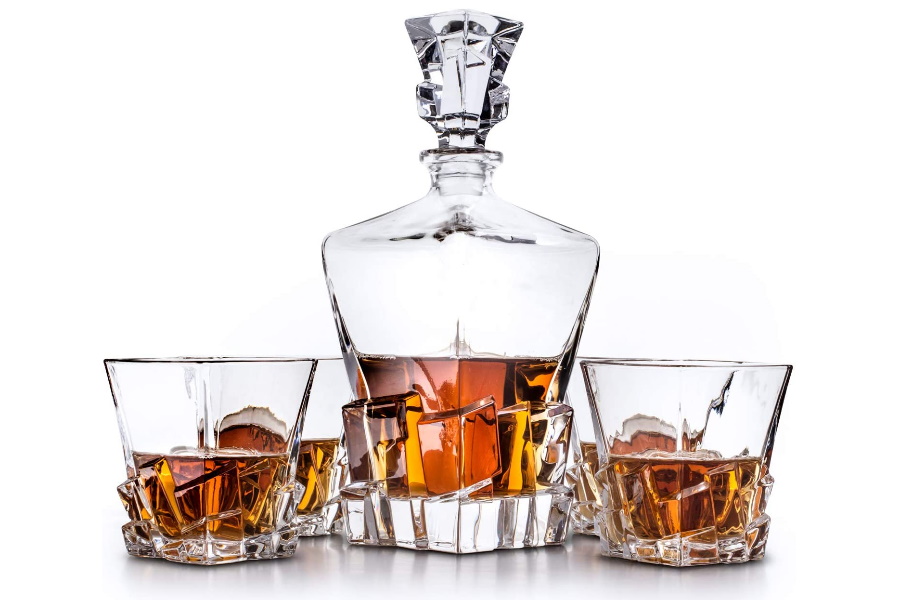 18. Van Daemon Whisky Decanter & Glasses
Van Daemon's thick, heavy crystal gives the glassware real substance and heft. Blending old fashioned design with modern, contemporary touches, this set comprising four glasses and a matching decanter is perfect for your aged whisky, scotch, bourbon, or whatever you desire. It's an experience made more authentic if your spirit of choice hails from Tasmania. Available in a variety of styles.
Price: $149 (5 pcs)
Manufacturer: Van Daemon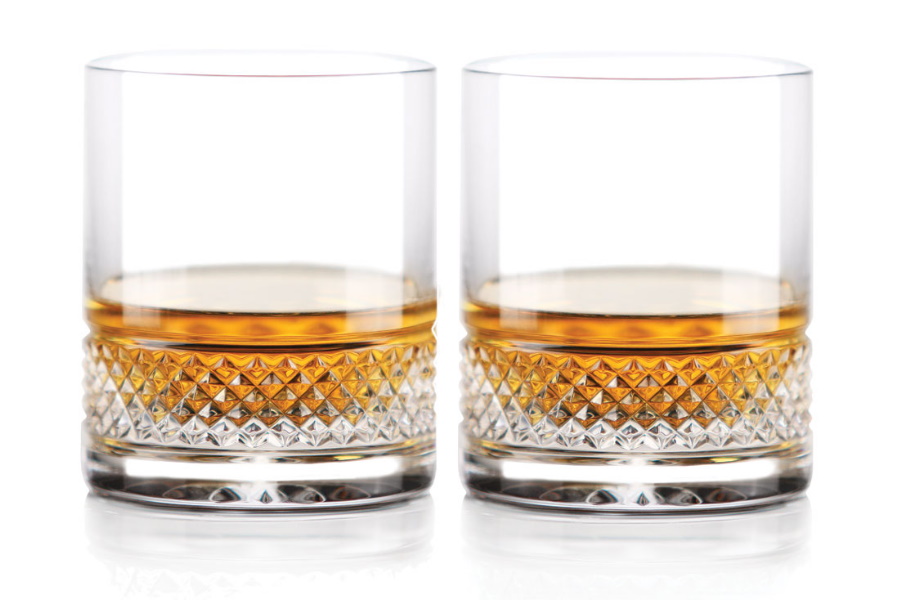 19. Cashs Ireland Cooper Straight Sided Tumblers
The Straight Sided Tumblers encourage whisky connoisseurs to enjoy a good swirl and appreciate the body and colour of their favourite liquor. The tumblers are ample enough to accommodate a spot of water or ice. They remain extremely comfortable in hand, and the diamond detailing provides both a sweet grip and luxurious detailing. Some elegant glasses indeed, handmade in Ireland.
Price: $50 (2 pcs)
Manufacturer: Cashs of Ireland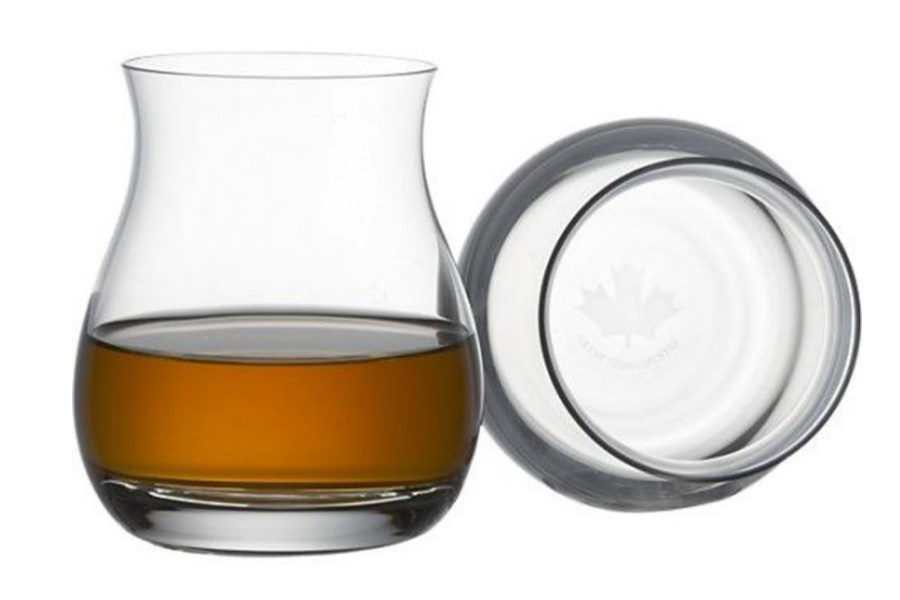 20. Anchor Hocking Glencairn Crystal Canadian Whisky Glass
Between its curvy body, wide bowl, and solid base, this Glencairn glass is all kinds of classic. Designed specifically for Canadian whisky (though let's be honest, any whisky will suffice), this whiskey glass brings out the best in the spirit's colour and aroma. Meanwhile, a wide lip ensures maximum drinkability.
Price: $73.68 (6 pcs)
Manufacturer: Anchor Hocking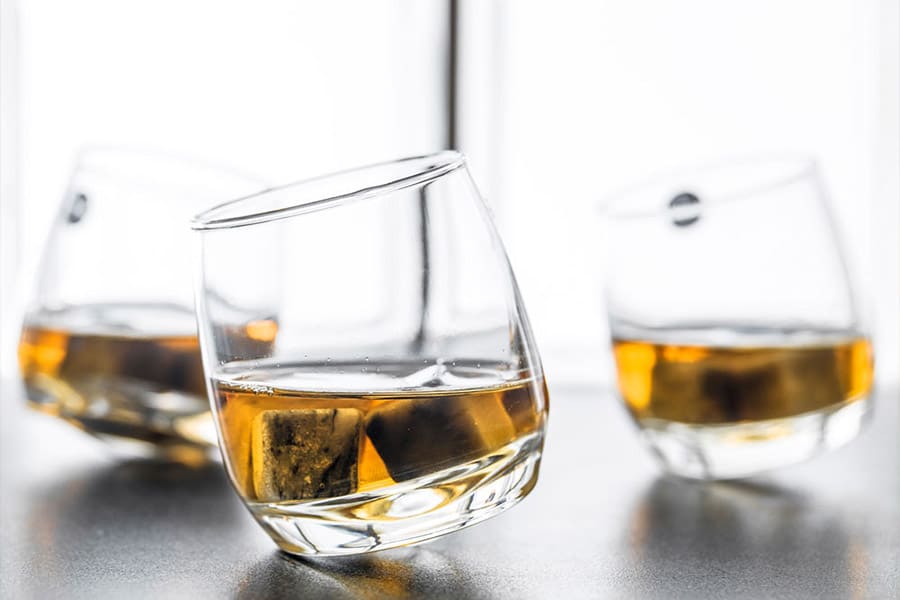 21. Sagaform Rocking Whiskey Tumbler Glasses
If you like whisky glasses of the unconventional (but nevertheless optimal) variety, then check out the Rocking Whiskey Tumbler Glasses from Sagaform. Thanks to a unique curved bottom, the glass itself rests at a perpetual angle, though never to the point of falling over or spilling the precious liquid inside it. That forward-thinking, clever design also enhances the ergonomics, enabling a secure and comfortable grip in your hand.
Price: $24.95 (6 pcs)
Manufacturer: Sagaform Inc
You may also like:
Guide to Australia's Best Distilleries
Watch How Whisky is Made
The Ultimate Guide to Beer Types & Styles
General FAQ
Is there a difference between whiskey and Scotch glasses?
Your short answer: no. As 'Scotch' is just a fancy name for whisky made in Scotland, there is really no difference between the two types of glasses. Some people like to worry about which glass is for which whisky, but most people just drink their tipple out of a rocks glass.
What is the difference between whiskey and Scotch?
In short, whisky and whiskey are both the same overarching category but with different spellings based on the location of production. Scotch is a type of whisky that's made exclusively in Scotland using malted barley and, on occasion, other ingredients. Bourbon is a type of whiskey that's made exclusively in the USA from a mashbill that consists of at least 51% corn.
What glass is best for whiskey?
Most experts agree that the Glencairn glass—which features a thick, round base and gets both thinner and narrower toward the top—is the best for drinking whiskey.