Coca-Cola has Created a Futuristic Soft Drink Using Artificial Intelligence
Coca-Cola is taking a 'byte' out of the AI hype, with its new Coca-Cola Y3000 Zero Sugar, a limited-edition "AI-powered" beverage that imagines "what the future tastes and feels like." The new drinks, co-created with artificial intelligence, marries AI-generated insights with "how fans envision the future through emotions, aspirations, colours, flavours and more."
To brew up this exciting flavour, the company's researchers began by having conversations with consumers about their preferences, trying to figure out what the "future tastes like." Afterwards, all these insights were funnelled into the company's proprietary artificial intelligence system to cook up the soda's one-of-a-kind flavour. The beverage's futuristic name hints at tasting notes from the year 3000 (nearly a millennium away), while its marketing draws inspiration from AI-generated visuals of 2023, which is created by the image synthesis model known as Stable Diffusion.
RELATED: Coca Cola Unveils a Series of Signature Mixers
This zero-sugar drink looks both futuristic and upbeat, with the branding and imagery featuring a sleek silver base, accented by vibrant violet, magenta, and cyan splashes. The design reflects the idea of liquid in a constant state of change, which kind of mirrors Coca-Cola's history of adaptation and evolution. While there's no explicit mention of AI's role in the new flavour, the official statement does shed some light, "Fans' perspectives from around the world, combined with insights gathered from artificial intelligence, helped inspire Coca‑Cola to create the unique taste of Y3000."
However, where the AI really shines is in the creation of Y3000 Zero Sugar's visual identity, which just seems vibrant and fresh. According to the company's statement "Coca‑Cola Y3000 Zero Sugar sports an equally futuristic—and optimistic—visual identity. Co-created with artificial intelligence, the design showcases liquid in a morphing, evolving state, communicated through form and colour changes that emphasise a positive future."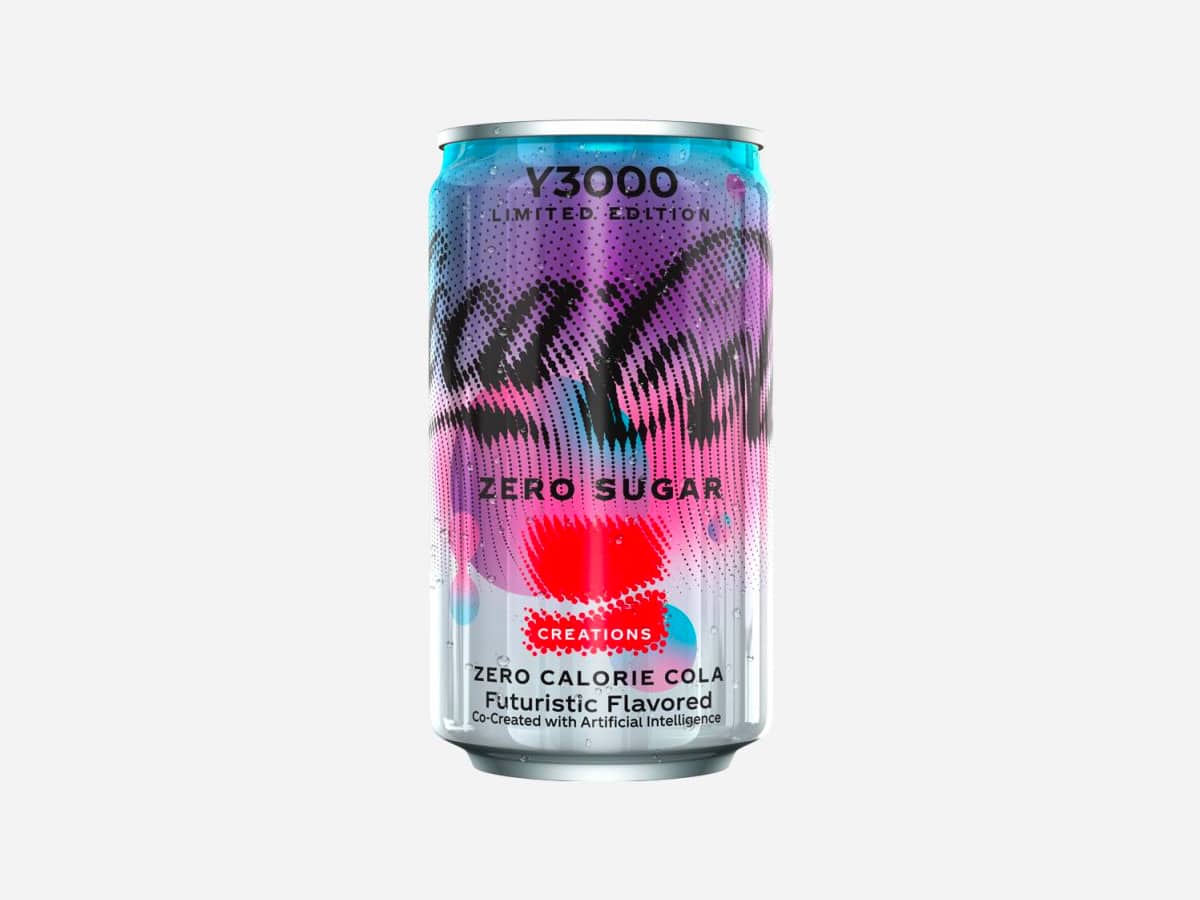 During the flavour reveal, Oana Vlad, Senior Director of Global Strategy at The Coca‑Cola Company, said, "We hope that Coca‑Cola will still be as relevant and refreshing in the year 3000 as it is today, so we challenged ourselves to explore the concept of what a Coke from the future might taste like—and what kind of experiences would a Coke from the future unlock? The 'Real Magic' brand platform celebrates unexpected connections that make the ordinary extraordinary, so we intentionally brought human intelligence and AI together for an uplifting expression of what Coca‑Cola believes tomorrow will bring."
Vlad further went on to add, "The role of every drop is to leverage the latest, most advanced technologies and cultural trends to create novel experiences. After leaning into Augmented Reality last year, we're embracing the power of AI and continuing to build our company's capabilities in this exciting space. Coca‑Cola Creations has created new pathways to deepen our engagement with existing fans and those who may not have considered the brand before."
Given that Coca-Cola Y3000 Zero Sugar is a limited-time offering, it'll have a short run and will only be up for grabs in the United States, Canada, China, Europe, and Africa. As an added bonus, customers can scan a QR code on the packaging to unlock the Coca‑Cola Creations Hub, where they'll find a Y3000 AI Cam, perfect for filtering pictures and getting a sneak peek into a future world.