You're Looking at Australia's First Floating Basketball Court
The globe-trotting "Court Beyond Limits," campaign has touched down right here in Australia taking the form of our nation's first-ever floating basketball court. Debuting in the scenic Sydney Harbour on May 11th, this invitation-only event includes shooting competitions along with lively entertainment from a range of local talents and celebrities.
This may be Australia's first-ever floating basketball court, but it's not the first time we've hosted Courts Beyond Limits. Hennessy and the NBA premiered the series last year in Bondi Beach with a takeover of the Icebergs Ocean Pool. Setting an early benchmark for spectacle and distinction, that event was followed by similarly impressive versions in London and Shanghai. The new floating court in Sydney Harbour brings the campaign full circle whilst continuing a partnership between two legendary global entities.
Related: Hennessy Becomes the NBA's First Ever Global Spirits Partner.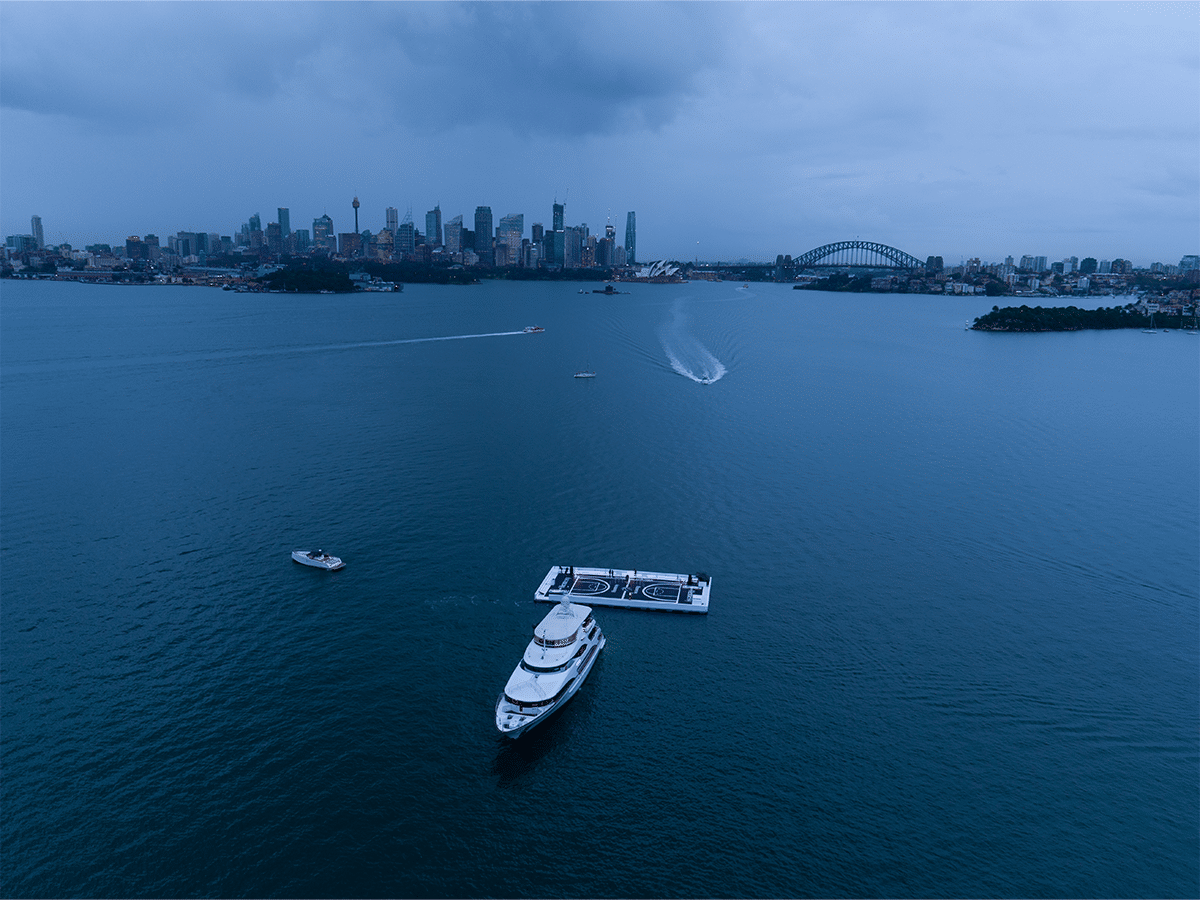 An official NBA partner since 2020, world-leading Cognac brand Hennessy is celebrating the playoffs and the league's 75th Anniversary Season with a series of iconic court settings and featured prominently on display is the coveted Larry O'Brien NBA Championship Trophy, which will eventually go to the winner of this year's NBA finals.
"We at Hennessy are delighted to continue to partner with the NBA to create this unforgettable experience in Sydney, Australia… We were thrilled to see the success of last year's event at the iconic Bondi beach. This truly set the standard for our global Courts Beyond Limits initiative, and we are looking forward to another successful event this year," said Hennessy President & CEO Laurent Boillot.
Francesco Suarez – the NBA's Asia Head of Global Marketing Partnerships, Events, and Basketball Operations – replied in kind, "Since becoming the Official Spirit of the NBA, Hennessy has consistently delivered unique experiences to help excite and engage the NBA's global fanbase. Together with Hennessy, we look forward to providing Australian fans with another unforgettable celebration to mark the culmination of the NBA's historic 75th Anniversary Season."
Related: A $15 Million Superyacht-Styled Bar Has Landed in Sydney Harbour.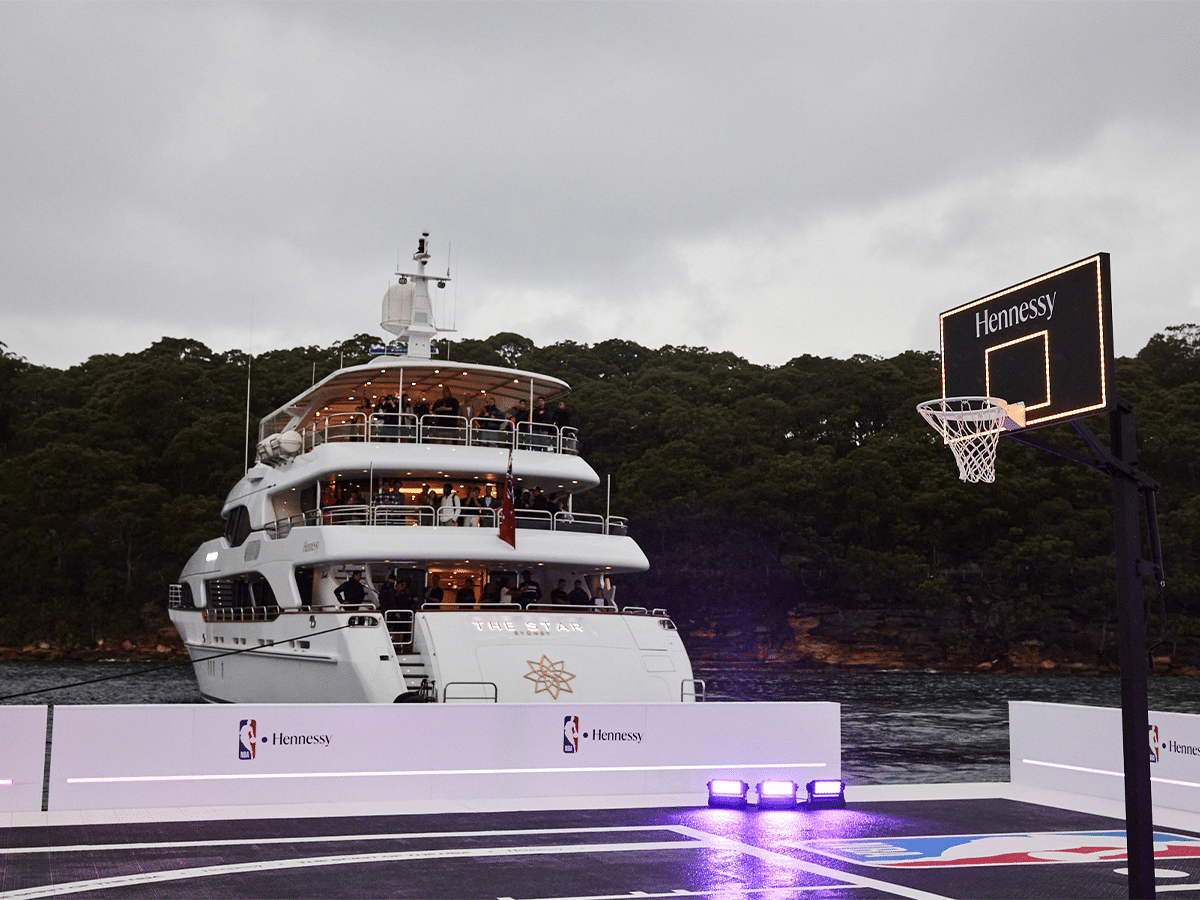 Whilst thrilling in its own right, the "Court Beyond Limits" series will give way to a brand new campaign from Hennessy and the NBA. Dubbed "Game Never Stops," it features a short film in which the league, Hennessy, and basketball itself are celebrated for their influence around the world. The film will premiere right here in Australia during the 2022 NBA Playoffs, giving local fans one more thing to savour.
But wait, there's more. Starting 11 May, Hennessy will launch two game-day seasonal collections available exclusively through spiritoftheNBA.hennessy.com.
First, there's the "Hennessy Game Day Drop" retails for AUD$279 and includes;
Limited-edition 700ml bottle of cognac
Hennessy's logo sweater
A complimentary Hennessy x NBA basketball, for the first 200 buyers.
Secondly, for the super fans out there we have The Hennessy Baller Collection. Limited to just 50 editions and valued at AUD$650, this drop includes;
700ml bottle of Hennessy X.O
6x Hennessy cognac glasses
Complimentary Hennessy x NBA basketball
Complimentary code for NBA League Pass (the league's premium live game subscription service).
To close out the NBA's 75th Anniversary Season in style, Hennessy is also inviting fans to an exclusive one-night-only Season Closing Party on 1 July at the Ivy Penthouse in Sydney. This tailored package can be reserved through the Hennessy Concierge Service, with prices starting at AUD$45,000. Lucky guests will arrive at the event via the Hennessy Private Jet, aboard which they'll taste some of the brand's rarest cognacs or have an All-Star cocktail experience at 41,000 feet above-ground. Reservations for this luxurious offering are available starting 1 June. Let us know if you need a plus-one!
For more information about the Hennessy x NBA 75 series of events, visit spiritoftheNBA.hennessy.com from 11 May.