How Johnnie Walker is Making Whisky More Accessible
Whether it's from growing up with a Scotch-loving dad or spending seven seasons in an office with Don Draper, it's easy to see why people believe whisky is supposed to be sipped neat – no ice and no mixer.
If we're talking decades-old Scotch whisky that costs a small fortune, then fair enough. You want to appreciate your investment. Plus, whisky stones are always available to chill a dram without diluting its flavour.
But if you're new to the world of Scotch whisky or have struggled with spirits it in the past, sipping from a glass of straight whisky is hardly going to change your perception of the drink no matter its price or reputation.
That's why Johnnie Walker's latest campaign is all about easing you into the world of whisky. The market-leading Scotch whisky brand wants you to know that it's okay to mix drinks and by doing so, you're well on your way to enjoying refreshing whisky-based cocktails which are delicious in their own right. Because if you're not enjoying it, then what's the point?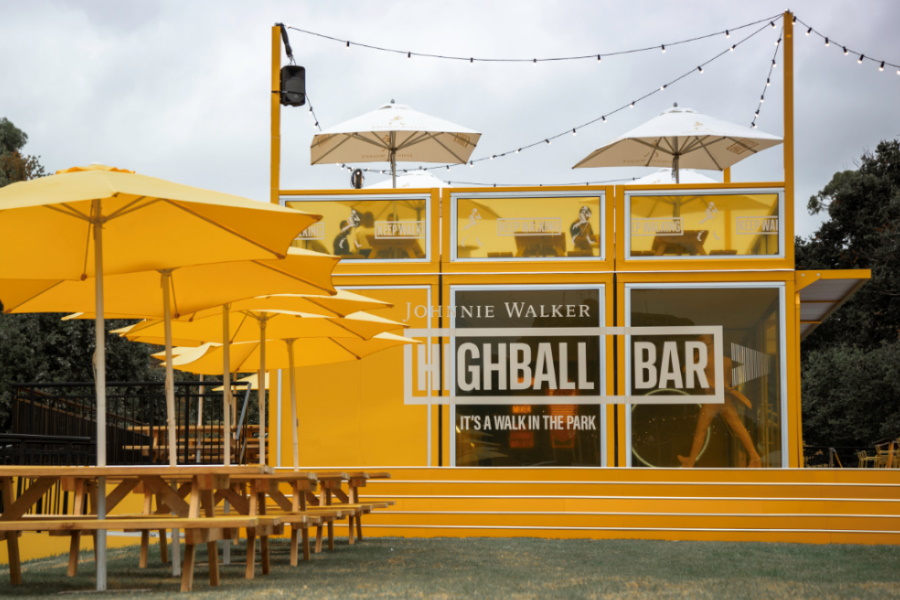 Johnnie Walker Highball Bar
The Johnnie Walker Highball Bar is a travelling rooftop experience that's currently open within the 2020 Adelaide Fringe Festival. Located within the buzzing Gluttony district amid live comedy, music and dance acts, the bar serves up all the drink menu staples but champions a range of original Highball cocktails made using various labels of Johnnie Walker whisky.
You can't miss the Highball Bar. It's the bold yellow structure with windows tinted yellow and is surrounded by tables with yellow umbrellas. To borrow a line from that painful Coldplay song, "it was all yellow."
Johnnie Walker ambassador Katie Nagar said the whisky highball continues to experience a huge resurgence and for a good reason. "It is a simple and tasty drink that showcases the quality of Scotch whisky, while its low ABV means you can enjoy a lighter style drink that still offers amazing flavour."
Between shows, Adelaide residents are encouraged to grab a Lemon, Ginger, Crisp Apple or Blood Orange Johnnie Walker Highball, head up the stairs to find a comfortable spot on the rooftop and enjoy a refreshing drink while taking in the best views from within the Southern Hemisphere's largest and most vibrant arts festival. Well, second-best views if you count the Ferris wheel.
Punters can grab a Highball on its own for $10 or pair a cocktail with a spiced-popcorn snack for $12, which was specially created by lauded South African restaurant Africola.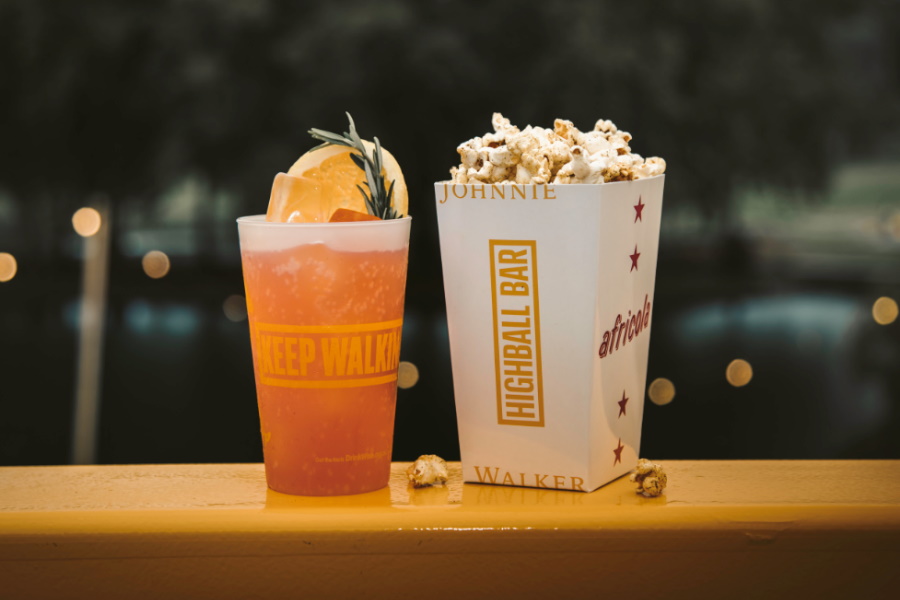 "We're thrilled to partner with the Africola team to create a unique experience that showcases the variety of flavours and versatility of the highball," adds Katie. "The bar provides the perfect pit-stop in between shows to take Adelaide's world-famous Fringe Festival to new heights – quite literally!"
Adelaide Fringe Festival is on from now until March 15. Johnnie Walker is then taking its rooftop bar experience to Sydney and Melbourne from late March and into April. The first stop will be Untied, Sydney's rooftop oasis overlooking the harbour, and Bourke Street Imperial – Melbourne's lively city rooftop.
"It is an incredibly exciting time for Johnnie Walker in Australia, as we inspire a new breed of whisky explorers to try something new and discover the possibilities of blended Scotch whisky."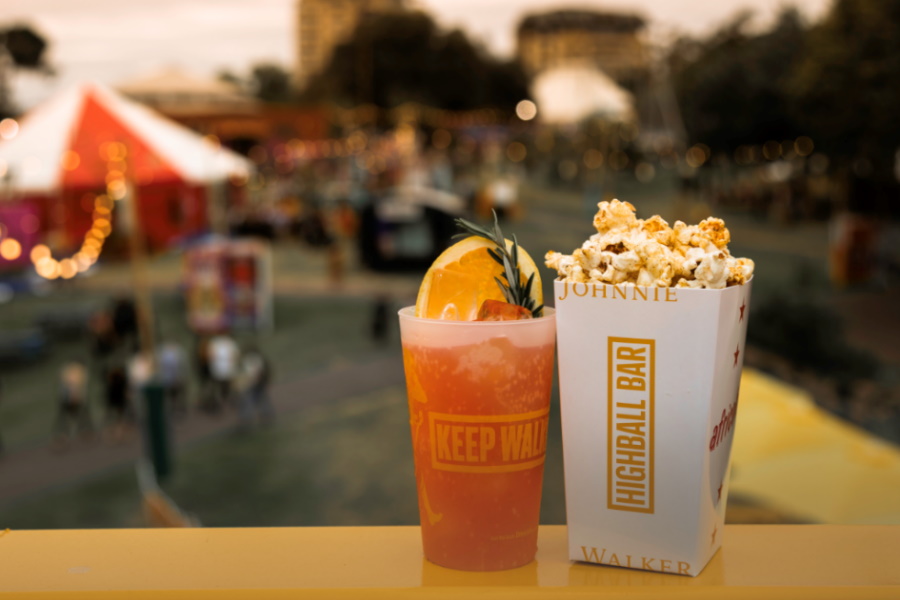 How to Make the Perfect Whisky Highball
Just because you're not in Adelaide or can't make the dates in Sydney or Melbourne doesn't mean you can't enjoy the refreshingly cool tastes of a Johnnie Walker Highball. It's one of the simplest cocktails to make at home requiring few ingredients and little in the way of skill.
What is a Highball?
It's a cocktail that contains one part alcohol and three parts mixer served in a tall glass that's then filled with ice. Gin & Tonic, Rum & Coke and Scotch & Soda are all examples of a Highball. So long as it's served in a tall glass with carbonated mixer and ice, you can call it a Highball. A Highball can also be as straightforward or as complex as you or a bartender likes.
The origin of the Highball
Opinions differ on the exact origin of the Highball drink with two theories pulling the most weight. The first being from the 1890s Boston and New York bar scenes where scotch and soda became referred to as a "Highball," possibly because it's served in a high glass and after a few drinks, patrons were having a ball!
Although the better theory points to 19th-century railroads where passengers used the term "Highballing" when referring to "going fast" on trains, and what did passengers drink on these trains? Scotch and soda of course.
Ingredients
30ml Johnnie Walker Black Label (12-Year-Old)
30ml Rockford lime cordial
120ml Schweppes Soda Water
1 lemon
Mint leaves
Ice
Method
Measure out 30ml (1 part) Johnnie Walker Black Label and pour into a tall glass.
Measure and add 30ml (1 part) Rockford lime Cordial to the glass.
Measure and add 120ml (4 parts) Schweppes Soda Water. Don't top up the remainder of the glass with soda water.
Thinly slice a lemon and gently submerge a slice or split it over the edge of the glass.
Gently smack a mint leaf between your hands to release its aromatics and add to the glass.
Top up the drink with ice. Add ice last to avoid splashes and minimise dilation.
Add extra lemon and mint to taste if required.
Feel free to play around with the recipe. Add orange slices instead of lemon. Use ginger ale or blood orange soda instead of traditional soda water. There is no right or wrong method, but the above Johnnie Walker Highball is an ideal starting point for your journey into the world of whisky.
Johnnie Walker has an extensive range of recipes and drinks inspiration available via its website linked below. Each drink showcases the versatility of whisky with an option to suit every occasion and taste. Johnnie Walker is proving whisky is a walk in the park.
Man of Many travelled to Adelaide Fringe Festival as a guest of Johnnie Walker.