Mountain Goat Just Launched a Sick Newtown Brew Pub
As nimble and as powerful as a Mountain Goat can be, the boys from Victoria bring their delicious craft beers up from a state of lockdown to the state of New South Wales. Venturing out of their Melbourne home for the first time after nearly two decades, today, this humble brewer reaches its next pinnacle on the streets of Newtown Sydney, with a Goat's tribute to the new neighbours, Newtopia Pale Ale.
You'll Also Like:
The Secret Society Behind Australia's Best Wines
You Can Now Get Betoota Bitter at Dan Murphys
Big Lez x Tooheys Extra Dry Embrace the Ordinary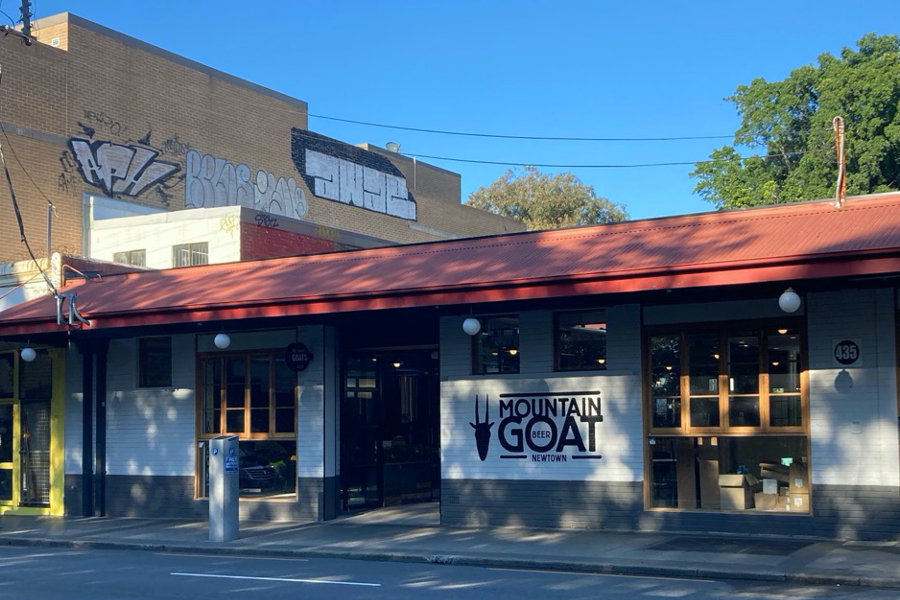 With their licensed approved way back in February 2020, you can only imagine the anticipation amongst the Mountain Goat Crew. Clearly a long time coming, one of Victoria's first craft breweries opens its doors on October 2, bringing the delicious inner-Melbourne beers to the inner city of Sydney. Brewing for at North Street, Richmond since 2004, I reckon they've got a thing or two to show us on King Street.
Operating Monday to Saturday from 10 am to midnight and Sundays at 10 pm, Mountain Goat Newtown will be serving Sydneysiders directly, pouring out fresh draught beer brewed on-site. Their freshest being the brand new tribute to Newtown, the Newtopia Pale Ale. Described as a very light but thirst-quenching beer, the beer has notes of pineapple lollies with a subtle grapefruit bitterness. Just remember, COVID is still lingering, so they'll be limited to 70 patrons max.
Managed by the Mountain Goat team in Melbourne from their loungerooms during the Coronavirus lockdown peak, the new King Street venue features a 12-hectolitre brewing system.
Coming just after the launch of WA's Atomic Beer Project here in Redfern, general manager Mick Bentley said the Newtown Goat opening has been a long time coming. "We have been looking to spread our wings beyond Victoria for a while now, and seeing as we are turning 23 years old this month, we thought it was about time," said Mick ignoring the sage advice of Blink 182's What's My Age Again?
Though pop-punk anthems aside, moving to Newtown with all its arts, culture, and the Mountain Goat team always supported live music. As "big believers in community and coming together," it's clear this adventure is more than just enjoying a few good beers, but about finding their place "n the heart of Sydney's craft beer and music community."
"We've been on a crazy adventure for the last two decades, and expanding out of Victoria is the latest chapter."
You'll Also Like:
Bushmills Crafted a 13-Year Single Malt Exclusively for the Australian Market
You Can Now Get Betoota Bitter at Dan Murphys
Big Lez x Tooheys Extra Dry Embrace the Ordinary
General FAQ
Where is Mountain Goat Beer from?
Mountain Goat has breen brewing in the Melbourne suburb of Richmond for 23 years.
Who brews mountain goat?
Asahi holdings has taken 200% ownership of Mountain Goat Beer.