Why Your Next Red Wine Should be a Rioja
Grabbing a decent bottle of red on the way home to have with dinner is about as Aussie as backyard cricket and never calling prawns "shrimp", but when it comes to selecting a top drop, it can sometimes feel like we're spoilt for choice. Gone are the days of simply choosing between a merlot and a cab sav from one of our many local wine regions, and with more and more education in the marketplace, our knowledge has demanded better wines and from more diverse places.
The big, bold, plummy shiraz from Barossa or the classic Coonawarra cabernet are still stars in their own right, but a recent trend that's easily observed is our proclivity to err towards discovering wines from other countries, and especially ones we might not have considered a couple of decades ago. One such example is the Rioja region of Spain, which is helping put tempranillo in the spotlight, and is producing some stellar reds that make for a perfect addition to the Australian dinner table.
The main grape used in wines from Rioja (which, much like French wine, is sold under the name of its origin and not a specific grape variety) is tempranillo, though other red varieties include garnacha tinta, mazuelo (sometimes known as cariñena) and graciano.
White Rioja is made from viura (sometimes known as macabeo), malvasía and garnacha blanca.
Tempranillo (tem-prah-nee-yo; sorry if you've been saying "tem-prah-nil-low" all these years), is a rich and complex grape which delivers loads of body and dark fruits, and is especially versatile at expressing different characteristics across a broad range of wines. Though other grapes are used in most expressions that come out of Rioja, in accordance with the appelation of origin laws that dictate wine production in the region.
One such example that has started to take the Australian market by storm is the Campo Viejo Gran Reserva. A Gran Reserva expression is a wine which has to be aged for at least five years, of which at least two of them must be in oak barrels.
"Over this time, a developing wine absorbs the smoky and spicy flavours and aromas of the wood and often loses those primary fruit notes that our key grape variety Tempranillo is loved for – but not in Campo Viejo Gran Reserva", says Campo Viejo chief winemaker Elena Adell.
"Our wine is complex and well balanced, like one would expect of a Gran Reserva, but it also retains its fruity nuances, which makes it undeniably Campo Viejo."
Campo Viejo uses tempranillo as a base for its Gran Reserva, with small amounts of graciano and mazuelo, however it isn't just about the delicacy of blending that makes the wine taste so damn good–"After spending two years in French and American oak barrels, the wine is moved to age for a further 36 months in the bottle. Over this long period of time, the wine develops rich fruity aromas, well balanced with the spicy notes of cloves, pepper, nutmeg, light toast and smoky, woody nuances", adds Adell.
"At Campo Viejo, we love to celebrate the artistry of Rioja and express it through our wines that showcase the best of our eminent soils, our unique climate and our meticulous ageing techniques.
"And our refined Gran Reserva, in particular, takes the best of these to become a modern classic – a truly contemporary take on an authentic Rioja."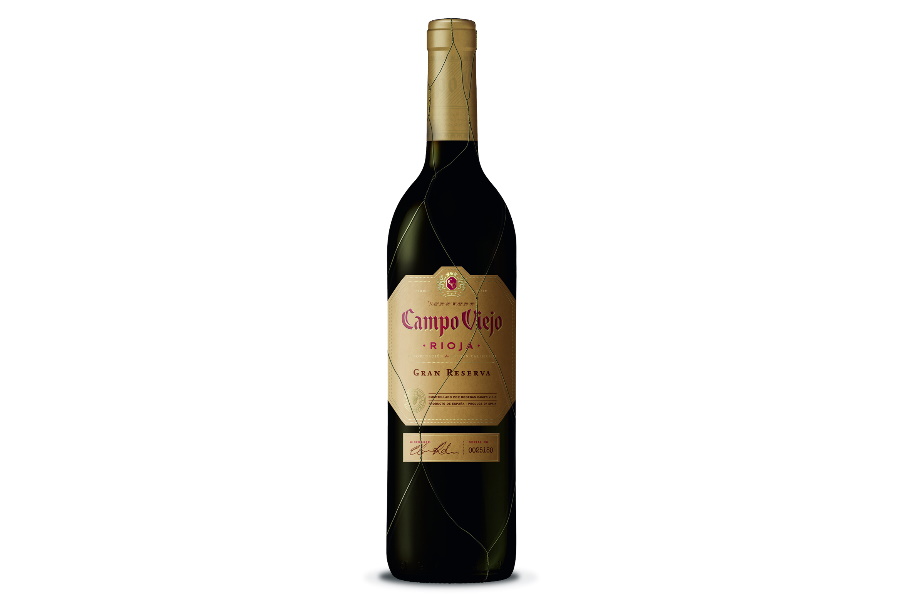 Rioja makes for a great food-pairing too, and is suited to dishes like grilled or sauced beef, oily fish, mushrooms or even certain seafood dishes, making it a great starting place next time you're staring at the extensive wall of confusion that is the international section at your local bottle-o.
And a Gran Reserva is one of the easiest ways to make an impression.
"I love to open a bottle of Campo Viejo Gran Reserva to surprise my friends", says Adell. "When you say, 'I'm going to open a Gran Reserva,' nobody expects such a vibrant, bright, complex and expressive wine.
"It's always a very nice surprise and a great success."
Origin: Spain
Alcohol content: 13.5%
Price: AU$40